New Age Islam News Bureau
23 Dec 2014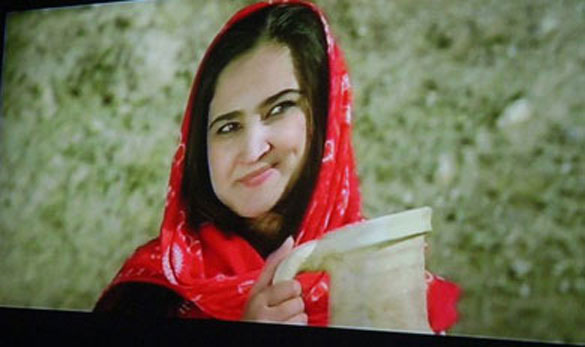 Three men play a game of Buzkashi to settle who will get to marry her
-------------
• Germany to Open Trauma Centre for Sex Slave Women Raped By Militants
• Pakistan Man Claims Daughter Being 'Held' In Jamia Hafsa
• Jokowi Pledges to Protect Female Human Rights Activists
• Trade In Illegal Maids in Saudi Arabia Flourishes
• Saudi Wives of Prisoners Demand Support As They Suffer Ostracism
• Haia Helps Woman in Shelter to Remarry
• Peerzada, From Bollywood to Lecturing Women on Faith
• 'Divorced' Muslim Women Lack Access to Justice in Nepal
• The Afghan Film Where a Buzkashi Game Decides a Woman's Future
• Pupils from a Muslim Girls' School Have Raised Over £200 for a Hospice
• Bringing Education to African Girls
• Journey of Pakistan's Sexual Harassment Law Captured in Documentary
• Saudi Shoura to Vote on Birth Rate Cut
Compiled by New Age Islam News Bureau
URL: https://newageislam.com/islam-women-feminism/sex-slavery-pushes-iraq-victims/d/100647
------------
Sex Slavery Pushes Iraq IS Victims to Suicide: Amnesty
23 Dec, 2014
BAGHDAD: Women and girls from Iraq's Yazidi religious minority forced into sexual slavery by the Islamic State jihadist group have committed suicide or tried to, Amnesty International said on Tuesday.
IS militants have overrun swathes of Iraq since June, declared a cross-border caliphate also encompassing parts of neighbouring Syria, and carried out a litany of abuses in both countries.
The group has targeted Yazidis and other minorities in north Iraq in a campaign that rights group Amnesty said amounted to ethnic cleansing, murdering civilians and enslaving others for a fate that some captives consider even worse than death.
"Many of those held as sexual slaves are children — girls aged 14, 15 or even younger," Donatella Rovera, Amnesty's senior crisis response adviser, said in a statement.
Amnesty said that many of the perpetrators are IS fighters, but may also include supporters of the group.
A 19-year-old named Jilan committed suicide out of fear she would be raped, Amnesty quoted her brother as saying.
A girl who was held with her but later escaped confirmed the account, saying: "One day we were given clothes that looked like dance costumes and were told to bathe and wear those clothes. Jilan killed herself in the bathroom."
"She cut her wrists and hanged herself. She was very beautiful; I think she knew she was going to be taken away by a man and that is why she killed herself."
Another former captive told the rights group that she and her sister tried to kill themselves to escape forced marriage, but were stopped from doing so.
"We tied... scarves around our necks and pulled away from each other as hard as we could, until I fainted... I could not speak for several days after that," Wafa, 27, told the rights group.
Amnesty also recounted the story of 16-year-old Randa, who was abducted with her family and raped by a man twice her age.
"It is so painful what they did to me and to my family," Randa said.
overa said: "The physical and psychological toll of the horrifying sexual violence these women have endured is catastrophic. Many of them have been tortured and treated as chattel. Even those who have managed to escape remain deeply traumatised."
A US-led coalition has been carrying out a campaign of air strikes against IS in Iraq and Syria in an attempt to halt the group's advance.
http://www.dawn.com/news/1152665/sex-slavery-pushes-iraq-is-victims-to-suicide-amnesty
---------
Germany to Open Trauma Centre for Sex Slave Women Raped By Militants
23 Dec, 2014
Germany is planning to open a trauma centre to assist women and girls who were raped by members of terror group Islamic State (Isis).
Development Minister Gerd Müller told German newspaper Bild that the decision followed his visit to Iraq, where militants have imposed their own laws in controlled areas.
During his visit, Müller said he spoke with five girls who had been sexually abused by the militants, three of whom became pregnant.
"We have to take care of such girls," he said and added that a facility could provide assistance to at least 100 girls, but did not speculate on when or where the facility could be opened.
IS insurgents, who control large swaths of Iraq and Syria and aim to establish an Islamic caliphate, are known for having launched a "campaign of ethnic cleansing" against non-Arabs and non-Sunni Muslims.
The Yazidi community has been persecuted by the militants for months.
Yazidis are considered devil-worshippers and apostates by the Sunni extremists as they profess a religion that dates back to ancient Mesopotamia and combines elements of Zoroastrianism with Sufi Islam.
In October the terrorists admitted they are kidnapping hundreds of Yazidi women and forcing them into sex slavery.
IS slave markets have sprung up across Iraq and have been used by the terror group as a way to recruit new fighters?
A Yazidi woman who was abducted by IS and forced into sex slavery, managed to contact members of Compassion4Kurdistan - which aims to raise awareness of IS' persecution of the Yazidi community in Iraq - to tell her story of the abuses she is subjected to daily.
Compassion4Kurdistan activists staged a mock sex slave market in London in October, to raise awareness of the grave violations of the basic human rights Yazidi women are being subjected to.
The manifestation came as UN officials issued a joint statement condemning "the explicit targeting of women and children and the barbaric acts the Islamic State has perpetrated on minorities in areas under its control."
"We remind all armed groups that acts of sexual violence are grave human rights violations that can be considered as war crimes and crimes against humanity," said the UN statement, which followed a UN study about IS sex slavery markets.
In December, IS members allegedly released a guide on how to abduct and rape non-Muslim women.
The encouraged practises include permission to rape a female captive "immediately after taking possession of her" and to have "intercourse with the female slave who hasn't reached puberty if she is fit for intercourse".
http://www.ibtimes.co.uk/isis-germany-open-trauma-centre-sex-slave-women-raped-by-militants-1480631
--------
Pakistan Man Claims Daughter Being 'Held' In Jamia Hafsa
23 Dec, 2014
ISLAMABAD: An old, distraught father joined the civil society's campaign against Maulana Abdul Aziz of Lal Masjid on Monday, but for a difficult battle of his own.
Father Abdul Qayyum surprised the campaigners, gathered at the Aabpara police station, to ask the police to add charges under anti-terrorism law to the FIR against the maulana, by presenting his own grievance against the maulana's wife, Umme Hassan.
It looked strange that while the civil society is campaigning to 'free' Lal Masjid from Maulana Aziz, Mr Qayyum is out to 'free' his daughter from the Jamia Hafsa seminary for girls run by Umm-e-Hassan.
A resident of Muslim Town locality in Rawalpindi who played professional cricket for the Gulf state of Sharjah, Mr. Qayyum claimed that his graduate daughter Uzma deserted the family seven months ago, and was 'being kept' in Jamia Hafsa.
Uzma, 26, did a four-year course in a religious educational institute after her graduation and left her home suddenly one night, according to her father.
A burial shroud she left on her bed signified she was gone for good.
Later, a call came from Umm-e-Hassan informing that she had taken up residence in Jamia Hafsa, said the father.
All his efforts since to regain her have failed, he said.
"I wrote to religious figures for help but none responded. I tried to file a complaint against Jamia Hafsa but Aabpara police won't do that. A gunman of Lal Masjid tortured me in front of the Aabpara police station for trying that," he said.
When the parents' pleas pestered her too much, he alleged, Umm-e-Hassan threatened leveling "such a shameful charge that I would not be able to survive in the society".
"My daughter is willing to return home but Umm-e-Hassan never allowed me to meet her in privacy. I feel she has brainwashed my daughter," Mr Qayyum claimed to Dawn.
His young, bearded companion, Muhammad Imran, gave a new angle to the story by saying that he was engaged to Uzma three years ago and had left immediately afterwards for Saudi Arabia.
"When I came back, I learnt that Uzma has gone to Jamia Hafsa and is not willing to return home. I have tried many times to contact her but failed," he said.
Mr. Qayyum added that he had requested Umm-e-Hassan to arrange Imran's Nikah with Uzma and let her go with her husband but she replied that Istikhara (guidance from holy Quran) did not favour the match.
Umm-e-Hassan, however, denied all the allegations against her to Dawn.
She said Uzma came to her institution saying she did not want to live with her "harassing" father.
"Since we are already burdened with so many difficulties, I was not ready to take a new responsibility. I tried my best to persuade her to return to her family but she refused. I also offered her to arrange her Nikah with Imran and leave with him but she again refused, saying that her Istikhara did not approve of the union," said the head of Jamia Hafsa.
"Still I did not want to keep her in Jamia Hafsa. I knew that her family would level allegations against me so I decided to send her to a magistrate. He initially sent her to Darul Aman (a government shelter for women) and after four days recorded her statement in which she said that she wants to live in Jamia Hafsa. So the court sent her here," she said.
"She is 26 years old and according to the laws of Pakistan and Islam she has the right to live anywhere she wants. That becomes an issue when parents want to force their children to marry a person of their choice but in this case it seems it is so just because the girl is in Jamia Hafsa. "Everyone wants that she should marry against her wish," said Umm-e-Hassan.
SHO Khalid Awan of Aabpara Police Station agreed that the law is on the girl's side. In the statement she recorded under section 164 before Magistrate Kamran Cheema (on July 10, 2014) she said that she does not want to live with her parents.
"We cannot file a case because, according to the law, every adult Pakistani has the right to live wherever he or she wants to live," said the officer.
http://www.dawn.com/news/1152628/distraught-man-claims-daughter-being-held-in-jamia-hafsa
----------
Jokowi Pledges to Protect Female Human Rights Activists
23 Dec, 2014
Jakarta. Having granted clemency to a female activist just last week, President Joko Widodo on Monday promised that other female Indonesian activists would never be imprisoned again for defending human rights.
"We have to keep fighting for people's rights. Female activists, who strive for their rights and also other people's rights, should never be imprisoned. Something like that should never happen again," Joko, also known as Jokowi, said on Monday in Jakarta.
The president was speaking on Indonesia's Mother's Day. It was not immediately clear whether his pledge would also apply to male human rights defenders.
Last Wednesday, the Justice and Human Rights Ministry issued a letter granting clemency to Eva Susanti Bande, a human rights activist who had been jailed after standing up for farmers' rights in Luwuk, South Sulawesi, in 2010
Eva, who was released from the Petobo detention center in Palu, Central Sulawesi, on Friday, was convicted of instigation and vandalism for her involvement in a rally with a group of farmers against a palm oil company.
In 2010, the Luwuk District Court in Central Sulawesi sentenced Eva to 3.5 years in prison but her sentence was increased to four years on appeal. Eva requested presidential clemency after the Supreme Court turned down her appeal last year.
"I granted Eva's plea for clemency because I'm fully aware of what she's striving for, which is the people's right to land," Joko said.
http://thejakartaglobe.beritasatu.com/news/jokowi-pledges-protect-female-human-rights-activists/
----------
Trade In Illegal Maids in Saudi Arabia Flourishes
23 Dec, 2014
Many Saudi families have resorted to hiring illegal housemaids, since the legal recruitment of domestic workers has become more challenging. Some expat women who have entered the Kingdom illegally are offering their services to families who need them urgently, creating a flourishing black market for this kind of services.
Saudi families have been struggling to hire domestic help following a ban by Asian and African countries on sending housemaids to work in the Kingdom. Ethiopia and Kenya are among the countries which recently banned their citizens from working in Saudi Arabia, canceling visas for housemaids in the Kingdom and permanently stopping any manpower export to the Kingdom.
Other countries also refused to send domestic workers to Saudi Arabia, following reports of crimes and accidents last year. These conditions have contributed to an underground trade in housemaids who have entered the Kingdom illegally.
"There are several reasons for the flourishing illegal housemaid trade in the Kingdom. The first reason is the urgent need of Saudi families for housemaids. Secondly, recruitment offices have raised prices by 40 percent," Khaleel Shake, an economist familiar with the issue, told Arab News.
"Some African and Asian countries have stopped sending domestic workers to the Kingdom, creating a demand-supply imbalance in the local market," Shake said.
Many of these illegal women live in hard circumstances in the Kingdom, since most of them are uneducated, with barely enough money to survive. Therefore, they take advantage of the housemaid crisis, despite the risk of being arrested for working and staying in the country illegally.
Some citizens said they were forced to hire illegal housemaids as they did not see an alternative. "I hired illegal expat women to work as housemaids for two months since I couldn't afford a recruitment office. I don't think there are any other alternatives, except to hire illegal housemaids, which are creating a temporary solution due to their low prices," Abu Ahmed, a Saudi citizen, explained.
Meanwhile, highway patrol foiled an attempt to smuggle illegal Somali and Indonesian women from Taif and Makkah region to different cities, with Saudis working as brokers, according to a local media.
Highway patrol has captured over 259,296 illegal infiltrators, mostly from the southern border. At the same time, the border guards succeeded in arresting 4,343 smugglers, 70 percent of whom are Yemenis who were trying to infiltrate into Saudi borders, according to 2013 statistics of the Directorate General of the Border Guards.
http://www.arabnews.com/saudi-arabia/news/678091
----------
Saudi Wives of prisoners demand support as they suffer ostracism
23 Dec, 2014
Wives of prisoners serving time in the Kingdom's jails are demanding protection from the harsh attitudes of society due to the stigma attached to the head of family being behind bars.
They said that they were being ostracized by society at a crucial time and demanded special attention for their children's education to help them grow into responsible citizens.
Social scientists participating in the activities of the Third Gulf Inmates Week ,organized by the Prisons Administration of the Makkah Province in Jeddah recently, supported the demand of the families to receive support and be protected from social contempt and neglect.
They said that the women and children of inmates are also citizens of the country and had equal rights to education and other programs.
Umm Jaber, wife of an inmate with children said she was finding it hard to make ends meet after her husband was thrown into prison having been convicted in a criminal case five years ago. She said that the company which he used to work for before his conviction sacked him without making any payment leaving his family in dire straits. Umm Jaber wished she could get some government assistance to enable her children to grow into good citizens.
Umm Sami, wife of another inmate, also wished for some sort of steady financial assistance to pull her through, saying that society viewed her and her children as outlaws and refused any kind of assistance.
Psychologist Amani Al-Jahdali underscored the significance of supporting families of prisoners. "When a man is forced to spend a considerable part of his life in jail, his wife has to bear the family responsibility along with the trauma of her husband being a convict," she said.
Amani stressed that the community should come forward and take responsibility for bringing up the children of a prisoner. "Several studies confirm the need to educate and shape a child's personality during the first five years," she said.
She said that it was important for society to double its efforts to protect the families of prisoners until the convicts are released from jail in order to help the children form a healthy social outlook.
She added that any citizen who has had the misfortune of being an inmate must have the right to rebuild his life after the completion of his jail time and be accepted in society.
Another psychologist Zahir Al-Hokair also stressed the need to grant moral, psychological and financial support to the prisoners' families.
http://www.arabnews.com/saudi-arabia/news/678496
----------
Haia helps woman in shelter to remarry
23 Dec, 2014
A woman living in a shelter for victims of domestic violence in Najran has remarried her husband with the generous support of the Commission for the Promotion of Virtue and Prevention of Vice (Haia) and the Social Affairs Ministry.
This has been a positive event in a somewhat tragic affair for the woman who had been staying in the shelter in Najran with her two children and three sisters after seeking refuge from an abusive father. Their mother is also at the
center.
Midwah Al-Midwah, head of the social affairs department and director of the social committee in Najran, told Arab News recently that the center helped to reunite the woman with her husband. The center and Haia members sponsored the costs of their wedding, SR30,000 dowry, furniture and housing in Al-Kharj governorate where the husband works.
Al-Midwah said the police had rescued the women from the head of the family who had physically abused them over several years, despite signing an undertaking with the police that he would not do so.
The social affairs committee had been trying to help the women. They started by looking at the case of the woman who had been divorced from her husband for over a year.
The center contacted the husband's employer to ask if he could have time off to get married to his ex-wife. Al-Midwah said the husband had not been able to remarry because he did not have enough money.
The joyous nuptials were held at a wedding hall in the area in the presence of the bride's happy mother and sisters who will continue to stay at the center until their case is resolved.
http://www.arabnews.com/saudi-arabia/news/678486
----------
Peerzada, From Bollywood to Lecturing Women on Faith
23 Dec, 2014
DUBAI: Life takes unknown turns for everyone. People can hardly guess what is in store next. Such a scenario fits in perfectly for Murcyleen Peerzada, who some couple of years ago was in the limelight of Bollywood with prominent film makers, but now changed her life completely and devoted to religion, delivering lectures to women.
With such life-changing events, the learning and now devoting her life for Muslim world, Peerzada has so much to share.
In an email interview with The Gulf Today, Murcyleen Peerzada unfolds her life story and makes clear that the lack of information for masses results in various problems. She is set to start a series of lectures in January 2015 in Dubai to address women and educate them about Islam as religion and its practice in daily life. She belongs to a Kashmiri Muslim family and was born and raised in Mumbai, finished graduation from Narsee Monjee College of Commerce and Economics (Mumbai) and holds a degree in Mass Media and Communications. She grew up in a "liberal Muslim household" and received basic Islamic education. She was not a practicing Muslim till she was 21.
In the search for answers to her questions, Murcyleen began reading books on Islam for the very first time in her life. She came across a transcript of a video of Zakir Naik on the topic "Women in Islam" and read it all in one evening. She began to train under Farhat Naik, wife of world renowned Islamic speaker and orator, Dr Zakir Naik, who heads the ladies wing in IRF and within a short while became one her most dedicated students. Excerpts from the interview:
How difficult was it to leave the Bollywood world when you were so close to having a successful career?
Of course, it was difficult but Allah made it easy Alhamdulillah. People who have known me since my childhood can't believe to see me taking up Islam so seriously. So it's like I planned something but Allah had different plans for me.
It's good that I did get those many offers and opportunities, that way I don't have any regrets now. I got what I wanted and then realised that I didn't want it. Walking out of a look test for my movie was probably the most difficult thing I ever had to do, but it took me six hours in front of the camera to give up something that I wanted.
I worked with the best talents in Bollywood for about two years. I was extremely focused towards being an actress. I started with assistant direction in YRF so that I could learn the whole process of film-making and while doing that I got many offers to be a lead actress.
Are you addressing issues faced by the women in society generally or issues particular to Muslim women to understand Islam and practice it in their daily lives?
I want to appeal to the ones who don't have a strong Imaan (faith) because not too long ago I was exactly like that. I have had a very liberal upbringing and have been a very regular teenager.
We live in a different time and it's hard to balance between the Deen and the Dunia. Islam liberates women from judgment, norms and trends. The Burqa doesn't make us "backward" nor does a mini skirt make us "modern". I would obviously want to help the society in general but mostly I'm interested in addressing issues faced by the Muslim women... That will be my first priority. I want to help the Muslim youth realise the importance of maintaining our identity and be proud of being a Muslim. Understanding Islam in the right prospective is very important for us so that we can carry it off in the right manner.
Who will be your target audience in Dubai?
Not just Dubai but Muslim girls everywhere, I want to spread a lot of goodness in the world. I have been in two very different careers. I have with all opportunities that have come to me chosen this for myself. I'm not a stranger to all the current trends and way of life. I understand the dilemma that young Muslims are facing. I want people to come back to Islam by understanding the wisdom and relevance of our faith.
Besides Mumbai, have you delivered lectures in other cities/states in India?
I recently organised a conference in Kashmir. There were several women speakers from IRF, Mumbai including myself and Farhat Zakir Naik. It was a great turnout more than we expected, around 6,000 women attended the event. The whole auditorium was filled with young girls and women; we couldn't make space for a lot of people.
What I realize is Muslim women are very interested in learning more about the Deen, but we don't have too many platforms for them. I want to change that. I plan to create a wider platform for women to be heard and especially women in the field of Da'wah.
After Dubai are you planning to address women in other countries by going on an international tour?
Something like that is definitely on the cards. Dubai is my favourite city so I'll start from Dubai. I'm a student of Deen and I'm yet learning about the various subjects in Islam. Insha Allah I do want to make a larger difference.
http://gulftoday.ae/portal/d3d344dd-03f9-49c6-925a-32d4a2285d23.aspx
----------
'Divorced' Muslim Women Lack Access to Justice in Nepal
23 Dec, 2014
MAHOTTARI, DEC 22 - Hasmuna Khatun of Parsadewad-7 in the district has been left in the lurch after her 10-year marriage ended recently as her husband Mustakim Shesh divorced her over the phone while he was working in Saudi Arabia.
"He (Shesh) divorced me over the phone, saying that I was not his right wife," said Hasmuna, who is living with her parents after her in-laws kicked her out of the house following the divorce. Hasmuna said her husband does not support her and their two children.
Khusmuda Khatun was also divorced for she had gone to her maternal uncle's house in India for the purpose of treating her son. Her husband works in Mumbai. She said she works as a wage labourer to support her three children.
The trend of Muslim women being divorced for no apparent reasons is on the rise in the district. According to available data, more than 300 Muslim women are divorced in Parsadewad alone.
However, many divorced women are deprived of the share of husband's property as they lack marriage registration as well as birth registration of their children. Though the court delivered a verdict in favour of Hasmuna recently, she is yet to receive her share of her husband's property for want of marriage registration. Chadani Khatun, a tenth grader at local school, said Muslim women are deprived of their rights as they neither register their marriage nor children's births. "The trend of divorce for no apparent reason could end if marriages and births in the community were registered," she said.
Sunita Bhattarai of District Women and Children Office said they are launching campaigns to minimise gender-based violence. Former VDC chairman Anawarul Hak said the government and society should create awareness on birth and marriage registration in Muslim community in order to control social evils.
http://www.ekantipur.com/2014/12/22/national/divorced-muslim-women-lack-access-to-justice/399356.html
----------
The Afghan film where a Buzkashi game decides a woman's future
23 Dec, 2014
A Man's Desire for a Fifth Wife, an Afghan film shot in a volatile northern province of Afghanistan, has recently been screened in Kabul.
Ostensibly a love story, it delivered some uncomfortable home truths about Afghan society in this first outing to a home audience.
It tells the story of a wealthy landowner Sher Mohammad who is married with four wives, the maximum number according to Islamic law, but who becomes infatuated with another woman named Ulker. He decides he wants to marry her as well, a decision overshadowed by friction and rivalry at home.
But two other men are also in love with the object of his desire - another wealthy married man and a shepherd. To avoid mayhem in the local community the young woman's father says that the fate of his daughter should be decided by a Buzkashi game.
This is a traditional Afghan game where men on horseback fight to pick up a dead goat from the ground, run it across the field and throw it into a circle or a "goal".
Unflinching portrayal
But what about the object of the men's desire?
She loves the shepherd, but as the film's director Sadeq Abedi says: "Sadly Afghan women usually don't have a choice in selecting their future husbands. They end up living in misery for the rest of their life. I wanted to show this reality."
At one point in the film Ulker says she does not want her fate to be "tied to the feet of the horses".
It is not without irony that the most emotionally demanding roles for women in this film were played by Central Asian actresses. Afghan women tend to shy away from scenes that portray them at odds with their own culture.
Nevertheless a number of scenes in the film provide an unflinching portrayal of life in Afghanistan, including the scene where Sher Mohammad beats one of his wives or the scene where we are privy to the agony of two young boys as they are circumcised without anaesthetic.
"Scenes like a man hitting his wife or the circumcision of boys show the harsh reality of life in Afghanistan, where women are treated inhumanely and the vast majority of people still have no access to medical care," Mr Abedi says.
A woman in the audience at its first screening in Kabul echoes these thoughts: "The film has shown scenes that we've never seen before. I think it will be interesting for a global audience to see what happens in parts of Afghanistan."
People in rural Afghanistan still consult a man in the community whose many "skills" extending to cutting hair, pulling out painful teeth and performing circumcisions. This is a centuries-old tradition.
It was partly this desire to document these ancient and steadfast customs that led Mr Abedi to take the controversial decision of shooting the film entirely in northern Afghanistan. He wanted to capture real life in these areas.
"We needed Afghan scenery, horses and uniform for the horse riders not to mention thousands of extras," he said.
Afghan princess
Putting an international crew of 120 in volatile Faryab province was not an easy decision, but although Mr Abedi received threats, the support of local residents, tribal leaders and the army was eventually decisive.
Very few films are produced in Afghanistan, as a result of decades of conflict.
Before those conflicts began, Afghanistan did have an emerging film industry. In 1965, Raia Balkhi was the first film produced without foreign help. It was a romantic story based on the life of a princess from the 10th Century - the first Afghan woman poet, who fell in love with a slave.
Sima and Abdullah Shadan played the leading roles. When they later married, they became the Angelina Jolie and Brad Pitt of their time in Afghanistan.
Almost 50 years later, the spotlight is not on a story about an Afghan woman liberated and bold enough to proclaim her love for a slave, but a woman whose father decrees that the outcome of a game will decide her future husband.
Perhaps, as the director argues, this is the truest depiction of Afghan life. But, with a spoiler warning for the next line, the young woman's fate was also in the director's hands.
So despite the man's desire for a fifth wife, the shepherd won the match and the young lovers were united. He opted for the happy ending.
http://www.bbc.co.uk/news/world-asia-29249653
----------
Pupils from a Muslim Girls' School Have Raised Over £200 for a Hospice
23 Dec, 2014
Pupils from a Muslim Girls' school have raised over £200 for a Hospice.
Pupils from the Islamiyah Girls School raised the money in the hope of making a difference to patients.
In total they raised £214.50 for the East Lancashire Hospice.
Mr Seedat, head teacher of the school said, "The girls are helping to support their local community and the involvement they have may also lead to volunteering for the hospice. We will repeat our fundraising again next year for this important charity."
http://www.asianimage.co.uk/news/10121501.Islamic_Girls__School_pupils_raise_funds_for_Hospice/
----------
Bringing Education to African Girls
23 Dec, 2014
THE HAGUE — Two decades ago, when Ann Cotton, a British educator and philanthropist, started examining the problem of low school enrollment among girls in rural Zimbabwe, she was struck by the crushing poverty, which to her presented an even bigger obstacle to girls' education than tradition.
Families did not have enough money for school fees, uniforms or books, and would spend what little they had on the education of their sons, who were more likely to get paid jobs.
On Nov. 4, Ms. Cotton was awarded the World Innovation Summit for Education prize for her role as founder and director of Camfed, an organization that has helped millions of young girls in sub-Saharan Africa remain in school.
WISE, which was established by the Qatar Foundation in 2009 in Doha, Qatar, has become one of the leading forums for open discussion on the state of global education. More than 1,500 delegates, including academics, teachers, students and innovators from 107 countries, attended this year's forum, with an especially large representation of educators from the Middle East and the Southern Hemisphere.
The $500,000 prize was awarded to Ms. Cotton at the meeting's opening by Sheikha Moza bint Nasser, co-founder and chairwoman of the Qatar Foundation, and the wife of the former emir of Qatar.
Ms. Cotton's early experience in Zimbabwe led her to the conclusion that direct sponsorship would help ensure that more girls attended school, a realization that motivated her to found Camfed in 1993.
She began by getting financial aid for a few dozen students. The organization has grown substantially since then and has supported more than 1.2 million students in Ghana, Malawi, Tanzania, Zambia and Zimbabwe.
More than three million students have benefited from the improved learning environments that are an indirect result of Camfed's work.
Besides financially supporting students, the organization trains teachers, mentors and community activists. It has also created a 25,000-member network of Camfed graduates who use their own experiences to teach and advise their communities, something the organization calls a "virtuous cycle."
Providing universal primary education for children has been declared one of the goals of the United Nation's post-2015 development framework, and technological advances promise to shake the foundations of even the poorest education systems. The announcement of the education prize on the first day of WISE's sixth world summit meeting, in a year when Kailash Satyarthi of India and Malala Yousafzai of Pakistan were awarded the Nobel Peace Prize for their fight to bring education to all children, put the topic of children's education, especially for girls, at the forefront of the discussion.
"There is a feeling, a zeitgeist, a global awareness around this issue, and we have to take advantage it," Ms. Cotton said in a telephone interview from Cambridge, England, the week before the prize was announced.
This sentiment was shared by others who attended the meeting.
"Fifteen years ago, you would have to explain to people why girls' education is important," said Safeena Husain, founder and chief executive of the Indian nonprofit Educate Girls. "Now the issue of education and gender is ripe."
"It's been these positive stories and also these incredibly horrific stories that have brought a sense of urgency to the issue," Ms. Husain said, referring to a recent spate of violent crimes directed against women and girls in India.
Ms. Husain, who spoke on a panel on motivating young pupils, founded Educate Girls in 2007. Her organization works with nearly 5,700 schools in the northwestern Indian state of Rajasthan to eliminate the gender gap in primary schools.
Ahead of this year's meeting, the theme of which was creativity, the Qatar Foundation conducted a survey on schools in the year 2030.
The results of the survey were released on the eve of the gathering, which led to extensive discussions on the evolution of global education and the factors that are likely to shape it in the future.
"We are facing, as a planet, huge challenges in terms of environmental and technological change," said Keri Facer, a professor of education at the University of Bristol, in Britain. "These are not things that are confined to the border."
Professor Facer was on a panel discussing the future of education degrees in a world where the opportunities to engage in higher learning have become uncoupled from conventional degree- or diploma-granting institutions, notably through the growth of massive open online courses, commonly known as MOOCs.
The Qatar Foundation survey, "School in 2030," was carried out among 645 education experts this past summer. The majority of participants predicted that certification by companies, or peer-review mechanisms — like those already offered on some business-oriented social networks such as LinkedIn — would replace academic diplomas in the future as indicators of a person's level of education or qualifications.
Nearly half agreed that by 2030, most of what students learn will come from online, with 73 percent saying the role of the teacher would shift toward a guide and mentor for students and away from the traditional role as the source of knowledge, a role predicted by only 19 percent.
http://www.nytimes.com/2014/11/24/world/africa/bringing-education-to-african-girls.html?_r=0
----------
Journey of Pakistan's sexual harassment law captured in documentary
23 Dec, 2014
ISLAMABAD: "A large number of women face sexual harassment at work and leave their jobs rather than complaining about it. Women should speak up against sexual harassment because silence exacerbates the problem," said Dr Fouzia Saeed at the launch of a documentary titled I was not alone based on her struggle for the promulgation of the law against sexual harassment.
The documentary was made by non-governmental organisation (NGO) World Movement for Democracy (WMD) and was launched in collaboration with the NGO, Mehergarh, at Pakistan National Council of Arts (PNCA) on Monday.
WMD identified three individuals who had done outstanding work for the protection of human rights and highlighted their struggles and achievements in three documentaries.
Dr Fouzia said that although the law against sexual harassment was made in 2010, a large section of the population was unaware about the law and its implications.
I was not alone highlights one woman's struggle for promulgation of law
"If we raise awareness about this law and join hands to work together for its implementation, no one can stop us from working and living our lives with dignity," she said.
In the 20-minute long documentary, Dr Fouzia discusses how she used to work at the United Nations when a colleague sexually harassed her.
She was quiet about this for three years. When she finally decided to speak up, she found out that some of the other women at the office were facing the same problem. Eventually 11 women filed a sexual harassment case against their colleague.
This proved to be a turning point in Dr Fouzia's life and the beginning of her 10-year struggle for the promulgation of the law against sexual harassment.
As Dr Fouzia filed the case against her colleague on December 22, the then prime minister, Yousaf Raza Gilani, declared the day as National Working Women's Day.
Representative of the WMD Zafarullah Khan said this documentary was an attempt to capture the movement for making a law against harassment. Success stories should be shared and exchanged to motivate others.
Speaking at the event, Member of National Assembly (MNA) Nafisa Shah said people often say that women have four roles - mother, daughter, wife and sister - but this is incorrect.
"A woman can be a good manager, worker, politician and social activist. We have role models like Malala Yousafzai and Dr Fouzia Saeed. We had the youngest woman prime minister in a Muslim country," she said.
"Women should come out to work in greater numbers as there are few women in jobs today. For example, women are only 0.5 per cent of the police force," she said.
MNA Dr Ramesh Kumar Vankwani from Pakistan Muslim League-Nawaz (PML-N) said the documentary inspired him as it showed that anything was possible.
"I have been struggling for Hindu Marriage and Divorce Act since 2002. I believe that one day the act will pass. Dr Fouzia has also supported me in struggle against forced conversions," he said.
Retired Senator Col Syed Tahir Hussain Mashhadi from the Muttahida Qaumi Movement said women were a majority in Pakistan and this majority must be given their rights. He said that it was unfortunate that many senators opposed the sexual harassment act.
"Senators would blame women and say it's inappropriate clothing that invites harassment," he said. Former provincial minister from Khyber Pakhtunkhwa (KP), Sitara Ayaz, from Awaami National Party said as the first woman minister in Khyber Pakhtunkhwa, she faced many problems. "But only women can bring true change," she added.
http://www.dawn.com/news/1152629/journey-of-pakistans-sexual-harassment-law-captured-in-documentary
----------
Saudi Shoura to vote on birth rate cut
23 Dec, 2014
The Shoura Council will vote on a delicate subject, the reduction of the birth rate in the Kingdom. During the session, the council will hear the point of view of the committee that was tasked with researching the subject.
In its report, the committee supported encouraging breastfeeding among Saudi women, but expressed reservations about reducing the birth rate because it has already dropped in the past four decades. According to the committee's report, the birth rate at the end of the 1970s was 7 infants per woman, a number that has dropped to 4.8 in 2000 and 3.3 in 2009.
The committee said that some of its objections to reduce birth rates stem from the growing number of foreign workers already present in the country to fill the shortage in domestic labor. According to the committees' population forecast, this will lead to an imbalance in demography of the Kingdom in the near future. In addition, when Western countries reduced their birth rates, they suffered shortages in manpower, which opened the door for large numbers of immigrants, resulting in many social, religious, economic and political disturbances.
In the next 15 years, the committee argued, the birth rate is expected to drop to 0.98 child per couple, less than the global average. Statistics also point to the drop in the population growth and birth rate in the Kingdom by 6.01 percent.
http://www.arabnews.com/saudi-arabia/news/678101
----------
URL: https://newageislam.com/islam-women-feminism/sex-slavery-pushes-iraq-victims/d/100647