New Age Islam News Bureau
18 Jan 2013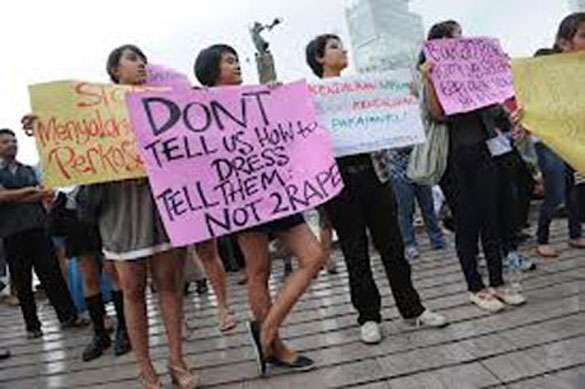 • Rape of Women Used as a "Strategy" in Syrian War
• Indonesia Judge Running for Supreme Court Suggests Women Might Like Rape
• Wearing Skirts Is Dangerous in India and North Dakota, United States
• Women Banned From Working in Boys' Schools in Bahrain
• Kenyan Moves to 'Medicalise' Female Genital Mutilation Jeopardise Work to Eliminate It
• Syrian Refugee Mothers Worry about Expected Babies' Fate in Lebanon
• Indonesia: Police Re-Enact Alleged Sex Abuse Case
• Agony Continues For Wives of Indian Prisoners in Dubai
• Woman, In Bangladesh, Beheaded In Her House
• Women's Nationality Supporters Hold Sit-In, In Lebanon
• PDP Women Demand Additional Political Appointments
• Madonna's Charitable Endeavours Rubbished By Malawi Education Authorities
Compiled by New Age Islam News Bureau
Photo: Indonesia Judge Running for Supreme Court Suggests Women Might Like Rape
URL: https://www.newageislam.com/islam,-women-and-feminism/new-age-islam-news-bureau/sex-slave-aged-11--branded-with-initial-of-her-abuser-/d/10062
-------------------------
Sex Slave Aged 11 'Branded With Initial Of Her Abuser'
Nine men are accused of grooming and abusing vulnerable girls in Oxford
Child sex ring allegedly abused several girls - aged 11 to 16 over eight years
Gang member allegedly branded one schoolgirl with 'M' for Mohammed
Group's second victim, aged 14, told a friend 'she just wanted to be loved'
By ARTHUR MARTIN
17 January 2013
A girl of 11 was sold to a child trafficker who branded her with his initial, a court heard yesterday.
Mohammed Karrar, 38, also loaned her to abusers around the country for £600 an hour, it was alleged.
Over five years she was repeatedly raped by large groups of men in what she described as 'torture sex', the jury was told.
Seven men of Pakistani origin and two from North Africa are accused of 79 offences against six vulnerable white British girls. The charges include child rape, sexual trafficking and child prostitution.
Noel Lucas QC, prosecuting, said Karrar – known as Egyptian Mo – bought the youngest victim from an unnamed man just after her 11th birthday.
He befriended her with gifts of perfume and hard drugs but then began to beat her up and raped her, the Old Bailey was told.
He branded her with one of her hair pins, which he had twisted into the shape of an 'M' and heated with a cigarette lighter. It left a scar on her left buttock.
'He regarded her as his property,' Mr Lucas said. 'He showed her no regard. If she had the temerity to resist, he beat her.
'He branded her to make her his property and to ensure others knew about it.' At the age of 12 she was introduced to Karrar's brother Bassam, 33, who is also accused of raping her.
The girl 'describes the Karrars as sick sex monsters', Mr Lucas said. 'They were always talking about sex and spoke about women in a vile manner.
'Mohammed Karrar liked her to dress up and act out role play. Both brothers used to beat her.'
From the age of 12 the girl was sold to groups of Asian men who violently raped her in private homes and guesthouses around Oxford and elsewhere. Sometimes she was injected with heroin or given date drugs to ensure she complied with the gang's sick demands, it was alleged.
Mr Lucas added: 'It became routine for her to be taken to various locations, houses and hotels by the Karrar brothers so she could treat their guests. She would be made to dress up, wear very short skirts and a bikini top, do her hair and put on lots of make-up.
By the end of the evening she would have been sexually used and abused by all the men. She would be so drugged up as to be unable to feel the pain.'
Just after her 12th birthday the girl told Karrar she was carrying his child. He allegedly beat her up and then took her to a house in Reading where she was given a 'backroom abortion' using a crochet hook.
On other occasions Karrar raped the girl in the living room of her own home as her father slept in another room, it was said.
Sometimes his friends would arrive at her house and they would allegedly rape her too. The girl, who came from a troubled family, naively believed 'Mo' loved her and was going to marry her when she was 16, the court heard.
During a trip to the Lake District in 2007, when she was 14, she is said to have been called by Karrar on her mobile phone.
David Hughes, a social worker, answered and Karrar allegedly asked to speak to her.
When Mr Hughes refused, Karrar allegedly said: 'If you don't get her I'll **** you up, I'll **** her up and I'll **** her mum.' Later the girl told the social worker of 'men who took her to houses'.
In January 2008, she told police a man called 'Egyptian Mo' had raped her in London nine months previously. Two years later the girl contacted her alleged attacker for an apology but was raped again, the court heard.
Kamar Jamil, 27, Akhtar Dogar, 32, his brother Anjum Dogar, 30, Assad Hussain, 32, Mohammed Karrar, Bassam Karrar, Mohammed Hussain, 24, Zeeshan Ahmed, 27, and Bilal Ahmed, 26, deny all the charges against them.
http://www.dailymail.co.uk/news/article-2263924/Youngest-sex-gang-victim-11-branded-hairpin-sick-sex-monsters-plied-drugs.html#ixzz2IJT5YsdZ
-------------
Rape of Women Used as a "Strategy" in Syrian War
Kristina Chew
January 16, 2013
Syria has been wracked for nearly two years by a bloody civil war. A new report (pdf) from the International Rescue Committee (IRC) says that the main reason women and girls are fleeing the country is sexual violence. Rape has become a "significant and disturbing" feature of the crisis, according to interviews with 240 Syrian women and girls who have fled to Lebanon and Jordan.
The details of the IRC report are chilling. Those interviewed said they had been attacked in public and in their homes, sometimes in front of their families and by several men. Their attackers have mostly been armed men and, says the IRC, rape has been used as a "strategy in war" — the horrific sexual violence that has come to be associated with the Balkan wars and conflicts in Africa is going on in Syria. The report does not specify whether government forces under Syrian President Bashar al-Assad or rebel soldiers are behind most of the alleged assaults.
After fleeing Syria, conditions are not necessarily better for women and girls. One young girl, Aisha (not her real name) who is living with 22 other Syrian families in an abandoned school in Lebanon, told the IRC of being unable to go out unless accompanied by others and of being verbally harassed.
Syrian survivors of rape are often reluctant to alert authorities about what has happened to them due to "the stigma and social norms around the 'dishonor' that rape brings to women and girls and their families," says the IRC. They also fear retribution from their assailants and from their own families: Because of the shame rape is thought to bring upon a family, survivors fear being killed by relatives. Even more,
The fear of rape is so significant that many families are marrying off their daughters to "protect" them from rape. Others revert to early marriage if their daughters have been sexually assaulted "to safeguard their honour." In one extreme case, the IRC was told of a father who shot his daughter when an armed group approached to prevent the "disgrace" of her being raped.
The IRC report also says that many refugees have experienced kidnapping, torture and murder and those doctors have reported a "systematic campaign to restrict access to healthcare through strategic bombing" that has led to hospitals closing.
Over 60,000 are reported to have been killed in the conflict in Syria which began in March of 2011, in the wake of the Arab Spring protests that unseated the longtime dictators of Tunisia, Libya and Egypt. More than 2.5 million (out of Syria's total population of 22.5 million) have been displaced and 612,000 registered as refugees with the United Nations so far. The U.N. World Food Program has already announced that it cannot deliver food to up to one million Syrians because violence — scores were killed on Tuesday after a bomb struck a university in Aleppo just as exams were starting– has engulfed the country.
British Foreign Secretary William Hague has announced that the U.K. is sending specialists to address rape and sexual violence in Syria, to meet with local health professionals and gather medical and forensic evidence. It is a start but, given the ongoing violent conflict in Syria and the trauma of those still in the country and those who have fled, it will be a long-term effort to help Aisha and so many other women and girls feel safe again.
http://www.care2.com/causes/rape-of-women-used-as-a-strategy-in-syrian-war.html#ixzz2IJQVhhfF
-------------
Indonesia judge running for Supreme Court suggests women might like rape
BY RHEANA MURRAY / NEW YORK DAILY NEWS
JANUARY 16, 2013,
Indonesian women, some clad in miniskirts, protest remarks made by Jakarta Governor Fauzi Bowo, who blamed a 2011 gang rape on the victim's choice of clothing.
A boneheaded Indonesia judge sparked fury when he suggested women might "enjoy" being raped as much as their attackers.
The crass comments came as Daming Sunusi, running for the Indonesian Supreme Court, was being questioned by a parliamentary panel Monday.
Sunusi was asked if the country should consider the death penalty in rape cases.
He said careful consideration is necessary "because in a rape case, both the rapist and the victim enjoy it," according to CNN.
Several members of the commission reportedly laughed at the remark.
Sunusi later said his response was a joke to "ease the tension" at the hearing, held to determine whether he's a proper fit for the court.
"I have three adolescent daughters and one of them told me that she is very embarrassed and that she felt as if she did not know me at all," he said during an apology at a press conference, BBC News reported.
"[I have] said something that no man should ever say, especially a Supreme Court candidate," Sunusi added.
Women's rights groups and an online petition are calling for Sunusi's nomination to be shot down.
At least two political parties have said they will reject his candidacy.
The Judicial Commission also acknowledged Sunusi's grave misstep.
"We regret his statement," spokesperson Asep Rahmat said on Tuesday, according to The Jakarta Post. "We realize that the fit and proper test is the sole authority of the House of Representatives. Yet, we expect the lawmakers to take such controversial statements into their consideration."
rmurray@nydailynews.com
http://www.nydailynews.com/news/world/indonesia-judge-women-rape-article-1.1241011#ixzz2IJVQNcEm
-------------
Wearing Skirts Is Dangerous in India and North Dakota, United States
BY KAT STOEFFEL
18 January 2013
Hope you weren't tired of reading about how women risk being raped if they wear short skirts in public. Today, a front-page story in the New York Times reports that the victim-blaming trope trotted out in response to rape cases in Indonesia and India also has a grip on the United States. At least in Williston, North Dakota, where an oil boom brought "droves" of young men to its labour-intensive, high-paid jobs, upsetting the region's gender balance and leaving women feeling unsafe and harassed.
Full report at:
http://nymag.com/thecut/2013/01/wearing-skirts-risky-in-india-and-north-dakota.html
-------------
Women Banned From Working In Boys' Schools In Bahrain
By Habib Toumi
January 17, 2013
Manama: An unexpected decision on ban women from working in boys' schools in Qatar has left the establishments, teachers and staff struggling to readjust, according to a newspaper report.
The decision by the education authorities called for the immediate transfer of all Qatari women from independent boys' schools to girls' schools and to the termination of the contracts of non-Qataris.
Full report at:
http://gulfnews.com/news/gulf/qatar/women-banned-from-working-in-boys-schools-1.1133620
-------------
Kenyan Moves to 'Medicalise' Female Genital Mutilation Jeopardise Work to Eliminate It
By Faiza Jama Mohamed/Equality Now
18 January 2013
NAIROBI -- Female genital mutilation (FGM) is a severe form of discrimination against girls. It is an extremely violent act of control and an utterly invasive and destructive assault of the female sexual organs. It promotes the idea that there is something fundamentally wrong with girls, which needs to be changed. It is often carried out for cultural or supposedly religious reasons, even though it is not referred to in any major religious text. FGM is most prevalent in parts of Africa and the Middle East. However, it is a global problem, which has already affected 100 – 140 million women and girls around the world.
Full report at:
http://www.trust.org/trustlaw/blogs/the-word-on-women/moves-to-medicalise-fgm-jeopardise-decades-of-work-to-eliminate-it-entirely
-------------
Syrian Refugee Mothers Worry about Expected Babies' Fate in Lebanon
16 January 2013
Umm Hamza like many Syrian refugee mothers in Lebanon is worried about the fate of her expected child.
She said she does not want her child to face what the babies of other Syrians refugees are facing. The expecting mother said, hundreds of Syrian babies born in Lebanon after the outbreak of the Syrian revolution, are not officially registered and only receive a birth certificate with no birth name.
Full report at:
http://english.alarabiya.net/articles/2013/01/16/260867.html
------------
Indonesia: Police re-enact alleged sex abuse case
The Jakarta Post
January 18 2013
Detectives held a re-enactment on Thursday in the case of the suspected sexual abuse that led to the death an 11-year-old girl from a family of trash scavengers.
The re-enactment, a formal part of investigations in to crimes against persons, was conducted behind doors at the home of the girl, identified as RI, in Pulogebang, East Jakarta. Full report at:
http://www.thejakartapost.com/news/2013/01/18/police-reenact-alleged-sex-abuse-case.html
-------------
Agony continues for wives of Indian prisoners in Dubai
PS. Jayaram / 18 January 2013
The agony continues for six wives of Indian prisoners in Dubai jails with the Andhra Pradesh State Human Rights Commission (APSHRC) on Thursday posting to March 4 the hearing pertaining to their case. The women are seeking government help for the release of their husbands.
Full report at:
http://www.khaleejtimes.com/kt-article-display-
-------------
Woman, In Bangladesh, Beheaded In Her House
18 January 2013
A housewife was found decapitated at her Mirpur residence in the capital early yesterday.
Her beheaded body was found in the bathroom and the head in another room.
The deceased, Sadia Islam Rita, 23, was wife of Manik Mia Bepari of Kushtia, a garments buying house employee, who is believed to have fled the area.
Full report at:
http://www.thedailystar.net/newDesign/news-details.php?nid=265692
-------------
PDP women demand additional political appointments
18 January 2013
Birnin Kebbi - The Women Wing of the Peoples Democratic Party (PDP) in Kebbi on Thursday demanded for more appointments into political offices.
Hajiya Kulu Azare, the leader of the group, made the demand in an interview with the News Agency of Nigeria (NAN) in Birnin Kebbi.
She said although 35 women had been given political appointments by the state government, there was still need to increase the number considering the role played by women in the party.
Full report at:
http://nigeria.news24.com/Politics/News/PDP-women-demand-additional-political-appointments-20130118
-------------
Madonna's charitable endeavours rubbished by Malawi education authorities
TIM WALKER LOS ANGELES
17 JANUARY 2013
Madonna's charitable endeavours were dealt another blow when Malawi's Education Minister flatly denied the pop star's claims that her charity had built 10 new schools in the country.
In December, Raising Malawi announced that its efforts to support vulnerable children in the East African nation had led to the construction of 10 primary schools to serve more than 4,800 pupils in rural villages. The schools, it said, were the result of a partnership between Madonna, her charity, and a non-profit school-building organisation, buildOn.
Full report at:
http://www.independent.co.uk/news/world/africa/madonnas-charitable-endeavours-
-------------
URL: https://www.newageislam.com/islam,-women-and-feminism/new-age-islam-news-bureau/sex-slave-aged-11--branded-with-initial-of-her-abuser-/d/10062