New Age Islam News Bureau
2 Jul 2012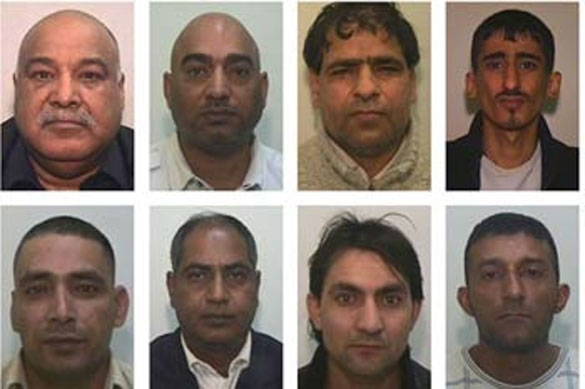 • Wahhabi Extremists Blown Up Girls' School in NW Pakistan
• 65% Saudi Working women Seek Financial Independence: Survey
• Nigeria Woman Arrested In Malaysia over Drug Smuggling
• Death Breaks 93- Year Old Pupil Fathima Beevi's School Dream
• Muslim Women in Dallas Show Flair for Their Fashion
• Nepal Muslim Women Seek Fair Share of State Pie
• Women Asked to Remove Headscarves at French Airports
• Muslim Family Remarries Widowed Daughter-In-Law at Bhopal, India
• 'Women 'Worst Affected' By Militancy, Intolerance' Says Sherpao
• Canada Honours Blind Muslim Sisters for Their Efforts in Advocating For Disabled People
• Foreign Reporters to Cover Int'l Conference on Women & Islamic Awakening
• I am getting life threats: Standing Committee on Human Rights Chairman
• 'Media Depends On Demands of People': Asma Shams, President IERO
Complied by New Age Islam News Bureau
Photo: Sex Grooming Cases By Pakistanis Spark Racial Tensions in UK
URL: https://www.newageislam.com/islam,-women-and-feminism/new-age-islam-news-bureau/sex-grooming-cases-by-pakistanis-spark-racial-tensions-in-uk/d/7798
----------
Sex Grooming Cases By Pakistanis Spark Racial Tensions In UK
Jul 2, 2012
ROCHDALE, ENGLAND: She was lonely in the way only an adolescent girl can be: No friends, no boyfriend, not much of a relationship with her parents. So she felt special when a man decades older paid attention to her, bought her trinkets, gave her free booze.
Then he took her to a dingy room above a kebab shop and said she had to give something back in return. His demands grew: Not just sex with him, but with his friends. It went on for years, until police charged nine men with running a sex ring with underage girls.
The story of Girl A, as she became known in court, is tragic by any measure, but it has also become explosive. Because there is no getting around it: The girls are white, and the men who used them as sex toys are Asian Muslims, mostly Pakistanis raised in Britain. And it's not just Rochdale -- roughly a dozen other cases of Asian Muslim men accused of grooming young white girls for sex are slowly moving to trial across northern England, involving up to several hundred girls in all.
In today's Britain, which prides itself on being a tolerant and integrated society, the case has stripped away the skin to expose the racial sores festering beneath. It is also feeding an already raw anger against the country's Asian Muslim minority, in a movement led by far right groups at a time when the economy is stalled.
"You can't get away from the race element," says prosecutor Nazir Afzal, a British Muslim with family roots in Pakistan who ended several years of official indifference to the girls' plight and finally brought the perpetrators to trial. "It's the elephant in the room."
MORE ABOUT ROCHDALE
From a distance, Rochdale looks like a picture-perfect English city, with the 800-year-old Parish Church of St. Chad perched high above the streets, and the Victorian Gothic Town Hall just below, its clock tower resembling the one that houses London's Big Ben.
Up close the flaws become clear. Like missing teeth in an otherwise sparkling smile, a fair number of downtown shops are boarded up, or have been turned into pawn shops or dueling "pound shops" where almost all items cost 1 pound ($1.60) or less.
The Pakistani community started to grow half a century ago, when the town's cottons mills were flourishing. The newcomers, most of them from poor rural villages, were drawn by the promise of steady jobs and a chance to educate their children in English schools.
A number of mosques became part of the skyline, particularly the showcase Golden Mosque, winner of several design awards. Today, Muslim men wearing beards and decorated caps and women in black robes and veils are a constant presence on the downtown streets.
Nearly 1 million Pakistanis live in England - far more than in any other European country - with about 25,000 settled in the greater Manchester area that includes Rochdale. The government's equality commission reports that more than half of the Pakistanis in Britain live in poverty, far more than the general population, with just under 75 percent having no formal savings.
They face hard times now. The closed shops are signs of a double-dip recession that has hit northern England harder than the more affluent south, which includes London, with its financial district and well-to-do suburbs.
The mills have long since closed; the local newspaper trumpets gloom and doom: A tripling in the number of homeless, a sharp rise in youth unemployment, more people seeking housing benefits.
Even the local McDonald's, long a fixture in the town center, has moved out.
It was in this environment that Girl A lost control one summer night in 2008.
After drinking heavily, the 15-year-old went to the kebab shop in nearby Heywood where she had first met her "boyfriend." She started screaming and busting the place up. When police were called, she told them she had been raped -- repeatedly -- and offered up her semen-stained underwear as proof.
Greater Manchester Police detectives concluded the girl, who was below the age of consent, was telling the truth, but Crown Prosecution Service lawyers recommended against pressing criminal charges, reasoning that the jury might not believe a troubled, hard-drinking, sexually active young girl. The case was quietly dropped after an 11-month inquiry.
The abuse intensified. The ring of predators grew; the circle of victims widened. Eventually there would be at least 47 victims or witnesses.
The girl was driven around at night, forced to have sex with more and more men, sometimes up to five a day, in cars or restaurant backrooms or grubby apartments. The men threatened her if she complained. There seemed to be no escape.
She was trapped in a secret world of sex acts that took place late at night when most people in Rochdale were safely tucked away in their homes.
SEX OFFENDERS' PROFILE
The Rochdale men do not fit the classic profile for sex offenders in Britain -- the majority of pedophilia crimes are committed by white men who target boys and girls via the Internet. However, there is a consensus among prosecutors, police, social workers and leading national politicians that "street grooming," which happened in Rochdale, is largely dominated by Asian men.
Ella Cockbain, a University College of London crime science specialist, says research shows that mostly Asian men make up the big groups of offenders who work together. She chooses her words carefully because the sample size is small and the topic sensitive.
"There are definite patterns emerging that would be foolish to ignore," she says.
Mohammed Shafiq, a British Pakistani who directs the Ramadhan Foundation in Rochdale, has angered some in his own community by suggesting that police at first did not pursue the case aggressively for fear of appearing racist because of an obsession "with the doctrine of political correctness."
Shafiq says that a "tiny minority" of Pakistani men feel white girls are worthless and immoral - and can be abused with impunity.
"They know if they took someone from the Asian community, it pretty quickly is going to be found out," he says. "But those white girls are available, so they think they can get away with it."
The men in the Rochdale sex ring were remarkable only in their ordinariness. They were part of British life, but on the fringes - the sort of people most Britons don't really notice when they pass them on the street.
Many were taxi drivers, accustomed to working all-night shifts with long down time between fares, and they frequented the late-night kebab takeout shops offering familiar lamb, chicken and falafel dishes. Their cab stands and the kebab shops were often the only businesses that remained open after the bars closed.
Most of the men were first or second generation Pakistanis raised mainly in Britain. Only one had faced previous sex charges: Ringleader Shabir Ahmed, at 59 the oldest in the group, who was accused of repeatedly raping a young girl in a separate case. Ahmed, known to the girls as "Daddy," was convicted of 30 counts of rape in that case last week.
Some of the men had families and small businesses. The ring included Abdul Rauf, 43, who would later claim to have experience as a Muslim preacher, which local Islamic leaders dismiss as a total fabrication. A few had ongoing contacts with local politicians.
The men were neither affluent nor dirt poor. They lived outwardly stable lives but had few obvious prospects for advancement.
They were finally brought to justice after health workers reported a large increase in the number of underage girls in the Rochdale area claiming to have suffered sexual abuse. The next year, Afzal, the new regional chief of the Crown Prosecution Service, reversed the earlier decision by prosecutors and decided to press the case in court, with Girl A at its core.
"It was a no-brainer," Afzal told the Associated Press. "She was immensely credible. And the police now had evidence of a wide network."
Eleven men were charged with offenses ranging from rape to conspiracy, and police suspect more were involved. The men had such psychological power over the girls that even during the trial, one girl talked of a defendant as her boyfriend.
Parliament has launched an inquiry based in part on reports that the abuse is far more widespread than originally thought. Afzal said his office is handling roughly a dozen other similar cases, including one that involves 13 men accused of operating a sex ring with 24 girls.
Afzal says that as a Muslim he is sickened by the crimes.
"Rape and alcohol and abuse are not part of Islam," he says. "Just because they have a beard and go to the mosque doesn't make them good Muslims."
RACE AND RELIGION
As the Rochdale trial reached court, the issue of race and religion burst into the open.
One far-right protester carried a sign making reference to the meat favored by many observant Muslims because it meets strict religious guidelines. "Our girls are not Halal meat," the sign read.
Inside the court, Ahmed, a key defendant, fought back hard. He accused the all-white jury of racism. He accused one girl of thinking whites were superior, and denigrated them all as greedy money seekers. And he accused white society of neglecting its girls and tolerating, even encouraging, bad behavior.
"You white people train them in sex and drinking, so when they come to us they are fully trained," he said.
The jury found nine men guilty and set two free. Judge Gerald Clifton articulated what many felt but were reluctant to say out loud when he accused the men of treating white girls as worthless because "they were not of your community or religion." Then he sentenced them to a total of 77 years in prison.
The May verdict further polarized Rochdale. Pakistanis were horrified at the stigma on their community and enraged that the men claimed to be Muslim.
"They are playing the Muslim card, pretending they are good Muslims, but they are not," says Irfan Chishti, who runs an educational program at one of the town's mosques. "This was a great sin under Islam. If Sharia law was in place, the punishment would be very severe."
Even while he and other leaders of the Rochdale Council of Mosques were discussing the case, about 40 protesters from the far-right British National Party held an unauthorized rally on the nearby Town Hall steps. The far right has seized on the case, claiming that some British Pakistanis follow a code they believe is practiced in parts of the Islamic world that allows men to have sex with girls under 16.
Louis Kushnick, founder of the race relations resource center at the University of Manchester, said it has become convenient for white residents - including those beyond the far-right movement - to blame Muslims for the sex crimes.
"You hear people talking about this, and it becomes tied to Islam," he says. "People say they are Muslim men, they see women as inferior, they have contempt for white women, so it has nothing to do with the rest of us."
That view overlooks all the problems that left the girls vulnerable in the first place, he says, citing a deficient school system and a government-backed child care regime riddled with neglect and abuse. And he says the prolonged economic downturn has intensified resentments, with whites and Asians competing for the same "crap" jobs.
"Blaming the Muslims lets us avoid addressing these questions," he says. "Once we blame 'The Other,' we think we have an explanation that makes sense."
Many in Rochdale are wary about discussing the case. Graduate student Heather Eyre, 25, says the trial has badly divided the city.
"It shouldn't have mattered that they are Pakistani," she says of the abusers. "But it's stirred up hatred. Some say they should be deported, and some parts of the Asian community say the jury was racist. Then the far-right groups came in...this case has been good for the English Defense League."
'WHAT THEY DID WAS EVIL'
The girl who first told police about the abuse, now a young woman of 19, has moved out of the area. In a brief pooled interview before she withdrew from the public eye, she refused to call the crimes against her racial in nature, but said she was shocked Muslims would commit such acts.
She said that in 2008, when the grooming began, there was no awareness of this type of crime involving Asian men and white girls.
"Now it's going on everywhere," she said. "You think of Muslim men as religious and family-minded and just nice people. You don't think...I don't know...You just don't think they'd do things like that."
When the abuse started, she said, she felt anger and shame, then became resigned and, finally, numb.
"After a while it had been going for so long and so many different men that it became like I didn't feel anything towards it anymore," she said. "It just weren't me anymore. It just became something I had to do....Once you're in it, you're trapped. I just think what they did to me was evil."
http://timesofindia.indiatimes.com/world/uk/Sex-grooming-cases-spark-racial-tensions-in-UK/articleshow/14592624.cms
---------
Wahhabi extremists blown up Girls' school in NW Pakistan
Jul 2, 2012
Wahhabi extremists have destroyed a state-run girls' primary school in the troubled northwestern Khyber Pakhtunkhwa Province of Pakistan, where government troops are fighting militants.
(Ahlul Bayt News Agency) - Local officials said on Saturday that the assailants carried out the attack by detonating explosives in the remote village of the Mata Shah in the Salarzai area of the Bajaur tribal region, located 180 kilometers west of the Pakistani capital Islamabad, in the early hours of Friday.
The incident did not have any casualties since the school was empty at the time of the blast, local officials said.
Law enforcement agents cordoned off the area after the blast and launched an investigation. No individual or group has claimed responsibility for the attack so far. However, the Wahhabi extremists group of Tehrik-e Taliban Pakistan (TTP) militants are the main suspects in such incidents.
The TTP has banned female education in northwestern Pakistan in a move that has affected thousands of girls there and caused the number of enrolments to drop dramatically.
The group warns parents against sending their daughters to schools, describing education as 'unnecessary' or 'harmful' for girls.
Over the past several years, TTP militants have destroyed hundreds of schools, especially in Khyber Pakhtunkhwa Province, previously known as North-West Frontier Province.
http://abna.ir/data.asp?lang=3&Id=325970
----------
65% Saudi working women seek financial independence: Survey
SHARIF M. TAHA
1 July 2012
Sixty-five percent of women working in Saudi Arabia say they work because they seek financial independence, according to a survey conducted by YouGov and Bayt.com.
The survey, carried out among the workingwomen in the MENA region, was aimed at understanding the perceptions and attitudes of working women related to their role and experience in the workplace.
The second most-cited reason for work is also financial, though related to support of household instead of independence: Ability to financially contribute to the household.
For younger audience (25 years or below), financial independence still comes first, but is followed by good use of education whereas the main intention for the older age group (36-45 years) was to secure their children's future.
According to the survey, 60 percent of women who hold GCC nationalities say they took up work to broaden their perspectives in life. 58 percent of Arab women and 57 percent of Westerners say they were motivated by the fact that they would be financially independent whereas the majority of Asian women sought work to support their household (63 percent).
Higher salaries were the main benefit sought by working women in the Middle East (59 percent).
Meanwhile, "long term career growth" is seen as extremely important, especially by workingwomen in the GCC and the Levant (31 percent). "Retirement benefits," on the other hand, was mostly cited by women over 46 years old, according to the survey.
When asked about the three most important reasons that might influence a job change, the most cited reasons were better salary (65 percent), opportunities for career advancement (40 percent), and higher designation (33 percent).
On the other hand, two in five respondents say they had faced discrimination in a job interview.
Higher percentage of women working in the GCC believe that males are given preferential treatment, with 24 percent respondents in Qatar claiming so, 37 percent in the Kingdom, and 31 percent in the UAE.
Meanwhile, 44 percent of Tunisian workingwomen indicate equality between the sexes to a large extent. More respondents in Saudi Arabia, Egypt and Syria are of the opinion that they are not on par with Western economies.
On work environment, the majority of women (74 percent) claim to be working in a mixed-gender environment. 69 percent of those who work in mixed-gender environments assert that they are comfortable with it.
In Saudi Arabia, 37 percent of working women claim they have a mix of men and women at the workplace but in separate sections.
Twenty-eight percent of workingwomen in the MENA region say that they would prefer a male manager and only 4 percent would prefer a female manager.
Fifty-seven percent of the respondents claim that their decision to have children has affected their career, according to the survey.
The survey was conducted among working women, aged over 18, across the region including Saudi Arabia, the UAE, Kuwait, Qatar, Oman, Bahrain, Lebanon, Syria, Jordan, Algeria, Egypt, Morocco and Tunisia. The survey was conducted online with a sample of 2,185 respondents between May 17-30.
http://www.arabnews.com/65-saudi-workingwomen-seek-financial-independence-survey
----------
Nigeria woman arrested in Malaysia over drug smuggling
Bikya Masr Staff | 2 July 2012
KUALA LUMPUR: A Nigerian woman was arrested upon arrival in Malaysia's Kuala Lumpur Low Cost Carrier Terminal in June after being caught swallowing around 400 grams of syabu drugs.
It highlighted a month of crackdowns and arrests by immigration officials in the country. They said that airport officials arrested a total of 35 persons during June on drug-related charges upon arrival in Malaysia.
"The suspect was taken to Serdang Hospital for an X-ray which revealed she had 28 capsules," KLIA Customs director Badaruddin Mohamed Rafik told a press conference in announcing the month's airport security information.
Intial investigations showed that the capsules contained 394.43g of syabu worth about RM98,607.50.
Customs officers also foiled two other attempts to import syabu and ketamine at KLIA and LCCT.
A 20-year-old Romanian man, who arrived from Manila, was nabbed on June 26 after officers found suspicious looking packages in his luggage as it passed through the scanner.
"The bag revealed a hidden compartment containing about 3.29kg of syabu, worth at least RM824,000," Badaruddin said.
On June 27, a 42-year-old Indian man arriving from
Calcutta was arrested after officers noticed something suspicious in his luggage at LCCT.
Some 2.86kg of ketamine worth RM114,400 were hidden inside the bag.
Drug offenses in Malaysia can carry the death penalty.
http://www.bikyamasr.com/71453/nigeria-woman-arrested-in-malaysia-over-drug-smuggling/
----------
Death Breaks 93- Year Old Pupil Fathima Beevi's School Dream
By Prakash
2 July 2012
IT IS not every day that a nonagenarian's final ambition in life is to crack the Class X exam. But this was the goal Fathima Beevi had set for herself.
Fate, however, cut short the 93- year old's dream midway when she died on Saturday owing to age- related problems even as she was burning the midnight oil to appear for her Class VII exam due in May.
The oldest student in Kerala hailed from the tourist town of Alappuzha and had an indefatigable will to learn. She regularly attended the classes held by the State Literacy Mission for neo- literate elderly people.
Fathima's diligence surprised all when she cleared her Class IV exam last year, scoring 53 per cent marks. The programme allows students who have passed Class IV to directly sit for the Class VII exam.
Full report at: Mail Today
----------
Muslim Women in Dallas Show Flair for Their Fashion
July 1, 2012
DALLAS (DMN) — At a sleek venue in Dallas' Design District, Ndaa Hassan burst through the curtain and rushed backstage. The fashion show was about to start. She was a flurry of nerves, wrapped in light pink from head to toe. "Ladies, it's a full house!" she shouted.
The 30 or so models wore vibrant eye shadow, bejeweled dresses and high heels. But in this case, the stilettos didn't lead up to bare, twiggy legs. In fact, they led no further than the hems of loose-fitting dresses that revealed almost no skin.
This was fashion, all right, but with a Muslim influence.
Hassan and her friend Zeena Alkurdi were presenting their first fashion show to about 150 people, spotlighting stylish but modest clothing — including some of their own designs. As entrepreneurs, Hassan and Alkurdi, both 22, design and sew hijabs whose chic styles range from tie-dye and sequins to cheetah print and vintage floral.
Each has launched an online boutique to bridge the gap between the Middle Eastern traditions of their parents and the American culture they grew up in. A stylish hijab, they say, empowers Muslim girls to feel more confident and find common ground with non-Muslim peers.
Full report at:
http://lubbockonline.com/filed-online/2012-07-01/muslim-women-show-flair-their-fashion
----------
Nepal Muslim women seek fair share of state pie
Jul 2, 2012
Muslim women have demanded their proportional representation in state appratuses from the village to the centre.
(Ahlul Bayt News Agency) - Muslim women have demanded their proportional representation in state appratuses from the village to the centre.
Nepal Muslim Women Welfare Society said at a programme in the Capital that fair representation of the Muslim women is crucial for their empowerment, pointing that six lakh Muslim women have been at the receiving end with the political parties and the state is not doing enough to uplift their status.
The society further demanded that the government take measures to safeguard the rights of Muslim women, who have become victims of the dowry system, divorce and domestic violence, and are unaware of their rights. It also expressed concern over what it called the 'tendency' of looking down upon Muslim women while they go to schools and colleges wearing veils.
Full report at:
http://abna.ir/data.asp?lang=3&Id=325975
----------
Women Asked to Remove Headscarves at French Airports
Jul 2, 2012
Muslim Women are subjected to an unprecedented humiliation and discrimination in France airports. According to news agencies, some French airports have begun to ask headscarf-wearing women to take off their scarves for security reasons.
(Ahlul Bayt News Agency) - This move has spurred criticism from Muslims in the country, who find the practice a discriminatory one.
The Collective Against Islamophobia in France (CCIF) has announced that Nantes Atlantique Airport has made it obligatory for headscarf-wearing women to take off their scarves and place them in the X-ray machine along with their other belongings.
The practice was put into effect two weeks ago by the SGA, the company responsible for Nantes Atlantique Airport's security. Women affected by "the new rules requested that they be allowed to take off their headscarves in a special room staffed only by women, but the request was denied."
Full report at:
http://abna.ir/data.asp?lang=3&Id=326123
----------
Muslim Family Remarries Widowed Daughter-In-Law at Bhopal, India
Suchandana Gupta
Jul 2, 2012
BHOPAL: This could remind one of the 2006 Bollywood film, 'Baabul' where a wealthy businessman Balraj Kapoor (played by Amitabh Bachchan) and his wife Shobhna (performed by Hema Malini) get their widowed daughter-in-law Malvika (played by Rani Mukherjee) remarried after their son's demise.
In the congested New Anand Nagar area in Jabalpur city, 320 km from here, `Baabul' transformed to real life when an elderly Muslim couple Mohammad Anwar Ahmed Khan and his wife Mumtaz Begum got their 25-year-old widowed daughter-in-law Suraiyya remarried so she could be happy again.
Full report at:
http://timesofindia.indiatimes.com/city/bhopal/Muslim-family-remarries-widowed-daughter-in-law/articleshow/14566286.cms
----------
'Women 'Worst Affected' By Militancy, Intolerance' Says Sherpao
Jul 2, 2012
PESHAWAR: Pakistan People's Party-Sherpao (PPP-S) Chairman Aftab Khan Sherpao said on Sunday that women were "worst affected" by militancy and intolerance, asking government and non-government organisations to work jointly to pull them out of this social trauma.
Talking to a delegation of Aware Girls, a non-government organisation working on awareness and empowerment of women, Sherpao said the psychological and physical trauma the women were going through had resulted in a deep scar of depression in them. He asked the government to pull such women out of this trauma-like situation and help them heal their wounds and live a normal life. The PPP-S chairman said that women constituted half of the total population and efforts should be made to provide equal opportunities to them in every field of life. Sherpao said peace could only be established by taking into account suggestions of people from all faiths.
http://www.dailytimes.com.pk/default.asp?page=2012\07\02\story_2-7-2012_pg7_15
----------
Canada Honours Blind Muslim Sisters for Their Efforts in Advocating For Disabled People
Jul 2, 2012
Two blind Canadian Muslim sisters have been recognized with Queen Elizabeth II Diamond Jubilee medals for their efforts in advocating for disabled people.
(Ahlul Bayt News Agency) - "It was indeed an honor to be in the company of renowned media personalities, armed forces personnel, artists and others working to make Canada and the world a healthier and safer place," Rabia Khedr told OnIslam.net after receiving the medal.
Khedr and her younger sister Uzma Khan were awarded Queen Elizabeth II Diamond Jubilee medals for their efforts in advocating for disabled people.
The blind Muslim sisters were among more than 600 Canadian receiving the medals at Toronto's Roy Thomson Hall last week.
"I certainly felt proud to be Canadian," Khedr said.
The two Muslim sisters lost their sight to retinitis pigmentosa, a genetic disorder.
Khedr is a well-known Canadian Muslim who has worked tirelessly to raise awareness around disability issues.
Full report at:
http://abna.ir/data.asp?lang=3&Id=325087
----------
Foreign Reporters to Cover Int'l Conference on Women & Islamic Awakening
Jul 2, 2012
Director General of the Foreign Media Department at Ministry of Culture and Islamic Guidance, Mohammad-Javad Aghajari, said on Sunday that more than 50 foreign reporters will cover the First International Conference on Women and Islamic Awakening on July 14-15.
(Ahlul Bayt News Agency) - Aghajari said that the reporters, mainly female ones, will come from Malaysia, Lebanon, India, Sudan, Zimbabwe, Kazakhstan, Afghanistan, Turkey, Italy, Pakistan, Bangladesh, Bosnia, Syria, Senegal, Germany, Tajikistan, Tanzania, Tunisia, Indonesia, Jordan, South Africa, Kyrgyzstan, Switzerland and the Philippines.
He said that 120 representatives of foreign media in Tehran will also give news coverage to the conference.
Female intellectuals and scholars from across the world, particularly Muslim countries, will attend the conference.
Full report at:
http://abna.ir/data.asp?lang=3&Id=326115
----------
I am getting life threats: Standing Committee on Human Rights Chairman
Jul 2, 2012
LAHORE: Pakistan Muslim League-Quaid (PML-Q) MNA from Kamalia and National Assembly Standing Committee on Human Rights Chairman Riaz Fatyana said on Sunday he was getting life threats from opponents.
Addressing a press conference, he demanded that the Punjab government provide him security because his life was in danger.
The MNA said the June 19 attack on his residence by an angry mob protesting against power cuts was a planned conspiracy against him.
At least three protesters were killed and eight others injured when Fatyana's guards opened fire on them when they tried to march towards the MNA's house in Kamalia.
He said his arrest in a murder case was "baseless" and added he should not be blamed for the killing of a child when his residence was attacked by people during the rioting.
Fatyana, addressing a press conference in Islamabad few days ago, had alleged that former Supreme Court judge Khalilur Rehman Ramday's brother was pressuring the administration into filing baseless cases against him.
Full report at:
http://www.dailytimes.com.pk/default.asp?page=2012\07\02\story_2-7-2012_pg7_19
----------
'Media Depends On Demands of People': Asma Shams, President IERO
Jul 2, 2012
ALLAHABAD: A seminar on 'Effect of Media on Society' was organised at Kareli on Sunday. Several women attended the seminar. The programme was organised under the auspices of Islamic Educational and Research Organization (IERO).
Addressing the people, Asma Shams, president of the women's wing of IERO, stressed on the benefits and evils of the media. She said the media is neither good nor bad but it is the use of the media that makes its good or bad. The media depends on the demands of the people. She also referred to film producer Mahesh Bhatt's observation that Bollywood produces films which are demanded by the public. She appealed to the people that the should view only good channels.
Full report at:
http://timesofindia.indiatimes.com/city/allahabad/Media-depends-on-demands-of-
----------
URL: https://www.newageislam.com/islam,-women-and-feminism/new-age-islam-news-bureau/sex-grooming-cases-by-pakistanis-spark-racial-tensions-in-uk/d/7798