New Age Islam News Bureau
6 Feb 2014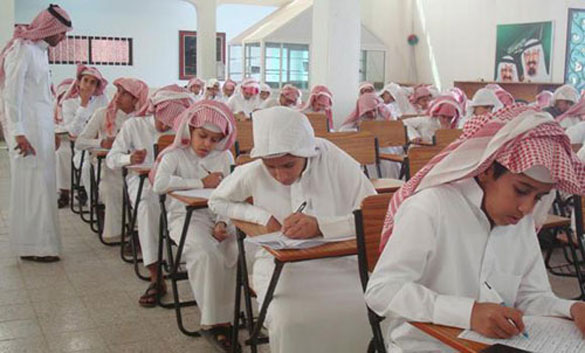 Women psychologists are suggesting that Saudi schoolchildren be given education about sex to guide them and prevent abuse, which is blamed largely on the high divorce rate in the Kingdom
-----------
• Aceh Mulls Sharia for Non-Muslims Women
• HRW Says Detained Iraqi Women Frequently Tortured, Abused
• Malala Yousafzai Nominated For 'Children's Nobel'
• Paris Denies French School Is Teaching Sharia Law in Qatar or Dividing Classes by Sex
• Saudi Women Pay To Guarantee 'Front Row' In Mosques
• CAIR-NJ Files Complaint for Firing of Muslim Woman over Hijab
• Moroccans call for 'no tolerance' of violence against women
• Saleswomen Demand Female Guards
• IDF to Knesset Committee, Rise In Number of Instances of Sexual Harassment Reported
• Concerns over Under-Representation of Women in Indian Media
• World Hijab Day Is Founded to Fight against Oppression
• Women Grads in Jazan Awaiting Employment
Compiled by New Age Islam News Bureau
URL: https://newageislam.com/islam-women-feminism/sex-education-saudi-children-'/d/35616
-----------
Sex Education for Saudi Children 'Can Prevent Abuse, Divorce'
February 06, 2014
Sex education for Saudi children at schools is vital to prevent abuse and reduce the high divorce rates in the Kingdom, according to a Saudi psychologist. Sameera Al-Ghamdi warned that ignoring sex education would result in children being abused mentally and physically, or see them grow up ignorant about healthy sexual practices.
"When we demand sex education at schools, this does not mean we want to encourage sexual activity or immoral behavior. We want parents to know that sex education does not conflict with the tenets of Islam," said Al-Ghamdi.
"The goal is to instill this culture, which is an inseparable part of human life, by enlightening the younger generation about their reproductive systems and bodies," she said.
Al-Ghamdi said the lack of sex education has contributed to the rising divorce rate and increasing sexual malpractices.
She said many parents in conservative societies would not have discussions on sex with their children because they consider it a taboo and embarrassing subject.
Modern technology has allowed young men and women to get information on sex without adult supervision, Al-Ghamdi said.
Muneera Al-Zahrani, a private school manager, said sex education at schools would prepare students for marriage. "We don't usually talk about these issues with students. We are actually forbidden to mention this topic even if they ask questions about it," she said.
"This would be a good move especially since most students get married right after they graduate from school or even sometimes while they are still at school," she said.
Layla Masry, a stay-at-home mother, said it would be better to have professionals educate younger people about sex rather than have them learn about it from their friends or television programs.
"Almost everyone has access to social media, television and other ways to learn about sex. Children are curious and eager to learn more about everything and in my opinion we have to satisfy this need the right way," she said.
"I believe that schools can give them the proper education and knowledge about any subject rather than have them Google the information and learn about it the wrong way," she said.
Ahmed Mal, a banker and father of three girls, rejects this idea. "We know that it's a human instinct but there is no need to put a spotlight on it by having discussions, especially with those who are quite young or students that are not married," he said.
"Students at a young age are curious and would want to learn more about it. They might want to practice what they learn and we would later regret teaching them about it. I am against this and will never let my children learn about it before they are married," he said.
http://www.arabnews.com/news/521411
-----------
Aceh Mulls Sharia for Non-Muslims Women
February 06, 2014
Riot act: A Sharia police officer censures a group of girls caught wearing tight pants in public in Banda Aceh on Wednesday. The Aceh Legislative Council is deliberating a bylaw that would require non-Muslims to comply with Sharia. (JP/Hotli Simanjuntak)
The Aceh Legislative Council is deliberating a special bylaw that will force non-Muslims in the province to follow Sharia.
Locally called Quanoon Jinayat (a bylaw governing behavior), the measure would require all residents to follow Islamic code of dress and conduct.
In preparing for the measure, head of Aceh Provincial Sharia Enforcement Office Samsuddin said on Wednesday his office was currently increasing raids on the streets to reduce Sharia violations, including by non-Muslims.
In Banda Aceh on Wednesday, two women riding motorcycles were stopped by Sharia police for not wearing a headscarf. Since they were not Muslims, the women were allowed to go, but with a warning to start covering their heads in public.
"We hope all women, including non-Muslims, will wear a headscarf," Samsuddin said.
He added that both Muslims and non-Muslims living in Aceh, the only province governed by Sharia, should obey the Islamic law.
In addition to stopping bare-headed women, Sharia police also stopped male motorists — Muslim or non — wearing shorts, warning them to only go out in public wearing pants.
According to Quanoon No. 11/2002, in public spaces women must wear a headscarf and men are forbidden from wearing shorts above the knee.
"If someone is found in violation [of the Quanoon] three times, they might receive harsh punishment, such as being canned in public," Samsuddin said.
Many residents disagree with applying Sharia to those of other faiths.
"It's weird if we force Islamic law on non-Muslims," said Hendrawan, a resident of Banda Aceh.
He said non-Muslims should only be subject to national law, which still applied in the semi-autonomous province of Aceh.
"It's oppression against people with other beliefs," he said.
Commenting on the province's decision to apply Sharia to non-Muslims, the chairwoman of the National Commission on Violence Against Women (Komnas Perempuan), Yunianti Chuzaifah, said some Quanoon violated human rights.
"Forcing women, and religious minorities, to follow certain Quanoon violates human rights," Yunianti told The Jakarta Post on Wednesday.
She said women had autonomy over their body and identity and the right to practice their beliefs.
"The State Constitution guarantees these rights, which is in accordance with basic human rights."
Regulating the dress and behavior of residents, particularly women, has become the focus of several Sharia Quanoon.
Last year, the city of Lhokseumawe banned women from sitting in the straddle position when riding on the bank of a motorbike. In other regencies, local Quanoon have been passed forbidding women from wearing pants.
Human rights activists have criticized the draft of the bylaw, one of the articles of which clearly states that a person who commits adultery faces 100 cane lashes, or death.
Overzealous implementation of Sharia has at times had high human cost. In 2012, a teenage girl in East Aceh was arrested by Sharia police at a nighttime music show in the company of male relatives for suspected prostitution. The shame of the allegation drove her to commit suicide.
http://www.thejakartapost.com/news/2014/02/06/aceh-mulls-sharia-non-muslims.html
-----------
HRW Says Detained Iraqi Women Frequently Tortured, Abused
February 06, 2014
Human Rights Watch (HRW) says Iraqi authorities subject many jailed women in the country to torture and ill-treatment.
A 105-page report released on February 6 by the rights group says brutal tactics by Iraqi security forces are essentially similar, and that hundreds of women are still illegally in detention about a year after Prime Minister Nuri al-Maliki promised to reform the criminal justice system.
The report -- titled "'No One Is Safe': Abuses of Women in Iraq's Criminal Justice System" -- says Iraq's weak judiciary frequently bases convictions upon coerced confessions and that trial proceedings fall far short of international standards.
The U.S.-based group's Iraq researcher, Erin Evers, told RFE/RL from Baghdad that none of the "promised reforms" has been implemented.
"The criminal justice system -- that includes everything from security forces to investigative judges to the courts themselves -- is completely dysfunctional," she said. "It is penetrated by corruption and abuse at every stage and, frankly, the international community has not done its part to pressure the government to undertake reforms."
The report is based on interviews with women and girls in prisons, with their families and lawyers, and with medics. HRW also reviewed court documents and met with Iraqi security and government officials.
The rights group says a vast majority of more than 4,200 women detained within Iraq's Interior and Defense Ministry facilities are Sunni Arabs. But it says women of "all sects and classes" are abused.
The report adds that many women are detained for months -- sometimes even years -- without being formally charged or allowed to see a judge.
Out of 27 women who spoke with HRW, many described being beaten, kicked, slapped, hung upside down, given electric shocks, and raped or threatened with sexual assault by security forces while being interrogated.
They said security forces questioned them about their male relatives'' activities rather than crimes in which they themselves were implicated. They were also forced to sign statements which they said they were not even allowed to read.
Maliki Criticized For Slow Pace Of Reconciliation
Also in Iraq, Prime Minister Maliki came under criticism from U.S. lawmakers on February 5 for the slow pace of political reconciliation and links to Iran.
Lawmakers in the House of Representatives gathered to assess the threat of Al-Qaeda in Iraq and its affiliate the Islamic State of Iraq the Levant (ISIL).
House Foreign Affairs Committee chairman Ed Royce said Al-Qaeda is now carrying out 40 mass attacks a month, in Iraq's bloodiest eruption of violence in six years and the worst since U.S. troops withdrew in 2011.
Royce said the militants were benefiting from "the alienation" of the country's Sunni population from its Shi'ite-dominated government, which also has strong ties with the Shi'ite leaders in Iran.
http://www.rferl.org/content/hrw-iraq-women-prisoners/25254875.html
-----------
Malala Yousafzai nominated for 'Children's Nobel'
February 06, 2014
STOCKHOLM: Pakistani schoolgirl Malala Yousafzai, who survived being shot in the head by the Taliban, was nominated for the World Children's Prize in Sweden today for championing education rights for girls.
"She is a child herself and she stands up for girls' rights to education in Pakistan, but also in the world as a whole," Liv Kjellberg, 15, a member of the international prize jury told AFP.
Malala was nominated last year for the Nobel Peace Prize and won the European Unio ..
http://economictimes.indiatimes.com/articleshow/29920321.cms?utm_source=contentofinterest&utm_medium=text&utm_campaign=cppst
-----------
Paris Denies French School Is Teaching Sharia Law in Qatar or Dividing Classes by Sex
February 06, 2014
France's Foreign Ministry has denied media reports that a French international school in Qatar has agreed to teach Islamic Sharia law and separate boys and girls into different classrooms.
A recent agreement between the Lycée Voltaire in Doha and French authorities does not involve changes to religion classes or dividing classes by sex, Paris said after reports of the accord sparked outrage in France.
Under French law, state-run schools are barred from providing religious education. However, the state does subsidise private schools, like Doha's, provided they follow the French state curriculum, do not force religious teaching upon students, and do not discriminate according to religion or sex.
"By signing the accord, the [Doha] school has committed itself to respecting the "Charter of French Teaching Abroad", which outlines the principles of secularism and religious neutrality in education," the Foreign Ministry said on its website.
"The school, which goes from kindergarten to sixth grade, is mixed-sex. All of its classes include both boys and girls, in accordance with the spirit and practices of French education," it added.
Prominent French news outlets, including the left-leaning weekly Marianne, blasted the country's international school agency last week for allegedly allowing the Doha school to teach strict Muslim Sharia law and place boys and girls in separate classrooms from a certain age.
Religious education compulsory for Qatari pupils only
France's Foreign Ministry, which helps oversee hundreds of French international schools around the world, said that while religion classes were taught at the Lycée Voltaire, they were part of an after-school programme, as is the case in many other international French schools.
Religious education was compulsory for Qatari students at the school, as per Qatari law, but not students of other nationalities, it said.
However, some observers said French officials were not being completely transparent about the situation at the Lycée Voltaire, which boast an enrollment of around 1,000 students, roughly 40% of which are Qatari nationals.
Marianne journalist Martine Gozlan said the school's sixth grade class would not open until next year, and that discussions were ongoing over the question of separating pupils by sex at that level.
"Voltaire come back, Qatar is driving them crazy!" Gazlan wrote in the left-wing magazine, referring to the Enlightenment philosopher famous for his advocacy of secularism and his fierce attacks on religious dogma.
This is not the first time the Doha-based school makes headlines in France. In November 2012, the eviction of the school's director prompted accusations of repeated interference by Qatari authorities.
http://www.france24.com/en/20140205-france-qatar-education-sharia-mixed-sex-classes-agreement/
-----------
Saudi women pay to guarantee 'front row' in mosques
February 06, 2014
Many women are profiting from reserving places in the Grand Mosque for other worshippers.
These women use their handbags, personal belongings, or chairs to reserve places for worshippers who pay for the service because they come late for prayer and cannot find suitable places to pray.
Some women even reserve places by asking other women to bring their children and cover a larger area for other worshippers. They are paid SR200 for the whole day.
This is especially the case on days when the mosque is very crowded, such as Friday nights, Mondays and Thursdays, Ayyam Al-Beed (three days in the middle of each Hijri month) and in Ramadan.
Female guides at the Grand Mosque say such women profit enormously from this practice and some make an income that is enough for a whole year. One guide said such behavior is not allowed in the Grand Mosque and when guides try to reason with these women they are attacked.
The guide added that places are mostly reserved around Hunayn, Bilal and King Abdulaziz gates, in addition to the women's sections on the upper floor.
Noor Qarout, head of the women's guides unit in the Grand Mosque, said scholars have denounced the practice of reserving places in mosques and places should be freely available for those who arrive first.
Head of Media and Public Relations in the Presidency of the Two Holy Mosques Ahmad Al-Mansouri said female guides in the Grand Mosques have to deal with many negative behaviors, including reserving places.
He noted that during Ramadan, the guides are supported by women police officers to minimize this phenomenon.
He pointed out that the Grand Mufti Sheikh Abdulaziz Al-Alsheikh has issued a fatwa (religious edict), saying that reserving places in mosques is against the teachings of Islam.
The mufti said those who come early to the mosque and sit in the back rows will have better rewards from God than those who come late and pay for a place in the front rows.
He said the reward for "being ahead" is not simply for sitting in the front rows but for coming early to the mosque.
http://english.alarabiya.net/en/life-style/travel-and-tourism/2014/02/06/Saudi-women-pay-to-guarantee-front-row-in-mosques-.html
-----------
CAIR-NJ Files Complaint for Firing of Muslim Woman over Hijab
February 06, 2014
The New Jersey chapter of the Council on American-Islamic Relations (CAIR-NJ) announced today that it has filed a complaint with the Equal Employment Opportunity Commission (EEOC) against Paradigm Packaging Inc. on behalf of a Muslim woman allegedly told to remove her religious headscarf, or Hijab.
The Muslim employee was hired to work the factory floor where plastic bottles are manufactured for vitamins and medicine. After working her first day without incident, she was allegedly told to remove her headscarf for safety reasons or she would not be permitted to continue working. After notifying the company that wearing the headscarf is part of her religious obligation, she was reportedly told that no religious symbols are permitted in the company.
"It has been our experience that legitimate safety concerns can easily be addressed, while at the same time providing the reasonable religious accommodations that must be offered by all employers," said CAIR-NJ Civil Rights Director Khurrum Ali.
Both State and Federal law protect religious rights of employees. Moreover, New Jersey passed an amendment in 2008 expanding the Law Against Discrimination (LAD) with respect to religion. The LAD requires employers to accommodate an employee's sincerely held religious practice or observance, unless it would cause undue hardship.
According to the EEOC, 21 percent of religious discrimination complaints in 2011 involved bias against Muslim workers.
CAIR offers a booklet, called "An Employer's Guide to Islamic Religious Practices," to help employers gain a better understanding of Islam and Muslims in the workplace.
CAIR is America's largest Muslim civil liberties and advocacy organization. Its mission is to enhance the understanding of Islam, encourage dialogue, protect civil liberties, empower American Muslims, and build coalitions that promote justice and mutual understanding.
http://www.cair.com/press-center/press-releases/12350-cair-nj-files-complaint-for-firing-of-muslim-woman-over-hijab.html
-----------
Moroccans call for 'no tolerance' of violence against women
February 06, 2014
A campaign of "no tolerance" for violence against women was launched in Morocco Wednesday by rights groups pressing the government to take greater action.
The "Strength of Women" group, which is partly funded by the European Union, has drawn up a petition that it will present to Islamist premier Abdelilah Benkirane listing a number of demands.
These include guaranteeing equal access to employment, criminalising all forms of violence against women, including marital violence, protecting women in public and creating units to monitor the abuse of women's rights.
Women enjoy greater liberties in Morocco than in much of the rest of the Muslim world, but rights groups say violence, particularly within marriages, is largely ignored.
In a report published two years ago, the state planning commission (HCP) said 2.4 million Moroccan women over 18 had been subjected to sexual violence at some point in their lives, while 3.4 million women had suffered physical violence at least once.
More than 50 percent of violence against women is thought to take place within marriage, and marital rape is not recognised as a crime.
The HCP report said an estimated 38,000 Moroccan women were the victims of rape, including marital rape, in the preceding 12 months.
A long-awaited law to combat violence against women is currently under study in Morocco, but the Islamist-led government has had to revise its proposals after sharp criticism from rights groups who say they lack clarity.
The bill threatens prison sentences of up to 25 years for perpetrators of violence against women.
http://english.ahram.org.eg/NewsContent/2/8/93536/World/Region/Moroccans-call-for-no-tolerance-of-violence-agains.aspx
----------
Saleswomen demand female guards
February 06, 2014
Several Saudi women have started a campaign on Twitter calling on shop owners to hire women as security guards.
However, not everyone agrees that women are capable of running after thieves or stopping men from harassing women.
"We are keen to have more Saudi women take up jobs in various sectors. There are already women in existing security jobs at universities, colleges and airports, so why not expand this and employ them at boutiques and shops," said Salma Haddad, a saleswoman.
"This will be great for us because if we have a problem now we have to call the male security guard who will come into the shop to investigate. Working with a female security guard will make it easier for all of us," she said.
Sarah bin Sahal, a retail manager at Nayomi, disagrees. "We usually depend on the security guards hired at the malls." She thinks it is "impossible" for women to work in these positions because female thieves at stores are usually accompanied by male members of their family.
"Women are not physically capable of dealing with these situations, running after thieves in malls, handcuffing them and then taking them to the management offices where only men work and can deal with the police and file cases," she said.
Sarah said she supports hiring female security guards at malls only to search female thieves.
Mariam Amran, a stay-at-home mother, agrees with Sarah and argues that people tend to be more comfortable with men security guards at shops.
"I don't think these jobs should be occupied by women because it is almost impossible to arrest thieves and take steps to charge them," she said. "We women feel safe when we see security men, especially if we've been harassed at the mall. I wonder what a woman security guard would do if something like this happens. I don't think she would be able to stop young men from bothering female shoppers," she said.
Seba Ahmed, owner of an abaya shop, said hiring women security staff would be an added financial burden for her business.
"It was easier back when I had non-Saudi employees because they were paid less than Saudis," she said. She said that since the Labor Ministry forced them to hire Saudis, many businesses have had to spend more money on salaries and transport costs to ferry workers to and from their homes. "Now this. I don't think I can do it," she said.
http://www.arabnews.com/news/521386
-----------
IDF to Knesset Committee, Rise In Number of Instances of Sexual Harassment Reported
February 06, 2014
The number of IDF soldiers reporting sexual harassment is on the rise, women's affairs adviser to the IDF Chief of Staff, Brig.- Gen. Rachel Tevet-Wiesel told the Knesset Committee for the Advancement of Women Monday.
In 2013, 561 reported harassment, as opposed to 511 in 2012. Nearly half of the instances (49 percent) were physical, including 4% that were rape cases, and the rest were verbal.
Other types of physical harassment include kisses on the cheek or touching a leg. Verbal harassment entailed inappropriate comments, tone or whistling.
"We consider the non-dramatic rise in the number of reports of sexual harassment a result of greater awareness on the part of soldiers and commanders," Tevet-Wiesel said.
In addition, 396 female soldiers reported harassment that took place while they were off duty in 2013, up from 266 in 2012.
Tevet-Wiesel also reported that 9% of the complaints came from men, as opposed to 4% in the previous year, which she said does not reflect a rise in harassment but greater willingness by males to approach the IDF Coping and Support Center, because of its anonymity.
"Out of nearly 1,000 complaints in 2013, only one soldier left the IDF," Tevet-Wiesel said.
"The rest received the tools to deal with what happened and continued working within the system."
Knesset Committee for the Advancement of Women chairwoman Aliza Lavie (Yesh Atid) criticized what she called the IDF's lax policies in senior officers guilty of harassment.
"Maybe we should take the judicial system out of the army?" she said.
"I want to commend the army for having a support system...but I don't see that as the end of the story.
When we look at these numbers, we have to think what numbers we aren't getting and how they don't reflect everything that is happening. Some people choose not to complain."
Lavie and the committee plan to visit the IDF Coping and Support Center to learn how it helps victims of harassment.
Keren Bar Yehuda of the Bar Association expressed concern about the fact that 61% of those who sought support did not file a police report about the harassment and said that the Law to Prevent Sexual Harassment requires an employer to start an inquiry when he or she learns about harassment.
Tevet-Wiesel responded that the IDF is concerned firstly with helping victims and promises them that they don't need to file a complaint in order to talk and receive help.
At the same time, she said, the IDF has "clever ways" to deal with harassers, including undercover Military Police detectives.
http://www.jpost.com/National-News/IDF-says-rise-in-number-of-reported-instances-of-sexual-harassment-340225
-----------
Concerns over Under-Representation of Women in Indian Media
February 06, 2014
NEW DELHI: Panelists at a national consultation on women and media were concerned about under-representation of women in journalism, especially in Hindi and regional language media.
At the consultation organized by a high level committee on status of women appointed by the Centre, Chairperson Pam Rajput mentioned three prime areas that the panel would look into — presence of women in the media, representation and portrayal of women in media and regulatory mechanisms.
Speaking at the meet, women and child development minister Krishna Tirath said participation in media had been from certain classes and communities. "Women from marginalized sections of society remain under-represented," she said.
Panelist and journalist Pamela Philipose cited a report by the Media Studies Group (MSG) which found only 2.7% women in media at the district level. The MSG surveyed 255 districts of 28 states in 2012 and obtained information through RTI. "The survey across districts found 329 accredited women journalists," said Philipose.
Besides, 70% of news came from male sources in the media. "That is also a reason why issues of women don't find place in mainstream media," said Philipose.
Tirath urged the committee to recommend ways to improve work conditions for women in the media. Even basic amenities like toilets were often not accessible to women journalists, the minister said.
"Women journalists who need to wait long hours outside North Block and South Block in Delhi for reporting assignments, for instance, have no access to toilets. Several women journalists have told me that they had to leave the profession due to kidney stones," said Tirath.
The 14-member committee, set up by the Centre in 2012, is expected to submit its final report on socio-economic, political and legal status of women in 2015.
While lauding media activism, especially after Delhi gang rape that helped galvanize public opinion leading to significant law amendments related to rape and violence against women, Tirath said, "Media activism many times proves to be a double-edged sword. The media's power to mould public opinion has been sometimes misused and has led to trials by the media."
Just as the media can create positive public opinion, it can promote conservative and patriarchal thinking, said Tirath. "The print and electronic media often do not provide a balanced picture of women's diverse lives and multiple contributions to society in a changing world. Television programmes that reinforce women's traditional roles can be equally limiting," she said.
She pointed to a growing trend where advertisements and commercial messages often portray young and old women primarily as consumers.
http://articles.timesofindia.indiatimes.com/2014-02-05/india/47048514_1_women-journalists-mainstream-media-tirath
-----------
World Hijab Day Is Founded to Fight Against Oppression
February 06, 2014
World Hijab Day is celebrated on Feb. 1 of every year. It started with a Bangladeshi-American woman Nazma Khan. This is the day when Muslims and non-Muslims wear the Hijab (the veil) to support personal freedom, particularly for Muslim women who suffer from social oppression and ostracism.
World Hijab Day was celebrated in 116 countries for Muslim and non-Muslim women all over the world. The goal of the movement is to foster global connection and understanding of Muslim women, and to affirm the concept of freedom of self-expression and religion practice. "A book should not be judged by its cover" is the English saying that sums up what veiled Muslim women fight for.
Organizers of the campaign founded this event because of the great number of women all over the world, especially in Western countries, who are discriminated against and alienated by society. Nevertheless, it is a human right to wear whatever suits her. Many think that Hijab-wearing women are forced to conceal their hair and bodies. To add insult to injury, they are sometimes thought of as brainwashed and pathetic; but ironically, this kind of racism empowers, dignifies and liberates women who wear the veil. Judging women by appearance is generally offensive as it overlooks, if not rejects, women's intellectual and mental capacity. Founders of World Hijab Day encourage women all over the world to wear the Hijab for a day to experience what Muslim women feel like.
Women play a vital role in society regardless of their choice of clothing. They are active, engaged members of the community. They become doctors, engineers, lawyers, accountants, politicians and scholars. They are the mothers through which a community is created. Muslim women who wear the Hijab are also part of the community. They achieve success and are capable of reaching high professional positions.
For instance, there is Ayesha Farooq, a female fighter pilot in Pakistan, who is one of the five women who have become pilots in the Pakistan Air Force. There is also the famous Egyptian author Aisha Abd el Rahman, who used to write under the pen name of Bent EL Shatea. She wrote many books and essays on literary criticism, and is considered one of the most brilliant female scholars in the Islamic and the Arab worlds. In addition, Dalia Mogahed is the first Muslim woman to join U.S. President Barack Obama's administration. She was selected as advisor to the president in the White House Office of Faith-Based and Neighborhood Partnerships.
These unique women have different roles in society yet they all share the same religious principle of wearing the Hijab. They have implicitly proved by their hard work and intellect that women wearing the Hijab should not be discriminated against or looked at as inferior or feeble, or easily exposed to religious deviations. On the contrary, most women who wear the Hijab are poised, confident and proud of their actions. This is the reason why Khan, the initiator of World Hijab Day, was keen on publicizing the event on social media to allow women from all over the world to participate and thus reflect on their own experiences of wearing the Hijab to others who have misconceptions about Muslims and the Hijab.
http://guardianlv.com/2014/02/world-hijab-day-is-founded-to-fight-against-oppression/
-----------
Women grads in Jazan awaiting employment
February 06, 2014
JAZAN — A number of women graduates from Jazan University said they are still waiting to get employed as teachers, especially as they have already passed the required exams.
Reem Al-Amri said she graduated five years ago with a very good average in chemistry and always dreamed of teaching students in schools, but her dream was slowly eroding as the years went by.
Abrar Ahmad said she graduated three years ago, majoring in physics, but she is still looking for a job that would allow her to live a dignified life.
Other women graduates said they are still unemployed even though many schools are desperate for teachers.
They asked Jazan University to close down the scientific sections in the university if there was no more need for such specialties.
Jazan educational department spokesman, Yahya Otaif, said his department was not responsible for the graduates' recruitment, which usually has to go through the Ministry of Civil Service.
A source in the Civil Service Ministry said the delay in employing a number of women university graduates was down to certain conditions that they have not met, their graduation average and their choice of locations where they wish to be employed.
http://www.saudigazette.com.sa/index.cfm?method=home.regcon&contentid=20140206194864
-----------
URL: https://newageislam.com/islam-women-feminism/sex-education-saudi-children-'/d/35616