New Age Islam News Bureau
26 March 2015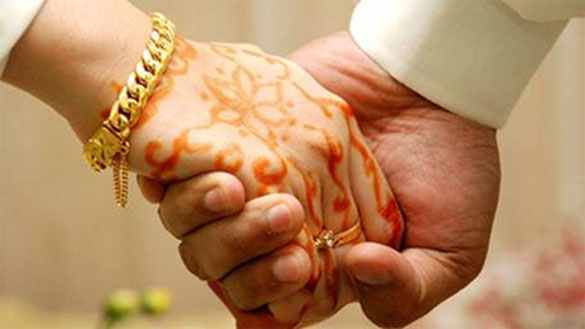 Young Pakistan Women Want Minimum Age for Marriage Raised To 18
-----------------
• Young Pakistan Women Want Minimum Age for Marriage Raised To 18
• Egyptian Teacher jailed for cutting girl's hair for not wearing hijab
• Indonesia's Police Change Rules on Female Recruits Wearing Headscarves
• 25 Saudi Women Employed At Riyadh's Al-Hair Prison 'Hotel'
• 823 Female Inmates in Different Prisons in Pak Punjab: Report
• Five-Year-Old Laila Naim Becomes First Pakistani to Model for Burberry
• Pak Domestic Violence Bill to Enable Women to Be More Productive
• Bangladesh Wins WIP Award for Reducing Gender Gaps
• The Hague Muslim Students Sue Medical University over Male/Female Physical Exams
Compiled by New Age Islam News Bureau
URL: https://newageislam.com/islam-women-feminism/families-jeddah-refusing-accept-women/d/102122
----------
Several families in Jeddah refusing to accept women released from prison
26 March, 2015
JEDDAH — Several families in Jeddah are reluctant to take back daughters who have been released from prison after serving sentences for various crimes.
"About 30 percent of families have totally refused to take back women who have been released from prison after serving their jail terms," said one director of a social protection home for girls, Ibtissam Al-Dhalie.
Young female convicts usually serve their prison terms in social protection homes in various parts of the Kingdom where they are taken good care of.
Al-Dhalie, director of the social protection home in Jeddah, said the home is keen to monitor released girls through home visits and telephone calls to make sure that they are stable and in good condition.
She said the home has convinced about 70 percent of the families to take back their daughters but failed to do this with the remaining 30 percent. She said the home is assisted by a number of concerned departments including reconciliation committees.
Al-Dhalie said a number of government departments and NGOs are also cooperating with the home to provide a number of services to girls who are still serving their jail terms.
"We receive assistance from a number of government and private hospitals, schools, human rights organizations, social security and various other government and private organizations," she said.
Al-Dhalie said the social protection homes provide the incarcerated girls with a number of services including accommodation, sustenance, medication, clothing and social services.
She said the homes are also providing the girls with education and rehabilitation.
"We teach them handicrafts and how to be good housewives," she added. Al-Dhalie said the homes provide the girls with entertainment, training courses and transport to schools and hospitals.
http://www.saudigazette.com.sa/index.cfm?method=home.regcon&contentid=20150326238233
---------
Young Pakistan Women Want Minimum Age for Marriage Raised To 18
26 March, 2015
LAHORE: A large number of young girls and representatives of civil society urged the Punjab chief minister to increase the minimum age of marriage for girls from 16 to 18 years.
Children Advocacy Network (CAN Pakistan) was arranged a orientation session on "Recent Legislative Developments around Child Marriages in Punjab" in a local girls college to sensitise the young girls about the recent development enacted by Punjab Provincial Assembly to prohibit the Child Marriages in Punjab. CAN Pakistan's Youth Officer Nazeefa Fatima said that child marriage is a potential factor to raise physical, emotional abuse as well as domestic violence, as the girls who got married in early ages are not fully aware with their basic rights and the strategies to meet the marital life keeping in view the joint family systems in Pakistan.
He said that Article 25-A of the constitution of Pakistan guarantees the right to Education for every child between the age of 5 to 16 so there is dire need to increase the minimum age of marriages for girls from 16 to 18 years. She stressed that Punjab Government should allocate more budgetary resources to facilitate the girls in completion of secondary education, which could be a good strategy to prevent child marriage. Legal Officer Madadgar Sobia Qadir appreciated the recent amendment made in The Child Marriages Restraint Act 1929 by Punjab Assembly in result of which fine and punishment for perpetrators of child marriages were enhanced.
He said that but the important issues, affecting the lives of adolescent girls, was to raise minimum age of girls for marriage from 16 to 18 years added that which still did not addressed by the Punjab Government beside passage of an amendment. She also suggested that Punjab Government should launch a comprehensive campaign through schools education department and higher education department to sensitize the young girls on their basic human rights which will surely lead towards Women Empowerment in real terms.
Policy and Advocacy Coordinator Plan International, Pakistan Iftikhar Mubarik mentioned that in 2009 United Nations Committee on child rights also recommended Government of Pakistan after reviewing Pakistan Periodic Report to UNCRC, that Pakistan must remove the discrepancy in ages of both boys and girls. Government of the Punjab should enhance its focus on taking administrative, legislative actions to prevent Girls and Women from all forms of violence including sexual abuse, exploitation and domestic violence, he added.
He stressed that all stakeholders including Media, Academia, Government and CSOs should be on same wavelength to create awareness among masses for prevention of Child Marriages incidents. The group of Girls participants fully endorsed the resolution presented by CAN demanding Chief Minister Punjab to take urgent action to increase the minimum age of Marriage for Girls from 16 to 18 Years.
http://www.dailytimes.com.pk/punjab/25-Mar-2015/young-women-want-minimum-age-for-marriage-raised-to-18
---------
Indonesia's Police Change Rules on Female Recruits Wearing Headscarves
26 March, 2015
Jakarta. Indonesia's National Police on Wednesday issued a letter allowing female cops to wear jilbabs as part of their official uniform.
A memo from the National Police, signed by acting police chief Comr. Gen. Badrodin Haiti, dated March 25, 2015, detailed how female police officers are required to match the color and style of headscarf with police uniform.
Aboe Bakar Al-Habsyi, a lawmaker from the Prosperous Justice Party (PKS), praised the regulation.
"This is good news not only for Muslim police women, but also for all Muslims in Indonesia," he said. "This also means that the police heard our aspirations on this matter."
The police previously prohibited female police officers from wearing headscarves as part of their official uniforms, although police officers in Aceh are required to wear jilbabs by the semi-autonomous province's loose interpretation of Shariah law.
In 2010, data from the National Statistics Agency showed that Muslims in Indonesia numbered 87.2 percent of a total 240 million people in the country, making the nation become the state with the most Muslim population in the world.
http://thejakartaglobe.beritasatu.com/news/police-change-rules-female-recruits-wearing-headscarves/
---------
Egyptian Teacher jailed for cutting girl's hair for not wearing hijab
26 March, 2015
A teacher in Egypt has been sent behind bars for cutting the hair of a girl who was not wearing the headscarf.
The teacher will remain in jail for four days while an investigation into the incident is underway. "It happened in in the province of Al Fayyoum, south of Cairo, where a schoolgirl was 'punished' for not wearing the headscarf'," said officials of the judiciary.
The matter came to the fore when the fifth-grader filed a complaint that her Islamic Studies teacher struck her and used a cutter to chop her hair off. As punitive measures, the teacher as well as the head of his school were suspended.
"My daughter has been in poor psychological condition since the incident, the teacher did this to her inside the classroom amid laughter from other pupils. My daughter is still a child. She will not wear the Hijab unless she is convinced," said the girl's mother.
Egypt's education ministry has not made it mandatory for schoolgirls to wear the headscarf. Abdul Fattah Al Sissi, the Egyptian president has reiterated it continuously that a 'religious revolution' is needed to rid the Muslim-dominated country of militancy .
Three years ago, in 2012, an Egyptian court sent a veiled teacher to prison after she was found responsible of resorting to violence against two unveiled schoolgirls by cutting their hair.
http://tribune.com.pk/story/858085/teacher-jailed-for-cuttting-girls-hair-for-not-wearing-hijab/
---------
25 Saudi women employed at Riyadh's Al-Hair prison 'hotel'
26 March, 2015
RIYADH — Twenty-five Saudi women are providing services to residents of the Family Home in Al-Hair prison in Riyadh where prisoners being investigated or jailed for involvement in security cases are held.
In a world first, the Al-Hair prison has established a five-star hotel under the name Family Home where well-behaved prisoners and detainees can spend time with their wives and children. Each prisoner is allowed to stay, in complete privacy, with his family from a period that can range between 24 hours and three days each time a family visit is arranged for him.
A team of 25 Saudi women, who have been well trained in providing hotel services, are taking care of the prisoners and their families during their stay in the home.
Other than the prisoners, men are not allowed in the Family Home unless they are carrying out maintenance work.
Detainees typically enter the hotel without handcuffs and are received at the reception like a regular hotel guest. A female receptionist completes all necessary accommodation procedures and serves detainees drinks and light meals until their families arrive. Detainees and members of their immediate family are then given a separate suite all to themselves.
All the hotel services are provided free of charge. They consist of three daily meals, snacks, tea, coffee, laundry and ironing services.
The building has special playgrounds for children in addition to other entertainment equipment.
When a prisoner leaves the hotel, a team asks him about his stay and if he has any suggestions to further improve the quality of services.
http://www.saudigazette.com.sa/index.cfm?method=home.regcon&contentid=20150326238213
---------
823 female inmates in different prisons in Pak Punjab: report
26 March, 2015
ISLAMABAD: Punjab Police on Wednesday told Supreme Court on Wednesday that there are as many as 823 and 175 female inmates in different prisons in Punjab and Khyber-Pakhtunkhwa (K-P), respectively.
This was revealed during the hearing of the suo motu case regarding the miserable conditions of women in jails by the three member bench of the apex court headed by Justice Mian Saqib Nasir.
Assistant Advocate General Punjab Mudhasir Khalid Abbasi while submitting a report before the bench revealed that out of the total female prisoners confined in Punjab 61 are condemned prisoners, 172 are convicted while 586 are under trial prisoners and 4 are female internee.
The court was also informed that 113 female prisoners are detained along with 130 children.
The report, copy of which is available with The Express Tribune, reads that only one prison in whole of Punjab is exclusively reserved for female inmates. However, there are total 31 prisons specified for under trail female prisoners. After trial and conviction awarded by the courts, the females prisoners are shifted to Women Prison Multan, which is totally managed by the female officers. At the Multan prison, the inmates are imparted training in different trades for their successful rehabilitation in the society upon their release.
The report also claims that at present no female prisoner confined in Punjab is suffering from any mental/ psychiatric disorder.
The court was informed that the children accompanying their inmate mothers having age up to 6 year are provided education inside the jail, while the children above 6 year of age are shifted to SOS Village for further education.
Commenting on the steps taken by the provincial government, the report says "the government of Punjab has taken unprecedented steps to reduce overcrowding in prisons including those reserved for women prisoners. The construction of 12 new jails including high security jail at Sahiwal, Mianwali and a sub jail at Shujabad is at different stages of completion. Through this mega project, additional accommodation for 11500 prisoners will be created to reduce over-crowding to great extent." It further adds that 9.2billion has been approved for this project.
The report further reveals that during the last five years, a total number of 2,711 prisoners including female inmates were released after the payment of 118.149 million provided by the provincial government and philanthropists.
The Punjab government has claimed that at present, no women or juvenile prisoner is confined in the province in lieu of unpaid Diyat, Arsh, Daman or fine.
According to the report since the promulgation of National Judicial Policy 2009, a total number of 42,811 under trail prisoners including female inmates involved in petty cases have been released by the orders of District & session judges on their fortnightly visits.
Spelling out provincial government's five years programme to improve the condition of the prisoners, the apex court was told that judicial lockups will be converted into sub jails at each Tehsil headquarters. Prisons Management Information System (PMIS) for computerization of all records and digitalization of business processes will be established, while hardware has already been installed in 20 jails and the process of computerization is under way.
The court was also informed that the government will construct new jails at Nankana Sahib, Chiniot & Khushab districts where currently no jail exists. Likewise, district jails at Lahore and Rawalpindi will also be established to overcome the problem overcrowding in prisons. The provincial government also plans to install CCTV cameras in jails and establish of Central Control room for prisons.
Meanwhile, Additional Advocate General K-P Waqar Ahmad Khan has submitted that total of 175 female inmates are confined in the different jails of the province.
During the course of hearing, the top court appointed senior lawyer Asma Jahangir as amicus curiae and directed all the provincial government to file comprehensive report in this matter.
The hearing of case is adjourned for two weeks.
http://tribune.com.pk/story/858931/823-female-inmates-in-different-prisons-in-punjab-report/
---------
Five-year-old Laila Naim becomes first Pakistani to model for Burberry
26 March, 2015
Five-year-old Laila Naim has stormed onto the fashion scene, becoming the first Pakistani to model for British luxury fashion house Burberry.
Donning a signature Burberry trench coat, her straight thick black hair neatly falling over her forehead and her big black eyes glistening, Laila features on Burberry's website, making Pakistan proud.
Born on 8 March, 2010, she lives in London with her family.
The five-year-old was signed on by a leading children's modelling agency and caught the eye of the British luxury fashion house when her agents put her forward for a Burberry audition.
"She went for a Burberry audition where she wore their classic trench coat and confidently looked into the camera; that is when I knew Burberry would book her as she looked picture perfect," her mother Sadia Siddiqui told The Express Tribune.
http://tribune.com.pk/story/858282/five-year-old-laila-naim-becomes-first-pakistani-to-model-for-burberry/
---------
Pak Domestic violence bill to enable women to be more productive
26 March, 2015
ISLAMABAD: Domestic Violence Bill would raise the self-confidence of women enabling them to play a constructive role in the society.
Less domestic violence not only improve health of women but would also be beneficial for their emotional and psychological strength which brings positive change in the
family. Chief Executive Officer, Aurat Foundation, Naeem Mirza said Sindh and Balochistan assemblies have passed the bill and also tabled in the Punjab assembly, adding that it is a positive step to ensure rights of women in the country.
Law is a deterrence against crimes and social evils, and more than 80 countries had adopted the domestic violence law which resulted in their economic prosperity as women can get a respectable place at home and can concentrate on their work easily, he told APP. It helps to eradicate crime from society as children learn violent activities from home if they saw their mothers facing violence, adding that healthy society needs healthy mothers.
On a event held in connection with International Women Day recently, Meraj Khan from Qaumi Watan Party said that domestic violence bill in Khyber-Pakhtunkhwa is with the law department. "It took us long to explain the legislation to the Jamiat-e-Ulema-e-Islam (JUIF) members as they had many reservations and when it was approved from there, it got stuck with the law department," she said.
Tehseen Fawad from PML-N, in the same ceremony said `Domestic Violence Bill' would soon be passed from the Punjab Assembly. "The bill has already been presented in the Provincial Assembly and would most probably be passed in the month of March," she said.
Ministry of Law Justice and Human Rights had also prepared a concrete draft of the domestic violence bill for the federal capital in consultation with National Commission on the Status of Women, which aimed at institutionalizing measures, to prevent and protect women, children and any vulnerable person from domestic violence. In its statement of objectives and reasons, the bill mentions that the issue of domestic violence has been a source of public concern for a number of years. The concept of domestic violence is traditionally defined as violence perpetrated by intimates against intimates. It occurs in relationships where conflict is the continuous result of power inequality between the partners and one partner is afraid of and harmed by the other. Domestic violence can occur in any relationship, victim can be a female or male.
Currently the bill is pending with the Interior Ministry for vetting after which it will be further processed.
http://www.dailytimes.com.pk/islamabad/25-Mar-2015/domestic-violence-bill-to-enable-women-to-be-more-productive
---------
Bangladesh wins WIP award for reducing gender gaps
26 March, 2015
Bangladesh has won the prestigious Women in Parliaments (WIP) Global Forum Award for "regional leadership in closing the gender gap in politics".
Referring to a recent study of World Economic Forum, a press statement issued by the Foreign Ministry of Bangladesh stated that Bangladesh is one of the top 10 countries in the world in reducing gender gaps and this leads the country to win the award.
In the regional category "South and Southeast Asia," Bangladesh won the award for its outstanding success in closing the gender gap in the political sphere, read the statement.
Based on the rankings of the World Economic Forum's "Global Gender Gap Report", WIP Awards were presented at the WIP Summit 2015 to those countries which were recognised for their political empowerment of women, and to countries which showed regional leadership in closing the gender gap in politics.
On behalf of Prime Minister Sheikh Hasina, State Minister for Foreign Affairs Shahriar Alam accepted the award on Tuesday at the Headquarters of African Union, Addis Ababa, Ethiopia.
Earlier, the founder of the Switzerland-based WIP, Silvana Koch-Mehrin, invited the Bangladesh PM to receive the award. However, the PM could not attend the ceremony.
Prime Minister has sent a video message to be played at the WIP Award Ceremony on the closing day of the WIP Summit on Wednesday.
While accepting the award on the eve of the 45th Independence Day, the state minister dedicated it to over 2,00,000 women who were subjected to the worst form of gender violence during the historic Liberation War and also to women in Bangladesh and South Asia who have chosen a life in politics to make a difference in their societies.
He expressed his conviction that women's growing political participation would make a shift in politics and women's voice and representation would make politics more oriented to "service and care."
He also stated that women's contribution to policy making serves other weaker segments of the population.
Mentioning women as the best advocates for promoting a culture of peace in the minds of people, the state minister urged for women's empowerment as a tool for the implementation of the post 2015 sustainable development goals.
Referring to the legislative framework put in place for the protection and promotion of women's rights in the country, he briefly enumerated the initiatives taken by the government of Bangladesh for the empowerment and the inclusion of women in every sphere of politics and development.
He observed that women's active participation in politics, defence, administration or business in Bangladesh has made the country a pioneer in the cause of women's rights.
He also reaffirmed Bangladesh's unequivocal commitment to establishing gender equality and uproot violence against women from the society.
On the side line of the WIP Summit, the junior minister also met the Ethiopian state minister for Trade and the director general of Ethiopian Investment Commission.
During these meetings, he discussed the trade and investment potentials between Bangladesh and Ethiopia with those dignitaries.
Both the state ministers agreed that Bangladesh and Ethiopia should conclude a Trade and Investment Promotion and Protection Agreement to enhance bilateral trade and investment.
The Ethiopian state minister also informed that a high-level trade delegation would visit Bangladesh soon.
Shahriar would also call on his Ethiopian counterpart Wednesday to discuss various bilateral issues.
http://www.dhakatribune.com/bangladesh/2015/mar/25/bangladesh-wins-wip-award-reducing-gender-gaps#sthash.drc4F6PL.dpuf
---------
The Hague Muslim Students Sue Medical University over Male/Female Physical Exams
26 March, 2015
Two Muslim students have filed a case against Erasmus MC at the Board of Appeal for Higher Education in The Hague. Erasmus MC would not give these female students exemption for a practical part of the course practical clinical skills in which they would have to participate in a physical examination conducted by other students, AD reports.
For this subject all medical students have to perform an examination on a fellow student and therefore also be examined themselves. This raised concerns in the Muslim students who did not want a male student examining them. The one student initially applied for an exemption for this part of the subject, but was rejected. The other student already completed the subject, but decided to support her fellow Muslim student at the Board of Appeals.
According to David Drexhage from Erasmus MC, it is important that medical students gain practical experience. "The students also have to experience how an examination feels for a patient. That promotes understanding." Drexhage told the newspaper. According to him, students are aware that this component is required during enrollment. Erasmus MC thinks that if the Board of Appeals rules in favor of the students, it would have profound implications for the course.
The Board of Appeals will make a judgement in about 6 weeks.
http://www.nltimes.nl/2015/03/24/muslim-students-sue-medical-univ-over-malefemale-physical-exams/
---------
URL: https://newageislam.com/islam-women-feminism/families-jeddah-refusing-accept-women/d/102122