New Age Islam News Bureau
20 Nov 2019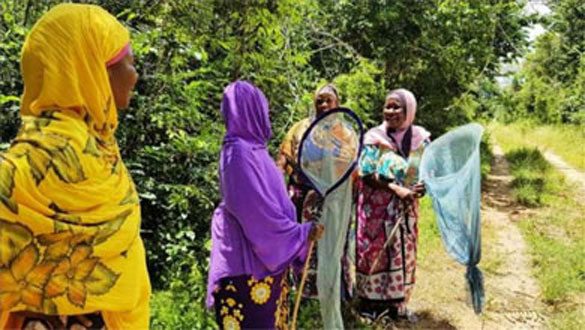 Butterflies are empowering and transforming the lives of many women in the village of Gede on the eastern coast of Kenya
--------
• Seven States Still Against 18 as Minimum Marriage Age for Muslim Girls
• Plaid Cymru Left Shamefaced as It Gives 'Activist' a Welcome In The Veil
• Muslim Women In Kenya Raise Butterflies To Aid Forests
• Fashion Victims: How Feminists Are Betraying Muslim Women
Compiled By New Age Islam News Bureau
URL: https://www.newageislam.com/islam-women-feminism/seven-states-still-18-minimum/d/120315
------
French Nun, 70, Barred From Care Home after Refusing To Give Up Her Habit of Wearing the Full Habit and Head Covering Of Her Religious Order
19 November 2019
The 70-year-old nun, who has spent the majority of her life in a convent in Drôme, decided to retire back to her home region of Haute-Saône and applied for a place in a state-run care facility.
But bosses told her that due to France's tradition of secularism, she would only be given the place if she agreed to leave off wearing the full habit and head covering of her religious order, which she refused to do.
She was told she would be able to wear a discreet cross around her neck.
A spokesman for the local authority which manages the home said: "In respect of secularism, any ostentatious sign of belonging to a religious community cannot be accepted in order to ensure the serenity of all."
The nun has since been housed by her local parish.
France has a strict principle of laïcité - secularism - which means that religious clothing cannot be worn in government buildings.
As well as care homes, this includes local government offices and schools.
The people who have more usually fallen foul of this rule are Muslim women who wear the hijab, or headscarf, but the principle applies to all religious clothing.
In a recent case, a mum who was accompanying her son's class on a school trip was ordered to remove her headscarf.
The French state and church were officially separated by law in 1905 to give form to the concept of secularism rooted in the 1789 French Revolution.
In 2004, the government prohibited the wearing of conspicuous religions symbols in public schools and banned the hijab - a garment that covers a woman's hair but leaves her face exposed - from classrooms and government offices.
The country with Europe's largest Muslim population is also deeply divided over the body-concealing "burkini" swimsuit, with opposition to the garment forcing the closure of some swimming pools earlier this year in the midst of a heatwave.
Also this year, French sports retailer Decathlon was forced by public pressure to back down from a plan to sell a runner's hijab in France.
https://www.thelocal.fr/20191119/french-nun-barred-from-care-home-after-refusing-to-give-up-religious-clothing
------
Seven states still against 18 as minimum marriage age for Muslim girls
Tuesday, 19 Nov 2019
KUALA LUMPUR: While Federal laws may be amended to raise the minimum age of marriage for Muslim girls to 18, it is still up to the state to follow suit, says Deputy Prime Minister Datuk Seri Dr Wan Azizah Wan Ismail.
Dr Wan Azizah, who is also Women, Family and Community Development Minister, said the draft to amend the Family Islamic Law 1984 was being finalised by the Syariah and Civil Law Technical Committee and the Department of Islamic Development Malaysia (Jakim).
"Based on the feedback from engagement sessions, Jakim is preparing a draft to amend the law to amend the minimum marriage age for girls to 18.
"The enactments (state ordinance) and minimum marriage age can only be amended if the states agree to the amendments," she said when answering a question raised by Syed Ibrahim Syed Noh (PH-Ledang) during Minister's Question Time in Dewan Rakyat on Tuesday (Nov 19).
Currently, she said that only Selangor had amended its state enactment, while in the Federal Territories, it was in the process of being amended.
She added that only five states, namely Penang, Sabah, Johor, Melaka and Perak, had agreed to the enactments.
She noted that seven other states, namely Sarawak, Pahang, Terengganu, Perlis, Negri Sembilan, Kedah and Kelantan, did not agree to amend their related laws.
She said that there was no need to amend the laws for the minimum age of marriage for non-Muslims as the registration of marriage was 18 for both males and females.
Besides amending the law, she said that her ministry would also table a draft on a national strategic plan to tackle underage marriages before the Cabinet by the end of this year.
She said that underage marriages were not limited only to Muslims but also included customary marriages in Sabah and Sarawak.
Asked by Syed Ibrahim if sexual grooming laws could be used to prevent underage marriages, Dr Wan Azizah said there was difficulty in using such laws to prevent such marriages.
Among the obstacles was that some underage marriages were done willingly with the consent of the couples' parents.
She added that sexual grooming laws were more aimed at preventing sexual crimes against underage victims and online grooming.
https://www.thestar.com.my/news/nation/2019/11/19/seven-states-still-against-18-as-minimum-marriage-age-for-muslim-girls
------
Plaid Cymru left shamefaced as it gives 'activist' a welcome in the veil
By Gary Oliver
November 20, 2019
LAST week there was a party election broadcast on behalf of Plaid Cymru. Shown only on Welsh channels, non-Taffies who pine to watch can for the moment catch it on BBC iPlayer.
The closing section of the film comprises spliced snippets of what viewers are to regard as workaday Welshmen and women. In turn, they incant: 'Mothers, it's us', 'Teachers, it's us', 'The community, it's us', and so on until Adam Price, the party's head boyo, closes with 'Wales, it's us'.
During what otherwise is a sequence of white faces and Welsh lilts, a voice from behind a niqab announces herself as 'activist'. Yes, last week's election broadcast by Plaid Cymru included Sahar Al-Faifi, whom TCW previously identified as the BBC's go-to 'woman in the medieval mask'.
Furthermore, the Welsh Nationalists chose Sahar Al-Faifi as the, er, face of the party's advertising campaign.
Of all the people who had featured in the film, selecting a still of the veiled Muslim was purposely provocative. Plaid Cymru might as well have tweeted: 'You got a problem with this?'
Inevitably, many responders did indeed object. There is no excuse for abuse; nonetheless, it was entirely reasonable to rebuke the party for promoting a political activist who is unwilling to show her face. Predictably, Plaid Cymru deemed criticism to be 'Islamophobic' and said it 'will not be tolerated'.
The party's former leader, Leanne Wood, even advised 'bigoted' responders to 'Just DO ONE!' and defiantly vowed to 'stand with Sahar Al-Faifi'.
Sahar Al-Faifi is a regional manager for MEND (Muslim Engagement and Development). Earlier this month, she and Leanne Wood were photographed together celebrating Plaid Cymru's adoption of MEND's catch-all definition of Islamophobia.
Unfortunately for Leanne, it appears her sisterly solidarity was ill-judged. Plaid Cymru has since deleted its tweet of Sahar Al-Faifi and has suspended the poster girl on suspicion of previous anti-Semitism.
Plaid Cymru also has pulled from YouTube the election broadcast in which Al-Faifi fleetingly appeared. A member of MEND who has turned out to be an opponent of Israel and is suspected of anti-Semitism – well, fancy that.
Space does not permit a full critique of MEND; just a few quotes will suffice. A dossier of the group published in 2017 by the Henry Jackson Society led with the damning description 'Islamists masquerading as civil libertarians'.
Despite the stated aim of MEND being to 'empower and encourage British Muslims', in 2018 Iain Duncan Smith feared that the body 'may not be the force for community cohesion as is claimed'.
And in the same year, Sir Mark Rowley, former head of Counter-Terrorism Command, warned that MEND was 'seeking to undermine the state's considerable efforts to tackle all hate crime'.
To put it mildly, the organisation divides opinion. It is extraordinary that Plaid Cymru not only adopted MEND's highly questionable definition of Islamophobia ,but promoted its masked member as the (concealed) face of Welsh nationalism.
In response to her suspension, Sahar Al-Faifi sent a tweet in which she is 'willing to be held accountable for my past mistakes'. Even so, predictably she concludes the statement by complaining about 'Islamophobic behaviour'.
The past activity on social media of this particular individual is, though, beside the point. A more pertinent question is why on earth a British political party so enthusiastically engaged with a full-time Islamic activist, someone who reportedly regards her wearing of the niqab as a 'symbol of resistance'.
Plaid Cymru's dumb display of 'diversity', attempting to normalise the niqab, even caught the attention of women abroad who personally have experienced the antediluvian attitudes of Islamic fundamentalism.
Sahar Al-Faifi says she covers her face as 'the best act of devotion … to be closer to God.' She is also quoted as saying: 'I don't have a problem with people disagreeing with me wearing it, but it is my choice.'
Indeed it is; the corollary being that critics of her garb are entitled to say 'more fool you'. However, in this instance the culprits are those who eagerly endorsed the wearing of a garment which too often in the Islamic world is a weapon of cultural coercion.
The leaders of Plaid Cymru should be ones hiding their faces.
If you appreciated this article, perhaps you might consider making a donation to The Conservative Woman. Unlike most other websites, we receive no independent funding. Our editors are unpaid and work entirely voluntarily as do the majority of our contributors but there are inevitable costs associated with running a website. We receive no independent funding and depend on our readers to help us, either with regular or one-off payments. You can donate here. Thank you.
https://www.conservativewoman.co.uk/plaid-cymru-left-shamefaced-as-it-gives-activist-a-welcome-in-the-veil/
------
Muslim women in Kenya raise butterflies to aid forests
Andrew Wasike
20.11.2019
MOMBASA, Kenya
Butterflies are empowering and transforming the lives of many women in the village of Gede on the eastern coast of Kenya.
Gede is well-known for its ancient ruins which consist of mansions, mosques and houses that are estimated to be around 800 years old.
Muslim women from a community-based enterprise in Gede dubbed the Kipepeo Project which supports people's livelihoods are selling high-quality and diverse butterflies and moth pupae to international markets -- mostly Europe and America, with the U.K. and Turkey being their biggest markets -- thus fighting against poverty and becoming empowered.
Most of them, like Rehema Hassan, are uneducated and rely on the lucrative butterfly business to pay school fees for their children and cater for their daily needs.
The women are armed with butterfly hunting gear. Some lay traps in trees while others use homemade nets with handles.
They scour the forests for butterflies, being careful to avoid the many elephant corridors. Hassan said the key is not injuring the butterflies by using cheap nets.
She said that in the past, she used to sell firewood and charcoal.
"I used to rely on the charcoal business. I would cut down trees…We are surrounded by forests, you know, but now I conserve my environment because without the flowering trees, there cannot be any butterflies," said Hassan, sporting a multicolored hijab.
Charcoal is one of the most common forms of cooking fuel used by communities that live next to the forest. They make it by cutting trees. The trees are partially burnt and buried in the earth, where they slowly burn. By the time they cool, they become charcoal.
Hassan struggled to seize a butterfly that was fluttering its wings inside a stationary butterfly trap. After a few seconds, with a gentle clutch, her hand revealed an iridescent glow from a dancing Charaxes butterfly.
She carefully placed the fragile insect in a net-like basket where it joined around a dozen others, all with vivid colors.
The thirsty new recruit folded its wings gently upward and drank nectar from fresh flowers that she had prepared early that morning.
Just beside the butterfly was a Papilio demodocus, or citrus swallowtail. It was flapping its white polka dot-filled wings with two spots as red as a cherry and fading black edges.
Hassan explained that to them, the butterfly business is all about conservation.
"Our forests are now places where we conserve and protect. They need us as much as we need them. Two of my children went through university through this business. That is why to us, the butterflies are everything."
No forests, no butterflies
Fatuma Hamisi is also a beneficiary. She told Anadolu Agency how the whole process works.
"We set up traps in the forests to capture the butterflies. We feed them until they lay their eggs, which hatch into caterpillars. The caterpillars eat the forest leaves until they turn into the pupae state, where they cocoon themselves. It is at this point that we sell them before they hatch into butterflies," she said.
"We protect the forests because no forests, no butterflies."
Hamisi said that mostly they release the butterfly that laid the eggs into the wild because they take long to lay eggs again, especially in confinement.
Charo Ngumbao, who heads the community project, told Anadolu Agency that their main market is the United Kingdom, "and the second one which right now is taking the butterfly pupae is Turkey."
"They have a high demand for the Papillion and Charaxes butterfly species. Right now, they [Turkey] are taking butterflies every Monday, and the U.K. is taking butterflies on Friday," he said, noting that they export butterflies twice a week.
"Butterflies usually live for a few weeks depending on their species, size and surroundings. There is high demand due to the short shelf life."
According to the United Nations Programme on Reducing Emissions from Deforestation and Forest Degradation (UN-REDD), the project's main aim is to link development and conservation.
Speaking to Anadolu Agency, the UN's Griet Ingrid Dierckxsens explained how conservation comes into play in the project.
"This project is a very good example of the kinds of policies that UN-REDD is following. People need a livelihood. In order to stop people from cutting forests, which are carbon sinks, they have to see what is important about the forests," she said.
"They make a lot of money from the exports -- more than they would make selling charcoal and timber from trees. An annual return in this project is like $1.9 million. This is an incentive for them to protect their forests."
Hamisi joked that aside from running away from elephants, their key challenge is getting modern butterfly catching equipment and competing with other countries that are in the butterfly export business. She said sometimes they have to lower their prices in order to sell butterflies similar to those exported from other countries.
Around 200 pupae can be sold for 13,000 Kenyan shillings (roughly US$130). A single butterfly can lay up to 500 eggs. In the wild, only one out of 20 of these eggs will grow to adulthood, whereas in controlled spaces, the chances of survivability are greatly increased.
They do not always sell the pupae of butterflies. Sometimes they release them into the wild to increase their numbers.
Kenya's coastal forests are home to over 230 species of butterflies. Kenya as a whole has more than 800 species.
https://www.aa.com.tr/en/africa/muslim-women-in-kenya-raise-butterflies-to-aid-forests/1650429
------
Fashion victims: how feminists are betraying Muslim women
Libby Emmons
This article is in The Spectator's November 2019 US edition. Subscribe here.
When I was growing up, one of my closest female friends was Muslim. At first, her parents didn't want us to be friends; they figured that as a child of divorced parents, I'd be a bad influence. Their restrictions pushed her to what they would surely have thought of as the dark side, had they ever known what we got up to. She and I were devout feminists, and we knew that women's equality was more important than the dictates of religion.
Neither she nor her mother covered her hair with a hijab or wore a baggy abaya. I'd been raised in a Christian household where short skirts were prohibited, but I'd recently moved in with my more permissive mother and stepfather. My friend felt constrained by her family, and I had more freedom than I could handle. When we were out past her curfew, I was the one who dragged us home. When I was too scared to take a risk, she told me to loosen up.
Nevertheless, she went along with it when her parents told her she'd been arranged to be married at 17. I was shocked, but she said she was OK with the decision. Marrying within her religion was something she'd intended to do anyway.
The boy was from her parents' home country, South Africa, and he came to visit. He was kind, if arrogant, and he was definitely cute. Her parents were thrilled, and she started to think that it might work out. I was surprised that a girl as headstrong as my friend would be cool with this guy she'd met just once, but she made it align in her head. She wanted to please her parents; he wasn't the worst guy ever, and he was obviously into her.
That all changed when she told him she planned to go to medical school. No wife of his would be a doctor. He didn't want her to be better educated than he would be, and he wanted her at home with their kids. That night, she told her parents what he'd said. It turned out that their ambitions for their daughter were greater than the pressures of tradition. The marriage was off.
My friend went on to attain her medical degree. She became a doctor, and she found love. She was absolutely right to jettison the man and the tradition that would hold her back. And now she can buy a hijab from Banana Republic.
Many women in my Brooklyn neighborhood wear a hijab, abaya, burqa or niqab. Who knows how many of them choose to, and how many are forced to by fathers, brothers or husbands. Underage daughters have no choice, and neither do women under Islamist rule, where covering up is the law. Woke Western feminists will celebrate Banana Republic's selling of hijabs as 'empowering' Muslim women, just as they celebrated when Somali-American model Halima Aden posed on the cover of Sports Illustrated in a burkini. Feminists prefer not to ask if these celebrations sustain the oppression of women who don't get to choose. Nor do they object when American companies sell oppression back to women as multicultural feminism.
'Welcome to Women's History Month!' Nike said in an internal newsletter earlier this year. The email included an image of Maryam Mirzakhani, the first and only woman to win the prestigious Fields Medal in mathematics. Mirzakhani was forced by law to cover up in her native Iran. When she moved to the United States, she removed her hijab. Nike represented Mirzakhani in a hijab, in an artist's rendering almost identical to the Islamic republic's own doctored image of Mirzakhani as a modest mathematician.
In the West, and among feminists in particular, hierarchies of collective privilege and victimhood are considered more important than individual rights. This produces confusion over whether to support an allegedly 'marginalized' culture or the rights of women within it. To avoid the taint of 'cultural imperialism', feminists place women's rights behind pandering to governments that, like the government of Iran, may be heirs to their own history of imperialism.
The legal enforcement of female 'modesty' is not authentic to Persian history. The requirement for women to cover themselves didn't become law until the Iranian Revolution in 1979 — just as Title IX and other equality legislation were taking effect in the United States. Women in the West declared their freedom to choose just as women in Iran lost theirs. Who was Nike trying to please when it portrayed Maryam Mirzakhani in a hijab?
In July, the Revolutionary Court of Tehran sentenced three civil rights activists, Mojgan Keshavarz, Yasaman Ariani and Monireh Arabshahi to 55 combined years in prison for the crime of 'conspiracy and assembly to act against national security, propaganda against the regime, and facilitating corruption and depravity' — the depravity being the public display of their hair. The three have since been attacked in prison.
This is the system of oppression and persecution whose materials Nike and Banana Republic seek to reproduce for profit and 'woke' kudos, all in the name of free choice. We should care more about women's potential than about men's dictatorial notions of feminine 'modesty'. We should be more like my friend's parents, and face the hard decisions that allow women to choose their own futures.
https://spectator.us/fashion-victims-feminists-betraying-muslim-women/
------
URL: https://www.newageislam.com/islam-women-feminism/seven-states-still-18-minimum/d/120315
New Age Islam, Islam Online, Islamic Website, African Muslim News, Arab World News, South Asia News, Indian Muslim News, World Muslim News, Women in Islam, Islamic Feminism, Arab Women, Women In Arab, Islamophobia in America, Muslim Women in West, Islam Women and Feminism