New Age Islam News Bureau
2 Aug 2018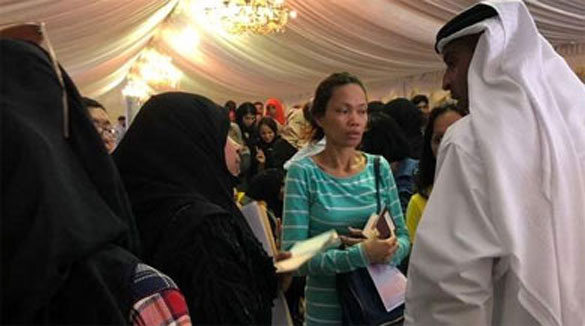 (Supplied), She entered the UAE on a housemaid visa and has been staying in the UAE illegally for more than four months.
----
• Marina, Women's Groups Join Criticism against Wan Azizah over Child Marriage
• Raped and Jailed: Indonesian Girl's Plight Prompts Call to Legalize Abortion
• Saudi Arabia Arrests 2 Women's Rights Activists: HRW
• PAS, Umno Unite to Defend Muslim Women's Modesty
• English Law Applies To Islamic Marriage, Judge Rules in Divorce Case
• Woman Hopes UAE Amnesty Will Allow Her to Attend Her Wedding
Compiled by New Age Islam News Bureau
URL: https://www.newageislam.com/islam-women-feminism/selangor-raise-minimum-age-marriage/d/116015
--------
Selangor to Raise Minimum Age for Marriage for Muslim Women
August 1, 2018
SHAH ALAM: Selangor plans to amend the Islamic Family Law (State of Selangor) Enactment 2003 on the minimum age for marriage for Muslim women in the state which will be increased from 16 to 18 years.
Selangor Islamic Religious Council (Mais) chairman Mohammed Khusrin Munawi said the plan was made after child marriages were reported to have become rampant of late, including the marriage between an 11-year-old Thai girl with a 41-year-old local man in southern Thailand which sparked widespread outcry recently.
He said Mais, with cooperation from the state's Shariah Judiciary Department and Islamic Religious Department (Jais) had held an in-depth discussion with experts from various departments and government agencies, especially medical experts, academicians and non-governmental organisations, on July 19 and 20 to find a solution to the problem.
"As a result, a consensus was reached to propose an amendment to the Islamic Family Law (State of Selangor) Enactment 2003, specifically to increase the minimum age for marriage for Muslim women in the state from 16 to 18.
"With this amendment, the minimum age limit for marriage for Muslim men and women in Selangor will be adjusted to 18," he said in a statement here today.
He said the proposal on the matter would be prepared and tabled to the State Legislative Assembly as soon as possible.
http://www.freemalaysiatoday.com/category/nation/2018/08/01/selangor-to-raise-minimum-age-for-marriage-for-muslim-women/
--------
Marina, Women's Groups Join Criticism against Wan Azizah over Child Marriage
August 1, 2018
PETALING JAYA: Dr Wan Azizah Wan Ismail continues to attract criticism from activists over her perceived reluctance to take action against a 41-year-old man who married an 11-year-old child, with a coalition of women's groups urging swift action to be taken to protect the girl, a Thai national who lives in Kelantan.
The Joint Action Group for Gender Equality (JAG) said it was time to act, urging the government to conclude its lengthy investigations.
"This insistence on investigations which have gone on for over a month already clearly reflects a lack of political will to take action against the man and protect the 11-year-old child bride," said JAG, which is made up of nine women's rights groups, including vocal Muslim group Sisters in Islam, and the Women's Aid Organisation (WAO).
This comes after Wan Azizah, the deputy prime minister who is also in charge of the Women, Family and Community Development Ministry, said there should be a "water tight case" before action could be taken against the man.
Prominent activist Marina Mahathir has also added to the chorus of criticism against Wan Azizah.
"How much more water tight evidence do we need?" she asked on Facebook. "This 41-year-old man has been interested in her since she was 7 and married her at 11… that's all the evidence you need!"
The marriage of Che Abdul Karim Che Abdul Hamid to Masaryu Mat Rashid has renewed a debate on banning underage marriages in Malaysia, currently allowed with special permission from shariah judges (for Muslims) and chief ministers (for non-Muslims).
Masaryu's parents have given their blessing to the union despite condemnation by human rights groups.
JAG said the man not only had admitted his interest in the girl since she was seven, which points to the offence of "sexual grooming", but is also guilty of falsifying his marriage certificate as well as violating shariah procedures.
"The 'marriage' does not fulfil the Kelantanese Islamic Family Law Enactment 2002 Section 23," it said.
"The second wife of the man has publicly shared that the man has not been able to provide for their family, and has unfairly favoured his third 'wife' over his previous wives," the statement added.
Earlier today, Lawyers for Liberty told Wan Azizah that the case was not complex.
"There is no reasonable excuse for failing to enforce the provisions of the Sexual Offences Act to the fullest extent in this shocking and obvious case," said LFL executive director Latheefa Koya.
JAG, which is made up of nine women's rights groups, said it feared that the girl remained "exposed to the man", adding that she should be immediately separated from him as he poses "a physical and emotional threat to her".
The coalition said swift action must be taken to ensure that the marriage would not be legalised through manipulation.
"Child marriages violate international instruments that have been ratified by Malaysia, particularly the Convention on the Elimination of All Form of Discrimination Against Women (CEDAW) and the Convention on the Rights of the Child (CRC)."
http://www.freemalaysiatoday.com/category/nation/2018/08/01/marina-womens-groups-join-criticism-against-wan-azizah-over-child-marriage/
--------
Raped and Jailed: Indonesian Girl's Plight Prompts Call to Legalize Abortion
August 02, 2018
Kuala Lumpur. Calls to decriminalize abortion grew louder in Indonesia on Wednesday (01/08) after a teenage girl who was raped by her brother was jailed for six months for terminating her pregnancy, sparking anger among activists who demanded her immediate release.
The 15-year-old, from Jambi province on the Indonesian island of Sumatra, was sentenced last month after a judge found her guilty of having an abortion, according to rights groups including Amnesty International.
Her brother, 18, was jailed for two years for sexually assaulting a minor, while their mother was arrested for assisting in an abortion, Amnesty International said.
Budi Wahyuni, vice chairwoman of the government-backed National Commission on Violence Against Women, called the girl's punishment a "gross injustice."
"She was raped and now jailed, it is a double injustice. All women must be given the right to decide on abortion and not being subjected to any punishments," she told the Thomson Reuters Foundation by phone from Jakarta on Wednesday.
Abortion is illegal in Indonesia, the world's largest Muslim country, unless the mother's life is at risk or it is performed under certain circumstances such as rape.
The procedure, however, must be carried out no later than six weeks into a pregnancy, or the woman may face up to four years in jail. Those who assist in carrying out an abortion can be sentenced to up to 10 years.
The 15-year-old was about six months pregnant, officials have said.
Calling for decriminalization, Amnesty International said that denying a rape victim an abortion violates her right to be free from torture or inhumane treatment.
"Indonesia has a legal obligation under international human rights law to ensure that victims of rape or incest can have timely access to safe and legal abortion," the group said in a statement.
Several children and women's rights groups on Monday lodged a complaint with Indonesia's Judicial Commission, demanding that the verdict be reviewed and accusing the judge of acting unethically.
"The judge should have taken into account the background of this case. She is clearly a victim," said Genoveva Alicia from the Institute for Criminal Justice Reform, a Jakarta-based non-profit and one of the groups that filed the complaint.
Alicia said that many women and girls, especially in rural areas, are unaware of their pregnancy in the first six weeks. Criminalizing abortion forces some to seek unsafe abortions, while others must marry, even if they are children, she added.
"In this case, the girl should not be serving her jail term now. What she needs is support and counselling," Alicia said. "She must be freed."
Thomson Reuters Foundation, the charitable arm of Thomson Reuters, that covers humanitarian news, women's rights, trafficking, property rights, climate change and resilience.
http://jakartaglobe.id/news/raped-jailed-indonesian-girls-plight-prompts-call-legalize-abortion/
--------
Saudi Arabia Arrests 2 Women's Rights Activists: HRW
Aug 1, 2018
Human Rights Watch says Saudi Arabia has arrested two prominent women's rights activists in an "unprecedented" crackdown on opposition.
HRW said in a statement on Wednesday that the Saudi authorities arrested award-winning gender rights activist Samar Badawi and Nassima al-Sadah earlier this week.
They are "the latest victims of an unprecedented government crackdown on the women's rights movement that began on May 15, 2018 and has resulted in the arrest of more than a dozen activists," the US-based rights group said.
Sarah Leah Whitson, Middle East director at HRW, said the arrests "signal that the Saudi authorities see any peaceful dissent, whether past or present, as a threat to their autocratic rule".
Sadah has campaigned for women's rights and the rights of the minority Shia Muslims in the kingdom's Eastern Province for many years.
Meanwhile, Badawi is also a vocal campaigner for rights activist Raif Badawi, her brother and Saudi Arabia's top blogger, and her former husband Waleed Abu al-Khair, who are serving lengthy prison sentences linked to their activism.
"Saudi authorities have targeted and harassed Badawi for years. In addition to her advocacy for women's equality, she has campaigned energetically for both her former husband and her brother to be released from prison," the statement said.
According to the report, Amal al-Harbi, the wife of jailed civic rights activist Fowzan al-Harbi, was also detained on July 30.
"It is unclear why Saudi authorities have targeted Al-Harbi," the statement said.
Since May, a number of prominent women's rights activists, including Loujain al-Hathloul, Iman al-Nafjan and Aziza al-Youssef, were arrested and still remained in detention centers without charge and incommunicado with no access to their families or lawyers.
Most of the detainees are prominent figures, who enjoy considerable respect among the Saudi grassroots, including university professors and a psychotherapist.
Saudi authorities have so far labeled the detainees "traitors", infuriating the country's rights activists who fear additional arrests amid much-hyped reports of reforms led by Saudi Crown Prince Mohammed bin Salman.
Reforms have been accompanied by a heavy-handed crackdown on dissent, which has targeted clerics as well as some of the very female activists who campaigned for years to end the driving ban.
https://www.presstv.com/Detail/2018/08/01/569907/Saudi--womens-rights-activists
--------
PAS, Umno Unite to Defend Muslim Women's Modesty
2 Aug 2018
WOMEN leaders from both PAS and Umno teamed up to decry a lack of urgency by the government in defending the rights of Muslim women to protect their modesty by covering up.
At a joint press conference at the Parliament lobby today, PAS women's head Siti Zailah Mohd Yusoff and her Umno counterpart, Noraini Ahmad, said the rights of conservative Muslim women were threated in the new government's haste to adopt a more liberal stance.
https://www.themalaysianinsight.com/s/84060
--------
English Law Applies To Islamic Marriage, Judge Rules in Divorce Case
1 Aug 2018
A high court judge has decided that a couple's Islamic marriage falls within the scope of English matrimonial law, in a ruling that could have implications for thousands of Muslims in the UK.
Nasreen Akhter wanted to divorce Mohammed Shabaz Khan, her husband of 20 years, but he blocked it, arguing that the couple were not married under English law.
Akhter and Khan underwent a religious marriage ceremony, known as a nikah, conducted by an imam in 1998.
This year Akhter, a solicitor, petitioned for divorce, saying the nikah constituted a valid marriage. Khan, a businessman, wanted to prevent Akhtar from bringing a case for a divorce settlement to court, and said they were married only under sharia or Islamic law.
In a written ruling, Mr Justice Williams, who heard the case in the family division of the high court in London, concluded that the marriage fell within the scope of the 1973 Matrimonial Causes Act.
He said the marriage was void under section 11 of the act because it was "entered into in disregard of certain requirements as to the formation of marriage. It is therefore a void marriage and the wife is entitled to a decree of nullity."
The judge heard that the couple, both 46 and from a Pakistani background, lived in London, Birmingham and Dubai.
Akhter said that after the nikah ceremony in front of 150 guests at a restaurant in Southall, west London, she had seen Khan as her husband and he had "always introduced me as his wife".
Previous cases involving nikah marriages have concluded that they were legally non-existent, meaning spouses had no redress to the courts for a division of matrimonial assets such as the family home and spouse's pension if a marriage broke down.
Hazel Wright, a family law specialist at Hunters Solicitors, said the ruling had "given heart to many who otherwise suffer discrimination". She said it was vital for Akhter that the "English divorce court rule in her favour, that the marriage should be recognised as void and not a non-marriage. Otherwise she would not have any rights to make any financial claims for herself."
An independent review of sharia councils recommended this year that Muslim couples should undergo a civil marriage as well as a religious ceremony to give women protection under the law.
The review, instigated by Theresa May in 2016 when she was home secretary, found that a significant number of Muslim couples did not register their marriages under civil law, and "some Muslim women have no option of obtaining a civil divorce".
A survey last November found that nearly all married Muslim women in the UK had had a nikah and almost two-thirds had not had a separate civil ceremony.
Aina Khan, a specialist in Islamic law, said last year: "My experience of 25 years as a lawyer specialising in Islamic marriage and divorce is that this is not only a major problem but a growing problem. My anecdotal evidence suggests that in the last five years the proportion of people under 40 having nikah-only marriages is as high as 80%."
https://www.theguardian.com/law/2018/aug/01/english-law-applies-to-islamic-marriage-judge-rules-in-divorce-case
--------
Woman Hopes UAE Amnesty Will Allow Her to Attend Her Wedding
August 2, 2018
Thirty-year-old Maricar Peralta has her marriage fixed for August 5 in her hometown in the Philippines. She was among the first to approach the Abu Dhabi centre of the General Directorate of Residency and Foreigners Affairs to avail of the amnesty programme announced by the UAE government. Peralta entered the UAE on a housemaid visa and has been staying in the UAE illegally for more than four months.
"I want to exit the country as early as possible. I have already booked my ticket for tonight. My marriage is fixed on August 5, and I have to be home," said the single mother whose daughter is in Philippines.
There were tears of relief, happiness and confusion on the first day of Amnesty as hundreds of residents thronged the immigration centre at Shahama in Abu Dhabi to rectify their visa status.
From morning 8am onwards, there was a steady stream of people - pregnant women, young mothers, families, old men on wheelchairs - of all nationalities who took their seat inside the air-conditioned tent set up at the Immigration centre's compound on the outskirts of Abu Dhabi city.
Dozens of taxis and special buses brought people in hordes while many expats took public buses to reach the centre to avail of the three-month amnesty declared by the government.
Pakistani expat Shafat said he came to the centre at 7.30am.
"I wanted to beat the queue," said Shafat, whose visa expired four years ago. "I no more want to live in this country as an illegal. I have been doing odd jobs but there was always the risk of getting arrested. Amnesty is a chance for people like me to return home safely," said Shafat.
Sixty-year old wheelchair-bound Zahir Janan was brought to the amnesty centre by his nephew, who is working in Abu Dhabi.
"I want to go home now and be with my family," said Janan, who was working as a carpenter. He said his visa expired two years ago.
The first day of amnesty was also marked with some confusion on how people falling under different violations and visa status could apply for amnesty.
Nenita Delaceina, a Filipna expat, and her three friends were waiting outside the gate not sure how to proceed.
"All of us want to apply for a six-month jobseeker residency permit and stay in the UAE. We are hopeful of finding a job. But we do not know what exactly are the proceedings," said Delaceina.
But Immigration officials could be seen mingling with people, giving instructions and guiding them to different counters.
"Those who have Emirates IDs and passports, please go to the typing centre and fill up the application paper. Then come back. Others please sit down," Sultan Ali Qubaisi, an immigration official, told the crowd waiting inside the tent.
Cartons of bottled water were also stacked up in the tent, and by midday, an official was distributing the water to the waiting crowd.
Positive response
Brigadier-General Saeed Salam Al Shamsi, director of the GDRFA in Abu Dhabi who visited the tent in the morning, said the response on the first day was 'positive.'
"We do not know the exact number of people who will turn up on the first day. But looking at the volume of people who has come in, It looks positive," Al Shamsi told the media.
Explaining the procedure to apply for amnesty, Al Shamsi said those who have their Emirates ID should first go to a typing centre and fill up the application and submit it at the immigration for applying for exit pass. Once application is submitted, it will take up to two days to get the exit pass.
"Those who do not have valid documents should first proceed to take their biometrics and then get the application typed," said the official.
Those who want to apply for a six-month temporary visa can also straight come to the immigration centre in Shahama.
Thee other two amnesty centres in Abu Dhabi are located in Al Ain and Al Garbia.
"Those who wish to apply for jobs should register themselves in the 'virtual job souq' on the website of the Ministry of Human Resources and Emiratization and find a new sponsor."
"This is the Year of Zayed and we are pleased to be helping people with visa issues and those who want to legalise their status," said the officer.
"We are well-prepared and ready to handle all illegal residents who will come to the centre."
He said the amnesty registration centre will operate from Sunday to Monday, from 8am to 8pm and will handle all kinds of cases related to residency violation.
"All illegal residents should come forward and make use of this amnesty initiative to rectify their status or leave the country without facing legal prosecution," said Al Shamsi.
https://www.khaleejtimes.com/nation/abu-dhabi/woman-hopes-uae-amnesty-will-allow-her-to-attend-her-wedding-1
--------
URL: https://www.newageislam.com/islam-women-feminism/selangor-raise-minimum-age-marriage/d/116015
New Age Islam, Islam Online, Islamic Website, African Muslim News, Arab World News, South Asia News, Indian Muslim News, World Muslim News, Women in Islam, Islamic Feminism, Arab Women, Women In Arab, Islamophobia in America, Muslim Women in West, Islam Women and Feminism