New Age Islam News Bureau
08 January 2022
• Taliban's Religious Police Issue Posters Ordering Women To Cover Up
• Iranian Regime In Isfahan Bans Bodybuilding For Women
• Women Compete In Saudi Festival's Camel Beauty Contest For First Time
• Uyghur Woman Sentenced For 14 Years For Teaching Islam, Hiding Qurans
• DWE Celebrates The Role Of Women In Business
• Covid-19: Pakistan's largest city launches door-to-door vaccination for women
• The World Should Address The Shocking Rise In Executions Of Women In Iran
Compiled by New Age Islam News Bureau
URL:
--------
Seeking To Break Taboos: Full Steam Ahead For Saudi Women With Train Driver Program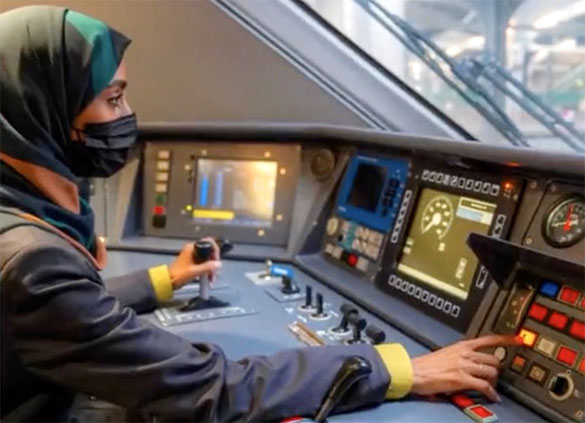 (Credit: @SRP_KSA video)
----
January 03, 2022
JEDDAH: The Saudi Railway Polytechnic is training women to drive trains on the Kingdom's Haramain High Speed Railway, in a project seeking to break taboos.
For decades, train driving has been viewed as a masculine career profession.
And while women in Saudi Arabia have broken records in traditionally male activities, including racing and flying, they were left out of railway employment — until now.
The SRP project, announced on Jan. 2, will see Saudi women operating the train line that links the holy cities of Makkah and Madinah.
SRP opened a registration portal for the program through the srp.edu.sa website. It will close on Jan. 13.
Training will last for one year, during which trainees will receive theoretical and practical lessons. Classes are taking place in Jeddah beginning Jan. 15.
Joining the program will guarantee trainees several benefits, including medical insurance, registration in General Organization for Social Insurance and a monthly SR4,000 ($1,065) bonus during the training period.
The program also offers graduates a guaranteed position with Renfe KSA, one of the companies operating the high-speed train project. Once female graduates are employed with Saudi Arabia Railways, they will receive a monthly salary of up to SR8,000.
SRP Director Engr. Abdulaziz Alsogair told Arab News that trainees will be selected based on several qualifications, including English language tests.
"Transportation operation systems worldwide depend on good language knowledge, thus joining the program requires scoring at least 3.5 in IELTS," he said.
"Applicants with better language levels will have priority in joining the program."
The program also demands at least a high school degree with a grade rating of 70 percent and above. "Trainees must be aged between 22 and 30," Alsogair added.
SRP is expected to train 50 women in the first cohort. "The number of trainees will increase in the coming years," Alsogair said.
The program will teach trainees all there is to know about transportation systems, including safety measures, railway economics, communications, mechanical brake systems and engines.
Trainees will practice on train simulators as part of their practical training courses. "There will also be training trips, where trainees will have the chance to drive the actual railway train," Alsogair said.
Haramain High Speed Railway transports about 60 million passengers per year. Demand is expected to grow significantly over the coming years, especially in the Umrah and Hajj seasons.
Alsogair said that Saudi railways aim to transport 1.5 billion Muslim passengers with full operational capacity in the future.
"There will be a high demand for train drivers of both genders, which will accordingly bring more vacancies to the field to be filled by the daughters and sons of our beloved homeland."
Saudi women will help meet the demand for qualified drivers, he added. "This is how we achieve sustainability — one of Vision 2030's most important goals."
Women graduates will work together with their male counterparts, who graduated from previous programs.
Source: Arab News
https://www.arabnews.com/node/1997096/saudi-arabia
--------
Taliban's Religious Police Issue Posters Ordering Women To Cover Up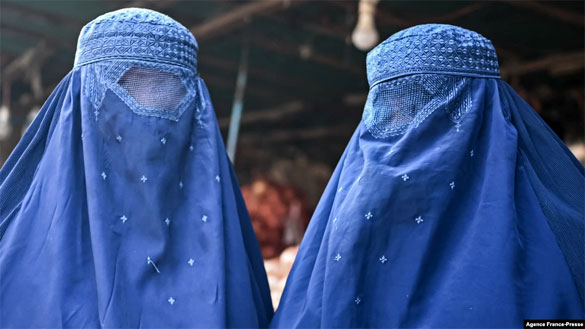 FILE - Burqa-clad women are pictured at a market in Kabul, Afghanistan, Dec. 20, 2021.
----
January 8, 2022
KABUL: The Taliban's religious police have put up posters around the capital Kabul ordering Afghan women to cover up, an official said on Friday, the latest in a string of creeping restrictions.
The poster, which includes an image of the face-covering burqa, was slapped on cafes and shops this week by the Ministry for the Promotion of Virtue and Prevention of Vice.
Since returning to power in August, the Taliban have increasingly curtailed freedoms — particularly those of women and girls.
"According to Sharia law, Muslim women must wear the hijab," the poster reads, referring to the practice of covering up. A spokesman for the ministry, responsible for enforcing the Taliban's interpretation of Islamic law, confirmed on Friday that it was behind the orders.
"If someone does not follow it, it does not mean she will be punished or beaten, it's just encouragement for Muslim women to follow Sharia law," Sadeq Akif Muhajir said.
In Kabul, women already cover their hair with headscarves, though some wear modest western clothing.
Outside of the capital the burqa, which became mandatory for women under the Taliban's first regime in the 1990s, has remained common.
"What they're trying to do is to spread fear among the people," a university student and women's rights advocate, who did not want to be identified, said.
"The first time I saw the posters I was really petrified, I thought maybe (the Taliban) will start beating me. They want me to wear a burqa and look like nothing, I would never do that."
The Taliban, desperate for international recognition to allow funding flows to reopen to the war-wracked country, have so far refrained from issuing national policies.
Instead, they have published guidance for men and women that has varied from province to province.
"This is not good. 100 per cent, this will create fear," said Shahagha Noori, the supervisor of a Kabul restaurant where the poster had been put up by the Taliban.
"I think if the Taliban get international recognition, then they will start to enforce it."
Source: Dawn
https://www.dawn.com/news/1668249/taliban-issue-posters-ordering-women-to-cover-up
--------
Iranian regime in Isfahan bans bodybuilding for women
JANUARY 5, 2022
The clerical regime in the Iranian city of Isfahan has outlawed bodybuilding activities for women, introducing a new body blow against the already dire condition for women in the Islamic Republic.
Sheina Vojoudi, an Iranian dissident who fled to Germany to escape persecution, said the mullah regime does not want women to "feel powerful in Iran. It's dangerous for the regime. Now the world can notice that this regime is just using Hijab as an excuse to suppress Iranian women.
"The Islamic Republic has been based on anti-women ideology," she said. "To suppress a society, first you suppress the women of that society. Since 1979, the Iranian women have always paid a heavy price for their rights. We've been oppressed, we've been harassed, we've been threatened by Basij and we've been deprived of our rights but we're still fighting."
The Islamic Revolution in Iran in 1979 ushered in the theocratic state that imposes gender apartheid on women, according to critics. The Basij is a volunteer paramilitary force used by the Iranian regime to enforce the disenfranchisement of women and crack down on political dissent.
The Iranian regime-controlled media outlet Iran's Metropolises News Agency (MNA) reported this week that Hossein Zibaei, the deputy director of sports development at the Isfahan Sports and Youth Administration, confirmed the prohibition of women's bodybuilding activities, saying about the ban.
"This section has been notified to the general directorate of the country."
MNA added, "In response to the question whether this notification has been issued for all provinces, he pointed out: This order came from the ministry and we just have to obey this order."
The central Iranian city of Isfahan has been in the headlines over the last few months for execution sprees in its vast prison system and mass protests against economic and political corruption, including water shortages.
Tavaana, the E-Learning Institute for Iranian Civil Society, tweeted to its 137,800 followers: "Bodybuilding activities for women in Isfahan have been banned. Every day, the Islamic Republic takes a new step to eliminate women from society.... We urge sport teams/federations & male athletes not to stay indifferent to the ever harsher restrictions imposed on women athletes."
Source: Jerusalem Post
https://www.jpost.com/middle-east/iran-news/article-691563
--------
Women Compete In Saudi Festival's Camel Beauty Contest For First Time
January 07, 2022
RIYADH: Twenty-five female camel owners have been allowed to showcase their animals for the first time in a beauty contest at a major festival taking place in Saudi Arabia.
The sixth edition of the King Abdulaziz Camel Festival has introduced an open round for women with Maghatirs, an ancient and highly valued breed of camel.
A committee of judges will grade the animals in three color categories and an individual class.
The Saudi Camel Club has been keen to encourage the involvement of women in regional and international camel competitions.
Saudi camel owner, Munira Al-Mukhass, told Arab News that having the opportunity to take part in the contest with her camel, Tawq, felt in itself similar to winning a medal.
"I have met and had meetings with many camel owners over the years and it's funny that I said to one of them, Umair Al-Qahtani, God willing, one day I will participate in the festival. Now my wish has come true," she said.
Al-Mukhass noted that rules for entering the competition had been simple to follow. "The registration and medical examination procedures for young camels took me only one day. They explained to us how to participate, register, and the time of attendance."
And she hoped that after competing in the festival, her camel may be worth around SR1 million ($266,000), and that next year's event could see equal numbers of male and female camel owners taking part.
A consultant and member of the Saudi Society for the Study of Camels, Fahad Al-Bogami, said the animals came in many shades with each color having its own beauty specifications and distinguishing features.
He pointed out that the beauty of a camel was judged on parts of its body such as the head, neck, and hump, and generally took into consideration size, length, and height.
Bedouin tribes divide maghatir camels into colors that range from white shades, to yellow and red, and each color has a name.
The King Abdulaziz Camel Festival, staged northeast of Riyadh, attracts more than 100,000 visitors from around the world every day.
Source: Arab News
https://www.arabnews.com/node/2000061/saudi-arabia
--------
Uyghur Woman Sentenced For 14 Years For Teaching Islam, Hiding Qurans
By Shohret Hoshur
2022.01
A Uyghur woman abducted from her home in China's far-western Xinjiang region in the middle of the night more than four years ago was sentenced to 14 years in prison for providing religious instruction to children in her neighborhood and hiding copies of the Quran, sources with knowledge of the situation and local police said.
Hasiyet Ehmet, now 57 and a resident of Manas (in Chinese, Manasi) county in Changji Hui Autonomous Prefecture in Xinjiang, has not been heard from since she was abducted by authorities in May 2017, said the source who requested anonymity for fear of reprisal by Chinese authorities.
Police from the county's No. 3 police station broke into Hasiyet's home and put a black hood over her head, refusing her request to put on other clothes and gather her medicine before they took her away, according to the person with knowledge of the situation.
A Manas county court official confirmed that Hasiyet Ehmet had been sentenced to 14 years.
"It was because of teaching kids the Quran and hiding two copies of Quran when authorities were confiscating them, and later getting caught," the official said. "These were the reasons for her sentences."
Nine years before her arrest, Hasiyet's husband was convicted of "separatism" charges and sentenced to life in prison in 2009, the source said.
Hasiyet had stopped teaching children two years before her arrest because of health problems. She also refrained from attending public events, said the source.
Chinese authorities have targeted and arrested numerous Uyghur businessmen, intellectuals, and cultural and religious figures in the Xinjiang Uyghur Autonomous Region for years as part of a campaign to monitor, control, and assimilate members of the minority group purportedly to prevent religious extremism and terrorist activities.
Many of them have been among the 1.8 million Uyghurs and other Turkic minorities believed to be held in a network of detention camps in Xinjiang since 2017. Beijing has said that the camps are vocational training centers and has denied widespread and documented allegations that it has mistreated Muslims living in Xinjiang.
Hasiyet was arrested along with some of her neighbors and held for 15 days after questioning, said the chairman of the local neighborhood committee, a grassroots-level organization in China that monitors residents. Authorities arrested her a second time that September and sentenced her.
Staff at the Manas county police department declined to answer questions about Hasiyet, only telling RFA that there were not many Uyghur police officers or Uyghur residents who lived in the county, which covers nearly 9,200 square kilometers (3,550 square miles).
Changji Hui Autonomous Prefecture has a population of more than 1.6 million people, according to China's latest census data on Xinjiang, issued in June 2021. The information did not break down the population at the county level.
A police officer in Manas did not deny that Hasiyet was in detention but said it was a "state secret" and provided no further details.
Another source with knowledge of the situation told RFA's Uyghur Service after it first reported on Hasiyet's case that authorities sentenced the woman to 14 years in prison — seven for teaching the Quran and giving religious lessons to local children and another seven for hiding two copies of the sacred text during a time when police began confiscating religious books from Manas county residents.
Authorities did not try Hasiyet on the charges in court, but instead sent a court verdict letter to her family, the person said. But because Hasiyet's husband was serving a life sentence in prison, her parents were dead, and the whereabouts of her 13-year-old daughter were unknown, the letter may have been delivered to her husband's family.
"The verdict statement briefly summarized the reasons for her abduction along with her prison term," the source wrote to RFA.
Source: RFA
https://www.rfa.org/english/news/uyghur/hasiyet-ehmet-01072022150935.html
--------
DWE celebrates the role of women in business
January 08, 2022
Dazzling Women Entrepreneurs Group (DWE) hosted its first icebreaker event at the Crowne Plaza Dubai, Jumeirah Hotel, on December 16, 2021. DWE is a global social networking platform founded by Pushpa Jaleel to support women empowerment and SMEs.
The event received positive feedback and was attended by Dr Yaqoob Al Ali, executive director and private advisor for the office of Sheikh Juma Bin Maktoum Al Maktoum; Maktoum Almarzouqi, director, Almarzouqi Group; Sameera Rizwan Sajan and Shabnam N Kassam, directors at Danube; Shilpa Shirodkar, Bollywood actress; Dr Shams Abdullah Alamro, international judge of human rights at United Nations; Dr Jean Shahdadpuri, MD, Nikai Group of Companies; Juhi Y Khan, founder, Future Philanthropist CSR Company, and Lara Tabet, TV presenter.
Speaking about building a business, Jaleel saidthat sixty two per cent of women business owners are between the ages of 40-59 years. She further said: "Networking is an investment in your business. Building business relationships are highly important in the UAE, therefore, stay connected, bond and network.
" Jaleel said that gender is not a necessary criteria to achieve big in the entrepreneurial world. On the topic of personal growth for women in business today, Jaleel advises: "Showcase your passion. Make your goals visible through your character and your actions. Learn from one another and lead an enriched professional life."
Jaleel has also announced her interest to train, mentor, and share her experiences and knowledge with young online women business owners.
Source: Khaleej Times
https://www.khaleejtimes.com/kt-network/dwe-celebrates-the-role-of-women-in-business
--------
Covid-19: Pakistan's largest city launches door-to-door vaccination for women
7 Jan 2022
Pakistan's largest city Karachi is launching a door-to-door campaign to vaccinate women, who are lagging behind men in rates of coronavirus inoculation as the country enters a fifth wave of the Covid-19 pandemic, a senior official said on Friday.
Pakistan on Friday reported nearly 1,300 cases in a single day, its highest tally in two months, with a positivity rate of 2.5%. Karachi's positivity rate rose to 10%, from 4.74% on Dec. 31.
"We have found that a sizable population of housewives are unvaccinated, and they socialise and attend weddings without face masks," Qasim Siraj Soomro, parliamentary health secretary of the Sindh provincial government, told Reuters.
In contrast, the rate of vaccination among male family members who go out to work is higher than the rate among women, he added.
The provincial government's campaign will use female health workers, who have long played an instrumental role in country-wide polio vaccination campaigns in the South Asian nation.
"We plan to target clusters in urban areas and at later stage in rural areas," said the parliamentary secretary.
About 70 million people in Pakistan, or 32% of the population, have had two vaccine doses.
The first case of the Omicron variant was reported on Dec. 13 in Karachi, and the federal government has acknowledged that a fifth pandemic has started in the country, with Karachi, Lahore and Islamabad seeing most of the cases.
The government has not yet announced new restrictions but has urged people to follow precautionary measures.
The government has authorized booster doses for citizens over the age of 30 from Monday. Children over the age of 12 are being offered vaccinations at their schools.
Source: Khaleej Times
https://www.khaleejtimes.com/coronavirus/covid-19-pakistan-largest-city-launches-door-to-door-vaccination-for-women
--------
The world should address the shocking rise in executions of women in Iran
December 21, 2021
The seven executions of women in Iran in just one month is half the average annual rate
The clerical regime has stepped up executions in the past month with a shocking rise in the executions of women in Iran.
Since November 22, 2021, at least 39 persons, including seven women, have been hanged in various prisons across the country.
They include the execution on December 19, 2021, of a Kurdish political prisoner, Haidar Ghorbani, 40, and the father of two, after five years of captivity.
The Iranian Judiciary handed down his death penalty based on forced confessions extracted from him under torture. They carried out the death penalty without informing his family and/or lawyer. The intelligence services did not hand Haidar's body to his family and buried him secretly.
The entire "legal" procedure, from the beginning to the end, violated all international standards and humanitarian law.
On the same day, two Baluch citizens were hanged in the Prison of Shiraz. One of them was Na'eim Shahbakhsh, 38, the father of four, including two children under ten years.
Again, the authorities did not inform his family before the execution. Therefore, he died without having a final visit with his family.
Seven women were hanged in one month
Four of the seven women hanged over the past month have not been identified.
The authorities of the Central Prison of Yasuj carried out the death penalties for a couple on November 23, 2021, on murder charges.
On drug-related charges, Maryam Khakpour, 41, was hanged on November 25 in Dastgerd Prison of Isfahan. She had repeatedly claimed innocence saying the drugs belonged to her husband, sentenced to 18 years.
A 2017 amendment to the Iranian regime's law strictly limits the use of the death penalty for drug-related offenses. The executions on drug-related charges have nevertheless continued.
On December 9, 2021, six inmates, including three unidentified women, were hanged in the Central Prison of Kerman.
Massoumeh Zare'i, 40, was hanged in the Prison of Amol at dawn on December 14, 2021. She had a 21-year-old daughter and was in prison for seven years for the murder of her husband, a drug addict who often battered her and did not consent to divorce.
Fatemeh Aslani was hanged on December 19, 2021, in Dastgerd Prison of Isfahan for murdering her husband. She had been on death row for nine years despite pleading not guilty.
Ebrahim Ra'isi oversees surge in executions
The seven hanging executions of women in Iran during just one month are noteworthy, particularly because, since 2013, the average number of women executed in Iran has been 15 per year.
The Iranian regime has executed some 350 persons since January 2021, compared to the 255 executed in 2020. Of course, the actual number of those executed by the regime must be considered higher because the regime executes many in secret and away from the public's eyes.
The significant rise in the number of death penalties carried out in Iran in 2021 is an outcome of the presidency of Ebrahim Ra'isi, who is notorious for his direct role in the massacre of 30,000 political prisoners in just a few months in 1988.
In the face of growing societal discontent, The inhuman clerical regime has found the only way to preserve its rule in intensifying executions, torture, and repression.
The Iranian Resistance has repeatedly urged the UN Security Council, the UN Secretary-General, the UN Human Rights Council, and the UN High Commissioner for Human Rights, as well as the European Union and its member states, to strongly condemn the growing number of executions in Iran and to take immediate action to rescue prisoners on death row.
With this month's surge in executions, this imperative becomes ever more urgent.
No talks, no ties with the world's chief executioner of women
Iran is the world's chief executioner of women.
The Women's Committee of the National Council of Resistance of Iran (NCRI) genuinely believes that women are the force for change. It urges all women's rights advocates and activists worldwide to play an active role concerning the fate of their sisters in Iran and help stop the executions of women in Iran.
Women should urge their governments to make all economic and political relations with Tehran contingent on a halt to executions, especially the executions of women in Iran and torture of political prisoners.
They should urge their governments to refer the dossier of the clerical regime's human rights abuses to the UN Security Council.
The UN and its member states should form an international tribunal to hold the leaders of the Iranian regime, especially its supreme leader Ali Khamenei, its president Ebrahim Ra'isi, its Judiciary Chief Gholam-Hossein Mohseni Ejei, and its parliamentary speaker Mohammad Baqer Ghalibaf, accountable for four decades of crimes against humanity and genocide.
The freedom-loving women worldwide must not withstand their governments negotiating and shaking hands with a murderous regime, let alone appeasing it.
The women of Iran look to their sisters around the world to lend them support in their tortuous struggle for freedom and equality.
Help stop executions of women in Iran!
Source: NCR
https://women.ncr-iran.org/2021/12/21/rise-in-executions-of-women-in-iran/
--------
URL:
New Age Islam, Islam Online, Islamic Website, African Muslim News, Arab World News, South Asia News, Indian Muslim News, World Muslim News, Women in Islam, Islamic Feminism, Arab Women, Women In Arab, Islamophobia in America, Muslim Women in West, Islam Women and Feminism