New Age Islam News Bureau
12 Dec 2014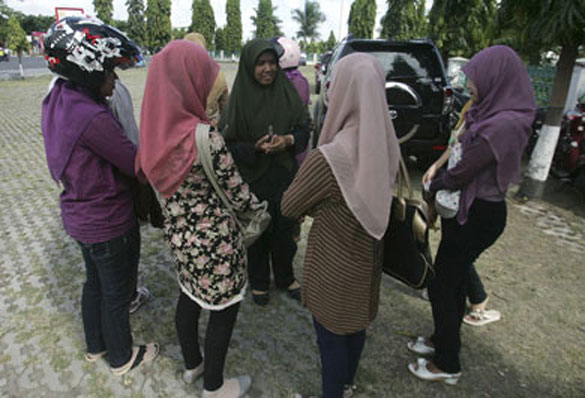 A Sharia policewoman (C) speaks to women caught flouting an Indonesian province's dress code by wearing tight jeans and pants. (Photo: Reuters/Junaidi Hanafiah)
-----------
• Lebanese Star Maya Diab Sparks 'Hijab' Controversy
• Indonesian Extremist Group Spray Paints Women in Tight Jeans to Enforce Sharia Law
• New Study Shows Half of Liberian Girls, Women Undergo FGM
• The Second Wives Club: New Matchmaking Site for Muslim Polygamists
• Ayaan Hirsi Ali Fights Radical Islam's Real War On Women
• Saudi Women Hope for Greater Rights In 2015
• Judge Rules Application by Sisters in Islam Not Frivolous
• ISIS-Obsessed Mum Urged Muslim Women to Send Their Men to Fight Jihad
• Arab Woman Wanted For Operating Unlicensed Autism Center
• Majority of Educated Women Victim of Violence In Turkey, Survey Reveals
• 'I Was Accused Of Being A Christian', Says Turkish Actress Serra Yılmaz
Compiled by New Age Islam News Bureau
URL: https://www.newageislam.com/islam,-women-and-feminism/new-age-islam-news-bureau/saudis-prime-target-of-cyber-blackmail-by-women/d/100455
---------------
Saudis Prime Target of Cyber Blackmail by Women
12 December 2014
Fifteen Saudi men a day are duped online by women to reveal intimate pictures of themselves and then blackmailed for money, according to an organization formed recently to counter this growing trend.
"No to Blackmail" has recorded 30,000 such cases involving Arab men from across the region. There are 90,000 women involved in this crime, a member of the organization said recently.
Most of the women blackmailers are from Morocco, he said.
Men from the Gulf are the prime targets of these women, with Saudis ranked first, and followed by those from Kuwait and the United Arab Emirates. He said the organization has filed lawsuits against many of these women.
He said the proliferation of websites where women and men are able to interact freely is to blame for the rise in this phenomenon and appealed to the police to pursue these blackmailers.
One young man, who did not want to be named, said that he met a woman on a marriage website and then started talking to her regularly on Skype. He then agreed to her suggestion to show her parts of his body. "I got carried away by her charming talk. When she had gathered information on my work and family, she started threatening to expose me. She asked for a sum of SR3, 000 which I paid."
"Then she asked for another sum, which was supposed to be the last payment. But she did not stop and continued threatening to reveal my pictures at my workplace, and to my family and friends. A friend told me to travel to her city and file a lawsuit, but the judiciary there is weak in this respect," he said.
Mohammad Al-Zahrani, another victim, said that he responded to one of many friend requests online and soon got emotionally involved with a woman. "She sent me lots of photographs of herself in an attempt to get me to send her some of mine. But I refused and then exposed her online as an example to other women trying to do the same thing," he said.
Hassan Abdulla, a teacher, said that he also got involved with a woman online, who eventually succeeded in convincing him to buy her a new cellphone. "From that point onward she started to blackmail me and threatened to tell my wife and children about our relationship. Things dragged on for a while until I closed my account on social media and told my wife about her," he said.
Mohammad Numan, a journalist, said that a woman had also attempted to make contact with him online. "I had heard from my friends about meeting women on the Internet, but now women are pursuing men. I met a woman from an Arab country who insisted on introducing herself. I was attracted to her for a while, but was surprised at her boldness. Her attempts failed because I don't have an account on Skype," he said.
Another young man said his friend met a girl on the Internet. After a while they started exchanging photographs. Then she started blackmailing him and made him pay her SR2,000 to not publish his photographs.
Psychologist Khalid Al-Zghayir said the victims of these scams are trying to find a substitute for something missing in their lives. He warned that such online relationships can become addictive.
Saud Kateb, a media technology expert and academic, said that technology does not change human behaviour, but that the threat was real because it made relationships more accessible. The virtual world has become an "easy place for blackmail and revenge," he said.
"All social media websites are beneficial if used correctly, and this is something that is related to individual morals. The Arab world is facing a dilemma of lack of morals and social media has exposed us for what we are," he said.
Nora Al-Sowyan, a family consultant, said Islam forbids this type of behaviour. Women involved in blackmailing men online have emotional problems, she said.
http://www.arabnews.com/featured/news/673306
-----------
Lebanese star Maya Diab sparks 'hijab' controversy
12 December 2014
Lebanese diva Maya Diab sparked controversy after appearing on a TV show late Thursday wearing an what looked like an Islamic head scarf with a black revealing dress.
Diab, who was performing on the entertainment show Star Academy, generated a wave of social media reactions.
"Isnt Maya Diab cold?" one twitter user sarcastically said, while another user wrote: "I heard that Maya Diab started wearing the Islamic veil … but she forgot to wear clothes."Other users seemed angered by the outfit which they described as an "insult" to the Islamic head covering.
What Maya Diab was wearing on #StarAcademy "was as an insult to the veil with this semi- naked [dress]," @Mahboob2491 wrote.
"There is a major contradiction and an insult," he added in Arabic.
Some social media users said the Lebanese singer chose such a striking outfit to compete with her rival Haifa Wahbe who had sparked controversy weeks earlier for wearing a revealing dress.
"Maya Diab challenges Haifa Wahbe with a revealing dress," one user wrote.
http://english.alarabiya.net/en/variety/2014/12/12/Lebanon-s-Maya-Diab-hijab-sparks-controversy-.html
-----------
Indonesian Extremist Group Spray Paints Women in Tight Jeans to Enforce Sharia Law
12 Dec, 2014
A new extremist group operating in Indonesia is going after women on the streets wearing tight pants and jeans and covering them in spray paint as a form of enforcement against violations of the Islamic law and the local law of the land.
The group, which calls itself Tadkiiratul Ummah and operates in the Indonesian province of Aceh, has recently began a new "moralization" campaign to make examples of women and men who are wearing what the group deems to be "too tight pants."
Asia News reports that the group is finding violators of the law and covering their pants in a permanent colour spray. According to the group's spokesman, Teungku Nurdin Usman, the group's campaign of spray painting people wearing tight pants comes in response to local law enforcement failing to enforce the Iaw, which, among other things, prohibits women from wearing tight clothing.
"Local authorities have shown poor performance in implementing the Sharia law-based regulations," Usman said.
Usman further noted that since the authorities aren't doing an acceptable job of upholding the law, it is the group's "moral duty" to ensure that the law is respected by both men and women. He added that the group's enforcement efforts include the spray painting raids, "inspections in the streets" and giving women who are caught wearing tight pants in public a sarong (a long dress like fabric) to wear over their pants.
As Free Malaysia Today estimates, the group has stockpiled over 7,000 sarongs that are ready to hand out to women in violation of the dress code.
"It is our hope that they will be shamed in public and will refrain from repeating similar misleading behaviour," Usman added.
Modern Muslim movements like the Nahdlatul Ulema are critical of the group's new-found initiative and claim that the group has no legal standing to promote this kind of action, which publicly humiliates the victims.
Although it might be confounding by Western standards for a group of people to walk up to a random stranger on the street and spray paint his or her clothes, the enforcement of Sharia law in the areas of Aceh is quite tame in comparison to that of other areas in Indonesia, which is the most populous Muslim country in the world.
In areas like Bogor and Bekasi, Asia News states that many Christian places of worship have been shut down in the face of extremist pressure. But in Aceh, a province coming off of the regime of a secular governor, newer and stricter Islamic-based regulations that have been put in place by the region's new governor have not been greeted with overwhelming support by the people of Aceh. Many citizens in Aceh are contesting the bans that restrict the rights of women by placing bans on jeans, skirts, tight dresses, dancing in public, and women straddling a motorcycle (women must legally ride a motorcycle with both feet dangling off of one side.)
However, many of the Aceh citizens are also in support of the bans as they claim it preserves their society from Western influence.
"As an Acehnese who understands the culture and values of Aceh, I very much agree with the tight clothing ban," Chairman of the Aceh Graduate Students Association, Sayuti Abubakar told Khabar South East Asia. "Such regulation is necessary to filter western influences and preserve Acehnese values, which are rooted in Islam."
http://www.christianpost.com/news/indonesia-extremist-group-spray-paints-women-in-tight-jeans-claims-to-enforce-sharia-law-131055/
-----------
New Study Shows Half of Liberian Girls, Women Undergo FGM
12 Dec, 2014
A recent study has documented that nearly half (49.8%) of all Liberian women have been genitally mutilated but this practice seems to be decreasing among younger girls. The practice is not considered a crime.
In fact, the Central West African region that practices FGM, especially Liberia and Sierra Leone, are unique in certain ways.
Although the Dutch, Portuguese, and British had trading posts in West Africa, Liberia was first colonized by free American Blacks in the early 19th century. This was an Abolitionist vision, one which President Thomas Jefferson shared. Britain settled the Black Poor of London in Sierre Leone.
The Americo-Liberians created a cultural and racial caste system with themselves at the top and the indigenous Liberians at the bottom. They practiced slavery. In the late 20th and early 21st centuries, after years of terrible and unending civil wars, both traditional, Christian, and Muslim pro-peace Liberian women took to the streets; eventually they helped elect a Christian woman, Ellen Johnson Sirleaf, as President.
This is not surprising. Liberia (40% traditional religions, 40% Christianity and traditional religions, 20% Muslim); Sierre Leone (60% Muslim, 30% Christian, 10% traditional religions); Guinea (85% Muslim, 10% Christian, 5% traditional); Ivory Coast (39% Muslim, 30% 17% Atheist, 12% Christian), are all countries which initiate girls into the traditionally mandatory Sande Society.
The Sande Society is an all-female secret society which conducts rites of passage for young girls which last anywhere from months to up to a year. The Society retreats into the forest. The older women initiate a group of young girls into adulthood. The girls are given new names. Unique wooden face masks are created for them. They are instructed in hair-plaiting, dancing, medicine, farming, and sexual matters.
A clitoridectomy, performed by female "experts," is part of this initiation. This procedure, which is painful and risky, is believed to bond the initiates for life, prepare girls for the pain of childbirth, remove what is "male" about them, and increase their fertility. The Sande Society believes that women are more spiritual than men and are in closer touch with the Spirit World. The type of FGM practiced in Liberia is Type 1 and Type 2: a clitoridectomy and the partial or total removal of the clitoris and the labia minora. There is life-long scarring. Only after this initiation has taken place is the girl considered marriageable.
In 2012, when Liberian journalist Mae Azango reported on the Sande Society and clitoridectomies, she received death threats. However, anti-FGM campaigner and survivor, Alimatu Dimonekene welcomes the new research and hopes it will lead to the abolition of the practice. Prior to the Ebola outbreak there were "94 organizations contributing to campaigns to end FGM."
Clearly, the Ebola crisis has disrupted all normal practices. But, when the crisis has passed, one wonders whether or not the Sande Society will become outdated, whether FGM will be criminalized, and whether the government will enforce the law.
http://www.breitbart.com/Big-Peace/2014/12/11/New-Study-Showing-Half-of-Liberian-Girls-Women-Undergo-FGM-Not-a-Surprise
-----------
The Second Wives Club: New Matchmaking Site for Muslim Polygamists
New York Observer
12 December 2014
When the Observer first logged on, it looked like a standard online dating site: Women's profiles, each with a non-identifying username, lined the page; we could filter prospects by age, location, appearance and interests.
But this wasn't OkCupid, Match.com, or even adultery marketplace Ashley Madison. This was SecondWife.com, a matchmaking site that enables Muslim men to search for second, third, or fourth wives (the Islamic limit). On the flip side, women can search SecondWife.com profiles if they hope to become an extra wife.
Yusuf Khan, a web developer and entrepreneur, launched the UK-based polygamy site three months ago. The site already has over 3,000 users, he said.
"SecondWife.com wasn't planned," Mr. Khan said by email. Originally, he had hoped to create a more traditional matchmaking site, but found that the market was already saturated. "There [were] plenty of fish (excuse the pun) to compete with," he said.
"The key to online success in 2014 is finding a niche," Mr. Khan continued. "Being aware of Islam and Polygamy I saw an opportunity so decided to go with it. After doing research I discovered that we have little to [no] competition."
The Koran permits men to marry up to four wives, as long as they can support them financially and treat them all equally. According to The Men with Many Wives director Masood Khan, as reported recently in the Telegraph, less than 5 percent of Muslims practice polygamy.
A 2008 report by NPR estimated that 50,000 to 100,000 American Muslims engage in the practice, or between 3.7 and 7.4 percent based on a population estimate by Trinity College.
Opinions about polygamy vary wildly in the Muslim world, a 2013 Pew Research study found, with Muslims in Sub-Saharan Africa being the most widely accepting. Outside of sub-Saharan Africa, however, attitudes are different. Only 4 percent of Bosnian Muslims favor polygamy.
"[Polygamy] is not that common in the Muslim world," Jenny B. White, a Boston University Anthropology professor who specializes in Islam, told the Observer. "Nevertheless, since it is permitted, men have taken advantage of this—particularly if they are wealthy."
Mr. Khan hopes his clients think long and hard about whether they follow Koranic law, though his site has no way of verifying that new sign-ups are, in fact, Muslim.
But be warned: there is a system in place to prevent misusers. The site will remove any profiles that contain "abusive or disruptive messages," and also encourages users to report suspicious behavior.
"We also charge a high premium for our service as a deterrent for misuse," he continued, arguing that the $15 to $30 fee (for men only; every day is ladies' night at SecondWife.com) dissuades riff raff: "If you cannot afford a subscription," he explained, "then surely you cannot afford a second wife!"
So what happens, the Observer wondered, when a SecondWife user finds a potential match or two?
Members can chat for as long as they want over the site's private messaging system, as long as the conversations "don't take an Islamically inappropriate direction," Mr. Khan said.
If a pair decides they're compatible, they can grant each other access to their photos, which are otherwise kept private.
"Female members have the option to invite a guardian into their conversations who she trusts to oversee the interaction," Mr. Khan added.
Eventually, Mr. Khan said, couples can choose to meet in "an appropriate setting [that] is in accordance to Islamic guidelines."
Perhaps it was the unusual blending of a religious custom with modern-day technology, but we found it hard to imagine hordes of religious Muslim men enlisting the Internet to help them find second wives. That is, until we emailed with a real-life SecondWife user—a Qatari man who asked to remain anonymous.
"I have registered in this SecondWife website a while ago out of curiosity," the man, who was introduced to us by Mr. Khan, told the Observer. With three wives already, he hasn't started actively using the site, but said he "may look for the fourth" at some point in the future.
Given his history finding wives, the man said he wishes SecondWife had been around earlier.
"I spent a lot of my money just looking for a second wife. I had to travel a lot," he said. "This is a very expensive process. Here where I live people don't accept this concept a lot. So I had [to] look outside the country."
Though he hasn't used his account to start courting wife number four, "I have a strong feeling that [the site] is good," the man said. "Actually if I [had known] about it, [it] would have certainly saved [me] a good amount of money."
The anonymous SecondWife user explained his rationale for having multiple wives.
"Women were created in their nature to fight for man, to fight to win him," he said. "This is when her best comes out. But when there is no one to fight with, then she gets lazy with you."
He insists, however, that "[polygamy] is more in the favor of the women than the men."
"Most of the men deceive their wives," he said. "I bet that a man can be nicer to his wife when he has a girlfriend/wife than when he hasn't. Because they feel guilty. Thus they became nicer to their wives."
Most Westerners may find it difficult to fathom why any woman would volunteer herself to become a man's second, third or fourth wife. And yet, as we perused SecondWife.com, there was no denying that plenty of women in countries around the world—including the U.S.—had set up accounts.
One woman, 26-year-old "Tania88" from the U.K., said she wanted to become a second wife because she was independent. Another 30-year-old Brit said she was interested in becoming friends with her co-wife, and in having their kids play together.
We asked Ms. White of Boston University why a woman might be interested in marrying a man who already had a wife—or a few. She suggested several possible reasons.
In rural settings, Ms. White said, a tribal sheikh might take multiple wives to handle his responsibilities as a host to hundreds of kinsmen and visitors.
"The more family members you have to pitch in and help, the better," she said. "In situations like that, women might welcome the additional assistance."
She said that in urban settings, "in some cases one wife takes care of the household and children, leaving another free to get an education or work as a professional."
Sometimes poor women elect to become a second or third wife because they'd never afford the dowry to become wife number one.
"The idea is that women and the children from these unions are all protected, well taken care of and in the legitimate line of descent and inheritance," Ms. White said.
Though that's the ideal, things sometimes turn out differently. Some men take younger women as second wives and end up neglecting or divorcing their older wives, "leaving them and their children destitute," Ms. White explained.
There are also scary cases in lawless, war-torn regions, where girls might be captured or sold by their own parents as second or third wives. In those cases, Ms. White said, "the word 'wife' hides a more sordid reality of buying and selling women and girls for sex, rather than the original intent of Islamic law permitting polygyny."
She also warned that in countries where polygamy is illegal—like Turkey, her area of expertise—"men who 'marry' second wives by Islamic rites are actually not legally married, so the women and their children have no legal rights."
But Mr. Khan, SecondWife's creator, maintains that his website is, in fact, good for women.
"The women who are on SecondWife.com are there because they have chosen to be," he said.
Mr. Khan even said he would "proudly" call himself a feminist: "There is a misconception that women in Islam are oppressed [when] in fact," he said, "they are protected."
http://observer.com/2014/12/the-second-wives-club-this-matchmaking-site-is-for-muslim-polygamists/
-----------
Ayaan Hirsi Ali fights radical Islam's real war on women
12 Dec, 2014
In early April of this year, Brandeis University, under pressure from student activists and the Council on American-Islamic Relations, reversed its decision to give an honorary degree to Ayaan Hirsi Ali, a global advocate for women's rights.
The decision was triggered by Hirsi Ali's outspoken criticisms of Islam. The Somali-born activist has sounded alarms about the prevalence of extremism in Muslim countries and the misogyny that pervades even mainstream Islam.
During the Brandeis controversy, a CAIR spokesman called her "one of the worst of the worst of the Islam-haters in America."
But Hirsi Ali's warnings about Islamic extremism were quickly supported by world events, as just a week after Brandeis rescinded her honorary degree, the Islamist terrorist organization Boko Haram kidnapped more than 200 Nigerian schoolgirls in the first of many such abductions throughout the summer. A few months after the kidnappings began, news spread that the Islamic State of Iraq and Syria, another terrorist group, was selling Yazidi women into sexual slavery.
In recent years, as part of its efforts to leverage its historical electoral advantage with female voters, Democrats in the United States have promoted the idea that Republicans have been waging a "war on women." At various times, the term has been associated with politicians who oppose late-term abortions; conservatives who defend the right of religious business owners to decline to provide contraception coverage to employees; and those who question the assumptions behind the statistic that women on average earn 77 cents for every dollar that men earn. During the 2014 midterm election season, Democratic National Committee Chairwoman Debbie Wasserman Schultz even claimed Tea Party Republicans were "grabbing [women] by the hair and pulling us back."
Many on the Right have responded to this campaign either by mocking the idea that a war on women exists or by challenging many of the claims liberals make to perpetuate the narrative — pointing out, for example, that nearly all of the gender wage gap can be explained by the career choices women make. But the truth is that there is a war on women. It just isn't occurring where American liberals claim it is, but rather in countries where women are forbidden to leave their homes without a male escort; seen as nothing more than chattel to be sold or abused; killed if they disobey their family's wishes; mutilated to prevent them from having sex; and attacked with acid when they try to escape.
If American liberals were as concerned about women's rights as they claim to be, they would have to shift their focus to other countries, but that would mean giving up a cherished narrative about conservatives here at home and acknowledging the threat radical Islam poses to women worldwide.
From Earlier: Ayaan Hirsi Ali slams modern American feminism's "trivial BS"
The real horrors facing women in the world aren't discussed in America, where those who try to point out what is going on in other countries or criticize the trivial nature of feminist obsessions are sidelined from the public debate.
But recent events have cast a glaring light on the brutal treatment of women by those claiming to act in the name of Islam, posing a challenge to the American Left by creating a conflict between the liberal desire for women's equality and a multicultural reluctance to criticize other cultures. This philosophical tension gained national attention in October, when HBO's liberal host Bill Maher noted the connection between Islamic ideology and violence, igniting a bitter argument with celebrity guest Ben Affleck.
Bundled up and fearful of shaking hands because of a cough, Hirsi Ali sat down with the Washington Examiner in November before being presented an award by the Independent Women's Forum at its Women of Valor Dinner in Washington. She noted that where extremist ideology spreads, death and mayhem flourish.
"That consequence you see today in parts of Iraq and Syria," Hirsi Ali said. "You see it in what Boko Haram is doing. You've seen it with the Taliban and al Qaeda. Everywhere where that idea is implemented it has a sudden pattern."
Critics have attacked Hirsi Ali as Islamophobic and have argued that the portrait she paints is not representative of Islam at large. But her disagreements with Islam are rooted in her own East African upbringing.
Hirsi Ali was subjected to female genital mutilation at the age of 5 in her home country, Somalia, while her father, who opposed the traditional practice, was in prison. Her father escaped and moved the family to Saudi Arabia, then to Ethiopia and finally to Kenya when Hirsi Ali was 11 years old.
She grew up as a Muslim woman, reading and accepting the Quran and its teachings. But when her family prepared to force her into an arranged marriage, she fled to the Netherlands. She eventually became a translator, speaking on behalf of Somali women who, like her, were seeking asylum.
Hirsi Ali discovered many women continued to suffer under Islam even in the secular, liberal Netherlands. She decided to enter politics to bring attention to the plight of Muslim women and girls, and in 2003 she was elected to the Dutch parliament.
Her charisma and criticism of Islam as a member of parliament gained the attention of Dutch filmmaker Theo van Gogh. She wrote and narrated his film "Submission" about oppressed women in Holland, a film that outraged Dutch Muslims. On Nov. 2, 2004, an Islamist shot and stabbed van Gogh to death in Amsterdam as he rode his bicycle to work. A letter was pinned to van Gogh's dead body with a knife, a letter that included a death threat against Hirsi Ali.
She moved to the United States in 2006 following her resignation from parliament amid accusations that she lied on her asylum application. But even in America, a security detail accompanies her wherever she goes.
Hirsi Ali has a reputation as a fearless critic of Islam, but she spoke quietly, almost timidly, even though her security detail was on alert just outside the secluded room where our interview took place.
Liberals, she said, protect Islamic extremists partly because the Left has no idea what really goes on in Muslim countries.
"They feel all religions are the same, and they're not," she observed. "I think if I adopt the position in good faith to multiculturalists and leftists, I would say [they take the position they do] because they see them [Muslims] as victims. They see them as victims of the white man and so they think: 'Let's protect them from the white man. Let's protect them from capitalism.'… That is misguided at best and malicious at worst."
One need only remember the tragic shooting at Fort Hood in 2009 to see such indifference to extremism in action. U.S. Army psychiatrist Nidal Malik Hasan killed 13 people and wounded many more after becoming radicalized and corresponding with Yemeni-American terrorist leader Anwar al-Awlaki. Despite evidence that Hasan's rampage was religiously motivated — he shouted "Allahu Akbar" ("Allah is great") before opening fire — the Obama administration classified the attack as "workplace violence."
The Left's kid-glove treatment of even radical Islam exposes the logical flaw at the heart of multiculturalism. How does one tolerate the murderous intolerance of another culture? Is someone really a principled supporter of diversity, of women's rights, of gay rights, if he refuses to resist or even acknowledge the mortal threat that is posed to those causes by a different culture?
Many liberals downplay the threat of Islamic extremism that they claim in principle to find abhorrent.
If women's equality and homosexual rights are important to the Left, why are liberals hesitant to criticize an ideology that threatens both groups? Homosexuals are subject to judicial execution in several Muslim countries including Afghanistan, Iran and Saudi Arabia. Although homosexuality is legal in more than 20 Muslim-majority nations, it is still viewed as shameful and sometimes punished by private citizens, who are forgiven for persecuting homosexuals and even for killing them.
Being a woman is not a sin or illegal in Islamic countries, but women are treated more as property than as human beings. In Somalia, where Hirsi Ali was born, 98 percent of women and girls have undergone genital mutilation, a procedure that involves removing the clitoris and labia and sewing the area closed, leaving only a small hole for urination. Somalia has the highest percentage of women and girls who have undergone the procedure, according to a July 2013 report by UNICEF.
Millions of young girls in East Africa are treated as property and forced into marriage in exchange for wealth or status. Women who refuse to marry a husband selected by their familiescan be slain by their own parents and siblings in an "honor killing." In some cases, the man she prefers is slain as well.
These situations are not isolated but are, rather, spreading into Western cultures. Between 25 and 28 honor killings occur in the United States each year, according to Hirsi Ali's human rights organization. The United Nations estimates that more than 5,000 honor killings occur worldwide each year and that 800 million women and girls live under the constant threat of such violence.
"Wherever [Islamists] gain power, you see exactly what they do: The first thing they do is they chase women out of the public space, force them to cover up, beat them up, rape them, sell them into slavery," Hirsi Ali said.
Such violence against women needs to be exposed, and Western liberals need to "review their thinking," she said.
That will prove difficult. In her speech to the dinner guests in Washington, Hirsi Ali recalled meeting Vice President Joe Biden. He informed her that "ISIS had nothing to do with Islam." When she disagreed with him, Biden actually responded: "Let me tell you one or two things about Islam."
"I politely left the conversation at that," Hirsi Ali said, to laughter. "I wasn't used to arguing with vice presidents."
In trying to educate Americans about the dangers of radical Islam and its encroachment on Western society, Hirsi Ali created the Ayaan Hirsi Ali Foundation in 2007. Focusing specifically on honor violence, genital mutilation, and forced marriages, the foundation lobbies Congress, trains law enforcement officials to handle these kinds of domestic abuse cases, and connects women to crisis centers. The foundation's main goal, according to its website, is to "help protect and defend the rights of women in the U.S. from religiously and culturally instigated oppression."
Hirsi Ali expanded on comments the United Arab Emirates' ambassador to the United States made in September, when he likened Islamic extremism to a "cancer."
"Do you know how cancer comes in stages — stage one through four?" Hirsi Ali asked. "ISIS, Boko Haram — they have now achieved the stage of mayhem. But the earlier stages [are] sometimes undetectable. That is what we have here in the U.S. We have it in the UK. We have it in the rest of the Western countries. We have it all over the world."
She wants Americans to understand how the cancer can spread in just a few years and "lead to something you really don't want."
"And we need to engage them and we need to argue with them," she added. "I want, through this foundation, to achieve that awareness and then also to protect the rights of the women who come to us."
Part of that awareness comes from a lobbying campaign working to eradicate genital mutilation in the United States. Female genital mutilation is illegal under federal law, but just 22 states have their own laws barring the practice. Hirsi Ali's foundation is working with the remaining states to enact their own laws. So far, Louisiana, Kansas and New Jersey have passed laws based on language provided by the foundation, and Pennsylvania legislators are working on a similar bill.
The foundation also worked with Rep. Joseph Crowley, D-N.Y., to introduce the Transport for Female Genital Mutilation Act, which amended existing law to include punishment for "vacation cutting," the practice of sending a girl back to a home country to undergo the procedure.
The foundation trains police, teachers and social workers how to understand and combat such violence against women and girls from abroad, and to ensure authorities recognize that this type of violence is distinct from other kinds of domestic violence.
"Everyone we've been in touch with — prosecutors, lawyers, people in the government, activists — they now understand what honor violence is, what female genital mutilation is, that it is a special type of domestic violence," Hirsi Ali said. "It is ideology-driven. It is founded on this religion, or the abuse of this religion."
"I don't care what you call it, whether it is the abuse or the core of the religion, but it is happening," Hirsi Ali said. "And it's happening to real women in real time. And that's what we plan to fight, with very little means."
One of the organization's biggest projects is the launch of a national helpline for survivors and women at risk of honor violence.
The helpline would be set up in partnership with an existing national crisis center, and the foundation would train operators in the specifics of this type of violence and assess whether Arabic-speaking operators would need to be brought in. Fundraising for the hotline is expected to begin shortly after the partnership is lined up.
Asked where she believed the war on women is taking place, Hirsi Ali said: "I would start with the Middle East, North Africa, South Asia — where Muslim extremists are dominant. And by dominant I don't mean necessarily that they control everything. I mean wherever they can get their politics through, women's rights are compromised. That is a real war on women."
"They hate us for just being women and girls," she said. "That's what we need to fight."
During the dinner, Hirsi Ali said that modern American feminists, who continue to promote the idea that there is a war on women in the United States, are focusing on "trivial bullshit" such as the shirt (printed with a motif of scantily clad women) that a scientist wore to a television interview after he helped land a robot on a comet.
Hirsi Ali argued for reclaiming feminism. "Because I come from a world where I cannot take access to education for granted, I can't take economic opportunity for granted, I can't take personal freedoms for granted — I mean, I have to pinch myself every day to think about how it's great to be here," she said, adding that feminists achieved a lot in the 18th and 19th centuries.
But she reminds American feminists that the modern West has a population of nearly 1 billion people, while societies that haven't achieved similar breakthroughs in equality are vastly more numerous.
"These societies are really the minority, and it's scary," Hirsi Ali said of Western cultures.
The rest of the world, which doesn't enjoy the rights that Americans do, is where feminists should focus their attention, she said.
"They should be focusing on the rights of women in China; the girls who are being aborted before they're even born," Hirsi Ali said. "The culture of rape in India. Latin America in the Western world, with all its problems with it being where the West was four or five decades ago. And then, Islamic extremism, which is like a cancer and it's spreading all over the world."
Hirsi Ali noted that she has been warning Westerners about the dangers of Sharia, or Islamic law, for more than a decade but wasn't taken seriously.
"Nobody really believed me. They thought I was exaggerating," she said. "But now they can see when these people come to power what they do."
Her message: "I'm just saying — let's get serious."
http://www.washingtonexaminer.com/ayaan-hirsi-ali-fights-radical-islams-real-war-on-women/article/2556984
-----------
Saudi Women Hope For Greater Rights In 2015
12 Dec, 2014
Saudi Arabian women's headline-grabbing 2011 driving protests were a seminal moment for women's rights in this ultraconservative Muslim country. Next year, they'll finally get to taste the fruits of that activism — though not quite in the way they were shooting for.
The protests, which featured dozens of women taking cars out for a spin and sharing videos or images of their civil disobedience on social media, didn't earn women the right to get behind the wheel. But close watchers of Saudi Arabia's internal politics believe that the driving incidents are a reason why Saudi King Abdullah and his government gave in on another front — political participation. In the municipal elections slated for next year, Saudi women will get the chance to vote and run for office for the very first time. And while experts predict that their franchise will have little effect on the day-to-day realities in the kingdom, most believe it's a very big deal for women themselves, if only as a step in the gradual softening of gender-based restrictions that bar Saudi women from virtually all elements of public life.
"What is changing now in Saudi Arabia is that even the simple, average Saudi citizen, the simple woman, the simple homemaker, is now aware of her civil rights," one women's rights activist based in Saudi Arabia told OZY, via translation and on the condition of anonymity.
From a Western perspective, it can be hard to see how anyone could get too excited about "civil rights" in Saudi Arabia, an absolute monarchy where Abdullah and his family members control all decision making. Political entities like municipal councils have very little real power. Just half of the council members are elected, for example, while the rest are appointed, and councils don't control their regional budgets. That's why Prof. Gregory Gause, head of the International Affairs Department at Texas A&M's Bush School of Government and Public Service, doesn't think women's right to vote in municipal elections will have much effect. As for female candidates, "I'm sure we'll see some … and they will lose," he says.
Still, the Saudi rights advocate says that many women there are excited about the change. Some activists, she says, are even holding secret workshops to help Saudi women, so long barred from civic life, learn about the voting process. So far, they've managed to avoid detection by the government, which considers large political gatherings illegal. And even though the vote hasn't been scheduled yet, Caryle Murphy, a journalist who spent three years in Saudi Arabia and wrote a book on the country, A Kingdom's Future, insists it's "a big step." She attributes it to King Abdullah. But while agreeing that Abdullah has helped women to take on a greater role in public life, Gause says he's starting from a very low bar in Saudi Arabia — a "pre-medieval" one, in fact.
Abdullah, who's now 90, has been cautious in pursuing his agenda on women, careful to take steps incrementally and to avoid inflaming conservative Muslims. They're a vocal force in the kingdom and view an expansion of women's roles outside the home as a violation of Islamic law. Allowing women to drive would have provoked the conservative Muslim constituency. It "is really the third rail," says Gause. "It's become such a symbolic thing in Saudi; it unites everyone from the al-Qaida types to the clergy."
The king and his government largely ignored the driving protests that started in June 2011. But just three months later, they announced a new set of reforms, allowing women to vote and run in the 2015 municipal elections — which themselves were an initiative started in the last decade to grant Saudis more direct political participation. Abdullah also announced plans to appoint women to his advisory Shura Council, the closest thing Saudi Arabia has to a legislature. Thirty women were sworn in to the 150-person council in February 2013.
Now there are signs that even driving, the sacredest of cows, could be at risk of being gored. According to press reports earlier this month, the king's Shura Council has secretly recommended that the country drop its ban on women driving, under certain circumstances (e.g., only women over 30, who wore no makeup, could get behind the wheel between 7 a.m. and 8 p.m.). Of course, it's up to the king and his closest advisers to follow through. That's also true for the elections. In the past, the municipal elections have been delayed, and they could well be again next year. Murphy says the government could create a logistical nightmare for women trying to vote and run for office, limiting their impact.
Will the standards for getting on the ballot be reasonable? Will polling places be accessible to women? No one is expecting a perfect outcome or a sea change in Saudi politics, whenever these elections take place. But as Murphy sees it, it's part of a broader social movement toward increasing women's participation in the workforce, in business and in public life. And "that's not going to change or stop."
http://www.huffingtonpost.com/2014/12/11/saudi-women_n_6308266.html?utm_hp_ref=world
-----------
Judge Rules Application by Sisters in Islam Not Frivolous
12 Dec, 2014
KUALA LUMPUR: Sisters in Islam (SIS) has obtained leave from a High Court to apply to quash a gazetted fatwa (edict) which declared the Muslim women's rights group as deviating from Islam.
Justice Asmabi Mohamad ruled that SIS had proven that its application was not frivolous and that its arguments ought to be heard in full.
The judge ruled in favour of argument by counsel for SIS, Datuk Malik Imtiaz Sarwar, that a gazetted fatwa is a law-making process because it carries legal weight and, therefore, ought to be subjected to judicial review.
Malik raised the point while arguing for leave to obtain a judicial review to quash a fatwa in Selangor that declared the Muslim women's rights group as deviating from Islam.
SIS, through its company SIS Forum (Malaysia), had filed for the judicial review on Oct 31 against the Selangor Fatwa Committee's edict titled Pemikiran Liberalisme dan Pluralisme Agama (Liberalism Thinking and Religious Pluralism).
The fatwa that was gazetted on July 31 allows for any publication deemed liberal and plural to be banned and seized.
In addition, it calls for any form of social media that promotes such content to be monitored and restricted by the Malaysian Communications and Multimedia Commission (MCMC).
SIS sought a declaration from the court that the fatwa was ultra vires the Constitution in banning publications and in directing the MCMC to block social websites.
In his submissions, Malik said the fatwa was "not ordinary" in how wide-reaching it was, as it could even direct state authorities to confiscate books it deemed dangerous, a power usually reserved for the Home Minister.
Quoting a recent Court of Appeal decision which ruled criminalising cross-dressing as unconstitutional, Malik said that even religious law needed to follow the Federal Constitution's framework.
"Bearing in mind the legal implications of this fatwa, there is sufficient material to grant leave at this stage," he argued.
Senior Federal Counsel Shamsul Bolhassan objected, saying a civil court did not have jurisdiction to review a fatwa as it is purely a religious matter, thus any dispute arising from it must be determined by the Syariah Court.
Shamsul added that a fatwa was non-justifiable as it was enacted by the royal prerogative of the Sultan, in his position as the state's religious leader.
Shamsul's objection was dismissed by the judge.
Justice Asmabi fixed Dec 24 for next mention.
http://www.thestar.com.my/News/Nation/2014/12/11/SIS-gets-leave-to-apply-to-quash-fatwa-Judge-rules-application-by-Muslim-womens-rights-group-not-fri/
-----------
ISIS-obsessed mum urged Muslim women to send their men to fight jihad
12 Dec, 2014
An ISIS-obsessed mum-of-six who took pictures of her toddler son holding a toy gun and daydreamed about sending his brother to fight jihad, has been jailed.
Runa Khan, 35, was sentenced to five years and three months today for promoting terrorism.
She revealed her radical views on Facebook, encouraging fellow Muslim women to urge their male relatives to fight. She also posted a picture of a suicide vest on the site, alongside a message which read "sacrifice your life to be in Islam."
Khan praised an article giving tips on how to prepare young children for jihad and unwittingly passed a route to Syria to an undercover police officer.
She also exchanged Facebook and WhatsApp messages with British jihadist Mohammed Nahin Ahmed saying she wanted to join him in the war torn country.
Ahmed sent Khan details on how to get into Syria - where ISIS extremists are terrorising large areas.
Ahmed and Yusuf Sarwar, both aged 22 and from Birmingham, were jailed for 12 years and eight months each earlier this month for engaging in conduct in preparation of terrorist acts.
The judge imposed an extended licence period of five years.
Both had previously admitted to fighting in Syria when they were arrested re-entering the UK in January.
Khan - had previously admitted four charges of disseminating terrorist publications between July and September 2013.
She posted messages urging Muslims to join the extremist cause "Sisters, if you love your sons, husbands and brothers, prove it by sending them to fight for Allah."
And she posted messages on how extremists can smuggle themselves into Syria.
Khan had been warned she faced a "substantial" jail term at her last hearing.
Prosecutor Paul Jarvis, outlining the case this morning, said: "The defendant's online activity show she is someone who holds extreme Islamist views.
"She operated a Facebook account in the name of 'Khawla Khattab,' on which she would regularly post material demonstrating such opinions.
"She has expressed very strong views on the civil war in Syria, accompanied by a strong desire to go there herself."
Ahmed promised Khan he would find her a husband among the jihadist soldiers if she joined him in Syria, writing:
"I'll find u a husband. I'll save one for u u wont get real man outside jihad I can tell whose fake n whose not," (sic) he said.
http://www.mirror.co.uk/news/uk-news/isis-obsessed-mum-urged-muslim-women-4791544
-----------
Arab Woman Wanted For Operating Unlicensed Autism Centre
12 December 2014
TAIF – Police are looking for an Arab woman who used her apartment in the Al-Faisaliah neighbourhood as a day-care centre for autistic children under 8 years, Al-Watan daily reported.
She also received children with various disabilities and charged SR1, 600 a month for each of them.
Taif Health Affairs was tipped off about the illegal activities carried out by the woman, who did not have any official licenses to provide such services, and referred the matter to the police.
A spokesman for the directorate Siraj Al-Humaidan said no one is allowed to practice a medical profession and dispense medications unless he or she has obtained the proper licenses.
Al-Watan found out about the centre before the directorate did and sent one of its reporters there. He met the Arab woman and pretended he had a disabled child.
Inside the place, he found several children who appeared to be suffering from autism and were attended by what appeared to be undocumented expatriate women.
The woman was suspicious from the outset and started asking the reporter many questions about how he found out about the place and who told him about it.
After she was finally satisfied, the woman said her clinic was run by speech therapists and specialists in physical disabilities.
The reporter explained to her the fake condition of his son and she immediately provided a diagnosis of Down's syndrome without asking to see the boy first.
Then she gave a prescription for some medications that were not licensed by the Health Ministry and could only have been obtained through illegal channels.
Ghada Baqeel, the chairwoman of the private education committee at the Madinah Chamber of Commerce and Industry who also owns an autistic centre, said the Ministry of Social Affairs pays for the education of autistic children.
However, some families do not know that. "We send a list of autistic children treated at our centre to the Ministry of Social Affairs and they pay us all expenses and costs," she said.
http://www.saudigazette.com.sa/index.cfm?method=home.regcon&contentid=20141211227139
-----------
Majority Of Educated Women Victim Of Violence In Turkey, Survey Reveals
12 December 2014
A large majority of Turkish women who work in white-collar jobs and have a university degrees say they have been exposed to some kind of violence at least once in their life, according to a recent survey conducted by the Business Against Domestic Violence-BADV project.
A total of 75 percent of female respondents who work in white-collar jobs and are university graduates said they were exposed to violence at least once in their lives, according to the survey, which was conducted by the Sabancı Univeristy's Corporate Governance of Turkey with the support of the Dutch government's Matra fund and the United Nations Population Fund (UNFPA).
The survey revealed that 8 percent of women were exposed to "physical violence," while 17 percent said they were exposed to "economic violence." Forty percent of respondents said they were exposed to "psychological or emotional violence" while 35 percent said they were exposed to "violence in society" at least once.
Male employers also participated in the survey, responding to questions about their relations with their partners. Among male university graduates, 37.5 percent said they committed at least one type of violence against their female partners. This rate dropped to 24.5 percent among male respondents who are only high school graduates.
Some 16 percent of female respondents said they did not break up with their partner after the violence because of possible financial problems. In addition, 35 percent of women who work in white-collar jobs said their salary does not allow them to meet ends for themselves and their children.
At a Dec. 9 panel held in Istanbul on the project and survey results, Dutch Consul General Robert Schuddeboom said violence against women was a serious problem across the world.
"We cannot accept a world in which victims of violence cannot complain with fear of being humiliated and the perpetrators will remain unpunished," said Schuddeboom.
Sabancı Univeristy's Corporate Governance of Turkey Director Melsa Ararat said the survey was conducted at 19 firms that volunteered for the survey.
She said 30 percent of women who were exposed to violence did not share it with anyone, although a majority of the victims share it with their friends or neighbors. A total of 30 percent of women said they temporarily left their homes after being exposed to domestic violence.
http://www.hurriyetdailynews.com/majority-of-educated-women-victim-of-violence-in-turkey-survey-reveals.aspx?pageID=238&nID=75473&NewsCatID=509
-----------
'I Was Accused Of Being A Christian', Says Turkish Actress Serra Yılmaz
12 December 2014
Turkish actress Serra Yılmaz has claimed that she was "accused of being a Christian" for translating Pope Francis' words into Turkish during his visit to Turkey between Nov. 28 and 30.
"I was accused of being a Christian because I was the translator of Pope Francis. Forget about what was written against me, it is ridiculous to judge people by their beliefs. But there were many individuals who made groundless claims like 'the Vatican hired you,' or insulted me on social media," said Yılmaz in a panel with university students in İzmir on Dec. 10.
"As a matter of fact, the Foreign Ministry asked for me personally and I went and translated," said Yılmaz, who is known in Italy for acting in the films of Turkish-Italian director Ferzan Özpetek.
Pope Francis paid a three-day visit to Ankara and Istanbul Nov. 28-30, during which Yılmaz translated the his speeches from Italian into Turkish.
Reminding that she had also worked as a translator for former Pope Benedict's visit to Turkey in 2006, Yılmaz said translating was an "extra job" and that her main profession was acting.
http://www.hurriyetdailynews.com/i-was-accused-of-being-a-christian-for-translating-pope-francis-speeches-says-turkish-actress-serra-yilmaz-.aspx?pageID=238&nID=75466&NewsCatID=341
-----------
URL: https://www.newageislam.com/islam,-women-and-feminism/new-age-islam-news-bureau/saudis-prime-target-of-cyber-blackmail-by-women/d/100455