New Age Islam News Bureau
11 Jul 2019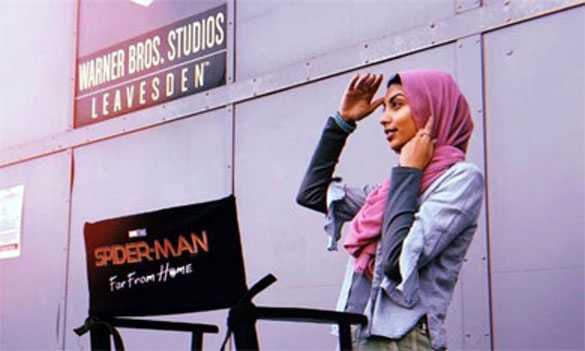 Zoha Rahman whose made an appearance in Spider-Man: Far From Home alongside Tom Holland and Jake Gyllenhaal
-----
• Shoura Votes Down Proposal to Increase Women in City Councils
• Meet the Pakistani Playing Marvel's First On-Screen Hijabi Character
• Stop Victim Blaming Says Indonesian Woman Heading To Jail
• Dewi, a Young Muslim Woman, On Her Meeting with Pope Francis
• Sudan: From Syria to Sudan, Women Rights Defenders Need More Than Likes
Compiled by New Age Islam News Bureau
URL: https://www.newageislam.com/islam-women-feminism/saudis-plan-ease-travel-restrictions/d/119155
--------
Saudis Plan to Ease Travel Restrictions on Women
By Summer Said
July 11, 2019
Saudi Arabia is planning this year to loosen restrictions on women's ability to travel without a male guardian's permission, officials and people familiar with the matter said, a rare step against the system of male domination deeply rooted in Saudi society.
The plan would end guardianship laws pertaining to travel for men and women over 18 years old, allowing them to leave the country without the consent of a designated male family member, the people said. Currently, women of any age and men under 21 need a guardian's permission...
https://www.wsj.com/articles/saudis-plan-to-ease-travel-restrictions-on-women-11562837401
--------
Shoura Votes Down Proposal to Increase Women in City Councils
By Fatima Al-Dibais
July 10, 2019
RIYADH — By just five votes, the Shoura Council on Tuesday rejected a draft proposal to increase the number of women members of the municipal councils to about 30 percent of the members appointed by the Minister of Municipal and Rural Affairs.
Noura Al-Masad, one of the four women members who tabled the proposal, said 71 council members voted in favor of the proposal but it failed short of securing the majority of the required 76 votes by five votes only.
The Shoura Council has 150 members including 30 women. For a proposal to be approved by the council, it has to get the backing of a minimum of 76 members.
Al-Masad considered the result to be good because the proposal was supported by a big number of members though it failed short of securing the required majority.
Al-Masad pointed out that after the council's rejection, the proposal could not be made again before two years. She hoped that the Ministry of Municipal and Rural Affairs would take the proposal as an idea to work on.
Lina Almaeena, another Shoura member, was surprised why their proposal failed and asked what justifications did the opponents have to stand against the increasing of women members in the municipal councils?
Almaeena said out of 284 municipal councils, women are only represented in 10. She said there are 19 women who won their seats in the municipal elections and 15 appointed by the minister. The appointed female councilors constitute only 1 percent of the total number of appointees. Out of a total 3,156 male councilors, 1,052 are appointed.
http://saudigazette.com.sa/article/571489/SAUDI-ARABIA/Shoura-votes-down-proposal-to-increase-women-in-city-councils
--------
Meet the Pakistani Playing Marvel's First On-Screen Hijabi Character
Jul 11, 2019
How often do Muslim women see themselves being represented in Hollywood without being stereotyped?
We sure didn't grow up seeing them on the big screen. Zoha Rahman wants to change that.
The London-based Pakistani can be seen in the new Spider-Man: Far From Home alongside Tom Holland, Jake Gyllenhaal and Zendaya to name a few. And it's not a background character; she plays the superhero's hijabi classmate who joins him on a school trip to Europe. That's quite the big break.
In an interview with Images, the actress opens up about breaking barriers, Hollywood portrayals of South Asian characters and how she stumbled into acting:
1) Can you tell us a little bit about your background and how you got into acting?
Zoha Rahman (ZR): My background always surprises people. So I was born and raised in Pakistan and immigrated to the UK with my family relatively recently to study law and work towards becoming a barrister.
As I started my Master's degree at Queen Mary, I decided to take this huge leap of faith into the world of acting full-time. I had already been modelling and acting part time for a few years and despite being passionate about it, I always treated it morelike a hobby.
Getting into acting was such a natural process for me, from pretending to be asleep at my friend's houses hoping my parents would leave me for a sleepover to countless plays in school and university.
I never thought of it as something separate, it was always an innate part of me. Stepping into the professional world of acting came about after I joined my first modelling and started doing some commercials and eventually landed a few roles in movies.
2) Tell us about how you got the role in Spider-Man, like how did you get to know about the audition and how did it feel when you found out you had bagged the role?
ZR: My agent was asked to send options to the casting director for diverse students and they liked my profile and invited me to audition.
I had no idea what I was auditioning for until I signed an NDA at the studios and got the script to audition, I was on camera in 5 minutes and I had just found out I was auditioning for Spider-Man, can you imagine the sensory overload?! Thankfully, I remained calm and my performance was good enough for them to call me back and give me the role.
I found out at a train station actually, it felt incredible! I was in shock, and surprised, nervous, ecstatic, and in disbelief all at once.
3) What was it like shooting for this movie and working with a star cast that includes Tom Holland, Jake Gyllenhaal and Zendaya to name a few?
ZR: I was definitely nervous before my first day, but when you're on a set, it's a super professional environment and everything is very fast-paced. We all became friends so quickly, spending all day together, getting hair and makeup done, having lunch, playing games, getting the scenes done.
Everyone was so friendly and so nice, it was amazing for me to be able to see them work and gain from their experiences as well as my own.
4) How was the environment for you as a South Asian woman, working on a big budget movie with a predominantly white cast and crew?
ZR: The cast is actually not predominantly white and I spent most of my time with them. I was very comfortable no matter where I was or who I was with so it never occurred to me that I was a different shade of human.
I don't think of myself as a 'South Asian Woman' on set, because that can be very limiting as a narrative. I am an actress, and I'm doing my job, and I am blessed to have this incredible team around me.
Our collective effort to make this movie a success through long hours and tiring days was at the forefront.
5) Any fun stories to share from the set and shoots? Who was the most fun to work with, who was always late. Give us some scoop.
ZR: I was surrounded by professionals so i don't have any stories of tardiness I'm afraid but we did have a great time playing silly games and singing songs when we were waiting on set.
One particularly fond memory is of us learning the 'Candy', a very popular dance. Only two of us knew it and took it upon ourselves to teach the rest. It was an instant flash mob of us bumping into each other trying to get it right. Eventually, we were all in synch and felt very accomplished!
6) Do you have anything to say about the representation of South Asian/Muslim characters in the MCU? Will your character play a part in it all?
ZR: My character is already breaking barriers, I can't speak particularly for the MCU but mainstream media in its entirety is a narration of the morals, values and expectations of society that we grow up believing.
Yet we keep seeing caricatures of ourselves and irresponsible portrayals of our cultures, so many of us grow to distance ourselves from our truth for fear of being ridiculed. We are South Asian but we're not that taxi driver or terrorist kind of South Asian you see in movies, we also don't have THAT accent from television shows but we know all those things pop up in people's minds when they see us.
So a Muslim girl seeing herself in a Marvel movie means that her identity as a normal teenager is validated, she is an important fragment of her community, nothing about how she looks is 'other'. We must have that for everyone, and it is slowly happening. We just need to make it happen faster.
While talking to Teen Vogue, she also said, "I grew up without seeing someone like myself onscreen. And when I did start seeing representations in mainstream media, they were irresponsible and poor. I treated my role as a huge responsibility."
7) Given that you have previously talked about the stereotypical representation of Muslim/desi characters, was your input sought in the development of your character? Your character wears a hijab in the movie but you don't in real life so what were your thoughts about that?
ZR: There was originally no talk of a hijab, I was asked only after I had been cast. When they asked me if i was happy to wear a hijab for the role, i said yes and instantly sent them selfies in ammi's dupatta. So my thoughts on that are pretty clear: I saw the opportunity to represent the multitudes of women and girls that I grew up with and that I admire, and I knew this may well be a turning point for how we are portrayed in mainstream media.
The best part for me was being able to give my input; I styled the hijab myself and I worked with the wardrobe team deciding on styles to wrap it and on certain costume details as sometimes I felt the sleeves were too short or there needed to be tights under a skirt in order for the outfit to be modest enough for a hijab-wearing teenager with no compromise on style.
While talking to The National, she also said, "I am Muslim but I do not wear the hijab on a daily basis. I wanted to do it justice. It is not a hat or a costume, and I was determined to give it the respect it deserves."
8) Do you feel a change in attitudes within the entertainment industry towards the depiction of brown/Muslim characters?
ZR: I do see a slow progression in the diversification of casts and faces being seen on international screens. I believe the change has more to do with the increased visibility of modern Muslims and their truthful, albeit personal portrayals of our cultures.
So I wouldn't give credit to 'the West' for improvement in depictions. Our youth has taken over global platforms, be it social media or the Olympics or international best-selling novels thus demanding our existence be recognised for what it truly is, not just comic relief or fear factors in global media.
The fact is, we have changed the landscape and the mainstream companies are purely catering to their developing audiences. So yes, I can see a shift from South Asian characters being limited to what I call the trio of T's: taxi drivers, terrorists and techies to more human characters with a wider breadth of narratives.
https://images.dawn.com/news/1183185/meet-the-pakistani-playing-marvels-first-on-screen-hijabi-character
--------
Stop Victim Blaming Says Indonesian Woman Heading To Jail
Thomson Reuters Foundation
July 10, 2019
KUALA LUMPUR: An Indonesian woman sentenced to jail for reporting sexual harassment called on Wednesday for an end to the culture of victim blaming as she appealed for justice in a case that has sparked public anger.
Baiq Nuril Maknun, a former school teacher from the island of Lombok, is due to serve a six-month sentence after Indonesia's top court last week found her guilty of violating a communications law.
Maknun had complained of getting lewd phone calls from the principal of a high school where she worked. She recorded some of the phone calls and reported them to a colleague, who later distributed the recording.
The principal lost his job but reported Maknun to the police under the communications law for distributing immoral content.
"This is an injustice," Maknun told the Thomson Reuters Foundation as her legal team prepared to seek a pardon from President Joko Widodo after exhausting all other avenues for appeal.
"I am only defending my rights and my dignity as a woman. I didn't do anything wrong," the mother-of-three added by phone from Jakarta.
The court ruling has been widely criticised, including from government figures and human rights defenders, who said it would set a bad precedent and deter other victims from reporting abuses.
In overturning a lower court's earlier decision to acquit Maknun, the top court ordered the six-month jail term as well as a fine of 500 million rupiah (US$35,000).
"Other women would not come forward in the future because of this kind of punishment. People will be afraid what happened to me – this persecution – will happen to them as well," she said.
"I hope I will be the last victim," Maknun added.
The court has defended its verdict saying it was not asked to rule on sexual harassment allegations, but on whether Maknun had electronically disseminated pornographic content and violated the communications law.
Human rights campaigners have rallied behind Maknun, issuing a joint statement on Wednesday calling on the Indonesian president to grant an amnesty and drop the charges.
The letter, signed by nine groups including the Bangkok-based Asian Forum for Human Rights and Development and Jakarta-based Indonesian Legal Aid Foundation, said the ruling would only "perpetuate the culture of victim-blaming".
The #MeToo movement that has taken off in the West has been slow to gain traction in Indonesia, which is the world's most populous Muslim country and socially conservative.
Women in general are still reluctant to speak up due to social pressure, although official figures show one in three Indonesian women have faced physical or sexual violence.
https://www.freemalaysiatoday.com/category/world/2019/07/10/stop-blaming-victims/
--------
Dewi, a Young Muslim Woman, On Her Meeting with Pope Francis
07/10/2019
Semarang (AsiaNews) – The sight of a smiling Pope Francis shaking hands with an emotional young Muslim woman (picture 1) has gone viral in Indonesia, becoming an iconic image in the world's most populous Muslim country.
The woman in the picture is Dewi Kartika Maharani Praswida, a 23-year-old student from Wonogiri regency, Central Java province.
"I never expected that my pictures with Pope Francis would cause such hype in Indonesia," she told AsiaNews, "but I am happy, because these images reminded many of my compatriots that belonging to different religious communities does not prevent us from being brothers and sisters, children of the same almighty God."
The photo that made Dewi famous at home was taken on 26 June, during the Pope's general audience in St Peter's Square.
"Pope Francis was busy with greetings when he approached the barrier. I was able to exchange a few words with him: 'I am Muslim and I come from Indonesia. Please, Holy Father, pray for me, for peace in my country and in the whole world. The Pope replied: 'Of course, I will.'"
"Being able to meet the leader of the Catholic Church, the 'good man', the 'man in white', was for me a true blessing. Being able to say 'I am in the prayers of Pope Francis' was an indescribable joy."
Dewi has a BA and is now pursuing a Master's Degree in Environmental and Urban Sciences at the Universitas Katolik Soegijapranata (Unika), a Catholic university in Semarang, the capital of Central Java.
She is involved in interfaith dialogue with Gus Durian, a youth movement affiliated with Nahdlatul Ulama (NU), a moderate Islamic group. With more than 90 million members, NU is the largest Islamic organisation in Indonesia and the world.
Between February and June of this year, the young woman was in Rome to study thanks to the Nostra Aetate Foundation[*], which grants scholarships to young people from other religions who wish to deepen their knowledge of Christianity at Pontifical academic institutions.
Dewi studied at the Pontifical University of St Thomas Aquinas (Angelicum) and the Pontifical Institute for Arabic and Islamic Studies (PISAI).
"In my city, Semarang, I am involved in activities concerning interreligious dialogue," Dewi explained. "I have also dedicated my studies to Rome to this topic. But since I was in the heart of world Christianity, I said to myself: 'Why not to take the opportunity to deepen my knowledge of Christianity and the Catholic Church?'
"There are a lot of misunderstandings between Muslims and Christians and I do not want to be part of them. I would like to make my contribution, so that the two sides can interact with each other. For this reason, I began with the Declaration on the Church's relations with the non-Christian religions 'Nostra Aetate', one of the documents of the Second Vatican Ecumenical Council, in order to better study what constitutes the religious practice of Catholics."
The young woman first came into contact with the universal Church some months before her arrival in Rome in February. Invited by the Commission for young people (KomKep) of the Catholic Bishops' Conference of Indonesia (KWI), Dewi was one of the participants in the pre-synodal meeting held in the Vatican between 19 and 24 March 2018.
The event, organised ahead of the Synod of young people (3-28 October 2018), was attended by about 300 young men and women, Catholic and non-Catholic, from different parts of the world. In addition to Dewi, the Indonesian delegation included two other people, both Catholics.
Three young Muslims took part in the pre-Synodal meeting. "The other two participants, a man and a woman, came from the Middle East." But "I was the only one wearing the hijab. I admire Pope Francis a lot, because he tried to listen to the ideas and hopes of the young people present, Catholic and non. There were even atheists among us. This was the occasion for my first meeting with the pontiff (picture 4), with whom I shook hands. I felt blessed."
The Document on Human fraternity for world peace and living together, signed last 4 February in Abu Dhabi by Pope Francis and Grand Imam of Al-Azhar, Ahmad Al-Tayyeb, represents a historic turning point in relations between the Catholic Church and Islam.
For the young woman, "The document has had a great impact. Among my friends there are those who have not read the text, but the photos of the signing ceremony alone and the affectionate greetings between the pontiff and the imam have generated a very positive response. For many they were proof that these two great religions can engage in dialogue."
"During my stay in Rome, I was able to interact and make friends with people who have different opinions from mine. There were lively debates. I remember one in particular with an Orthodox Christian. But mutual esteem and affection always characterised our discussions. If there were any criticisms or prejudices, they came from Indonesia, where some claimed I had been 'evangelised', that I had found comfort in another religion, but I never gave any importance to such talk."
"I always try to understand the reasons behind the prejudice of people. Some have preconceptions because they have never been outside their community or circle of friends. It is therefore essential to create opportunities to meet people in other religious contexts, so that the knowledge of what it is different, blows away wrong beliefs. Prejudice comes from misunderstanding: asking, listening and learning break this vicious circle."
http://www.asianews.it/news-en/Dewi,-a-young-Muslim-woman,-on-her-meeting-with-Pope-Francis-47503.html
--------
Sudan: From Syria to Sudan, Women Rights Defenders Need More Than Likes
By Lubna Alkanawati
10 JULY 2019
Gaziantep/Turkey — A photo of Ala'a Salah standing on the roof of a car, leading Sudanese pro-democracy protesters, captured the raw street power of a people's movement determined to end the 30-year-old regime of President Omar al-Bashir - and it went viral.
Ala'a, like many women before and alongside her, was front and centre of the country's revolution.
As a Syrian activist, seeing that photo of Ala'a reminded me of the brave girls and women who also called for change - in streets, in parks, and on top of cars, too - at the beginning of the Syrian revolution (and war) in 2011. Despite the miles and years that separate our movements, I felt more connected than ever to my sisters in Sudan.
Then in the weeks after the photo went viral, protests in Sudan continued but were largely out of the news. I was disappointed but unsurprised: after all, it wasn't long ago that the world was reading about Syrian women advocates before we too disappeared from international headlines.
'We fight every day for the space to raise our voices'
Today, Sudan's powerful women revolutionaries are back in the news. The country's Transitional Military Council has buckled to the pressure of a mass movement and agreed to a power-sharing government.
But we can't forget that girls and women were also systematically attacked, raped, and tortured in the military's crackdown on protesters on 3 June before the TMC finally agreed to a political deal. These horrific atrocities are unacceptable realities for women human rights defenders around the world and must urgently be addressed.
As a women's rights activist and native of Syria's Eastern Ghouta, I have an especially deep insight into its five-year siege by government forces, and how the peaceful protests were met with awful violence. Civilian activists, many of us women, were trying to push for a positive change in our community and our country.
To truly stand in solidarity with our sisters in Sudan, Syria, and beyond, we need the international community to do much more than share a photo or join a trending social media campaign. We need global leaders to really walk the talk when it comes to supporting girls and women in humanitarian settings.
And that includes those structural inequalities that force women in Sudan to be on the front line of the country's expanding food crisis, or in Syria condemns women-headed households to vulnerability and the threat of exploitation.
We are more than photographs
Real change begins by hearing the voices of women human rights defenders in the ever-changing news cycles. We are more than photographs frozen in time - we fight every day for the space to raise our voices.
In the besieged areas of Eastern Ghouta, before they were re-captured by the Syrian government last year, women lived underground enduring huge personal risk to share information about their safety and health needs to trusted organisations. And on the streets of Khartoum, Sudan, women yell it out loud in microphones that can be snatched away by intimidating soldiers.
It shouldn't be the case that we also face roadblocks to advocating at global meetings held in places like New York and Geneva - but it is. Between 1990 and 2017, women made up only 2 percent of mediators, 8 percent of negotiators and 5 percent of witnesses and signatories to global peace processes, according to UN Women. Meanwhile, in Syria, women still aren't sufficiently included in post-conflict constitutional deliberations.
This needs to change - after all, when women are included, peace negotiations are 35 percent more likely to succeed.
There must be a more intentional effort to ensure women have seats at these important decision-making tables, especially considering the instrumental roles we play in revolutionary movements. When nationality and refugee status impedes our participation, international organisations can use their power and leverage to get us there.
All of this requires a longer-term support for local women-focused civil society organisations (CSOs) in humanitarian settings, which help keep advocates safe and gives them a platform to be heard, even when our work fades from international view.
As the country director for Women Now for Development - a women-led CSO that works to empower girls and women in Syria and Lebanon - I've seen how grassroots organisations can provide safe spaces, build advocacy skills, and deliver humanitarian assistance where it's most needed. I know this is also the case in Sudan, because our team stays in touch with Sudanese women activists to share experiences and encourage each other to continue.
Yet continuing with our work is difficult in a situation where our organisations rely on scarce resources to meet the tremendous needs of the communities we serve. For example, while Syrian-led CSOs deliver an estimated 75 percent of humanitarian aid in my country, they receive less than 1 percent of direct funding - with even less to those focused on women.
And globally, less than 3 percent of international humanitarian aid goes to local and national first responders. To power progress, we need the international community to use their pocketbooks more than their Facebooks to support women change-makers in these contexts.
That the work of women human rights defenders persists despite the great challenges we face every day is revolutionary in itself. What it will take to help advocates continue this vital work, however, is not revolutionary at all: more money, influence, and decision-making power. We've said it all before - on top of cars, in streets, and on global stages. Now it's time to be heard.
https://allafrica.com/stories/201907110131.html
--------
URL: https://www.newageislam.com/islam-women-feminism/saudis-plan-ease-travel-restrictions/d/119155
New Age Islam, Islam Online, Islamic Website, African Muslim News, Arab World News, South Asia News, Indian Muslim News, World Muslim News, Women in Islam, Islamic Feminism, Arab Women, Women In Arab, Islamophobia in America, Muslim Women in West, Islam Women and Feminism