New Age Islam News Bureau
19 Dec 2014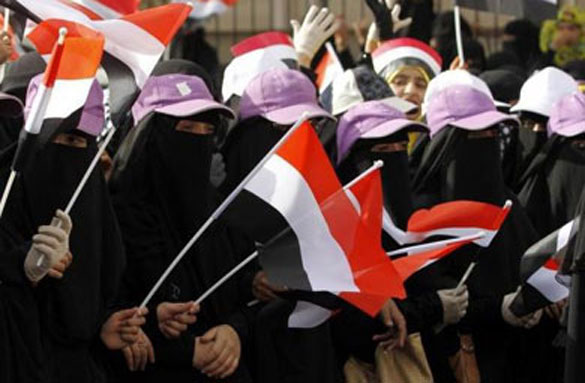 Women wave flags of Yemen during a demonstration by pro-government protesters in Sanaa August 24, 2014 CREDIT: REUTERS/MOHAMED AL-SAYAGHI
------------
• Suspected Boko Haram Gunmen Kidnap 100 Women, Children in Nigeria
• Yemeni Women Fear Houthis Are Restricting Freedoms
• Scarves Will Fly in Show of Solidarity for Auckland's Muslim Community
• Afghans Debate Sexual Equality and Schooling
• ISIS "Bedroom Jihad" Victims Find Assistance After Fasten Extremists
• ISIS Document Authorising Rape of 'Non-Believers' Draws Revulsion
• Non-Saudi Wives Issued Permanent Residence Permits
Compiled by New Age Islam News Bureau
URL: https://newageislam.com/islam-women-feminism/saudi-young-women-risk-diseases/d/100587
-----------
Saudi Young women risk diseases by consuming slimming pills
19 Dec, 2014
JEDDAH — An increasing number of young women are consuming slimming pills to avoid having to exercise to lose weight without being aware of their potentially harmful side effects, said users of these products and nutritionists.
They said the health complications of consuming pills without any medical prescription could be permanent.
Eman Al-Thary, a public relations manager, said she had a "horrific" experience with slimming pills.
She said: "It is true that I lost a lot of weight within a few months, but the health complications outweighed my initial problems.
"The worst thing about it is that you would not experience the negative side effects until you stop taking the pills. "I lost my appetite, became anxious and felt depressed for a while. "These pills can be very addictive to girls because it helps them lose weight with no effort."
Al-Thary added that she would advise girls to maintain a proper diet rather than take any of these products.
"Just stay away from sweets and starch and exercise as often as you can. "The problem is that these pills are mostly consumed by impressionable and young teenage girls.
"They even take it without a medical prescription and behind their parents' backs. You would not see an adult woman consuming them without a medical prescription."
Marwa Abdulrahman Hajjar, who has seen her friends affected by these pills, said these products could make you lose 2 kg in two weeks and that is the main selling point to their consumers.
She said: "In reality, these pills dehydrate the body and affect the digestive system by tricking the brain into thinking that the stomach is full.
"I personally never use pills without a medical prescription. "Those who use these slimming pills rather than exercise are just too lazy and want the work done without any effort.
"There are also those girls who go to the gym to meet others and socialize in cafes rather than actually exercise." Lama Qarqanawi believed obesity in Saudi Arabia was due to excessive eating and would never use pills to lose weight.
She said: "Thankfully I never had to use any of these pills as I never had any problem with my weight. I prefer to follow a regular healthy diet and exercise regularly.
"I would urge any girl to maintain her weight the natural way rather than referring to harmful chemicals."
Rahma Al-Karbi said she heard about these slimming pills from her friends. She only takes them with a medical prescription as she knows about their dangerous side effects.
She said: "I searched online for slimming products once and I found some pills.
"Before taking them I sent them to be examined in a lab and they turned out to be fatal for patients with asthma, but there is no warning on the packaging for that."
Nutritionist Dr. Salem Al-Ghanim said slimming products come in forms other than pills.
She said: "There are herbal pills such as Phytoshape, which works on constricting the appetite.
"These pills work by using laxatives such as the Senna plant to eject the food out of the body and shrink the stomach.
"There are also Merit pills, which come from East Asia and contain the strong laxative Anthraquinone as well as extremely harmful chemicals, such as arsenic and lead.
"Slimming products can also be liquids such as slimming teas and they are very harmful if consumed for a very long time. They contain laxatives, which eject waste as well as useful minerals from the body.
"In turn, these weaken the important organs and muscles in the body such as the heart and pancreas, putting users at risk of contracting diabetes."
http://www.saudigazette.com.sa/index.cfm?method=home.regcon&contentid=20141219227957
----------
Suspected Boko Haram Gunmen Kidnap 100 Women, Children in Nigeria
19 Dec, 2014
MAIDUGURI, Nigeria (Reuters) - Suspected Boko Haram gunmen kidnapped more than 100 women and children and killed 35 other people on Sunday during a raid on the remote northeast Nigerian village of Gumsuri, a security source and resident said.
Although no one has claimed it yet, the attack bore the hallmarks of Boko Haram, which abducted more than 200 women in April from a secondary school in Chibok, only 24 km (15 miles) from this latest attack.
Its campaign for an Islamic state by Boko Haram, whose name means "Western education is sinful", has become the gravest threat to Africa's biggest economy and top oil producer.
Thousands of people have been killed and many hundreds abducted, raising questions about the ability of security forces to protect civilians, especially around the north Cameroon border where the militants are well established.
Maina Chibok, who did not witness the attack but is from Gumsuri and visited family there shortly, afterwards, said the insurgents came in pick-up trucks and sprayed the town with bullets from AK-47s and machineguns,.
"They gathered the people, shot dead over 30 people and took away more than 100 women and children in two open-top trucks," Chibok said. Burials of many of the victims had already happened, he added.
News from remote parts of Nigeria that are cut off from mobile communications sometimes takes days to emerge.
A security source confirmed that more than 100 had been abducted and said 35 people had been killed, including the district head.
"They also burnt down a government medical centre, houses and shops," Chibok said.
The abductions have gained in frequency this year. A man who says he is Boko Haram leader Abubakar Shekau last month rejected comments by the government it was in talks to free the Chibok girls, saying he had in fact "married them off" to Boko Haram commanders, in a video posted on the Internet.
The military, which does not usually comment on security developments in the northeast, did not immediately respond to a request for comment about Sunday's incident.
A youth vigilante from the area called Aliyu Mamman told Reuters by telephone that there was no security presence to stop the militants, who stayed in the town all night before leaving.
Nigeria sentenced 54 soldiers to death by firing squad for mutiny while fighting against insurgents in the northeast on Wednesday.
Cameroon's army killed 116 Boko Haram militants on Wednesday when they attacked a base in the Far North region of the country, the Defence Ministry said on Thursday.
http://in.reuters.com/article/2014/12/18/nigeria-violence-idINKBN0JW1G220141218
----------
Yemeni women fear Houthis are restricting freedoms
19 Dec, 2014
When Yemeni Arwa Othman took a dance at the headquarters of a political party in Sanaa, she exposed the kind of deep hostility that is worrying women's rights campaigners now that Houthi rebels control the capital.
Othman presented an unusual sight in conservative Yemen, where most women are shrouded in black, but all she was doing was celebrating a national holiday last September.
Nevertheless, the prominent activist was immediately subjected to a barrage of criticism from hardline Islamists as well as supporters of the Houthi rebels, a Shiite group which had taken over Sanaa a few days earlier.
When Othman was selected as the new Culture Minister, Houthi activists and pro-Houthi newspapers ridiculed her. One front page headline proclaimed: "the dancing government."
Other Yemeni women experience much worse, including threats of sexual violence they say come from supporters of the Houthis, who follow the Zaydi form of Shiite Islam and a conservative doctrine.
The rebels' political movement rejects such allegations, and evidence of deteriorating conditions for women remains anecdotal. Nevertheless, the Houthis' criticisms have raised concern among rights activists that they will roll back on the already limited freedoms women have in Yemen.
Yemen does not hold a monopoly on misogyny. For instance one campaigner in Britain drew death and rape threats when she called for novelist Jane Austen to be depicted on bank notes.
Nevertheless, the poor Arabian Peninsula country consistently scores low marks when it comes to women's rights. On the streets of Sanaa, anecdotes of harassment abound.
"I got threats of rape on social media," said Samia al-Aghbari, a rights activist who does not wear the traditional black abaya and allows a fringe of hair to slip from her headscarf.
Among the more bizarre comments are that the activists support Islamic State, the Sunni jihadist group called Da'esh in Arabic that is accused of rape and enslaving women, on top of mass murder.
One message said: "'You are from Da'esh'. That is an invitation to kill (me)," Aghbari told Reuters. "Anyone who stands against the Houthis, they accuse them of being from Da'esh."
Now she is trying to shrug off the attacks. "I was scared of the threats at first, but now I just leave it to God," she said, adding that the messages generally came from Houthi activists.
Salah al-Sammad, a senior Houthi official, defended the record of Ansarullah, the rebels' political wing. "Ansarullah respects the role of woman from a religious point of view," he said. "We have a culture that ensures that a woman has a prominent role."
Asked about the reported mistreatment of women in the street, Sammad said: "These are all rumours."
Vulnerable
Belkis Wille, Yemen researcher at the Human Rights Watch group, said that if the anecdotal evidence is true, it is very worrying. "In a society where women are already extremely vulnerable because discriminatory laws are pervasive in the legal system, we cannot afford to allow further erosions to women's rights," she said.
It remains unclear whether the Houthis aim to bring in strict controls over women. However, the anecdotes suggest that, at least on the rank-and-file level, Houthis in Sanaa are imposing their own interpretation of how women should live.
At the media studies college in Sanaa University, young women in colourful scarves said how they had started covering up even more because they did not want to be harassed by Houthi guards who stand at the entrance of the university.
A senior official at the defence ministry said that just after the Houthis overran the ministry, they stopped a woman typist from coming to work "because she didn't have a male guardian".
Two police officers said women have been detained by Houthis for mingling with men in public who are not direct relatives. "In early December, armed Houthis brought in a woman in her 30s and put her in detention because she was in a car with a man she shouldn't have been with," one of the officers told Reuters.
http://english.alarabiya.net/en/perspective/features/2014/12/18/Yemeni-women-fear-Houthis-are-restricting-freedoms.html
----------
Scarves will fly in show of solidarity for Auckland's Muslim community
19 Dec, 2014
Aucklanders will come together tomorrow in support of Muslim women, following the siege held in Sydney by an alleged Islamic extremist. 'Flying Scarves', encourages women to don a headscarf for the day, demonstrating that the actions of a few will not shape the perceptions of the many members of the Muslim community living in Auckland, as we take a stand of solidarity.
On December 15, a gunman held members of the public hostage in a Sydney café. The siege continued for sixteen hours, and with two hostages confirmed dead, concern for members of the wider Muslim community is growing.
Auckland social change group Splice are initiating Flying Scarves, and will be in Aotea Square from 8am – 10am, then moving to Freyberg Place from 10am onwards on Friday 19th December, showing women how to wear headscarves. Commonly wearing hijabs (headscarves) or burqas (full veils covering both the body and the face), Muslim women in traditional dress are very easily identified, and therefore vulnerable to public abuse.
The Sydney siege being somewhat close to home has sparked concern that 'Islamophobic backlash' would follow in New Zealand, with women most likely to be affected. Splice founder John MacDonald says "We want to stand in solidarity with women who may be feeling vulnerable following the incident in Sydney. New Zealand is a very diverse society and we want to demonstrate and encourage that we can live together without division or separation."
Ghadair Alshemari is prominent in Auckland's Muslim community, teaching Arabic and learnings from the Koran to young people, and will be participating in Flying Scarves tomorrow. "It's about inclusivity, Muslim women are like anyone else, only we wear headscarves," she says. "Come down and get involved, and help us overcome judgment and spread a message of solidarity."
Flying Scarves follows the social media storm caused by the siege, with thousands of Australians taking to social media to show their support for the Muslim community. Particularly encouraging is the use of the hashtag #Illridewithyou, whereby members of the public are offering to accompany or provide transport for Muslims who don't feel safe out in public.
Splice, in partnership with social change groups Lifewise, the Airdale Property Trust and the Methodist Mission, facilitate community development in Auckland's city centre, with the goal of transforming the central city into a 'village' where residents and visitors alike feel safe and connected.
With a focus on inclusiveness and diversity, Splice works to encourage kindness and acceptance, and works with people from a very wide range of demographics. "We want to reinforce that even though we all have different backgrounds, beliefs and practices, we do stand together on community issues," says John. "We will not be separated by religion or politics. We will support each other and do so publically, encouraging others to do the same."
To get involved in Flying Scarves and show your support for the Muslim community, head to Aotea Square between 8am – 10am or Freyberg Place from 10am onwards, on Friday 19th December.
There'll be headscarves and tutorials available, and women are encouraged to upload photos of themselves wearing the headscarves, accompanied by the hashtag #Illridewithyou. Badges with the hashtag #Illridewithyou will be available, for men wanting to get involved. For more information, visit www.facebook.com/pages/Illridewithyou-Auckland/843138665751172
http://community.scoop.co.nz/2014/12/scarves-will-fly-in-solidarity-for-auckland-muslim-community/
----------
Afghans Debate Sexual Equality and Schooling
19 Dec, 2014
Custom often dictates that boys get an education while girls are left "one step behind", speakers at discussion events say.
Speakers at three recent debates in Afghanistan's Herat, Balkh and Parwan provinces agreed that girls were routinely deprived of the rights accorded them by Islam.
In one debate held in the Salang district of Parwan province, north of Kabul, the local state prosecutor, Abdul Raqib Mezamyar, noted that some families prevented girls from continuing their education while encouraging boys to study.
"In my view, depriving girls of an education per se shows that the treatment of boys and girls is different," Mezamyar said, adding that one reason parents kept daughters out of school was that they were harassed by local boys on their way there and back.
In Mazar-e Sharif, the main city in the northern Balkh province, Taqi Wahedi of the regional office of the Afghanistan Independent Human Rights Commission said that in the typical family, boys get a say in economic decisions, so girls are always "one step behind".
Sayed Mohsen Danesh, a member of the council of Islamic scholars in the northern Balkh province, told the debate in Mazar-e Sharif that parents often believed it was worth investing more in sons that in daughters, and that doing so for girls would be "costly and without benefit".
According to Danesh, Islamic precepts do not discriminate between the sexes, apart from one proviso that "a woman cannot be a judge, an imam or a president".
In the debate held in Parwan, the discussion was again about girls' right to an education.
Muslim scholar Abdul Malek Mofakker said that in Islam, the right to study took precedence over marriage.
Speaking at the debate in Herat, religious affairs expert Ezatullah Raji, the Koran did not give men precedence over women, and instead regarded both as equal halves of society.
This report is based on an ongoing series of debates conducted as part of the IWPR programme Afghan Reconciliation: Promoting Peace and Building Trust by Engaging Civil Society.
https://iwpr.net/global-voices/afghans-debate-sexual-equality-and-schooling
----------
ISIS "Bedroom Jihad" Victims Find Assistance After Fasten Extremists
19 Dec, 2014
By now it has turn a informed story: Western girls, some as immature as 16, start chatting online with jihadi fighters in Syria and Iraq. They tumble in love, become radicalized and eventually transport to go and live in ISIS domain with their betrotheds.
Often they are educated, from middle-class backgrounds. Rarely do their families know what is function until it is too late. The materialisation has been dubbed "bedroom jihad," and dozens of girls have been lured to one of a many dangerous quarrel zones in a universe as a result.
On blogs and amicable media, these immature women exaggerate about their life in a supposed Islamic State. They poise with weapons, share recipes and plate out recommendation to would-be jihadi brides. They seem to revelry in a aroused extremism of their new home, like 20-year-old Aqsa Mahmoud, a radiology tyro from Glasgow, Scotland, who trafficked to Syria to marry an ISIS jihadi.
"Follow a examples of your brothers from Woolwich, Texas and Boston," she is believed to have tweeted underneath a name Umm Layth. "If we can't make it to a battlefield, afterwards move a terrain to yourself."
But what we don't hear about so mostly are a scores of girls who arrive in ISIS domain and fast comprehend that they have done a outrageous mistake. These women don't post on amicable media, and their voices are frequency heard.
CBS News recently sat down with Abdullah, a Turkish assist workman who spends half a year in Syria. He told us that he was recently contacted by a British 16-year-old girl, who asked for assistance removing her and a teenage Moroccan crony out:
"She was really dispirited. 'I need we to assistance me. we need to get out,' she said. And afterwards she explained her situation. They were vital in a residence of singular women in an ISIS town. They were not authorised to leave a residence or be in hold with anyone from their families. Their misfortune fear was that they would be forced into marrying someone opposite their will."
But perplexing to leave ISIS domain is a formidable and dangerous proposition. Women can't transport though a masculine guardian. Many have their passports confiscated on their arrival.
"Areas run by a Islamic State are like an iron dome," Abdullah said. "There are checkpoints all over, and no one gets in or out though a correct reason."
In a box of a British lady and her Moroccan friend, Abdullah pronounced they managed to shun ISIS territory. But he pronounced that they were not a initial to ask for his help. In all, he pronounced he has been contacted by 5 girls who wish to get out.
"I consider it's turn a large issue. I'm only one guy; suppose how many some-more cases there are," he said. "These girls are immature and naïve and maybe also impulsive, teenagers who are fed adult with life in a West. And on amicable media ISIS creates life there demeanour so appealing. But afterwards a angel story cracks."
Once that happens, these immature women have really few options accessible to them. Abdullah has a warning for all girls who are deliberation roving to Syria:
"Don't. It's a quarrel zone. It's no place for singular women to be. we know they wish to assistance a cause, though there are so many other ways they can help."
http://ustoday.org/world/isis-bedroom-jihad-victims-seek-help-after-joining-extremists/
----------
ISIS document authorising rape of 'non-believers' draws revulsion
19 Dec, 2014
Reports that emerged from the Middle East in September of the kidnapping and enslavement of Yazidi women by the Islamic State of Iraq and Syria (ISIS) forces sparked global outrage.
Now the world has been shocked anew by an ISIS pamphlet detailing how jihadists may "sexually enjoy" their slave women and even their prepubescent daughters – as well as a reported price list from ISIS slave markets.
Yazidi women aged between 40 and 50 years who are captured by ISIS are sold off for $43. Youngsters aged 10 to 20 years old are worth $125, but girls and boys under 9 sell for the highest amount: $166, media reports say.
Indonesian Muslim have expressed their revulsion and rebuke of ISIS's use of slavery and rape.
"Their actions are not only killing the innocent , but also capturing women and children, selling them as sex slaves, even for prepubescent girls," Din Syamsuddin, chairman of the Indonesian Ulema Council (MUI), told Khabar.
The council had already condemned ISIS's violent actions as haram .
"MUI does not need a fatwa to ban ISIS ; the organisation is already considered sinful. Imagine if those women and children are your family members – your mother, your daughter, sister, niece or other significant relative that you know and love," Din said. "How would you feel about this evil action? You would be angry; you would be hurt, right?"
Describing ISIS's actions as "inhumane and embarrassing for Muslims ", the MUI leader called on all Indonesian Muslims to resist the extremists' ideology and come together to prevent against the type of violence espoused by ISIS.
"Their actions are not representative of any Islamic teaching. Even worse, they do it under God's name," said Din. "Whose God?"
No mercy
ISIS has no mercy, said Susetiwati Prabowo, a 35-year-old Jakarta resident.
"It is ridiculous to provide guidelines on how to treat people who do not have a similar faith. The latest news I saw so far was that ISIS had kidnapped 1,500 women," Susetiwati told Khabar Southeast Asia. "This number does not mention the 4,600 women and children that have reportedly disappeared."
"I am a good Muslim, and I suggest to all other Indonesian Muslims to be aware of ISIS's wrong ideology . It is incorrect, misleading, and full of hate," she added, calling on fellow adherents of Islam to reject the messages conveyed in the ISIS pamphlet.
Abdullah Jaidi, the national chair of Muslim organisation Al-Irsyad Al-Islamiyah, agreed that everyone should fight actively against ISIS's ideology.
"ISIS is willing to use any form of violent action – killing, forcing, destroying historical religions building, and raping women and children," he told Khabar. "We will need to continue to work with our government and all communities as well as with religious leaders to act on this – to unite and stand in opposition to ISIS's actions."
Abdullah added that ISIS's "wrong and misleading ideology" should not spread to and infect Indonesia's tolerant, diverse community.
Syarif Hidayatullah Islamic State University in Jakarta is among educational institutions in Indonesia that are trying to keep ISIS sympathisers and supporters off campus. The university has a zero-tolerance policy for any students who support ISIS, said Sudarnoto Abdul Hakim, the campus's deputy rector.
"We will not tolerate ISIS's ideology in our university," he told Khabar. "We are an Islamic university, and we will only teach correct Islamic teachings, not misleading people with wrong teachings like ISIS."
http://khabarsoutheastasia.com/en_GB/articles/apwi/articles/features/2014/12/18/feature-01
----------
Non-Saudi wives issued permanent residence permits
19 Dec, 2014
A Cabinet decision taken two years ago granting permanent residency to foreign wives, widows and divorcees of Saudi citizens, has come into effect.
The decision will also give permanent iqamas to foreign mothers of Saudi children, with the state bearing the license fees.
"These women will be counted as Saudis for Saudization purposes if they are employed, and they will be treated like Saudis when it comes to education in schools, universities and government hospitals," a source linked to the Cabinet, told Arab News.
Lt. Col. Ahmed Al-Leheidan, spokesman of the Passport Department, said the applicants should produce evidence to prove they are/were legally married to Saudi citizens and had children with them.
The applications will be reviewed in Riyadh before the permits are issued, and once they are, they will be valid for five years, renewable every five years. There is no specification regarding the age Saudi children must have to receive the passport.
"The wife of a citizen, or the mother of Saudi children can receive the permit after presenting her official marriage certificate, or the birth certificate of her Saudi children and her passport.
In the case of a divorced woman, she would have to bring her divorce document, family card and children's birth certificates," Al-Leheidan stated.
Al-Lehidan explained that the permits guarantee foreign women rights, whether they are divorced or widows, as well as their children's rights.
http://www.arabnews.com/featured/news/676626
----------
URL: https://newageislam.com/islam-women-feminism/saudi-young-women-risk-diseases/d/100587