New Age Islam News Bureau
5 Dec 2013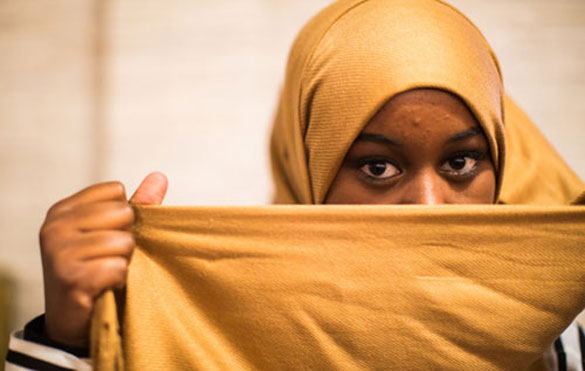 Fahmo Mohammed, journalism and international studies major, is working with Sabeen Waqar to form the Women Muslim Student Association. (Karina Ordell/Emerald)
----------
• Thugs Bash Muslim Schoolgirl Wearing Hijab in Wantirna South
• Famous Egyptian Actress Calls Qaradawi A 'Terrorist'
• Hamas Summons Prominent Women's Rights Activist
• Christian Vigilantes Disembowel Pregnant Muslim and Kill 10 Children
• Female Muslim Students Unite To Practice Their Faith and Spread Islamic Cultural Awareness
• Muslim girl's story reminds me of my anti-Semitic boyhood
• 'Steps Implemented To Improve Conditions for Women at Workplace' in Saudi Arabia
Compiled by New Age Islam News Bureau
URL: https://www.newageislam.com/islam,-women-and-feminism/new-age-islam-news-bureau/saudi-women's-driving-on-human-rights-commission-agenda/d/34728
------------
Saudi Women's Driving On Human Rights Commission Agenda
Dec 05, 2013
Custodian of the Two Holy Mosques King Abdullah has instructed authorities to study some 72 proposals made by the Human Rights Commission (HRC) on various social issues, including the granting of citizenship to the children of Saudi women married to foreigners, said Ibrahim Al-Sheddi, a spokesman for the HRC.
"Our proposals have also covered the issue of male relatives exploiting their authority on women," the spokesman said, while emphasizing women's right to movement and transport to meet their daily requirements and to reach places of work, referring to women driving.
He said the proposals were made on the basis of more than 400 complaints received by the HRC during the past five years.
In its report presented to King Abdullah, the HRC pointed out that many women were being wronged by their husbands, fathers and brothers who wanted to control their freedoms and usurp their wealth.
Al-Sheddi said that the existing law for protection against violence covers prevention of harassment. He disclosed that a new law to prevent violence against children would be issued soon.
"I think this is a welcome move. Finally, a Saudi rights institution is acknowledging the difficulties, obstacles and discrimination women face in their life on a daily basis under the male guardianship system, which always puts them at a disadvantage and makes them vulnerable," Maha Akeel, a senior Saudi journalist, told Arab News.
The fact that the HRC also addressed the issue of women driving is courageous considering the vicious campaign and vehement objections by members of society, she said.
"The issue of children's citizenship is a major problem for many families," Akeel said. "I hope the issues raised by the HRC are taken seriously by authorities in order to find quick and viable solutions."
http://www.arabnews.com/news/487281
------------
Thugs bash Muslim schoolgirl wearing hijab in Wantirna South
Dec 05, 2013
TEENAGE thugs bashed a young Muslim girl wearing a hijab in what has been described as a racial attack in Wantirna South.
The high school student was walking home from Westfield Knox along Stud Rd when she was set upon by a group of teenagers, according to Knox councillor Joe Cossari, who said it was a racial attack.
The teen was punched to the ground and kicked, but didn't report the assault to police because she feared ­reprisals, Cr Cossari said.
Is racism widespread or was this an isolated incident? Tell us below or email knox@leadernewspapers.com.au
Councillors condemned the violence after hearing details at a recent ­council meeting.
"We have to defend the right of all citizens so that our people can walk freely without fear," Cr Cossari told the council meeting..
"As a Christian and an Australian I will defend the rights of all religious groups and, in this case, the Muslim brothers and sisters of this municipality.
"To bash up a young girl because of what she was wearing is unacceptable.
"I will not tolerate this type of activity against any citizens of this municipality or this country.
"We pride ourselves on ­being a multicultural society, we talk about multiculturalism in our policies, but having this happen on our front door is not acceptable."
Mayor Darren Pearce told Knox Leader he was shocked, but believed it was an isolated incident.
But Islamic Council of Victoria spokesman ­Mohamad Tabbaa said it wasn't as simple as ­Melbourne having "bad ­apples", because many ­Muslims experienced racism from time to time.
He said most physical and verbal attacks were against women who wore hijabs, which attackers tore off, creating fear in the Muslim community.
"We encourage them ­(victims) to contact us and police," Mr Tabbaa said.
If victims feared making an official report, the ICV could offer advice and ­support, he said.
Knox criminal investigation unit Senior Sergeant Neil White said the ­offenders could face ­assault charges, but police relied on victims to come forward.
He said police collected information on racially motivated crime to identify emerging trends and worked with communities being ­targeted.
Knox did not have a high number of racially motivated attacks, he said.
http://www.heraldsun.com.au/leader/east/thugs-bash-muslim-schoolgirl-wearing-hijab-in-wantirna-south/story-fngnvlxu-1226773375213
------------
Famous Egyptian Actress Calls Qaradawi A 'Terrorist'
Dec 05, 2013
Famous Egyptian actress Ghada Abdel Razek has attacked renowned Islamic scholar Yusuf al-Qaradawi, calling him a "terrorist" after he decided to resign from the governing body of al-Azhar University, which he accused of supporting the military-backed authorities.
Abdel Razik posted a picture of Qaradawi on her Instagram account with a comment that said: "The terrorist incites the killing of Egyptian people and he does not hold the Egyptian citizenship. He holds the Qatari citizenship ...someone needs to tell him you are a #traitor #traitor #traitor."
Abdel Razek, who was recently named the best Arab actress at the Murex D'Or Awards, followed up with another picture of army General Abdel Fattah el-Sisi and a comment that said: "To the very dear...our great army. No one can beat Egypt."
Her attack against Qaradawi prompted intense mixed social media reactions.
One instagrm user named @saroonahqtr asked her to remain calm and let Qaradawi and Qatar "burn" their Islamist allies in Egypt, meaning the Muslim Brotherhood.
Another user, @ibrahimalshfay hit back at the Egyptian actress calling her a "prostitute." "We are in the age of prostitutes who curse scientists," he wrote.
Many Egyptian artists have shown their support for the military ouster of former Islamist President Mohammad Mursi. They saw the Islamist rule as threatening to work in the media, cinema, and music industry.
Qaradawi, the head of the International Union of Muslim Scholars, has been a staunch supporter of the Muslim Brotherhood and consistently urged Egyptians to rise up against the military-backed rule.
He resides in Qatar and has been stripped of his Egyptian citizenship decades ago.
On Tuesday, he announced on Twitter that he resigned from al-Azhar University, accusing the institution's Grand Imam Sheikh Ahmed al-Tayyeb, of "abusing the authority of the office to support the military coup."
http://english.alarabiya.net/en/variety/2013/12/04/Egyptian-actress-calls-Qaradawi-a-terrorist.html
------------
Hamas summons prominent women's rights activist
Dec 05, 2013
GAZA CITY, Gaza Strip — In a step that was a shock to civil and human rights groups in the Gaza Strip, the Interior Ministry's security apparatus summoned Nadia Abu Nahla, a feminist activist and director of the Women's Affairs Technical Committee (WATC) Gaza branch, on several occasions in November. This is the first time the Interior Ministry has summoned an activist and head of a well-known women's organization.
Abu Nahla told Al-Monitor that following a women's sit-in calling for an end to the Fatah-Hamas split on Nov. 5, security services detained the driver of a car that was carrying signs and papers belonging to the WATC. The car had been transporting female employees to the weekly women's sit-in.
"After the driver had been detained for three hours, the taxi office called and asked me to intervene. [The security services told me] they would not release him or the foundation's belongings unless I came to pick them up. When I went, I found that they had released him minutes before I arrived," Abu Nahla said, noting that she had been accompanied by the foundation's legal adviser Karim Nashwan. However, when she realized that one of the security men was trying to question her, she refused to answer. They considered this to be a violation of the law, and she left without even receiving the foundation's belongings.
"This was not the end of things. The security forces called the foundation, summoned me and asked for clarification about my home address. They threatened to raid the foundation if I didn't come in," she added.
For her part, one of WATC's secretaries, who spoke on condition of anonymity, told Al-Monitor, "The first call came two days after the driver was detained. The caller said that his name was Abu Hassan and that he was from the investigations unit concerned with foundations. He wanted the name of my director. I replied that as they worked for the security apparatus they should know her name. He hung up and a few minutes later called back and said, 'I know her name is Nadia Abu Nahla. Tell her she has been summoned for an investigation, and she needs to come in.'"
The secretary said that on Nov. 19 someone called the foundation's landline and said to tell the director that if she did not come in, security forces would be sent. The caller warned that this would not be good for the group's reputation. "I then asked him to send an official summons in the name of the foundation, but he did not do this," the secretary added.
In response to this latest threat, following the weekly women's sit-in on Nov. 19 in the Square of the Unknown Soldier, a group of women participating in the sit-in headed to the WATC headquarters to show solidarity with Abu Nahla and protect her from arrest if the threat was carried out.
During the solidarity gathering, Amal Hamed, the head of the General Union of Palestinian Women (GUPW) and a member of Fatah's central committee, spoke in support of Abu Nahla. "We are here today because Abu Nahla was threatened by the security services investigation unit for foundations, despite her long history of struggle. This is considered targeting of female leaders," Hamed said at the gathering, which Al-Monitor attended.
"We came here today to support Nadia. We, as a women's movement, want to tell her to not go in for the summons to the security headquarters, whatever the cost," she added.
Abu Nahla thanked all those who came to show their solidarity and said that women are the only ones calling for an end to the split. "I'm not the only one who has been threatened. Every free voice in the Gaza Strip is targeted. We are in a place that does not tolerate freedom of expression," Abu Nahla noted.
In an interview with Al-Monitor in her office, Abu Nahla said that they, as women, object to women being sent to investigation centers for criminals and suspects when all the women are doing is calling for an end to the political split and expressing concerns for their nation.
"Women are the last ones saying 'no to the split' through the weekly sit-ins organized by the GUPW. Thus, they want to intimidate [women's] voices," Abu Nahla added. She noted that this silencing and the problems related to border crossings and electricity are all linked to the political divide, which all women — in both Gaza and the West Bank — want to end.
Regarding the summons for Abu Nahla, the director of the Information Office of the Interior Ministry, Iyad al-Bazm, told Al-Monitor that the police had called her and asked her to come in so they could ask her about a case.
"However, after they collected information on their own, the case was closed, and they no longer needed her to come," he added, denying that anyone had threatened that the security forces would storm the foundation and arrest her. Bazm said that they had contacted her by phone, instead of via a formal letter, in light of her position.
Human rights activist Mustafa Ibrahim said that he does not believe the summons directed at Abu Nahla marks a beginning of similar summonses for female civil society activists and directors of foundations. "This incident, however, has raised fears in civil and human rights circles," he said.
During a meeting with Al-Monitor, he said that the telephone summons was a violation of the law. He said that Abu Nahla should have been summoned formally through a letter sent to the foundation by the Interior Ministry's department that deals with nongovernmental organizations (NGOs). She should not have been called in by the police or investigations unit, unless there was suspicion of a criminal act. If there was criminal suspicion, however, the police must receive authorization from the public prosecutor and notify her in a formal manner, not by phone.
Regarding the security services interfering in the work of foundations, Ayman Ayesh, the director of the Interior Ministry's NGO department, told Al-Monitor, "In general, over the past three years we have been able to significantly reduce [this interference], to the point of preventing the security services from interfering in the affairs of civil groups." He stressed that the NGO administrations are the official parties in the ministry concerned with the affairs of the foundations.
He acknowledged that some overstepping had occurred here and there, but that these incidents were limited, according to testimony from human rights centers and civil organizations. "Whenever we receive information that there has been an interference or overstepping, we deal with it immediately to correct the error or clarify the ambiguity," Ayesh added.
However, as this article was being written, another summons was issued for Abu Nahla, according to the WATC secretary. The latter told Al-Monitor, "On Sunday, Nov. 24, the same security agency called and requested that the director come in and bring a list of all of the foundation's employees and volunteers. They also asked for her home address, but I refused to give it."
http://www.al-monitor.com/pulse/originals/2013/12/feminist-activist-detention-hamas-gaza-palestinian.html#ixzz2mdZ8miM7
------------
Christian Vigilantes Disembowel Pregnant Muslim and Kill 10 Children
Dec 05, 2013
A group of vigilante Christians has killed at least 12 Muslims, including a pregnant woman and 10 children, in the Central African Republic.
The gang of Christians disemboweled the pregnant woman and slashed the children with machetes in the attack against Peuhl Muslims.
The attack took place around 95km north of the capital Bangui, AFP reports
A military source said: "The assailants were seen not far from the camp and they returned in the night to attack the herdsmen who were there with just knives
"Among the victims were children and a disemboweled pregnant woman. Some managed to escape and there are more than 10 wounded who have been transferred to Bangui."
A healthcare worker who treated the children said they had suffered wounds to their heads and limbs.
One nurse said: "We regularly see people with machete wounds, but not so many at one time, this has never been seen."
Vigilante anti-balaka
One man whose child and wife were killed in the attack said his other child was being treated in hospital. He said the Christians had fired shots first but had mostly used machetes to attack the group.
Peuhl Muslims are a minority in the Central African Republic and are traditionally pastoralist.
Since March the nation has suffered unrest after a coup by Muslim Seleka rebels, whose leader Michel Djotodia has become the country's first Muslim president.
While he has disbanded the Seleka, the rebels still loot and burn villages across the country and people living in the predominantly Christian country have formed vigilante groupls known as "anti-balaka", meaning anti-machete.
Clashes are increasingly about religion and the UN Security Council is preparing to vote on developing a peacekeeping force for the country.
http://www.ibtimes.co.uk/articles/527452/20131204/vigilante-christians-attack-muslim-disembowel-pregnant-woman.htm
------------
Female Muslim Students Unite To Practice Their Faith and Spread Islamic Cultural Awareness
Dec 05, 2013
For Fahmo Mohammed, an important part of faith centers around the word "Ummah" — a term meaning "community" in Arabic.
"It's really our job to create that sense of Ummah and unite us," Mohammed said.
Mohammed, a 19-year-old senior majoring in journalism and international studies, is working with Sabeen Waqar — a close friend — to form the Women Muslim Student Association, the first group specifically for female Muslim students.
The two founders of the WMSA are currently working with the ASUO to gain official recognition for the group — a process they expect to finish by the end of winter term.
Mohammed says the new group will allow female Muslim students to study their religion and educate the university community about their faith. And because women in some Islamic cultures wear not only a headscarf called a hijab, but also cover their faces with a veil known as a niqab in public, a religious group specifically for women gives its members the opportunity to socialize more easily.
"When women come together, obviously we don't have to be veiled," Mohammed said. "Women unveil themselves. We just talk. There's more social activity."
Mohammed also wants to address a misconception about the Muslim Student Association.
"When I first came to the U of O there was this huge misconception that the MSA didn't accept women," Mohammed said.
"It's a misconception that most people have that women are not involved in the Muslim association," Abdulrhman Aljaafari, current member and previously the group's secretary, said. "It is important for American and other cultures to see both sexes participating in the events."
Aljaafari and Mohammed said that the misconception might come from the fact that many members of the MSA are from Saudi Arabia, a country known for not allowing women to drive.
"If we are talking about women driving we should differentiate between Saudi culture and Islamic culture," Aljaafari said. "(Giving women the right to drive) is something that we need to deal with as a country."
But the goal of the MSA is to celebrate Muslim culture from around the world, Aljaafari said.
"We look at Islam as a culture that gathers all of these different people regardless of diversity, regardless of race, regardless of sex," he said. "Even if we are different in our own (country's) cultures, there is still a point that is similar for all of us that we gather around."
When Mohammed approached the MSA, the group, which was already in the process of trying to get more female students involved, was excited about the idea.
"I was so happy about it," Aljaafari said. "I told her I was going to do my best to help her out."
In addition to their roles as vice president and president of the WMSA, Mohammed and Waqar also serve on the council for the MSA.
The WMSA is currently working toward being recognized by the ASUO. They hope to have official school recognition by the end of winter term.
Mohammed's identity as a Muslim student goes beyond her activities with the WMSA.
In November of 1999, Mohammed's family moved to Clackamas, Ore., from her hometown of Nairobi, Kenya.
"We always believed that the success in life for our children lay in according them the best education that was available," Zainabu Dore, Mohammed's mother, said in an email.
Mohammed attended Clackamas High School. According to Dore, she excelled in academics and was a member of the debate team.
"I have a house full of trophies by Fahmo from debate and speech competitions during her high school days," Dore said.
Growing up and going to college in the United States was a balancing act between her ethnic, cultural and religious backgrounds and American society.
"You can assimilate to culture, but you can't conform to culture," Mohammed, who wears a Hijab in public and prays five times per day, said. "I'm proud to say that I don't party."
On weekends when she doesn't have to be in Eugene for Duck TV where she is a member of a news crew, Mohammed drives to Portland to stay at her aunt's house. During winter break and summer term, she makes the 21-hour flight back to Nairobi.
Mohammed is fluent in Swahili and English but also speaks Somalian and Arabic.
"Coming from a conservative cultural background, I have inculcated in my children the ability to be 'westernized' while at the same time retaining their cultural values," Dore said. "Fahmo is an open-minded person who cherishes her culture and has had a unique ability to maintain a balance between the two 'worlds.'"
Waqar, a close friend and cofounder of WMSA, describes Mohammed as a selfless person.
"She goes out of her way to help people," Waqar said. "I was really shocked when I met her."
Waqar, who has been friends with Mohammed for about a year, said that they met in an Arabic class. She was impressed when Mohammed, despite being busy and late for another class, offered to help her international student classmate.
"Fahmo was right behind me and she said, 'Oh, I know where the class is, let me help you,'" Waqar said.
Mohammed's roommate, Jasmine Wilson, a junior majoring in psychology, said that she is most impressed by Mohammed's work ethic.
"She's really dedicated and a hard worker," Wilson said. "She leaves (home) at like seven in the morning and doesn't get (home) until eight at night. She is always going."
After hardly more than two years at the University of Oregon, the 19-year-old plans to graduate at the end of summer 2014. She is currently taking 22 credits and plans to have three minors — documentary film, African studies and economics.
When she finishes school, Mohammed hopes to be a broadcast journalist for a Kenyan news organization.
Beyond her future plans, her busy schedule and her work for Duck TV, her faith is both the structure and center of her life.
"Every issue that I've ever had in life, I look to my faith for guidance," she said. "Our religion is literally our lives."
http://dailyemerald.com/2013/12/02/female-muslim-students-unite-to-practice-their-faith-and-spread-islamic-cultural-awareness/
------------
Muslim girl's story reminds me of my anti-semitic boyhood
Dec 05, 2013
In the May 2013 issue of Teen Ink, a magazine I read regularly, Brooklyn teenager Isheta Khanom writes of "Being Muslim":
"People are afraid of me. Why are they afraid of me, you might ask? …
"I'm a Muslim girl who was born and raised in Brooklyn. I'm turning 16 and starting my junior year in the fall. My parents are from Bangladesh. So, that's pretty much my bio. "But there's a lot hiding behind that bio.
"The first thing people see is the Muslim part of me. Some of the stereotypes include that I don't speak English, (don't) know how to dress like an 'American,' am a terrorist …"
But Isheta's proud of who she is and doesn't hide it: "I'm a practicing Muslim. I pray five times a day, stick to the rules, fast when it's time, and wear my hijab."
The hijab, Isheta says, is "otherwise known as a headscarf or veil, and of course, the derogatory terms, like towel head, diaper head, turban, and whatnot.
"Whatever it's called, it has a very important place in my life."
Later, she adds, "I can do all that because of the freedom granted by the First Amendment …
"People think that the ideals presented in Islam are very different from American ideals. Actually, they aren't. And let me tell you something else. Muslims are all different races. They have different backgrounds but share the same book and abide by its rules. And isn't that true for Americans too? …
"And it hurts me to see that even those in my (Brooklyn) community, who are so diverse, are prejudiced against me. Me, my religion, my hijab. And those are all my choices. The choices I made because I had the freedom. "You can see that I am not doing anything to hurt people … "Making the right choice is not only about us, it's about everyone. The way someone thinks and the choices they make are so important. "Who knows what the future holds? I already made my choice. Now it's your turn."
In New York, regarded by tourists worldwide as the most sophisticated of American cities, Isheta is far from alone in feeling under suspicion because of her religion. The Associated Press won a Pulitzer Prize last year for covering the New York Police Department's alliance with the CIA in secretly tracking Muslims essentially just for being Muslims: "Police systematically listened in on sermons, hung out at cafes and other public places, infiltrated colleges and photographed people as part of a broad effort to prevent terrorist attacks" ("AP wins Pulitzer for stories on NYPD spying," Deepti Hajela, The Associated Press, April 17, 2012).
Dig this: "Individuals and groups were monitored even when there was no evidence they were linked to terrorism." And we have not even been made aware of any evidence that has been revealed.
This happened in the same nation heralded by the Declaration of Independence?
Furthermore, New York City Police Commissioner Raymond Kelly, championed by Mayor Michael Bloomberg, continued to proudly assert that he and his police were well within the law. His law?
These outcast lives, as suspects, experienced by Isheta Khanom and other innocent Muslims, brought me back to my own boyhood in Boston, where I grew up in the early 1940s.
There, Jewish immigrants from Eastern Europe, like my parents, were described by some descendants of the American Revolution — such as Henry Brooks Adams, grandson of John Quincy Adams — as "furtive Ysaac or Jacob … snarling a weird Yiddish … The Jew makes me creep" (my book, "Boston Boy," Paul Dry Books).
And I, like other Jewish boys in the ghetto, learned early that it could be hazardous to walk alone after dark, in or out of the ghetto, if we dressed or otherwise looked different from other Bostonians — especially if we appeared to be Jewish offspring of the killers of Christ.
A national radio favorite for many Bostonians outside my ghetto at the time was Father Charles E. Coughlin, parish priest of the Shrine of the Little Flower in Royal Oak, Mich., and America's most beguilingly popular anti-Semite. He also published a newspaper, Social Justice, sold Sundays before each Mass, and everywhere else in town.
It seemed to me that we Jewish kids might be more at risk of having some of our teeth knocked out by young avengers of Christ's death soon after Social Justice was read and discussed by eager families.
Like one evening, after a storm, walking a couple of blocks from my home, I slipped and fell on the ice. Looking up, I was encircled by six or seven boys, maybe 15 or 16 years old.
"You hurt yourself, kid?" someone asked.
Then came the real question: "You Jewish, kid?" I instantly became falsely irritated. "What do you mean, Jewish? I'm Greek. I just finished work at the drugstore in Grove Hall."
"He's a Hebe," snarled one of them. "Say something in Greek."
At Boston Latin School, we'd been reading "The Odyssey" in the original Greek, and I gave my interrogator the first paragraph in the language of the original.
"Sounds Greek to me," one of the gang snorted, so they walked off, leaving me on the ground. Another time, I didn't think fast enough and lost some front teeth.
The anti-Semitism was so tangible that, in the main part of Boston, there were stores I wouldn't go into. They didn't look like they took Jews. And I shared my parents' joy when, for the first time in Boston history, a Jew was elected to the City Council.
So, I feel a kinship with Isheta from Brooklyn. She's being even truer to herself than I was when I was a Greek. She still wears her hijab when she feels it should be worn. She prays five times a day. I don't pray at all, but, like her, I have the First Amendment at hand when needed.
How many American kids can say the First Amendment is part of their regular vocabulary? New York will soon have a new police commissioner under a new mayor, Bill de Blasio, who has criticized a number of Raymond Kelly's suspensions of the Constitution. De Blasio, with whom I disagree on many other issues, should have Isheta present when he takes the oath of office, and ask her to say a few words about the nature of being an American.
Nat Hentoff is a nationally renowned authority on the First Amendment and the Bill of Rights. He is a member of the Reporters Committee for Freedom of the Press, and the Cato Institute, where he is a senior fellow.
http://www.dailycall.com/news/editorials/3052418/Muslim-girls-story-reminds-me-of-my-anti-semitic-boyhood
------------
'Steps Implemented To Improve Conditions for Women at Workplace' in Saudi Arabia
Dec 05, 2013
The Ministry of Labor is implementing several recommendations to improve working conditions for women, including enforcing special concessions for mothers with newborn babies.
Adel Fakeih, the labor minister, who opened a forum here on social dialogue, said these recommendations had come from several stakeholders during previous discussions. Workers, business owners and government officials attended the forum.
Fakeih said it was important to continue this dialogue to ensure the upgrading of public services and ease problems for workers in the Kingdom, especially women.
Fakeih said the recommendations of the two previous forums had been adopted including working hours and salaries in the private sector.
Ahmed Al-Hemaidan, general secretary of the forum and undersecretary at the ministry, said the ministry's strategic partnership with the King Abdul Aziz Center for National Dialogue would help resolve problems women face at work. They would also be able to share their opinions and propose solutions to their problems.
"Building a unique dialogue among the three stakeholders will help to improve workers' conditions in their places of work and implement legislation without negatively affecting the market or the economy," he said.
http://www.arabnews.com/news/487666
------------
URL: https://www.newageislam.com/islam,-women-and-feminism/new-age-islam-news-bureau/saudi-women's-driving-on-human-rights-commission-agenda/d/34728