New Age Islam News Bureau
18 May 2013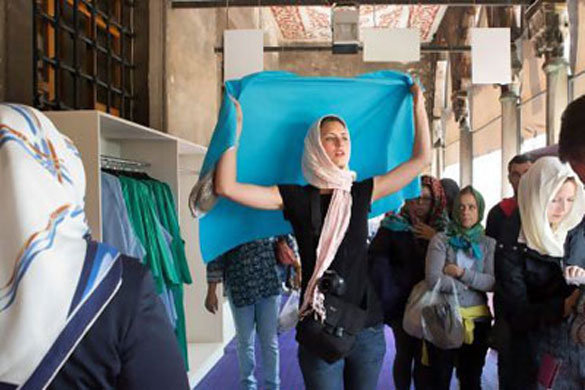 Photo: A foreign tourist dons a head covering as she visits the Blue Mosque in Istanbul. Trueky.Kerem Uzel for The National
----------
• Turkey Tightens Blue Mosque Dress Code for Women Visitors
• Only 6 of 150 Women Candidates Win NA Polls in Pakistan
• PML-N Women Offer Thanks-Giving Prayers on Nawaz Appeal
• First Saudi woman scales Mount Everest
• Lebanese Women to Gain Political Ground
• Walled City's 300-year-old Anglo-Arabic Senior Secondary School, prepares for more change
• 'Child Marriages Compromise Girl's Development' Says Pak Minister
• Feminisation of Saudi Arabia to Spur Price Hikes, Traders Warn
• Bosnian Serb Woman Sentenced For War Crimes
• West Java Woman Allegedly Buries Mother Alive
• Afghan Parliament Halts Debate on Women's Rights Law
• Nigeria: 6, 966 Girls to Share N35.8 Million Grant in Katsina
• Uganda: High School Dropout Worries Women Activists
• Suspended Jammu jail official made undertrial write exam for her
Compiled by New Age Islam News Bureau
URL: https://newageislam.com/islam-women-feminism/saudi-women-widows,-spinsters-divorcees,/d/11632
------------
Saudi Women: Widows, Spinsters and Divorcees, To Look For Jobs
Unemployed Saudi women
Abdullah Khayyat
18 May 2013
The need to meet life's demands has forced Saudi women, especially widows, spinsters and divorcees, to look for jobs. Married women also look for jobs to help their husbands meet daily expenses, a task that has been very exhausting.
Women have the right to be employed after spending long years of their lives in education to serve themselves and their country. It is not conceivable that a woman spends 12 years in general education and five years in university, in addition to several years for post graduate studies, only to find herself finally sitting idle at home.
Statistics show us that the vast majority of Saudi women job seekers are highly qualified. Quoting employment experts, a local newspaper said more than 78 percent of unemployed Saudi women are holders of university degrees.
They said about 76 percent of jobless Saudi men are only holding secondary school certificates. The experts said the number of unemployed Saudi men and women has reached about half a million.
The experts were talking during the Career Day organized by Dar Al-Hekma College for Women in Jeddah, with more than 40 private companies participating to attract Saudi job seekers. They said the number of jobless men is 293,176, while unemployed women number 177,174. There are only 21,298 unemployed foreigners.
According to the statistics, foreigners occupy about 90 percent of available jobs in the private sector while about 500,000 Saudis, who represent about 10 percent of the number of the foreigners, are jobless.
This makes it imperative for private sector establishments to work together as a team to shoulder their social responsibility toward the Saudi citizens.
The dean of the college said the eighth Career Day was aimed at enabling private companies and establishments to offer jobs and training to qualified Saudi cadre to enter the labor market, which is highly competitive.
http://www.saudigazette.com.sa/index.cfm?method=home.regcon&contentid=20130518166254
------------
Turkey Tightens Blue Mosque Dress Code for Women Visitors
Thomas Seibert
May 17, 2013
ISTANBUL // When Olga, a young woman from Ukraine, arrived at the visitors' entrance of Istanbul's famous Blue Mosque this week, a surprise was waiting for her.
"Please wear this," a female mosque official told Olga, 28, who was dressed in a sleeveless shirt and shorts. She was handed a blue cotton robe that covered her whole body, with an attached piece of cloth to cover her hair.
Authorities in Istanbul began providing the robes, as well as headscarves and skirts, this week in an effort to preserve a semblance of serenity at the city's places of worship that are visited by millions of camera-wielding and sometimes scantily clad holidaymakers every year.
At the Blue Mosque's entrance for tourists, visitors were first asked to take off their shoes and put them into plastic bags provided for the purpose. As the tourists went on towards the door leading to the mosque's main prayer room, three officials watched to see who was inappropriately dressed.
A plastic mannequin in the walkway, dressed in a robe and a headscarf, served as a model of how visitors should dress.
Olga closed the zipper that ran down the length of her robe as she walked towards the door leading into the mosque with her friend Jelena, 29. Both women gave only their first names.
"You should respect religion," Olga said. "It's OK if those are the rules."
All mosques in Istanbul are closed to tourists during prayer times.
The Blue Mosque, known as Sultan Ahmet Camii in Turkish, after the Ottoman sultan Ahmet I who had it built from 1609 to 1616, gets its English name from the blue tiles in its interior. It draws four to five million tourists a year, according to the office of Istanbul's mufti.
The deputy mufti, Sabri Yilmaz, said the new robes represented a "more professional" way to make sure that tourists' attire was in line with religious rules.
"We have been giving out scarves to tourists in mosques for 30 years," Mr Yilmaz said this week. "But it has been a bit amateurish. This is more professional."
Mr Yilmaz said the robes were not a way to tell people what to wear.
"This is not about fashion, everybody can wear what they like," he said.
"If people from Africa or from Europe come to the mosque in traditional clothes that are acceptable [from a religious standpoint], then in they go. What matters to us are religious rules."
Signs around the Blue Mosque explain those rules to visitors: men should wear long trousers, but can wear short-sleeved shirts. Women should cover their hair and arms, as well as their legs from the knees up.
At the entrance, visitors have three choices, depending on the modesty of their dress. Apart from the full-body robes, which come in blue and green, there are turquoise headscarves and blue skirts with Velcro fastenings.
While headscarves were for women, the robes and skirts are for visitors of both sexes.
"I feel very strange," said Alan Sarsa, a tourist from Sweden, as he looked down at the blue skirt covering his shorts and legs.
Mr Yilmaz said the reusable garments represented an effort to strike a balance between the rights of worshippers and the interests of tourism at the city's mosques.
"They are houses of worship as well as interesting places for visitors."
The garments were designed by a team made up by representatives of Istanbul's mufti and atour guide association, to make sure they complied with religious rules and were easy to use for visitors. Tourists return the garments as they leave the mosques. The use of the garments is free, with Istanbul's municipality paying for the project.
Murat, a helper at the Blue Mosque, said summer months posed a special challenge for him and his colleagues.
"When it gets hot, people come with short clothes. Some almost come naked," he said.
But other officials said many tourists knew about basic rules of attire for mosques and came with their own headscarves.
"Today's travel guides tell people what to wear in a mosque," said Yakup Sari, a representative of the Sultan Ahmet Mosque Protection and Improvement Foundation, which oversees cleaning and technical services at the mosque.
Mr Sari said there was still no verdict on whether robes, headscarves and skirts had fashion appeal.
"I don't know whether they are chic, that's for the ladies to decide," he said.
Only a few visitors showed displeasure with the new rules.
"I have come here so often with these shorts and it's never been a problem," a foreign tour guide complained as an official asked him to put on a blue skirt.
A woman from Italy, who had brought her own headscarf, was irritated when she was asked to put on a skirt to cover her tight leggings.
"I thought I was modest already," she said.
tseibert@thenational.ae
twitter: For breaking news from the Gulf, the Middle East and around the globe follow The National World. Follow us
http://www.thenational.ae/news/world/europe/turkey-tightens-blue-mosque-dress-code#ixzz2TcRiClu3
------------
Only 6 of 150 women candidates win NA polls in Pakistan
May 17, 2013
Islamabad: Only six women have won polls to Pakistan's lower house of Parliament, a two-thirds reduction from the 18 directly-elected members of the outgoing National Assembly.
Polls to 272 seats of the National Assembly were held on May 11.
Another 60 seats reserved for women and 10 reserved for non-Muslims will be allocated to political parties according to their performance in the polls.
The six women directly elected to the National Assembly are Sumaira Malik, Saira Afzal Tarar and Ghulam Bibi Bharwana of the PML-N and Faryal Talpur, Azra Fazal Pechuho and Fehmida Mirza of the Pakistan People's Party.
None of them are new entrants to politics.
Fehmida Mirza was the speaker of the outgoing National Assembly while Talpur and Pechuho are the sisters of President Asif Ali Zardari.
The Election Commission has so far announced results for 261 of the 272 directly elected seats and the PML-N is set to form government after emerging as the single largest party with 124 seats.
Polls in 11 seats have been terminated, postponed or withheld.
A total of 150 had contested the General Election from 111 constituencies across Pakistan. Sixty of them contested as candidates of political parties.
No women candidates were successful in Balochistan and Khyber-Pakhtunkhwa provinces.
The successful women candidates of the PML-N all from Punjab while the winning PPP candidates are from Sindh.
Four of the successful women candidates have achieved hat-tricks.
Talpur won by the largest margin of 64,438 votes while Bharwana had the lowest winning margin of 18,152 votes.
The number of women elected to the four provincial assemblies remained unchanged from the figure in the 2008 polls.
Only 10 of the 313 women who contested from 213 constituencies of the provincial assemblies were successful.
Of the 10, eight belong to Punjab while one candidate each is from Sindh and Balochistan.
No woman won a seat in the Khyber-Pakhtunkhwa Assembly.
All eight successful candidates in Punjab are from the PML-N as is the sole woman to win a general seat in the Balochistan Assembly. One PPP candidate won from a provincial constituency in Karachi.
http://zeenews.india.com/news/south-asia/only-6-of-150-women-candidates-win-na-polls-in-pakistan_849156.html
----------
PML-N women offer thanks-giving prayers on Nawaz appeal
May 18, 2013
Saturday, May 18, 2013 - Islamabad/Peshawar/Lahore—Pakistan Muslim League-N chief Nawaz Sharif has appealed party workers and the nation to observe Youm-e-Tashakar (thanksgiving day) on Friday to celebrate the victory of party in May 11 elections,a private news channel reported. According to the channel report the PML-N made a triumphant comeback, securing 123 seats of National Assembly and 212 of Punjab assembly as its chief Nawaz Sharif is all set to become Prime Minister for the third time.In a statement, Nawaz Sharif appealed workers and people to offer special prayers on the thanksgiving day on Friday.
Peshawar: PML-N women-wing City District Peshawar here Friday observed thanks-giving day and offered prayers in the green lawn of Peshawar Press Club (PPC). The PML-N women activists gathered in large number in press club to offer thanks-giving prayers on the landslide victory of the party in May 11 polls. Speaking on the occasion, president, city district women-wing, Robina Bokhari paid tributes to the leadership of their party for taking bold and people-friendly stand on the problems and challenges faced by the people of the country.
She was confident that the PML-N leadership would maintain its track record and play role in the resolution of the grave crises faced by the country and will take measures for the welfare of the people in general and protection of the rights of women in particular. Robina Bokhari said that PML-N had not only emerged as single largest political party at federal level, but also in position to constitute provincial governments in the country. She pledged to play their due role in the strengthening of the party and in future turn it into largest political force of Khyber Pakhtunkhwa.
Lahore: On appeal of Pakistan Muslim League-N Chief Nawaz Sharif, Youm-e-Tashakur (Thanks-giving Day) was observed to celebrate party's victory in general elections on Friday. People in general and PML-N workers in particular offered Nawafil over party's landslide victory in elections.—APP
http://pakobserver.net/detailnews.asp?id=207181
----------
First Saudi woman scales Mount Everest

2013-05-18

KATMANDU: Mountaineering officials say 64 climbers, including a Saudi Arabian woman, have successfully scaled Mount Everest from Nepal's side of the mountain.

Tilak Padney of Nepal's Mountaineering Department says 35 foreigners accompanied by 29 Nepalese Sherpa guides reached the 8,850-meter (29,035-foot) peak on Saturday morning after climbing all night from the highest camp on South Col.

All were reported to be safe.

Among them was Raha Moharrak, who became the first Saudi Arabian woman to scale the world's highest peak.

Everest can be climbed from either Nepal or Tibet. May is the most popular month for Everest climbs because of more favorable weather.

http://beta.dawn.com/news/1012128/first-saudi-woman-scales-mount-everest

----------

Lebanese Women to Gain Political Ground

18 May 2013

After gaining the right to vote and participate in elections in 1952, one would assume that more female politicians would be taking part in Lebanon's administrative scene.

Women won the right to participate in politics 19 years before those in Switzerland, a neutral European country.

But what have they done with this?

The June elections are just around the corner and, while the men continue to argue over the proposed electoral draft law, women in the country are attempting to take a stand.

The Coalition for Women in Parliament 2013 is trying to put pressure on lawmakers to approve a 30 percent quota for women, making it a little bit easier for them to be a part of parliament.

The reason why women are not highly involved is a slightly more complicated issue than just simply breaking it down to laws that bar women from participating. It is, however, how society weighs in. Many women in Lebanon abstain from taking part, a result of widespread political culture in Lebanon that, as a matter of fact, relegates women to second-class citizens.

Full report at:

http://english.alarabiya.net/en/views/news/middle-east/2013/05/18/Lebanese-women-losing-political-ground-.html

------------

Walled City's 300-year-old Anglo-Arabic Senior Secondary School, prepares for more change

Pallavi Singh

May 18 2013

Behind a tall, wrought-iron gate with sparse black paint peeling, the 300-year-old Anglo-Arabic Senior Secondary School at Ajmeri Gate, Delhi, is in the throes of change.

Past the numerous sandstone arches that adorn its façade, a large courtyard spreads into corridors and rooms where dozens of masons are busy restoring the heritage building. A library damaged by last year's rain has been fixed with fresh white paint and teak-wood doors. The green Kota stone floor of an auditorium, complete with carpeted stage, glistens. Next to the din of renovation, a small, crowded chamber has anxious parents, including women in black veils, exchanging notes on admission fees and dates. As the classes disperse for lunch, a boy tells a girl, "You have been chosen class monitor." Before the girl can react, he mocks, "In your dream!" They sprint and disappear.

Full report at:

http://www.livemint.com/Leisure/Vt0Dg7fC88VewnOtT07WnK/Delhis-Belly--An-equal-music.html

------------

'Child Marriages Compromise Girl's Development' Says Pak Minister

18 May 2013

KARACHI: Minister Women Development and Human Rights Anis Haroon has said that child marriage not only is a violation of human rights and compromises the development of girls, but also results in biological and physiological complications.

This she said while presiding a meeting organised for the cause of early marriages by HANDS Pakistan, a local NGO. She said in Pakistan, marriage at an early age is a reality for many girls, and at times parents force their daughters to get married at an early age due to cultural, social and financial reasons.

Full report at:

http://www.dailytimes.com.pk/default.asp?page=2013\05\18\story_18-5-2013_pg12_14

------------

Feminisation of Saudi Arabia to Spur Price Hikes, Traders Warn

18 May 2013

JEDDAH — Manufacturers and traders in women's clothes have told a meeting at the Jeddah Chamber of Commerce and Industry (JCCI) that forcing them to employ women in women's clothes and accessories shops by July 9 will contribute to raising prices by 30 to 50 percent.

They said they could not implement the decision in less than two months, especially as finding trained women is hard.

They demanded the Ministry of Labor to launch a big awareness campaign that helps to change work attitudes in Saudi families and contribute to providing saleswomen who are willing to work for reasonable salaries.

Full report at:

http://www.saudigazette.com.sa/index.cfm?method=home.regcon&contentid=20130518166251

------------

Bosnian Serb woman sentenced for war crimes

May 17, 2013

A Bosnian Serb woman was sentenced on Friday to four years in prison for war crimes committed against non-Serb civilians in northeastern Bosnia at the start of the 1992-1995 war, a court said.

Monika Karan Ilic, 37, is the third woman sentenced for war crimes by Bosnian justice.

She "was convicted of war crimes against civilian population", committed in a detention camp and a police station in northeastern town Brcko in May and June 1992, the Brcko court said in a statement.

Karan Ilic, arrested in December 2011, had "tortured and subjected civilians to inhuman treatment on a daily basis," it added.

Full report at:

http://www.globalpost.com/dispatch/news/afp/130517/bosnian-serb-woman-sentenced-war-crimes

----------

West Java Woman Allegedly Buries Mother Alive

18 May 2013

Police are searching for a woman who allegedly buried her 90-year-old mother alive in Kuningan, West Java.

"Until now the perpetrator is still at large," Kuningan Police Adj. Comr. Wahyu Bintono told Indonesian news portal Tempo.co on Saturday.

Neighbours found the victim, Inoh Aminah, buried 30 centimetres deep in her front yard on Friday evening.

A neighbour who wished not to be identified said she was suspicious when she heard Inoh, who lived with her 45-year-old daughter, Iyah, coughing loudly.

Full report at:

http://www.thejakartaglobe.com/news/west-java-woman-allegedly-buries-mother-alive/

------------

Afghan parliament halts debate on women's rights law

18 May 2013

A debate by Afghan MPs about beefing up a law to prevent violence against women has been halted amid angry scenes.

Parliament's speaker ended the debate after 15 minutes after traditionalists called for the law to be scrapped.

A law banning violence against women, child marriages and forced marriages was passed by presidential decree in 2009, but did not gain MPs' approval.

Hundreds of people have been jailed under the current law, introduced by President Hamid Karzai.

Full report at:

http://www.bbc.co.uk/news/world-asia-22579098

------------

Nigeria: 6, 966 Girls to Share N35.8 Million Grant in Katsina

16 MAY 2013

Kaita — The Katsina State Government has began the disbursement of N35.8 million under its Conditional Cash Transfer (CCT) programme to 6, 966 primary school girls in the state.

Hajiya Bilkisu Kaikai, the Special Adviser to Gov. Ibrahim Shema on Girl-child Education and Development, said the amount was being disbursed to selected pupils under the fifth round of the programme.

She said while issuing out the grant to some of the beneficiaries at Unguwar Tsamiya village in Kaita Local Government Area of the state on Thursday, that each of the girls would receive N5,000.

Full report at:

http://allafrica.com/stories/201305170471.html

------------

Uganda: High School Dropout Worries Women Activists

BY JOHN AGABA

16 MAY 2013

The high dropout rate among primary school going girls needs urgent intervention, women activist have demanded. The activists are also concerned about the soaring numbers of women who die daily in pregnancy-related complications in the country.

The activists raised the concerns in a meeting held in Kampala. Recent government reports on education estimate that of the total number of pupils who enroll in primary one, only 30% complete primary seven, placing Uganda's dropout rates the worst in the region.

However, Dr. Hilda Tadria, the director of Mentoring and Empowering Program for Young Women said: "These figures should not fool us. Yes, only 30% complete primary seven. But of this 30%, majority are boys."

"I work in upcountry areas and I interact with lots of schools. "If you visit any school, the ratio of girls to boys in primary one is always higher. But you go to primary seven. You will only find about six to 11 girls. The rest are boys," added Tadria.

Full report at:

http://allafrica.com/stories/201305171021.html

--------------

Suspended Jammu jail official made undertrial write exam for her

AHMED ALI FAYYAZ

May 18, 2013

Suspended over an attack on Pakistani prisoner Sanaullah Haq earlier this month, the former superintendent of Jammu's Kot Bhalwal Central Jail, Rajini Sehgal, has been booked also in a case of examination malpractice. The former superintendent of Jammu's Amphalla Jail, Vinod Kumar, has also been booked in the same criminal case for facilitating an undertrial to appear on Ms. Sehgal's behalf in a post-graduate examination conducted by Indira Gandhi National Open University (IGNOU) at Amphalla Jail last year.

Full report at:

http://www.thehindu.com/news/national/other-states/suspended-jammu-jail-official-made-undertrial-write-exam-for-her/article4725092.ece

------------

URL: https://newageislam.com/islam-women-feminism/saudi-women-widows,-spinsters-divorcees,/d/11632