New Age Islam News Bureau
8 Feb 2017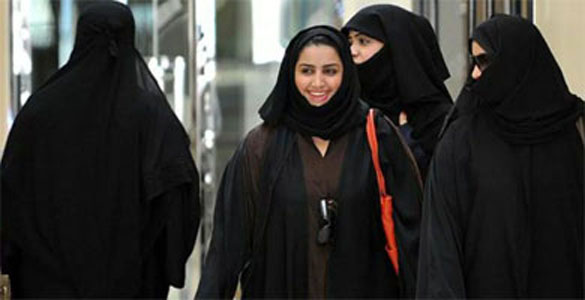 Saudi women Use Social Media To Expose Harassment[file photo]
----
• Bangladesh Gets First Female Election Commissioner
• Treating Women as Breeding Machines in Kelantan
• Pakistan Seeks To Curb Child, Forced Marriages with Harsher Punishment
• Indonesian Government to Enlist Clerics in Fight against Child Marriage
• Appeal Court Upholds Use of Hijab in Lagos Public Schools
• Girls at a Pakistan Higher Secondary School Forced To Do Sit-Ups as Punishment
• Man Kicks Pregnant Muslim Woman in the Stomach in UK
• Man Kills Mother of Two in Suspected Honour Killing In Shangla, Pakistan
• Pakistan National Assembly Passes Bill to Protect Women's Rights
• Pakistan Electoral Reform Plans Aim to Boost Women's Participation in Politics
Compiled by New Age Islam News Bureau
URL: https://www.newageislam.com/islam,-women-and-feminism/new-age-islam-news-bureau/saudi-women-use-social-media-to-expose-harassment/d/110001
--------
Saudi women use social media to expose harassment
February 7, 2017
A campaign using the hashtag #Break_Your_Silence_Speak_Up has been started to encourage Saudi women to expose examples of harassment, rape, physical abuse and suppression against them.
While abuse against women is naturally shocking, the women have explained, the fact that it continues to happen in a conservative Muslim society is even more shocking.
One woman revealed that she was raped by her father for three years and when her mother learnt of the abuse, she locked her up inside the house for a full year. She pointed out that she now has to be treated for depression because of what happened to her. Sarah said that her brother has sexually molested her while her father slapped her. "I was eight years old," she said. "He taught me how to shut up every time I was molested."
Read: MENA worst area for political and civic freedoms
One women said that when she got home from school late because of heavy traffic, her father hit her and ordered her to change her schedule or he would prevent her from studying.
Such treatment is commonplace, it seems, and extends to professionals as well. "My brother threatened my sister, who is a physician, to prevent her from working because she wanted to attend a conference in Kuwait," said Rahaf Al-Otaibi. Moreover, some women have been parted from their children by "influential" men in their family. "I cannot describe the pain of losing my children," said one.
Just the threat or possibility of violence is enough to cause psychological pain, one woman tweeted. "I may have not been exposed to physical or verbal violence but I suffer from psychological violence every day because my life could turn upside down if someone wishes."
While the women have been accused of lying, or been told that they should be more discreet, they have the support of human rights organisations. They often criticise Saudi Arabia over its human rights record, especially regarding women's rights.
Amnesty International paid tribute to Saudi women last Thursday on International Women's Human Rights Defenders' Day.
https://www.middleeastmonitor.com/20170207-saudi-women-use-social-media-to-expose-harassment/
--------
Bangladesh gets first female election commissioner
February 08, 2017
Bangladesh got its first female election commissioner with Kabita Khanom, a historical moment in the Election Commission's (EC) 45 years.
All of the 11 chief election commissioners and 23 election commissioners who have served in the EC since 1972 have been male.
Kabita, a retired district and session judge, was picked by President Abdul Hamid on Monday for the post. The ruling Awami League had recommended her name.
A native of Naogaon, she served as a judge for 31 years.
"I feel proud to be the first female election commissioner. This will encourage our women to move ahead," Kabita told the Dhaka Tribune.
She thanked President Hamid for selecting her for the post.
"I will serve in my new position in a manner that ensures the dignity of women during elections," she added.
In 2012, the search committee formed to recommend the EC had recommended a woman, but she was not picked.
This time, the search committee also recommended Chittagong University Pro-VC Shireen Akhter.
Women hold the top four positions in the parliament: Speaker Shirin Sharmin Chaudhury, leader of the house Prime Minister Sheikh Hasina, opposition leader Raushan Ershad, and deputy leader of parliament Syeda Sajeda Chowdhury.BNP chairperson Khaleda Zia was the first female prime minister of Bangladesh.
http://www.dhakatribune.com/bangladesh/2017/02/08/bangladesh-gets-first-female-election-commissioner/
--------
Treating Women as Breeding Machines in Kelantan
Mariam Mokhtar
February 8, 2017
The Kelantan government's latest proposals regarding polygamy are disturbing in many ways.
Mumtaz Md Nawi, who chairs the Kelantan Family Development, Welfare and the People's Wellbeing Committee, has told us the state would simplify the process of marriage for both single and married men.
"This is to encourage the birth of more Muslim children," she said, adding that the state would help men who would like more children to marry second, third or fourth wives.
It is a sad day when a woman agrees to treat other women as breeding machines, wives as commodities and children as bulk purchases.
Mumtaz also said the state would provide comprehensive information and counselling to "guarantee that the children from these marriage will turn out to be good Muslims".
Whether she intended it or not, she was admitting that the PAS government, which has ruled Kelantan since 1990, had failed to impart religious teachings to citizens. Indeed, some reports say Kelantan has the highest rate of drug taking, illicit sex and HIV infection among Malaysian states.
Encouraging men to marry in Kelantan instead of doing so in southern Thailand does not solve the problem of illegal marriages.
If the authorities want to reduce the rate of divorce among Muslims and thereby the number of single mothers in the state, they should start teaching children, especially boys, the importance of strong and lasting relationships and treating women with respect. Respect is not about obedience, which is being promoted in some official "marriage courses" conducted for Muslims.
In addition, the authorities should be careful when mouthing cliches like "children are a gift from God" without adequately explaining what they mean. They might alienate single mothers struggling to put food on the table. Some may not think their pitiful existence is a gift from God, at least not when they see children from smaller families enjoying the good life while theirs don't even have father figures to look up to.
These children may find their father figures in gangs like Tiga Line or Geng 43.
When a couple elopes to Thailand, it's usually because the man's first wife has refused him permission to take another wife. In one case, the young bride thought that the clandestine trip across the border was romantically exciting. Two years and one child later, she was dumped. She receives neither alimony nor child maintenance.
Some divorced women eventually give up the struggle to get their dues in alimony and child support. They say their suffering is made worse by the foot-dragging of the shariah courts.
One woman found out, a few years after her own secret marriage in Thailand, that her husband had repeated the process to marry a third wife. She considers herself fortunate to be financially independent. She says her husband spends all his time with his new wife and does not help with the upkeep of her children.
Will Kelantan teach all polygamous men to treat their wives equally? Some men with four wives don't even have the funds to take care of themselves adequately. God knows how they take care of their families.
We have said that the main reason for eloping to Thailand is the first wife's refusal to permit her husband to marry again. When the newly married couple returns to Malaysia, all they have to do to validate the marriage is pay a small fine. To tackle this problem, the proposed new initiatives by the Kelantan government will probably include a clause that takes away the need for the first wife's permission. If that is so, all we can say is woe to the women of Kelantan.
http://www.freemalaysiatoday.com/category/opinion/2017/02/08/treating-women-as-breeding-machines/
--------
Pakistan seeks to curb child, forced marriages with harsher punishment
Feb 8, 2017
Pakistan has outlawed child marriage and toughened penalties for those guilty of the crime in an effort to crack down on the practice which is estimated to affect one in five girls in the country.
The legislation passed by the National Assembly, or lower house of parliament, on Monday, also bans forced marriage involving women from minority groups.
Under the new law, offenders will face a minimum of five years in prison and may serve up to 10 years. They also face a fine of up to 1 million rupees (S$21,033).
Before the change in law, offenders faced a minimum of three years in prison and a fine of 500,000 rupees.
"The punishment has been made harsher in the law ... in order to completely curb the social maladies which have risen because of the less stringent punishment and fines," Federal Law and Human Rights Minister Zahid Hamid told Thomson Reuters Foundation by telephone.
According to the U.N. children's agency UNICEF, around 21 percent of girls in Pakistan are married before the age of 18.
Nearly 4 percent of Pakistan's population of 202 million people are not Muslim, according to the CIA Factbook.
Social and gender inequality, a desire to control women's sexuality and protect family honour as well as poverty are some of the factors driving child marriage in Pakistan, according to advocacy group Girls Not Brides.
"Large-scale awareness about the crucial law and now about its amendments is key to make the law a success," said Mahpara Shakil Ghauri, a senior official at Aurat Foundation, a charity promoting women's rights.
Local advocacy group, the Society for the Protection of the Rights of the Child (SPARC), estimates that almost 58 percent of girls are child brides in rural areas.
SPARC's chair Humera Malik said it was a concern that civil society organisations' demand to increase the age of marriage to 18 from 16 had been ignored in the new law.
"Raising the age of the girl to 18, the same as that of a boy was long-standing demand of the child and women rights organization in the country. But it's really disappointing the age issue have been left untouched," Malik told the Thomson Reuters Foundation.
http://news.asiaone.com/news/asia/pakistan-seeks-curb-child-forced-marriages-harsher-punishment
--------
Indonesian Government to Enlist Clerics in Fight against Child Marriage
February 8, 2017
The government has decided to seek unlikely allies in its struggle to end child marriage: religious leaders, the group of people who have long been accused of stymieing such efforts.
For years, religious leaders have perpetuated the practice of child marriage as they tend to have a narrow view of sexuality and marriage, according to the Women's Empowerment and Child Protection Ministry.
The ministry said it was now time to turn them into allies.
Some Muslim clerics in Central Java and West Nusa Tenggara have already agreed to promote the campaign against child marriage, the ministry's assistant deputy on children's rights, Rohika Kurniadi Sari, told The Jakarta Post on Tuesday.
"They said why don't we deliver the message through Friday prayer sermons? Because men are also agents of change who could reduce the number of child marriages," she said.
Rohika said her ministry would coordinate with the Religious Affairs Ministry, which reportedly has plans to issue guidelines on standardized Friday sermons, to discuss the possibility of delivering the anti-child marriage message through the sermons.
"We are pushing the Religious Affairs Ministry to review the standardization and if there is already one, we will request the addition of this message because it's important," she said.
The ministry's assistant deputy on child protection from violence and exploitation, Rini Handayani, claimed that United Nations Children's Fund (UNICEF) had actually produced a guidebook on how to campaign for child protection in Friday sermons.
"Right now we are working on [making a Christian version of the book]. About how sermons at churches could talk about child protection," she said.
Rohika said the problem with some Muslim preachers was that they tended to measure preparedness to get married, or adulthood, merely based on the onset of puberty. This narrow view, she said, presented a considerable barrier to ending child marriage in the country as the practice is accepted by communities as part of their social fabric, making it seem to be a non-issue.
This has resulted in child marriage rates flat-lining in the country. According to data from the Central Statistics Agency (BPS), the number of child marriages (below 18 years old) stood at 22.8 percent in 2015, down only slightly from 24.5 percent in 2010.
Child marriages are closely linked to a severe drop in life quality for girls. According to UNICEF, girls who are married as children tend to drop out of school, thus limiting their employment opportunities.
"Child marriage severely affects girls' education as those who get married before the age of 18 are six times more likely to drop out of school," UNICEF Indonesia child protection officer Fadilla Putri said.
They are also prone to complications during pregnancy and labour, which hampers the country's efforts to produce quality human resources.
Rohika said that the ministry would try to deliver the campaign within a more universal message on how to raise a child properly.
http://www.thejakartapost.com/news/2017/02/08/government-to-enlist-clerics-in-fight-against-child-marriage.html
--------
Appeal Court upholds use of Hijab in Lagos public schools
By Ameh Comrade Godwin
February 8, 2017
The Muslim Students' Society of Nigeria, Lagos State Area Unit has hailed the Appeal Court for throwing out a motion seeking an injunction to stop the use of Hijab in the state.
The Court on Tuesday struck out the motion for stay of execution, filed by the Lagos State Government.
The case tagged CA/L/135/15, was between Lagos State Government, Miss Asiyat AbdulKareem (through her father), Miss Moriam Oyeniyi and Muslim Students' Society of Nigeria.
In his lead judgment, Justice Gumel held that the use of the Hijab was an Islamic injunction and also an act of worship hence it would constitute a violation of the appellants' rights to stop them from wearing the Hijab in public schools.
After hearing from both parties, the presiding justice, Muhammad Lawal Garba, struck out the motion.
Resolving all the five issues raised in favour of the appellants, the appellate court held that the lower court erred in law when it held that the ban on hijabs was a policy of the Lagos State Government (respondent
With the current verdict, students in public primary and secondary schools in Lagos State can now wear Hijab to school without harassment unless the Supreme Court rules otherwise.
Reacting to the judgment, the Amir (President) of MSSN Lagos State Area Unit, Dr. Saheed Ashafa, hailed the court for a sound judgment.
According to him, the judgment will further strengthen fundamental human rights as enshrined in the constitution.
He stated that the MSSN Lagos would not entertain any act or form of harassment after the current judgement.
He said, "We applaud the judgment as this is not unexpected. The position of the law is very clear on the subject matter. This matter once more assure us that all hope is not lost on having a redeemed society.
"It gladdens to see that the injunction which the LASG is using as a basis to deny the implementation of the Court of Appeal judgment has been struck out.
"We hereby urge all stakeholders to be law abiding for a peaceful implementation of the judgment. There should be no violation of human rights against our Students while we expect an immediate implementation of the judgment in all schools across the state."
While congratulating and thanking Muslims on the recent victory, Ashafa said, "We Congratulate the entire Muslim Ummah (community) and urge our Muslim students to uphold decency and cleanliness which are the hallmark of Islam while exercising their right."
Recall that a special constituted panel of the Court of Appeal sitting in Lagos on Thursday, July 21, 2016 unanimously set aside the judgment of a Lagos High Court which banned students in public primary and secondary schools in the state from putting on the Hijab with their school uniforms.
http://dailypost.ng/2017/02/08/appeal-court-upholds-use-hijab-lagos-public-schools/
--------
Girls at a Pakistan Higher Secondary School Forced To Do Sit-Ups as Punishment
08-Feb-17
LAHORE: It seems that the Punjab government has failed to implement the ban on corporal punishment at public sector schools as female students at the Government Higher Secondary School Samanabad are being asked to do sit-ups as punishment over minor issues, Daily Times has learnt.
Students of class 9 were also asked to shift furniture for examination hall of class 5.
Talking to Daily Times, a student of class 9, seeking anonymity, said that it was a routine matter at her school to punish students over petty issues.
"Besides punishing, teachers also charge fines from students who remain absent or do not perform well in class tests," she said, adding that in a recent incident, students were forced to do sit-ups and shift furniture of classrooms.
It is pertinent to mention here that the Punjab government and School Education Department is following the 'Maar Nahi Pyar' policy for more than a decade in public sector schools discouraging teachers to punish students as this can decrease their learning abilities.
The policy was implemented by former Punjab chief minister Chaudhry Pervaiz Elahi. Since then the policy is being implemented in Punjab schools and none of the teacher is allowed to punish any student.
Earlier, Punjab Education Minister Rana Mashood Ahmad had visited a school in Lahore where students were being forced to carry out cleanliness work.
Taking notice of the situation, the minister asked school management not to involve students in such kind of work, otherwise strict action could be taken against teachers, including headmasters. Meanwhile, a father of another student was of the view that they did not send their daughters to school for cleaning the school or shifting furniture, but to learn and study.
He said those teachers involving students in cleanliness work or punishing them should be punished. He observed that female students in Islamabad had been provided with luxury transport facilities but same was not the case with female students in the provincial capital of Punjab.
http://dailytimes.com.pk/punjab/08-Feb-17/girls-at-govt-school-forced-to-do-sit-ups-as-punishment
--------
Man kicks pregnant Muslim woman in the stomach in UK
08-Feb-17
A man was charged today charged over a race attack on a pregnant woman who later lost her unborn twin babies.
David Gallacher, 37, is accused of assaulting the mum-to-be by kicking her in the stomach as she walked close to a mosque.
He also allegedly attacked a man who tried to intervene during the incident in Milton Keynes, Bucks., last August.
The unnamed woman, who is a mum-of-four, was forced to flee her home in fear as a result of the assault.
Her 40-year-old husband also had to give up his job as a taxi driver to stay home and reassure his traumatised wife.
http://nation.com.pk/international/08-Feb-2017/man-kicks-pregnant-muslim-woman-in-the-stomach-in-uk
--------
Man Kills Mother of Two In Suspected Honour Killing In Shangla, Pakistan
UMAR BACHA
08-Feb-17
A woman was allegedly killed by her brother in a suspected honour killing on Wednesday in Khyber Pakhtunkhwa's Shangla district, police said.
Khalid shot dead his sister Sadiqeen, 26, after allegedly finding her in an "objectionable position" in a room with a 70-year-old man named Rafiqullah, Station House Officer (SHO) Sher Hassan said.
After killing his sister who had two children, Khalid shot dead Rafiqullah as well.
The suspect escaped after committing the crime.
A First Information Report (FIR) has been lodged against Khalid and his cousin, Umar Bacha, the police official said.
Hundreds of women are murdered every year in Pakistan, often by their own relatives, for going against their families' wishes in matters of love and marriage.
The perpetrators of so-called honour killings — in which the victim, normally a woman, is killed by a relative — often walk free because they can seek forgiveness for the crime from another family member.
The Aurat Foundation's annual report of 2016 showed 7,852 cases of violence against women.
According to Saima Munir, who works for Aurat Foundation, there has been a 70 per cent increase in honour killings in the past year.
http://www.dawn.com/news/1313502/man-kills-mother-of-two-in-suspected-honour-killing-in-shangla
--------
Pakistan National Assembly Passes Bill to Protect Women's Rights
08-Feb-17
ISLAMABAD: The National Assembly on Tuesday passed The National Commission on the Status of Women (Amendment) Bill, 2016.
The bill was moved by MQM lawmaker Dr Nikhat Shakeel Khan to amend the National Commission on the Status of Women Act, 2012. She said the National Commission on the Status of Women was established to protect the rights of women. However, she observed that the commission remained without its chairperson for a long time. The bill would ensure the election of new chairperson within 30 days after the retirement of the incumbent head, she added.
She said the existing law would give a clear timeframe to the government to appoint a chairperson and make the commission more effective. The chairperson of the said commission had central place to make sure result-oriented performance of the commission.
Meanwhile, the House passed with certain amendments a private member bill 'The Compulsory Blood Test of the Relatives of Thalassemia Patient Bill, 2017' making it compulsory for couples to get test before entering into a wedlock.
Pakistan People's Party (PPP) lawmaker Dr Azra Fazal Pechuho piloted the bill, The Compulsory Blood Test of the Relatives of Thalassaemia Patient Bill, 2017'. The bill aimed at talking concrete steps for controlling the hazardous disease and making a law for testing of blood relatives of those persons who have thalassaemia.
Thalassaemia is a hereditary genetic disorder which causes impaired production of hemoglobin. It was a dangerous disease which killed large number of children in Pakistan every year. All clinics, hospitals and centers handling and treating the patients should ensure that blood relatives of children having thalassaemia were all screened for the disease. This test was to be made compulsory for siblings, first cousins and uncles and aunts who were blood relatives. It was particularly compulsory for those blood relatives of thalassaemia patients who were getting married to get a pre-marital blood screening to ensure that they were not carrying the trait. Capital Administration and Development Division (CADD) Minister Tariq Fazal Chaudhry welcomed the bill and urged the provincial governments to follow the bill. He said a lot of deliberations were made on it with stakeholder. He assured the House that test results would be kept secret.
On a point of order, FATA lawmaker Shahjee Gul Afridi protested on the removal of FATA reforms from cabinet agenda for Tuesday's meeting. He termed it unjust and said it gave a negative message to the people of FATA.
Aftab Sherpao, on a point of order, spoke on FATA reforms as well and said initially the prime minister was enthusiastic about it but now he seemed a bit hesitant. Mehmood Khan Achakzai said the FATA reforms should be done with the consent of the people of the area.
FATA legislator Shahabuddin wrapped his mouth with a black scarf and wore a black armband.
Lawmaker Babar Nawaz pointed out the violation of sanctity of Shewani and Jinnah cap as he believed it was being worn by low cadre employees at luxury hotels. He said even staff of the Lower House wore Sherwani and Jinnah cape. He asked for eradicating this matter and giving respect to these attires. However, lawmakers from the opposition benches were of the view that anyone can wear Sherwani and Jinnah cap if the person desires so.
PML-N and MQM lawmakers introduced the Compulsory Sewage Water Management and Reprocessing Bill, 2017 and the Federal Investigation Agency (Amendment) Bill, 2017 respectively. Both bills were referred to relevant standing committees.
JI lawmakers could not introduce the Trade Organizations (Amendment) Bill, 2017 on the assurance of government to bring a similar legislation. The House deferred the Political Parties Order (Amendment) Bill, 2013 till next session.
The House also adopted two private members' resolutions, urging the government to improve the performance PTV and simplify the procedure of payment of pension.
Four Private Members' resolutions and an amendment to Rules of Procedure were not taken up.
PPP and JI lawmakers staged a walkout against the absence of ministers. When Finance Minister Ishaq Dar was given floor a PTI lawmaker pointed out quorum following which the session was prorogued for an indefinite period.
The House was informed that the census was being conducted as per the international best practices and persons with disabilities would also be counted in the upcoming census.
To a call attention notice moved by Shaista Pervaiz and others regarding non-inclusion of a column for persons with disabilities in the national census form, Parliamentary Secretary for Finance Rana Afzal Khan told the House that the census was being conducted as per the international best practices. He said it would be a long exercise which would begin next month. He pointed out that two forms that were Form-2 and Form-2(A) had been prepared. He said Form-2 would be used in main census exercise while information about disabilities will be collected in Form-2(A) in the second phase by sampling.
http://dailytimes.com.pk/islamabad/08-Feb-17/na-passes-bill-to-protect-womens-rights
--------
Pakistan Electoral Reform Plans Aim to Boost Women's Participation in Politics
February 07, 2017
LAHORE, PAKISTAN —
Reforms to Pakistan's electoral laws making it mandatory for political parties to allot five percent of their tickets to women candidates were approved on Tuesday by the federal cabinet, the country's highest decision-making body.
Under Pakistan's constitution, women are guaranteed seats through a quota system in the national parliament and regional assemblies in Punjab, Sindh, Khyber-Pakhtunkhwa and Balochistan provinces.
At present, 60 out of 342 seats in the National Assembly, or lower house of parliament, are reserved for women with a further 137 seats reserved for women in the four provincial assemblies.
However the reforms will pave the way for more women politicians.
Women's rights campaigners welcomed the move by the cabinet of ministers, headed by Prime Minister Nawaz Sharif, but said the quota should be increased.
"Various studies have shown that women elected on reserved seats have done a good job in the legislatures. They have put up good human rights legislations," said Nasreen Azhar, a founder member of Women Action Forum, a women's rights organization.
"But they are considered weak because they don't have the backing of voters. Now things will improve but the quota should at least be 10 percent," she told the Thomson Reuters Foundation on phone from Islamabad, where her organization is based.
Briefing media on the decisions taken by the cabinet, Law Minister Zahid Hamid said the electoral reforms were due to be presented before the National Assembly next month where they are expected to be passed.
Last month, the Senate passed a law seeking a re-election in constituencies where women's turnout is less than 10 percent in an effort to address disparities in the number of women who go out to vote in the socially conservative country.
http://www.voanews.com/a/pakistan-electoral-reform-hopes-to-boost-women-participation-in-politics/3710710.html
--------
URL: https://www.newageislam.com/islam,-women-and-feminism/new-age-islam-news-bureau/saudi-women-use-social-media-to-expose-harassment/d/110001
New Age Islam, Islam Online, Islamic Website, African Muslim News, Arab World News, South Asia News, Indian Muslim News, World Muslim News, Womens in Islam, Islamic Feminism, Arab Women, Womens In Arab, Islamphobia in America, Muslim Women in West, Islam Women and Feminism, Moderate Islam, Moderate Muslims, Progressive Islam, Progressive Muslims, Liberal Islam