New Age Islam News Bureau
30 Jun 2014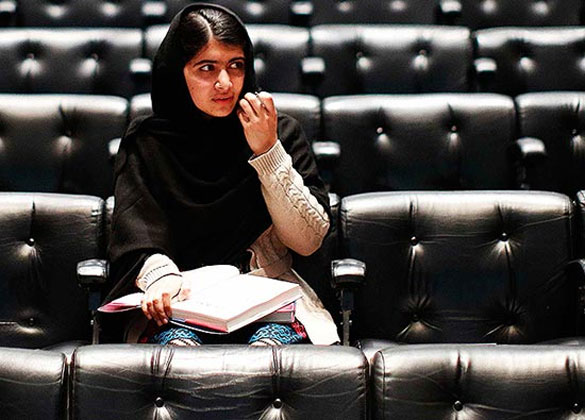 Malala Yousafzai will receive the award at a ceremony at the National Constitution Center in Philadelphia on Oct. 21. -Photo by Reuters
-----------
• Men's Sports, Shorts Not For Women in Iran
• Pakistan: Girl Burnt Alive For Rejecting Marriage Proposal
• Malala Becomes Youngest Recipient of Liberty Medal
• Female Genital Mutilation in U.S. Sparks Warnings
• Erbil Teenagers Girl Invent Bomb Detection System
• Kerry Kennedy talks on women's rights in Bangladesh
• Surging Violence against Women in Iraq
• US Muslim Kids Trained for Ramadan
• Hindu mum acts against top cop for refusing to locate child in interfaith custody battle
• Turkey's transgender queen says concept of heterosexuality is over
• Woman among four confess to beheading couple
Compiled by New Age Islam News Bureau
URL: https://www.newageislam.com/islam,-women-and-feminism/new-age-islam-news-bureau/saudi-women-too-are-crazy-about-world-cup/d/97817
--------------
Saudi women too are crazy about World Cup
30 June, 2014
DAMMAM — Saudi women too are big fans of football teams playing in the World Cup 2014 in Brazil.
The past two weeks saw many Saudi women avidly supporting their favorite teams. The women were exchanging their opinions on the matches on social media.
They not only watched the matches but also exchanged their critical comments and expressed their discontentment with the way the matches were played, the coaches' strategy or the decisions of referees, Al-Hayat daily reported Saturday.
There have been big turnouts of women in cafes to watch the World Cup games.
Female fashion designers designed abayas with the colors of the participant teams and their logos. Though these abayas were not a new trend, they received a big response from young women, especially teenage girls. They also used nail polish with the colors of their favorite teams. Shops sold women's T-shirts with the colors and logos of the teams.
Dr. Imad Al-Dowsari, a former consultant psychiatrist and sociologist at the International Health Center, said 60 percent of women chose to support clubs and national teams according to the team's elegance and looks of the players.
Al-Dowsari said women's craze for football is a form of mimicking. "It is not a psychological condition, but kind of imitating people around them in highly emotional situations.
"It is also an outlet for women to release their pent-up energy," he said.
Al-Dowsari said this is especially true of young women because unlike their male counterparts they do not have many outlets to release their energy.
Al-Dowsari, who is a member of the British Council for Psychiatry, added that women's football craze could reach a point where they would wear accessories with pictures of their favorite player.
This craze could affect a woman's social role, he said, but ruled out any psychological impact except in people who already have psychiatric problems.
http://www.saudigazette.com.sa/index.cfm?method=home.regcon&contentid=20140630209999
--------------
Men's Sports, Shorts Not For Women In Iran
30 June, 2014
Iranian women are free to love sports, as long as they do it in the safety of their own homes.
Female fans got a harsh reminder of this when they attempted to cheer for their men's soccer and volleyball teams this week.
Women attempting to attend World League volleyball matches being held this month in Tehran learned from the national police chief that their presence "was not in the public interest," while a female lawmaker argued that women at sporting events was a source of "disrespect and rape in society."
In an added slight, it was made clear that women and televised World Cup soccer matches were not a good match either -- at least not in public. The authorities made that clear by preventing public screenings of the game, which could result in mixed crowds, and putting pressure on cafes and restaurants to not show the games.
Defiance Wins
The strong-arm tactic backfired, because women promptly and publicly defied the authorities' efforts by assembling at small businesses to watch games and in the streets to celebrate Iran's World Cup performance.
And, while Iranian men and foreign women enjoyed the June 20 volleyball match between Iran and Italy at Tehran's Azadi Stadium, security forces dealt harshly with a small group of Iranian women outside.
The women had gathered to protest a longstanding ban on female spectators at sports stadiums, earning them physical and verbal abuse and, for some, police detentions.
They did succeed in highlighting gender inequality and discrimination against women in Iran, however.
Women were banned from attending sports events after the 1979 Islamic Revolution and the creation of the Islamic republic. Since then some exceptions have been made -- for example, during a 2006 World Cup qualifying game against Qatar played in Iran, and generally for volleyball and basketball games.
Hard-liners have claimed it is not inappropriate for women to attend such events, because men often use crude language and players wear shorts.
Some who oppose the ban -- including former President Mahmud Ahmadinejad, who in 2006 wrote to Iran's Physical Education Organization asking that women be allowed into stadiums -- have argued that the presence of women would improve the atmosphere at sporting events and push men to refine their behavior.
But Iran is not quite ready to lift the ban, apparently.
Playing With Rape
While in 2013 women were allowed to attend Volleyball World League games, fans who tried to buy tickets to league matches scheduled to be played in Tehran were told they would not be allowed. And while an exception had been made for women journalists, this month they too were barred.
Amid the ensuing outcry, female lawmaker Fatemeh Alia dismissed the idea of women spectators, saying their duty was to raise children and take care of their husbands, not to watch other men play volleyball.
"There is no reason for women to go to a venue where thousands of men have gathered," she said. "It [creates] the grounds for disrespect and rape in society."
Another female lawmaker, Sakineh Omrani, told payamno.com that women can watch sports matches at home, on television, if they wish, but not in stadiums "because while doing sports, men are not fully dressed."
Pouring salt in the wound is the fact that foreign women have been allowed to attend a series of Volleyball World League matches played in Tehran this month.
The indignity has attracted much attention, including from lawmaker Kamaledin Pirmoezen, who, after a mid-June series against Brazil said that "Iranian women, like Brazilian [women], should benefit from volleyball matches."
But bad news, accompanied by clarity regarding recent events, came on June 22. With Iran preparing for a second-leg match against Italy, it was announced that women journalists would be barred from attending World League contests for the rest of the month.
The same day, Iran's police chief, Esmail Ahmadi Moghadam, explained that "in the current conditions, the mixing of men and women in stadiums is not in the public interest."
Ahmadi Moghadam also noted that Ahmadinejad's 2006 call for women to be allowed into sports stadiums had been opposed by senior clerics.
"The stance taken by religious scholars and the supreme leader remains unchanged, and as the enforcer of the law, we cannot allow women to enter stadiums," he said.
Where Is My Seat?
"Stadiums for all" read one sign at the small protest organized outside Azadi Stadium on June 20. "Women ask: Where is my seat?" read another.
That was enough to attract the strong arm of the law, with protesters and eyewitnesses saying that several of the women, their male supporters, and at least one journalist were forcefully detained.
Well-known journalist Jila Baniyaghoob is among the most vocal critics of the ban on women fans and sports correspondents.
"The Islamic republic once again violated its commitment regarding women's rights," she wrote recently on her Facebook page.
There has also been criticism in the Iranian media.
Earlier this month, entekhab.ir likened the ban on women at sports stadiums to Saudi Arabia's driving ban for women.
"It's a simple issue, an issue that is common, banal, and normal all over the world, but in Saudi Arabia it has become a security problem."
Outside Iran, activists such as Leila Mouri are making sure the world is aware of the gender games being played.
Mouri was a member of the "White Headscarves" campaign that was launched in Iran in the 1990s to push for the ban to be lifted.
Under the rallying cry, "Women's rights equal half the freedom," the campaign shot to fame when it forced the authorities to allow women to attend the 2006 World Cup qualifier played at Azadi Stadium.
Mouri, who left Iran in 2006 and is now based in New York, says the election of Iran's relatively moderate President Rohani has created a space for activists to renew their call.
"Women feel the [political] atmosphere is slightly more open, they feel they can repeat some of their past demands, at the same time because of the [successes] of Iran's volleyball team, women decided they want to enter the stadium.
http://www.rferl.org/content/iran-women-banned-sports-stadiums/25434040.html
--------------
Pakistan: Girl burnt alive for rejecting marriage proposal
June 30, 2014
Toba Tek Singh - A teenage girl died in Toba Tek Singh after being doused in petrol and set alight by a man who wanted to marry her but whose proposal had been rejected, police said Sunday.
It was the second brutal killing in Punjab within days, after a 17-year-old girl and her husband were murdered by a group of relatives for marrying against their wishes. The latest incident took place Saturday in a village which is part of Toba Tek Singh town.
Sidra Shaukat, 18, was at home without her parents when 22-year-old Fayyaz Aslam entered her house, doused her with petrol and set her alight, Mohammad Akram, a police official told AFP. "She was taken to a local hospital which referred her to the main hospital but she died before reaching there," Akram said.
Aslam has been arrested and a case registered against him.
"The boy loved her and had also sent a proposal to marry her, but that was rejected by her family," Akram said. Sidra's father, Shaukat Ali, confirmed the killing and accused Aslam of harassing his daughter.
"He used to harass my daughter - yesterday he came in the afternoon and threatened dire consequences after we asked him to avoid coming again," Ali told AFP.
Punjab Chief Minister Shahbaz Sharif has taken notice of burning of a girl in Toba Tek Singh and sought a report from the District Police Officer (DPO).
He directed that the culprit involved in the incident be immediately arrested.
Another teenager, Maafia Bibi, 17, and her 31-year-old husband Muhammad Sajjad were murdered by Bibi's father, her two uncles, grandfather and mother on Thursday night for marrying against their wishes in Daska.
http://www.nation.com.pk/national/30-Jun-2014/girl-burnt-alive-for-rejecting-marriage-proposal
--------------
Malala becomes youngest recipient of Liberty Medal
30 June, 2014
PHILADELPHIA: Malala Yousafzai, who survived being shot by the Taliban because she advocated education for girls, has won the Liberty Medal from the National Constitution Center in Philadelphia.
Yousafzai was just 15 when she was shot in the head while returning from school in Mingora, Pakistan, in October 2012. She had angered the fundamentalist group by writing about life under the Taliban for the BBC, and arguing that girls should be allowed to pursue an education.
"It's an honor to be awarded the Liberty Medal," Yousafzai, now 17, said Sunday.
"I accept this award on behalf of all the children around the world who are struggling to get an education."
The medal has been awarded annually since 1989, when Polish Solidarity founder Lech Walesa received it first. Since then, recipients have included boxer Mohammad Ali, former US President Jimmy Carter, and, last year, then-Secretary of State Hillary Clinton.
Yousafzai will receive the award at a ceremony at the center on Oct. 21.
After surviving the attack, Yousafzai continued to be an outspoken advocate on education, prompting Gordon Brown, the United Nations Special Envoy for Global Education, to petition the agency to recommit to a goal of universal primary education for children around the world. The petition gained more than 3 million signatures and helped lead Pakistan to pass a Right to Education bill, a first in that country.
"Malala's courageous fight for equality and liberty from tyranny is evidence that a passionate, committed leader, regardless of age, has the power to ignite a movement for reform," said Florida Gov. Jeb Bush, the chairman of the National Constitution Center.
"Every day, around the world, individuals like Ms. Yousafzai are being threatened for asserting the same fundamental rights of speech and religious conscience that are inherent in all people," said Jeffrey Rosen, the center's president and chief executive officer.
"Yet she is undeterred in her quest. She is an inspiring voice for liberty across the globe."
http://www.dawn.com/news/1116079/malala-becomes-youngest-recipient-of-liberty-medal
--------------
Female Genital Mutilation in U.S. sparks warnings
30 June, 2014
Female Genital Mutilation may be rampant among some immigrant communities in the United States, activists have warned, but experts say the ritual may not be as common as is thought.
A report issued in early 2013 said the females in in the United States "face a very real and imminent danger" of having the procedure performed on them, although mostly cites "anecdotal evidence" regarding the procedures taking place on American soil.
The report also blamed community members, social-service providers and law-enforcement bodies, and even some U.S. health care providers, whom sometimes "do not want to question their patients' cultural practices" and will perform a limited version of the procedure involving small incisions in the clitoral hood.
However, a shortage of data remains a key challenge in measuring the problem.
One study on FGM in the United States, which was authored 15 years ago, estimated that close to 230,000 young women were at risk of the practice in the country every year.
While updated statistics on the increasingly secret practice in the United States could not be found, some say the practice is still taking place although in limited scope.
"An educated guess would be that there are circumcisions or mutilations occurring, but they're highly exaggerated in number," said Randa Serhan, a political sociologist at the American University in Washington DC.
Daisy Khan, executive director of the non-profit American Society for Muslim Advancement, told Al Arabiya News: "The numbers may be small, but even one case isn't acceptable to Americans."
Earlier this month, Jaha Dukureh, a 24-year-old ethnic Gambian who is a victim of FGM, campaigned in Washington in a mission to secure U.S. President Barack Obama's support - and that of government departments - to commission a report about its prevalence among Americans.
Dukureh's campaign appears to have garnered popular support. An online petition has so far amassed over 212,000 signatures.
However, "there are all these signatures, but they don't say who are the signatories or how they were obtained," said Serhan.
Is Dukureh's campaign likely to take off? Due to "zero tolerance among the public, we'll most likely see legislation against it," said Khan.
Tribal practice
FGM is practiced in many tribal societies in Africa, and in certain, usually rural areas in Arab countries, including Egypt, Yemen and Sudan.
Although "no religious scripts prescribe the practice, practitioners often believe the practice has religious support," notes a fact sheet from the World Health Organization.
The practice involves removing and damaging female genital tissue - usually on a young girl - ostensibly in attempts to control her future purity and sexuality.
However, FGM "has no health benefits, and it harms girls and women in many ways," said WHO.
The Muslim Council of Britain – which is comprised of 500 mosques forming its membership - issued a statement last week declaring for the first time that FGM is "un-Islamic," and "no longer linked to the teaching of Islam" – with one of the "basic principles" of Islam being that followers should not harm themselves or others, London-based daily The Guardian reported.
Despite being outlawed since 1996, and legislation passed last year making the transportation of girls out of the United States for FGM punishable by five years in prison, activists say the practice continues in the same fashion.
The summer months are when many families from ethnic communities send their children back to their homelands for the practice, a time of year that Dukureh describes as "cutting season."
The activist said FGM frequently occurs on U.S. soil.
"We've had calls from girls saying this doesn't only happen on vacation, we get cut right here in the USA," she said, according to a recent report by The Daily Beast.
http://english.alarabiya.net/en/perspective/features/2014/06/28/Female-Genital-Mutilation-in-U-S-sparks-warnings.html
--------------
Erbil Teenagers Girl Invent Bomb Detection System
30 June, 2014
ERBIL, Kurdistan Region — While the Peshmarga are on the front lines fighting the Islamic State of Iraq and Syria (ISIS), two unsung heroes in the heart of Erbil are also doing their best to protect Iraqi Kurdistan. Eman Abdul-Razzaq Ibrahim and Dastan Othman Hassan, 18-year-old high school students, have taken it upon themselves to invent a new bomb-detection system that could help safeguard people from the threat of terrorism.
The students say a twin bombing at the Interior Ministry in September prompted them to invent a better system.
"We were in the middle of a final exam in school," Eman recalls. "Everyone was so nervous. Phone lines were down. We couldn't focus on studies."
The two were also at school seven years ago when a car bomb detonated outside of the Interior Ministry, killing 19 people. They remember dropping their pens, terrified, as teachers called to check on relatives.
Preparing for a school science fair, Eman and Dastan set to develop a device that could prevent attacks from happening again.
Knowing that Kurdish security forces can't check every vehicle on the road, the girls sought to screen many cars in a short period of time. Encouraged by their teacher, they approached Erbil Governor Nawzad Hadi for advice. Hadi informed them that the most common form of explosive in the region was C4, but the two wanted to invent something capable of detecting a range of threats, including chemical weapons.
Initial efforts to design a new bomb sensor were dashed when the students were told Iraqi Kurdistan didn't have labs capable of developing such sophisticated technology. Instead of giving up, they shifted their focus.
"It takes a long time to check one car at a time, either with a single device or with a sniffing dog, and it can slow down traffic," Dastan tells Rudaw. "We realized we could use existing technology to develop a new system that could test many cars at a time, without stopping traffic and without drivers even knowing."
They set up a model whereby two bomb detector devices are hidden in trashcans on the side of a road, and one is affixed to a street sign above. Cars must slow down over a speed bump, where they are scanned by all three devices. Having studied the physics of light, the girls realized night vision CCTV cameras would pick up any ultraviolet light caused by the detector lasers, and immediately report the image of the car to security officials.
Although they didn't have the budget to buy a bomb detector itself—a single remote scan device costs $240,000 from Israeli company LDS—the company confirmed that their system would work. Eman and Dastan estimate that one system alone could process up to 64,000 cars a day. It would take over a year to check the same number of cars using current techniques.
Eman and Dastan earned the top prize at the science fair, and were awarded medals at the International Environment Sustainability Project Olympiad, an international competition held in June at The Hague.
Eman couldn't get a visa to Europe but Hassan's explanation of what it is like to live in fear of terrorism moved the judges to tears and prompted them to expand the scope of the competition, which usually focuses on environmental issues.
The students say 21 companies and the Dutch police approached them about using their system. Competition organizers were shocked that the girls hadn't already sold the system to the Kurdistan Regional Government.
The two refused all offers from companies, promising that they would bring it to their own government first—free of charge.
"The main point is to save people's lives," Eman says.
They also turned down their prize, a trip to Brazil, because the trip might interfere in their studies, and covered all expenses for the project and travel to Europe. Both are as selfless as they are bright: although they are both ambitious young engineers, they defer to their parents about where they will attend university.
Meanwhile faulty bomb detectors are still used in Iraq. In April 2013, A British court sentenced James McCormick to 10 years in jail for fraud for selling a fake bomb detector, the ADE 651, to the Iraqi government and the Kurdish Interior Ministry for $85 million. The device was designed after a sham golf ball detector, and its sale to the government drew accusations of corruption by Aqil Al-Turehi, Inspector General of Iraq's Interior Ministry, who found the device inoperative as early as 2008.
Thousands have died as a result of bogus detectors, which are inexplicably still at many checkpoints.
http://rudaw.net/english/kurdistan/280620141
--------------
Kerry Kennedy talks on women's rights in Bangladesh
30 June, 2014
Kerry Kenney, the president of the Robert F Kennedy Center for Justice and Human Rights and who is now visiting Dhaka, yesterday stressed the need for proactive citizens to help the government, NGOs and civil society implement laws on human and women's rights.
She spoke at a dialogue on "Women's Human Rights in Bangladesh: Achievements, Challenges, Opportunities" held in the capital's Bengal Café.
"The process of democracy in Bangladesh should remain healthy," said Kerry, who is the daughter of Robert F Kennedy and Ethel Skakel Kennedy.
Kerry is an author and lifelong supporter of Human Rights amongst other things.
Kerry hoped that this meeting will help facilitate the dialogue between state actors and non- governmental organisations on how to address the violations of human rights properly.
http://www.dhakatribune.com/bangladesh/2014/jun/29/kerry-kennedy-talks-women%E2%80%99s-rights-bangladesh#sthash.4Wz1CYuZ.dpuf
--------------
Surging Violence Against Women in Iraq
30 June, 2014
Being a woman in Iraq was difficult before the current conflict. The current wave of militarization threatens to make life even worse.
Shortly after their conquest of Mosul, young men armed with assault rifles went door to door in Iraq's second-largest city, taking "women who are not owned" for jihad al-nikah, or sex jihad.
From June 9-12, women's rights activists documented 13 cases of women who were kidnapped and raped by militants of the Islamic State of Iraq and Syria (ISIS) or DAIISH, the Arabic shorthand for the group's name. Of the 13 women, four of them committed suicide because they couldn't stand the shame. One woman's brother committed suicide because he could not bear the fact that he was unable to protect his sister.
The dispatches from Mosul are just one account of the extreme violence that has plagued Iraq since Sunni ISIS militants seized control over large portions of the country. Being a woman in Iraq was difficult before the current conflict. But the current wave of militarization threatens to make life even worse.
"Women are being taken in broad daylight," said Yanar Mohammad, co-founder and president of the Organization of Women's Freedom in Iraq, a Global Fund for Women grantee partner. "Men have the weapons to do whatever they want and [ISIS'] way of dealing with things is to kill."
Now military leaders are handing guns to young, untrained, undereducated, and unemployed Shia men. These men are promised big salaries if they leave their homes to fight, according to an anonymous Global Fund ally in Baghdad.
"When we [women] commute to our office, walk in the street, or take the bus, we experience harassment," added the Global Fund ally, who remains anonymous due to security concerns. "But now, all of the men have weapons. I think maybe he will kidnap or shoot me if I don't do what he wants. They will shoot and do anything, and because of the fatwa [urging able-bodied Iraqis to take up arms against Sunni extremists] no one asks questions.'"
Sectarian Violence Slows Women's Progress
With a death toll of 1,000 and rising since the beginning of June, the sectarian conflict has forced most women's rights organizations to scale back their programs.
The Organization of Women's Freedom in Iraq was in the middle of a campaign against Article 79 of the Jaafari Personal Status Law—a law which, among other women's rights violations, would grant custody over any child two years or older to the father in divorce cases, lower the marriage age to nine for girls and 15 for boys, and even open the door for girls younger than nine to be married with a parent's approval. Now it takes everything the organization has just to keep their shelters open and women safe.
"We cannot speak of women's rights now unless we are speaking of the livelihood of those who are totally jeopardized, such as women who lost families and young girls who are vulnerable to corrupt officials or clerics," said Yanar Mohammad. "We went from legal work and improving rights of women to working in a state of emergency and trying to find the lowest chain in society and get them to safety."
The Tangled Web the U.S. Wove
Such extreme sectarian violence is a relatively new phenomenon in Iraq, reflects Yanar Mohammad, who is "sick and tired" of western pundits on TV saying there is no hope for Iraq.
"The mainstream media trashing Iraqi people is unbearable and is a total manipulation of the facts of America's role in dividing Iraqi people," said Yanar Mohammad. "The political process that the U.S. government put in place is a total failure and they [the United States] just left. The damage is not on them, it's on us now."
The damage comes in the form of, among other things, a generation that didn't have access to education.
"This generation listens to whatever the clerics and politicians say," said Yanar Mohammad. "They are ready to throw themselves in the fire and they do it in the name of their Imam. … Both politicians and religious heads are pushing the country into a very sectarian divide and it's frightening."
Refugees Flee to Kurdish Region
As the fighting intensifies in northern and western Iraq, over 300,000 people have already fled to the Kurdish region for safety, where the United Nations and relief organizations have set up a refugee camp in the arid region of Khazer.
"It is very hot and there is no water; we were not prepared for this influx of refugees," says a Global Fund ally in Erbil, the capital of Iraqi Kurdistan. "The situation is by no means sustainable. The majority has nowhere to go and is staying in parks. Entire families are left without the most basic of shelter, food, and clothes."
While these waves of displacement to Kurdistan include Shia, Sunni, and Christian families, the pressure on Iraqi Christians has been strongest due to the infamous brutality of ISIS.
"Christian women in the areas controlled by ISIS are forced to wear hijab or face death," said a Global Fund ally who lives in Baghdad. "They must pay a protection tax, or jizyah to ISIS to stay safe."
If the violence is not seriously addressed, our ally in Erbil says Iraqi women know exactly what is going to happen next because they have endured it over and over again since the U.S. invasion in 2003, and during the first and second Gulf War.
"We know what has happened to women in Iraq—a lot of murders and violations—and we have already suffered to an unbearable extent," said the Global Fund ally in Erbil. "There is nothing they haven't done to us, which is why panic spreads among women as soon as we hear of another crisis. Women are used as a weapon for retaliation."
Zahra Radwan is the program officer for Middle East & North Africa at Global Fund for Women and Zoe Blumenfeld is the communications manager at Global Fund for Women. They are both guest columnists at Foreign Policy In Focus.
Source: Foreign Policy in Focus
http://fpif.org/surging-violence-women-iraq/
--------------
US Muslim Kids Trained for Ramadan
30 June, 2014
CAIRO – Awaiting the holy fasting month of Ramadan, the family of Noor Khan have been preparing their kids to take part in fasting the holy month to taste the month's high spirituality and share the needy their feelings all through the year.
"My kids and I have been fasting prior to Ramadan in order to kind of get ready for the long fast because the [summer days] are very long this year," Noor Khan, a Naperville resident and Chicago native, told Chicago Sun Times.
The mother of three has been preparing her family members to welcome the holy month of fasting that started on Saturday.
"Amazingly every year I'm like, 'Oh my gosh, I don't know how we do it.' But once it rolls around, it's really quite easy because the whole [Muslim] community is fasting," Khan said.
"When we come together and we're worshipping, we're all fasting; it's a feast of the soul.
"We benefit when we sit together and your stomach doesn't become the center of your social gathering, but God becomes the center of it."
The father, Syed Quadri, said "they've focused on drinking lots of water to prepare their bodies".
While Quadri's daughters spend the day in Ramadan in going to mosque and reading the holy Qur'an, the Naperville father set his goal "to finish the more than 6,000-verse and 600-plus-page Quran at least twice".
"The girls are part of a program where every day there will be 30 to 50 girls that are all working on the same goal and worshipping together," said Quadri's wife, Noor Khan.
"A personal goal for everybody every Ramadan is always to try and better yourself as a human being. You don't have to worry about what you're going to eat, so instead worry about how you're going to act," Muryem Quadri, the 16-yer old daughter, said.
Charity
Along with reading the Noble Qur'an and attending religious classes, California's "charitable activities" were a basic part of Ramadan preparations, where tons of food are being donated by the state's Muslims.
"Here at the Islamic Foundation, we do multiple fundraisers for local organizations . . . needy communities, food pantries," said Imam Hisham AlQaisi the Islamic Foundation in Villa Park.
"[Muslim] communities really come out strong to give for those causes throughout the year and particularly in Ramadan.
"When you start to dissociate yourself from the worldly needs and you dissociate yourself from those worldly desires, it's easier to be more charitable," he said.
For Oak Brook resident Shala Khan, 43, fasting is a "spiritual journey", but "the first week feels like a very physical journey because your body has to adjust.
"Typically, the kids, they'll participate in their summer camp activities. It's still a very, very full day. But we take a little time for ourselves to have a moment where we can catch our breath, maybe have a little siesta in the afternoon or have some quiet time.
Amid the fasting, "It's a time to really delve deeper into our faith and to embrace all the beauty and truth that our faith entails and hopefully our endeavor to come out a transformed and more connected individual after Ramadan.
In Ramadan, adult Muslims abstain from food, drink, smoking and sex between dawn and sunset.
The sick and those traveling are exempt from fasting especially if it poses health risks.
Fasting is meant to teach Muslims patience, self-control and spirituality, and time during the holy month is dedicated for getting closer to Allah though prayers, reading the Noble Qur'an and good deeds.
http://www.onislam.net/english/news/americas/474411-us-muslim-kids-trained-for-ramadan.html
--------------
Hindu mum acts against top cop for refusing to locate child in interfaith custody battle
30 June, 2014
Kindergarten teacher, M. Indira Gandhi, who is embroiled in an interfaith custody battle, has returned to court seeking justice after police's refusal to adhere a court order to locate her daughter and arrest her ex-husband.
Indira (pic) filed a judicial review application, naming the Inspector-General of Police Tan Sri Khalid Abu Bakar as the respondent, at the Ipoh High Court registry this afternoon.
She wants the court to direct Khalid to execute his duties in accordance with the law or face contempt proceedings.
In her affidavit, Indira said the police had refused to act despite specific orders from the High Court.
Indira said she now feared that her ex-husband, Muhammad Ridzuan Abdullah, would abscond overseas with the child.
She said the High Court order was valid because it came from a competent authority.
"The police must act as the High Court was superior to a Shariah Court in Perak," she said.
Ipoh High Court judge Lee Swee Seng had on June 11 ordered police to arrest Ridzuan and return Prasana Diksa to Indira.
Indira's lawyers had served the recovery order and arrest warrant on Khalid but the top cop has refused to act on grounds there were two custody orders from the civil and religious courts.
The warrant states that Ridzuan will have to remain in prison once police have located him and his daughter Prasana.
The father and daughter are reportedly living in Kota Baru, Kelantan.
On May 30, Lee found Ridzuan guilty of contempt and gave him a week to return Prasana to Indira, or face imprisonment.
Ridzuan, who has held onto Prasana since April 2009, has defied the order.
In 2009, he had obtained custody of their three children – Tevi Darsiny, 16, Karan Dinish, 15, and Prasana, then 2 – from the Shariah High Court, after he
unilaterally converted them to Islam.
The following year, the High Court granted Indira custody of the couple's three children.
In July last year, Lee quashed the certificates of conversion as unconstitutional.
Earlier today, the Seremban Shariah High Court granted Khalid a stay of execution on an order compelling police to assist in the retrieval of the children of N. Viran @ Izwan Abdullah, who is also involved in another custody battle.
Lawyers Zulkifli Che Yong and Azmi Mohd Rais represented Khalid in proceedings held in chambers.
Zulkifli told reporters that the ex-parte stay order gained today is pending a decision on the jurisdiction of the civil and shariah courts on the interfaith custody dispute, which would be decided by the Court of Appeal or the Federal Court.
The Seremban Syariah High Court had previously issued an order to the police to assist in the recovery of the children from Izwan's former wife S. Deepa.
Deepa had on April 7 this year obtained an order from the High Court in Seremban for the custody rights over her two children.
On September 19 last year, the Seremban Shariah High Court granted custody of Izwan's two children to him.
The decision today follows a separate order from the same Shariah High Court compelling the police to find and retrieve the children.
http://www.themalaysianinsider.com/malaysia/article/hindu-mum-acts-against-top-cop-for-refusing-to-locate-child-in-interfaith-c#sthash.HiDsqHb6.dpuf
----------
Turkey's transgender queen says concept of heterosexuality is over
30 June, 2014
Yankı Bayramoğlu who won the 5th Transgender Beauty contest organized last week as part of the Pride Week said that the concept of heterosexuality is over, both in Turkey and in the world.
"The feelings that you experience are not a disease. They are not something that you can brush over. I am a very strong woman and I will not give up on myself just because men want me to. Even if I face harassment not only once but a thousand times, I will still be myself. Because I am a woman, that's what I want to be and what I experience," Bayramoğlu told daily Hürriyet in an interview.
A dancer and a lesbian, gay, bisexual, and transgender (LGBTI) activist, Bayramoğlu underwent a gender operation when she was aged 20 and then 21. Now, at 23 she participated for the first time in a Beauty pageant after her friends encouraged her to. She will now represent Turkey at an international contest that will be held in Thailand next November.
Bayramoğlu's says that contrary to what many people's perceptions, Turkey is quite open regarding people of transgender. She nevertheless stresses that some people's openness does not turn into a social behavior.
"Everything is lived behind closed doors. I know many either famous or highly-ranked people, from the show-biz industry or Parliament, who live with their wives but have a transgender girlfriend. There are even people who live in a ménage à trois or even change their partners," says Bayramoğlu. However, in a public setting people who are transgender or gay constantly receive insults on the streets or on social media.
"The media watchdog [Supreme Board of Radio and Television, RTÜK] exerts pressure on the media. There are bans. But, when you look around a little bit, we are everywhere. I know many transgender people who live secretly to avoid being under pressure in their social life," she says.
"For example a transgender friend of mine has undergone a sex change operation and became a woman. She has a wife and kid, but they live in different cities. Her wife still doesn't know that she is a woman."
She also explained that with time, her family's unfavorable opinion changed into support. Regarding surgeries, Bayramoğlu says that this should be accepted by society as normal.
"For me they were simple. I never thought of them as 'it hurts me here and there.' This should have been lived in some way or another. But those are important decisions whose results we will carry all of our lives," she says.
Istanbul's 12th pride week, which opened with the transgender march last week, is set to end with the always colorful Pride March on June 29.
http://www.hurriyetdailynews.com/turkeys-transgender-queen-says-concept-of-heterosexuality-is-over-.aspx?pageID=238&nID=68441&NewsCatID=339
----------
Woman among four confess to beheading couple
30 June, 2014
SIALKOT: The four suspects, including a woman, arrested for beheading a newly-wed couple for contracting love marriage at Satrah village of Daska tehsil on Sunday confessed committing the heinous crime, according to police.
The suspects -- Ghulam Rasul (slain girl's grandfather), Shamshad (her uncle), Bashiran Bib (her mother) and Iqbal Hassan (her uncle) – told police the couple was punished for "tarnishing the family honour" and that they felt no remorse over killing them.
Sajjad Ahmed (27) and Mafia Bibi (23) had contracted love marriage on June 18. Both were beheaded allegedly by the girls' parents and relatives after being kidnapped from their house at Hassanabad village.
Daska Deputy Superintendent of Police (DSP) Engineer Zahid Hussain told newsmen police teams were raiding various places for early arrest of the prime suspect, Dilshad, who is father of the slain girl.
An FIR (No 269/2014) was lodged at Satrah police station under sections 148, 149, 302 of the PPC and Section 7 of Anti Terrorism Act against seven people, five of them nominated as suspects.
On June 28, 2014 an Anti Terrorism Court (ATC) had given a week-long physical remand of the suspects to Daska police till July 4, 2014.
http://www.dawn.com/news/1116055/woman-among-four-confess-to-beheading-couple
----------
URL: https://www.newageislam.com/islam,-women-and-feminism/new-age-islam-news-bureau/saudi-women-too-are-crazy-about-world-cup/d/97817