New Age Islam News Bureau
17 Aug 2015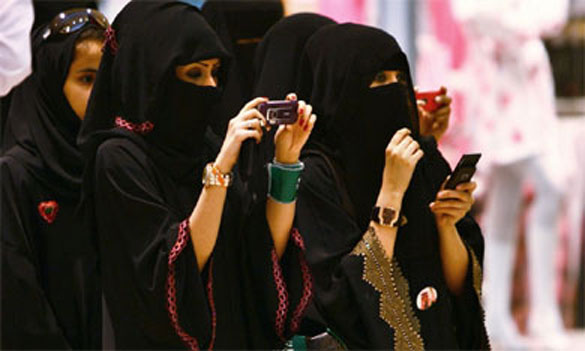 Veiled Saudi women take photos of their children during a ceremony to celebrate Saudi Arabia's Independence Day in Riyadh, September 23, 2009.
----------
• Dukhtaran-e-Millat Chief Andrabi Booked For Hoisting Pak Flag
• Mentorship Programme Opens For Emirati Women Writers
• You Don't Need To Do an Item Number for Respect in Pakistan: Mahira Khan
• UN Initiative for Gender Equality Reaches Karachi
• Three Women, Man Fall Victims to Honour Taboo in Pakistan
• Muslim Feminists Rewrite Boundaries on the Street and At Home
• Why Young, Western Muslim Women Are Choosing the Full Face Veil
• Infertility among Women Focus at Conference
• Indians in UAE Yearn For Women's Safety on I-Day
Compiled by New Age Islam News Bureau
URL: https://newageislam.com/islam-women-feminism/saudi-women-vote-first-time/d/104296
-----------
Saudi Women to Vote for First Time in Kingdom's History in Upcoming Elections
August 16, 2015
Women living in Saudi Arabia will make history later this year when for the first time they'll be allowed to vote.
"My message during my campaign is simple: Change the system. Change is life. The government has given us this tool and I intend to use it," said Haifa Al-Hababi, one of the 21 female candidates who is preparing to stand in the Dec. 12 municipal election as reported by Asia News.
Saudi Arabia's discriminatory male guardianship system continues to dominate the lives of women, despite government pledges to abolish it. According to Human Rights Watch, the system forbids women from obtaining a passport, marrying, traveling, driving, or accessing higher education without the approval of a male guardian, usually a husband, father, brother, or son.
The late King Abdullah Bin Abdul Aziz annouced that women would be allowed to run for office and elect representatives in the 2015 elections, after a social media protest on the lack of women's rights sparked outrage online in 2011.
King Abdullah also appointed women to the country's 150-member advisory body and allowed female athletes to compete at the Olympics in London in 2012 for the first time, as reported by The Washington Post
His successor, King Salman who took over the country earlier this year, continued to support the advancement of women, leading to a large influx of female workers entering the labor force in record numbers.
Experts say that female accessibility to the labor force must increase in order to secure long‐term economic goals and prosperity in the Middle East.
"To have around 50 percent of your possible workforce not being utilized is a burden," said Monica Malik, chief economist at Abu Dhabi Commercial Bank in the neighboring UAE to Asia News.
Saudi Arabia enforces a strict Wahhabi version of Sunni Islam, which places many restrictions on women's activities and social rights. As of 2015, women still cannot drive a car, leave home or the country without a male relative, or receive medical treatment without permission.
Demonstrations are illegal in Saudi Arabia, where the al-Saud family has held a firm grip on power since 1932. The country's first significant protest in favor of women drivers was held in 1995.
In June 2011, dozens of women drove in several cities to protest the arrest of a woman after she posted a video of herself driving, according to a report by Russia Today.
A top religious cleric also sparked controversy when he said that medical studies proved that driving a car damages a woman's ovaries, sparking a satirical song which was also uploaded on the day of a protest driving campaign in 2013.
According to Chritian persecution watchdog group Open Doors, Saudi converts to Christianity from Islam face the risk of being killed or abused by their own families, and house churches are often raided by the religious police.
The Kingdom is also home to the two most important holy places for Muslims, Mecca and Medina. The country is currently facing the threat of al-Qaeda in the Arab Peninsula and Islamic State on the border with Iraq. Both radical groups have a large following in Saudi Arabia.
http://www.christianpost.com/news/saudi-women-to-vote-for-the-first-time-in-kingdoms-history-in-upcoming-elections-142794/
-----------
Dukhtaran-e-Millat Chief Andrabi Booked For Hoisting Pak Flag
Aug 17, 2015
SRINAGAR: Chief of radical women's outfit Dukhtaran-e-Millat, Asiya Andrabi, was booked for hoisting Pakistan's flag on the neighbouring country's Independence Day in Kashmir, police said.
"A case FIR no 84/2015 under Section 13 of Unlawful Activities Act has been registered against Andrabi," a police official said.
He said investigations in the case were in progress and, if need be, more sections will be invoked against the separatist leader.
The DeM chief unfurled Pakistan's flag and sang its national anthem on the neighbouring country's Independence Day in Bachpora area on the outskirts of the city.
Hours later, Andrabi stoked another controversy by addressing a rally organised by Mumbai mastermind Hafiz Saeed-led Jamat-ud Dawa in Pakistan and greeted the people of the neighbouring country on their Independence Day in a telephonic address.
Andrabi had earlier also celebrated Pakistan's National Day on March 23 this year and hoisted the flag of country and sung its national anthem, following which the police had registered a case against her under Unlawful Activities Prevention Act.
http://timesofindia.indiatimes.com/india/DeM-chief-Andrabi-booked-for-hoisting-Pak-flag/articleshow/48511638.cms
-----------
Mentorship programme opens for Emirati women writers
August 16, 2015
Dubai: The Emirates Literature Foundation has launched a Mentorship Programme for emerging women Emirati writers to have their work mentored by award-winning fiction writer, Liz Fenwick.
The writer will mentor one candidate through the process of writing a debut novel from beginning to end.
The mentorship programme will be open to all Emirati women who choose to write in English, irrespective of what stage their novel has reached. The eventual candidate will be mentored in forming the structure of the novel, its concept and theme, and will be offered expert advice along this exciting journey.
"Many of the novels set in the Emirates are written by expats, but there are not enough stories in the English language about Emirati life. It's going to be immensely hard work for the eventual winner, but I'm here for them," said Fenwick.
The author of four books, with a fifth releasing in 2016, said the programme is her way of giving back to the country that she has lived in for over 11 years. "My novels are about women, and that's one of the main reasons I'm looking to mentor a woman writer. It's an opportunity to hear other women's stories," said Fenwick.
Shaikh Ahmad Bin Saeed Al Maktoum, Chairman of the Emirates Literature Foundation, pointed out that one of the key aims of the foundation is to find different ways to encourage a culture of reading and writing and to provide young Emirati writers with a platform to launch their writing careers. "With this mentorship programme, we are giving them a fantastic opportunity to tell their stories and hone their creative writing skills," he said.
On completing the first draft, Fenwick will instruct the writer in the art of self-editing, an important process in making the final draft into a prepared manuscript ready to be sent to agents and publishers. Once Fenwick and the candidate are satisfied with the final manuscript, she will help her pitch the novel to literary agents and publishers.
Candidates should apply online with a 2000-word submission of their novel, along with a brief synopsis and the theme of the book. Submissions close on November 30. The candidates will be shortlisted and the winner of the programme declared in January 2016.
For details on the programme visit diwc.ae/the-liz-fenwick-mentorship-programme
http://gulfnews.com/news/uae/society/mentorship-programme-opens-for-emirati-women-writers-1.1567636
-----------
You don't need to do an item number for respect in Pakistan: Mahira Khan
Aug 17, 2015
While in India for the shoot of her Bollywood debut film Raees, the actress not only had jitters working opposite megastar Shah Rukh Khan, but also faced the pressure of what people at home would think about her work. After all, actresses are particularly scrunitised for their work in India.
"I was constantly very scared during my shoot, so much so that I couldn't deliver my dialogues," she disclosed during an interview on The Reham Khan Show on Dawn News.
"The [Raees team] tried to make it easy for me. Still, I was so stressed out. But everything was all in my head," she later added.
While explaining that it's an actor's job to embody the traits of their character (even if it ruffles a few feathers at home), she went on to say that she feels very lucky to be an actor in Pakistan.
"The more clothes you wear, the more respect you're given. You don't need to do an item number for respect here," she observed.
While the actress refused to disclose anything further about Raees, she did offer the following as word of advice for other Bollywood-bound actors:
"Just remember that you're being asked there because they've seen your work, and it's good."
Mahira Khan's television series are a hit on India's Zindagi TV. But some people criticise her for playing too many weepy roles.
"Humsafar is a drama that's embedded in everyone's memory. After Humsafar, I got lots of offers to do similar roles, but turned them down, even though some of those scripts were really well-written. I wanted to do something different, and decided to do Shehrezaat instead."
But she admits that weepy characters may have depleted her personal stock of tears.
"I don't know how to cry anymore, and I'm not sure that's a sign of strength. For Sadqay Tumhare, they were pouring glycerine into my eyes, but not a teardrop would emerge. It was only when I witnessed a grisly incident at the hospital where I was shooting, that the waterworks turned on!"
Mahira also revealed that her on-set nickname is 'Mazdoor Khan' because she doesn't mind mingling with the rest of the 'awaam' on set.
"My makeup team is constantly telling me, 'Don't sit like this', 'Don't eat with your hands'. But it's not fun otherwise!"
http://www.dawn.com/news/1200994/you-dont-need-to-do-an-item-number-for-respect-in-pakistan-mahira-khan
-----------
UN initiative for gender equality reaches Karachi
Aug 17, 2015
KARACHI: HeforShe, UN Women's solidarity campaign for gender equality, has reached Pakistan and the goal is simple — "to bring together one half of humanity in support of the other half of humanity, for the benefit of all". Inviting all segments of society to fight for equality among the sexes, a community meeting was held at the MAD School on Sunday and in attendance was an eclectic group of forward thinking individuals with the aim to make a difference.
With feminism being mistakenly painted as a means of inciting hatred against men, women around the globe are seen to be disassociating themselves from supporting this movement. As a result, UN Women decided to start the HeforShe campaign in which men play as important a role as women in the fight for gender equality.
The movement for gender equality has floundered and lost its momentum primarily because it has always being sidelined as a struggle for women, by women. However, the premise of HeforShe differs as it believes that social, economic and political equality is the right of all, and the campaign actively seeks to involve men and boys in attaining this goal.
HeforShe-Pakistan is a collaboration led by young Pakistani voices working in different professional fields who, despite their differences, have come together to further this campaign. These civil society activists, in collaboration with UN Women in Pakistan, have begun volunteering to share and spread the message of gender equality as widely as possible. The Pakistan-led campaign is headed by Noman Quadri, Awais Khalid, Marina Marri, Shiza Shaheen, Hassan Wasif Qavi, Yahya Iqbal and Ebad Ahmed.
The statistics highlight a disturbing trend: men too face harassment similar to women, though their percentage is much lower
An important emphasis of the campaign is that it strives for the creation of attitudes in society that believe in, encourage, and strive for equality rather than promoting one gender as being superior to the other.
A need assessment was carried out at the community meeting to identify the problems faced by both men and women out on the streets. Organisers shared statistics of incidents of sexual harassment, street harassment and the verbal diatribe that is frequented at public places such as dhabas, parks and markets which is intended to intimidate and evoke fear and insecurity. The statistics highlighted a disturbing trend: men too face harassment similar to women, even if their percentage is much lower.
Sexist slurs used against men and women was also a topic of discussion, and organisers spoke about a need to streamline a more overt struggle against the use of such words in our daily diction, friendly exchanges, songs and movies.
There is also a need for the media in Pakistan to empower women by portraying their rights, believes HeforShe-Pakistan. The debate is about freedom to be who we are and do as we please, for both genders. As men also suffer from the stereotypes society forces them to adhere to, the campaign aims to eliminate this form of discrimination too.
To make a difference, HeforShe-Pakistan believes change must come from the grass roots. This means educating the youth and propelling them to take the message forward. A network, according to the team, needs to be created to eliminate gender inequality. This brand of activism requires sustainable efforts to change the attitudes of people in society. Everybody needs to come onboard and fight harassment of all sorts, be it harassment faced by women, or men.
Hailing gender equality as not a "women's issue, but a human issue," HeforShe-Pakistan has set up innovation labs that target schools, colleges and universities to speak up about the problem and generate discourse, rather than stifle or ignore it.
Questions were also raised at the meeting about the lack of implementation of sexual harassment laws within work spaces, and the rural-urban divide which aggravates gender disparity in certain areas of the country.
Gender inequality is a problem that, according to HeforShe-Pakistan, needs to be addressed at home, at public places, in education systems, at workplaces, in the media, as well as in society in general.
HeforShe is a global campaign, and actress Emma Watson, also the UN Women Goodwill Ambassador, officially launched the campaign at the UN headquarters in Sept 2014. Championing the cause of equality, she spoke about the disparity between what men and women are paid at their workplaces, and how women should also be involved in the formation of policies and decision-makings of their country.
"No country in the world can yet say they have achieved gender equality," she said in her speech.
Published in Dawn, August 17th, 2015
http://www.dawn.com/news/1200911/un-initiative-for-gender-equality-reaches-karachi
-----------
Three Women, Man Fall Victims to Honour Taboo in Pakistan
August 17, 2015
SARGODHA/GUJRANWALA/SHEIKHUPURA
Three women and a man were killed in the name of 'honour' and three women were abducted from different areas on Sunday.
In Sargodha, a man gunned down his granddaughter and her paramour after he found them in objectionable condition.
The incident occurred in village 135/North the other night.
The woman namely Robina had come to meet her parents. In the night, she invited her alleged paramour Shahzad Yousaf to the house for a meeting. In the meantime, her grandfather Mohammad Ramzan spotted them in compromising condition. He fired multiple shoots on them, killing Robina and her lover on the spot.
In Gujranwala, a man gunned down his wife and daughter allegedly for 'honour.' Nasir Ali Cheema, a resident of Talwandi Khajoorwali had a quarrel with his wife Musarat and young daughter Ayesha over the issue. They exchanged hot words and in a fit of rage, he shot both his wife and daughter dead. The accused managed to escape. On the application of his brother Muhammad Iqbal, the Cantt Police have registered a case.
In Sheikhupura, three women were allegedly abducted from different areas of the district on Sunday.
The Muridke Saddr Police registered an abduction case on the application of a labourer Sakhawat Ali, a resident of village Nangle Essa. He told the police that his 18-year-old daughter Taiba Bibi was abducted by a youth Arshad along with his two accomplices. She was on the way to fields when the accused abducted her.
In village Bara Virkaan, two sisters —- Toheed Faima, 15 and Arooj Fatima, 17, —- daughters of farmer Muhammad Khan were also abducted some unidentified culprits.
Khan informed the police that his daughters had gone to see their friend Amara in nearby village Sekham. However, neither they returned home, nor there is any clue about them. The Sheikhupura Saddr Police have registered a case and started investigation to locate the girls.
http://nation.com.pk/national/17-Aug-2015/three-women-man-fall-victims-to-honour-taboo
-----------
Why Young, Western Muslim Women Are Choosing the Full Face Veil
August 14, 2015
Zainab bint Younis is a young, muslim blogger who lives near Vancouver and describes herself as goth steam-punk. She also wears a niqab, the full face veil with a narrow slit at the eyes.
This week's Shortwave explores the cultural and religious motivations of veiling, as well as the difficulty of eating French fries with one's face completely covered.
We're joined by Younus, who blogs at The Salafi Feminist and Nancy Youseff of The Daily beast.
http://www.pbs.org/newshour/updates/young-western-muslim-women-choosing-full-face-veil/
-----------
Infertility among women focus at conference
August 16, 2015
Dubai: Financial independence and pursuing higher education has become a priority among women delaying plans to marry, making it harder to conceive at an older age, said Dr Awatef Al Bahar, Chairperson of Emirates Infertility OBGYN, at the Ferticare Conference.
This year's Ferticare conference, held in Al Bustan Rotana today, hosted an array of speakers from the medical field, specifically those with specialities related to women, to discuss the recent advances in the fields of infertility and obstetrics.
Dr Awatef explained that the chances of infertility in married women over the age of 40 increased to 29 per cent whereas 64 per cent remain childless.
"For those above the age of 40, so long as the women's ovaries are still producing eggs, we do not give up," she said. "We analyse the situation, give the women proper treatment and examine potential factors that could delay the pregnancy process in order to find solutions."
She added that there is a certain percentage of each age group that will remain infertile because they were either born with the defect or face severe medical issues.
Dr Awatif explained that sterilisation, a permanent method of contraception, can be affective with women who have had more than three caesarean sections.
"In the case where a mother has had three-four Caesareans it makes sense to undergo sterilisation, ensuring that all the necessary requirements set by the UAE Federal law are met, to avoid disturbance or damage to the neighbouring organs and excessive bleeding," she said.
Dr Awatif clarified that patients are advised and are never forced to undergo any procedure.
The UAE Federal Law No 10/2008 clearly states that when seeking sterilisation, approval of three OBGYN consultants or one physician and two OBGYN (obstetrics gynaecologist) consultants is necessary, a written consent is a must and the husband should be informed. It is prohibited by law to undergo sterilisation for contraception purposes only with no evident medical indications
Dr Awatif clarified that undergoing several caesarean sections is discouraged, especially for those with more than two children.
Dr C. N. Purandare, President Elect FIGO (International Federation of Obstetricians and Gynecologists), said that half the caesarean sections done are unnecessary, using an unnatural method for such a natural event. He added that there are health risks, such as the weakening of the uterine wall, associated with caesarean sections.
http://gulfnews.com/news/uae/health/infertility-among-women-focus-at-conference-1.1567761
-----------
Indians in UAE yearn for women's safety on I-Day
August 16, 2015
As the diaspora in the United Arab Emirates (UAE) celebrated India's 69th Independence Day, many expatriates wished for the safety of women in India, a media report said on Sunday.
Excited about Prime Minister Narendra Modi's visit to the UAE on Sunday and Monday, a surge of patriotism among Indians was evident.
While some of the residents stressed the need for freedom of women in India, many said freedom is not a problem, but more needs to be done for women's empowerment, Khaleej Times reported.
"In 1947, we received our identity, but we did not receive it that easily. Many people suffered for that freedom and that is why we can never forget ... (them)," Mudid Gupta, a resident of Abu Dhabi, said.
A group of young women at the celebrations said they hoped to see less crime and more safety for Indian women.
"The Independence Day celebrations hosted by the Indian mission in Dubai bring us closer to our home country. We try not to miss it because it keeps us close to home," Dubai resident Vandana Bhaskaran said.
"I try and attend the flag-hoisting ceremony in the consulate every year. It is important that our children learn more about our country and culture," Sharjah resident Rekha Sivadasan said.
http://www.business-standard.com/article/news-ians/indians-in-uae-yearn-for-women-s-safety-on-i-day-115081600316_1.html
-----------
URL: https://newageislam.com/islam-women-feminism/saudi-women-vote-first-time/d/104296