New Age Islam News Bureau
20 March 2018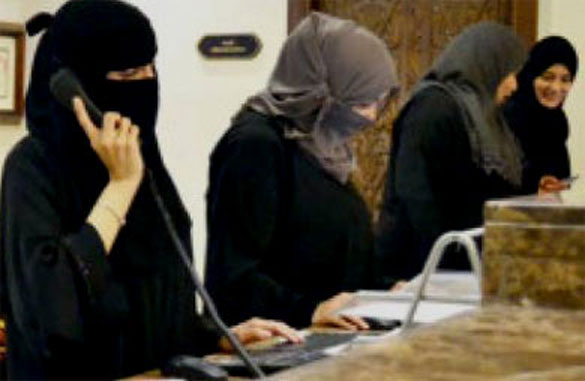 Saudi women working in an hotel in Makkah
-----
• Women's Economic Forum opens in Riyadh
• Saudi Women Take Up Jobs in Makkah Hotels
• Women GPS Bring Remote Care to Rural Pakistan
• Saudi Arabia Celebrates Female Leaders in Push to Welcome More Women to the Workforce
• Cyber Thugs Stir Up Tirades of Hate against Indonesian Women Demanding Equality
• College Teacher's Offensive Remarks About 'Un-Islamic Dressing' By Muslim Girls Spark Protests
• Christian Women Seek Collaboration with Muslim Counterparts to End Schoolgirls' Abduction
Compiled by New Age Islam News Bureau
URL: https://www.newageislam.com/islam-women-feminism/saudi-women-choice-whether-wear/d/114656
--------
Saudi women should have choice whether to wear abaya robe: Crown Prince
Mar 19 2018
Women in Saudi Arabia need not wear headcover or the black abaya - the loose-fitting, full-length robes symbolic of Islamic piety - as long as their attire is "decent and respectful", the kingdom's reform-minded crown prince said.
With the ascent to power of young Prince Mohammad bin Salman, the kingdom has seen an expansion in women's rights including a decision to allow women to attend mixed public sporting events and the right to drive cars from this summer.
The changes have been hailed as proof of a new progressive trend towards modernisation in the deeply conservative Muslim kingdom, although the gender-segregated nation continues to be criticized for its continued constraints on women.
"The laws are very clear and stipulated in the laws of sharia (Islamic law): that women wear decent, respectful clothing, like men," Prince Mohammed said in an interview with CBS television aired late on Sunday.
"This, however, does not particularly specify a black abaya or a black head cover. The decision is entirely left for women to decide what type of decent and respectful attire she chooses to wear."
A senior cleric said last month that women should dress modestly, but this did not necessitate wearing the abaya.
It remains unclear if these statements signal a change in the enforcement of women's dress code in the kingdom. Saudi Arabia has no written legal code to go with the texts making up sharia, and police and judiciary have long enforced a strict dress code requiring Saudi women to wear abayas and in many cases to cover their hair and faces.
But the kingdom has witnessed a cautious new climate of social freedoms with the rise of the 32-year-old crown prince to power after decades of elderly rulers.
Saudi women have started wearing more colourful abayas in recent years, the light blues and pinks in stark contrast with the traditional black. Open abayas over long skirts or jeans are also becoming more common in some parts of the country.
On March 8, a group of women in the Saudi city of Jeddah marked International Women's Day by exercising one of their newly acquired freedoms: the right to go for a jog, paying no heed to bemused onlookers.
However, activists have blasted the country's continued guardianship system requiring a male family member to grant permission for a woman to study abroad, travel and other activities.
Last week, a U.N. rights watchdog called on Saudi Arabia to end discriminatory practices against women including male guardianship and give them full access to justice.
http://www.deccanherald.com/content/665351/saudi-women-should-have-choice.html
--------
Women's Economic Forum opens in Riyadh
20 March 2018
RIYADH: Saudi Arabia is opening a new page in its history, Sophie Le Ray, founder of the WIL Series, said as she opened the Women's Economic Forum in Riyadh on Monday.
Le Ray said that the GCC countries were creating jobs and making it easier and more socially acceptable for women to join the workforce. Saudi Arabia was opening a new page in its history, making remarkable social changes and highlighting its determination to move forward to a more prosperous future, she said.
"The empowerment of women is one of the keys to the modernization objectives set out in the ambitious Vision 2030 and National Transformation Program," she said.
"Economic performance, innovation, creativity and the economic landscape of the Arab world will be transformed by the skills, talents and labors of women."
Ten years ago, this inaugural forum was held in Dubai, only attended by women, she said. "Ten years later, we have both genders from all over the world to discuss and champion diversity. It's a community which is captivating everyone."
"Empowering women and moving toward a more inclusive society is just smart economics. We are past the point of just conversation, today is about action," she said.
With 900 people registered to the attend the forum, the attendees were looking forward to hearing from the panel of speakers. A student studying at Dar Al-Hekma University flew in from Jeddah to attend. "I'm very excited to attend and learn," she said.
She said that she looked forward to finishing her B.A, then masters, and the hopefully would open her own company.
Hadley Gamble, a reporter for CNBC, said: "Men must be our allies; we can work together and change this dynamic and narrative."
She added: "We can't understate the importance of what Mohammed bin Salman did."
Yasser Mufti, vice president, strategy and market analysis at Saudi Aramco, said: "Aramco has made much progress in gender diversity. I went back to marketing, in Aramco Trading, and became a CEO. There was a significant change, one third of the floor were women; we had 170 female employees in Dhahran in various sectors."
"Seize the opportunity you are given" is the crucial piece of advice that he has given to women and also male counterparts. "With determination you will succeed, and inshallah make Vision 2030 a reality."
"This can't be about quotas, it's about empowering women and hiring women and putting them in management positions. Hire the right people for your team. We have a lot of educated women and it's going to be tough to choose. We are going to need our male allies to come to the floor and help us with that."
http://www.arabnews.com/node/1269696/saudi-arabia
--------
Saudi women take up jobs in Makkah hotels
March 20, 2018
Manama: In a new development that reflects Saudi Arabia's drive to empower women, 41 Saudi women have taken up hospitality jobs in Makkah hotels.
The women are holding positions in human resources departments, reservations, reception, and cooking.
"We are determined to be more professional and learn everything new in the hotel world," Sarrah Najjar, a receptionist, said.
"It is a pleasure and a passion to learn about many international cultures by dealing with visitors and pilgrims from different nationalities and countries," she said, quoted by Saudi news site Al Marsad on Tuesday.
Abeer Al Harbi whose new job is to process and prepare food said that she was happy with her responsibilities.
"The environment is appropriate and is characterised by a lot of privacy, which gives me a greater motivation to hone my skills and boost my productivity," she said.
For Afaf Abdullah, medical insurance coordinator, the premise, privacy, professional development and training she and the new female staff are receiving is "helping them to do their job well."
Receptionist Reem Bakatian said that she was pleased with her new career and confident about the future.
"My career path and promotions are clear so we are working very hard and exerting efforts to develop our abilities and increase our knowledge about everything new," she said. "Opportunities become available to us as women when we are armed with knowledge and determination."
As an employee tasked with responding to phone calls, Ara Bukhari said that she was overwhelmed by the congratulations and good wishes offered by clients upon learning that their calls were answered by Saudi women.
Saudi Arabia is witnessing massive social changes as part of an ambitious drive led by Crown Prince Mohammad Bin Salman Al Saud towards a more prosperous future that includes overhauling attitudes, shunning regressive practices and empowering women politically, economically and socially.
The developments are being applauded locally, regionally and internationally as huge positive steps forward despite expected some resistance from conservative segments.
http://gulfnews.com/news/gulf/saudi-arabia/saudi-women-take-up-jobs-in-makkah-hotels-1.2191397
--------
Women GPs bring remote care to rural Pakistan
March 19, 2018
Bhosa Mansehra (Pakistan): In a remote Pakistani village surrounded by lush green hills, Mohammad Fayyaz brings his two-year-old son to a clinic so that a female doctor sitting hundreds of kilometres away can examine him.
Health care in rural Pakistan and the careers of women doctors are being revolutionised as internet access grows across the country, allowing people with limited mobility because of geography or culture to interact online.
Previously, Fayyaz would have had to travel for hours from his village of Bhosa, in northern Khyber-Pakhtunkhwa province, only to spend hours queuing at overcrowded clinics in cities like Abbottabad or Peshawar for medical help.
Women doctors more than 1,500 kilometres to the south in the port of Karachi, Pakistan's largest city, face their own challenges, with their careers often put on ice once they marry and become mothers in the conservative, patriarchal country.
Now, a Karachi-based health tech start-up, Sehat Kahani, has deployed Skype to solve both problems at once by bringing work to the doctors and medical advice to the villages.
"My son took just one dose of medicine and he feels much better now," Fayyaz said after paying a nominal fee of Rs100 (Dh6) to visit the Sehat Kahani clinic in his village and speak face-to-face via video conferencing to a doctor in Karachi.
Convenience is everything in a place where women must walk for miles to fetch water from a spring and power cuts can last up to 12 hours a day, the low hum of generators a constant backdrop to village life.
The remote doctors offer a fresh solution to Pakistan's struggling health care sector.
The country has one of the world's highest infant mortality rates and just 0.5-0.8 per cent of its GDP has been spent on the health sector in the past decade.
"It is very helpful, particularly for female patients because it is close to all of us," Fayyaz says.
"That's why I am here," agrees Bibi Mehrunisa, one of the many women clustered in the clinic's waiting room, some with children in tow.
It's also important for the women on the computer screens.
At her Karachi home, doctor Benish Ehsan was multitasking, caring for her child as he sat on her lap, even as she began her online examination of a young patient in Bhosa.
"Is he using the bathroom, has the vomiting stopped or not?" she asks through the computer screen, advising the worried mother to feed her child more fruit and vegetables.
"He has lost some weight, so I am prescribing some medicines for that too," she says.
Later, speaking to AFP, Ehsan says the programme is empowering for stay-at-home mothers who also happen to be doctors, like her.
"It suits us, we don't need to go outside and can continue our practice even sitting at home," she says. "We are enjoying our family life and can also take care of patients."
Raheel Tanvir, a Sehat Kahani representative at the clinic in Bhosa, says roughly 80 per cent of women doctors quit the profession after they get married.
"So the basic aim was to bring back those female doctors ... They can continue their profession, can examine the patients while sitting at home and can also take care of their family," says Tanvir.
The Bhosa clinic opened last September and since then has seen hundreds of patients each month, demonstrating the need for the female doctors' skills.
"It's a huge waste," says Javed Akram, vice chancellor of the Pakistan Institute of Medical Sciences (PIMS) in Islamabad, lamenting how women end up using their medical degree "to get married".
"Men prefer to have doctors as wives rather than receptionists or hair stylists," he explains. "They are not giving anything back to the country ... Let them work."
The clinic in Bhosa operates simply: a nurse examines the patient and sends all the information to the doctor, who then consults with the patient via Skype before making a diagnosis.
The local government is also tuning in to the trend, setting up an e-ilaj, or e-treatment, centre in a village called Bilahi, with plans to expand in other remote areas of Khyber-Pakhtunkhwa.
At Bilahi, where women clad in traditional shawls await their turn at the clinic surrounded by rolling hills, a four-year-old named Zehwish Azeem is examined remotely by physician Nadia Rasheed in Islamabad.
Rasheed said the government initiative works with a local internet provider to bring medical advice to some 15 villages with a population of more than 27,000 people in a rural area where doctors are few.
Over the last five years, more than 50,000 patients have been treated in such clinics in the Punjab, Sindh, Khyber-Pakhtunkhwa provinces, and in a remote village in the Margalla Hills bordering Islamabad, said Rasheed.
"This area is remote, people are poor and they had to travel a long time for treatment," Mian Badar Jan, an official in the Bilahi clinic told AFP.
"Now this system with modern facilities is helping them."
http://gulfnews.com/news/asia/pakistan/women-gps-bring-remote-care-to-rural-pakistan-1.2191176
--------
Saudi Arabia celebrates female leaders in push to welcome more women to the workforce
March 20, 2018
Saudi Arabia has taken a major step in its bid to welcome more women into the workforce by hosting its first-ever business forum for women.
The Women in Leadership Economic Forum, called "Let's Talk About Tomorrow," aims to showcase the Kingdom's foremost female business leaders and demonstrate the important role of women in driving the future of its economy.
The two-day event, hosted in the Saudi capital Riyadh, was attended by more than 900 business leaders and entrepreneurs. It allowed networking opportunities between men and women — which is a relatively new practice in the country.
Giving women leaders a voice
Halah Alhamrani, Saudi Arabia's first female boxing trainer and founder of Flagboxing — short for "Fight Like a Girl" boxing — was one of the speakers at the event.
She told CNBC that she feels optimistic about the future role of women in the Kingdom and is happy to be a role model for women in business.
"Very early on in that journey, I realized that what I was doing was actually inspiring females," said Alhamrani.
"Through my own practice, it became my mission to actually show that we are capable, that women in Saudi Arabia are very capable, and that we do have a voice," she said.
Welcoming the next generation
The event was also attended by 300 female university students, who despite accounting for more than half of Saudi Arabia's graduates often still struggle to find work.
Currently, women make up just 22 percent of the workforce in Saudi Arabia. The country is hoping to increase that figure to 30 percent by 2030.
The target is part of the Crown Prince Mohammed bin Salman's efforts to reshape the Saudi economy and reduce the Kingdom's reliance on oil revenue. The event was sponsored by Saudi Aramco, the country's state-run oil company.
Last year, the Kingdom announced that it would lift a ban that forbid women from driving. That plan is due to go into effect in June.
https://www.cnbc.com/2018/03/20/saudi-arabia-women-in-leadership-forum-to-drive-workplace-reforms.html
--------
Cyber thugs stir up tirades of hate against Indonesian women demanding equality
AMANDA HODGE
March 20, 2018
Around the time Indonesian President Joko Widodo was posting messages on Instagram lauding the success of the Jakarta Women's March this month an ­organised cyber harassment campaign was just getting started.
Within hours of the successful event — held for the second year running on the weekend before the March 8 International Women's Day, with which it is linked — the group's Instagram site and hashtags were under cyber-attack by conservative ­Islamic groups, as were the ­accounts and images of several high-profile participants.
The Jakarta Women's March logo — a stylised silhouette of three women's profiles — was doctored to include one wearing a full-face niqab, photographs of marchers holding banners were reposted thousands of times with captions such as "Preventing the feminist campaign from destroying Islam", hashtags such as #stopfeminism, along with visceral insults and rape and death threats.
Organisers suspect the main offenders were radicals copy­catting — if not linked to — the Muslim Cyber Army, an online network Indonesian authorities have accused of inflaming social and religious tensions for political purposes.
The MCA was believed to be ­instrumental in the successful campaign to jail Ahok — Jakarta's former Christian, Chinese governor — for blasphemy, and has since turned its sights on the LGBT community, women's groups and the President ahead of next year's election.
Dammar Junianto from Safe­NetVoice saidthe lead attackers on the Women's March were not formally linked to the MCA (though they used Muslim Cyber Army hashtags). But another cyber-radical tracker said the group operated in a similar fashion, using so-called "snipers" to target victims in an organised way.
"We went to sleep and when we woke up there were thousands of hate comments on the Jakarta Women's March Instagram site," said its media spokeswoman, an Australian expatriate working in the Indonesian development field.
Minutes after arriving home from the march, she was opening the door to six plain-clothed immigration officials who said they had received an official complaint about her involvement.
The woman, who asked not to be named, was forced to hand over her passport and report the following Monday for a full day's ­interrogation over her role in a police-approved event, which ­attracted 2000 participants, many of them families with school-aged teenagers.
Foreigners living in Indonesia are not permitted to participate in political demonstrations, but the organisers and Indonesia's National Commission on Violence Against Women insist the event was a celebration, not a political protest.
The experience was frightening but perhaps not on the scale of that endured by Hannah Alrashid, an Indonesian actor and one of several high-profile marchers targeted for online attacks.
Her poster, appealing for an end to victim blaming in gender-based violence, prompted repeated demands on Instagram for her to be prosecuted for blasphemy — a real and frightening proposition in Indonesia since Ahok's jailing last year.
The poster used an Arabic word "aurat", which is used in the Koran and widely throughout the Muslim world to refer broadly to a woman's modesty and her obligation to protect it.
Alrashid, a Muslim, said her poster — "My Aurat is none of your business, stop gender-based violence" — was not an attack on religion but rather on the "false perception that women are at fault for being raped or harassed because of what they wear".
But once an image of her holding her banner was reposted with a caption accusing her of encouraging Indonesian women to take their clothes off, she was bombarded by thousands of vicious online attackers, some suggesting she should be raped as punishment.
She was forced to temporarily privatise her accounts and block all new followers.
Anindya Restiviani, one of the organisers targeted in the attacks, said she had to lie low after her name and picture were reposted thousands of times, first by conservative Islamic groups and then by ordinary Indonesians.
"A lot of the people who posted insults like 'slut', 'whore', 'dog' were women. Their Instagram pictures showed them holding babies, wearing hijabs, smiling with their families. It's unbelievable," she said.
Jakarta Women's March co-ordinator Kerri na Basaria said the group had planned for a possible counter protest by radical groups on the day but had not foreseen the online attack.
"It was so systematic and well thought out,'' she said.
"It wasn't random or reactionary anger. It was all very planned. Now we are seeing real discussions within those (radical) groups about how to tackle feminism and women's rights.''
The experience has been both frightening and enlightening.
"I am a bit pissed at being used as a political tool for some greater sinister political campaign," Alrashid said.
She said the experience had driven home to her that "radicalisation is happening not just in the villages but among normal, middle-class internet users whose profiles show they work as teachers and lawyers".
"To me, that is scarier than any Muslim Cyber Army."
https://www.theaustralian.com.au/news/world/cyber-thugs-stir-up-tirades-of-hate-against-indonesian-women-demanding-equality/news-story/7653ffe878c784fb645dea726316ea13
--------
College Teacher's Offensive Remarks About 'Un-Islamic Dressing' By Muslim Girls Spark Protests
Mar 19, 2018
KOZHIKODE: The outrage against sexist and derogatory remarks made by an assistant professor of Farook Training College, regarding dressing style of Muslim girl students, has resulted in a series of protests on Monday.
Scores of girl students of Farook College, under the banner of SFI, took out 'watermelon march' to the main gate of the institution holding slices of watermelon in their hands and sought action against assistant professor Jouhar Munavvir who had termed the students' dressing 'un-Islamic'.
The teacher, while addressing a gathering of Muslim families, had said that girls were not wearing their hijab properly and were deliberately exposing their chest just like "slices of watermelons on display".
The march was blocked by police.
KSU activists too registered their protest by distributing watermelon slices while ABVP workers smashed a watermelon in front of the college gate.
Both Farook Training College and Farook College are under the same management, situated on same campus.
A video clip of the speech has become viral on social media, incidentally soon after the clash between students and staff members of Farook College over the former celebrating Holi on the campus last week.
The teacher had also flayed girl students for showing the leggings they wear under purdah. "Eighty per cent of students on the campus are girls and majority of them are Muslims…they wear purdah, but hold it up exposing the leggings," he had said. He further said that girls don't wear muftah anymore but cover their heads with scarfs/shawls. Chest was one of the parts of a woman that attracts a man and Islam teaches that it should be covered, Jouhar had pointed out.
"Teachers should teach by looking at our faces and not our body," said Suja P, chairperson of the Calicut University Students Union, at the protest meet.
Sufaila K, a second year student of Farook College, said that the teacher has questioned self-respect of girls and alleged that the management's objection to mingling of male and female students on campus had resulted in the clash.
SFI and KSU activists also celebrated Holi outside the college gate as part of the protests.
C A Jawahar, principal of Farook Training College, said since the speech was made outside the college three months ago, the college had limitations to take action. "I did not receive any complaint in this regard," he added.
Meanwhile, a small group of girl students staged another protest against the agitations by the students' organisations saying that the protests were aimed at maligning the college and creating Islamophobia.
https://timesofindia.indiatimes.com/city/kozhikode/college-teachers-offensive-remarks-about-un-islamic-dressing-by-muslim-girls-spark-protests/articleshow/63371200.cms
--------
Christian Women Seek Collaboration with Muslim Counterparts to End Schoolgirls' Abduction
March 20, 2018
The Chairperson of the Women Wing of the Christian Association of Nigeria (WOWICAN) in 19 Northern States and Federal Capital Territory (FCT), Mrs. Leah Solomon, has called on all the Muslim mothers across the country to come together in unity and also cooperate with the wing in order to launch an expanded campaign against the abduction of school girls by insurgents across the country.
She spoke yesterday during a protest march at the 2nd 19 Northern States and FCT annual conference of WOWICAN in ECWA Jos DCC women fellowship conference camp, Jos East, Plateau State.
Mrs. Solomon said they would no longer fold their arms over the uncanny action of insurgents going to female secondary schools in order to abduct hundreds of girls, irrespective of religious, and convert them to sex slaves or use them for any kind of gain.
She said, "These abductions are gradually becoming a trend in this country and it has to stop. First, it was hundreds of Chibok school girls in Borno State in 2014, and now it is over a hundred Dapchi school girls in Yobe State. It doesn't matter if the girls are either Christians or Muslims, what is paramount is that the action of these insurgents going to schools to abduct girls in order to spite the government or advance their course, or for whatever reason, must be halted forthwith. And we demand the unconditional release of all the girls already abducted.
"As mothers, it is agonising to know that your daughter which you sent to school is abducted by one terrorist and taken to an unknown destination, and then forcefully used as sex slave or for any other purpose. This is what no mother would want to imagine, talk more of experience. That is why WOWICAN in the 19 Northern States and FCT has decided to launch a robust campaign against such action, beginning from this conference. And we call on all mothers in the country to join hands with us on this. We equally call on Muslim mothers to collaborate with us in order to give our campaign a boost because this is beyond religion. Besides, no religion condones the action of these terrorists, even as no religion is spared of their attacks/actions.
She also called on the federal government to do more to halt the killings in the country in the name of farmers-herdsmen clash, saying that no amount of achievement by the Buhari administration can be meaningful amidst killings of innocent people daily, especially in the Northern part of the country.
According to Solomon, some criminal elements have taken the advantage of the farmers-herdsmen clashes to perpetuate evil agenda on many communities in the Northern part of the country, while the government and security agents appeared helpless in tackling the situation and properly nipping it in the bud.
https://www.thisdaylive.com/index.php/2018/03/20/christian-women-seek-collaboration-with-muslim-counterparts-to-end-schoolgirls-abduction/
--------
URL: https://www.newageislam.com/islam-women-feminism/saudi-women-choice-whether-wear/d/114656
New Age Islam, Islam Online, Islamic Website, African Muslim News, Arab World News, South Asia News, Indian Muslim News, World Muslim News, Women in Islam, Islamic Feminism, Arab Women, Women In Arab, Islamophobia in America, Muslim Women in West, Islam Women and Feminism