New Age Islam News Bureau
29 Jan 2015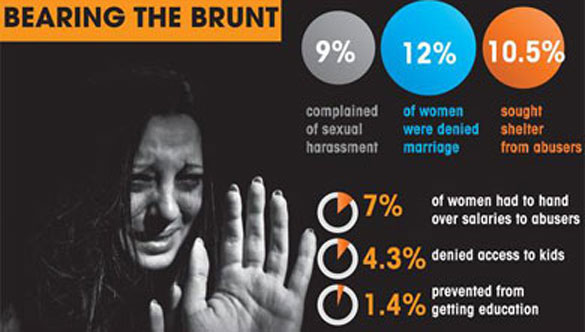 Photo: Women victims in 45% of domestic violence cases
-------------
• Women Joining ISIS Cheerleaders Not Victims
• Difficult for Muslim women to find a job in Malta if they wear headscarves
• Foreign Women Can Watch Sports Tournament, Not Iranian Women
• Arrest in Lebanon lifts veil on life of Islamic State leader's ex-wife, Saja al-Dulaimi
• First lady Michelle Obama shakes hands with Saudi king. So?
• Turkey's Panic Button Project 'Fails' To Save Battered Women
• British Rock Musician Luring Teenage Girls through Twitter for an 'Awesome Life' As a Jihadi Bride
• Saudi Women Victims In 45% of Domestic Violence Cases
• Syria Refugee Children Depict Joy and Pain in Photos
Compiled by New Age Islam News Bureau
URL: https://newageislam.com/islam-women-feminism/saudi-women-retaliate-don-t/d/101262
-----------
Saudi Women Retaliate To 'Don't Want Girls on Twitter' Hashtag
29 Jan, 2015
Some Saudi men seem intent on extending gender segregation to social media but their efforts have gone in vain.
A hashtag in Arabic that translates to "We don't want girls on Twitter" was mentioned almost 400,000 times over the weekend.
The origins of the hashtag are unclear but it spread rapidly in just a few days, the BBC reported.
However, determined to not leave Twitter, women and even men took to the social networking site mocking the hashtag, clarifying their stance against gender segregation.
One female user mocked the hashtag with a crying emoji face and the caption "Why? What have we done?"
http://tribune.com.pk/story/828917/saudiwomen-retaliate-to-dont-want-girls-on-twitter-hashtag/
----------
Women Joining ISIS Cheerleaders Not Victims
29 Jan, 2015
LONDON: Western women who join ISIS militants are driven by the same ideological passion as many male recruits and should be seen as potentially dangerous cheerleaders, not victims, experts said.
A new study out Wednesday said the estimated 550 women who have travelled to Iraq and Syria are expected to marry, keep house and bear children. Despite being banned from fighting, the study found they were active propagandists for the cause.
"The violent language and dedication to the cause is as strong as we find in some of the men," said extremism expert Ross Frenett of the Institute for Strategic Dialogue, who co-authored the new report. "The worry is that as ISIS loses ground, as everyone hopes it does, that more and more of these women will transfer from the domestic world they're in now to a more violent one," he told AFP.
Much has been written about young women going to become "jihadi brides," but the prevailing narrative of wide-eyed recruits drawn by a sense of excitement belies the importance of their own faith and passions.
Frenett and his fellow researchers have been monitoring hundreds of women on social media, but for the study focused on 12 women from Austria, Britain, Canada, France and the Netherlands who are living with the ISIS group in Iraq and Syria.
Some of the women endorsed the bloody beheadings carried out by the militants – "I wish I did" it, one said after U.S. journalist Steven Sotloff was killed – as well as railing against Western governments and the suffering of Muslims. "My best friend is my grenade ... It's an American one too. May Allah allow me to kill their Kanzeer [pig] soldiers with their own weapons," one said.
Crucially, the women also provide advice and encouragement to other women thinking of joining.
"They're actively recruiting women and providing them with assistance advice and referrals to go to ISIS-held territory," Frenett said. "And they are acting as cheerleaders for terrorist attacks back home."
The report echoes work conducted by other researchers about the dangers of radicalized women, a threat given a face during the attacks on Paris earlier this month.
Hayat Boumeddiene, the 26-year-old companion of one of the gunmen, fled to Turkey before the attacks and is now in Syria.
Afterward, an old picture emerged of her wearing the full black Islamic robe and headgear, and aiming a crossbow at the camera.
Melanie Smith, of the International Centre for the Study of Radicalisation at King's College London, maintains a database of about 70 female ISIS members. She said British women are inciting attacks by suggesting to people who could not travel to Iraq and Syria, "Why not carry out something at home?"
"You can see women online being frustrated about the fact they can't fight and they suggest to each other that they could do something else," she told the Observer newspaper.
Jayne Huckerby, associate professor at Duke University School of Law, said in a commentary for the New York Times that women are being driven by the same factors that push men into the arms of the ISIS group.
"Despite stereotypes about their domesticity and passivity – the idea that they must always be under men's influence or tricked into joining – women are drawn to groups like the Islamic State by many of the same forces as men: adventure, inequality, alienation and the pull of the cause," she said, using the jihadi group's latest name.
Despite their passion, many of the women in Frenett's research found it difficult to leave their families, and he said this could be key to keeping them at home. "The biggest barrier to them leaving, both emotional and practical, isn't the state – it's their own families," he said, stressing authorities should better support relatives.
He said it was also important to give women who make it to Iraq and Syria a way out if they become disillusioned, which most often happens when their husbands are killed.
"There needs to be a path available to them when they come home," he said.
http://www.dailystar.com.lb/News/Middle-East/2015/Jan-29/285634-women-joining-isis-cheerleaders-not-victims.ashx#sthash.fHWXzeyk.dpuf
-----------
Difficult for Muslim women to find a job in Malta if they wear headscarves
29 Jan, 2015
Muslim women in Malta are still facing discrimination by employers who do not allow the Hijab to be worn at workplaces. Even in cases where the woman in question has the necessary qualifications and experience for the job, it seems employers are still hesitant about offering positions based on the fact that they wear headscarves.
The Hijab is a headscarf and does not cover the face as the Niqab and Burqa do.
In comments to this newspaper, Simone Palmier, a Maltese woman and a practicing Muslim, confirmed that despite numerous calls by the Muslim community in Malta, a number of women still find it very difficult to find employment where wearing a Hijab is accepted.
On the other hand, the individual might decided to turn down a job offer if taking off the veil is set as a working condition. Others, however, cannot afford to turn down jobs, and have no option but to take it off during work hours. "I've heard women say they take the hijab off for work with the hope that God understands why they have to do it," Simone says. "Most employers will not admit to being against it, because it is illegal to discriminate based on religious beliefs, and at face value many interviewers claim they have no problem with the potential employee wearing the hijab.
"However, when it comes to being chosen for the job, it's a different story," she says.
Religious symbols
"Unless the hijab distracts the wearer from carrying out their work duties, I see no difference between that, and wearing a cross. Up until a few years ago, we had a large number of nuns teaching at schools or working as nurses."
The issue can't be generalized. It is good to note that there are some employers who are acceptant of the attire, said Mrs Palmier.
Moving towards a more acceptant society
The Muslim community in Malta has repeatedly called on the government to start allowing the hijab to be worn by government workers. In that manner, authorities would be setting the right example. "The more it becomes evident in society, the more acceptant society becomes," Mrs Palmier says.
In 2013, Imam Mohammed Elsadi said that more women would join the workforce if the government issued a directive clarifying that hijabs could be worn at work. The request was made after two Muslim women working in non-medical jobs in Malta's health sector were forced to remove the attire.
No ban on Hijabs in schools
In schools, younger women face less discrimination. Most secondary and post-secondary schools have no objection for students wearing the attire, however sources told this newspaper that some head of schools argued that it is not part of the uniform, and some students were made to remove their headscarves. It seems that whether or not students are allowed to wear the hijab is ultimately a decision taken by the headmaster, however, a spokesperson for the ministry of education said that there should be no ban for the hijab in state schools
A report published by the European Network Against Racism in 2013 confirmed that Muslim women who choose to wear the hijab continue to face problems accessing employment in Malta. The report estimates that there are 6,000 Muslims residing on the Maltese islands.
Worth Noting
· A hijab is a scarf that covers the head and neck, but leaves the face uncovered – it is representative of the principle of modesty required by the Qur'an. Muslim women are required to observe wearing the Hijab in front of any man they could theoretically marry.
· The niqab is a veil for the face that leaves the area around the eyes clear. It is most common in the Arab countries of the Persian Gulf such as Saudi Arabia, Yemen, Bahrain, Kuwait, Qatar, Oman, and the UAE. It is also common in Pakistan.
· The burqa is the most concealing of all Islamic veils - it covers the entire face and body, leaving just a mesh screen to see through. It is worn over the usual daily clothing and removed when the woman returns to the household, out of the view of men that are not their husbands, fathers, brothers, uncles, sons and grandsons.
· Other coverings include the Chador,Al-Amira, Kimar and Shayla.
http://www.independent.com.mt/articles/2015-01-28/local-news/Difficult-for-Muslim-women-to-find-a-job-in-Malta-if-they-wear-headscarves-6736129613
-----------
Foreign women can watch sports tournament, not Iranian women
REUTERS
29 Jan, 2015
Iran will allow foreign women watch men play volleyball when it hosts an international championship this year, but Iranian women will still be banned, the state news agency said on Wednesday.
Iran's Islamic law bars women from watching men playing sports such as volleyball and football and an Iranian-British woman was sentenced to a year in jail last year for protesting outside a volleyball venue.
Ghoncheh Ghavami was released on bail in November after spending five months in detention awaiting trial in a case that raised international awareness of the issue.
As Iran prepares to host the 2015 Asian Men's Volleyball Championship, it said some women would be let into a specially created women's section at Tehran's 12,000-people arena.
"Foreign women as employees of embassies, the families of foreign teams or other foreign women living in Tehran are permitted to attend the men's volleyball competitions," the head of Iran's Volleyball Federation, Mahmoud Afshardoust, told the IRNA news agency.
Foreign women visiting Iran must, by law, comply with the Islamic dress code in public, wearing loose-fitting clothes and covering their hair.
http://www.thehindu.com/opinion/op-ed/foreign-women-can-watch-sports-tournament-not-iranian-women/article6831111.ece
----------
Arrest in Lebanon lifts veil on life of Islamic State leader's ex-wife, Saja al-Dulaimi
29 Jan, 2015
BEIRUT — For months, the ex-wife of perhaps the most wanted man in the world used Lebanon as a base to secretly transfer cash to Islamist militants, according to Lebanese military officials.
She concealed her identity with fake documents, which listed her as a Syrian citizen named Mallak Abdullah, the officials said. Eventually, they said, they discovered that she was Saja al-Dulaimi, an Iraqi who had been briefly married six years ago to the man who now heads the Islamic State, Abu Bakr al-Baghdadi. In November, the army detained Dulaimi with a girl who is Baghdadi's biological daughter, the officials said.
The investigation into Dulaimi has shed light on the murky ways in which Islamist militias move funds through the Middle East. It has also illustrated how the families of Syrian and Iraqi militants are quietly settling in Lebanon, hiding in refu­gee camps and the occasional Christian village. And it has yielded an intriguing profile of someone who defies the image of submissive women in the jihadist world.
Dulaimi has had at least three husbands and lived in several countries in the region, according to the military officials. They described her as strong-willed and independent. Military officials said she transferred hundreds of thousands of dollars over the past year to Sunni militants operating along Lebanon's border with Syria.
"She's not your stereotypical woman" in the world of militant Islam, said Fawaz A. Gerges, a professor of Middle Eastern studies at the London School of Economics. He described her profile as that of an "honorary jihadi man" in the eyes of such groups.
More such women are carrying out suicide operations and helping to collect intelligence and distribute funds for radical groups, he said.
For Lebanon, her case points to the challenge posed by the families of Syrian and Iraqi militants who have moved here. Dulaimi has been charged in a Lebanese military court with financing terrorism and has been denied access to a lawyer.
Culture of radicalism
Dulaimi, who is in her 30s, was based in the impoverished mountain city of Arsal on the Syrian border, military officials said. She blended in easily in a makeshift encampment for Syrian refugees, who outnumber the 35,000 locals, a resident of the city said.
"There are lots of people in these areas so she lived anonymously while she was here," said the resident, who spoke on the condition of anonymity out of concern for his safety.
Another Lebanese resident of Arsal said the town was home to many family members of extremists fighting in Syria.
"We all know that the wives and families of the fighters and commanders are living in Arsal, because they don't have any other place to put them," said the resident, who spoke on the condition that she be identified only by her first name, Bahjat.
About six years ago, Lebanese military officials said, Dulaimi married Baghdadi, who is originally from Samarra, a city north of Baghdad. The marriage lasted for only about three months, said Sheik Hassan al-Dulaimi, a prominent elder from Iraq's Anbar province who is from the same tribe as Saja al-Dulaimi, in a telephone interview.
Lebanese officials said the union was pushed by Dulaimi's father, Hamid al-Dulaimi. Marriages in Iraq's tribal area can be politically motivated affairs, aimed at cementing ties between families, and Hamid al-Dulaimi may have sought an alliance with Baghdadi at a time when the younger man and other militants were incensed by the U.S. occupation and were gravitating to al-Qaeda in Iraq, the precursor to the group currently occupying chunks of Iraq and Syria.
But Labib Kamhawi, an analyst based in Jordan, said that it could have been Baghdadi who pushed for the union, given the prominence of Dulaimi's tribe. He noted that Iraqi tradition allows for relatively easy divorce, making a breakup fairly simple.
The Lebanese military officials described Saja al-Dulaimi, who does not veil her face, as strikingly beautiful. She was combative during recent interrogation sessions, they said.
"It's because she's committed to her beliefs," said one of the officials involved with her case, referring to the militant Islamist cause. Like other officials interviewed for this article, he spoke on the condition of anonymity, citing a lack of authorization to discuss the issue.
According to Lebanese officials, analysts and media reports, Dulaimi had been married to another Iraqi before Baghdadi and had two sons from that relationship. Her daughter with Baghdadi is thought to be about 5 years old.
Lebanese officials said that multiple members of Dulaimi's family have participated in militant activities in Iraq and Syria. Hamid, her father, eventually pledged allegiance to the Islamic State, they said. He was killed more than a year ago while fighting near the Syrian city of Homs, according to officials.
About that time, they said, Saja was apprehended by Syrian government forces near Homs, where she had been living with her father and sister. In March 2014, she was among 150 people whom the Syrian government freed in a prisoner swap with militants linked to Jabhat al-Nusra, who handed over a group of Greek Orthodox nuns, the officials said.
Full report at:
http://www.washingtonpost.com/world/middle_east/an-arrest-in-lebanon-lifts-the-veil-on-the-life-of-islamic-state-leaders-ex-wife/2015/01/26/081820b4-86d5-11e4-abcf-5a3d7b3b20b8_story.html
-----------
First lady Michelle Obama shakes hands with Saudi king. So?
29 Jan, 2015
(CNN)President Barack Obama and first lady Michelle Obama made a quick stop in Saudi Arabia to pay respects to the late King Abdullah, and to hold meetings with the new leader, King Salman bin Abdulaziz. But one aspect of the encounter stood out to reporters covering the receiving line at the palace: the first lady shook hands with the king.
Islamic law generally forbids men from touching women to whom they are not related. However, that rule is often times overlooked when official diplomatic delegations visit the kingdom.
The White House notes that representatives of the United States, including former Secretaries of State Hillary Clinton and Madeleine Albright, along with German Chancellor Angela Merkel have all visited the Saudi king, and have all shaken hands with members of the Saudi royal family.
READ: Is Obama-Modi 'bromance' a turning point?
Islamic experts also point to another central theme of Islam: hospitality. When one is a guest in someone's home, they are treated as family.
Obama also did not cover her head, eschewing strict religious and cultural customs in Saudi Arabia, where women wear a full-body garment called an abaya and cover their heads with a hijab or the more conservative niqab, which has only a slit for the eyes.
Obama's predecessor Laura Bush also did not cover her head during her 2007 solo visit to Saudi Arabia and neither did Hillary Clinton during a 2010 trip to the kingdom as Secretary of State. Another former secretary of state, Condoleeza Rice, also did not cover her head as she joined the U.S. delegation in Saudi Arabia on Tuesday.
But the U.S. State Department advises other American women visiting the country that they could face problems if they don't cover their heads.
"Women who choose not to conform to this dress code face a risk of confrontation by Mutawwa (religious police) and possible detention/arrest," the State Department says on its website. "While most incidents have resulted only in inconvenience or embarrassment, the potential exists for an individual to be arrested, physically harmed, or deported."
Additionally, female tourists who don't abide by the dress code or sidestep other religious laws -- like walking in public unaccompanied or mingling with men who aren't relatives -- risk being harassed, pursued or assaulted by Saudi citizens, the State Department warns.
Pool reporters traveling with the President on Air Force One, also pointed out that in the receiving line at the airport in Saudi Arabia - a more open setting than the palace -- Michelle Obama stood next to but slightly behind the President, and held a small black clutch purse in front of her with both hands.
Reporters say they noticed that Mrs. Obama waited for a gesture to be made to her by the men who walked by, and if the man initiated a handshake, she smiled and shook their hand. If not, both she and the man politely smiled and nodded heads.
Perceived problems of etiquette have come up before with the first lady. In 2009 during her first meeting with Queen Elizabeth in Britain, she drew headlines when she hugged the monarch. British tabloids picked up on the embrace, and some noted that etiquette wasn't followed, because people aren't supposed to touch the queen. However, other outlets quickly noted that the queen returned the hug.
SEE ALSO: Why the alleged Russian spy ring matters
President Obama has had his fair share of criticism as well. Critics took issue when he bowed in front of Saudi King Abdullah at a G20 meeting in 2009, and again for bowing to the Japanese Emperor Akihito. Although, aides at the time told CNN on condition of anonymity that, "It wasn't a bow. He grasped his hand with two hands, and he's taller than King Abdullah."
Former Vice President Dick Cheney was one of Obama's most vocal critics and said an American leader should never bow to anyone. However, a State Department spokesperson at the time told CNN that, "It's a natural response of the President the first time he meets the Japanese head of state, to show a sign of respect."
http://edition.cnn.com/2015/01/27/politics/michelle-obama-shakes-hands-saudi-king/
-----------
Turkey's panic button project 'fails' to save battered women
29 Jan, 2015
Turkey's pilot "panic button" project which aimed to curb violence against women has largely failed to achieve results, the Turkish Security General Directorate stated in a report this week.
The report, which was presented to the parliamentary commission, stated one example: "A woman in Bursa was wounded with a knife by her husband, despite the fact that she had pushed the panic button, because her location was not spotted on the map."
The country's Women's Status General Directorate has in the past also told the commission that the system, piloted in 2012, is inefficient, Hurriyet Daily News reported.
"The security button is used when the victim faces a dangerous situation but the efficiency of the security button practice is very low. The period of time from when the victim pushes the button until the police intervene in the incident is proof of that risk," said the Security General Directorate.
In October, Family and Social Policies Minister Ayşenur İslam stated that the system had failed to reduce violence against women.
"Electronic surveillance of the perpetrator, rather than of the victim, is a much better system. There is already a system for that in Turkey, a probation service under which the perpetrator is monitored and kept away from the victim. We want the same system to be applied in cases of violence against women," he said.
The project was initiated in several areas in the southern province of Adana and the northwestern province of Bursa in mid-2012, according to Hurriyet Daily News.
When the button is pressed, the location is transferred to the police through GPS technology, utilizing a private GSM operator SIM Card.
She says she has reason to be afraid. Last year, 13 women in Turkey were murdered by their partners whilst nominally under state protection, according to official figures.
Turkey, which aspires to join the European Union, has drafted new legislation to try to bring women's rights in line with European standards. A law sent to parliament just last month will toughen sentencing for sexual assault.
According to government figures, the number of shelters for battered women has nearly doubled to 92 from 48 in 2011.
However, activists note new legislation means only communities with more than 100,000 inhabitants are required to have a shelter, instead of half that figure previously, and many municipalities don't provide the service, blaming a lack of funding.
(With Reuters)
http://english.alarabiya.net/en/perspective/features/2015/01/28/Turkey-s-panic-button-project-fails-to-save-battered-women-.html
----------
British Rock Musician Luring Teenage Girls through Twitter for an 'Awesome Life' As a Jihadi Bride
29 Jan, 2015
A British mother-of-two who joined Islamic State jihadists with her ten-year-old is luring young girls to Syria through Twitter with the promise of 'an awesome life'.
Muslim Convert Sally Jones, 45, told a reporter posing as a fictional 17-year-old 'Aisha' that she would 'never want for money again' and live a good life if she made the journey to Syria to become a jihadi bride.
The unemployed mother from Chatham, Kent, who survived on benefits while living in the UK, ranted online about how she wanted to behead Christians after fleeing to wage jihad with her tomboy husband.
Using her new name, Sakinah Hussain, the former lead guitarist in an all-girl punk band revealed how Isis militants are offering to pay travel expenses for teenagers looking to become jihadi brides.
But she said that some British girls had kept the money and never made the 'hijrah' - holy migration.
'People send money to girls to make Hijrah and they take the money but don't come my sis said,' she wrote in a message to an undercover reporter at The Times.
'At the end of the day if ur Muslim u have to get out of ul kufr [the land of the disbelievers] to please Allah if you can.'
Aisha' voiced concerns about the identity of 'Abu Abbas al-Lubnani', who vetted and groomed two girls over a three-month period before giving them money so they could travel to Turkey.
Jones responded by saying: 'U have [to] give the bros name to Western Union as the collector. Listen if he's giving u money to help u make hijrah [holy migration] dw [don't worry] sis.
'He needs ur passport pics to check u aint spys or police cos hed get in big trouble if u was so dw ok just meet his brother and get the money.'
She told the fictional online profile that women were not allowed to have careers under Sharia law, saying: 'We are wives we are expected to look after our men.'
The mother-of-two left for the war zone with her son, Jojo, now called Hamza, to marry a young jihadist from Birmingham who skipped bail to fight with Isis.
Junaid Hussain, 20, has been posting extremist messages on social media pledging to conquer the world and kill infidels.
When asked about life in Isis territory, Ms Jones said: 'It's awesome they look after u. U will never want for money again u live a good life here.
'U need to get married to get a house im just being honest with u but there are loads of men.'
Western Union has said that it runs stringent checks and uses extensive technological monitoring.
A spokeswoman said last night: 'We are watching transactions into and out of Syria and Iraq closely for any illegal activity.
'People in these countries have a humanitarian need for our services, which is why we continue to operate there. We have suspended some of our agents in areas that appear to be Isis occupied.'
http://www.dailymail.co.uk/news/article-2881667/British-rock-musician-turned-ISIS-extremist-luring-teenage-girls-Syria-Twitter-promise-awesome-life-jihadi-bride.html#ixzz3QFls6TlZ
----------
Saudi Women victims in 45% of domestic violence cases
29 Jan, 2015
Women were the victims in 45 percent of domestic violence cases filed with the Ministry of Justice over the past 15 months, sources said recently.
Over the past two months, there were 2,491 cases filed with the ministry. Of this, 12 percent of the women said that their parents refused to let them marry and 10.5 percent sought shelter and protection from their abusers, the source was quoted as saying in a local publication.
Nine percent complained of sexual harassment and being abused by drug-addicted perpetrators, while 7 percent said that their abusers took their salaries.
A total of 4.3 percent of the women said they were denied access to their children, while 1.4 percent said they were prevented from getting an education.
Sahar Al-Sharif, a woman in her twenties, claimed she was raised by her violent brothers after her parents passed away. "It was a typical violent male upbringing. I was always the target of their violent behavior," Al-Sharif said.
Al-Sharif said that she had hoped to escape from her abusers when she got married, but her husband also turned out to be violent. He beat her so badly during her first pregnancy that she nearly lost her baby.
An official at the Social Protection Shelter in Makkah said violence against women is on the rise.
There were 30 to 40 cases a month in 2013, but this rose to more than 60 cases a month by the middle of 2014.
"Cases of violence vary from denying women their right to education to sexual harassment. Husbands, fathers and brothers are the offenders in these cases," said the official. There was no difference in the number of cases during the holy month of Ramadan.
She said female students at high school and college are mostly the ones who file complaints at the shelter. "These students are more aware of the issue. They know they have rights and the law is on their side," she said.
Kholoud Nasser, a social worker, said women must not accept abuse. "Parents sometimes abuse their daughters by forcing them to marry someone they don't want to marry," Nasser said.
She said some people think that violence is the way they should deal with others. "For them violence is the first and only way to communicate with women. It is therefore very important to apply the regulations and punish those involved in such abuse," she said.
http://www.arabnews.com/featured/news/696356
----------
Syria refugee children depict joy and pain in photos
29 Jan, 2015
The photos on display at a Beirut theatre show Syrian refugees chopping wood, getting married, and playing in a Lebanese field. They are the work not of professionals, but Syrian refugee children.
The exhibition is the culmination of a year-long project that gave cameras to 500 Syrian refugee children in Lebanon, allowing them to document lives turned upside down by their country's nearly four-year conflict.
In many cases the children turned their cameras on each other, showing images of warming hands over a fire, peeking through a hole in a tattered tent and standing barefoot in a muddy field.
The project is a collaboration between Lebanese foundation Zakira and the UN children's agency UNICEF, and builds on a similar project done with Palestinian refugee children in Lebanon.
There are more than 1.1 million Syrian refugees in Lebanon, many living in dire conditions in makeshift camps. About half of them are children.
"Syrian children living in the camps have suffered war and displacement. They need any kind of help that they can get," said veteran Lebanese photographer Ramzi Haidar.
"With a camera, the children can be happy," Haidar, who directed the project and taught the children how to use the disposable cameras, told AFP.
At the Thursday night opening of the exhibition, entitled "Lahza (Moment) 2", 14-year-old photographer and refugee Abdel Salam beamed proudly.
His photo shows a group of refugee children huddled together to pose for the camera, smiling despite the harsh conditions in Lebanon's claustrophobic and underequipped camps.
"When I grow up, I want to be a photojournalist," Abdel Salam told AFP.
"It's hard to have fun in the camp. When we lived in Syria, we lived in houses. Here, we live in tents. This project gave me the chance to take pictures of children smiling and having fun."
Held at Beirut's prestigious Al-Madina Theatre, the opening of the exhibition brought together refugee children and their parents, Lebanese and Syrian civil society activists, UN officials and photography fans.
The project, implemented in 80 informal camps in Lebanon, was also documented in a film that included interviews with child photographers and footage of their living conditions.
One girl described missing her father, who was shot dead in Syria.
"He used to bring us all kinds of toys. Now, we have no toys."
UNICEF's Soha Boustani said the project gave its participants "a window of hope, and allows them to remember what was best and worst about their lives".
"What many children told me," she said, "is that one day they will look back at these photos and remember the days when they were living like this".
"The photos are a museum of their memories in the settlements (camps)."
http://www.yourmiddleeast.com/culture/syria-refugee-children-depict-joy-and-pain-in-photos_29424
----------
URL: https://newageislam.com/islam-women-feminism/saudi-women-retaliate-don-t/d/101262