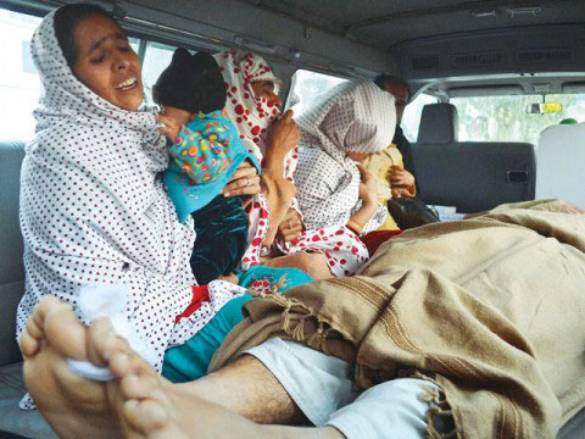 7 Charity Workers, Including Six Women Shot Dead In Swabi in a Terror Act
----------
Malala Yousafzai Wins Tipperary Peace Award
New Transport Funds Will Help Boost Saudi Women Employment
Concrete Strategy Urged to Implement Laws for Women's Rights in Pakistan
Two Women among Five Perish In Bad Blood, Mishaps
Police Arrest Female Suspect in Sharjah Stabbing Case
Two Girls Killed By Mortar Shell outside Their Seminary
Manal Al-Sharif: Driver of Change in Saudi Arabia
Compiled by New Age Islam News Bureau
Photo: 7 Charity Workers, Including Six Women Shot Dead In Swabi in a Terror Act
URL: http://www.newageislam.com/islam,-women-and-feminism/new-age-islam-news-bureau/saudi-women-outraged-at-us-tv-host-for-swearing-at-saudi-men/d/9857
------------
Saudi Women Outraged At US TV Host for Swearing At Saudi Men
RIMA AL-MUKHTAR
2 January 2013
JEDDAH: Saudi women expressed outrage at Chelsea Handler, the American host of the TV show "Chelsea Lately," when she swore at Saudi men for being able to receive notification by SMS of their wives' travels abroad. Some are tired of explaining the situation to foreigners and others say Chelsea should have done her homework before going on air.
The 37-year-old American talk show host asserted that "they have this new policy in Saudi Arabia where if a woman leaves the country, the husband receives a text message," before going on to use foul language to express her disdain.
She continued: "Talk about the worst marriage ever. You have to have a conversation every time you want to leave house? I don't think so buddy; you're lucky if I tell you where I'm going."
Sabah Abdulmalik, a 42-year-old stay-at-home-mom said, "I would like to inform Chelsea that this is only a service that people can activate or decline and that this was not forced upon us," said.
"This service was developed by the Saudi authorities and not by husbands who want to track their wives, so when she says such a word, she should know that it was not conceived of at a local level and that it's a matter of choice," she added.
Saudi fashion designer Reem AlKanhal says she respects freedom of speech but this crossed the line. "I think we have deeper problems than traveling, driving and covering our faces. They only focus on the aspects of our lives that make them laugh and we hate to be the butt of jokes on live television," she said.
"We have female leaders and accomplished women but the international media does not like to shed light on this, choosing instead to brainwash their audience that we still live in tents and that we don't have rights," she added.
A female Saudi blogger who chose to remain anonymous said that Chelsea's clip was offensive not only to Saudi women, but to Islam as well. "We learned that Muslim women should not leave the house without the approval of their husbands and I think it's the right thing to do," she said.
"Her words were very aggressive and we do not accept such attacks, especially using bad words knowing that this is not how we were raised and this is not normal to us in Arab, local TV shows and talk shows," she added.
Sarah Essam, a 32-year-old mother of two, wonders how Chelsea thought she was defending Saudi women in making these statements. "I know that using shocking language and discussing controversial topics are surefire ways to attract a larger audience, but this is beyond disrespectful and she crossed the line," she said.
"Thanks to her words, she actually made us defend our husbands and stand behind this service even if we don't approve of it," she added.
Mariam Hejazi, a 28-year-old banker, demanded an apology from Chelsea. "We have been tolerating the international media for a really long time. How can they judge a whole nation
when funnily enough, it is their motto to "never judge a book by its cover," she said.
"She should have done her homework as a TV host or journalist. She should have investigated further because if she did, she would have known that we were raised knowing we do not travel or leave the house without our husbands knowing and that the text messaging system is a service that can be accepted or declined," she added.
Yasmine Abdulrazak, an English teacher at a college in Jeddah, thinks the clip was actually funny and did not feel offended by it. "I don't know why we are always offended when people talk about us. Yes, the media highlights the negative things about Saudi Arabia and they always make women feel like we need a hero to save us," she said.
"Chelsea is a comedian and her job is to mock people and attack others to make her audience laugh. We see her make fun of celebrities, politicians and nations but they do not express offense in the same way we did today," she added.
http://www.arabnews.com/saudi-arabia/saudi-women-outraged-us-tv-host
------------
7 Charity Workers, Including Six Women Shot Dead In Swabi in a Terror Act
By: Muqaddam Khan
January 02, 2013
SWABI - Six women and a man working for a non-governmental organisation (NGO) were shot dead on their way home from Ujala Community Centre after performing duties here on Tuesday. Driver of the vehicle was injured while a four-and-a-half-year old son of a female victim remained unhurt in the attack. The community centre where the victims were working is run by Support with Working Solution (SWWS), a local NGO. Located in Sher Afzal Banda, the centre was providing health facilities and imparting education to poverty-stricken masses of the area. The charity was running a primary school in the area with strength of 150 students, said Kifayatullah, a local school teacher. The victims, belonging to different localities of the district, were being driven back to their home in a van when, near Anbar Interchange of Islamabad-Peshawar Motorway, gunmen appeared and sprayed bullets on them. Six women and a technician were killed on the spot while the driver, Abdul Majeed, sustained injuries and shifted to Bacha Khan Medical Complex at Shahmansoor and later to Lady Reading Hospital, Peshawar. The attackers made a good escape after committing the crime. Four-year-old Ahsan, who remained unhurt in the attack, told this correspondent in a scary tone that, "There was firing, intense firing." Uttering these words he started crying bitterly. Bullet marks could easily be seen on left and back side of the van. When asked, District Coordination Officer Syed Muhammad Shah said it was a terror act and obliviously they were killed by terrorists. "No one else can indulge himself in such a brutal act," he said. To a question, he said the victims were taken out of the vehicle and killed one by one. He said the victims could not resist because they did not have any weapons. "No doubt it was an act of terrorism," he said. District police officer Abdul Rashid said it was for the first time that members of an NGO were targeted. He said a number of NGOs were operating in the district but no such incident had happened in the past. He said police force was alert in the district but no arrest had been made so far. He rejected the claim that the attackers were four in number. "In fact there were two motorcyclists who attacked the victims and killed them," he said. Shahid Khan, a senior social organiser of SWWS, told this correspondent that school and health centre was providing health and education facilities to the poverty-stricken people of Sher Afzal Banda area and its surrounding regions. He said the Pakistan Poverty Alleviation Programme and other agencies had been funding their organisation. To another question, he said they had not received any threat from anyone. "This is for the first time that our workers have been targeted," he maintained. He said management of the SWWS would decide to continue work in the area or not. "Right now our board is having a meeting," he said. The victims were identified as technician Amjad Ali, lady health visitor Naila Naz, and five teachers Gul Naz, Asmat Begum, Rahila Gul, Zahida Begum and Shohrat Begum.
Agencies add: Police said the women workers were aged 20 to 35 and the male health technician was 52.Other charity workers in Khyber Pakhtunkhwa called for protection."Schools and NGOs have been threatened in the recent past. Several government schools had been bombed in the last several months," said Rooh ul-Amin, who heads an umbrella organisation of charities in Swabi. He said eight months ago the guest house where he receives visitors was bombed and another bomb was found near his office four months ago. Idrees Kamal, the coordinator of Pakhtunkhwa Civil Society Network (PCSN), demanded that the killers be arrested, and called for protection and compensation."PCSN will formulate a joint strategy to tackle the matter," he said in a statement.
http://www.nation.com.pk/pakistan-news-newspaper-daily-english-online/national/02-Jan-2013/7-charity-workers-shot-dead-in-swabi
------------
Malala Yousafzai Wins Tipperary Peace Award
January 02, 2013
PAKISTANI student Malala Yousafzai has won the 2012 Tipperary International Peace Award. In a statement, the Tipperary Peace Convention said it is recognising her courage, determination and perseverance, along with the impact she has had on so many across the world. Malala campaigned for girls' rights and came to public attention in 2009 by writing an online diary. In the diary, she wrote about life under Taliban, who had taken control of the Swat Valley and banned the education of girls.
http://www.nation.com.pk/pakistan-news-newspaper-daily-english-online/national/02-Jan-2013/malala-yousafzai-wins-tipperary-peace-award
------------
New Transport Funds Will Help Boost Saudi Women Employment
JEDDAH: ARAB NEWS
Wednesday 2 January 2013
The 2013 budget that allocates SR 2 billion from the 2012 budget surplus to implement
Transport projects inside cities have made women optimistic about the possible changes concerning transport and employment. This confidence is understandable as a recent law that allows women to work in lingerie and accessories stores as well as the upcoming industrial city for women in Hofuf — first of its kind — has rightly made Saudi women hopeful of new employment opportunities in near future.
The issue of transport is then of common concern for women, regardless of their professions and education. They all aspire the availability of public transportation to go to their jobs and businesses without spending three quarters of their income on drivers or taxis, as is the case now.
"Transportation was the common obstacle in face of the wider participation of Saudi women in the workforce, as found in many surveys that address the percentage of women employment and participation in the job market," Huda Al-Jressi, a businesswoman, told Al-Eqtisadiah newspaper.
One survey found that 60 percent of college graduates are women; nonetheless, they acquire only 15 percent of the job market.
"This small percentage will increase when public transportation is provided," she said, adding that demanding employers to provide transportation is unreasonable and will not be enforced, as much of the businesses are small to medium-sized enterprises (SMEs).
She pointed to the anticipation of the new budget to allocate a portion for SMEs, and open opportunities for them to compete on government tenders, so that they will not be restricted to major international companies.
"Most women are in bad need for training and rehabilitation to enable them to enter new fields of business." Al-Jressi said she is optimistic about the new budget in light of the jobs women assume in lingerie shops. In addition, women are already working in about 14 plants, up from only three, and more is expected in the coming period.
Abeer Al-Harbi, a saleswoman, said she is also optimistic about the budget and hopes that the problem of transport will be solved soon.
Last year witnessed the enrollment of girls at Nora bint Abdul Rahman University as well as completion of a university city for young women with a budget of SR 8.3 billion to accommodate 30,000 women students.
"This project created more positions for women, such as safety supervisors for each building, with integrated evacuation plans in case of emergencies. It also created the position of deputy of university affairs for women, who will be responsible for the campus. It is the first time this position is occupied by a woman," said Eynas Suleiman Al-Essa, dean of the scientific department and medical studies, and deputy assistant for academic affairs at King Saud University.
She stressed that all women departments followed a rational governance, as each faculty would have a president and a deputy, with faculty women also being members in the department council, with the right to vote and participate in the decision making process electronically.
http://www.arabnews.com/saudi-arabia/new-transport-funds-will-help-boost-women-employment
------------
Concrete Strategy Urged to Implement Laws for Women's Rights in Pakistan
January 02, 2013
ISLAMABAD: Though a lot of measures are already in place to secure women's rights in the country, a concrete strategy is urgently needed to implement the respective laws at the grassroots level.
The government's endeavour was aimed to safeguard women from acid throwing, sexual harassment, domestic violence and honour killing, said an official of the Ministry of Human Rights while talking to APP on Tuesday.
Giving details of these laws, he said that the Women in Distress and Detention Fund Act, 2011 had been enacted to provide funds to women in detention, disabled women, deserving women suffering from serious ailments – including mental ailments or those who were in distress and needed medical aid – burn cases, distressed women and their minor children in need of shelter, women seriously maltreated by their husbands, similar cases of grave distress and legal help to women in detention or distress.
Criminal Law (Second Amendment) Act, 2011, commonly known as Acid Control and Acid Crime Act, had been enacted in 2011 to provide protection to women, he added.
The official said that the Criminal Law (Amendment) Act, 2010 was an amendment in the Pakistan Penal Code's Clause 509.
This amendment added a clear definition of sexual harassment and articulates that this behaviour, may it happen at workplace, markets, streets or home, is a crime and is punishable by law.
Full report at:
http://www.dailytimes.com.pk/default.asp?page=2013\01\02\story_2-1-2013_pg11_4
------------
Two women among five perish in bad blood, mishaps
January 02, 2013
CHINIOT/BAHAWALPUR/HAFIZABAD/VEHARI - Five persons including two women were killed and 10 others including two women injured in separate incidents of honouring and sectarian killings and road mishaps here over the past 24 hours.
As per detail, in Chiniot a man was killed and two others injured in exchange of firing between two sectarian outfits. The incident occurred when annual Majlis Aza was going on the other night and all roads and streets leading to the venue were closed for security purpose. The police personnel led by Inspector Ghulam Abbas Saggal and armed personnel of a banned outfit were also guarding the majlis. Meanwhile, former UC nazim Zulfiqar Jatt, belong to the rival sect along with his companions tried to pass through the road. He contended that he wanted to go to his house in adjoining street. However, they went into argument which was ensued by firing from both groups. As a result, Mukhtar alias Taoo was killed while Zeeshan Butt and Moazzam Ali sustained serious injuries. The City Police registered FIR against Zulfiqar, Irfan, Faizan, Imran Dogar and four unidentified motorcyclists. Following the incident a large number of members of Shia sect reached hospital.
They took out a protest against the firing incident and demanded arrest of the culprits. Meanwhile, heavy contingency of police patrolled the city to thwart any untoward incident. The police urged the shopkeepers to close their businesses to avoid any loss by the mob. However, many of the markets re-opened in the afternoon.
Full report at:
http://www.nation.com.pk/pakistan-news-newspaper-daily-english-online/national/02-Jan-2013/two-women-among-five-perish-in-bad-blood-mishaps
------------
Police arrest female suspect in Sharjah stabbing case
Aghaddir Ali
January 1, 2013
Sharjah: A young Moroccan woman has been arrested for allegedly stabbing a Moroccan man with a broken alcohol bottle during a reported quarrel, police said.
Officials of the Criminal Investigation Department (CID) placed the woman in custody while she and the victim were under the influence of alcohol following the incident, officials added.
The row reportedly took place over the weekend in an Al Khan residential tower, police said.
CID director Colonel Jihad Sahoo said officers were dispatched to the location following a call to the police operations room saying a man had been stabbed in Al Khan.
Traces of blood were found in several places inside the tower, police said.
According to an official, the victim was taken to hospital and, after his condition stabilised, police questioned him and asked for the attacker's description.
He reportedly told police that a Moroccan woman stabbed him with a shard of glass after a squabble in his apartment. He informed police that she was staying in a hotel in a neighbouring emirate.
The woman was later taken in but denied the assault allegation against her. According to her, the man was stabbed by a friend of his, who fled the scene after the alleged argument.
Police have launched a manhunt for the other suspect.
Colonel Sahoo, meanwhile, praised what he described as the CID team's quick response in attending to the victim, who in turn led officers to the female suspect in time.
He strongly condemned violent brawls under the influence of alcohol, saying such behaviour has no place in the UAE and Islamic society.
Full report at:
http://gulfnews.com/news/gulf/uae/general/police-arrest-female-suspect-in-sharjah-stabbing-case-1.1126544
------------
Two Girls Killed By Mortar Shell outside Their Seminary
January 2, 2013
LANDI KOTAL, Jan 1: Two girl students of a seminary were killed and five others injured when a mortar shell landed outside the institution in the Akkakhel area of Bara on Tuesday, sources said.
The mortar shell fired from an unknown direction fell outside the seminary in Gud Malang locality when the students were leaving the place after attending their classes.
The victims were identified as six-year-old daughter of Said Muhammad and seven-year-old daughter of Aziz Khan Zakhakhel.
Full report at:
http://dawn.com/2013/01/02/two-girls-killed-by-mortar-shell/
------------
Manal Al-Sharif: Driver of Change in Saudi Arabia
January 2, 2013
With her blog, Tweets and speeches, Manal Al-Sharif has come to embody the resistance of Saudi women to their apartheid existence in the Saudi kingdom. "Do not ask permission from him!" is the title of the most recent blog entry, written in Arabic. In the post, she recounts that after her younger brother Ghassan was born, her mother began to be called "mother of Ghassan." She was never referred to as "mother of Manal." From there, she moved on to challenging her readers to stop asking their male relatives or spouses for the okay to do any on the hundreds of actions law or custom say they need permission for.
The Saudi laws and religious dictates for women are the most extreme outside the Taliban. Women outside their homes must be fully covered with an Abaya, a veil and a face covering. If not properly dressed, they will be publicly chastised by religious police who carry sticks to punish transgressors. They may not travel outside Saudi without the permission of a male guardian, a father, brother or husband. The list goes on.
Al-Sharif graduated from a Saudi university--a women-only computer science program--and found a job the same year at Aramco. Until multiple death threats forced her to leave Saudi, Al-Sharif lived and worked in relative comfort and freedom in the westernized compound controlled by Aramco, the state-owned oil company responsible for much of the nation's wealth.
Full report at:
http://womensenews.org/story/21-leaders-the-21st-century/121227/21-women-leaders-2013-seven-who-shake-the-status-quo#.UOP6AuRthm4
------------
URL: http://www.newageislam.com/islam,-women-and-feminism/new-age-islam-news-bureau/saudi-women-outraged-at-us-tv-host-for-swearing-at-saudi-men/d/9857