New Age Islam News Bureau
4 Oct 2012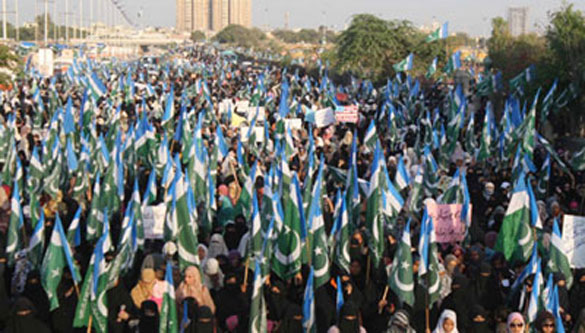 • Jamaat-E-Islami Pakistan Women Protest against Blasphemous Film
• Majority in Bangladesh for Compulsory Marriage Registration
• Tunisians Protest over Charges against Woman Allegedly Raped By Police
• Saudi Courts May Soon Have Women Lawyers
• 'Every 9th Woman in Pakistan Suffering From Breast Cancer'
• US Women May Stage Hunger Strike in Pakistan in Anti-Drones Protest
• Muslim Women Recognised For Contributions to Canada
• Muslim Students Detained From Their Rights, another Issue of Hijab Ban in an Indian State
• Bahrain Frees Female Activist
• Femen activists protest in Paris in support of Tunisian woman
• Lahore Film Industry Dons Hijab
Compiled by New Age Islam News Bureau
Photo: Jamaat-E-Islami Pakistan Women Protest against Blasphemous Film
URL: https://newageislam.com/islam-women-feminism/saudi-women-no-longer-confined/d/8872
----------
Saudi Women No Longer Confined To Their Conventional Roles
4 October 2012
Five years away from Saudi Arabia is a long time. I'm just starting to get over the culture shock of coming in from the brutal cold of northern England to scorching Jeddah.
The biggest surprise that requires some getting used to is the dramatic change in attitudes of young Saudi women. Many of the young nursing students I met upon my return were teenagers in secondary school when I left and are now young, mature women looking for jobs, security and a life far different from that of their mothers.
Yet even beyond the confines of the university campus, I see that young Saudi women today have much higher expectations, and they are willing to wait if necessary to achieve the very specific goals they have in mind.
The other day I was at the bank and struck up a conversation with a teller in her mid-20s. She had spent much of her life outside Saudi Arabia, living in Europe and later the United States. Her English was fluent and accentless. She expressed doubts, though, about her future. She instinctively felt society's pressure to get married when she was not only unprepared, but also unwilling to marry a man who might stifle the independent life she led for so many years.
Making a home and becoming a mother did not frighten her, but leading a conventional Saudi mother's life did. I don't mean this to diminish motherhood, which is the bedrock of Saudi society. But the worldly view the bank teller has of life does not fit into the traditions and customs that older Saudi women embrace.
The bank teller illustrates what I see in today's Saudi women university students. Many of the university nursing students I see today have never left Saudi Arabia, struggle with English, and know that the profession they have chosen holds a certain stigma in Saudi society.
The odds are that many, perhaps not the majority, but a good percentage, will abandon the nursing profession for the roles of wife and mother. But the difference I see in the students I left in 2007 and the ones I see today is staggering. In 2007, being a wife and mother was almost a given. Today that lifestyle is an option to be considered, not necessarily the only path. There is palatable energy I feel among the women in the classroom who see a future has no limits.
For many women, nursing is an opportunity to lead an independent life in which they earn a decent salary, engage in science and further develop their English language skills that will open yet more doors. Where does motherhood fit in? I'm not sure, but for some Saudi women that might come later rather than sooner.
Although a great many Saudis consider spinsterhood a troubling trend in our society, women simply don't see it as a problem. In fact, the average age of a woman getting married in Saudi Arabia almost mirrors that of women in the United States. In the US, the average age of a woman getting married is about 26 years old. In the United Kingdom, it's about 28. In Kuwait, the average age of a woman getting married is 25. For Saudi women in 2010, the age was about 25 years old compared to 22 years old in 2002.
It should come as no surprise that Saudi women are rethinking their future. According to the Center for Strategic and International Studies, women's attitudes toward gender roles are a remarkable contrast compared to men.
Today, just under 75 percent of Saudi women believe that both men and women should earn an income for the family. About 55 percent of the Saudi men believe both husband and wife should work. About 40 percent of Saudi women surveyed said that women should be more visible in politics and government. Only about 15 percent of Saudi men believed women should be active in politics and government. And an overwhelming 75 of Saudi women say women's rights will change substantially in the next five years. About 50 percent of the Saudi men believe women's rights will change.
It's encouraging that many Saudi men are willing to consider the changing roles of women, but the divide between how men and women view their roles in society is wide. Females are far ahead of the curve in their willingness to effect change.
But we can't completely condemn men for trailing women in progressive attitudes. For example, the study showed that Saudi families "place a high value on girls' education with 82 percent of women and 84 percent of men agreeing that a wife and mother should be education. The study also found that women lead men in receiving doctorates. Saudi women receive 79 percent of all Ph.Ds awarded each year in universities.
I credit Saudi universities, in particular the King Saud bin Abdulaziz University for Health Sciences, Nursing College, for providing career paths for young women who might otherwise not have the opportunities. The Nursing College as far as I am concerned is a pioneer in breaking down social barriers to not only prepare women for jobs in the medical field, but give them the courage to explore a world beyond confines of their family and circle of friends.
Sadly, Saudi universities must pick up the slack left by secondary schools that have failed to give students a global view. If there is one weakness seen in the new generation of women is their lack of preparedness to deal with the pressures of a university and what role Saudi Arabia plays in the international community. Young Saudis' naïveté on matters of global politics, social movements, even terrorism, can be appalling.
Yet, despite these shortcomings, there is an innate curiosity among Saudi woman that can't be snuffed out. Their appetite for a life outside of traditional roles is enormous. Simply, the horse is out of the barn and there is no way to get her back inside.
http://www.arabnews.com/saudi-women-no-longer-confined-their-conventional-roles-0
----------
Jamaat-E-Islami Pakistan Women Protest against Blasphemous Film
October 4, 2012
KARACHI: Jamaat-e-Islami (JI) Pakistan Naib Ameer Sirajul Haq has said that America and other western countries had expressed themselves as Muslims' enemy by making blasphemy film.
It is not a minor issue, it created environment of war throughout the globe.
He expressed these views while addressing a large protest demonstration of JI Women Wing, held here at Mazar-e-Quaid on Wednesday against blasphemous movie. The protest was led by JI Women Wing Pakistan Central Assistant Secretary Durdana Siddiqui, Kosar Masood, JI Sindh Nazim Afsha Naveed, JI Karachi Nazim Rina Fazal and others, while a large number of women also attended the demonstration.
Naib Ameer said that Muslims could not tolerate blasphemy of their Prophets, and love with Prophet is an identity of Muslim belief. After defeat in Afghanistan, America tried to hurt sentiments of Muslims and challenged Muslims beliefs by making film, he said.
He further said that recently Barack Obama in his speech discussed torching of their flag, which showed that he cared about his country flag but did not have respect for emotions of Muslims. Haq said, "Muslims, by holding protests across the globe, proved that they could not tolerate blasphemy of their Prophets," adding that our government high-ups were along with US in that war as President Asif Ali Zardari was in London, but did not record his protest.
He said that for the safety of American ambassador and to make America happy, government tortured innocent Muslims while they were trying to record their protest. Naib Ameer said that the solution to issues was only the Islamic revolution; otherwise this kind of incidents would continue.
Karachi Ameer Muhammad Hussain Mehanti said that western countries were proving themselves enemy of Muslim by creating such kind of issues. He said that they would sacrifice their lives against blasphemy.
Naseem Siddiqui said that women by holding protest showed manifestation of their honour. On the occasion,
JI Karachi Naib Ameer Nasarullah and others were also present.
http://www.dailytimes.com.pk/default.asp?page=2012\10\04\story_4-10-2012_pg12_3
----------
Majority in Bangladesh for Compulsory Marriage Registration
October 4, 2012
Some 91.3 percent respondents, 74.5 percent of whom were women, of a survey conducted by Meghna Guhathakurta, executive director of Research Initiatives of Bangladesh (RIB), demanded a system to make marriage registration compulsory.
The study, "The necessity and importance of Hindu marriage law", was disseminated in a seminar organised by RIB and Manusher Jonno Foundation in the capital's Cirdap Auditorium yesterday.
A total of 756 women and 180 men of nine districts were interviewed for the study. The government recently passed Hindu Marriage Registration Act, 2012, keeping Hindu marriage registration optional.
Presenting the study, Meghna said 93.5 percent of the respondents thought there was no religious barrier to the compulsory marriage registration system.
The study said 61.1 percent of the responding men thought that women were facing discrimination and torture due to the absence of a law making marriage registration compulsory while 88.3 percent of them deemed the law a necessity.
Shaheen Anam, executive director of Manusher Jonno Foundation, said the law ignored the opinions of thousands of women by keeping Hindu marriage registration optional.
Around 90,000 signatures were collected in favour of making Hindu marriage registration mandatory, but the opinion was not followed, she said.
http://www.thedailystar.net/newDesign/news-details.php?nid=252374
----------
Tunisians protest over charges against woman allegedly raped by police
Eileen Byrne
3 October 2012
Hundreds of women staged an angry protest outside the main courthouse in Tunis as a hearing began into whether or not a young couple who have lodged a rape claim against police should face charges of "immorality" in a public place.
Around 400 people demonstrated, furious that a charge had been introduced against the 27-year-old woman and her boyfriend. Two police officers are accused of raping the woman over a period of more than an hour on 3 September after surprising the couple in a parked car in a suburb of the capital.
The woman has recounted in media interviews how she had been in the driving seat, her boyfriend beside her, when three police officers approached. After threatening the couple with possible long prison terms if charged with "immorality", one of the police officers handcuffed the boyfriend and took him off to a cashpoint machine to extract 300 dinars (£120) from him. The two others allegedly took the woman into the back of their car and took turns to rape her.
Full report at:
http://www.guardian.co.uk/world/2012/oct/03/tunisians-protest-charges-woman-police
----------
Saudi courts may soon have women lawyers
By Jumana Al Tamim
October 4, 2012
Dubai: A first group of nearly 300 Saudi women lawyers are expected to be licensed to argue clients' cases in courtrooms in the near future, Saudi press reports have said.
The move, which is yet to be approved by the Saudi government, will put an end to several years of debate on whether women have the right to present cases of their clients in Islamic courts in the conservative kingdom.
"Every day, I see it closer than the day earlier," said Hatoun Al Fassi, a prominent Saudi women's rights activist and assistant university professor of the expected move. "At every stage, the ceiling of expectations becomes higher."
"I believe the delay [of the issue] like many other things is not justified," she told Gulf News, commenting on reports anticipating a decision allowing women lawyers to argue their clients' cases in courts.
Full report at:
http://gulfnews.com/news/gulf/saudi-arabia/saudi-courts-may-soon-have-women-lawyers-1.1085049
----------
'Every 9th woman in Pakistan suffering from breast cancer'
October 4, 2012
KARACHI: Pakistan has the highest breast cancer for any Asian population accounting to 40,000 deaths per year. Approximately every 9th women in Pakistan is suffering from breast cancer. HEC collaborated with Pink Ribbon for this noble cause creating widespread awareness about the severity of the fatal tumor. This was informed by the representatives of KU regarding breast cancer awareness programme here on Wednesday. Pink Ribbon Youth Awareness Program has been initiated by HEC for massive awareness for Girl's Colleges and Universities across Pakistan. The focal persons Ghazal Khawaja and Hummayun Akhtar led this campaign in University of Karachi. Stalls were set up in front of UBL bank and Chemistry Department where volunteers distributed awareness literature for creating awareness among masses. In addition, donation slips were also bought by the visitors. Funds collected by the slips will be utilised for welfare of cancer patients.
http://www.dailytimes.com.pk/default.asp?page=2012\10\04\story_4-10-2012_pg12_13
----------
US women may stage hunger strike in Pakistan in anti-drones protest
Jon Boone
3 October 2012
Code Pink activists gathered in Islamabad ready to join march led by Imran Khan into tribal region bordering Afghanistan
Not content with a planned march into one of Pakistan's most dangerous regions, a group of middle-aged American women are considering mounting a hunger strike outside the US embassy in Islamabad as part a campaign against CIA drone attacks in the country.
Thirty-five activists from Code Pink, a US anti-war group, have gathered in the Pakistani capital this week as they prepare for an unprecedented march and political rally in South Waziristan, one of the semi-autonomous tribal areas on the Afghan border, which is a hotbed of Taliban militancy.
Full report at:
http://www.guardian.co.uk/world/2012/oct/03/us-women-pakistan-code-pink
----------
Muslim women recognised for contributions to Canada
Tuesday, 02 October 2012
This week, a young Muslim woman will give a keynote address on integration with Canadian society to a large gathering in Toronto. In mid-October, Muslim women will recognise their peers who have made a difference with contributions to civic engagement in Canada. And later this year, a Muslim woman will be honoured by the Canadian government for championing women's rights and promoting interfaith dialogue.
This flurry of activity around Muslim women's work to promote integration in Canada is not a flash in the pan. Muslim women have a long history of working for integration, inspired by their deep appreciation for Canadian multiculturalism policy and its Charter of Rights and Freedoms.
Full report at:
http://www.english.globalarabnetwork.com/2012100312609/Opinion/civic-engagement-muslim-women-recognised-for-contributions-to-canada.html
----------
Muslim Students Detained From Their Rights, another Issue of Hijab Ban in an Indian State
Wed, 03 Oct 2012
S.O. News Service, Posted by: I.G. Bhatkali
Sullia: The ritual of banning the hijab in the college campus is now becoming a trend in the Coastal Belt of Karnataka. A lot of buzz and protests were witnessed in the near past regarding the same issue of banning hijab in some colleges of Dakshin Kannada district. After Sri Ramakunjeshwara First Grade College in Uppinagady in recent past, and a few colleges before that, the Kukke Shri Subrahmanyeshwara College, run by Shri Kukke Subrahmanya temple administration at Subrahmanya in Sullia taluk has become the next in row to impose ban on the burqa for the Muslim students in the campus.
Full report at:
http://www.sahilonline.org/english/newsDetails.php?cid=1&nid=15183
----------
Bahrain frees female activist
4 October 2012
MANAMA: Bahraini authorities released rights activist Zainab Al-Khawaja from prison yesterday after she served a two-month jail term for destroying government property, her lawyer told AFP.
"Zainab is free and she is home with her family," Mohammed Al-Jishi said adding that she was supposed to be released yesterday, when her two-month sentence came to an end. He said she was released "after orders from the attorney general."
Full report at:
http://www.arabnews.com/bahrain-frees-female-activist
----------
Femen activists protest in Paris in support of Tunisian woman
October 4, 2012
Activists from the Femen women's right movement have staged a protest near the Venus de Milo statue inside Paris's Louvre on October 3 demanding to stop the prosecution of a woman in Tunisia, Mariam, who was allegedly raped by police officers and later accused of immoral conduct.
According to Femen's press service, several topless activists of the movement placed a poster reading "Rape Me, I'm Immoral" near the armless statue and chanted "We Have Hands to Stop Rape!"
"In the name of the Venus, we are calling on all women of the world to create a from to resistance and to prevent the punishment of the innocent victim of Tunisian savages. We have hands to stop this," Femen said.
Full report at:
http://www.interfax.com.ua/eng/main/120125/
----------
Lahore Film Industry Dons Hijab
By Aamir Latif
OnIslam Correspondent
KARACHI – Gaining foothold in the south Asian country, hijab is increasingly being donned by public figures, politicians and actresses in Pakistan amid increasing religious trends among the literate women class during the last decade.
"I have understood the reasons and importance of Hijab," Sara Chaudhry, a top Pakistani actress and model, told OnIslam.net.
"Therefore, I have no excuse to waste even a single minute to bow to the word of Allah."
Chaudhry, who left the showbiz in 2010, was among a host of women politicians, writers and civil society activists who joined hands in a campaign to promote the Muslim headscarf.
"It was not enough to wear hijab," said Chaudhry, who has managed to persuade four other top models and film actresses to don the headscarf.
Full report at:
http://www.onislam.net/english/news/asia-pacific/459315-lollywood-dons-hijab.html
----------
URL: https://newageislam.com/islam-women-feminism/saudi-women-no-longer-confined/d/8872