New Age Islam News Bureau
26 May 2019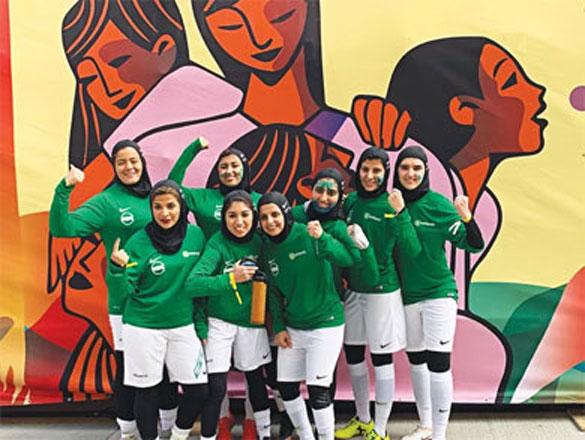 The Greens' squad are using the plastic bottles they collected at the football stadium to create an art work that will highlight the harm plastic does to the planet. (Supplied photo)
-----
• 78 Women Including Three Muslims Step into Indian Parliament
• Female Musicians Banned From Playing In Charity Concert in Qazvin
• Online Petition Backs Doctor Who Asked Muslim Patient to Remove Veil
• Egypt's Council for Women Launches First Forum for Female Directors in August
Compiled by New Age Islam News Bureau
URL: https://www.newageislam.com/islam-women-feminism/saudi-women-footballers-set-their/d/118707
---
Saudi Women Footballers Set Their Sights On Green Goals
May 26, 2019
DUBAI: In the natural scheme of things, sports and environment are not easy to combine. But a group of eight Saudi women are attempting just that through their football team, the Greens.
The team's members want to use their passion for sport to raise environmental awareness and bring about a mindset change across the Kingdom.
The Greens were established by the Saudi Sports for All Federation two months ago — specifically to promote environmental causes. The federation focuses on sports as a social, rather than professional, activity for women, men, adults, children, the elderly and people with special needs.
Leading the Greens is Rawh Alarfaj, 34, who played football for 12 years before deciding to become a coach.
"I am very passionate about sports overall, but my speciality is football and I feel I am good at it," Alarfaj, who lives in Riyadh, told Arab News. "One of the things that keeps me going is that I am one of the founders of the Challenge Sports Club, which I manage right now.
"We were focused at first only on football. But from the beginning of 2017, we have also had a basketball team for women in Riyadh."
"We run programs for everyone in society because our goal is to increase the level of public participation in sports in Saudi Arabia from 13 percent in 2015 to 40 percent by 2030, based on a study we did at the federation," said Alarfaj.
"Today, we're at 18 percent. The programs focus on all kinds of sports. Just days ago, in the Danish capital Copenhagen, we took part in the Global Goals World Cup, which promotes causes such as environmental ones."
The tournament, better known as GGWC, frames the UN's 17 Sustainable Development Goals (SDGs) as a sport, with 30 teams worldwide competing to create the kind of world they would like to see. Each team creates an action plan with a particular global goal and strives to achieve it in their own country.
For the Greens, the focus was SDG 15: "Life on Land." "We thought it would be a good global goal to choose right now because the issue has many sides," Alarfaj said. "Awareness of the state of the environment is a very important topic now. So we organized a number of campaigns across the Kingdom."
During a male professional football league game in Riyadh, Greens players distributed reusable bags as they educated the crowds about the benefits of using them instead of plastic bags.
After the event, the team — with the help of a number of young Saudis — cleaned up the stadium. They collected plastic bottles for use in building a "plastic art work" — due for completion in June — which highlights the harm they do to the planet.
The environmental protection campaign was not confined to Riyadh alone. A clean-up drive was undertaken by the Greens at a public park in Alkhobar, in Saudi Arabia's Eastern Province, while awareness talks were held in Jeddah about how plastic harms marine life.
"These campaigns are really important," Alarfaj said. "A lot of young people volunteered to help us and it's something that needs to be a part of the culture."
Such campaigns gain the team points toward their final tournament score. "Global Goals isn't just about football," she said. "It's about the SDGs and how to achieve them through sports, specifically female football. It's very good to take part in sports for a cause and to have this culture in Saudi Arabia."
Having taken part in the GGWC this year, the Greens hope to host the tournament in the Kingdom in a couple of years. "To win, you can't just go out and play," Alarfaj said. "You have to organize these campaigns and engage society in the goal you choose.
"Sports is the most peaceful activity which people can use to espouse a cause," she said. "So I recommend that people get more engaged with sport and use it as a tool to spread awareness about different causes."
Lujain Kashgari, 28, discovered she loved football when she was only 8 years old. She used to play the sport with her relatives as children.
As she grew older, so did her passion for the beautiful game. "It's my favorite hobby and biggest passion today," said Kashgari, who was originally from Jeddah but lives in Alkhobar at present.
"My mission was to come up with an initiative that engaged the people of Eastern Province and also made a big impact on Life on Land through plastic recycling."
To this end, Kashgari asked residents and communities to donate 10,000 plastic bottles to a recycling center. She also targeted children by organizing a fun learning day in the Altamimi public park, while teaching others in schools about the importance of recycling through playing a game.
"What I really liked about the GGWC is that it combines sports with humanities and a good cause," Kashgari told Arab News. "I have learnt a lot about sustainability and simplicity, while enjoying every moment of the football tournament and scoring three goals. It was an amazing opportunity and an unforgettable experience."
She said many Saudis lack awareness of ways to implement the specific goal of Life on Land.
"When I read about the Life on Land global goal, especially the concept of the three Rs (recycle, reuse and reduce), and looked around, even at myself, I realized that we might have known about it, but we needed a reminder," Kashgari said.
"Even when we reached out to recycling centers, we found that they don't really take plastic bottles unless it's a massive amount. They don't support communities or individuals, so I realized it's very important that we do something about it and give it more attention."
As a football club, the Greens were able to collect plastic bottles over a period of two weeks to recycle them. It also collaborated with five schools and two sports clubs in Alkhobar to collect 100 tons of plastic bottles, utensils and plates — the minimum required for recycling at the center.
According to Alyah Aboalola, a Greens player from Jeddah, more needs to be done for environmental protection in the Kingdom.
"I was focused more on raising awareness about the sea because local residents in Jeddah are into scuba diving as part of their interest in life under water," Aboalola, 24, said. "There's a lot of plastic being thrown into the sea, which affects the quality of marine life and coral life."
Currently involved full time with a sports academy, Aboalola said she was thrilled as a Greens player to have reached the semifinals in Copenhagen.
"I'd like to do this professionally later on," she said. "When you take part in sports, you build a community and, through it, we can do more for society. I'd like to always keep sports and environmental
http://www.arabnews.com/node/1502136/saudi-arabia
--------
78 Women Including Three Muslims Step Into Indian Parliament
May 26, 2019
New Delhi: In the 17th Lok Sabha, 78 women have made an entry which is the largest number of women MPs after the Independence of India.
It may be mentioned that in all, 726 women contested Lok Sabha Polls this time but only 78 could make it. In the last Lok Sabha, there were 61 women MPs. In 1957, there were only 22 women MPs which was the least number.
Among the important women who made to Lok Sabha, Ms. Sonia Gandhi is the most important person who occupies the post of chairperson of UPA.
Another woman member of Lok Sabha is Ms. Smriti Irani who defeated Congress President, Mr. Rahul Gandhi in Amethi. NCP's Supriya Sule, Kanimozhi of DMK and Hema Malini are other prominent women MPs.
Among the women MPs, 40 are from BJP, nine from TMC, 5 from Biju Janata Dal and six from Congress .
Three Muslim women MPs are from TMC. They are: Ms. Sajida Ahmed, wife of former MP, Late Mr. Sultan Ahmed, Ms. Afreen Ali and Ms. Nusrat Jahan Ruhi.
Ms. Ruhi is an actress who stepped into politics for the first time and won the seat. Ms. Afreen Ali embraced Islam recently.
It may be mentioned that TMC Supremo, Ms. Mamata Banerjee had given tickets to 7 Muslim candidates out of which four were women.
https://www.siasat.com/news/78-women-including-three-muslims-step-parliament-1500487/
--------
Female Musicians Banned From Playing In Charity Concert In Qazvin
May 25, 2019
Female musicians were banned from playing in a charity concert in Qazvin. They were not allowed to even sit among the audience.
One of the largest annual charity programs in Qazvin Province was staged on Thursday night, May 22, 2019. A traditional music band was supposed to perform at the auditorium of the Azad University of Qazvin. But on the order of the president of the Azad University of Qazvin, Moussa Khani, the female musicians of the band were prevented from entering the hall. The female musicians were not even allowed to sit among the audience and watch the concert. For this reason, many musicians left the auditorium in protest. (The state-run ILNA news agency – May 23, 2019)
Last week, on May 17, 2019, a female singer by the name of Negar Mo'azzam was placed under surveillance by the Prosecutor's Office of Isfahan Province for her solo singing during a sightseeing tour to the historical village of Abyaneh.
Since the mullahs took power in Iran in 1979, women have been banned from singing in public and their performances have always been censored. Female singers were forced to stay home and many left the country.
Women arrested for taking part in Yoga course
A judiciary official announced on May 23, 2019, that 30 women and men had been arrested in a private Yoga class in Gorgan.
Massoud Solaimani, from the Justice Department of Golestan Province, said, "Someone had run an ad on his Instagram account recruiting students for a Yoga class at his home. Solaimani said the reason for these arbitrary arrests was "improper clothing of women and men in this house."
Solaimani stressed that the Iranian regime monitors the slightest details of their citizens' private lives. He said, "Those who break the law take advantage of a lack of monitoring of the cyber space, and undertake criminal measures." (The state-run Asr-Iran website – May 23, 2019)
In another report from Sanandaj, active members of Nojin cultural association, including a woman by the name of Zahra Mohammadi, were arrested by agents of the Intelligence Department of Sanandaj and taken to an unknown location.
https://women.ncr-iran.org/2019/05/25/female-musicians-banned-from-playing-in-charity-concert-in-qazvin/
--------
Egypt's Council for Women Launches First Forum for Female Directors in August
MAY 25, 2019
Egypt's National Council for Women (NCW), in collaboration with the Ministry of Culture, will launch the first forum for female directors in Egypt by next August to empower their creative abilities.
In a statement, Dr. Maya Morsi, President of the Council, said on Saturday that the forum aims to develop their talents and creativity, and to ensure greater roles for women in the film industry.
Morsi added that she is grateful for the efforts and role of the Minister of Culture, Enas Abdel Dayem, in launching the forum and supporting the Egyptian women in their communities, noting that Abdel Dayem is a role model for other women to follow.
Morsi also stated that the Egyptian woman is currently living in a 'golden age' as the new government is working actively to advance her position in society and is aware of her importance.
Minister of Culture Enas Abdel Dayem announced the launch of the first forum for female directors during the opening of the second forum for young directors under the theme "theater for the public", in which the minister asked the General Authority for Culture Palaces to set up workshops and forums in writing and theatrical texts for young people and women starting from the new season.
Egypt's film industry has known many female directors, including Kamla Abu Zekry, Sandra Nashaat and Hala Khalil, though there is still huge space for more to enter.
In its 40th edition, the Cairo International Film Festival (CIFF) announced establishing a special section titled "Arab Female Directors", where the film Nawara' by the Egyptian female director Hala Khalil was chosen to be screened within the section.
https://egyptianstreets.com/2019/05/25/egypts-council-for-women-launches-first-forum-for-female-directors-in-august/
--------
Online Petition Backs Doctor Who Asked Muslim Patient To Remove Veil
25 MAY 2019
A petition to prevent the possible sacking of a doctor who asked a Muslim patient to remove her veil so he could hear her explain her daughter's medical condition has reached more than 60,000 signatures.
Dr Keith Wolverson said he was "completely bowled over" after the online petition attracted so many votes. It was set up after he was reported to the General Medical Council (GMC) and became the subject of a racial discrimination inquiry.
He admitted yesterday he was "rather fearful of the consequences" after finding out he had been reported over the incident.
He said there was no sign the patient was upset during the consultation at the Royal Stoke University Hospital last June.
The freelance GP, who has been practising for 23 years, added that the support shown on the change.org website had encouraged him to "fight to the bitter end" so he could carry on working in the profession.
Speaking about the incident, the 52-year-old medic, from Derby, said: "I asked a lady to remove her face veil for adequate communication, in the same way I'd ask a motorcyclist to remove a crash helmet.
"When the letter [about the GMC inquiry] came through, I was rather fearful of the consequences.
"I'm a little bit sad the country has been committed to depths such as this. But it takes more than this to knock me off my perch."
The creator of the petition, called "Stop Dr Wolverson getting fired", said he believed the doctor acted in "the best interest of the child".
"I would like to get as many people as possible to sign this petition and save this man's reputation," the petition says.
"I believe he acted in the best interest of the child involved and there was no racist or religious discrimination in his actions.
"We need to ensure the General Medical Council treat this man fairly and look at all the evidence.
"Our NHS is severely understaffed and we cannot afford to lose doctors due to fabricated accusations of discrimination."
Mr Wolverson added: "I have been absolutely bowled over by the support. It has reaffirmed to me how wonderful people really are. I am going to fight it until the bitter end."
However, he explained that because he was a freelance doctor the accusation could lead to him having trouble getting offers of work.
"Yes, I want to carry on. Yes I will carry on, but it is academic until the inquiry is over."
Mr Wolverson said he expected to face a hearing from the GMC which would decide on his future.
https://www.telegraph.co.uk/news/2019/05/25/online-petition-backs-doctor-asked-muslim-patient-remove-veil/
--------
URL: https://www.newageislam.com/islam-women-feminism/saudi-women-footballers-set-their/d/118707
New Age Islam, Islam Online, Islamic Website, African Muslim News, Arab World News, South Asia News, Indian Muslim News, World Muslim News, Women in Islam, Islamic Feminism, Arab Women, Women In Arab, Islamophobia in America, Muslim Women in West, Islam Women and Feminism