New Age Islam News Bureau
21 Jul 2013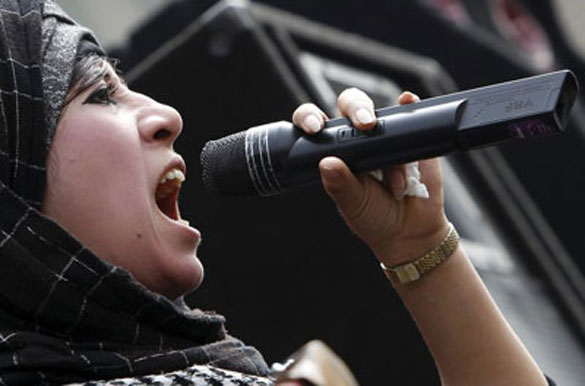 A woman, who opposes Egyptian President Mohamed Mursi, shouts slogans during a protest by Egyptian women at Tahrir Square in Cairo March 8, 2013, International Women's Day. REUTERS/Amr Abdallah Dalsh
----------
• Ban in Force on Muslims Taking Part in Beauty Queen Contests- Mufti
• French Police Station Attacked Amid Tensions over Ban on Muslim Face Veils
• Nigeria's Senate Bans Under-Age Marriage, Girls Deemed To Be "Full Of Age" Once Married
• Russian Muslims Lose Court Battle Challenging Ban on Hijab in Schools
• Canada Announces Projects for Women in MENA, Including Libya
• No Stamp of Approval: Femen Icon Sparks Twitter Outrage
• Acid Attacks: A Look at India and Other Countries
• Couple to Tie the Knot at Gezi Park after Meeting during Protests
• Al-Ayed Wants Smart Goals for Jeddah Chamber of Commerce And Industry
• Saudi Woman Saves 7 Lives by Donating Her Organs
• Arab Spring: Harsh and Unfair To Egyptian Women's Rights
• Nigeria: Women's Group Lobby National Assembly on Gender Equity
• Turkey's exquisitely 'odd' and relentlessly creative writer Leyla Erbil passes away
Compiled by New Age Islam News Bureau
URL: https://www.newageislam.com/islam,-women-and-feminism/new-age-islam-news-bureau/saudi-women-call-for-personal-status-law-protecting-their-rights/d/12696
---------
Saudi Women Call For Personal Status Law Protecting Their Rights
July 21, 2013
JEDDAH – Although there have been sincere efforts on the part of legal authorities to bring justice to women, these are not enough as many women feel they have been treated unjustly because the courts have not decided on the divorce, alimony, child custody, etc cases.
Many women, including businesswomen, have underscored the importance of having a comprehensive personal status law which grants women full justice and prevents them from being taken advantage of, reported Al-Madinah Arabic language newspaper on Saturday.
They recommended that alimony should be deducted automatically from a husbands' monthly salary. They also called for imposing strict penalties on husbands who take advantage of them and their children.
Noora Abdullah, 40, told the newspaper she got married 20 years ago to a short-tempered and ill-mannered person.
He abused her throughout their marriage and even disrespected her in public. Nevertheless, she had three daughters with him. When the daughters grew older, her husband forced them to work for a school in order to provide for the family. When she got tired of his mistreatment, she went to the court and filed a lawsuit against him.
When he learned what she did, he threatened to take her daughters from her if she did not drop the case against him.
She eventually succumbed to his demands and decided to continue living with him.
Sarah Ali had to file a case against her husband to get a divorce because he had abused her and did not take care of his daughters. Although she paid him the SR30,000 dowry he had given her and returned all the gifts she had received from him, she did not get any alimony payments simply because he refused.
Every time she goes to the court and files a complaint, he follows the court's orders for two months then stops paying her.
"Women like me need to be protected by a strong law which forces the husband to pay alimony and allows the court to deduct a certain amount from his monthly salary for alimony whether he likes it or not. Husbands should not shirk the responsibility of paying alimony."
Hasna says she got married at a young age and had to live with her husband for 12 years for the sake of her children. Her husband constantly avoided the responsibility of providing for his children. When she threatened to file for divorce, he said he would demand she pay him back the dowry he had given her.
Dr. Salwa Al-Hazah, a member of the Health and Environment Committee at the Shoura Council, stressed the importance of having a personal status law to protect women's rights.
She promised she and other female members in the Council will work hard to have such a law.
Hamad Al-Qadi, former deputy chairman of Family and Social Affairs Committee at the Shoura Council, said having female members in the Council will undoubtedly expedite the process of having such a law in the near future.
http://www.saudigazette.com.sa/index.cfm?method=home.regcon&contentid=20130721174266
---------
Ban in Force on Muslims Taking Part in Beauty Queen Contests- Mufti
July 21, 2013
KUALA LUMPUR, July 20 (Bernama) -- Federal Territory Mufti Datuk Wan Zahidi Wan Teh has repeated his call to Muslims against participating against in beauty queen contests because it is a sin and forbidden in Islam.
He said an edict on the issue had been gazetted on Feb 8, 1996 under the Administration of Islamic Law (Federal Territories) Act 1993.
"As such, the enforcement authorities are urged to implement the law as gazetted," he said in a statement Saturday.
Yesterday, local newspapers reported that four Muslim girls were among 20 participants who were picked as finalists at the Miss Malaysia World 2013 here on Aug 2.
http://www.bernama.com.my/bernama/v7/ge/newsgeneral.php?id=964904
---------
French Police Station Attacked Amid Tensions over Ban on Muslim Face Veils
July 21, 2013
TRAPPES, France — About 250 people hurling projectiles clashed with police firing tear gas west of Paris, in apparent protest over enforcement of France's ban on Islamic face veils. Five people were injured and six detained in the violence, authorities said Saturday.
The interior minister urged calm and dialogue, insisting on both the need for public order and respect for France's Muslims. The incident in the town of Trappes on Friday night reflected sporadic tensions between police upholding France's strict policies of secularism and those who accuse authorities of discriminating against France's No. 2 religion.
A few garbage dumpsters in the area were torched and a bus shelter shattered in the Trappes unrest. Spent tear gas capsules lay on the road Saturday near the police station at the centre of the violence.
A 14-year-old boy suffered a serious eye injury in the violence, from a projectile of unknown provenance, Prosecutor Vincent Lesclous told reporters. Four police officers were injured and six people were detained in the violence, said an official with the regional police administration.
The violence came after a gathering of about 200-250 people to protest the arrest of a man whose wife was ticketed Thursday for wearing a face veil. The husband tried to strangle an officer who was doing the ticketing, the prosecutor said.
France has barred face veils since 2011. Proponents of the ban — which enjoyed wide public support across the political spectrum — argue the veil oppresses women and contradicts France's principles of secularism, which are enshrined in the constitution. In addition to small fines or citizenship classes for women wearing veils, the law includes a hefty 30,000 euro ($39,370) fine for anyone who forces a woman to wear one.
The law affects only a very small proportion of France's millions of Muslims who wear the Niqab, with a slit for the eyes, or the Burqa, with a mesh screen for the eyes. But some Muslim groups argue the law stigmatizes moderate Muslims, too. France also bans headscarves in schools and public buildings.
The Collective Against Islamophobia in France urged Interior Minister Manuel Valls, who recently joined Muslim leaders in a fast-breaking sundown feast for holy month of Ramadan, to crack down on insults and attacks against Muslims.
Valls urged calm after the Trappes violence, and pledged to stand against "all those who attack Muslim buildings or our compatriots of Muslim faith."
But he also came down firmly against those who attack police.
"There is no valid reason for the violence seen in Trappes," he told reporters in the southern city of Marseille, which has seen a wave of urban unrest. "The law should be applied, and applies to everyone."
The CCIF said in a statement that it was contacted by the veiled woman ticketed in Trappes on Thursday, and that she said the police officer yanked her by the veil and pushed her mother.
Police argue they are doing their jobs and that veiled women are breaking a well-known law.
Trappes is deploying extra riot police Saturday night to try to head off any new violence.
Trappes was among many towns around France that saw rioting in 2005 by disillusioned youth in neglected housing projects, many with origins in former French colonies in North and West Africa.
Valls acknowledged the "difficulty our fellow citizens have living in these working class neighborhoods, especially young people. What they need is jobs, hope, training."
"Only in dialogue can we find the solutions to the problems of our society, of joblessness, the sentiment of discrimination and exclusion," he urged.
"Violence leads to nothing."
Charlton reported from Paris.
Copyright 2013 The Associated Press. All rights reserved. This material may not be published, broadcast, rewritten or redistributed.
http://www.washingtonpost.com/world/europe/french-police-station-attacked-amid-tensions-over-ban-on-muslim-face-veils/2013/07/20/c1cd9da6-f115-11e2-bc0d-556690a86be2_story.html
---------
Nigeria's Senate Bans Under-Age Marriage, Girls Deemed To Be "Full Of Age" Once Married
July 21, 2013
Nigeria's senate has passed a resolution to alter Section 29 (a) of the proposed constitutional amendment which states that a Nigerian girl can only qualify for marriage when she is at least 18 years old. This removes the age requirements for girls and those that are already married by stating that a girl is deemed to be "full of age" once she is married regardless of her age when she got married.
The resolution was made during a vote on recommendations of the Senate Committee on the Review of the Nigerian Constitution.
Initially, the Senate had voted to retain this section but Senator Ahmad Sani (Zamfara West), objected to the provision which inserts a minimum age for girls before getting married, on the grounds that it contradicts Islamic law. The Senate President, David Mark, then called for a new round of votes and after the second round the votes went in favour of removing the provision.
Two years ago, Senator Ahmad Sani married a 13-year-old Egyptian girl . This generated a huge outcry and violated Nigeria's constitution.
Several civil society groups have criticised the move by the Senate. PROJECT ALERT on Violence Against Women described the resolution selfish and comments by the organization said, "That is very reckless of them and insensitive of them to the plight of young girls, especially in this time and era of child sexual abuse; the implications and complications that come up from early marriage which we all know; VVF, RVF and all that.
"So, if they go to the constitution to remove the age restriction that says one cannot marry a teen, then, they might as well throw the Childs Tights acts out of the window.
"The Childs Rights Acts says clearly that a child is any one below the age of 18; or are they oblivious to it , it is completely unacceptable.
The Gender and Constitution Reform Network, (GECORN) said "The Senate's move contradicts Section 21 of the Childs Rights Acts which says no persons under the age of 18 is capable of contracting a marriage; and any marriage that is contracted by a minor is null and void and has no effect whatsoever.
"The constitution is supreme, so the Childs Rights Acts falls under the constitution; So, what the man has done is to set back all the gains of the struggle of the Nigerian women.
"So this kind of law will just legalise the abuse of children in the country and that is why people were clamouring for the deletion of that section 39(4) and which the senate originally moved towards, so how the table now turned against the children of Nigeria is what we don't understand," she said.
http://www.ngex.com/news/public/newsinfo.php?nid=9409
---------
Russian Muslims lose court battle challenging ban on hijab in schools
July 21, 2013
MOSCOW – Ramadan for Muslims in Russia's Stavropol region coincided with a Supreme Court decision upholding a ban on hijabs in the region's schools. The decision proved controversial with many Muslims fearing the ban will be introduced in the entire country.
The Supreme Court's decision came in reply to a complaint raised by several Russian citizens who demanded nullification of the hijab ban which was initially put in place by authorities in the multiethnic region. The controversy began in October when five schoolgirls in Neftekamsk area in the region were barred from attending classes for two weeks as a form of punishment for wearing the hijab despite a school dress code that prohibits the wearing of any religious clothing or symbols. The ban also covers casual and revealing clothes.
Russian President Vladimir Putin was quoted by the Russia Today website as objecting to the wearing of the hijab in Russian schools. While acknowledging that religious sentiments should not be hurt, Putin said Russia was a secular country and people should behave accordingly. He went on to say schools should introduce uniforms so no group feels singled out.
The Council of Muftis in Stavropol had announced in October 2012 that some of the guardians of female pupils complained that their daughters had been banned from school for two weeks for wearing the hijab.
According to Russia Today, Minister of Education Dimitri Livanov commented on the matter by saying, "Wearing the hijab does not clash with the rules being followed in the education institutions and general traditions." Last January, Russian authorities allowed Muslim women coming to Russia to work to wear the hijab while taking photographs necessary for official documents. According to official statistics, Muslims form 10 percent of the region's population. — Al-Watan
http://www.saudigazette.com.sa/index.cfm?method=home.regcon&contentid=20130721174312
---------
Canada announces projects for women in MENA, including Libya
July 21, 2013
Last week Canada announced its contribution to two projects that will encourage the participation of women in the political process in the Middle East and North Africa (MENA) region, including Libya.
Canadian Foreign Affairs Minister John Baird stated that, "When women play an active role in society, so many other problems are resolved, and the things we hope to achieve become possible."
"Women's participation in decision-making processes is essential to ensure that democracies are truly representative of their populations," said Canadian Minister of State Lynne Yelich. "Canada will continue to support the development of women's leadership skills and increase their active participation in elections so that more qualified women will be elected. These activities will strengthen the voice of women in emerging democracies at all levels of government."
"As the Middle East moves to a new era of political development, women have a great responsibility to shape the debate on how their societies will be run," added Tami Longaberger, Chair of the Arab Women's Leadership Institute. "The Arab Women's Leadership Institute is proud to partner with the Canadian government to increase the number of female elected officials who will contribute to this debate in Lebanon, Libya and Tunisia."
The Canadian projects in Jordan, Lebanon, Libya, Tunisia and Yemen will support the development of women candidates' electoral campaigning skills and help to expand recognition of women's rights as these countries continue to undergo political transitions.
While women are present in national assemblies and congresses throughout the Middle East and North Africa, women's rights and interests are often inadequately addressed. As governments in this region undertake the difficult process of enacting democratic reforms, the unequal status of women presents a significant challenge, given women's important role in the success of conflict prevention and resolution.
The two projects supported by Canada aim to increase the political involvement of women.
One project, to be implemented by the Forum of Federations in Jordan, Libya, Tunisia and Yemen, is called Empowering Women for Participation in the Political Process of Building Devolved and Decentralized Democracies. The project's activities include:
providing regional capacity-building training for women's networks and coalitions dedicated to decentralization;
enabling regional dialogue on common platforms and challenges among women, such as activists, parliamentarians, aspiring candidates and businesswomen, already engaged in politics or leadership roles;
developing gender-specific and gender-sensitive training materials, including audiovisual and virtual tools, on local governance and women.
The second project, to be implemented by the International Republican Institute, covers Lebanon, Libya and Tunisia. It is called the Arab Women's Leadership Institute Candidate Preparation School and will build the capacity of female candidates in those countries. Project activities include:
training six individuals—two from each country—in campaign management;
coaching the same individuals on strategic communications with the electorate;
providing "campaign school" training and mentoring to hundreds of other participants from the three countries.
Both projects contribute to Canada's efforts toward and interest in promoting democratic transition and increasing the participation of women in the Middle East and North Africa region.
The combined cost of these two projects is C$971,200. Canada's support will be provided through the Global Peace and Security Fund, which was launched in April 2005 to further the Government of Canada's goal of creating the conditions for safe and secure environments in crisis and post-conflict situations.
http://www.libyaherald.com/2013/07/20/canada-announces-projects-for-women-in-mena-including-libya/
---------
No Stamp Of Approval: Femen Icon Sparks Twitter Outrage
July 21, 2013
Only two days after Femen movement leader Inna Shevchenko was chosen as one of the inspirations for France's new official stamp, the controversial Ukrainian activist, known for her topless protests has sparked an outcry on Twitter for a July 9 tweet where she slams the holy month of Ramadan and Islam.
The tweet in question was discovered on July 16, a day after Shevchenko was chosen as the first foreign woman to represent the incarnation of Marianne, one of France's national emblems.
On July 9, Shevchenko tweeted: "What can be more stupid than Ramadan? What can be more uglier then [sic] this religion?"
On July 16, as Shevchenko was being subjected to an onslaught of criticism from the Twitter community, the inflammatory tweet was deleted -- "by Mohamed or by mistake, that is the same," she joked on her Twitter account.
Pascal Boniface, director of the Institute of International Relations and Strategies, a French Think Tank, called the Femen's tweet racist and hypocritical.
The Femen activist has since explained that her tweet was written for Amina Tyler, a Tunisian feminist and member of Femen, who was arrested in May for writing "Femen" on a wall near Kairouan's main mosque.
In a July 16 interview with the French daily, "Liberation," Shevchenko argued that she is not an Islamophobe but antireligion -- describing her organization as an atheist movement against all religions.
This is not the first time Femen has been caused controversy in the Muslim world. In April, the movement organized a "Topless Jihad Day." Soon after, a group of Muslim women pushed back with their own campaign called "Muslim Women Against Femen."
http://www.rferl.org/content/femen-twitter-outcry/25049282.html
---------
Acid Attacks: A Look at India and Other Countries
Zehra Kazmi
July 21, 2013
India passed a new law in February following the Delhi gang rape case which also ciminalises acid attacks. The law defines acid attack as a separate Indian Penal Code offence and proposes punishment of not less than 10 years to a maximum of life imprisonment for perpetrators and fine that could go up to Rs.10 lakh.
The Supreme Court on 18 July, 2013 passed the order to regulate the sale of acids across the country. The decision was taken in the light of a PIL which was filed in 2006 by Laxmi, an acid attack victim from Delhi.
Henceforth, acid attack shall be considered a non-bailable offence. State governments will have to pay Rs. 3 lakh as compensation to an acid attack victim.
Afghanistan passed the Elimination of Violence against Women Law (EVAW) in 2009. It is the first law in Afghanistan to criminalise violence against women, including acid attacks. According to this law, the attacker gets a punishment of at least 10 years of imprisonment and at most life imprisonment.
Pakistan is yet to pass the 'Acid Throwing and Burn Crime Bill 2012' which was drafted after Fakhra Younas, an acid attack victim from Karachi, committed suicide.
The new bill stipulates a minimum sentence of 14 years in prison, a maximum sentence of life imprisonment and fines up to 1 million Pakistani rupees ($10,200). Activists are campaigning to include compensation to survivors.
In February, Saving Face, a documentary by a Pakistani filmmaker Sharmeen Obaid-Chinoy won an Academy Award. The film sheds light on the lives of acid-attack survivors in Pakistan.
Bangladesh: The Acid Crime Control Act 2002 imposes death penalty on the culprits. A decrease in the number of acid attacks has been witnessed ever since the act came into being. The Acid Crime Prevention Act 2002 regulates the sales of acid across the country.
Cambodia: Acid control law-adopted in December 2011. Not only women, but cases of acid attacks on men are equally high in the country.
Uganda has witnessed a high number of acid attacks, amongst African countries. As such there is no specific law to stop acid attacks in Uganda, but it has been criminalised under Penal Code Act Cap 120.
http://www.hindustantimes.com/India-news/stopacidattacks/Acid-attacks-a-look-at-India-and-other-countries/Article1-1095102.aspx
---------
Couple to tie the knot at Gezi Park after meeting during protests
July 21, 2013
Romance, instead of police tear gas, is in the air in Taksim Gezi Park, as a couple that met during the revolt is preparing to tie the knot at the site that first brought them together in the place.
The couple, Nuray and Özgür, announced on social websites that the ceremony was set to take place on July 20 at the park which has become the heart of the anti-government movement that has swept the nation, as well as allowing the happy couple to meet while attending to injured protesters at a make-shift infirmary.
Nuray, a trained nurse, and Özgür, a partially trained doctor who abandoned medical school, met in the first days of the unrest when Nuray turned her house into an infirmary to treat injured demonstrators, according to a blog post by Şirin Öten, a close friend of the couple.
The couple worked together throughout the protests, and is now looking to tie the knot at the park, with specific details already worked out in honor of the protests.
The ceremony will be conducted while facing the Dival Hotel, according to Öten, to remember the times Nuray treated wounded protesters that took refuge there.
Nuray's wedding has been designed by the renowned designer Barbaros Şansal, who also took part in the Gezi Park protests.
The couple invited all protesters and those that identify themselves as "çapulcu" to their wedding at the symbolic location, with Öten's blog calling on the wedding to be "the biggest wedding in the world."
A small group's demonstration against a planned demolition of Taksim's historic green spot turned into nationwide unrest soon after harsh police intervention at the site. Thousands took the streets, including occupation groups and unions, in the days to follow.
The focus of the protests soon shifted from Gezi Park to a general anti-government stance, which was fueled by Turkish Prime Minister Recep Tayyip Erdoğan's brutal response toward the protests and the protesters.
Following the evacuation and lockdown of Gezi Park, protests spread to neighborhood parks across Turkey, mutating into citizens' discussion forums. The park where protests were sparked in late May was opened at the beginning of the week, but a strong police presence remains in the Taksim area.
http://www.hurriyetdailynews.com/couple-to-tie-the-knot-at-gezi-park-after-meeting-during-protests.aspx?pageID=238&nID=51056&NewsCatID=341
---------
Al-Ayed Wants Smart Goals For Jeddah Chamber Of Commerce And Industry
21 July 2013
Women can contribute a great deal to the work of the Jeddah Chamber of Commerce and Industry (JCCI), according to a female candidate competing in the upcoming elections for a position on the organization's board of directors.
Sarah Al-Ayed is one of nine women standing as candidates in the elections. This is the third time women are contesting board positions in the 21 years elections have taken place.
Al-Ayed said she has worked with the chamber for a long time, having served on the first committee for Jeddah businesswomen and worked for the Jeddah Economic Forum for four years. She is currently on the Jeddah young businesswomen's committee. "So I know the chamber very well and there is so much opportunity to do more and contribute further," she said.
She said the JCCI has come a long way. Previously women's meetings were held in the building behind the JCCI headquarters. Now there are women on the board.
Many women are now working at the chamber, with a number of initiatives and programs taking off. "There are lots of opportunities. There are changes not only on the outside but on the inside as well."
She said men have welcomed the nomination of the nine women. "We are not enemies going against each other. It is an opportunity to represent a certain entity, a certain business sector. They have welcomed women's nominations and participation," she said.
Al-Ayed said her agenda is about being effective, ensuring results and "working with smart goals" in mind. She does not want to delve into the gender issues too much, but would rather identify and tackle the main challenges.
"We feel that we can help build the message of the chamber. We meet part of the needs of the business community," Al-Ayed said.
She said that in the absence of guidance and information, many women wind up doing traditional work. Many women are looking for new avenues of work instead of doing the same thing such as dressmaking. "There is much more that can be done," she said.
She said the "wakil" system no longer exists, so women do not need male managers to represent them at government departments. This was the result of lobbying done by the Khadija bint Khuwailid Businesswomen's Center, including women leaders Lama Sulaiman, Nashwa Taher, Olfat Kabbani and Madawi Al-Hassoun, she said.
"There is a lot of change. It is progressive and what we need to do is keep on pushing that momentum at the same time to ensure the needs of the business community are met," Al-Ayed said.
She said ministries want to create jobs for Saudis in the private sector because there are only a limited number of government jobs.
Al-Ayed said she is fighting this election alone. Each person is running his or her own campaign.
Asked if there is a quota for women, she said: "I wish there was a 50 percent quota because it ensures their participation. Sometimes it helps, sometimes it doesn't, it depends on the situation."
She said it was important for people who vote to understand the campaign of each nominee. "We really want people to come down and vote. At the end of the day, if they are not happy with something then they didn't vote for the right person or didn't vote at all. So voting is important," she said.
Campaign guidelines allow for press announcements and leaflet distribution but not advertising.
http://www.arabnews.com/news/458694
---------
Saudi woman saves 7 lives by donating her organs
20 July 2013
A brain dead young woman from Saudi Arabia saved the lives of seven people after her family agreed to donate her organs, a local newspaper reported Saturday.
Organ transplant specialist, Hassan Abdullah Al Khanani, told Al Watan newspaper several patients throughout the Kingdom benefited from the step.
According to al-Khanani, heart and lung transplants were carried out for patients in Riyadh. Liver, pancreas and Kidney transplants were carried out in Dammam, he added.
The 20-year-old girls' organs were immediately transferred on Friday by a medical aircraft, al-Khanani said.
The girl's family agreed to proceed with the process after a charity organization aiming to encourage organ donations in the Eastern Province convinced them.
Head of the organization "Ethar" told the newspaper that the process was accomplished rapidly. A committee at Ethar works on countering misconceptions about organ donations in the Kingdom.
Most Muslim scholars of Islamic law have argued that the donation of organs is permissible under Sharia, while others deemed it impermissible, claiming that tampering a human being's dead body amounts to mutilating God's creation.
http://english.alarabiya.net/en/variety/2013/07/20/Saudi-girl-saves-7-lives-by-donating-her-organs-.html
---------
Arab Spring: Harsh and unfair to Egyptian women's rights
21 Jul 2013
It all started with a dream …. for a better future for our kids, for social justice for all citizens and for the kind of proper democracy and freedom that can stand up to the name of Egypt.
Egyptian women of all ages were at the heart of the 25th January 2011 revolution as well as the 30th of June revolution this summer. Their voice was described as the voice of the revolution.
Women also suffered all the consequences of the revolution. They not only endured the loss of loved ones martyred in the violence or saw fathers, husbands, sons and brothers wounded, but they themselves were among the martyrs as well. Amira Samir, Liza Mohammed, Christine Sylla and others were lost.
For two years since the January 25th revolution, women have struggled to maintain their hard-won gains, especially with the emergence of new types of socio-economic oppression and marginalisation targeted by the Islamic conservative parties who rose to power.
Evidence of marginalisation was clear, as the following actions were taken against women since 25th January 2011:
Only men were appointed to draft an interim constitution,
The 64-seat quota for women's representation in parliament was abolished,
Very low representation of women—7 out of 100--in the Founding Committee for Drafting the Constitution,
The number of women in the first people's assembly was 9 out of 508,
Radical Islamist members of the previous parliament attempted to cut back women's recognised rights.
Women lost rights acquired in previous constitutions. A new constitution defined women's rights within the rules of Islamic Sharia law, a law subject to different interpretations.
The first and only woman among the 19 members of the Supreme Constitutional Court was removed,
The new draft election law for parliament declined requests to put women's names in the top one-third of the lists of political party candidates, a request designed to promote the participation and inclusion of women in politics.
Islamist groups call for veiling women; approving early marriage for girls; decriminalising female genital mutilaton; revoking the Khoul law (women's right to divorce without men's permission) and lowering the age of a mother's custody of a child from 15 to 7.
Documented cases of violence against women were reported, especially at protest demonstrations, as a means of preventing women from participation in politics.
Famous women public leaders were removed from their posts: Zeinab Saleh and Kausar Issa Nagwa Ashry who were Undersecretaries at the Ministry of Awqaf; Nagwa Ashry, a Chief of Qanater City; Ahlam Abdel Aal, Ismailia Governor Assistant Secretary General and Aziza El Said, Local Unit Chief of Moshtoher.
Moreover, women endured the burden of the negative effects upon their families after the revolution due to bad economic conditions. They faced high rates of unemployment and many lost their jobs. Families also had to deal with price inflation on basic commodities and an overall lack of security. The situation caused more isolation of women as they became increasingly occupied in securing basic needs for their families.
Again, as through history, women wrote the story of victory but reaped little of the gains. In Egypt's case, they reaped only suffering and losses.
However, the National Council for Women and other active women's NGOs worked very hard during the last two years to protect women's legal rights from being negatively altered by the parliament. They also actively campaigned to raise public awareness by providing training, issuing booklets and legal materials to counter misinterpretations of Islam.
The National Council for Women stood firmly against the wrong actions taken by various ministries against women, such as changing the school curricula, removing pictures of historical female leaders and preventing reference to reproductive rights and services.
All these efforts gained momentum with the REBEL movement, carried out by young people who succeeded in collecting 22 million signatures leading up to the 30th of June revolution, when more than 33 million Egyptians took to the streets around the country to reject the regime. Therefore, this is a popular revolution, not a coup d'etat.
Gender equality as a fundamental human right is a prerequisite for the establishment of democratic societies. The transitional period offers a better chance for the new government to achieve democracy through gender equality that requires strategies, policies and programs to be tailored in accordance with the realization and understanding of the challenges women are facing to enjoy full and equal participation with men.
The hope lies now at the corrective revolution where women's full participation is essential to re-write the Egyptian roadmap for the future. Egypt is now at crossroads. The coming transitional period will witness an amended constitution that respects women's rights, presidential and parliamentary elections, and other steps to attain our dream of a democratic nation.
Mervat Tallawy is chair of the National Council for Women in Egypt
Any views expressed in this article are those of the author and not of the Thomson Reuters Foundation
http://www.trust.org/item/20130721001656-p7j9f/
---------
Nigeria: Women's Group Lobby National Assembly On Gender Equity
July 21, 2013
A coalition of Nigerian women groups under the auspices of the Gender and Constitution Reform Network (GECORN) led a delegation to the National Assembly seeking the support of lawmakers on constitutional amendment reflecting gender equity, child rights/protection and protection of people with disability and prevalence of gender stereotypes.
GECORN in conjunction with the International Republican Institute (IRI) while commending the House of Representatives also seek Senate's concurrence on recommendations proposed by the House on Constitution Reform concerning women and children's rights.
National Coordinator of GECORN, Dr. Abiola Akiyode-Afolabi in a position paper sought the Senate's concurrence on definition of 'an indigene of a community and state' as proposed by the House in Section 25(A) 1; proposed alteration to Section 45(1) which allows for administrative and executive law that is reasonably justifiable for the purposes of public safety, interest and that can further protect and promote the rights and freedom of persons; adoption of socio-economic rights and independent candidacy.
http://allafrica.com/stories/201307190602.html
---------
Turkey's exquisitely 'odd' and relentlessly creative writer Leyla Erbil passes away
July 21, 2013
Leyla Erbil, one of Turkey's most creative writers, with a talent matching her discretion, has passed away today after being treated in an intensive care unit for weeks following a heart failure. She had been diagnosed with leukemia.
Erbil, 82, was the first Turkish female writer to be nominated for a Nobel Prize in Literature by PEN International in 2002. She also won the association's prestigious short story prize this year.
A virtuoso of the Turkish language, Erbil's art was a constant rebellion against grammatical constraints. She worked her sentences like a handicraft artisan, forging a new syntax if what she wanted to express required so. "What's behind my search in language is to discover the 'golden tune' of the text's essence," Erbil had said in one of her last interviews while explaining her inventive yet unquenchable approach to literature. On another occasion, she recollected a conversation with a friend in which she argued that the language was "insufficient" to understand people. "I said that I would change these molds," she recalls herself as saying.
From the 'odd woman' to the 'odd man'
Her first story Hallaç (Cotton fluffer) came out in 1961, the same year she became a member of the Turkish Worker's Party (TİP) along with other intellectuals such as Behice Boran, Çetin Altan and Yusuf Ziya Bahadınlı. Her first novel Garip bir Kadın (An odd woman), published in 1971, became a masterpiece. Casting a resolute female gaze over a male world and penned with an innovative language, the book's critical success earned Erbil comparisons with Virginia Woolf.
Another short story collection, Gecede (In the night) would reinforce her reputation as a majestic narrator of the female condition.
Her following novels, Karanlığın Günü (The day of darkness) and Mektup Aşkları (Loves from letters) came during the dark era of the 80s, in 1985 and 1988 respectively. She dedicated the 90s to writing essays, before releasing in 2001 Cüce (Dwarf), another of her masterpieces replete with dark humor.
Kalan (The remaining), published in 2011, related the tragedy of Istanbul's multicultural communities through the eyes of its cosmopolitan and rebellious female protagonist Lahzen.
Erbil momentarily abandoned the exploration of women for odd men in Tuhaf bir Erkek (An odd man) published in 2013. Perhaps closing a circle, Erbil said in an interview that the novel intended to explore how one man could impersonate many others – or, more concretely, how Hurşit becomes sometimes Zurşit, Kürşit, Mümin and Bünyamin – for obviously different reasons than a woman.
And Turkey… If it had to possess a gender, for Erbil it would be neither an "odd woman" nor an "odd man." "Turkey is still introspecting itself, hasn't given itself a name. It's a hermaphrodite," she replies with a touch of derision.
Erbil will be laid to rest on July 22 in Istanbul.
http://www.hurriyetdailynews.com/turkeys-exquisitely-odd-and-relentlessly-creative-writer-leyla-erbil-passes-away.aspx?pageID=238&nID=51075&NewsCatID=386
---------
URL: https://www.newageislam.com/islam,-women-and-feminism/new-age-islam-news-bureau/saudi-women-call-for-personal-status-law-protecting-their-rights/d/12696