New Age Islam News Bureau
18 Apr 2017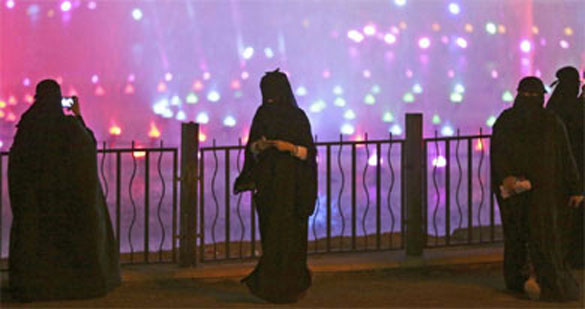 For runaway Saudi women, fleeing can be a matter of life and death, and they are almost always doing so to escape male relatives. (HASAN JAMALI / THE ASSOCIATED PRESS)
----
• Muslim Woman Runs Boston Marathon To Raise Money For Refugees
• Maharashtra: 51 Years Ago, Hamid Dalwai Took Out First March Against Triple Talaq
• Why Only Muslims, Speak Of Hindu & Christian Women Too: CPI To PM Modi
• Smoking affects women more than you think
Compiled by New Age Islam News Bureau
URL: https://www.newageislam.com/islam-women-feminism/saudi-womans-plea-help-exposes/d/110813
--------
Saudi woman's plea for help exposes runaways' plight
By AYA BATRAWYThe Associated Press
April 16, 2017
DUBAI, UNITED ARAB EMIRATES—A young Saudi woman's plea for help after she was stopped in an airport in the Philippines en route to Australia where she planned to seek asylum has triggered a firestorm on social media and drawn attention to the plight of female runaways.
For runaway Saudi women, fleeing can be a matter of life and death, and they are almost always doing so to escape male relatives.
Under Saudi Arabia's conservative interpretation of Islamic law, a male guardianship system bars women from travelling abroad, obtaining a passport, marrying or even leaving prison without the consent of a male relative. Most Muslim-majority countries do not have similarly restrictive guardianship laws.
The mystery around what triggered Dina Ali Lasloom's cry for help has only added to concerns for her safety.
In a video that appears to be shot with a mobile phone, the 24-year-old says her passport was taken from her at Manila's international airport in the Philippines on Monday on her way to Australia. She alleges that Philippine airport officials confiscated her passport at the request of Saudi diplomats until her relatives could arrive to take her to Saudi Arabia.
"If my family come, they will kill me. If I go back to Saudi Arabia, I will be dead. Please help me," she pleads in the video. Lasloom says she is recording the video at the airport so the public "know that I'm real and here."
Wearing a beige coat, the woman does not show her face in the video. Most women in Saudi Arabia cover their face with a veil known as a niqab. Many do so believing it is a religious obligation, in addition to covering their hair and body. Some also cover their faces due to social pressure.
"I am kept here as a criminal. I can't do anything," Lasloom says in the video. The Associated Press could not independently verify the video's authenticity.
Women's rights advocates in Saudi Arabia say Lasloom was ultimately forced to board a plane to the kingdom with two of her uncles, who flew from Riyadh. They said authorities then took her to a women's shelter because of the attention around her case.
She cannot leave, however, without a male guardian's permission. Activists say only officials and relatives can contact her there.
Although there are no official statistics, anecdotal evidence from cases reported in Saudi media and from human rights advocates suggest dozens of Saudi women — some with their children — have attempted to flee abroad in recent years. These publicized cases have brought increased attention to what activists say has become a "trend."
This is despite gains made in recent years for Saudi women, including the right to run in, and vote in, local elections in 2015, and a government effort to increase women's participation in the workforce.
Women who have managed to flee abroad say they were barred from marrying or forced into marriages. Others have told rights groups that male relatives were abusive and confiscated their salaries.
"Many of them, they just want to be free," said Moudi Aljohani, who says she spoke with Lasloom when she was at Manila airport. Aljohani herself fled the kingdom last year and is seeking asylum in the U.S.
Aljohani, 26, says her family felt she'd become "too Americanized" after a year of study in Miami. What was supposed to be a weeklong visit home turned into months of confinement, she says.
"The eight months of being locked in Saudi Arabia has created an angry, rebellious person inside of me that I don't want to be silent anymore," she said. "What happened to me in Saudi Arabia created a person who just wants to speak out."
For the past 15 years, four of the late King Abdullah's daughters, Princesses Jawaher, Sahar, Hala and Maha — all in their 40s — have allegedly been held in a royal compound in Saudi Arabia. Their mother, who lives in London, has spoken out in the British press to try to bring attention to their plight. Two of the princesses managed to release videos in recent years pleading for help.
Saudi courts have heard numerous cases of women asking for a transfer of their guardianship to more sympathetic male relatives — in some cases to their own sons.
A Saudi women's rights activist reached by phone in Riyadh said Lasloom was apparently trying to flee relatives in Kuwait who threatened to send her to live in Saudi Arabia.
"There have been a lot of Saudi girls who sought asylum abroad, but now it's a trend. A lot of younger girls in their 20s are seeking asylum," she said, speaking on condition of anonymity for fear of reprisal.
"When they say honour killings do not exist, it's not true. It's just invisible," she said, referring to the killing of daughters in the name of family honour.
Sarah Leah Whitson, the Middle East director at Human Rights Watch, says Saudi women fleeing their family can face so-called "honour" violence if returned against their will. She called on Saudi authorities to protect Lasloom from her family.
According to the Philippines' Inquirer news website, Lasloom was barred from her Australian-bound flight by Saudi Embassy officials in Manila who asked airport officials to stop her.
The Saudi Embassy in the Philippines wrote on Twitter that what occurred was "a family matter in which a girl was returned with her family to the homeland."
When asked by The Associated Press whether Saudi diplomats in the Philippines had requested that authorities in Manila stop Lasloom from boarding a flight to Australia, Foreign Ministry official Osama Nugali said: "Saudi embassies abroad respect the institutions and laws of host countries and do not interfere in their affairs."
Manila Airport general manager Eddie Monreal told the AP he had no knowledge about the case. An immigration official reached by the AP said the airport's immigration officers neither detained nor held any passenger under that name.
In Saudi Arabia, activists tracking her plea for help attempted to meet Lasloom at Riyadh airport overnight Wednesday. They say instead, another activist, Alaa al-Anazi was detained by security officials at the airport and transferred to a girl's detention centre in the capital.
The Interior Ministry did not immediately respond to requests for comment.
A Human Rights Watch report released last year on guardianship laws in Saudi Arabia found that even with greater opportunities for women in the kingdom, a woman's life rests largely on "the good will" of her male guardian.
Powerful clerics in the kingdom support male guardianship based on a verse in the Qur'an that says men are the protectors and maintainers of women. Other Islamic scholars argue this misinterprets fundamental Quranic concepts like equality and respect between the sexes.
https://www.thestar.com/news/world/2017/04/16/saudi-womans-plea-for-help-exposes-runaways-plight.html
--------
Muslim Woman Runs Boston Marathon To Raise Money For Refugees
Carol Kuruvilla
18 April 2017
After months of training and fundraising, Rahaf Khatib has crossed the finish line at the Boston Marathon.
The runner, who was the first Muslim woman to wear a headscarf on the cover of an American health or fitness magazine, completed the race in about 5 hours and 13 minutes on Monday, according to unofficial results from the 2017 Boston Marathon website.
It's not only a victory for Khatib ― this was the runner's seventh marathon ― but also a triumph for Syrian refugees.
Khatib, who comes from a family of Syrian immigrants, used the race as an opportunity to help refugees who have resettled in her home state of Michigan. The athlete managed to raise $16,000 through the race for the Syrian American Rescue Network, a Michigan-based nonprofit that helps refugees adjust to life in America.
In a pre-race Instagram post, Khatib revealed that she was "tossing and turning all night" before the race. But, she wrote, she knows "God brought me here for a reason."
"I'm honored and thrilled and know this will be an incredible experience inshallah [God willing]."
Monday's race put her halfway toward achieving her ultimate goal of competing in all six of the world's largest and most renowned marathons. She has previously run the Berlin and Chicago marathons.
Khatib was born in Damascus, Syria, and later came to the United States with her family. She started running five years ago and has developed a following through her Instagram account, @runlikeahijabi, where she inspires Muslim women to get active.
In an interview with The Huffington Post earlier this year, Khatib said that she believed the chance to compete in the Boston Marathon was sent to her from God.
"I want to make an impact on the Ummah [the worldwide Muslim community], no matter how small, it's my way of giving back to society and humanity," she said.
http://www.huffingtonpost.in/entry/rahaf-khatib-boston-marathon_us_58f52fc9e4b0da2ff8628a84
--------
Maharashtra: 51 Years Ago, Hamid Dalwai Took Out First March Against Triple Talaq
April 18, 2017
At a time when the country is debating on "triple talaq", it was exactly 51 years ago on April 18, 1966, that the historic march against the "draconian law" was taken out in Mumbai by social reformer Hamid Dalwai, along with seven Muslim women.
Protesting against triple talaq, polygamy and halala, Dalwai and seven women had marched towards the Mantralaya in Mumbai and handed over their memorandum of demands to then chief minister Vasantrao Naik.
"This was the first march in India against triple talaq and practices like halala and polygamy. Hamid Dalwai fought all odds to organise this march for the rights of Muslim women. The movement against triple talaq now seen in the country has its roots in this revolutionary march," said Professor (Dr) Shamshuddin Tamboli of Pune, president of the Muslim Satyashodhak Mandal (MSM), founded by Dalwai on March 22, 1970.
To remember the historic incident, MSM will be taking out a march from Dr Ambedkar's statute to the Pune district collectorate on Tuesday. "Seven Muslim women who are victims of triple talaq will be participating in this march and will submit a representation for Prime Minister Narendra Modi and Chief Minister Devendra Fadnavis," said Tamboli, who has done his doctoral research on the life of Hamid Dalwai.
Sadiya Khan, a 20-year-old Muslim woman from Kasba Peth in Pune, who was given triple talaq on WhatsApp by her husband in July 2016, said that she would be participating in the MSM march against the "draconian law".
Sadiya said she had filed a criminal case against her husband at the Kondhwa police station for the harassment done to her. "I will fight till I get justice. Triple talaq practice should end," she said.
Meanwhile, Tamboli said, "Inspired by the work of legendary social reformers Mahatma Jyotirao Phule and Savitribai Phule, Dalwai worked for the rights of Muslim women. He started an organisation Sada-e-Nisvan in 1965, which took the historic march to Mantralaya. In 1970, he started the MSM….He held meetings of triple talaq victims. To counter this, some religious fanatics organised rallies of thousands of Muslim women against Dalwai. These fanatics formed the All India Muslim Personal Law Protection Committee in 1971. And, in 1973, it was registered as the All India Muslim Personal Law Board, the same body which said on Sunday that triple talaq is wrong but is still a valid way to end marriage…..Board says that Muslims who misuse triple talaq would face social boycott from the community. We feel social boycott is not a good practice. It is against our constitution. Putting a ban on triple talaq practice is needed. But only ban is not enough. We want the government to come up with a law that will make triple talaq practice a punishable offence."
"We support the stand taken by Prime Minister Narendra Modi and the Central government against triple talaq. The government should also work towards the implementation of Uniform Civil Code in the country," he added.
http://indianexpress.com/article/india/maharashtra-51-years-ago-hamid-dalwai-took-out-first-march-against-triple-talaq-4617356/
--------
Why only Muslims, speak of Hindu & Christian women too: CPI to PM Modi
APR 17, 2017
NEW DELHI: Attacking Prime Minister Narendra Modi over his "justice for Muslim women" remark, the CPI today asked him to be equally concerned about similar problem of Hindu and Christian women to ensure gender equality.
Modi had yesterday made a strong pitch against the issue of 'triple talaq', insisting exploitation of Muslim women should end and justice be done to them.
The CPI contended that all personal laws are "biased" against women and suggested Modi to not keep himself "confined" to the issue of 'triple talaq' only.
"Modi should speak in a larger context. Not only Muslim sisters, several Hindu sisters, Christian sisters too are being exploited as all personal laws are biased against women.
"The question is to strive for gender equality and gender justice," CPI national secretary D Raja said.
Raja further charged the Prime Minister with speaking on triple talaq but remaining silent on the women reservation bill.
Addressing BJP's national executive at Bhubaneshwar yesterday, Modi had also deprecated any attempt at creating "conflict" within the Muslim community on the issue and suggested tackling it through social awareness.
http://economictimes.indiatimes.com/news/politics-and-nation/why-only-muslims-speak-of-hindu-christian-women-too-cpi-to-pm-modi/articleshow/58223998.cms
--------
Smoking affects women more than you think
By Dr. Manny Alvarez: April 17, 2017 FoxNews.com
Having centuries of experience appealing to customers, tobacco companies know how to play the marketing game. They use beautiful people, social appeal, and celebrities to draw attention. Sadly, people are still caving into the allure, and women specifically are suffering the harmful consequences of smoking.
Worldwide, 1 out of every 10 people die because of habitual smoking, according to a new Global Burden of Diseases report. In 2015, about 1 billion people smoked on a daily basis, and over 6 million died from tobacco-related causes that year.
Although many smokers downplay tobacco's harmful effects, the research shows otherwise. According to the report's author, one of the biggest causes of early death and health complications is smoking, a preventable malady.
In this same report, researchers found that 1 in every 20 women smoke every day, despite warnings that it can severely affect their health. In the United States alone, over 20 million women smoke, and the majority of these female smokers are teens and young women.
Smoking Risks for Women
If you're a woman who smokes, you cannot deny the science. Both men and women have increased risks for cancer, lung disease, and other breathing complications. In fact, smoking increases the risk for nearly all illnesses and causes more deaths than illegal drugs, guns, or traffic accidents.
In addition to these usual risks, women will also experience a variety of other health problems. No matter what people think, women do smoke habitually, and this habit does wreak havoc on their health.
Pregnancy
One area of a woman's life that smoking touches is pregnancy. Smoking is known to cause major pregnancy complications, including low birth weight, preterm delivery, miscarriage, stillbirth, and Sudden Infant Death Syndrome.
If the woman smokes during pregnancy, the baby may have lung problems and go through withdrawal during the crucial first days of life.
At the same time, women who smoke have a harder time getting pregnant in general. Studies show that smokers have a 60 percent increased risk of infertility, and women smokers go through menopause several years earlier than non-smoking women.
Heart Disease
Women also have a higher risk for developing heart disease than men, especially if they smoke. Smoking damages blood cells in the body and actually causes plaque buildup in the arteries.
Once the plaque builds up enough, it severely restricts blood flow and leads to heart attacks. In addition, women who smoke and use contraceptive pills raise their chances for heart disease even further.
Bone Loss
Smoking is also linked to reducing bone density in women. This habit combined with their tendency to a poor diet, low physical activity, and alcohol consumption all increase the risk of thinning out the bone.
Breast and Cervical Cancer
While smoking raises the risk for all types of cancer, women especially run a higher risk for breast and cervical cancer. In the case of cervical cancer, smoking can damage cervical cells that women need to fight off infection. If they cannot fight the infection, they open up the possibility for a variety of problems, including cervical cancer.
For breast cancer patients, those who smoke risk dying from the cancer by as much as 75 percent. Their bodies simply cannot process the chemicals from cigarettes and fight off cancer effectively.
Female smokers need to understand the reality of this practice. Smoking will not give them a better social status, make them more beautiful, or improve their physical and emotional well-being. It will lead to health problems, more depression, and a nasty addiction that will cost them their lives. Instead, they should find a better way to vent emotions or improve social status and give up smoking for good.
Dr. Manny Alvarez serves as Fox News Channel's senior managing health editor. He also serves as chairman of the department of obstetrics/gynecology and reproductive science at Hackensack University Medical Center in New Jersey. Click here for more information on Dr. Manny's work with Hackensack University Medical Center.
http://www.foxnews.com/health/2017/04/17/smoking-affects-women-more-than-think.html
--------
URL: https://www.newageislam.com/islam-women-feminism/saudi-womans-plea-help-exposes/d/110813
New Age Islam, Islam Online, Islamic Website, African Muslim News, Arab World News, South Asia News, Indian Muslim News, World Muslim News, Women in Islam, Islamic Feminism, Arab Women, Women In Arab, Islamophobia in America, Muslim Women in West, Islam Women and Feminism