New Age Islam News Bureau
9 Jan 2018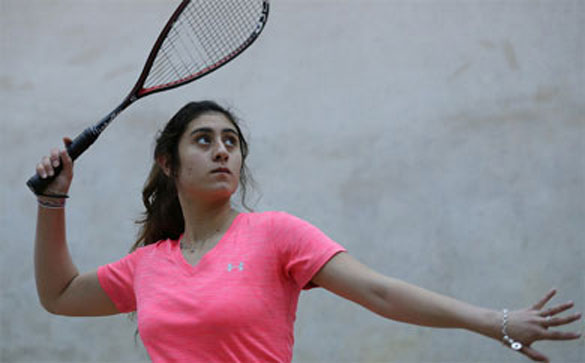 The tournament will include 32 international players, including Nada Abo al-Naja, Saudi's wildcard player. (File photo: Reuters)
-----
• Shoura Panel Wants Court Approval for Marriage Contracts for Girls Fewer than 18
• Two Bedouin Women Charged With Plotting Islamic State Terror Attack in Israel
• French Female IS Recruiter Refutes Allegation of Torture in Recent Video
• Hounded By Hindutva Activists for WhatsApp Text Saying She Likes Muslims, Girl Kills Self
• Syrian Kurds Turn to Arab Women to Cement Hold On Power
• Iran: A woman civil activist arrested in Tehran
Compiled by New Age Islam News Bureau
URL: https://www.newageislam.com/islam-women-feminism/saudi-woman-set-make-mark/d/113872
--------
Saudi woman set to make mark in first squash World Series in Riyadh
7 January 2018
The Saudi Arabian Professional Squash Association (PSA) is hosting its first Women's Squash Masters tournament in Riyadh on Sunday.
The tournament will include 32 international players, including Nada Abo al-Naja, Saudi's wildcard player.
Nada will be the first and only Saudi national participating in the event, and is set to play against number two seed, French player Camille Serme.
The winner will play against Nicol David, eight-time World Champion, in the quarter finals.
Ziad Al-Turki, Chairman of the PSA World Tour happening in Saudi Arabia congratulated Abo al-Naja for being chosen as the wild card player and for being the first female to represent Saudi Arabia in the tournament.
World ranked squash player, Sarah-Jane Perry, expressed her excitement through her Twitter account for being part of the first female PSA tournament in the kingdom.
The tournament will be headed up by the Egyptian World Championship runner-up, Nour El Sherbini.
During the official tournament dinner hosted by Princess Reema bint Bandar al-Saud, President of the Saudi Federation for Community Sports, Al-Turki, said: "Things are changing in Saudi, and they are changing fast.
"Win or lose, you are making history," he added.
The winner will receive a $165,000 prize.
https://english.alarabiya.net/en/sports/2018/01/07/Saudi-woman-set-to-make-mark-in-first-squash-World-Series-in-Riyadh.html
--------
Shoura Panel Wants Court Approval for Marriage Contracts for Girls Fewer than 18
9 January 2018
RIYADH: A panel of Shoura Council has asked that marriage contracts for girls under 18 be restricted to the competent (family affairs) courts.
The request was contained in a series of recommendations presented by the Committee of Islamic and Judiciary Affairs on a study related to underage (minors) marriage at the Shoura Council's 9th ordinary session on Monday.
The committee further asked the Ministry of Health to accept pre-marital tests for girls under 18 only when requested by a competent court. It also urged both the Ministries of Culture and Information and Islamic Affairs to take necessary steps to spread awareness on the harmful effects of minors' marriage.
Shoura Council lady member Dr. Eqbal Darandari told Arab News: "The committee acceded to have those under 18 submit their marriage contracts, as well as a pre-marital tests to a competent court to determine their case.
"Some Shoura members disagreed with this decision because they believed it meant we condone underage marriage. Others suggested that only those between the ages of 16-18 can transfer their cases to a judge, and those below 16 cannot get married. Some members demanded this be applied to underage boys, as well."
Darandari revealed that she is among those who believe there needed to be an age limit to underage girls' marriages. "Many countries have legalized marriages to 16 year olds so I see no harm in girls getting married at that age. Not to mention, girls' voices must be heard and their opinions taken into consideration. I don't believe a pre-marital test is enough. In my opinion, I think we need a female committee — made of a doctor, lawyer, psychologist and social worker — that studies the girl's state in order to assess whether or not she can get married."
"Those that are fifteen or younger can undergo severe physical and psychological damage through marriage, and they're probably unequipped for it. I believe there should be sanctions to those who do not adhere to that, and in the case of a marriage during that delicate age, a girl's right to demand a divorce if things don't work out should be guaranteed."
http://www.arabnews.com/node/1221676/saudi-arabia
--------
Two Bedouin women charged with plotting Islamic State terror attack in Israel
01/08/2018
The two women had been in contact with IS operatives abroad who instructed them to prepare to carry out attack
Israeli security agencies announced Monday that two Bedouin-Israeli women have been arrested and charged over their suspected planning of a New Year's Eve terror attack in Israel on behalf of the Islamic State group.Rahma al-Assad and Tasnin al-Asad, both aged 19 and residents of the Bedouin village of Lakiya in the Negev region of southern Israel, were arrested in December 2017 over suspected links to terrorist elements in a joint operation of the Israeli Securities Authority (ISA) and Israel Police.An investigation revealed that the two women had been in contact with Islamic State-affiliated terrorist elements abroad who had given them instructions to make preparations for carrying out an attack in Israeli territory, an ISA statement said.According to indictments filed against the women in Beersheba's District Court, the women had scouted potential targets including Beersheba's Ben Gurion University campus, where they determined they would be unable to smuggle in a suitcase filled with explosives.
They also refused to target the city's central bus station due to the fact that it is frequented by many Muslims, the charge sheet added.The two women have been charged with planning a deadly terror attack, contacting a foreign agent, and joining an illegal organization, among other offenses, while a 24-year-old man from East Jerusalem, Ahmad Abu Ramila, was also charged in connection with the plot on lesser counts including conspiracy to commit a crime, obstruction of justice, and destroying evidence for deleting conversations with the two women.Abu Ramila, who was to be wed to Tasnin, had been in contact with Islamic State members but refused to carry out an attack despite coming under pressure from Rahma.The three had all published online materials praising the Islamic State and had made plans to join the ranks of the terrorist group abroad, the ISA said.The ISA has frequently warned that the jihadist group is retreating from most areas of fighting in Iraq and Syria in an attempt to counter IS propaganda and deter citizens from attempting to join the group abroad.In December 2017, a Belarusian-Israeli who converted to Islam during his service in the Israel Defense Forces (IDF) was arrested for attempting to join the jihadists in Syria.
https://www.i24news.tv/en/news/israel/diplomacy-defense/164668-180108-two-arab-israelis-arrested-on-suspicion-of-planning-islamic-state-terror-attack
--------
French Female IS Recruiter Refutes Allegation of Torture in Recent Video
January 08, 2018
A new video released Monday by the Kurdish People's Protection Units in Syria (YPG) showed French female jihadist Emilie Konig refuting allegations she was tortured in captivity in Syria.
Speaking in Arabic and French, Konig described her treatment by Kurdish forces and explained how she arrived in Syria to marry Islamic State fighter Axel Baeza, whom she met via Skype when she was in France.
"I have everything me and my children need. I am investigated here as if I am investigated in my country," Konig said in a video published on YPG's official press page.
Konig, a 33-year-old Muslim convert, infamous IS recruiter and propagandist known for her activities inside and outside France supporting jihadist ideology, had been captured in early December 2017 and held in a Kurdish camp with her children.
Konig's lawyer, Bruno Vinay, confirmed to Agence France-Presse that the woman appearing in the videos was Konig. However, he questioned the conditions in which the video was made.
Last week, France said it will not take back Konig, following a swirling debate in France over the fate of jihadi wives arrested abroad.
Konig, also known as Samra or Umm Tawwab, will face trial in Syria, following assurances that she would get a fair trial, according to French government spokesman Benjamin Griveaux. "In the Kurdish part of Syria, there are judicial institutions that are able to ensure a fair trial with guaranteed rights of defense. They will be judged there," Griveaux said.
Khaled Issa, the representative of the Syrian Kurdish Democratic Union Party to France, confirmed Konig's arrest, assuring that all French prisoners will be treated according to international conventions governing armed conflicts.
"We are able to try her in Syria or hand her over to the French authorities. The will of France will be respected," Issa told La Monde newspaper.
Since July 2012, French authorities have frozen Konig's assets. In September 2014, she was designated a terrorist by the U.N. for "participating in the financing, planning, facilitating, preparing or perpetrating of acts or activities by, in conjunction with, under the name of, on behalf of, or in support of the Islamic State in Iraq and the Levant," the United Nations Security Council stated in its sanctions page. Konig was also listed as a global terrorist by the U.S. Department of State in 2015.
A Jihadi propagandist
Much of Konig's radical influence came from her interaction with outlawed French extremist group Forsane Alizza (Knights of Pride), known for its provocative online speech. Forsane Alizza first appeared on the public stage in 2010 and was dismantled by French authorities in 2012 following a shooting rampage by self-confessed al-Qaida militant Mohammed Merah.
Prior to traveling to Syria in 2012, Konig was an active propagandist for violent extremism in France, where she distributed leaflets in the streets of her hometown of Lorient calling for a holy war. After the dissolution of Forsane Alizza, she created a number of Facebook pages advocating jihad.
Konig left for Syria in 2012 and married an IS fighter who was later killed. According to the French media, Konig was one of the first nationals to travel to Syria for jihad.
She continued promoting violent attacks after joining IS, urging family and friends to target French interests during phone calls and messages intercepted by French intelligence. In one video shown on YouTube, she appeared firing gunshots in Syria. In another video, she addressed her children in France, telling them to remember that as long as there are enemies, jihad will not stop.
Case by case
Konig's 70-year-old mother pleaded to French authorities to bring her daughter back to France and put her on trial there. She said Konig had asked for a pardon during a phone call in July 2017.
"She wanted to come back," Konig's mother said in an interview with Quest-France newspaper. "She asked for forgiveness from her family and friends, from her country. She regrets all her comments and said she wants to pay what she owes to France."
Konig's lawyer issued a statement saying that his client, a mother of three children, must be judged in France, in accordance with French "international commitments."
Last November, French President Emmanuel Macron said the return of French jihadi wives and children would be determined on a case-by-case basis, adding that it "all depends on countries and situations."
According to the French intelligence service, about 1,700 French nationals have joined IS since 2014. Today, 690 French nationals are living in Iraq and Syria. Of those, 295 are women and about 400 are children.
https://www.voanews.com/a/french-female-islamic-state-recruiter-refutes-allegations-torture-syria-video/4198692.html
--------
Hounded by Hindutva activists for WhatsApp text saying she likes Muslims, girl kills self
January 9, 2018
A LOCAL leader of the Bharatiya Janata Yuva Morcha (BJYM) from Mudigere region in Chikmagalur district of Karnataka, Anil Raj, has been arrested and several other Hindutva activists from the region are being tracked by the police following the suicide of a 20-year-old girl, who was allegedly harassed for her posts on social media.
Dhanyashree, a first year B.Com. student, was allegedly hounded by youth activists from Hindutva groups like Bajrang Dal and BJYM, after she reportedly said on a WhatsApp group that she liked Muslims. She committed suicide on January 6.
In a police complaint, her mother, Saraswathi Suvarna, a tailor, has said the harassment began on January 4, when an unidentified caller questioned Dhanyashree about her WhatsApp message. According to the complaint, the caller, who later identified himself as Santosh, a Bajrang Dal activist from Mangalore, also asked Dhanyashree why she was wearing a head scarf in some of her photographs posted on social media.
Santosh reportedly made repeated calls, and even spoke to Suvarna on one occasion. Telling Suvarna to "control" her daughter, Santosh allegedly warned her that "embarrassing pictures" of Dhanyashree would be posted on social media.
According to Suvarna, a group of men, who identified themselves as Bajrang Dal activists, visited their home the next day and threatened to defame her daughter.
On January 6, when Dhanyashree was alone at home, she committed suicide. She reportedly left behind a note stating that she could not bear the harassment by Hindutva activists and their false claims that she was involved with a Muslim boy. The harassment had caused humiliation to her family members, she said.
Calling it "moral goondagiri'', police officers in Chikmagalur district said while BJYM local leader Anil Raj was arrested on the basis of Suvarna's complaint, a search has been launched for others accused of harassing the girl, including Santosh.
http://indianexpress.com/article/india/hounded-for-whatsapp-text-saying-she-likes-muslims-girl-kills-self-bjym-activist-held-5016950/
--------
Syrian Kurds turn to Arab women to cement hold on power
7 January 2018
The classroom of Star Academy for women in north-east Syria appears quaint at first glance, its corners adorned with plastic flowers and traditional sequinned dresses. But along the walls are photographs of female guerrillas and a portrait of the leftist revolutionary, Rosa Luxemburg.
"Who does the state beat down?" Reyhan Loqo asks her students. "Man!" they shout back. "And who does man beat down?" the 21-year-old instructor says. "Woman!" the pupils reply.
Replete with whiteboard flow chart illustrations, her course introduces students to the leftist, feminist ideology promoted by the US-backed, Kurdish-dominated Syrian Democratic Forces (SDF). They are followers of Abdullah Ocalan, the imprisoned leader of the Kurdistan Workers' party (PKK). His moustachioed face smiles over the classroom.
For years, the PKK has tried with mixed success to spread Mr Ocalan's ideology of stateless governance, which he calls "the democratic nation", among Kurdish communities across the Middle East. But it is its sister organisation, the SDF, that has the first chance to try implementing the ideology beyond guerrilla mountain strongholds. Backed by US air support, the SDF has battled Isis and capitalised on the chaos of Syria's six-year war to control a quarter of the country.
There is, however, a snag: most of the territory it runs is home to tribal, conservative Arab communities suspicious of the Kurdish-led group's ideology. In a bid to overcome these hurdles, the SDF is targeting Arab women, with the academy an example of its efforts to promote its message to a group that has long been marginalised.
"We are giving all our energy to women . . . they will educate the next generation society will depend on," says Hayat, an SDF leader. The Kurdish woman, with a wreath of ribbons in her hair, runs the women's centre in Tabqa, an Arab city the SDF captured from Isis last year. She has just sent a large group to Star Academy.
For the SDF, promoting these concepts is not just about principles — it is also a pragmatic move as the group looks to consolidate its control now that Isis has been driven from its main strongholds.
During four years of Isis rule, women were forced to wear black from head to toe and spend nearly all their time at home. Some women in newly SDF-controlled territory have shown curiosity towards an organisation where women carry rifles and govern alongside men. Ocalan-inspired policy requires every leadership position to be shared between a man and a woman.
Recruits are brought for a month to the northeastern town of Rumeilan, where Star Academy's gurgling marble fountains and hanging plants provide a soothing contrast to the battle-scarred towns they come from. The women must hand in mobile phones — instructors say it keeps them focused — and share chores, meals and bedrooms.
"We've spent four years with a lost identity," says Emaar, 21, an Arab woman from Tabqa. "Now, we're being introduced to the history of women. These things were totally unknown to us."
Ms Loqo, a petite Kurdish woman with a booming voice, teaches Ocalan's version of women's history, which argues that matriarchal Middle Eastern societies were destroyed 5,000 years ago as men from Sumerian civilisation monopolised knowledge through the then-newly developed skill of writing.
Next, she says, the "age of monotheistic religions" was used "as a weapon in men's hands". Today's era of "capitalist filth" fares no better. She points out how women's bodies became exploited in advertising: "She is being bought and sold".
Many women at the Star Academy have their own chilling tales of exploitation. They share stories of being forced into marriage as teenagers, beaten by abusive husbands, or treated like servants by their relatives. Reem, 28, suffered all three. Married to a cousin at 16, she managed to divorce her husband but still bears the scars of abuse on her face.
"I don't love my family any more," she says. "They didn't stand by me."
Some, like Welaa, 18, say they have a new community in SDF women's organisations.
"I have learned, especially from this training, how much we were repressed," she says. "My family sees everything my brother does as special and everything I do as unimportant. Now I've learned that what I do with my life has meaning."
But some Arabs worry SDF indoctrination will tear their community apart, arguing it has created marital strife and led to divorces.
"Our women are already free — they can go to school, they can work . . . This is just ripping up families," says a tribal sheikh from Tabqa, who asked not to be named.
SDF leaders insist they simply help those in need.
Several recruits say their immediate reason for joining the SDF was more material: it provides jobs, especially for those unable to complete their education and women abandoned by husbands or ostracised by their families.
Anfal, 21, was unable to finish high school before Isis took over Tabqa. She sought a job with the SDF and was swiftly placed in a position overseeing humanitarian aid and liaising with US officials. "I had never even seen an American in my life," she laughs.
Critics, however, say the SDF exploits society's most vulnerable. They add that the Kurdish-led group also takes in young, uneducated women because they cannot find candidates elsewhere. "They're the only ones desperate enough to work with them," said one aid worker in Tabqa.
Yet even if the SDF fails to win communal appeal, its students seem to take to its doctrines.
As students interrupt Ms Loqo's class to share tearful stories of abuse and suffering, she reminds them that Isis was not their first oppressor — before the war there was President Bashar al-Assad's regime. It is the state, she says, that turns men into tyrants at home.
"Is this the society we want now?" she says. "Is this how we're going to rebuild our cities?"
Their heads shake in unison: "No."
https://www.ft.com/content/1d309a50-f084-11e7-b220-857e26d1aca4
--------
Iran: A woman civil activist arrested in Tehran
09 January 2018
Another one of the arrested women has been identified.
Civil activist Sepideh Farahan (Farahabadi) was arrested on Tuesday, January 2, 2018, in Tehran's Enghelab Square by security forces and transferred to an unknown location.
The arrests of at least 30 women have been documented so far. Based on reliable sources of the National Council of Resistance, at least 3000 people have been arrested in the course of the uprising, 35% of whom are university students and 90 per cent are youths under 25 years of age.
http://www.women.ncr-iran.org/iran-women-news/4663-iran-a-woman-civil-activist-arrested-in-tehran
--------
URL: https://www.newageislam.com/islam-women-feminism/saudi-woman-set-make-mark/d/113872
New Age Islam, Islam Online, Islamic Website, African Muslim News, Arab World News, South Asia News, Indian Muslim News, World Muslim News, Women in Islam, Islamic Feminism, Arab Women, Women In Arab, Islamophobia in America, Muslim Women in West, Islam Women and Feminism