New Age Islam News Bureau
13 January 2022
• In Africa, Hijab Is No Barrier To Success In Beauty Pageants; Shatu Garko, Adar Yusuf Ibrahim Are Examples
• Saudi Arabia's Largest Women Walking Team With 700 Members Formed In Jubail
• Viral Egypt Dance Video Fuels Women's Rights Debate
• Afghan Women Face Hardship As Taliban Struggles To Revive Economy
• Israel Arrests 4 Women For Providing Intelligence To Iran
• UN Official Condemns Harassment Of Muslim Women In 'Sulli Deals'
• Where Progress On Saudi Women's Rights Is Heading In 2022
• 3 Mln Women Downloaded KADES Emergency Support App
Compiled by New Age Islam News Bureau
URL: https://www.newageislam.com/islam-women-feminism/saudi-tv-narjis-awami-mecca-umrah/d/126151
--------
Saudi TV Anchor, Narjis Al-Awami, Says She Was Sexually Harassed In Mecca During Umrah Pilgrimage
12 January, 2022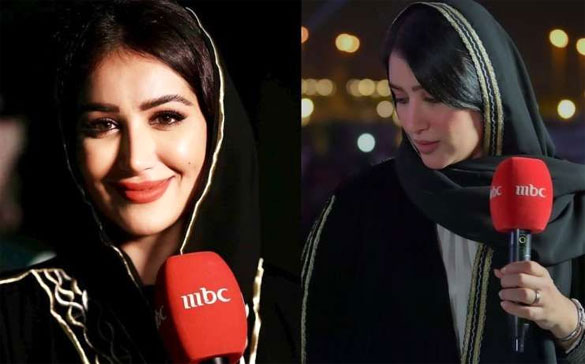 Narjis al-Awami an anchor on the private broadcaster MBC
----
Saudi media personality Narjis al-Awami has revealed she was sexually harassed in Mecca six years ago, during a umrah pilgrimage.
Awami, an anchor on the private broadcaster MBC, said via Snapchat that she was assaulted while waiting her turn to kiss the Black Stone at the Kaaba, Islam's holiest site.
"We were on our way to perform Umrah. I stood towards the Black Stone, where there was a queue of women and men, but there were men in the women's queue and their purpose [of being in the queue] was dishonorable; they wanted to harass women," al-Awami said in a video, which has been shared on other social platforms since Thursday.
"Someone came behind me, then moved next to me, and touched my thigh. I turned around and I hit him like I never hit someone before. The police then arrested him."
She said that she hoped that telling her story would show that women can be subjected to harassment anywhere, from religious pilgrimages to music festivals.
"I don't accept [these kinds of] things, whether it's in Mecca, or Sayahed, or MDLBeast, or anywhere else in the world", al-Awami said.
A court in another Islamic holy city, Medina, has also publicly named a man convicted of sexual harassment, The National reported, in an unprecedented move.
Yasser al-Arawi was found guilty of harassing a woman using obscene remarks. He was sentenced to eight months in prison and fined the equivalent of US$1,220.
The anti-harassment law, which took effect in 2018, provides for penalties of up to two years in prison and fines of up to $27,000 .
Saudi Arabia amended the law last year to allow for the name and punishment of offenders to be published in local media at their own expense. Al-Arawi is the first person to have been named and shamed as a result of the amendment.
Despite these legal steps, some Saudi women have said that the authorities are still not doing enough to bring an end to harassment.
Source: The New Arab
https://english.alaraby.co.uk/news/saudi-tv-anchor-says-she-was-sexually-harassed-mecca
--------
In Africa, Hijab Is No Barrier To Success In Beauty Pageants; Shatu Garko, Adar Yusuf Ibrahim Are Examples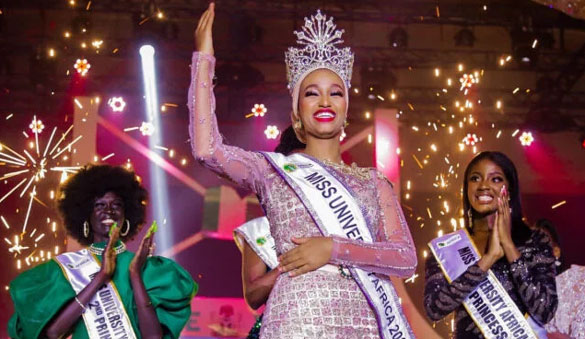 Adar Yusuf Ibrahim won Miss University Africa
-----
January 12, 2022
By Fredrick Nzwili
NAIROBI, Kenya (RNS) — In late December, 23-year-old Adar Yusuf Ibrahim won Miss University Africa, a non-bikini, continent-wide beauty pageant, becoming the first woman in Africa to win the title while wearing the hijab, the head covering worn by some Muslim women.
Ibrahim, who lives in Eastleigh, a Nairobi neighbourhood that is home to many ethnic Somalis, represented Somalia, her country of birth. Somalia, where an Islamist war has been going on since 2006, is 99% Muslim.
She's not the only young Muslim African to defy religious and cultural barriers to grace international beauty pageant catwalks in hijab, which traditionally, and sometimes controversially, is worn to signify modesty and privacy in Islam.
On Dec. 9, Shatu Garko, an 18-year-old hijab-wearing model from the northern state of Kano, was named Miss Nigeria, beating 17 other contestants.
The two beauty queens appeared to follow in the footsteps of Halima Aden, a Somali American model who quit the fashion industry in November 2021 after she was allegedly forced to compromise her religious beliefs, but has recently returned, saying her mother had reminded her of the impact she could have on behalf of other young Muslim women.
But Muslim clerics and scholars in Africa are alarmed by the recent pageant winners, criticizing their participation as contrary to Islamic teachings and African culture.
"As a woman, exposing the body to people who have no right to see you is an abomination in Islam. A woman can only expose her body to her husband. If done, it's against her culture, it's against Islam and even against humanity," Abdallah Kheir, a senior lecturer in religion in several Kenyan universities, told Religion News Service.
Kheir added that wearing hijab in a beauty pageant was "camouflage" meant to draw Muslim women into secular Western culture. "It's not about the hijab. I think they want to attract more (Muslim) girls. There is a hidden agenda," said Kheir.
Sheikh Abdullatif Sheikh, a cleric at Jamia Mosque, considered the seat of Islam in Kenya, said women should not be paraded like items for sale.
"Islam highly values the woman and her beauty is not made for everyone," he said, while emphasizing that headscarves are meant to obscure Muslim women's hair, not their brains, and that traditional dress does not mean a woman is backward or less educated, as critics of hijab often suggest.
Miss University Africa has been held annually since 2010 and draws contestants from 55 African countries. In the contest, bikinis and swimsuits are excluded. The winner of the pageant receives $50,000 in endorsement deals, a new car and is named a United Nations student ambassador.
Ibrahim arrived in Kenya with her family at age 11 and has always observed Islamic modesty. As she grew up and joined the fashion industry as a model, she kept her hijab.
"It was a personal choice even though I don't think all Muslim women have to dress the same. I love it," Ibrahim told the Daily Nation, a Kenyan newspaper. She hopes her win will inspire more women and girls to participate in pageants.
Garko, Miss Nigeria, won a prize of about $24,000, residency in a luxury apartment for a year and a new car. Her title will give her opportunities for marketing deals.
But reports say Shariah police in Kano had threatened to question her parents for allowing the teenager to participate in the pageant, which is "illegal and unknown to Islam," and Garko said she received direct messages and comments that she was doing something wrong.
Covering the body with a simple headscarf or head-to-toe cloak is considered an act of worship for many Muslims and is also embraced in Christianity and Judaism, among other religions, in Africa.
Sheikh called for the respect of each other's cultures and traditions, saying that a woman's height, weight and figure added no value to her worth as a human.
"Our standard would be different," he said. "You judge a lady as per intelligence, her morals and her behaviours and attitudes, other than her looks."
Source: Religion News
https://religionnews.com/2022/01/12/in-africa-hijab-is-no-barrier-to-success-in-beauty-pageants/
--------
Saudi Arabia's largest women walking team with 700 members formed in Jubail
January 13, 2022
JUBAIL — A Saudi woman, Abeer Al-Dayel, has formed Saudi Arabia's largest women's walking team, comprising 700 members, in the Eastern Province city of Jubail.
According to Al-Arabiya channel, walking reduced the weight of 70 percent of the team members, and 15 percent of them reported recovery from certain chronic diseases they previously suffered from.
The founder of the team, Abeer Al-Dayl, said what motivated her to form the team was her personal belief that Jubail's city structure is well-designed for all types of sports activities on the beaches, neighborhoods and parks.
She additionally pointed out that in the past four years, the team has conducted more than 100 initiatives in health awareness.
Source: Saudi Gazette
https://www.saudigazette.com.sa/article/615802/SAUDI-ARABIA/Saudi-Arabias-largest-women-walking-team-with-700-members-formed-in-Jubail
--------
Viral Egypt dance video fuels women's rights debate
Jan 13, 2022
CAIRO: A video of an Egyptian mother-of-three dancing that went viral online prompting her husband to divorce her and her employers to sack her has reignited fierce debates over women's rights.
The brief mobile phone video of Aya Youssef, a 30-year-old primary school teacher, shows her wearing a headscarf, trousers and a long-sleeved top as she dances alongside colleagues, smiling as she enjoys a river cruise on the Nile.
But the video, which has been shared widely on social media since it was posted earlier this month, has split opinion.
Some critics accuse her of breaching the conservative values of a largely Muslim society -- while others stand firmly with her in solidarity.
In recent years, Egypt has witnessed several cases in which women have been subjected to defamation campaigns on social media, stirring angry demands for those responsible to be held to account.
It comes as rights groups warn of a broadening crackdown on freedom in the increasingly conservative North African nation ever since President Abdel Fattah al-Sisi took office in 2014.
Youssef, in a recent interview with a private TV channel, said she had been "happy" on the trip and that her moves were "spontaneous".
Other colleagues were dancing alongside her on the boat in the sunshine, some waving their hands in the air. "All of us were dancing," she said.
But after the video was shared online, some who watched provided scathing comments on what they saw as "unbecoming" behaviour.
One Twitter user, Jihad al-Qalyubi, said the teacher's actions were "shameful".
Another, Ahmed al-Beheiry, said he "couldn't fathom how a married woman would dance in this lewd way".
But -- in a country where 90 percent of women aged between 18 and 39 reported having been harassed in 2019, according to a survey by the Arab Barometer research network -- others were supportive.
After the video went viral, Egypt's education ministry in Dakahlia region -- northeast of Cairo -- referred the teacher to a disciplinary committee, where she was sacked from her job in the city of Mansoura.
Amid a subsequent outcry, she was this week reinstated.
Nihad Abu al-Qumsan, head of the Egyptian Centre for Women's Rights, defended the teacher and offered her a job.
"We will ask the court about the correct dance rules -- so that all women would conform to the right rules if they dance in their brother's or their son's weddings, or at birthdays," Qumsan said sarcastically.
The fact that Youssef's husband also divorced her after watching the video prompted an angry reaction from popular Egyptian actress Sumaya al-Khashab, saying it showed double standards.
"Why don't men take their wives back?" Khashab asked.
"There are so many women who stand by their men when they even go to prison, for example, or don't abandon their husbands when their conditions deteriorate," she added.
Youssef told Egypt's Al-Watan newspaper that she did not know who had published the video online, but vowed legal action gainst those who "defamed and ruined her home".
It is not the first such case of online shaming to have triggered anger in Egypt.
Two young men were arrested this week after a 17-year-old schoolgirl committed suicide last month.
She swallowed poison after she was allegedly blackmailed with digitally altered photos after she reportedly refused to have an affair with them.
And in July 2021, a Cairo court sentenced two women to six and 10 years in prison for "breaching public morals" after they had published videos on the social media channel TikTok.
They were among a dozen social media "influencers" arrested in 2020 for "attacking society's values" in Egypt.
Opinions are shifting; Egypt has long been regarded as the birthplace of belly dancing, but several belly dancers and pop singers have been targeted in recent years over online content deemed too racy or suggestive.
Egypt has seen its community of homegrown dancers shrink, largely due to the profession's increasing notoriety as the country has become more conservative over the past half-century -- and to a broadening crackdown on freedoms.
Source: Times of India
https://timesofindia.indiatimes.com/world/middle-east/viral-egypt-dance-video-fuels-womens-rights-debate/articleshow/88875558.cms
--------
Afghan women face hardship as Taliban struggles to revive economy
By Arwa Ibrahim and Mohsin Khan Momand
12 Jan 2022
Kabul, Afghanistan – For Zaigul, a 32-year-old housewife from Nangarhar province who lives at the Nasaji camp for internally displaced persons (IDPs) near the capital, Kabul, life was already difficult before the Taliban seized power on August 15 last year.
She worked as a maid while her husband Nasir worked at construction sites to bring food to the table for their seven children, but not any more. Since the Taliban's return to power, the country has plunged into unprecedented economic crisis, with banks running out of cash and state employees suffering from months of unpaid salaries.
The freezing of billions of dollars of Afghan assets by the US and suspension of funds by international financial institutions have caused a near collapse of the fragile economic system marred by decades of war and occupation.
Zaigul, like millions of other Afghans, has no work as most economic activities have run aground following the collapse of the West-backed government of President Ashraf Ghani and the chaotic withdrawal of the US forces in August.
"The most pressing issue is the financial difficulties," said Zaigul, as she sat on the floor of her one-room home, her children huddled around her.
"You can live without freedom, but you can't live if you have nothing to eat," she told Al Jazeera.
The United Nations on Tuesday said about 22 million people – more than half of Afghanistan's population – face acute hunger. It sought nearly $5bn in aid for the country to avoid a humanitarian "catastrophe".
Economy in freefall
Like many families in Afghanistan, Zaigul and Nasir's household income has been slashed over recent months.
With most building projects coming to a halt after the Taliban takeover, and many families becoming unable to afford help at home, the couple has been unemployed.
"Neither of us can find work any more. We lack the most basic things – food, warm clothes and a heater to keep the house warm," said Zaigul, as she wrapped a thin black shawl around her shoulders.
Two of her teenage daughters were crouched next to her, while the youngest, a toddler named Sana, sat playing with old rags in the back. Despite the cold, her feet were bare, and her clothes sparsely covered her small limbs.
Zaigul's one-room home was empty except for a few worn-out mattresses that were splayed across a cold stone floor. In the daytime, the family used the mattresses to sit on, before converting them to beds for the night.
In the corner, an emptying bag of flour sat next to a rusted stove which she used to make bread at night.
Zaigul recounted life before the takeover, saying that despite being poor, her family got by on a meagre income and donations from international NGOs that helped them through the winter season.
"But now, even that [the aid] has stopped," she told Al Jazeera.
"My children go out to collect rubbish which we try to sell, or paper to burn to keep us warm. Sometimes, I think about going on to the street to beg," she told Al Jazeera, as she dropped her head into her palms and tears formed at the corners of her eyes.
Western sanctions have dealt a heavy blow to the aid-dependent country, forcing international NGOs to stop operations in the country.
The UN and other aid agencies have since tried to navigate the sanctions to deliver much-needed aid to the country, as public hospitals became unable to afford essential medical supplies or to pay staff salaries.
Donations-dependent population
Like Zaigul, Eloom Bibi, a widowed mother of six from Shemol village on the outskirts of Jalalabad, also depended heavily on donations after her husband – who worked in the police – died four years ago.
"Charity from people helped me a lot. But now, there's nothing [coming in] and I understand why. People are jobless," said the 35 year old.
"There are thousands of widows in this country who used to work. Now that the Taliban has taken over the country, all women have been made to stay home.
"What can a woman do to support her family?" she asked, as her youngest, three-year-old Baba-ji, climbed on to her lap.
Bibi has been struggling to pay her rent, buy food for the children "who are too young to work", or afford their school fees.
"Things were better before," she lamented as she hugged her three girls. "My kids were going to school – girls and boys. We used to receive donations, and women were free," she said.
According to independent Afghan analyst Ahmed-Waleed Kakar, "the main challenges for women are those reflected across the country at large – the financial and economic," he told Al Jazeera.
For Afghan women, economic challenges engulfing the country have been compounded by further restrictions on their freedoms, employment, education and even movement.
Kakar said most Afghans live in rural areas where people depend on agriculture rather than formal employment to make a living. But now, "they are struggling to get by and there's a massive surge in food insecurity," he said.
With the economic crisis and severe drought debilitating Afghanistan's agricultural, economic, financial and banking sectors, it has also affected the government's ability to pay the salaries of civil servants.
"Women who were in the public sector, alongside the men, are receiving salaries irregularly, if at all," said Kakar.
Masuda Sultan, an Afghan women's rights activist agreed.
"Teachers comprised the largest bulk of women's employment in Afghanistan," said Sultan, adding that they have not been paid their salaries since May or June, "except for some small payments made by the Taliban.
"While it is good that the international community has agreed to pay them, the money has not yet been mobilised and this has left them in a very bad place," she told Al Jazeera.
Sultan, who has worked on women's rights in Afghanistan for more than two decades, said that many businesswomen were also unable to access their funds at banks.
"The biggest challenge [for women] is an economic one, with the assets and aid being frozen," she explained.
Growing restrictions on women
Despite coming from a family that was financially stable before the takeover, things have also deteriorated for Anzorat Wali, a 19-year-old member of the Afghan national women's taekwondo team.
While Wali's brother, a civil servant, continues to work at the foreign ministry, he has not been paid in months.
Meanwhile, her mother – who previously supported the family – lost her job at the Ministry of Education after the Taliban called on women in the public sector to stay home.
For the teenager, life under the Taliban has meant no school, nor what she loved most – taekwondo.
Taking out a photo of one of her recent competitions, the teenager recounted the days when she could practise martial arts along with her sister.
In the picture, the young athlete's eyes beamed with pride as she stood in her white dobok and black belt to show off a hard-won medal and certificate for third place.
Although she was frustrated over the ban on female sports, Wali feels more pained by the restrictions on women's education and her family's financial struggle.
"For me, the biggest challenge is that I can't work or study," said Wali, who despite being her final school year, has stayed home after the Taliban shut her school.
Mounting confusion
Although the Taliban has not officially banned girls' education, the group's fighters have shuttered girls' secondary schools and barred women from public universities in many of the country's 30 provinces.
More recently, however, secondary-level education has returned to about 15 provinces, according to Obaidullah Baheer, a lecturer in transitional justice at the American University in Afghanistan.
"For the rest [of the provinces], we heard different things," he said, explaining that the Taliban has delayed the reopening of many girls' schools.
"The Taliban – whether by accident or design – has had a very elusive and confusing approach with regards to their policies and position on women within society," said Baheer, explaining that even the group's leadership is divided on the topic.
Baheer said that while the Taliban clearly banned women from holding positions of leadership, they have not announced other sectors where women are officially barred.
"The result is that many of their fighters are confused about what should, or should not, be done," he added, explaining that the directives banning women's travel alone for long distances pushed taxi drivers to refuse to drive women to work for fear of breaking the rules.
"In some provinces, women have been discouraged by fighters on the roads from going to their jobs [and girls to schools] but in others, some women are still in government jobs.
"Every province is making its own decision," he said, highlighting the depth of the confusion and arbitrary implementation.
But for Wali, the details do not matter.
"We [women] used to go to school or work. Now, we just aren't allowed," said the teenage athlete.
"What matters now, is that my family is facing a crisis and that it's very hard to survive, especially if you are a woman," she added.
Source: Al Jazeera
https://www.aljazeera.com/features/2022/1/12/afghan-women
--------
Israel arrests 4 women for providing intelligence to Iran
12.01.2022
JERUSALEM
Four Israeli women were arrested for providing intelligence information to an Iranian agent, Israel's domestic intelligence service Shin Bet said on Wednesday.
Shin Bet said in a statement that indictments were filed against the four women, but without revealing their names.
The four women are immigrant Jews from Iran, who sent photographs for several sites across Israel, including the US Embassy, upon a request by an Iranian agent, the statement said.
According to Haaretz newspaper, the women were indicted on charges of making contact with a foreign agent, which carries a maximum sentence of 15 years.
The women did not name the Iranian agent, saying they had no intention of harming Israel's security, Haaretz said.
Source: Anadolu Agency
There was no comment from Iranian authorities on the report.
https://www.aa.com.tr/en/middle-east/israel-arrests-4-women-for-providing-intelligence-to-iran/2472221
--------
UN official condemns harassment of Muslim women in 'Sulli Deals'
January 13, 2022
GENEVA: Harassment of Muslim women in India through social media apps such as "Sulli Deals" must be condemned and prosecuted as soon as they occur, a UN Special Rapporteur has said. UN Special Rapporteur on Minority Issues Dr Fernand de Varennes took to Twitter to raise concern on the issue of minorities in India, saying "Muslim women in India are harassed and sold in social media apps".
"#Minority Muslim women in #India are harassed & 'sold' in #socialmedia apps, #SulliDeals, a form of #HateSpeech, must be condemned and prosecuted as soon as they occur. All #HumanRights of minorities need to be fully & equally protected," Varennes said in a tweet on Tuesday.
The Delhi Police last week arrested Aumkareshwar Thakur, 26, who is believed to be the creator of "Sulli Deals" app from Madhya Pradesh's Indore, the first arrest made in the case.
Hundreds of Muslim women were listed for "auction" on the mobile application with photographs sourced without permission and doctored.
The accused, a Bachelor of Computer Application degree holder, admitted that he was a member of a group on Twitter and the idea to defame and troll Muslim women was shared there. "He admitted that he had developed the code/app on GitHub. After the uproar regarding the Sulli Deals app, he had deleted all his social media footprints," a senior police officer said.
In a separate "Bulli Bai" case, the Delhi Police on January 1 registered an FIR in connection with an online complaint submitted by a city-based woman journalist against unknown persons for allegedly uploading her doctored picture on a portal.
The case pertains to the creation of the 'Bulli Bai' app, which targeted Muslim women by putting up their images online for "auction".
According to Delhi Police, Niraj Bishnoi, 21, who was arrested from Assam, was the alleged mastermind and creator of the "Bulli Bai" application.
He had disclosed during interrogation that he was in touch with the person behind the Twitter handle @sullideals, the alleged creator of the "Sulli Deals" app that was hosted on GitHub in July last year. —PTI
Source: Kashmir Reader
https://kashmirreader.com/2022/01/13/un-official-condemns-harassment-of-muslim-women-in-sulli-deals/
--------
Where progress on Saudi women's rights is heading in 2022
January 13, 2022
In 2018, Saudi Crown Prince Mohammed bin Salman was asked in an interview with US news network CBS if women were equal to men. His answer was unambiguous, and rightly so: "Absolutely."
He was asked this question because Saudi Arabia had long courted controversy regarding the public role of women in its society. Since the interview, he has put pen to paper. A series of major domestic reforms to strengthen women's rights have been unveiled in the four years since, a key part of a wider programme to open up Saudi society. In 2018, the ban on Saudi women driving was lifted. This week, women were allowed to become taxi drivers.
Reforms appear to be working across a number of metrics. A crucial one is the employment rate of women, which rose from 66 per cent in 2016 to 75 per cent in 2020.
These measures are significant, but their implementation is even more so in light of the Covid-19 pandemic, the consequences of which the world will live with for years to come.
As with any crisis, the pandemic has hit certain groups in society harder than others. The largest group to be affected disproportionately is women. McKinsey, a global consultancy firm, estimates that, worldwide, their jobs are 1.8 times more vulnerable to the pandemic than men's, largely because women are taking on an unequal share of unpaid care, whether it be of children out of education or sick relatives.
It is even a grave threat to their safety. UN Women lists cramped conditions, isolation with abusers and empty streets, all a result of the pandemic, as factors that have exacerbated gender-based violence in the past two years.
The Middle East is no different. Indeed, it is perhaps worse, given the already-disadvantaged position of women in some of its countries. Forty per cent experience some form of violence during their lifetime, according to UN Women, which also suggests that the real rates might be significantly higher.
In a country as large as Saudi Arabia, reform in favour of women's rights will make a big difference. Last January, it amended anti-harassment laws to include provisions for publishing the names of the offenders. This week, a court did just that, ruling to name and shame a man convicted of verbally abusing a woman. The man, Yasser Mussalam Al Arwe, will serve eight months in prison. His conviction and sentencing will illustrate to women that their concerns are being heard, while also showing men that the government is serious about clamping down on such behaviour.
These measures, from allowing taxi driving to enforcing anti-harassment laws, have been implemented in a matter of days since the beginning of the New Year by the government of Saudi Arabia. Its society is progressing towards both more opportunities for women but, also changes to its economy that can benefit all members of society.
Source: The National News
https://www.thenationalnews.com/opinion/editorial/2022/01/13/where-progress-on-saudi-womens-rights-is-heading-in-2022/
--------
3 mln women downloaded KADES emergency support app
January 12 2022
KADES, an emergency support application for women which directs security units to the place of violence in just minutes upon notification, has been downloaded by more than 3 million women since 2018, the country's interior minister has said.
"This year, we aim to teach men across the country to practice self-restraint in order to put an end to domestic violence," Süleyman Soylu said in a conference called "2022 National Plan: Fight With Violence Against Women."
According to data obtained from Soylu, besides KADES, security units also had some 279,000 notifications from women calling for help in these three years. "We have also set up special bureaus in police departments of all 81 provinces to combat violence against women," he added.
"The number of femicides in the country was 268 in 2020. It made a 15 percent increase in 2021, reaching 307," Family and Social Services Minister Derya Yanık said in a conference organized by her ministry.
Justice Minister Abdülhamit Gül was another participant in the conference. "Our ministry established some 215 offices for investigating domestic violence and femicides," Gül highlighted.
Giving information to the public about girls' education, Education Minister Mahmut Özer said, "Since 2014, the number of female students started rising, and as of 2021, it has surpassed the number of male students."
Another woman 'falls from balcony'
The conference was held at a time when the country was shocked by the news of a new "accidental fall of a woman" from a balcony.
Sedef Nur Çağlar, 23 years old, was alleged to have "fallen from an apartment's balcony on the 7th floor" in the northwestern province of Kocaeli. The university student is struggling between life and death in the ICU of a state hospital.
According to media reports, she and her boyfriend visited a friend's house late on Jan. 9. They all drank alcohol until the early hours of Jan. 10, when "all of a sudden," she and her boyfriend started to quarrel.
"It was around 6 a.m. when she jumped from the balcony," her boyfriend alleged in his first police testimony.
The ongoing police investigation will clarify if Çağlar jumped or was pushed from the balcony instead.
Source: Hurriyet Daily New
https://www.hurriyetdailynews.com/3-mln-women-downloaded-kades-emergency-support-app-170702
--------
URL: https://www.newageislam.com/islam-women-feminism/saudi-tv-narjis-awami-mecca-umrah/d/126151
New Age Islam, Islam Online, Islamic Website, African Muslim News, Arab World News, South Asia News, Indian Muslim News, World Muslim News, Women in Islam, Islamic Feminism, Arab Women, Women In Arab, Islamophobia in America, Muslim Women in West, Islam Women and Feminism