New Age Islam News Bureau
14 July 2022
• Morocco's Lionesses Secure A Maiden FIFA World Cup Place
• Pope Francis Names Women to Bishops Advisory Committee for the First Time
• Social Media Effect: Islamic Emirate Not Against Girls' Education, Say Authorities
• Iranian Women Say 'No to Hijab', Publicly Remove Veil to Protest Draconian Chastity Laws
• Kyrgyz Imam in Hot Water after Blaming Soaring Meat Prices on Women's Skimpy Clothes
• SIS: Dark Day for Muslim Women after SM Faisal's Ex-Wife Emilia Arrested in Protest, Without Prior Warrant
• Afghan Women, Children Grappling With Opioid Addiction Live In Fear Of Being Imprisoned By The Taliban
Compiled by New Age Islam News Bureau
URL: https://newageislam.com/islam-women-feminism/saudi-teenager-ritaj-guinness-novel/d/127481
--------
Saudi Teenager Ritaj Al-Hazmi Is Titleholder of a Guinness World Record for Being the Youngest Writer of a Novel Series
Ritaj Al-Hazmi retains the Guinness title for her novel series
-----
July 14, 2022
JEDDAH: A 14-year-old teenager, Ritaj Al-Hazmi, remains the titleholder of a Guinness World Record for being the youngest writer of a novel series.
She was first named in 2020 by the Guinness Book of Records for this achievement.
Al-Hazmi began writing short stories at the age of six with the support of her family, who sent her on special creative writing courses.
She published her first two English-language novels "Treasure of the Lost Sea" and "Portal of the Hidden World" in 2019 when she was 10. In 2021, she published her third novel "Beyond the Future World."
She has recently completed a new novel, "The Passage to the Unknown," and is preparing to publish.
Al-Hazmi said she wants to inspire others to read by producing these works.
She told the Saudi Press Agency that she is currently working on a science fiction novel entitled "The Day Before 2050," about the potential danger of climate change to humans and animals.
She recently published an article on the subject, and said she chose the title because 2050 is the date set by many countries to reach net zero emissions.
Al-Hazmi remains dedicated to the craft of writing.
"It takes me about a year to write a book, depending on the type of book. The writing mechanism that I follow is one of the most famous international methods called 'Save The Cat Method,' which depends on dividing the composition of the novel into main points. Moreover, some electronic applications help me organize my ideas and ensure the correct sequence of events in the novel while writing, and (I) refer to them before the proofreading stage."
Al-Hazmi thanked the government for supporting artists in the country.
Her father Hussain Al-Hazmi is proud of her achievements. "Getting this title is one of the most important awards she has received, and I am very happy for her that she has been able to reach her goals and make her dream come true."
Source: Arab News
https://www.arabnews.com/node/2122121/saudi-arabia
--------
Morocco's Lionesses Secure A Maiden FIFA World Cup Place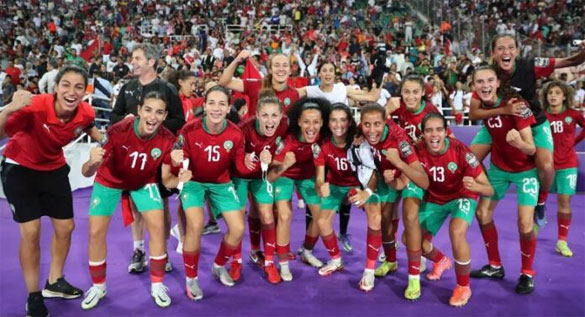 Morocco secure maiden World Cup berth
-----
July 14, 2022
Morocco have reached the semifinals of the Women's Africa Cup of Nations for the first time after beating Botswana 2-1 on Wednesday at Prince Moulay Abdellah Stadium in Rabat.
The win means that the Atlas Lionesses have confirmed their maiden qualification for the 2023 FIFA Women's World Cup set to take place in Australia and New Zealand. It is the first time that a team from North Africa has managed this achievement.
The tournament hosts will now face the winner of tonight's quarterfinal game between South Africa and Tunisia in Monday's last-four clash.
Sanaa Mssoudy gave the home team an early lead at three minutes but Botswana equalized through Keitumetse Dithebe only four minutes later, and the teams went in at halftime all square.
Fatima Tagnaout, already with an assist to her name, set up Yasmin Mrabet's winner on 59 minutes to ensure Morocco took their place in the semifinals.
Earlier in the competition, Morocco had topped Group A with a maximum of nine points after beating Burkina Faso 1-0, Uganda 3-1 and Senegal 1-0.
Zambia, who defeated Senegal 4-2 on penalties after a 1-1 draw in Wednesday's other quarterfinal, will face the winner of the match between Cameroon and Nigeria, which also takes place on Thursday night.
Source: Arab News
https://www.arabnews.com/node/2122181/sport
--------
Pope Francis names women to bishops advisory committee for the first time
July 13, 2022
VATICAN CITY — Pope Francis has for the first time named three women to serve as members of the Vatican committee that vets bishop nominations.
Italian sister Raffaella Petrini, French sister Yvonne Reungoat and laywoman Maria Lia Zervino will join the previously all-male office, the Vatican said on Wednesday.
The appointments are the latest in a series of significant moves allowing women more say in Catholic Church governance.
The dicastery oversees the work of most of the church's 5,300 bishops, who run dioceses around the world.
Its members — including cardinals, bishops and now women — meet periodically to evaluate new bishops who are proposed by Vatican ambassadors.
The pope still has the final say despite the consultation and vetting process.
Petrini was the first woman to be appointed as the secretary-general of the Vatican City State, in charge of museums and other administrative parts of the territory.
Sister Reungoat previously served as superior general of the Daughters of Mary the Helper, a religious order also known as the Salesian Sisters.
Maria Lia Zervino meanwhile is president of a Catholic women's umbrella group, the World Union of Female Catholic Organizations.
Church doctrine still reserves the priesthood for men, and women have often complained they have a second-class status to the all-male clerical hierarchy of the Holy See.
Most of the Vatican's work in running schools, hospitals, while passing on the faith is done by women. — Euronews
Source: Saudi Gazette
https://saudigazette.com.sa/article/622905
--------
Social Media Effect: Islamic Emirate Not Against Girls' Education, Say Authorities
July 14, 2022
Following a series of campaigns on social media for the reopening of girls' schools, authorities said the Islamic Emirate was not against girls' education.
Hundreds of social media users, including Facebook, Twitter and Instagram, were going online posting texts about girl students above grade seven and asking the Islamic Emirate to reopen their schools all over the country.
They called education the rights of the Afghan women and girls and said they should be paid their rights.
"Why should women go begging but not going to schools and getting educated," said one of the social media users who called on the Islamic Emirate to allow girls and women get their rights.
Another social media user said women can tolerate poverty but not illiteracy. "Prevention of girls from schools causes the country's future to remain in darkness more than ever," said Farida who said her ambition was to become a doctor in the future.
"Illiteracy is idolism and ignorance and I don't want to remain ignorant and illiterate. I call on the Islamic Emirate to put an end to the girls' waiting and allow them to rejoin their schools," she said.
Meanwhile, the Ministry of Education said that girls' schools above grade-seven will remain closed until the next decision.
One of the officials said reopening girls' schools would be happen soon after a plan for the types of their hijab or burqa is finalized.
"The Islamic Emirate is not against girls' education and their schools will be reopened soon after the discussion is ended," said an official of the ministry of education adding the schools would soon be reopened after the ministry receives permission from the leadership of the Islamic Emirate.
Some officials of the Islamic Emirate said the reason behind girl schools' closure is that the related officials were working on the type of clothing they have to use while joining their classes.
More than 92,000 of up to 242,000 schoolteachers, comprising 38 percent of the total teachers, are women. Over 2,700,000 girls have registered with first to seventh grades in schools this year.
Saida Ahmadi
Source: The Kabul Time
https://thekabultimes.gov.af/islamic-emirate-not-against-girls-education/
--------
Iranian women say 'no to hijab', publicly remove veil to protest draconian chastity laws
DISHHA BAGCHI
13 July, 2022
New Delhi: Iranian women Tuesday participated in an anti-hijab campaign across the country, where they defied the Islamic Republic's strict hijab rules by posting videos of themselves publicly removing their veils, Iran's state news agency reported.
They protested on 12 July which Iran celebrates as the 'National Day of Hijab and Chastity', and government institutions and agencies are instructed to promote it for a week.
The country's security forces in recent months have strictly tried to reinforce the dress code, prompting calls by women to oppose it.
On Tuesday, Iranian women's rights activists removed their hijabs publicly and shared these videos on social media.
At the same time, the Iranian state television aired a video of a 'Hijab and Chastity' ceremony which showed 13 women — wearing green hijabs and long white robes – dancing to a narration that quoted verses from the Quran and stressed the importance of women being covered. The video was met with ridicule on social media.
The Islamic hijab rule has been prevalent in Iran since the Islamic Revolution in 1979. The law mandates women and girls over the age of nine to wear a head covering in public. However, its severity varies from one administration to the next, depending on the political background of the incumbent president.
Backed by the country's very conservative religious elite, Iranian President Ebrahim Raisi described the recent backlash to the hijab law as "an organised promotion of moral corruption in Islamic society".
Yet women have found ways around the law by wearing colourful scarves and showing some of their hair.
This raised concern among religious scholars, who said the women breached the Islamic republic's principles of the "chastity and hijab" guidelines.
Similarly, early this month, the deputy prosecutor of Mashhad in northeast Iran wrote an order preventing women without hijabs from visiting offices and banks or using the metro. While the mayor initially opposed the decision, he eventually allowed the order.
Following this, women's rights activists and civil activists urged citizens, including men, to resist the mandatory wearing of hijab. The call elicited a positive response with many posting videos and photographs on the morning of July 12.
New York-based International Campaign for Human Rights in Iran (ICHRI) feared "potential violence and detentions on July 12".
The anti-hijab social media campaign has been led by US-based activist Masih Alinejad who has been behind several online campaigns in the past decade.
Ahead of the protest, Masih Alinejad tweeted: "Tomorrow Iranian women will shake the clerical regime by removing their hijab and taking to the streets across Iran to say #No2Hijab. This is called Women Revolution. In Iran #WalkingUnveiled is a crime. Iranian men will also join us".
On 12 July, she tweeted again, "As we promised!, We remove our hijabs and I hope everyone joins us. Forcing women to wear hijab is not part of Iranian's culture. It is the culture of Taliban, ISIS and Islamic Republic. Enough is enough. #No2Hijab".
The hashtag #hijab_without_hijab was used in over 76,000 tweets globally on Monday and Tuesday. On the Iranian Tagminer website, the hashtag was listed as the second most popular tag in the country as of Tuesday evening.
Iranian Fars News Agency dismissed the protests, calling it an attempt by the "counter-revolution" to "promote promiscuity and bad hijab in Iran". It claimed the hashtag failed to trend on Persian Twitter and that the main accounts speaking about the protest were anonymous and supported the US and the Shah – the former ruler who was overthrown in the 1979 revolution.
Source: The Print
https://theprint.in/world/iranian-women-say-no-to-hijab-publicly-remove-veil-to-protest-draconian-chastity-laws/1036632/
--------
Kyrgyz Imam In Hot Water After Blaming Soaring Meat Prices On Women's Skimpy Clothes
July 13, 2022
An imam is courting controversy in Kyrgyzstan after he blamed skyrocketing meat prices in the Central Asian country's bazaars on women who "cheapen" themselves by showing too much skin.
"Do you know when meat prices go up in your town? It goes up when women's flesh cheapens. Woman's meat becomes cheap when she bares skin, exposes her thighs like a thumb," Sadybakas Doolov told a congregation in the capital, Bishkek, earlier this month.
The award-winning mullah, who had served as the head of an Islamic university, called on elderly men to put an end to "this disgrace" and stop women from wearing skimpy outfits.
The comments by Doolov, 53, provoked a lot of angry replies in the predominantly Muslim country after footage of his sermon was shared on social media. Some accused the imam of insulting and discriminating against women and called for a criminal investigation.
The country's highest Islamic authority, however, is standing by the imam, saying his comments haven't broken any rules.
The state-backed Spiritual Administration of Muslims of Kyrgyzstan (DUMK) launched a probe into Doolov's controversial speech. The DUMK said its investigation found that Doolov's remarks didn't violate any Islamic laws, didn't insult anyone's honor and dignity, and didn't interfere with politics. The probe examined Doolov's speech according to those three criteria, it said.
The agency has also spoken with the imam, who was awarded the DUMK's prestigious Aikol medal in 2020. According to the DUMK, Doolov's speech was merely misunderstood by many.
The DUMK's probe came after two Kyrgyz activists filed official complaints with the State Committee for National Security and the Prosecutor-General's Office, calling for an investigation.
Doolov says the comments made during a 30-minute sermon were taken out of context and misinterpreted by critics. The unapologetic mullah said he meant for people to examine their own moral values and not to "blame authorities or traders for everything."
"There were some words on why you're talking about the [high] price of meat but your honor is not offended when women walk around with their naked bodies," Doolov explained. The imam said he didn't intend to demean women.
But many Kyrgyz social-media users accused him of misogyny, ignorance, and misrepresenting religion.
"Simply genius! Now, please check on Google the price of meat in some Arab countries [where women are covered head-to-toe] and see if your theory works there, too," one commented.
A Kyrgyz woman reacted with sarcasm, saying she wouldn't have worn short skirts had she known it had such severe consequences. "Women must be behind the economic crisis and bad roads, too," she wrote.
A Kyrgyz man wrote that Doolov's remarks represented extremist ideas and that his interpretation of Islam should be examined by the security services.
Several others voiced concern that religious figures with questionable ideas are teaching Islam to the young generation.
Doolov is active on social media, often sharing videos with his more than 124,000 followers on Instagram and nearly 200,000 subscribers on YouTube.
He reportedly received his religious education at a private madrasah in neighboring Tajikistan in the late 1980s and early 1990s. Doolov also studied philology at the Osh State University in southern Kyrgyzstan.
According to Kyrgyz media reports, Doolov had worked as the head of at least two Islamic schools in Kyrgyzstan. He currently is an imam at a mosque in Bishkek's Sverdlov district.
Source: Rferl
https://www.rferl.org/a/kyrgyzstan-imam-meat-prices-short-skirts/31942193.html
--------
SIS: Dark day for Muslim women after SM Faisal's ex-wife Emilia arrested in protest, without prior warrant
By Soo Wern Jun
27 Jun 2022
KUALA LUMPUR, June 27 — Women's rights group Sisters In Islam (SIS) has expressed its disappointment towards the Shariah Court system today and its handling of cases related to Emilia Hanafi, the former wife of businessman Datuk SM Faisal SM Nasimuddin Kamal.
In a statement today, SIS said sending Emilia to Kajang Prison to serve a seven-day jail sentence earlier marks a dark day for all women especially Muslim mothers and wives in the country.
"The Shariah judiciary, which is supposed to be responsible for upholding justice and safeguarding the welfare of the affected family members from oppression, instead acted to issue a seven-day jail arrest warrant on the mother simply because she had changed an ex-husband's visit date at the request of the child — her son.
"The mother, named Emilia Hanafi, arrived at the Federal Territory Shariah Court at about 9.45am to surrender, in protest and unwillingly, to the court. However, when we arrived at the court, we got the news that the arrest warrant was never actually served on Emilia and the judge in question refused to see her or her Shariah lawyer," said SIS.
According to SIS, it was only known later that the arrest warrant had not been served before, as it was handed over to Emilia just this morning when she was in court.
"Emilia, who is also the ex-wife of entrepreneur and businessman SM Faisal Nasimuddin had filed a domestic violence report against her ex-husband in 2015. Although it has been seven years, her domestic violence case is still ongoing.
"However, Emilia's case is not an isolated case as many women have experienced difficulties in our Shariah court system in Malaysia," the group said.
Earlier this morning, Emilia was sentenced to a seven-day jail sentence for failing to comply with the Shariah High Court's order on the visitation dates of her three children.
The sentence was meted out after she surrendered herself to the Shariah Court here. According to her lawyer, Nazri Yahya, Emilia will be serving her sentence starting today at the Kajang Women's Prison.
Citing its own legal aid clinic Telenisa, SIS said many Muslim women continue to face various issues related to Islamic family laws in cases involving wife and child alimony claims, matrimonial property, and childcare, which they said are time-consuming, complicated and expensive.
It also pointed to the several gaps in the Shariah judiciary, such as lack of digitisation unlike the civil courts, no audio or video recording, and no platform for reference to cases.
There were also findings on complaints about very complicated procedures such as dissolution of marriage and claims of rights after divorce where the client has to open several files in the different Shariah courts.
"Clients are given two to three different dates for each claim. The procedure is highly harassing and the claims cannot be heard in full," the group said.
It also listed several issues involving alimony claims, polygamy, and child marriages.
SIS said the situation is very worrying and sad as women are already facing injustice and oppression under the roof of their own homes, when they turn and hope to the institution of justice in defending their destiny, the difficulties and other difficulties that they have to face.
"Who else can women hope to get justice for themselves and their children? By 2021, as many as 75 per cent of Telenisa callers will be from the B40 (bottom 40 per cent) group who will have difficulty paying for legal services that are too expensive and have never been controlled.
"Therefore, the Shariah Court must ensure that the rights of these mothers are guaranteed and justice is upheld immediately. Delayed justice is denied justice," said SIS.
Source: Malay Mail
https://www.malaymail.com/news/malaysia/2022/06/27/sis-dark-day-for-muslim-women-after-sm-faisals-ex-wife-emilia-arrested-in-protest-without-prior-warrant/14546
--------
Afghan women, children grappling with opioid addiction live in fear of being imprisoned by the Taliban
KATHARINE LAKE BERZ AND SHARIF SHARAF
July 14, 2022
Armed with Kalashnikovs, two Taliban soldiers forced their way into a home near Kandahar last month, searching for a 40-year-old woman. They had come to arrest Farzana, a mother of eight children who was suspected of using drugs.
Farzana's husband, Nasraullah, had been arrested a few weeks before, but had escaped from a moving van and was in hiding.
The soldiers were met by Farzana's seven-year-old daughter, Osmania. Trembling and gasping for breath, Farzana said, Osmania told them that she was not there. Osmania promised that her mother would surrender when she returned. (Farzana and her family do not have surnames, which is common in rural Afghanistan).
This was another moment in a desperate cat-and-mouse game Farzana and her children were playing to avoid the Taliban crackdown on illicit drugs announced in April.
Farzana was indeed addicted to heroin and opium and some of her children – all under age 14 – were too. But prison would offer neither safety nor therapy, and shunned by the rest of their family and neighbours, they longed to stay together.
Farzana's life is part of an escalating tragedy. As Afghanistan grapples with poverty and starvation, opioid addiction is raging. More than 10 per cent of Afghanistan's 40 million people are addicts according to the United Nations, and drug-treatment programs are scarce.
Drug addiction is not a new problem in Afghanistan. The country has been the world's largest cultivator of opium and producer of opiates for at least 30 years. But rates of addiction have skyrocketed.
UN reports say that the number of female addicts grew more than 600 per cent over the past decade, as the extended military conflict left them vulnerable to anxiety, depression and post-traumatic stress disorder, common risk factors for developing drug-use disorders.
Since the Taliban's ban came into effect, thousands of men who use drugs have been rounded up and imprisoned, according to two Taliban police officers. The Globe and Mail interviewed the Taliban officers, one from Kandahar and one from Helmand province, in Pashto over WhatsApp. The Globe is not identifying them because they fear retribution for speaking publicly on the issue.
But part of the story is largely kept secret. Women and children are being imprisoned for illicit drug use too.
Official statistics report that women represent less than one per cent of the country's addicts. But the police chief from Kandahar told The Globe that the Taliban prefer to hide the problem of female addicts because they believe that women who use drugs bring deep dishonour in patriarchal Taliban society.
Almost one million Afghan women use drugs, according to the most recent international data. A Kandahar addiction-support volunteer told The Globe that women are suffering in staggering numbers. Some are in hiding and others are in prison, he said, and some are preyed upon by men for sex. The Globe is not revealing his identity because he is afraid of persecution for speaking to the media.
Under the Taliban crackdown, he said, women live in grave danger.
Farzana said that people swear at us and throw stones, saying they want us to die." She is terrified that her children will starve to death but acknowledges that she is so addicted that she often buys drugs before food. Some days, they have no food at all; on others, they are lucky to get dry bread.
"I have heard of people who have sold their daughters for drugs," she said. "But I love my daughters and I hope I won't have to sell them."
Noor Bibi, a 30-year-old addict and mother of seven in Kandahar province lives in hiding. She, too, is terrified of being imprisoned and losing her children.
"I must hide indoors," she said. But she risks arrest to beg for food and money to buy heroin and opium.
"When I can't get it, I cry like a crazy woman, I am out of control."
Ms. Bibi's 40-year-old husband, Asadullah, is incapacitated by addiction and is often away or in jail. Her voice cracked when she spoke of her children.
"My eldest son is 13 years old and uses opium and heroin every day." Her youngest daughter is two years old and very small for her age, she said.
"I am scared even my baby is addicted."
Her situation is not unusual. In 2021, the UN Office on Drugs and Crimes and UNICEF reported that as many as half of parents in the north and south of Afghanistan are giving drugs to their children to treat headaches, fevers and stomach problems.
Women also give opioids to their children when they are short of food, the addiction-support volunteer said. He worries that an even larger percentage of Afghanistan's next generation may be plagued by addiction.
He and other Afghans who spoke with The Globe said that with the economy in free fall and drug prices rising, Afghanistan's female drug users and their children are at acute risk of starvation or death.
There were 102 drug-treatment facilities before the Taliban returned to power in August. Only five of them were open to women and children, according to the UN Office on Drugs and Crime.
But since the recent crackdown, the Taliban are bringing some female addicts and their children to prisons, forcing them to go cold turkey among hardened criminals. In Kandahar's Sarpoza prison, drug-addicted mothers and their children are housed separately alongside more than 1,400 male addicts already there, according to prison director Movlavi Hussaini.
Addicts there live in shocking conditions, Mr. Hussaini told The Globe. The women suffer from insect-borne diseases and illnesses linked to raw-sewage exposure. The prison is more than 20 per cent over its capacity and has only two doctors for its 2,260 prisoners, almost all of whom need medical help, he said.
"But without medicines, what can they do?"
One prisoner, Fahima, who appeared unwell, spoke with us as a toddler hid behind her. She trembled uncontrollably as she described her two months in jail with her five children who are also addicted to opium. The eldest is just nine years old.
A physician at Sarpoza, Ghulam Zawak, said that women arrive at the prison in much poorer health than men, and with severe mental-health problems.
But Dr. Zawak is not trained in psychiatry or women's health and is not able to help them, he said. He has begged the International Committee of the Red Cross (ICRC) to help Afghanistan's addicts. But they told him that "treating addiction is not in our plan."
Luc Christen, ICRC public relations officer in Kabul confirmed by e-mail that the ICRC does not have plans to help with addiction treatment at Sarpoza or elsewhere in Afghanistan. "This is not our field of expertise," he wrote.
But female and child addicts need urgent help, Dr. Zawak said, or Afghanistan's addiction crisis could overwhelm society in the years to come.
"Addiction is a disease and prisons are not going to help."
Source: The Globe And Mail
https://www.theglobeandmail.com/world/article-afghan-women-addiction-taliban-illicit-drugs/
--------
URL: https://newageislam.com/islam-women-feminism/saudi-teenager-ritaj-guinness-novel/d/127481
New Age Islam Islam Online, Islamic Website, African Muslim News, Arab World News, South Asia News, Indian Muslim News, World Muslim News, Women in Islam, Islamic Feminism, Arab Women, Women In Arab, Islamophobia in America, Muslim Women in West, Islam Women and Feminism