New Age Islam News Bureau
15 Sept 2016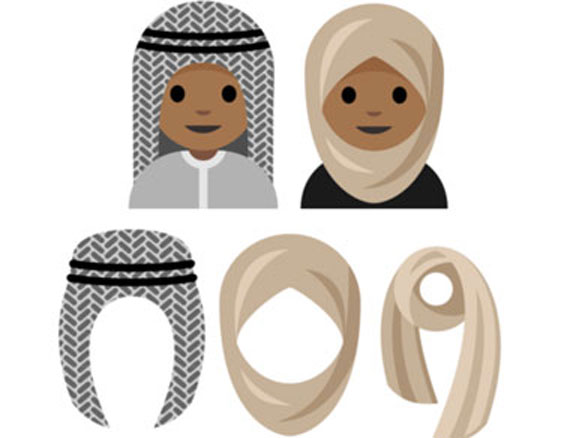 Some of the emoji designs proposed by 15-year-old Rayouf Alhumedhi
--------
• Government Set To Oppose Triple Talaq in Response to Supreme Court Notice
• #OurChoiceNotYours -- The Burkini Ban Isn't the Beginning or the End
• Fierce Opposition in Muslim Marriages Case in South Africa
• Cumberland County Sheriff Apologizes For Photos of Muslim Women without Hijabs
• Muslim Couple Performs Last Rites of Hindu Woman in Telangana, India
• Berlin Arrests 3 IS Suspects – Women 'Commandos' Charged With Terrorism
Compiled by New Age Islam News Bureau
URL: https://www.newageislam.com/islam,-women-and-feminism/new-age-islam-news-bureau/saudi-teenage-girl-student-designs-first-ever-hijab-emoji/d/108568
----
Saudi Teenage Girl Student Designs First-Ever Hijab Emoji
Bethan McKernan Beirut
14 September 2016
A Saudi teenager living in Germany has sent a proposal for a new headscarf-wearing emoji to The Unicode Consortium, which develops the popular characters.
15-year-old Rayouf Alhumedhi from Berlin said she was chatting to friends on Whatsapp when everyone picked an emoji to represent themselves. That's when she realised there wasn't one that adequately represented her, as a headscarf-wearing woman.
She did some research and was delighted to find anyone can submit new emoji concepts the non-profit. When Ms Alhumedhi emailed Unicode about her idea, they responded by helping her draft a formal proposal for the consortium's consideration.
"In this day and age, representation is extremely important," Ms Alhumedhi told the BBC.
"There are so many Muslim women in this world who wear the headscarf. It might seem trivial… but it's different when you see yourself on the keyboard around the world. Once you experience that, it's really great."
Ms Alhumedhi's idea caught the idea of Reddit co-founder Alexis Ohanian, who hosted an 'Ask Me Anything' discussion to boost awareness of the idea on Tuesday.
Emoji is the fastest growing language in the world. There have been several high profile calls for Unicode to make the characters more diverse, as well as give female emojis other occupations that their current incarnations as princesses and playboy bunnies.
Unicode has said in the past they will considering coding gender neutral or female-appearing characters.
"We applaud Unicode for the diversification of emojis in recent years. However, this does not mean it should stop now. With the amount of difference in this world, we must be represented," Ms Alhumedhi wrote in her proposal.
If it is successful, headscarf-wearing-woman could be appearing on phone keyboards as soon as 2017.
independent.co.uk/news/world/middle-east/hijab-emoji-ios10-apple-iphone-proposed-teenager-girl-saudi-arabia-germany-a7299931.html
--
Government set to oppose triple talaq in response to Supreme Court notice
Sep 15, 2016
NEW DELHI: The Centre is likely to bat against the practice of triple talaq and in favour of women's rights in response to the Supreme Court notice on the issue. An inter-ministerial committee met on Wednesday to fashion a response to the court's notice+ on the clutch of public interest litigations filed by several Muslim women.
Several individuals and NGOs have sought a ban+ on the practices of triple talaq and polygamy.
"Women are moving towards equality the world over. We should move towards that as well," said a source privy to the deliberations. Union ministers, including Rajnath Singh, Arun Jaitley, Manohar Parrikar and Maneka Gandhi, were part of the meeting.
The response to the court will be drafted by the law ministry which is likely to steer clear of recommending a law to ban unilateral triple talaq+ or implementation of Uniform Civil Code.
Sources said the law ministry will look at international practices. They added that the government was also likely to argue that many Islamic nations, including Saudi Arabia, Pakistan, and Iraq, have either banned or restricted these practices.+
On September 5, the court gave the Centre four weeks to respond on the batch of PILs on triple talaq and the plight of Muslim women.
The All India Muslim Personal Law Board, in its counter affidavit in the SC, had said the contentious issues relating to Muslim practices of polygamy, triple talaq ( talaq-e-bidat ) and nikah halala are matters of "legislative policy" and cannot be interfered with. The board also said practices provided by Muslim Personal Law on issues of marriage, divorce and maintenance were based on holy scripture (al-Quran) and "courts cannot supplant its own interpretations over the text of scriptures".
In 2015, a high-level committee established by the ministry of women and child development recommended that practices like triple talaq be banned.
http://timesofindia.indiatimes.com/india/Government-set-to-oppose-triple-talaq-in-response-to-Supreme-Court-notice/articleshow/54338240.cms
--
#OurChoiceNotYours -- The Burkini Ban Isn't The Beginning Or The End
15/09/2016
One of my core beliefs centers on choice. Women around the world must reserve the right to choose how they dress. It seems like an obvious statement for 2016. Yet the fact of the matter is that more and more this remains a challenge when extremist ideologies both religious and secular continue to come back to the notion that women's bodies and dress is something that should be controlled.
As a result, I have joined forces with Sisterhood of Salaam Shalom and altMuslimah to launch the campaign #OurChoiceNotYours.
I invite you to join as well.
Last month, a Muslim woman enjoying the beach in France was forced by armed police to remove her shirt.
As women of faith struggling for freedom, this incident is deeply disturbing. It embodies a sad reality of rising fear, hate, and discrimination towards Muslims who are living their lives in peace. We believe in freedom of choice for all, especially the choice to express religious and cultural identity. Laws targeting one religious or ethnic group are a dangerous step rooted in irrational hate, ignorance, and inequality. No authority should keep us out of the public sphere in the name of security.
Women shouldn't have to choose between liberty and safety -- we should have both unconditionally.
This is part of an escalating pattern marginalizing Muslim women, regardless of the fact that thousands of Muslim women have been killed in terrorist attacks and almost none have perpetrated them. If we were there on the beach, would we have intervened? Or would we have watched silently, scared of what might happen?
Women shouldn't have to choose between liberty and safety -- we should have both unconditionally.
Hateful and violent incidents towards Muslims are happening every day across the United States and Europe, but are often ignored by mainstream media. Peaceful Muslim women are harassed, isolated, attacked, and killed doing the most normal tasks in their daily routine. Just take a look at the recent incidents that have had a profound impact on women as they simply:
• Stand on 5th avenue.
• Push baby strollers down the street.
• Walk home at the end of a long workday.
• Make dinner.
• Pray.
• Sit down to order dinner.
• Report to the first day of an internship.
• Sleep at home.
• Do their job.
Not on our watch!
We are group of determined Muslim, Jewish, Christian, and secular women who refuse to accept this terrifying status quo. Our new solidarity campaign, #OurChoiceNotYours, stands for women's freedom of choice across the world. Over the next weeks and months, we will be mobilizing diverse women to change the conversation and increase freedom of expression.
What exactly is the #OurChoiceNotYours Campaign?
1. Peaceful Solidarity Demonstrations
We will organize diverse women in peaceful demonstrations of solidarity in public spaces. We will travel to the beaches of France to directly challenge the bigotry of the burkini ban. This social action will be replicated in cities across the world in collaboration with social and professional networks to support women of faith having the choice to dress how they choose.
2. Advocacy
We will circulate campaigns, petitions, and letters that build our voices against the isolation and mistreatment of Muslim women or women of any faith. We will write op eds and engage media around strengthening civil rights, public safety for all, and changing legislation. Together, we have power to change our laws to practice the freedom that we preach.
3. Education
We will not let history repeat itself by staying silent. We will educate about core values and traditions of Islam. We will educate on statistics and trends of violence committed against Muslims (a daily occurrence). We connect communities to increase comfort and familiarity with different faiths and cultures. We will remember that it wasn't long ago when Jews in Germany over the hot summer were prohibited from going to the beach, then came the park, then school, then owning businesses and we all know the rest of what happened. We will come together to tell the world what happens when hate, distrust, and violence targets one group.
4. Sharing our Stories
We will not be silent. We are speaking out and sharing our stories! There are numerous untold stories of women being harassed and targeted for who they are, what they look like, and we want to hear them. Share yours and become part of the campaign!
E-mail us or post under the hashtag #OurChoiceNotYours.
A special digital episode of #CrossReLines hosted by Manal Omar will profile several of our women leaders about their experiences and what inspires them to act.
We will act with our mouth, arms and feet. No matter what nation we are living in and what we believe, women should be free to make their own decisions. Laws like the burkini ban exist across the world in all societies, but violence and hate does not start or end with legislation.
Oppression is normalized by how we treat each other. It is hateful to some of us, but impacts all of us. When one of us is hurt, we are all hurt. That is why we are coming together in unity as women of faith to declare our commitment to freedom of choice.
Again, we encourage you to share your story by e-mailing us or by posting your experience with the #OurChoiceNotYours campaign.
http://www.huffingtonpost.in/entry/ourchoicenotyours-the-burkini-ban_b_11997242
--
Fierce Opposition in Muslim Marriages Case in South Africa
15 September 2016
The Women's Legal Centre Trust is adamant it wants the Muslim Marriages Bill made into law, despite counter-arguments by respondents and fierce attempts to have the case dismissed.
The trust had brought President Jacob Zuma, Parliament, the departments of Home Affairs, Justice and Correctional Services to the Western Cape High Court to have Muslim marriages recognised with the passing of the Muslim Marriages Bill.
The United Ulema Council of SA and the Muslim Women's Association were originally amici curiae, or friends of the court, but 
were successful in their application to be respondents so they could appeal or make objections.
Advocate Zehir Omar, acting on behalf of the two parties this week, brought seven preliminary points forward interrogating the validity of the trust's case.
He told the court that 
the case should be dismissed with costs.
The points Omar raised include the fact that Chapter Nine institutions were not joined as parties, and that it was undesirable for the court to interfere in matters that should be left to the legislature.
All respondents argued Wednesday on the points raised by Omar, and there was a 
general agreement with his points.
Advocate Anwar Albertus, representing the Department of Home Affairs, argued there was no constitutional obligation on the State respondents to pass legislation the trust is seeking.
"When you look at what the constitution says, we submit that it then leads to the conclusion that Chapter Nine institutions must be joined," Albertus said.
The trust's advocate, Nazreen Bawa, argued that Zuma had failed to fulfil constitutional obligations by not preparing and initiating a bill to provide for the validity of Muslim marriages.
After reading from Omar's heads of argument, Bawa said: "It was not a point that the application in its entirety must be dismissed.
"It was a point taken that we can't get the relief sought because such relief is a key component."
Judge Siraj Desai said the matter had far-reaching effects and was inherently urgent.
Judge Desai is expected to hand down judgment on the preliminary points next week.
http://www.iol.co.za/capetimes/fierce-opposition-in-muslim-marriages-case-2068360
--
Cumberland County Sheriff Apologizes For Photos of Muslim Women without Hijabs
Sep 15, 2016
PORTLAND, Maine (AP) — The Cumberland County Sheriff's Office has apologized for the improper release of booking photographs that showed two Muslim protesters with their Hijabs removed.
Sheriff Kevin Joyce said Wednesday that jail officers followed the correct protocol but released the wrong photos to the public after the women were arrested at a Black Lives Matter protest in Portland.
Four Muslim women were among the 17 people arrested during the July 15 protest organized by the Portland Racial Justice Congress. But when the group's booking photographs were released, only two were shown wearing Hijabs.
A hijab is a traditional head scarf worn by Muslim women when in the presence of adult males outside their families.
Joyce apologized in a statement that said the department was "ill prepared for the types of arrests."
http://www.dailyprogress.com/sheriff-apologizes-for-photos-of-muslim-women-without-hijabs/article_782c6a1a-2a62-52b7-8179-fe452c716740.html
--
Muslim Couple Performs Last Rites of Hindu Woman In Telangana, India
September 15, 2016
Warangal: The world wide sacrificial day 'Bakrid' was celebrated in a way of brotherhood in Hanamkonda when a Muslim stood for performing the funeral rites of an octogenarian Hindu woman whose relatives denied cremating her.
The deceased woman, Iloni Bondamma (85) has been staying at Sahrudaya Old-age Home situated at Prashanth Nagar in Kazipet in Warangal district. She was left alone after the demise of her husband Lakshmaiah some years back as the couple had no children. She died on Monday late night due to her ripe age.
Five years ago a person called Ch Ramesh of Kothurjanda in the city admitted her to the old-age home. "As we learnt that Bondamma has some relatives residing in the town we contacted them and informed them about the demise of the woman. But they expressed their inability to conduct her funeral rites in view of Ganesh Navaratri celebrations and other reasons" Mohammad Chotu, who runs the home said.
'Therefore I decided to do the role of a son for Bondamma to perform her funeral and bid her soul final farewell' he told The Hans India.
Early on the day Chotu duly visited a local Masjid and offered special prayers on the occasion of Bakrid (Eid-ul-Zuha) and for the soul of Bondamma. He along with his wife Yakub Bi and others took the body to Sivamuktidham burial ground near Padmakshi temple. 'The funeral is conducted as per Hindu customs as the wish of Bondamma' the couple informed.
Not only did Chotu prove humanity, Yakubee recently performed the role of a daughter and performed cremation ceremony of a 75 year old Hindu inmate at the home, K Srinivas whose son Sharath denied conducting funeral as he embraced Christianity.
"Serving the destitute is our religion and we respect the religious sentiments of our inmates even it is a festival day for us. It is a great opportunity given to us by God to serve the needy. Humanity is bigger than any religion," the couple said.
http://www.siasat.com/news/eid-day-muslim-couple-performs-last-rites-hindu-woman-telangana-1020792/
--
Berlin arrests 3 IS suspects – Women 'commandos' charged with terrorism
15/09/2016
BERLIN, Sept 14, (AFP): German police Tuesday arrested three men with forged Syrian passports accused of being Islamic State (IS) militants and labelled a possible "sleeper cell" with links to the Paris attackers. More than 200 police commandos took part in the pre-dawn raids in northern Germany to detain the men, who were suspected of either plotting an attack or awaiting orders to commit one. The men were identified only as Mahir al-H, 17, Ibrahim M, 18, and Mohamed A, 26, in a statement issued by federal prosecutors.
They left Syria last October and travelled via Turkey and Greece — a route used by tens of thousands of refugees and migrants — and arrived in Germany in mid-November. Interior Minister Thomas de Maiziere said the three apparently used the same migrant trafficking network as several of the IS gunmen who killed 130 people in Paris in November last year. "According to what we know so far, the investigation of the (federal criminal office) BKA points to links to the attackers of Paris from November 2015," de Maiziere told a press conference.
"There is every reason to believe that the same trafficking group used by the Paris attackers also brought the three men who were arrested to Germany," he said, adding that their forged travel documents came from "the same workshop". He said German police had monitored the men for months and tapped their phones, meaning that at no stage was there a risk of an attack. Prosecutors said in their statement that Mahir al-H. had joined IS in its de facto capital of Raqa, Syria by September 2015 and received some weapons and explosives training. The following month, all three men had pledged to travel to Europe in talks with an IS fighter who was "in charge of missions and attacks" outside of the Syria-Iraq region where the group has its self-proclaimed caliphate. In Europe, "the three accused were meant to either execute a mission or await further instructions," the prosecution service said in the statement, adding that no evidence of "concrete orders or instructions" had been found. The men had received mobile phones and four-figure cash sums in US dollars, as well as the fake passports, from IS, the statement said.
They were detained at three refugee shelters in the northern state of Schleswig-Holstein by more than 200 commandos of the federal police, BKA and police forces of several states. Police also raided several other asylum seeker shelters, Die Welt daily said. Warrants for their arrest had been issued by a federal judge on Sept 7, based in part on intelligence provided by Germany's domestic security agency, the Federal Office for the Protection of the Constitution. In July, Germany suffered two bloody attacks claimed by IS, which were carried out by migrants.
http://www.arabtimesonline.com/news/berlin-arrests-3-suspects-women-commandos-charged-terrorism/
--
URL: https://www.newageislam.com/islam,-women-and-feminism/new-age-islam-news-bureau/saudi-teenage-girl-student-designs-first-ever-hijab-emoji/d/108568
New Age Islam, Islam Online, Islamic Website, African Muslim News, Arab World News, South Asia News, Indian Muslim News, World Muslim News, Women in Islam, Islamic Feminism, Arab Women, Women In Arab, Islamophobia in America, Muslim Women in West, Islam Women and Feminism