New Age Islam News Bureau
21 Sept 2018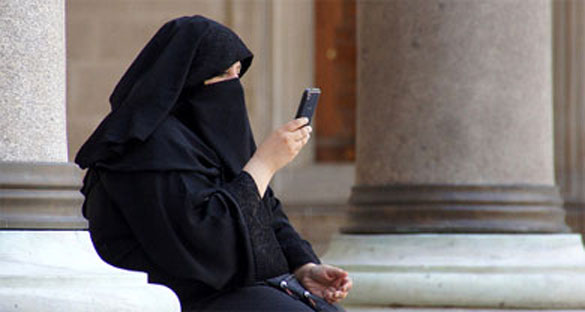 The government of St Gallen says the proposed 'burqa vote' is unnecessary. File photo: Patrick Denker
------
• Regional 'Burqa Ban' Up For Vote in Switzerland
• Bahrain to Attempt to Break World Record for Female Drivers
• May Move SC over Polygamy, Right to Husband's Property: Ishrat Jehan
• Woman, Man Caned In Indonesia for Extra-Marital Affair
• 20 Egyptian Women Make Forbes Middle East's Most Influential Women Of 2018
• Women driving schools under construction
• Lyari Girl Nominated For International Award
Compiled by New Age Islam News Bureau
URL: https://www.newageislam.com/islam-women-feminism/saudi-state-television-sees-first/d/116448
--------
Saudi State Television Sees First Female News Presenter
21.09.2018
RIYADH
Saudi television anchorwoman Weam al-Dekheil has become the first female news presenter on a state-owned Saudi television channel.
Al-Dekheil appeared on a Thursday news program, setting a precedent for Saudi women.
According to local media reports, al-Dekheil graduated from Beirut's Lebanese American University before working at several prominent Arab news platforms, including Qatari news channel Al-Jazeera and London-based daily Al-Hayat.
Al-Dekheil's appearance on Saudi state television comes as part of a raft of reforms introduced by King Salman bin Abdulaziz.
Last year, the king announced his decision to allow women to drive -- a move that went into effect in June.
https://www.aa.com.tr/en/middle-east/saudi-state-television-sees-first-female-news-presenter/1260870
--------
Regional 'Burqa Ban' Up For Vote in Switzerland
September 21, 2018
GENEVA: A second Swiss canton will vote Sunday on whether to introduce a regional "burqa ban", a controversial law that would prohibit all face-covering garments in public spaces.
The ballot in northeastern St Gallen is to be held as voters across the country also determine whether a moratorium on genetically modified crops should become a full-out ban.
St Gallen is expected to follow the example of the southern canton of Ticino, where a law was introduced two years ago which appeared to be aimed at burqas and other Muslim veils.
A text stipulating that "any person who renders themselves unrecognisable by covering their face in a public space, and thus endangers public security or social and religious peace will be fined" was adopted by lawmakers in St. Gallen late last year.
That law passed the regional parliament with support from the populist right and centre parties – but the issue is being put to the people after the Green Party and Young Socialists demanded a referendum.
The text, first drafted following uproar in the canton over a girl who wore a full-face veil to school, is problematic, according to Fredy Fassler, a socialist in charge of security and justice in St. Gallen.
It does not define when a woman wearing a burqa constitutes a danger, and critics "worry the sanctions will be unpredictable and arbitrary", he told daily newspaper Le Temps.
Switzerland's government last year opposed an initiative aimed at creating a nationwide burqa ban, saying it should be up to the regions to determine if such measures are appropriate.
All Swiss voters will eventually cast ballots on the issue after the populist right-wing Swiss People's Party gathered the 100,000 signatures needed to put any subject to a referendum as part of Switzerland's famous direct democratic system.
At the national level, the Swiss will vote Sunday on two schemes linked to agriculture and food security, urging a shift towards more environmentally friendly and Swiss-based food production.
The "Fair Food" and "Food Sovereignty" initiatives appear set to fail and are opposed by the canton of Bern, which warns they could send prices skyrocketing and might violate Switzerland's international trade obligations.
Stefan Legge, an international trade expert at the University of St Gallen, agreed with the government's opposition to the initiatives.
"The agricultural lobby is trying hard to isolate itself from the rest of the economy and international competition," he told AFP.
The "Food Sovereignty" initiative, which has the backing of Switzerland's powerful farmers' union, calls for a range of measures, including turning a moratorium on genetically modified organisms (GMO) into a total ban.
That moratorium was introduced after a 2005 referendum and has been extended three times to date. It is due to expire in 2021.
Polls indicate people widely oppose GMO use in the country, but despite early signs of support, the initiative looks doomed to fail, according to a survey published this month by the Tamedia group.
Observers put the initiative's shrinking popularity down to another element baked into the text: the call for imports to be limited to food produced under the same social and environmental norms as those applicable in Switzerland.
"No serious analyst can say it is the GMO ban that is sinking the initiative," Michelle Zufferey of the Uniterre union told AFP.
She pointed out that the GMO aspect had barely been mentioned.
"It is the fake arguments about massive price hikes and a lack of choice and about efforts to isolate Switzerland that have hurt our initiative," she insisted.
Swiss President Alain Berset himself warned in a recent interview with Le Temps that if the initiatives were to become law, it would "lead to a price hike".
"For now, unfortunately, everyone cannot afford organic," he said.
He also warned that "imposing Swiss standards on imported food goods would violate agreements reached with our trading partners as well as World Trade Organisation rules."
https://www.freemalaysiatoday.com/category/world/2018/09/21/regional-burqa-ban-up-for-vote-in-switzerland/
--------
Bahrain to Attempt to Break World Record for Female Drivers
September 21, 2018
Bahrain will attempt to break the world record for the largest ever women-only car parade this year. 250 women are expected to take part in the event, which will be held on October 19 at Bahrain International Circuit.
The event is being organised by Yalla Banat (meaning let's go daughters! In Arabic), an organisation which empowers female drivers in the region, and supports female led initiatives across the Arab world.
All the cars at the event will be customised by their drivers, for the Women's Motor Show competition and the first female member of the Saudi Arabian Motor Federation, Aseel Al Hamad will be on site taking part too.
There will also be a round table discussion with key female CEOs, entrepreneurs and business owners from across the region. There will be plenty of activities on hand for all the family too, with test driving, food trucks a kids' zone and art expo all at the event.
"The energy and potential of the women across this wonderfully diverse region is delivering remarkable results today and building strong momentum day by day. I am personally excited and confident about the future for women, but also for the future of the region as a whole", said Martyna Al-Qassab, the founder and managing director of Yalla Banat.
It's been a great year for female drivers in the region, with the growing prominence of the Arabian Gazelles, the region's women-only supercar club and the legalisation of driving for women in Saudi Arabia.
http://emirateswoman.com/bahrain-attempt-break-world-record-female-drivers/
--------
May Move SC over Polygamy, Right to Husband's Property: Ishrat Jehan
September 21, 2018
Ishrat Jehan, one of the first petitioners against triple Talaq, on Thursday said she may file a petition in Supreme Court against polygamy among Muslim men and for the right of Muslim women to get at least half of their husband's property in case of divorce.
Speaking at a press conference in Press Club, Kolkata, Ishrat said the ordinance approved by the Centre criminalising instant triple Talaq is a victory.
"People have been ignoring the Supreme Court's verdict and instant triple talaq had been continuing. I am happy that the government has approved the ordinance making instant triple Talaq an offence. Now, perhaps, people like me will get justice," said Ishrat, who had joined the BJP last year.
"But the fight does not end here. Next I am thinking of filing a petition against polygamy because simply stopping Muslim men from giving instant talaq is not enough. They do it to marry other women and that must be stopped as well," she said.
The press conference was organised by Joint Movement Committee, a platform for protection of Muslim women's rights.
"After divorcing a girl, men move on and remarry but the girl is often left without any money to feed herself and her family. I will also put up a legal fight for Muslim girls who get divorced so they get at least half of the husband's property before being separated. Look at the penury I am living in," Ishrat said on the sidelines of the event.
She got married to Md Murtuja Ansari, an embroider, in 2001. After staying in Bihar till 2004, they came over to West Bengal and lived in Howrah district. She had alleged that after giving birth to three girls, trouble broke out between the two as Ansari wanted a male child.
"Our fourth child was a boy and even after that, his atrocities did not end. He left me here and went to Bihar, where he wanted to re-marry. I stopped him and he later went to Dubai from where he called me up and divorced me by uttering 'talaq' three times," she alleged.
Ishrat said after she was divorced, she had been living in extreme penury with her child. "My sister provides me financial help and I live in my little apartment, supplementing the family income with some sewing work," she said.
"I never said there should not be talaq or divorce. If a marriage is not working, Shariyat or Islamic law has provisions to end it. There should be a gap of one month between uttering the word 'talaq' every time. Talaq has been misused and given its instant form," Ishrat said.
https://indianexpress.com/article/india/ishrat-jehan-triple-talaq-supreme-court-polygamy-right-to-husbands-property-5367461/
--------
Woman, Man Caned In Indonesia for Extra-Marital Affair
21st September 2018
BANDA ACEH: A woman and a man were publicly caned in the Indonesian province of Aceh on Thursday for having an extramarital affair.
An "algojo" meted out the punishment on a stage in the provincial capital of Banda Aceh as crowd gathered and watched on in horror, with some taking photos.
The couple were each sentenced to 28 lashes, but had four of them suspended as they had already been held in jail for four months, Efe news reported.
Pictures showed the woman knelt on the platform looking solemn in a white dress as her punisher, dressed in a black robe with just his eyes exposed, taunted her with a long stick before caning her with it.
Indonesia is notorious for its public displays of brutality, along with other nations such as Malaysia, which has sparked outrage by human rights groups.
Aceh, where public caning was introduced in 2005, is the only province in Muslim-majority Indonesia that is governed by the strict Sharia law, a concession granted by the central government in 2001 as part of a peace deal to end a long-running insurgency. It is the only province in Indonesia that has implemented Sharia law and considers lesbian, gay, bisexual relationships and sex outside of marriage as law violations.
Others have been caned for adultery, gambling, and drinking or selling alcohol.
Amnesty International said the caning marked "an appalling day" for human rights in Malaysia.
NGO Human Rights Watch in 2017 warned Indonesia that "flogging as punishment was also recognized under international law as a form of torture," and that "hiding abuses was not the same as ending them, and that the moral outrage over public floggings was not a one-time reaction".
http://www.newindianexpress.com/world/2018/sep/21/woman-man-caned-in-indonesia-for-extra-marital-affair-1875199.html
--------
20 Egyptian Women Make Forbes Middle East's Most Influential Women Of 2018
September 20, 2018
Forbes Middle East has included 20 Egyptians in its 2018 ranking of the region's 100 most influential women, including 18 women in business, and another 2 heading government departments.
The publication ranked Middle-Eastern businesswomen according to revenues of companies they led, their titles and impacts on large corporations, and the growth of entities they had led in the past three years. As for women in government, Forbes took into account their roles and influence, adjusting for the country's importance through Gross Domestic Product (GDP).
Its shorter list, titled "Top 10 Women Heading Government Departments in 2018", featured Lobna Helal, Deputy Governor of Egypt's Central Bank, in 3rd place, and Nevein Gamea, CEO of the Micro, Small & Medium Enterprise Development Agency (MSME), in 8th.
Meanwhile, Egyptians in the 100 most influential businesswomen were led by Elham Mahfouz, CEO of the Commercial Bank of Kuwait in Egypt, who ranked 16th.
Mahfouz was followed by Mona Zulficar, a founding partner and Chair of the Executive Committee at Zulficar & Partner Law Firm. Zulficar came in 18th place.
In 20th position came Dalia Al-Baz, Deputy Chair of the National Bank of Egypt, followed by Sahar Al-Damaty, Managing Director of Union Capital investment company, who achieved 23st position.
Ahli United Bank of Egypt CEO Nevine El-Messeery then came in 30th, while Mervat Zohdy Soltan, CEO of Export Development Bank Of Egypt, came in 31st.
In 43rd place was Sahar Farahat, Senior Executive Vice President of Egypt Kuwait Holding, followed by Rasha El-Azhary, Chief Financial Officer of Vodafone Egypt, who achieved 45th.
Hania Sadek, Chief Operating Officer and Executive Director of HSBC Bank Egypt, earned 46th place, and Marwa Al-Ayouti, CFO of Orange Egypt, ranked 47th.
In 54th place was Hend El Sherbini, CEO of Integrated Diagnostics Holdings. She was followed by Reem Asaad, CEO of Raya Contact Center, who ranked 64th.
66th position was achieved by Halla Sakr, Managing Director of Attijariwafa Bank in Egypt, while Hoda Mansour, managing director of SAP Egypt, came in 78th.
Noha El-Ghazaly, Managing Director and Head of Investment Banking at Pharos Holding, took 85th position, and Shahira Zeid, CEO Vice Chair of MZ Investments (Maridive Group) achieved 86th.
And finally, Managing Director of Acumen Asset Management Rana Adawi, and CFO of Banque du Caire Soha El-Turky, ranked 89th and 96th respectively.
The list of businesswomen was topped by Saudi Arabia's Olayan Financing CEO Lubna Al Olayan, followed by the UAE's Raja Easa Al Gurg, Managing Director of Easa Saleh Al Gurg Group, and India's Renuka Jagtiani, CEO of Landmark Group.
It is not the first time Egyptian women have made Forbes's lists. In 2017, Minister of Social Solidarity Sahar Nasr ranked second in that year's "Top 10 Most Powerful Arab Women In Government", followed by Minister of Social Solidary Ghada Wali, who came in third.
Egypt has witnessed female empowerment in leadership positions of its past few years. This year's cabinet changes brought the total of female ministers to eight, a record number in Egyptian history.
They include Minister of Culture Inas Abdel Dayem, Minister of Social Solidarity Ghada Wali, Minister of Immigration Nabila Makram, Minister of Planning Hala El-Saeed, Minister of Investment and International Cooperation Sahar Nasr, Minister of Tourism Rania Al-Mashat, Minister of Health Hala Zayed, and Minister of Environment Yasmine Fouad.
https://www.egyptindependent.com/20-egyptian-women-make-forbes-middle-easts-most-influential-women-2018/
--------
Women driving schools under construction
By Muhammad Saud
September 21, 2018
Riyadh — The problem of crowding at women driving schools will soon be solved as several driving schools are under construction, said Director of the Traffic Department Maj. Gen. Muhammad Al-Bassami.
Attending the inauguration of the Traffic Safety Initiative Exhibition here on Monday, he said the focus is to create traffic safety awareness in the youth through practical programs.
He said traffic safety initiative programs have been started in Assir, Tabuk, and Jeddah. These will be started in other regions of the Kingdom soon.
Bassami said that every school should have traffic safety awareness program simulators and models and training courses for students. This initiative should start from the kindergarten, he said.
http://saudigazette.com.sa/article/543660/SAUDI-ARABIA/Women-driving-schools-under-construction
--------
Lyari Girl Nominated For International Award
September 21, 2018
A Pakistani social worker from Lyari Mahira Miyanji has been nominated for the first for an international award 'For the Untold Stories' by The N-Peace Network.
Mahira Miyanji is a social advocate who promotes women's empowerment and girl's education. In 2013, she established the girls at a time Woman is Nation Welfare Organisation – a platform that provides free education for 125 through a system of 12 volunteers. So far, 2500 girls in Lyari, Karachi have benefited from the programme.
Families with the option to educate their children often choose boys to go to school rather than girls. Mahira's organisation created a school for girls and women to attend free of charge and has been working with local and national politicians to standardise free education for girls. Mahira has gained regional and global gravitas; she participated in the Emerging Young Women Congress Fellowship programme with the Institute of Peace and Diplomatic Studies in 2015, and in 2017, she represented Pakistan at the 'Beyond Girls Education Global Summit'. In 2015 and in 2016, Mahira received the Lyari Youth Icon Award from the Karachi Youth Initiative. In 2016, Mahira also received the I Am Karachi Award for her work in education for girls and women.
N-Peace is a United Nations Development Programme flagship initiative, founded in 2010. Through its yearly Awards and CSO grants, the initiative recognises the on-the-ground action and powerful stories of peace-builders in the region who are bringing issues affecting women and girls into the spotlight.
https://www.pakistantoday.com.pk/2018/09/20/v-3/
--------
URL: https://www.newageislam.com/islam-women-feminism/saudi-state-television-sees-first/d/116448
New Age Islam, Islam Online, Islamic Website, African Muslim News, Arab World News, South Asia News, Indian Muslim News, World Muslim News, Women in Islam, Islamic Feminism, Arab Women, Women In Arab, Islamophobia in America, Muslim Women in West, Islam Women and Feminism