New Age Islam News Bureau
10 Apr 2019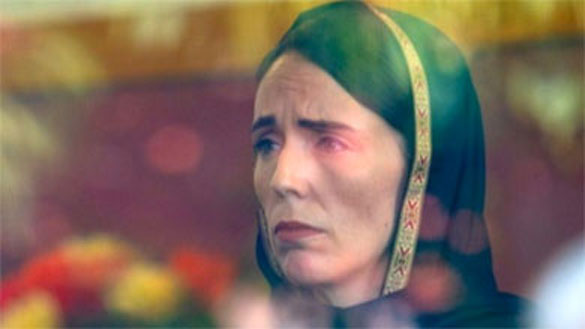 Kirk Hargreaves took an incredible image of the Prime Minister visiting members of the Muslim community
------
• Muslim Women in New Zealand Move To Clear Up 'Huge Misunderstanding' About The Hijab
• French Student on Hijab, Media and Being Used As Political Puppet
• In A First, Bedouin Women Lead Tours In Egypt's Sinai
• Arrest of Female Al Qaeda Operatives Sparks Furore among Helmand Residents
• Haifa Jamal Al-Lail, president of Jeddah's Effat University, Recently Hit the Headlines for Organizing a Student Film Festival
• BJP's Triple Talaq Card 'Fails' To Win Over Muslim Women
• Afghanistan's Most Vulnerable Women
Compiled by New Age Islam News Bureau
URL: https://www.newageislam.com/islam-women-feminism/saudi-shoura-council-wants-more/d/118283
--------
Saudi Shoura Council Wants More Women in Court Jobs
April 09, 2019
RIYADH: The Ministry of Justice on Tuesday was ordered by the Shoura Council to increase the number of women in jobs, which also told judges to ensure the rights of divorced mothers by including housing in alimony payments.
The council made the demands during its 34th session of the year, saying courts needed to have more women in administrative posts to better reflect different needs and jurisdictions. It urged the ministry not to delay judicial decisions.
It told the Ministry of Health to intensify efforts for the early detection of diseases and to facilitate annual checkups for Saudis, especially the elderly.
"The ministry should find a mechanism to deliver the medical needs of the handicapped and the elderly at their residence," it said.
It wanted the ministry to coordinate with relevant authorities on the development of medical evacuation and to expedite the completion of a national health register for all diseases in the Kingdom.
The Shoura Council also met Indonesian lawmakers who were visiting the Kingdom. A member of Indonesia's House of Representatives, Tamsil Linrung, commended Saudi Arabia's efforts in helping Muslims in their pilgrimage to Makkah and Madinah.
http://www.arabnews.com/node/1480226/saudi-arabia
--------
Muslim Women in New Zealand Move To Clear Up 'Huge Misunderstanding' About The Hijab
Apr 10, 2019
A group of Muslim women in New Zealand have said they wear the hijab by choice, not because they're forced to, as they moved to clear up what they say is misunderstanding in the West of the headscarf worn by women of their faith.
In the wake of the March 15 terrorist attack on two Christchurch mosques, an image was shared around the world of Prime Minister Jacinda Ardern expressing her compassion and support for the victims and their families by wearing a hijab.
What followed was a movement of women around the country wearing headscarves to show solidarity with the Muslim community, after 50 worshippers were killed and another 50 injured in the terrorist attack.
Not everyone felt comfortable about the movement, some labelling it "tokenism" and others saying it was "counterproductive" when in some parts of the world the hijab is forced on millions of oppressed women.
In Iran, a woman who refused to wear a hijab was reportedly jailed for 20 years.
Three New Zealand Muslim women, Senior Lecturer AUT University Amira Hassouna, project coordinator Latifa Daud and Auckland University student Zainab Baba, told TVNZ1's Seven Sharp they wear the hijab by choice.
"Seeing those headlines from time to time, often people take away from that, that that's what Islam is about," Ms Baba said.
"And unfortunately they start viewing all Muslim women as being forced into wearing what they're wearing, and [saying] 'they are oppressed' and all of that. But for so many Muslim women it's actually an informed decision," she said.
Ms Baba said the hijab has been banned in a few countries now on the grounds that it's oppression and that women are being forced into wearing it.
"But it kind of becomes the same thing when you're forcing someone to wear it, or forcing someone to take it off. So I think that's quite a parallel that people don't seem to realise - they think they're giving people freedom, but what about the millions of women who actually want to wear the hijab?
"I think that there's obviously huge misunderstanding maybe of what the hijab actually entails. And it's not just a piece of fabric that women wear on their head. It's the way they treat others, it's the way they live their lives and it's really just meant to be a representation of what Islam actually asks us all to do."
Ms Hassouna said she's against compulsion and against banning the hijab.
"So me wearing the hijab now is my free choice. I feel free to wear it."
She said: "In our religion, in our holy Qur'an there's a verse that instructs the believers to wear the hijab. And the wisdom behind that is it presents modesty, purity, chastity."
Ms Daud said wearing the hijab is "purely about freedom to be who you want to be and to express your faith in whichever way that you feel most comfortable."
Asked how they felt about New Zealand women donning the hijab in support of the Muslim community, two of the women welcomed the gesture and one had mixed feelings.
"For them in doing that, it shows how beautiful they are from inside," senior lecturer Amira Hassouna said.
University student Zainab Baba concurred.
"And I think it's more than just a symbol of solitary. For Muslims it's actually a sign of humanity. At the end of the day we are humans first and there shouldn't be such a distinction between those who choose to wear something on their head or whatever it is," she said.
Project coordinator Latifa Daud said she did have mixed feelings about the hijab-wearing response.
"While it's great that there was that solitary, still you can put it on for one day and take it off the next," she said.
"But I would like to see some kind of ongoing conversation about how Muslim women can continue to kind of wear their show of faith wherever they are and not feel kind of attacked."
Ms Hassouna emphasised that she has always felt safe in New Zealand.
"And I felt confident wearing my hijab. And by the way I am more confident now to wear my hijab and I figure the whole community is protecting me now," she said.
https://www.tvnz.co.nz/one-news/new-zealand/muslim-women-in-new-zealand-move-clear-up-huge-misunderstanding-hijab
--------
French Student on Hijab, Media and Being Used As Political Puppet
by Linah Alsaafin
Apr 10, 2019
Paris, France - Last year, the 19-year-old elected leader of the Paris-based Sorbonne branch of the French National Students' Union (UNEF) found herself at the centre of a frenetic controversy.
Maryam Pougetoux had appeared on a brief segment on national TV following demonstrations across France by students protesting against the changes to ways they can choose their universities after high school.
But it was not her comments that incensed TV pundits and French politicians alike. It was the fact that she wore a hijab, a headscarf worn by many Muslim women who feel it is part of their religion, which for a few weeks became the focus of polemic once again.
The hijab has for decades been a source of controversy in France, which in 2004 banned it from being worn in public schools.
Gerard Collomb, France's interior minister, called Pougetoux's appearance "shocking" and likened her hijab to a symbol of the Islamic State of Iraq and the Levant (ISIL or ISIS) armed group.
The country's gender-equality minister, Marlene Schiappa, said she viewed Pougetoux's hijab as a "form of promoting political Islam".
UNEF publicly condemned the comments as a "wave of racist, sexist, and Islamophobic hatred".
One year after the firestorm, Maryam Pougetoux sat down with Al Jazeera and talked about how the backlash changed her life, the support she received and France's fixation with the hijab.
Al Jazeera: Following the hostile public exposure you received last year, how has your life changed?
Maryam Pougetoux: I'm still one of the co-presidents of the student union. In the professional area, nothing has really changed. We're still working on students' rights within the university.
I'm graduating in a few months. Whenever I'm at university, I'm just a normal 20-year-old student: I attend classes, have essays to write, meet up with my friends.
The only thing that's completely different relates to my personal life, I guess.
I've met incredible people, people I thought I'd never meet, like the author, activist and filmmaker Rokhaya Diallo. I was also invited to speak at the French embassy in [Canada] to talk about my story and this whole controversy.
It was pretty challenging and a tough time to go through. The summer of 2018 will always be marked in my mind. It happened during my big finals exams. Managing a national controversy and having university on the other side was really hard.
It's pretty bizarre seeing your name on headlines, being quoted by famous authors … It's still a lot to handle.
Yet I decided to take from this experience only positivity. That kept me sane. The negativity is behind me. Thank God, I had such a supportive system around me. My family and friends really helped me to overcome all these obstacles.
One thing that is still strange to me is that people recognise me and come up to me in the streets. It still feels weird, and I haven't adjusted to that yet.
Al Jazeera: In previous interviews, when you were asked your opinion on political Islam, you said you didn't know much about it. How has that changed now?
Pougetoux: The term was thrown at me several times. Why would anyone ask me my opinion about that? I still don't get it!
At the end, I decided to check on the internet what that meant because I had no idea. The answer was surprising. I still can't understand why they'd associate me with any of this. My position within the UNEF has never had any links with my religion or anything. In fact, we don't discuss that within the union.
My identity was used to serve the political agenda of these ministers and commentators. They used me as a political puppet, when, again, that's not who I am.
They thought that my position has something to do with my veil, or that I was hiding a political Islamic agenda … If only they knew that that was so far from the truth. They simply couldn't understand that I wanted to represent my fellow students. But no, to them it had to be something else, some ulterior plan something. This is completely insane.
It was hard because by saying this, they took away all my ability to manage a union like UNEF. To them, I wasn't elected because of my ability to handle this position. It had to do with my hijab. It's frustrating, because they take away from you everything that makes you a human.
I separate my faith from any of my unionist actions. These are two different worlds. No one within the UNEF has ever mentioned my veil to me, or found it problematic. There are black people, Arab people, Asian people, poor and wealthy students within UNEF. I don't get why other people could reach this position with no backlash, but I received negative reaction because of the fabric I wear on my head? It makes no sense.
Al Jazeera: During this period, what has been the reaction of the faculty and the students?
Pougetoux: A few days after the controversy, the dean expressed to me his support. It was a private conversation, and no press release from the university was written or anything. Of course if he went public with it, it would have been a great gesture, but I didn't really need that back then.
All I cared about was the support shown by my family and the UNEF, the latter who published press releases. Back then, the president of National UNEF was Lila le Bas and she was interviewed by several media outlets regarding students' issues. Eventually, some questions about my controversy came up, and she always showed maximum support, saying that they'll continue fighting for me.
Al Jazeera: What do you think of the role of media in how they portray Muslims and Islam in France?
Pougetoux: The real problem is, as minorities, we are not represented in the media. It's not even a question of religions. Minorities in general are misrepresented. The traditional media outlets are pretty reactionary on some many topics.
Old generations are still present in newsrooms, and analyse situations through their own prism, due to the lack of minorities present. This is a huge problem. They cover stories through one angle: the 50-year-old Caucasian man. If the newsroom were full of minorities, maybe this all stigmatisation wouldn't happen. There would be more discussion about it. The stigmatisation of so many communities is a direct consequence of lack of diversity in the newsroom.
Al Jazeera: What do you think of France's war against the visibility of Islam in the country? Do you think these laws go against laïcité (secularism) or do they cement that?
Pougetoux: It's neither way I think. I feel like both are the extreme and this is scary that it's only seen as a binary choice. I understand France's position on secularism. However, we're the country of [ Liberté, Égalité, Fraternité ], and it's a freedom to wear wherever you want. This applies to everything, not only to the veil. France always adopts a reactionary process. They react to a situation. When the 2011 full-face veil (niqab) ban was passed, France was reacting to a certain context.
Yet, there will always be Muslim women in France, walking in the streets, veiled or not. A few weeks ago, another controversy hit France about a sport hijab being sold by Decathlon, which resulted in Decathlon removing it from its stores. But I will continue to practise a sport no matter what the government and the French society say. It's insane how every time we go back to the same controversy. Wearing a hijab is legal, I'm not doing something illegal here. There's an everlasting barrier here, on what women should wear or not. It's exhausting.
Al Jazeera: How do you feel about giving interviews to media outlets who would only want to discuss your hijab?
Pougetoux: Before the controversy, when I was getting interviewed by the media, they'd only ask me about the student issues. The veil wasn't a problem to them. No one asked me a question about my hijab when I did interviews with huge networks such as BFMTV or France 3. Then after the 10 seconds interview on M6 channel (which kick-started the controversy), the journalists' approach totally changed.
After the controversy, journalists offered me to react to this. But quickly, they'd ask me to comment on other Islam-related controversies. They quickly put me in the box. To them, I became the Muslim women's spokesperson. It was frustrating.
https://www.aljazeera.com/news/2019/04/french-student-hijab-media-political-puppet-190409180940877.html
--------
In A First, Bedouin Women Lead Tours In Egypt's Sinai
April 10, 2019
ABU ZENIMA: Amid a stunning vista of desert mountains, a Bedouin woman, Umm Yasser, paused to point out a local plant, and she began to explain how it was used in medicine to the group of foreign tourists she was guiding.
Umm Yasser is breaking new ground among the deeply conservative Bedouin of Egypt's Sinai Peninsula. Women among the Bedouin almost never work outside the home, and even more rarely do they interact with outsiders. But Umm Yasser is one of four women from the community who for the first time are working as tour guides.
"It is against our culture, but women need jobs," the 47-year-old Umm Yasser said. "People will make fun of us, but I don't care. I'm a strong woman."
They are part of Sinai Trail, a unique project in which local Bedouin tribes came together aiming to develop their own tourism. Founded in 2015, the project has set up a 550-kilometer trail through the remote mountains of the peninsula, a 42-day trek through the lands of eight different tribes, each of which contributes guides. The project has been successful in bringing some income to the tribes, who often complain of being left out of the major tourism development of the southern Sinai, home to beach resorts and desert safaris.
Until now, all the project's guides were men. Ben Hoffler, the British co-founder of the Sinai Trail, felt it was not enough. "How can we be credible calling this the 'Sinai Trail' if the women aren't involved?"
But even after years of trying by Hoffler, almost all the tribes still reject women guides. Only one of the smallest, oldest and poorest tribes, the Hamada, accepted the idea.
There are some conditions. The tourists can only be women, and the tours can't go overnight. Each day before the sun sets, the group returns to the Hamada's home village in Wadi Sahu, a narrow desert valley. The organizers also urge the tourists to photograph the guides only when they are wearing a full veil over the face that covers even the eyes with mesh.
Umm Yasser was the first to join. She said she started hiking when she was a child and knows the mountains and the valley by heart. She convinced the families of three other women to allow them to work as guides.
Their tribe is a poor one, living in small concrete houses strung along the Wadi Sahu. Electricity runs no more than five hours a night and there is no running water. It is isolated deep in the mountains of south Sinai, far from the tourism centers in Sinai along the Red Sea coast or near the famed Saint Catherine's Monastery. The men often leave the village to find work, either at resorts or in mines further south.
"We need money to help support our families for basic necessities," Umm Yasser said. "We need blankets, clothes for the children, washing machines, fridges, books for school."
The Sinai Trail came together in some of the hardest years for tourism. It was launched as an Daesh group-linked insurgency intensified in the northern part of Sinai and a year after a Russian passenger plane crashed, killing all 224 passengers on board in a likely militant bombing. The violence has stayed far from southern Sinai, where tourist resorts are located — but the industry has had to push hard to win tourists back.
On a recent tour joined by the Associated Press, 16 female tourists — from Korea, New Zealand, Europe, Lebanon and Egypt — were led by Umm Yasser and the other three women guides, Umm Soliman, Aicha, and Selima, through the rugged, landscape in and around Wadi Sahu.
"I think south Sinai is safe especially when you are in the care of Bedouins. ... This is where I feel at home. Every corner there is scenery and another beautiful view," said Marion Salwegter, a 68-year-old Dutch woman who travels to southern Sinai every year alone to escape the winters in Holland.
During the two-day tour, the group hiked across an endlessly broad landscape of mountain peaks and valleys of dry riverbeds. While male Bedouin guides range far from home, the women tend to move closer, with an exceptionally rich knowledge of the surrounding mountains. The guides talked about the local plants and herbs, the history and legends of the area and pointed out the borders of the area's tribes.
In the evening, the group returned to the Hamada tribe's village. The women sat on the floor of Umm Yasser's home and the tourists asked the guide about life in the village, marriage and divorce.
Umm Yasser is skeptical other Bedouin women will join her as a guide or in working in general any time soon. But, she said, "There is no shame in working. This is what I believe in, and it makes me strong."
Some attitudes are changing. Mohammed Salman, an elderly man from the Aligat tribe, said he thought the guides project was a great step for women. "If a woman wants to work, she should be able to have the right to," he said. "Many men say no, a woman's place is at home. But I'm sick of this ideology. She's a human being."
Younger Bedouin girls tagged along with the group and talked about wanting to be female guides in the future.
"This trip is going down in history and will be talked about," said Julie Paterson, a facilitator for Sinai Trail who often works with Bedouin women. "It might also go into Bedouin oral history."
http://www.arabnews.com/node/1480461/offbeat
--------
Arrest of Female Al Qaeda Operatives Sparks Furore among Helmand Residents
09 Apr 2019
The arrest of two female Al Qaeda operatives in southern Helmand province has sparked furor among the residents of the province as they demand immediate release of the two women.
The provincial government's media office in a statement said the two women were arrested during an operation which was conducted in Malgir area of Greshk district.
The statement further added that two operatives of Al Qaeda network were killed during the same operation while four others including two women were arrested.
A group of local tribal elders on Monday met with provincial governor Mohammad Yasin Khan to negotiate the release of the two women, warning that the apprehension of the women have sparked furore among the residents of Malgir in Greshk district.
Governor Yasin Khan told the visiting tribal elders that the women were arrested on charges of having membership of Al Qaeda network and were arrested based on intelligence information, the provincial government added.
In the meantime, Yasin Khan said the demands of the local residents have been shared with the officials in Kabul, promising that the women will be released considering the cultural values of people but the two men will be kept in the custody for further investigations.
https://www.khaama.com/arrest-of-female-al-qaeda-operatives-spark-furor-among-helmand-residents-03679/
--------
Haifa Jamal Al-Lail, president of Jeddah's Effat University, Recently Hit the Headlines for Organizing a Student Film Festival
April 09, 2019
Dr. Haifa Jamal Al-Lail is president of Jeddah's Effat University, which recently hit the headlines for organizing a student film festival.
The four-day event brought together passionate students of the university, as well as film industry figures from inside and outside Saudi Arabia.
"We began working in this area six years ago and made efforts at the highest standards in order to become pioneers in teaching filmmaking in the Kingdom. We thank God that our efforts have been productive and that Saudi society has reacted positively to Saudi filmmaking," said Al-Lail.
She holds a bachelor's degree in business administration from King Abdul Aziz University, a master's in public administration from the University of Southern California, and a Ph.D. in public policy from the same US University.
Before joining Effat University in 1998, she served as the first dean of the girls' campus at King Abdul Aziz University.
Al-Lail is a respected academic and renowned advocate of youth engagement. She has written articles and delivered keynote speeches on women's education in the Middle East.
She has received many awards, including the Innovation Award, Saudi Sayidaty, Queen Effat's Distinction Award, Leading Woman CEO, the Distinguished Arab Woman Award, the World Family Summit Award and the Distinguished Arabian Woman Award.
http://www.arabnews.com/node/1480196/saudi-arabia
--------
BJP's triple talaq card 'fails' to win over Muslim women
Apr 10, 2019
Mukesh Ranjan
Prime Minister Narendra Modi's intent to woo Muslim women ahead of the General Election by making "triple talaq" a criminal offence seemed to have failed in striking the right chord in Western UP, as they claimed the move was "ok", but "our main suffering is more on account of disproportionately high cost of education and health services".
After speaking to a cross section of Muslim women both in rural and urban areas of the region, it appeared that "triple talaq" largely remained a fringe issue, as the practice was not that pervasive as it was made out in certain quarters.
Shazi Bi, a resident of Moradabad, said: "Triple talaq is a social ill, but not as big an issue to determine our voting preference." She went on to add that she has three children and her husband is a factory worker and the income is "not enough to meet the cost of basic health and education".
Her friends Rani Begam and Noor Fatima also echoed her views. They said: "The quality of education in government schools is very poor. So, we are forced to choose private schools where the fee is exorbitant. If the government has to do something for us, it should work on enhancing our income, providing better education and health facilities."
Shaukat Alam in Bijnor argued that cases of triple talaq happened one in several thousand families, though "we think it should not happen". "But will the issue influence us in voting in a particular way, I have serious doubts," she said, adding: "We are realistic and are more concerned about our day-to-day struggle in making two ends meet and providing education to our children."
https://www.tribuneindia.com/news/nation/bjp-s-triple-talaq-card-fails-to-win-over-muslim-women/756102.html
--------
Afghanistan's Most Vulnerable Women
By Ritu Mahendru
April 09, 2019
Who Are the Kuchis?
Kuchis, traditionally nomadic communities, are considered to be one of the poorest and most marginalized groups in Afghanistan. Over the centuries, Kuchis, whose numbers are estimated from 300,000 to 3 million, have pursued a migratory life, herding caravans of sheep, goats, and camels around the country. However, decades of conflict and drought have increasingly forced Afghanistan's Kuchis to abandon their traditional lifestyle and relocate to settled areas.
Some of the destitute Kuchi pastoralists have lost their livestock and sought to settle permanently and semi-permanently in unregulated areas, resulting in conflict with local residents and commanders due to the issues around land ownership and water access. With many living in refugee camps and temporary accommodations, the majority of Kuchis suffer stigma, exclusion, and discrimination at the institutional, political, and social level wherein their identity is questioned and misunderstood.
The National Vulnerability Analysis Report of Afghanistan states that Kuchi communities (both nomadic and semi-sedentary) have limited access to health, education, and livelihood standards since the government doesn't collect disaggregated data on Kuchis. The indicators are far worse for Kuchi girls and women as compared to other poor women in the country. The enervating poverty faced by Kuchis has a direct impact on girls in achieving social and well-being indicators.
Women Kuchis: The Ones Left Behind
Standing behind a roughly painted turquoise door, an 8-year-old girl, Lida, peeks out when she notices a group of Afghan officials and expats speaking to her father and brother. She exchanges glances and smiles, inviting herself out of a roughly structured home that can only belong to a nomadic family.
Unable to conceal her excitement, Lida eagerly and carelessly takes a swift step outside the door. But then her 14-year-old brother, Tariq, standing outside with his brothers and uncles, gives her a sharp, stern look with bloodshot eyes and clenches his teeth, muttering sullenly, "How dare you – get back in." Lida quietly lowers her eyes and hides behind the door.
Her mother, Karima, appears and drags her inside a large rundown, ramshackle house. She receives two slaps on her left cheek while her 10-month-old sister, Gzifa, who is crawling, gets kicked in the face for being in the way. Gzifa cries out but no support or help is provided. Karima shuts the door behind her, kicking Gzifa almost absentmindedly again and leaving her in the dusty courtyard to cry.
Ethnically, the vast majority of Kuchis are Pashtun, who have stricter gender rules. Girls as young as 8 are not allowed to leave their house without the permission of a male member of the family, which includes brothers as young as 10. In most cases a male member of the family would need to accompany her. In general, girls are not allowed to go and seek education. They get married and bear children early.
Lida moved with her father and two uncles, their 9 wives, and 43 children to Parwan as sedentary Kuchis as they lost the majority of their livestock due to drought and conflict. Her brothers go to school provided by the local government. However, they don't attend classes regularly due to corporal punishment and the quality of education. The brothers spend most of their time hanging out with other boys in the neighborhood.
Access to Education and Early Marriage
When asked if Lida goes to school, Hamid, her long-bearded father, breathes heavily and grunts, "No, she has to help her mother fetch water and assists in cooking."
The National Vulnerability Analysis Report also highlights a significant gender disparity in net primary school enrollment, especially among Kuchis.
"While education indicators for girls in Afghanistan are improving, for Kuchi girls they have remained stagnant due to stricter traditional gender roles, insecurity and child marriage," the Kuchi representative says. "Many girls are cast-off to resolve dispute with landowners and conflict between families. Girls as young as 7 can be married to men 30-40 years older."
Hamid announces that "Lida will be married of before she is 11," proudly pointing toward her brothers. "They will take care of everything," he says, at which her brothers' chests expand and shoulders broaden.
The Kuchi representative, who has asked to remain anonymous, asks Lida what she wanted: she coyly and shyly responds, "Yes, I want to get married." The representative shaking his head, tells me that "she doesn't even know the meaning of marriage. They are doing it just for money."
Lida has 21 other sisters, six of whom are married. Two of them, aged 13 and 14, were exchanged to resolve conflict with a landowner as Hamid's family tried accessing clean water.
Access to Safe Water and Sexual Harassment
The Danish Committee for Aid to Afghanistan in 2018 reported that only 45.5 percent of Afghans have access to safe drinking water. A large percentage of the population spends 4-7 hours to collect their drinking water from ditches, canals, and rivers, which often are polluted, and carry water-borne diseases.
In many Kuchi groups, women are responsible for fetching water for household consumption. Because of the need to keep herds and encampments away from villages and cultivated land, women often have to walk considerable distances to collect water and may encounter men from outside their communities when doing so.
The Kuchi representative suggests, "the important contribution of women to the pastoral economic system is often forgotten and overlooked."
Access to water is a controversial issue for nomadic and semi-sedentary Kuchis, especially if they do not have access to land. They end up relying on common property sources, such as rivers, streams, and canals, or, alternatively negotiate to buy water from private or community-owned water sources. When water is accessed without the permission of a landowner it could potentially spark life-threatening situations: blood feuds, disputes, and serious conflicts that could result in murders with impunity. This could lead to exchange of girls and women to resolve conflicts, as happened to Lida's sisters.
In addition, many young girls and women on their way to fetch water become subjects of sexual and gender-based violence.
Karima recounts that her sister was raped when she went to fetch water: "She had gone with other girls to get water but she is a bit slow and is ill. She talks to herself. One of my neighbors suggested that he would drop her back home when he took her to a secluded area and raped her."
When asked if they reported the case, Karima says no. "We didn't [report] because she brought shame to our family." Karima didn't know where her sister was anymore.
She gravelly whispered in Pashto, "Bale me mar pase," meaning "good riddance."
Sexual and Reproductive Health
There is no disaggregated data to show the sexual and reproductive health (SRH) vulnerabilities faced by Kuchi women, who are constantly on the move and lack SRH rights support. There is a lack of data and information that clearly describes the challenges Kuchi women face.
One of Hamid's wives, Jamila, explained: "I have been pregnant 16 times and only 5 of them survived. It's all up to God. I am tired but he doesn't understand. I lie there like a dry cow."
Jamila, who suffers from debilitating stress, looks weak, frail, and ill. Hamid doesn't understand why is she always ill and keeps crying.
"I need to take her to the Shrine again. She is always ill and sad. I don't know what's wrong with her," he says.
Conclusion
Kuchi Afghan women face a number of challenges and deprivations. They are denied access to education, married off as children, raped, and exchanged to settle disputes.
Yet policymakers and international donor agencies in Afghanistan have inadequately addressed vulnerabilities faced by Kuchi girls and women. They remain an almost invisible group in policy practices and dialogues. There is no ready information available on the lived realities of Kuchi women who have experienced or faced gender- and sexual-based violence, lack health services and education, and are married earlier. The only information on Kuchi girls and women is currently anecdotal.
While the Kuchis are becoming more politically aware and are exercising their voting rights, there is a need for the government to go beyond political process and be engaged in their social realities.
While evolving policies have increasingly aimed to include nomadic groups, an overemphasis on mobility has distracted policymakers from going beyond infrastructure when Kuchi needs are also social and gendered.
Ritu Mahendru is a freelance journalist with a Ph.D. in sociology. She writes about gender, race, sexuality, migration, and conflict. Her work has appeared in Open Democracy, the Middle-East Eye, and Arab Weekly.
https://thediplomat.com/2019/04/afghanistans-most-vulnerable-women/
--------
URL: https://www.newageislam.com/islam-women-feminism/saudi-shoura-council-wants-more/d/118283
New Age Islam, Islam Online, Islamic Website, African Muslim News, Arab World News, South Asia News, Indian Muslim News, World Muslim News, Women in Islam, Islamic Feminism, Arab Women, Women In Arab, Islamophobia in America, Muslim Women in West, Islam Women and Feminism