New Age Islam News Bureau
25 Jun 2013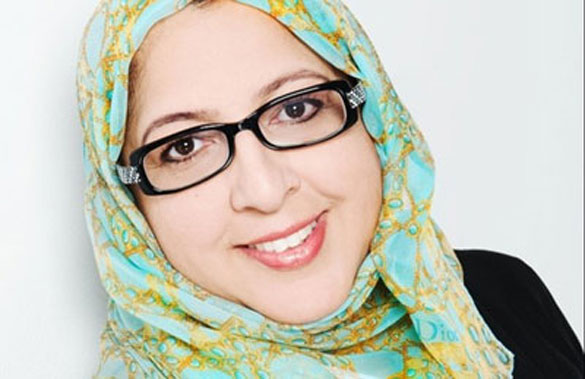 Nazek al-Sabbagh, founder of the 11-month-old Zari O'Breesam fashion brand, is going to be the first Emirati to show her fashion designs in Rome Fashion Week. (Photo supplied by Zari O'Breesam)
----------
• Sudan MP Calls for Banning Females from Sports
• Israel Names First Female Ambassador to Muslim Country
• Emirati Designer 'Jumps the Fence' To Rome Fashion Week
• Unsafe Abortions in Pakistan: Risky Business
• Bahrain pro-democracy activist Zainab al-Khawaja 'given new jail term'
• Angelina Jolie Urges U.N. Security Council to Act on War Zone Rape
• Muslim Christian Women's Network launched in Leicester
• Ethiopian Maid Kills Saudi Sponsor's Minor Girl
• Newly-Wed Woman Dies of Acid Burns in Pakistan
Compiled by New Age Islam News Bureau
URL: https://newageislam.com/islam-women-feminism/saudi-shoura-council-restores-equal/d/12268
-------------
Saudi Shoura Council Restores Equal Financial Rights to Women
June 25, 2013
THE Shoura Council has approved the right of a woman to borrow money from the Real Estate Development Fund (REDF), the Saudi Credit Bank (SCB) and the Saudi Industrial Development Bank (SIDB). The approval, it seems, was long overdue.
I do not know of any Shariah or legal obstacle preventing women from being given equal rights to men especially in education, health and obtaining land grants and loans. The government addresses both men and women when it speaks about citizenship. The surprising thing is that the same government has made a distinction in financial rights between men and women. Now the Shoura Council has restored this right to women. I hope that many other rights will follow.
We have to correct the situation of women. We should start this by not supposing that all women are married and do not need any financial help. As a matter of fact, not all women are married. We have divorcées, widows, the unmarried and those opting to remain single. Do all these women have no rights? Is it just because a woman is a feminine that we deprive her of her God-given rights?
In my humble opinion women are, in many cases, more in financial need than men. I hereby call for giving all women their equal rights. We should not assume that all women are married and are not in need of financial rights. We should carefully study the condition of every woman including the married, the widows, the divorcées and the singles.
It is a grave mistake to differentiate in rights between the citizens of the same country. Do we compensate women for the loans men take from the REDF? Are the conditions for extending loans to women the same as those for men? Why this disparity in giving women their rights? When the government gives finances, loans, facilities and services to its citizens it should not exclude women.
We should go out of the belief that it is only the men who spend on their families. Have we surveyed all homes to know who is actually spending the money? Justice and equality should be given to women before men. The woman is the weakest side in the equation therefore she is more entitled to protection and equal rights. The man has many options while the woman does not.
http://www.saudigazette.com.sa/index.cfm?method=home.regcon&contentid=20130625171092
-------------
Sudan MP Calls for Banning Females from Sports
June 24, 2013
(KHARTOUM) - The Sudanese MP, Dafa'a Allah Hasab Al-Rasool, has submitted a motion to a parliamentary subcommittee to ban women's sport in Sudan, saying that it is against Shari'a (Islamic Law).
But the parliamentary subcommittee which issued a report in response to the Youth and Sports' minister testimony before the national assembly declined to include his motion in its report.
Dafa'a Allah, who complained about ignoring his motion in the report, addressed MP's saying "you should remember your daughters' honour; I made this motion to protect your daughters and wives".
The committee's report called upon the Youth and Sports ministry to commit itself to the Islamic guidelines on women's sport as provided by the Islamic Fiqh (jurisprudence) Academy.
Dafa'a Allah who is dubbed in the local media as the "controversial" MP, is known for his support for female circumcision. He once described uncircumcised women as "dirty".
Last month, he demanded the parliament to adopt a motion calling for polygamy, saying that it is the only way to produce more males in the society to support the army and defend the country against the rebel groups.
http://www.sudantribune.com/spip.php?article47068
-------------
Israel names first female ambassador to Muslim country
Carmela Shamir makes history by becoming Jewish state's ambassador in Uzbekistan; her deputy will also be a woman
Itamar Eichner
06.24.13
Carmela Shamir will soon begin her term as Israeli ambassador in Tashkent, Uzbekistan, making her the first female Israeli envoy to serve in a Muslim country, Yedioth Ahronoth reported Monday.
Another woman, Hagit Mualem, will serve as the deputy ambassador in the Israeli embassy in Tashkent.
The Foreign Ministry's appointments committee approved Shamir and Mualem appointment as the top two Israeli representatives in Uzbekistan, which borders with Afghanistan and is also close to Iran. Some 95% of Uzbekistan's population is Muslim.
Ambassador Shamir will present her credentials to the president of Uzbekistan, Islam Karimov, who has ruled the Central Asian country since the dissolution of the Soviet Union in 1990.
Tashkent has also approved the appointment of Shamir and Mualem, both of whom are very highly regarded by their peers in the Foreign Service.
"Currently there are 12 women who serve as heads of Israeli missions abroad, and additional female envoys are due to begin their service abroad soon," said senior Foreign Ministry official Yossi Regev.
http://www.ynetnews.com/articles/0,7340,L-4396338,00.html
-------------
Emirati designer 'jumps the fence' to Rome Fashion Week
24 June 2013
A fashion designer who transforms traditional Emirati dresses into contemporary designs will be the UAE's first to participate in Rome Fashion Week, taking place this July.
"There are no such things as challenges…we have to jump the fence," said Nazek al-Sabbagh, founder of the 11-month-old Zari O'Breesam fashion brand.
An engineer by profession, Sabbagh says that she "represents herself as an individual," and not necessarily her country. "I like to be the first. If you are not the first, you will be the first loser."
In her show on July 5, the designer's theme is to "bring some of Dubai to Rome." One of Sabbagh's plans for her collection is to create a dress with Dubai's Burj Khalifa skyscraper printed on it.
Models will exhibit 12 of Sabbagh's pieces in the show, which is expected to attract 1,300 fashion enthusiasts from around the world.
The designer, who is currently heading to India to buy fine material for another fashion show planned in Manama, Bahrain in September, said she makes her stylish clothes from cotton, silk, or a mixture of the two.
"I like my dresses to be comfortable, washable and 'flowy,' that fit any size," she said.
Embarking on a new journey
Sabbagh, a mother of three, had previously found success as the CEO of the Dubai-based Ports, Customs and Free Zone Corporation. However, she eventually decided to follow her life's dream of becoming a fashion designer. Being the manager of her own business also allows her to spend more time with her family.
The designer has so far showcased 83 of her designs in London, and has also presented her brand in four fashion shows in Dubai and one in Manama.
"I was surprised to see that there was much higher demand on pieces that were not my favorites," she said, describing her previous exhibition in London.
In Manama, Sabbagh stunned the audience when both professional models and young girls strutted down the catwalk in a mother-and-daughter themed fashion show.
"I make sure that my line for young girls, aged 6 to 12, doesn't exceed $100 per each dress," said the designer, who recently sold 55 of the dresses for charity.
She said that her attempt to create a line for young girls is a way to encourage them to wear something other than jeans, and to display some traditional glamor by wearing beautiful dresses.
Sabbagh dislikes repeating similar concepts and colors in her shows.
"Don't ask me about my fashion show's theme in Bahrain," she said, when asked about the subject.
http://english.alarabiya.net/en/life-style/2013/06/24/Emirati-designer-jumps-the-fence-to-Rome-Fashion-Week-.html
-------------
Unsafe Abortions In Pakistan: Risky Business
June 25, 2013
LAHORE: The beads of the Tasbeeh in her hand are beginning to move faster. She wipes off sweat from her forehead with her lawn Dupatta, due to anxiety and the intense 48 degree heat of Lahore, with load-shedding in its 5th hour in a house in Safanwala Chowk.
The dark magenta bedspread seems to intensify the heat in this bedroom on the second floor that serves as a makeshift waiting room for families of "patients". What is allegedly an "operation theatre" is a tiny claustrophobic room constructed on the roof.
"It's been almost an hour. Safaai normally doesn't take so long," says the worried middle-aged mother, looking out of the semi ajar window overlooking a lane off Temple Road. Her 27-year-old daughter is a mother of five, getting an abortion done. The infamous abortion clinics of this area still exist, but most have been relocated into lanes to avoid attention of the media and health officials concerned. It was after an hour of asking around and driving in the area that a shopkeeper in a secretive manner guided The Express Tribune team in. Immediately, a female gatekeeper locked the gate from inside. "We don't want anyone to know this is a clinic," said the over-worked woman who introduced herself as a doctor, but had no degree, certificate or anything that confirmed that she is a medical doctor. The clinics of this area have had thousands of abortions take place in them, some as late as in the 5th month; while the clinicians advise against abortions at an advanced stage, they oblige for some extra money.
Tales of Horror
Timely FP could save lives of not just the unborn foetuses but a multitude of Pakistani women. A national survey of public-sector health facilities estimated that about 200,000 women were hospitalised in 2002 alone for abortion-related complications. "We get cases of perforated uterus, guts, intra-abdominal complications, all complications of unsafe abortions," says Dr Nadeem Khalid of Family Health Hospital, Lahore.
The methods used are unthinkable. Ingesting large doses of drugs, inserting a sharp object into the uterus, drinking or flushing the reproductive tract with caustic liquids, vigorous movements like jumping or physical abuse, and repeated blows to the stomach are some of them. Incidents have been reported where bowels of the patient are pulled out by mistake through the reproductive tract.
If the woman survives, she can suffer from long-term disabilities and infertility. Incomplete abortion, hemorrhage, trauma to the reproductive tract or adjacent organs and sepsis (bacterial infection) are common. Post-abortion complications, experts say, account for a substantial proportion of maternal deaths in Pakistan.
Numbers and reasons
Out of the 2.4 million unwanted pregnancies in Pakistan in 2002, some 900,000 were terminated by induced abortions (Studies in Family Planning 2007). The actual number is definitely higher, considering the unaccounted for cases. In a country where only an estimated 30 percent women use contraceptives (NIPS study: 2006-2008), induced abortion is used as a form of contraception. Contrary to popular belief that most abortions are the last resort of promiscuous women, a Population Council study shows that a staggering 96.1 percent of the women who get abortions done are married women.
The abortion rates in the more urban provinces of Punjab and Sindh are substantially lower than those in the Khyber-Pakhtunkhwa and Balochistan. In urban areas, the contraception rates are higher.
The reason why shady clinics and unskilled women end up performing these abortions are two, the main one being simple economics. A doctor in a lower income area would charge an average of Rs2,600, whereas a traditional birth attendant (TBA) would charge as less as Rs770, says a study by Marie Stopes Society, 2008.
Secondly, most certified medical practitioners avoid performing an abortion not just because of religious reasons, but also because they are afraid of legal complications. Under the 1990 revision in Pakistan's Penal Code with respect to abortions, the conditions for legal abortion depend on the developmental stage of the foetus. Since 1997, under certain circumstances, abortion is conditionally legal in Pakistan to provide "necessary treatment".
http://tribune.com.pk/story/567963/unsafe-abortions-risky-business/
-----------
Bahrain pro-democracy activist Zainab al-Khawaja 'given new jail term'
June 25, 2013
A court in Bahrain has sentenced pro-democracy activist Zainab al-Khawaja to two months in jail for insulting police, opposition sources say.
The decision would mean she stays in jail until February 2014, as she is already serving previous sentences.
Her father Abdulhadi al-Khawaja is also in jail.
Ms Khawaja has been a leading activist in the Gulf kingdom, which has been in political turmoil since pro-democracy protests erupted in February 2011.
In March Ms Khawaja was sentenced to three months in prison for "insulting and humiliating a public employee".
Since then she has been sentenced to several additional short terms on other charges which she is serving concurrently.
Her father is among eight activists and opposition figures sentenced to life imprisonment for allegedly plotting to overthrow the state.
The evidence that Mr Khawaja was convicted on is widely accepted as having been secured under torture.
Bahrain is ruled by a Sunni Muslim royal family but the majority population is Shia who have long complained of discrimination.
On 14 February 2011, peaceful protesters - many of them Shia - calling for reform and democracy took over Pearl Roundabout.
Three days later security forces cleared the site using tear gas, batons and birdshot.
As violence escalated 35 people, including five police officers, were killed, hundreds more were hurt and thousands jailed in February and March 2011.
Since then, opposition and human rights activists say more than 50 people have died, a figure which the government disputes.
http://www.bbc.co.uk/news/world-middle-east-23045873
-----------
Angelina Jolie urges U.N. Security Council to act on war zone rape
24 June 2013
Actress Angelina Jolie urged the U.N. Security Council on Monday to make dealing with war zone rape a top priority as she shared stories of survivors she has met, including a Congolese mother whose 5-year-old daughter was raped outside a police station.
Oscar-winner Jolie, a special envoy for the U.N. Refugee Agency, told the council that it must shoulder its responsibility and provide leadership "for these crimes happen not because they are inherent to war, but because the global climate allows it."
"Young girls raped and impregnated before their bodies are able to carry a child, causing fistula," she told the debate on sexual violence in conflict which was organized by Britain, the president of the council for June.
"Boys held at gunpoint and forced to sexually assault their mothers and sisters. Women raped with bottles, wood branches and knives to cause as much damage as possible. Toddlers and even babies dragged from their homes, and violated," she said.
Jolie, who has visited refugee camps around the world, said that while there were hundreds of thousands of survivors of sexual violence there had only been a handful of prosecutions because the world had not made the issue a priority.
"They suffer the most at the hands of their rapists, but they are also victims of this culture of impunity. That is the sad, upsetting and indeed shameful reality," Jolie said.
Jolie visited a refugee camp last week in Jordan and told the council about meeting a Syrian woman who feared retaliation if she spoke out about the sexual violence she had suffered.
'No more impunity'
After Jolie spoke – along with U.N. Secretary-General Ban Ki-moon and Ban's special envoy on sexual violence in conflict, Zainab Bangura, -- the 15-member Security Council unanimously adopted a resolution recognizing that rape can exacerbate conflicts and impeded the restoration of peace and security.
The resolution "encourages members states to include the full range of crimes of sexual violence in national penal legislation to enable prosecution for such acts."
British Foreign Minister William Hague said that in conflicts around the world "rape is used systematically and ruthlessly, in the almost certain knowledge that there will be no consequences for the perpetrators."
Bangura told the council that almost two decades after peace was made in Bosnia impunity for crimes of sexual violence during the 1992-95 conflict meant that "for the survivors of sexual violence the war has not ended."
"While the perpetrators have enjoyed the fruits of peace and have been free to rebuild their lives, their victims continue to walk in shadow and shame, unable to lay the past to rest and to move forward."
Ban said the Security Council resolution sent a strong signal to perpetrators that their acts will no longer be tolerated and they will be held accountable.
He spoke about visiting a hospital in Goma in the Democratic Republic of Congo last month where he met women and girls raped and maimed by armed groups on all sides of the conflict.
"Many had a condition called traumatic fistula. In plain terms, they had been torn inside," Ban told the council. "Experiencing great pain and often unable to control bladder and bowels, they are disabled and often shunned by society."
Ban said the Congolese women were angry and had a clear message: "No more impunity. No more war. Give us peace."
http://english.alarabiya.net/en/perspective/2013/06/24/Angelina-Jolie-urges-U-N-Security-Council-to-act-on-war-zone-rape.html
-------------
Muslim Christian Women's Network launched in Leicester
25 June 2013
A group to unite faith communities has been launched to promote community cohesion.
Leicestershire based Muslim Christian Women's Network will aim to connect women of different religions.
The network is part of the Christian Muslim Forum (CMF) which was founded in 2006 following calls for the religions to work together more closely.
The network was launched at the Women in Faith conference in Leicester.
Julian Bond, director of the CMF, said: "The aim is to show people what Christian and Muslim women are doing in Leicester and how they have been coming together for a long time.
"These quiet movements and groups can have a great impact.
"This is happening against the backdrop of difficulties of the murder, mosque-building and mosque-burning in recent weeks."
The Forum is made up of members of the Muslim and Christian communities including Sunni, Shia, Anglican and Catholic and recently played host to the Archbishop of Canterbury.
The conference also saw the launch of a directory to bring together various women's groups and organisations in Leicester so they can work together on women's issues.
Anjum Anwar, the only Muslim to work in a Church of England cathedral, said she was keen to see how it works and was put together so she can replicate it in Blackburn where she is based.
"A lot of good work has been done by mosques since 11 September and 7 July (attacks) and we want to continue this good work - to create conversation between communities and demystify facts from myths."
http://www.bbc.co.uk/news/uk-england-leicestershire-23032118
-------------
Ethiopian Maid Kills Saudi Sponsor's Minor Girl
June 25, 2013
RIYADH – A 26-year-old Ethiopian maid confessed to killing her sponsor's six-year-old daughter inside the family home by slitting her throat with a meat cleaver, according to Riyadh Police spokesman Col. Nasser Al-Qahtani.
The gruesome murder took place Sunday evening when the family noticed that their daughter and the Ethiopian maid had disappeared.
The family reported the incident to the police. While conducting a search of the premises, police officers found the slain girl inside the bathroom in a pool of blood while the maid was found hiding inside a storage room with a cleaver in her hand. She tried to attack police officers with the cleaver but surrendered a few minutes later.
She admitted to the crime and said she got sick and tired of the way the family had been treating her and decided to exact revenge on them by killing the girl. The case has been referred to the Bureau of Investigation and Prosecution.
http://www.saudigazette.com.sa/index.cfm?method=home.regcon&contentid=20130625171133
-------------
Newly-Wed Woman Dies Of Acid Burns In Pakistan
June 25, 2013
A newly-wed woman in Pakistan's Punjab province died of acid burns which were allegedly inflicted by her brother-in-law, police said on Tuesday. The incident occurred on Monday in Multan district, located 350 km from Lahore. According to an FIR, Muhammad Din attacked his 23-year-old sister-in-law Shamim Bibi after her cousin spurned his offer of marriage.
Shamim forwarded Din's proposal but her cousin's family turned it down.
Following a quarrel with Shamim over the issue, Din threw acid on her face and body and fled.
She was rushed to Nishtar Hospital in Multan, where she succumbed to her injuries.
Police registered a case against Din on the basis of a complaint from Shamim's husband Muhammad Yar, though no arrest has been made so far.
Pakistan recently enhanced the punishment for acid attacks, which are common, especially in Punjab province.
http://www.hindustantimes.com/world-news/pakistan/Newly-wed-woman-dies-of-acid-burns-in-Pakistan/Article1-1081893.aspx
---------
URL: https://newageislam.com/islam-women-feminism/saudi-shoura-council-restores-equal/d/12268