New Age Islam News Bureau
12 Jun 2018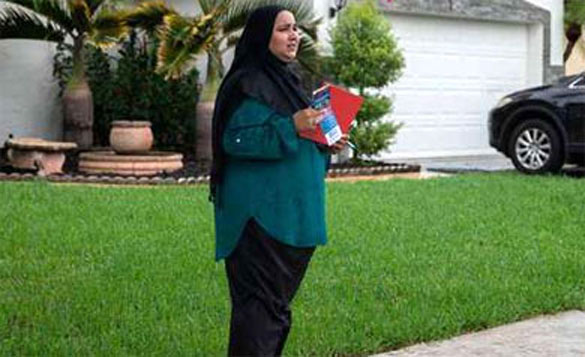 Saima Farooqui, who is running for Broward's District 96 seat in the state House of Representatives, campaigns in a neighborhood in Coconut Creek on Sunday, June 10, 2018.
----
• Kolkata's Iconic Tipu Sultan Mosque Welcomes Women for Iftar
• Border Guard Begins Recruiting Saudi Women
• Can This Woman Become The First Muslim In The Florida House?
• PTI Submits List of 15 Candidates for Women Seats in KP Assembly
• Sports Bodies Should Boycott Countries That Impose Hijab On Participants
Compiled by New Age Islam News Bureau
URL: https://www.newageislam.com/islam-women-feminism/saudi-scholar-calls-female-muftis/d/115533
--------
Saudi scholar calls for female muftis to join top Muslim clerical body
12 June 2018
A senior Saudi cleric on Monday called for the appointment of female Islamic scholars or "muftis" within Saudi Arabia's Council of Senior Scholars.
Muftis are jurists qualified to give authoritative legal opinions known as fatwas (religious edicts), while interpreting Islamic law.
Sheikh Abduallah Al Mutlaq, a member of the council, said female muftis would offer fatwas particularly on women's issues.
In a televised program, Sheikh Al-Mutlaq said: "I call on the Grand Mufti to employ our daughters who are in universities such as the Imam Muhammad bin Saud Islamic University and Umm Al-Qura University and others who specialize in Islamic law."
He added: "As men we have many issues to address other than those related to menstruation and other female issues, so I ask the Mufti, to allow women to join as the Fatwa Committee sees fit.
He said that he has previously sought advice from female family members when advising women, as "I have seen an embarrassment among women who ask muftis for advice.
"Women specialized in Islamic law are no doubt more knowledgeable than us on female issues, such as menstruation and the like. Women will be able to seek advice in a more comfortable, free and private manner."
Sheikh Al-Mutlaq has previously said that women should not be obliged to wear abayas as the purpose of the Sharia code is to cover the entire body with any long and loose-fitting garment, whether using a cloak or any form of modest clothing.
https://english.alarabiya.net/en/features/2018/06/12/Saudi-cleric-calls-for-female-muftis-to-join-Council-of-Senior-Scholars-.html
--------
Kolkata's Iconic Tipu Sultan Mosque Welcomes Women for Iftar
Zeeshan Javed
Jun 13, 2018
KOLKATA: The iconic Tipu Sultan Mosque has, for the first time in its 184-year history, opened its doors for women this Ramzan.
The Esplanade landmark has arranged for iftar and evening prayers for women under a temporary shamiana inside its premises, lending a crucial support system that lets them leave home for shopping in the city's famed central commercial area without worrying about how and where to break their fast and get some shelter from the sun and, right now, the rains.
The shamiana, with adequate lighting, fans and water, has proved to be a huge relief for women working in offices in the central business district, with the masjid authorities providing the iftari comprising fruits, chhola, sweets and sherbet.
"You do not even have to get your own iftari. We will provide it. Just reach the mosque minutes before iftar and take your seat," Prince Anwar Ali Shah, the mosque's mutwali (caretaker) and great-grandson of Prince Gholam Mohammad, Tipu Sultan's eldest son, said.
The mosque was built in 1834 by Prince Gholam Mohammad, when was in exile in Kolkata.
"A lot of women come to Esplanade from far-flung areas for shopping during Ramzan and do not have any proper place to go to when it is time for iftar. Many are forced to break their fast on the road and forgo their evening prayers," Shah said, explaining the rationale behind the decision.
Women devotees have welcomed the change. Park Circus resident Asma Momin had come to Esplanade to buy essentials on Tuesday. "I was not carrying any food at all," she said. "The shamiana and the iftari were a godsend," she added.
Sabrina Yasmin had come to Dharamtala from nearby Wellesley but was caught in the rain; for her, the shamiana provided the much-needed shelter. "It is a great decision and shows the mosque authorities' inclination to change with the times," she said. Around 150 women partake of iftar at the Tipu Sultan Mosque daily.
Fasting during Ramzan is one of the five obligatory pillars of Islam, along with the declaration of faith, the namaz, the Haj pilgrimage and giving zakat (an Islamic levy). The conclusion of Ramzan heralds the arrival of Eid, the biggest Muslim festival.
https://timesofindia.indiatimes.com/city/kolkata/iconic-mosque-welcomes-women-for-iftar/articleshow/64564631.cms
--------
Border Guard begins recruiting Saudi women
June 13, 2018
Riyadh — Saudi women will be recruited to work in Border Guard, the Directorate General of the Border Guard has announced.
Registration and applications will be received from June 24 to 30.
The directorate has set some conditions for the recruitment.
Female applicants must be born and raised in Saudi Arabia. They cannot be government employees, nor have served in the military field or terminated from service. They should have a good reputation.
They must be holders of an independent national ID.
The directorate will only accept candidates who fall into a specific height range (a minimum of 160cm) for outdoor positions and 155cm for other positions considering weight is proportionate to their height.
Candidates must not be married to non-Saudis.
They must be holders of a high-school diploma or equivalent.
They must pass all stages and procedures for admission and personal interview. The number of certificates issued from outside the Kingdom should be equivalent to that of the Ministry of Education.
http://saudigazette.com.sa/article/536796/SAUDI-ARABIA/Border-Guard-begins-recruiting-Saudi-women
--------
Can this woman become the first Muslim in the Florida House?
By MARTIN VASSOLO
Jun 13, 2018
Using an umbrella to keep the summer rain from soaking her hijab, Saima Farooqui peered down at a list of registered Democrats near her Coconut Creek home.
As she looked back up, her list growing limp in the drizzle, she realized her 13-year-old son, Mohammad, who moonlights as her unofficial campaign aide, was trotting ahead toward a house he had flagged earlier, one politically blue enough to potentially help his mother become the first Muslim to serve in Florida's Legislature.
The election of President Donald Trump — who during his campaign called for a travel ban against seven Muslim-majority nations and for the monitoring of mosques — motivated Farooqui to advocate for more Muslim representation in public office.
In what has been called a "Muslim blue wave" — or a Muslim-led referendum on Trump's kind of rhetoric — over 150 American Muslims across the nation have filed to run for public office this year, according to the national Muslim civil rights group Emgage.
"I feel like the demographics have changed but the representation has not," Farooqui said Sunday afternoon before she and her family walked the district knocking on doors. "That's where I really felt a strong necessity of going out and doing something."
Since the Muslim holy month of Ramadan began in May, Farooqui has been fasting and campaigning. The first-time candidate is hoping to earn a spot in the Florida House of Representatives representing District 96, which covers a large swath of Broward County that includes Parkland, home of Marjory Stoneman Douglas High School.
She attempted to qualify by petition — she needed 1,083 — but only 685 of those were verified, so she intends to pay the qualifying fee.
For the most part, she says, the strangers she has met throughout the district are friendly and supportive of her run. But the reactions to her traditional headscarf and her slight accent haven't been all good. One of the last times she knocked on the door of a conservative couple in her Broward County district — she hesitates now as she walks by homes with pickup trucks and oversized American flags — they kicked her off the property and nearly let their dog loose, her husband said. Farooqui fled running.
"You have to have a strong heart," her son said. "You have to deal with people getting in your face for no reason."
There were an estimated 3.4 million Muslims living in the U.S. in 2017, up from 2.3 million in 2007, according to the Pew Research Center.
But just two Muslims currently serve in the 535-member U.S. Congress. In Florida, Muslim candidates have run for spots on the Legislature but never won, Farooqui said.
Khurrum Wahid, a co-chairperson of Emgage, said he was encouraged with the engagement and ambition he's seen from Muslim candidates this year. Even if some face long odds, showing voters that Muslim values align with American values is important.
"It's been a slow process coming from post-9/11, when the community felt very unwanted and very lost in terms of its place in America," he said. "I'm really encouraged by what I'm seeing now. I think a lot of it is in response to the 2016 election."
Farooqui, whose campaign is young and lean, works as a computer technician for Geek Squad and has so far raised $1,583 via campaign donations. On Sunday, a little boy she met tried giving her a few quarters at his front door. She declined politely.
She currently serves as the secretary of the American Muslim Democratic Caucus of Florida and as the vice president of the Coconut Creek Democratic Club.
While Trump's words and policy proposals certainly jolted her and the Muslim community as a whole, it wasn't until the school shooting at Marjory Stoneman Douglas High School in Parkland that Farooqui decided to run for public office.
School safety is a major pillar of her platform, which also mentions "common sense gun control" and anti-discrimination policies. She hopes to face off against incumbent Democratic Rep. Kristin Jacobs, the former mayor of Broward County, in the Aug. 28 open primary. There are no Republicans running for the seat.
Jacobs has raised $26,639 as of the current filing period, and is certainly the favorite in this bout. Her political contributors include Walmart and NextEra Energy, the corporate parent of Florida Power & Light.
Jacobs and Farooqui had breakfast together a few weeks ago and expressed admiration for each other.
"She seems like a very nice person who was gracious and even told me that she and her husband and her friend all had voted for me and were very supportive of the things I have done while in office," Jacobs told the Miami Herald. "I believe it is fair to say that we both respect this process and recognize that by no means is this 'my' seat and that it belongs to the voters and the people who live here."
Farooqui's canvassing crew consists of her son, college-aged daughter and husband.
They walk rain or shine and have faith that their mobilization of Muslims in the area may help her over the hump. A friend of the family serves as "de-facto" campaign manager, although Farooqui says everyone helps.
Her son, for example, put his technological prowess to work designing mom's campaign flier and organizing voter's addresses in an Excel spreadsheet.
"This is what America is about," she said.
http://www.tampabay.com/florida-politics/buzz/2018/06/12/can-this-woman-become-the-first-muslim-in-the-florida-house/
--------
PTI submits list of 15 candidates for women seats in KP Assembly
Jun 13, 2018
PESHAWAR: Pakistan Tehreek-e-Insaf (PTI) has submitted a priority list of 15 candidates for reserved seats for women in the Khyber Pakhtunkhwa (KP) Assembly.
The total number of the reserved seats for women in the provincial Assembly is 21. PTI leader Shah Farman was authorised by the party chairman to submit the priority list of the women seats to the Election Commission for the upcoming general elections.
The names included in the list are Nadia Sher, Maliha Aftab, Ayesha Naeem, Momina Basit, Dr Sumara Shams, Rabia Basri, Dr Ayshia Asad, Sajida Haneef, Somi Falak Naz, Aysha Khushnood, Sitra Afreen, Zeenat Bibi, Asia Khattak, Maria Fatima and Nadia Ambareen Khattak.
Previously, PTI had nine women on the reserved seats in the assembly which included Nadia Sher, Aisha Naeem, Nassem Hayat, Maliha Ali Ashghar Khan, Zareen Zia, Nargis Ali, Nagina Khan, Dina Naz and Bibi Fozia.
However, party had expelled Deena Naaz, Nargis Ali, Nagina Khan, Fouzia Bibi and Naseem Hayat for allegedly selling votes in the Senate election.
https://www.pakistantoday.com.pk/2018/06/12/pti-submits-list-of-15-candidates-for-women-seats-in-kp-assembly/
--------
Sports bodies should boycott countries that impose hijab on participants
June 13, 2018
Woman Grandmaster and former world junior girls' champion Soumya Swaminathan showed great courage and strength of conviction by withdrawing from the Asian Team Chess Championship, to be held in Iran, over the compulsory headscarf rule for participation.
Though her pulling out means that she relinquished the opportunity to win and qualify for the World Team Chess Championship, it is far more important that women champions and leaders stand up against patriarchal and religious oppression across the world.
The mandatory headscarf and veil for women in Iran have been enforced by conservative religious clerics who deny women their right to freedom of thought, action and individuality. Many Iranian women have themselves led several mass protests against the hijab. Just as Muslim women have a right to wear hijab or abaya, they should also have a right not to wear them. Similarly, non-Muslim women should not be forced to wear what is not mandated to them as per their own religious or personal codes.
The 29-year-old Swaminathan who is India's no. 5 and world champion no. 97 among women, has in a way, sent out a message of support and solidarity with not just the Iranian women but Muslim women, across the world, who have been fighting against such religious tyranny.
Besides, in sports and the professional sphere, it is utterly unfair to impose religious codes. The world sports bodies including chess champion organizers should put their foot down and free all championships and tournaments from religious diktats. More imp
importantly, the organizers should boycott countries that make religious or cultural codes compulsory for participation.
https://blogs.timesofindia.indiatimes.com/toi-editorials/sports-bodies-should-boycott-countries-that-impose-hijab-on-participants/
--------
URL: https://www.newageislam.com/islam-women-feminism/saudi-scholar-calls-female-muftis/d/115533
New Age Islam, Islam Online, Islamic Website, African Muslim News, Arab World News, South Asia News, Indian Muslim News, World Muslim News, Women in Islam, Islamic Feminism, Arab Women, Women In Arab, Islamophobia in America, Muslim Women in West, Islam Women and Feminism