New Age Islam News Bureau
9 Dec 2019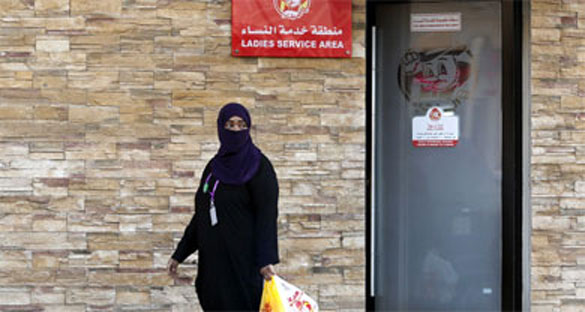 A woman leaves a ladies-only service area at a restaurant in Jiddah, Saudi Arabia, Dec. 8, 2019.
------
• Jeddah Eagles Flying High with Women's Football Win
• Poll Bodes Well for Future of Women's Empowerment in the Arab World
• Southwest Airlines Passenger Says Flight Attendant Complained About 'Muslim Woman' For 'Making People Uncomfortable'
• Inside Ain Issa: Doctor Reveals The International Team Battling To Save Lives In Border Camp Sheltering The Women And Children Of Islamic State
Compiled By New Age Islam News Bureau
URL: https://www.newageislam.com/islam-women-feminism/saudi-restaurants-no-longer-need/d/120474
------
Saudi Restaurants No Longer Need To Segregate Women And Men, Announced By The Government
Dec 8, 2019
RIYADH: Women in Saudi Arabia will no longer need to use separate entrances from men or sit behind partitions at restaurants in the latest measure announced by the government that upends a major hallmark of conservative restrictions that had been in place for decades.
The decision, which essentially ends gender segregation rules in public, was quietly announced Sunday in a lengthy and technically worded statement by the Municipal and Rural Affairs Ministry.
While some restaurants and cafes in the coastal city of Jiddah and Riyadh's upscale hotels had already been allowing unrelated men and women to sit freely, the move codifies what has been a sensitive issue in the past among traditional Saudis who view gender segregation as a religious requirement. Despite that, neighboring Muslim countries do not have similar rules.
Across Saudi Arabia, the norm has been that unrelated men and women are not permitted to mix in public. Government-run schools and most public universities remain segregated, as are most Saudi weddings.
Restaurants and cafes in Saudi Arabia, including major Western chains like Starbucks, are currently segregated by ``family`` sections allocated for women who are out on their own or who are accompanied by male relatives, and ``singles'' sections for just men. Many also have separate entrances for women and partitions or rooms for families where women are not visible to single men. In smaller restaurants or cafes with no space for segregation, women are not allowed in.
In recent years, however, Saudi Crown Prince Mohammed bin Salman has pushed for sweeping social reforms, with women and men now able to attend concerts and movie theaters that were once banned. He also curtailed the powers of the country's religious police, who had been enforcers of conservative social norms, like gender segregation in public.
Two years ago, women for the first time were allowed to attend sports events in stadiums in the so-called ``family'' sections. Young girls in recent years have also been allowed access to physical education and sports in school, a right that only boys had been afforded.
In August, the kingdom lifted a controversial ban on travel by allowing all citizens _ women and men alike _ to apply for a passport and travel freely, ending a long-standing guardianship policy that had controlled women's freedom of movement.
Reflecting the sensitive nature of this most recent move, the decision to end enforcement of segregation in restaurants was announced in a statement published by the state-run Saudi Press Agency. The statement listed a number of newly approved technical requirements for buildings, schools, stores and sports centers.
The statement noted that the long list of published decisions was aimed at attracting investments and creating greater business opportunities.
Among the regulations announced was ``removing a requirement by restaurants to have an entrance for single men and (another) for families.''
Couched between a new regulation about the length of a building's facade and allowing kitchens on upper floors to operate was another critical announcement stating that restaurants no longer need to ``specify private spaces''_ or in other words, partitions would no longer be required.
The new rules remove restrictions that had been in place, but do not state that restaurants or cafes have to end segregated entrances or seated areas. Many families in conservative swaths of the country, where women cover their hair and face in public, may prefer eating only at restaurants with segregated spaces.
https://timesofindia.indiatimes.com/world/middle-east/saudi-restaurants-no-longer-need-to-segregate-women-and-men/articleshow/72428853.cms
------
Jeddah Eagles flying high with women's football win
DEEMA AL-KHUDAIR
December 09, 2019
JEDDAH: A relieved Jeddah Eagles team claimed victory in the Jeddah Women's Football League with a final-match victory over arch-rivals Miraas.
The Eagles were one-point leaders on the league table going into the last match of the season on Friday and needed a win to ensure triumph in the league.
Coach Bireen Sadagah, 31, said she is overwhelmed with her team's victory. "I still can't believe we actually won the league," she told Arab News.
Jeddah Eagles claimed the title from rivals White Lion, Jeddah Wave, Miraas, Storm and Kings United in a two-month competition which began on Oct. 4.
"It's such a beautiful thing to win it after such a long journey, especially since we started from scratch," Sadagah said.
"The girls feel very proud of themselves because they have accomplished something all the other teams in Jeddah were aiming for.
"Jeddah Eagles made history by winning the league and I'm sure that all the girls in my team will support their nephews, cousins, nieces, friends and others to be better. By 2030, you're going to find a very good generation of athletes in the Kingdom," the coach added.
Eagles midfielder Farah Jefry, 16, said: "It was incredible. Everyone was fighting for the cup and we were up by only one point before the final match, so we had to win in order to win the cup. I'm really thankful for my team for working so hard this season."
The young footballer said she is thankful for Saudi Vision 2030 and the role being offered to women to make sports history. Under social reforms led by Crown Prince Mohammed bin Salman, women are beginning to enter many different fields, including sports.
"There has been a huge difference if you compare us now from five years ago. Women have a lot more opportunities," Jefry said.
"The Jeddah Women's League is an example and also the first national team. Women's football is gaining popularity in the Kingdom," she said.
"There are so many people asking how they can join our team, and so many teams are being established these days. Two years ago, there were about five teams and now there are around 10."
Eighteen-year-old midfielder Layan Jouhari praised the team's efforts.
"The past few months have been intense with training four times a week, and a lot of planning and commitment," she said. "We had to go through tough losses and amazing victories, so to finally win the cup in the end, it's indescribable," she said.
Jouhari said she is happy with the support Saudi Vision 2030 has given to women in sports.
"I'm grateful that Saudi Arabia is taking all these steps to develop and change, and shed light on areas where women haven't had a chance to shine before. It's rewarding to be appreciated by the Kingdom, especially in the field of sports. We are getting a lot of support," she said.
https://www.arabnews.com/node/1596096/saudi-arabia
------
Poll bodes well for future of women's empowerment in the Arab world
JUMANA KHAMIS
December 09, 2019
DUBAI: Women's empowerment in the Arab world has a bright future, if the findings of a YouGov study commissioned by Arab News for the Arab Strategy Forum are any guide.
Several recent regional developments — women driving in Saudi Arabia and an increase in the number of women holding ministerial roles in the Arab world — are viewed by substantial numbers of Arabs as positive.
A combined average of 61 percent said they expect to see more female empowerment in their home country over the next 10 years. This thinking was strongest in the Levant at 60 percent, followed by Gulf Cooperation Council (GCC) countries with 48 percent and 44 percent in North Africa.
The study surveyed 3,079 Arabic speakers, aged 18 years old and above, from across the Middle East and North Africa (MENA) region to better understand their current and future concerns on various topics.
June 24, 2018, will go down in history as the day Saudi Arabia lifted its longstanding ban on women driving. Two-thirds of the poll respondents actively supported the Kingdom's new driving law, with only nine per cent expressing opposition.
Commenting on women's standing in the MENA region, Maria Al-Qassimi, an Emirati writer, said recent decades had witnessed a movement led by Arab women to redefine social norms through a call for "equal opportunities and less restrictive laws."
Despite the rapid speed of policy changes, Al-Qassimi says she wishes to see further progress in the standing of women in Arab societies.
"I hope that policies and regulations will be revised to allow both men and women to strike a balance between their responsibilities and contributions both at home and at work," she told Arab News.
Al-Qassimi believes that the situation of women and other "vulnerable" segments of society as of now is largely determined by economic factors.
If women continued to play an important role in driving Arab economies forward while demonstrating their "indispensability" on the global level, countries would have an incentive to enlarge women's empowerment, she said.
Al-Qassimi said there was no doubt that governments around the Arab world were recognizing the need for women's empowerment in building stronger economies and societies. However, a change in social attitudes may require more time.
Al-Qassimi cited the GCC states as a prime example of women's excellent performance in almost every field. In the UAE, women make up 70 percent of all university graduates, and hold 66 percent of all public-sector jobs, she said.
In Saudi Arabia, the number of women working in the public and private sectors has increased by "282 percent" over the past year. "The hope is not only for women to occupy more leadership positions, but to push for more merit-based career advancements across the GCC," Al-Qassimi said.
Women holding ministerial roles in the Arab region is a development that gained strong support from respondents, with 59 percent expressing positive sentiment, as opposed to 14 percent who were negative.
Among those expecting to see an even greater increase in the number of Arabs supporting women's empowerment in the next two years is Injeel Firoz Moti, managing director at Catch Communications, an agency that works with female entrepreneurs in the UAE and across the GCC.
"One advancement I see taking place is the rise of more women in the workforce as well as growth of the female entrepreneur," said Moti, who foresees more women taking up leadership roles and driving operations in the labor force.
Moti described women's empowerment in Saudi Arabia, including the new driving law and the modification of the public dress code, as "setting a precedent" for further positive changes.
This was supported by the poll's findings on a woman's right to choose what to wear: 52 percent of respondents expressed positive sentiments.
Women of the Arab world have made great strides in breaking away from "centuries-old gender norms and traditions," one of which is freedom of appearance, according to Al-Qassimi.
"What women wear is unfortunately not a physical representation and expression of who they are, but of the honor and chastity of their immediate and extended families," she said.
The poll also showed 24 percent of respondents selected one of two options — "prefer not to answer" or "neither agree or disagree" — when asked about the topic of women's clothing.
Al-Qassimi said some Arab societies "respond to emotions of fear and shame," which she believes could be the reason many respondents in the survey disagreed with the freedom of appearance or chose not to give an opinion.
Other questions in the survey dealt with topics such as forced marriage and honor crimes. The findings suggest that 77 percent of the Arab world disagree with the practice of forced marriage, with 67 percent of respondents strongly opposed to it.
"Given the rate at which our societies are evolving, with time more value will hopefully be given to the individual and the choices he or she makes," Al-Qassimi said.
https://www.arabnews.com/node/1596131/middle-east
------
Southwest Airlines passenger says flight attendant complained about 'Muslim woman' for 'making people uncomfortable'
A man traveling on Southwest Airlines says his wife was called out by a flight attendant for making other passengers "uncomfortable."
Journalist Mehdi Hasan shared his story on Twitter, where he says a flight attendant confronted his wife after she asked to switch seats with another passenger so she could sit with her family. According to Hasan, the flight attendant "complained about the Muslim woman" to ground staff.
The flight, which occurred over the Thanksgiving holiday, was operating on an "open-seating policy," which meant that passengers didn't have assigned locations and seats were picked as passengers boarded on a first-come, first-served basis, The Sun reports.
On his Twitter account, Hasan posted, "Hey Southwest Air: not a good look for your flight attendant on SW5539 to DC last night to loudly tell a brown woman in a headscarf she'll be 'escorted off the plane' for making people feel 'uncomfortable' -- because she wanted to sit with her husband & kids!"
Hasan continued his story, explaining how the flight attendant seemingly escalated the situation. "The flight attendant called ground staff onto the plane," he continued, "complained about the Muslim woman -- my wife! -- to them, & escalated rather than de-escalated the situation -- simply because my wife politely asked a guy if he'd give up his seat for our family (which he was fine with!)."
The Twitter thread also explained that other passengers and airline employees wondered why the flight attendant "wouldn't shut up and let things go so we could take off."
Later on, Hasan posted an update saying that Southwest Airlines had apologized to him "privately," but refused to do so publicly.
The company later replied to the original Twitter thread, where it posted, "I can only empathize with the depths of you and your family's feelings on this matter, and I'm sorry that we don't have another resolution to offer. You have my assurances that the events as you have described them were carefully documented."
In a statement obtained by Fox News, a spokesperson for Southwest Airlines, the company explained that Hasan and his family boarded the aircraft at "different times." According to their reports, this led to a disagreement in the cabin about "saving seats on the airplane." The statement confirms that Hasan and his family were able to sit together once the situation was handled.
The statement concludes, "We have apologized to Mr. Hasan and his family for their less than positive travel experience. Regarding Mr. Hasan's claims, Southwest neither condones nor tolerates discrimination of any kind. Since Southwest Airlines' inception, we have put People first and live by the Golden Rule by maintaining mutual respect for our fellow Southwest Airlines Employees, our Customers, and the diverse communities we serve."
https://www.foxnews.com/travel/southwest-airlines-muslim-woman-flight-attendant
------
Inside Ain Issa: Doctor reveals the international team battling to save lives in border camp sheltering the women and children of Islamic State
by Janet Boyle & Peter Swindon
December 9, 2019
But this was no ordinary ­delivery and no ordinary mum-to-be. The 23-year-old woman was the wife of an Islamic State fighter.
She and scores of other IS wives and children had fled as their ­caliphate fell before eventually making their way to the Ain Issa refugee camp in north-eastern Syria.
There they are kept separate from other refugees in a fenced-off enclosure in one corner of the camp. The medical centre is run by Medecins Sans Frontières (MSF), an international aid charity whose doctors and nurses save the lives of victims of wars, disasters and epidemics.
Among its team of volunteers in Syria was Erin Kilborn, an A&E doctor at Glasgow Royal Infirmary. After being told about the mum in labour, she and colleagues jumped into a van and raced across to the IS compound.
Erin, 35, said: "The mum was in danger of losing her life. She was one of several people in the camp in need of urgent medical help."
With Erin's help the mum safely gave birth, to a baby girl.
Those working for the aid agency do so on a "no judgment" basis, as Erin explained: "We help people of all ages, from newborn to elderly, with injuries and illness.
"The organisation treats ­anyone in need with dignity and respect, regardless of religion, culture or ethnicity."
The Ain Issa camp lies near the regional capital of Raqqam, which was Islamic State's last stronghold before being routed. Officially it is home to about 14,000 people but observers believe the real figure is closer to 20,000.
About 60 British men and women are thought to be held in prisons or camps after leaving the UK to join IS.
Hundreds of white tents, each home to one family, sit in straight lines with dusty paths running between them.
Around the official camp itself are groups of other tents and hastily-assembled shacks belonging to refugees who have not been fortunate enough to be allowed inside. Children play around, running along tracks and skipping between tents.
But it is far from being a safe haven. Former IS fighters lurk outside the perimeter fence, hoping to persuade former members inside the compound to escape, and last month hundreds of women and children fled after clashes between Turkish-backed militias and Kurdish forces.
Erin, originally from Renfrewshire, had travelled to the northern Syrian town of Kobane before being assigned to the camp. Boarding a white MSF 4×4 truck emblazoned with the charity's logo, and stickers bearing a crossed-out rifle, symbolising no guns on-board, she made the hour-long journey along a dirt track to the camp.
There, she joined a team of volunteer nurses and one lone, exhausted doctor.
Erin said: "In Northern Syria patients suffer from disease and the legacy of serious injuries, blast injuries, burns common in war. But they also have mental health problems after seeing families and loved ones killed and lose their homes.
"They live in tents, a family to each one, and survive as best they can with food and water and clothing supplied. Lice and scabies are common and the families are often distraught at having to throw away the precious few belongings that are the few reminders of their old lives.
"They have to be destroyed to stop the infestation. Replacing clothes and bedding with new supplies is necessary, but traumatic."
Erin has also worked at other medical centres in the district, including MSF's ­hospital in Kobane.
There, she saw a nine-year-old boy admitted to A&E with full-thickness facial burns. A gas heater had exploded and struck him.
Receiving painkillers, and undergoing treatment on his searing injuries, what distressed the young victim most was not being able to see through his dressings.
Erin said: "We did what we could to treat his burns but it is upsetting to see a child so distressed.
"We have to remain professional and do what we can to help him cope."
The Syrian surgeons and ­doctors offer good treatment but even the most experienced would not pretend they could match the care on offer at a large British teaching hospital.
"I would have loved to have taken him back to the UK but I couldn't. We can't", said Erin.
"Trying to comfort a child like this is one of the hardest things you will do as a doctor."
Another little girl was brought to the hospital by her distraught parents, who arrived at the gates reporting that their two-year-old had become seriously ill overnight.
Their daughter was struggling to breathe and her little ribs rose markedly as she gasped for air.
An X-ray revealed her right lung had collapsed following an infection.
As air came into her lung it escaped into her chest cavity, filled it and pushed the lung aside, leaving it little room to expand with enough oxygenated air in the next breath.
A pipe was inserted through her rib cage and the trapped air in the chest cavity escaped, allowing her to breathe again.
Antibiotics and other drugs killed the infection but Erin admitted to frustrations over the girl's diagnosis.
"This was an X-ray I had not seen anywhere else I ever worked," she said.
"She could have had TB. We felt there was definitely some underlying infection present which we could not diagnose because the X-ray was not specialised enough.
"That's why we administer treatment for all possibilities."
While the MSF medics offer unrivalled experience and expertise, they are careful to avoid patronising their Syrian colleagues.
"They do a good job with the equipment and resources they have and work under huge pressure with the large number of patients," said Erin. "We work as a team and learn from each other. I share knowledge and skills and mutual respect is vital."
Despite the "no guns" policy – as well as on vehicles, the signs adorn all doors in the hospitals and clinics – violence has become a way of life for some of the refugees.
In one hospital, said Erin, a family feud spilled into the A&E unit and shots were fired as staff ran for cover.
Next year Erin, who spoke at the World Extreme Medical Conference in Edinburgh recently about her work as a humanitarian medic, will reprise her MSF duties in Yemen.
It will be just the latest posting in a career that has seen her save lives in Central African Republic warzones, and in a specialist trauma centre for burns victims in Haiti.
"It is such a privilege to be able to be part of a team who take medical help to those who may otherwise go without," she added.
"It's why I became a doctor."
Left behind: The families trapped in warzone
yrian families have spoken about the terror of being trapped in a war zone as a Scottish charity today launches its Christmas appeal to help rebuild the fractured country.
Scottish Catholic International Aid Fund supplies food, medicines and medical care, as well as working with local people to rebuild their homes.
While millions fled the war-torn country, millions more were left behind, trapped and in fear of their lives. Here, Peter Swindon talks to just some of them.
Thouraya Masoud, 53, Homs
here was shooting everywhere. We were trapped with little food. We eat only soup and wheat.
My second son was carrying his children to the shelter at the fire station but there were bombs dropping so he had to run back here and we hid in the kitchen. If he had stayed outside he would have died. Our neighbours died.
We were trapped here for three years.
Sumia Atto, 51, Aleppo
hen the conflict started, militia wanted my husband to go to the frontline and fight and he refused.
My husband was a taxi driver. He told them he was just trying to support his family. The next day they shot him six times in the car.
When we found him, he had been thrown away on a hospital floor.
I took him and buried him in the park near here – there are no cemeteries.
The next day I saw the son of the man who shot my husband driving our car. I know who did this.
Mouhamad Jasem Al Khalaf, 43, Homs
hen the shooting started we tried to hide inside the house. But my wife was shot in the knee. There was a protest in the street and a bomb exploded and she was also hit by shrapnel.
There was fighting in the street. The battles continued for three years but we couldn't take it. There were bombs falling on our roof and the building was ruined. My wife and I were worried about our six children. It was too dangerous so we left. Then we lived in a tent in Tadmor for two years.
When we came home the house was very badly damaged. There was no windows or doors. We eat, but sparingly.
Yorgo Saccal, 39, Aleppo
I escaped death twice. I was on a bus and a bomb hit nearby. It shattered all the glass, I was deaf because the explosion was so loud. And a shell hit our rooftop but thankfully, it didn't explode.
I lost a lot of friends. I lost everything. My two sisters left with their children.
Before the war I didn't pray. But now I have become closer to God. It is the food of the soul.
Elias Hassar, 49, Aleppo
I live here with my wife and three children but now there are additional expenses. Now we have to pay for water and electricity from generators just to survive.
When we left the house in the war here, we would make the sign of the cross because we didn't know if we would come back.
My children stayed in school throughout. When they were there we would pray to God that they wouldn't be hit by shells.
As a father I had to think about daily survival: what do I have to do for food, for water, for heat? There was no time to think about the future. And there was always the question: should we stay or go? Thank God, we survived.
https://www.sundaypost.com/fp/inside-ain-issa-doctor-reveals-the-international-team-battling-to-save-lives-in-border-camp-sheltering-the-women-and-children-of-islamic-state-medic-on-how-she-delivered-terrorist/
------
URL: https://www.newageislam.com/islam-women-feminism/saudi-restaurants-no-longer-need/d/120474
New Age Islam, Islam Online, Islamic Website, African Muslim News, Arab World News, South Asia News, Indian Muslim News, World Muslim News, Women in Islam, Islamic Feminism, Arab Women, Women In Arab, Islamophobia in America, Muslim Women in West, Islam Women and Feminism