New Age Islam News Bureau
12 Feb 2018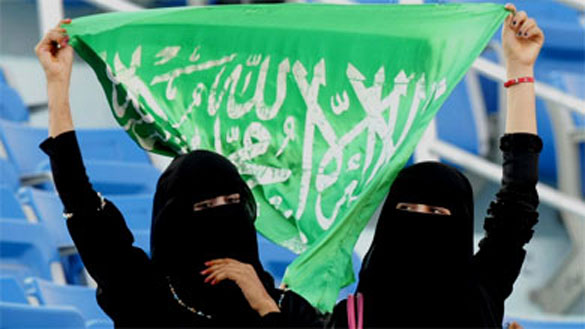 The Saudi Public Prosecution has announced that it is hiring Saudi women as investigation officers. (AFP)
----
• First Afghan Female Coders Create Opium-Fighting Video Game
• Careem Signs Up Nearly 1,000 Saudi Women Drivers
• UBT Hosts Driving Safety Event for Young Women
• Bahrain Win Arab Women Sports Tournament Title
• Gang in Hafizabad Extracts Bone Marrow from Girls for Sale: Police
• Iraq jails Turkish woman, Syrian for life over IS ties
Compiled by New Age Islam News Bureau
URL: https://www.newageislam.com/islam-women-feminism/saudi-public-prosecution-now-hiring/d/114251
--------
Saudi Public Prosecution is now hiring women investigators
11 February 2018
The Saudi Public Prosecution has announced that it is hiring Saudi women as investigation officers. The application process will start on Sunday, February 11, and will continue until March 3, al-Madina Arabic newspaper reported.
Attorney General Sheikh Saud Al-Mojeb said all applicants must be Saudis of good conduct, qualified for the position, have a relevant university degree with no less than a C grade. They should also pass aptitude tests and physical exams to prove their fitness for the position.
"The hiring process is a rigorous one as we are looking for the most qualified of candidates to take on such a critical job. After meeting all the application requirements, candidate will sit through an interview," said al-Mojeb.
He said candidates once selected would have to take up various specialized roles including criminal investigation, testifying in courts, supervising the execution of penal verdicts, inspecting prisons, listening to complaints of inmates, overseeing prisoner release, and briefing the minister of interior on important reports, in addition to executive roles.
Al-Mojeb said the prosecution formed a committee to supervise family reconciliation.
"The head of the Committee is Ahmad al-Zahrani and its members include Abdullah Al-Sharif and Nasser Al-Oud. The bureau decided to form the committee to give more importance to family issues and reconciliation before taking any legal action," said al-Mojeb.
https://english.alarabiya.net/en/News/gulf/2018/02/11/Saudi-Public-Prosecution-is-now-hiring-women-investigators.html
--------
First Afghan Female Coders Create Opium-Fighting Video Game
February 11, 2018
Young Afghan women in the western province of Herat are breaking traditional barriers as their country's first female coders.
The women not only learned to code, but also created a video game.
They learned to code at Code to Inspire, or CTI, a girls-only computer programing school in Herat, the provincial capital. The game they created supports Afghanistan's effort to remove large opium poppy fields ruled by the Taliban. Opium is used to make heroin and other illegal drugs.
Coder Khatera Mohammadi said the product, "Fight Against Opium," is more than just a game. She said it is based on her brother's experience as a translator for American troops in the Helmand province.
"Each time he came back home, he would tell us about the poppy fields, the terrible mine blasts, battling opium traffickers and drugs," Mohammadi told The Associated Press.
She and her classmates at the center thought a computer game could bring attention to the issue, especially among the young. It could be their way to help in the fight against opium.
In the game, an Afghan soldier goes to Helmand to clear it of drugs. The soldier faces problems in the process: enemies hiding in tall corn fields, land mines, drug traffickers and hidden heroin laboratories.
Drug-supported war
Afghanistan is the world's top grower of poppy, from which opium and heroin are produced. United Nations estimates show the country produces more opium than all other countries combined. Most poppy fields and drug production are in the southern provinces of Helmand and Kandahar.
The city of Herat is along an important path traffickers use in transporting drugs to neighboring Iran and beyond.
The Taliban and the Afghan government have been fighting each other since 2001. The Taliban is heavily involved in poppy production, which has increased in recent years.
Mohammadi and her teammates completed the game in one month. She said she showed it to her brother before anyone else. She has not identified her brother to media for the safety of her family.
Mohammadi said her dream is that one day the opium poppy would be replaced by the saffron crocus, a flower used to make spice. She included that in the game, by having the soldiers try to persuade local poppy farmers to grow saffron instead.
Saffron costs more, she said, "and it would be better for the country."
Fereshteh Forough created the Code to Inspire school. She was born an Afghan refugee in Iran. She returned to Herat after the Taliban lost control of the country in 2001. The former Herat University professor now lives in the United States. She wants to help girls learn to code as a way to change their lives.
The school houses over 80 girls, both high school and university students. They learn to create their own websites, apps, games and other web development projects.
Hasib Rassa is the CTI project manager. He said, "It's not easy for a girl to find a job and go to work outside of her home in Afghanistan. Now, with just one laptop at home, she can work online and earn money and help her family."
"The plan is to go big, to have more schools across Afghanistan," he added.
New female ideas in IT
Other CTI students have started creating programs for social media that promote Afghan women. 20-year-old Frahnaz Osmani, a CTI student of graphic design, decided to develop Afghan female character stickers. Her stickers show a little girl in colorful traditional Afghan clothing, a red dress and a green headscarf. The stickers also carry messages in the Dari language.
"I wanted the world to see that Afghan girls can do something, and that we can have our own creations," she said.
For 18-year-old Samira Ansari, another CTI student, coding was at first very difficult. But now, it is a path to her dream of becoming a web designer. She hopes to study that subject after her two-year program at the center.
"When I first heard about coding, I laughed and wondered what it means," she said.
"But when I found out that all these creative and skilled people designing websites had started from coding, I became very interested," she said with a big smile.
https://learningenglish.voanews.com/a/first-afghan-female-coders-create-opium-fighting-video-game/4244836.html
--------
Careem signs up nearly 1,000 Saudi women drivers
12 February 2018
DUBAI: The UAE's Careem, a ride hailing application, is set to sign up around 1,000 Saudi women drivers for its expansion plan in the Kingdom, according to its co-founder, Thomson Reuters' Zawya website reported.
"We foresee very strong growth in Saudi Arabia, both in the cities where we already have presence today and in the new cities we plan to expand to as well," Magnus Olsson, co-founder of Careem, told Zawya in an interview.
Saudi Arabia's King Salman lifted the de-facto ban on women driving in the Kingdom in September last year, with the decree set to be implemented on June 24, 2018.
"We are very excited about this June, it is a big milestone for the country. We have already started training female captains and we hope to get up to 100,000 female captains on board within a year from June," Olsson said.
Olsson also said that nearly 1,000 Saudi women have already signed up and are currently in training.
The push also aids Saudi women's struggles in the job market, with 80 percent of unemployed citizens comprised of women, according to the most recent official figures.
http://www.arabnews.com/node/1244481/business-economy
--------
UBT hosts driving safety event for young women
February 12, 2018
DAHBAN — The University of Business and Technology (UBT) in Dhahban, north of Jeddah, hosted on Thursday the "Safe Driving" program in cooperation with the General Directorate of Traffic in order to provide female students with the necessary knowledge and traffic skills to achieve safety while driving.
The event is a conscious and wise start toward the implementation of the decision to allow women to drive in an orderly and disciplined manner in terms of preparations.
Around 1,000 young men and women attended the first awareness program, which was held in the presence of UBT Rector Prof. Osama A. Jannadi, Col. Zaid Al-Hashem, public relations director at Jeddah Traffic Department, top UBT officials and other distinguished guests.
In his speech, Col. Zaid Al-Hashem said the rates of road accidents and fatalities among the youth were very high.
"This is advanced driver training and safety event for our young females to help them make enlightened decisions before they get behind the wheel," Al-Hashem said.
"As Saudi women gear up to enter the field of driving, this event will go a long way in creating awareness in them and making them familiar with the important aspects of driving," he added.
Jannadi emphasized the importance of starting the driving with education. "The event is a fun-filled and engaging way to show students and the community the things that can go wrong on the road because of careless decisions, as well as the simple things they can do to stay safe," he said.
http://saudigazette.com.sa/article/528149/SAUDI-ARABIA/UBT-hosts-driving-safety-event-for-young-women
--------
Bahrain win Arab Women Sports tournament title
February 11, 2018
Sharjah: Bahrain's Busaiteen Club lifted the athletics title in the fourth Arab Women Sports Tournament 2018 (AWST).
Top players from clubs in 11 Arab countries competed in the athletics final that took place at the track of Al Thiqa Club for the Handicapped, as part of AWST.
Bahrain emerged tournament champions in the category with 11 medals; six gold, one silver and four bronze, while Algeria's National Security Sports Association came second with a tally of 10 medals, including four gold and six silver. Oman's Al Khabour Club secured the third place with a tally of five medals, one gold, two silver and two bronze.
Egypt's Port Fuad club claimed one gold and two silver, while Sharjah Women's Sports Club secured one gold and two bronze, followed by Kuwait's Al Fatat Club who won one silver and four bronze.
Friday's athletics competitions included 100m, tyre push and 4x400m relay. In the 100 metres, Jawaher Farid Abdullah from Sharjah Club secured the gold medal with a time of 14.59 seconds, while her peer, Muhra Abdul Rahim, took silver with a time of 14.65 seconds, and Kuwaiti Rahaf Hussein bagged bronze finishing at 15.57 seconds.
In the tyre push contest, Bahrain's Noor Jassim secured gold with a distance of 15.06 metres, while Algerian Nabila Buban claimed silver finishing at a 10.44-metre distance, and finally Marwa from Sharjah Women's Sports Club finished third at a distance of 8.22 metres, winning the bronze medal. Sharjah Women's Sports Club won gold medal with a time of 4.37.71 minutes, in 4x400m relay.
The winners were felicitated with medals and trophies by Shaikha Hayat Bint Abdul Aziz Al Khalifa, Head of AWST's Follow-up and Supervisory Committee and member of Bahraini Olympic Committee; and Dr. Tariq Bin Khadem, Chairman of Al Thiqa Club for the Handicapped. Heads of delegations participating in the tournament and a number of senior sports officials were also present.
Shaikha Hayat said: "The great achievements that we have seen at the tournament are a source of happiness and pride for us. The impressive results and diversity in the participating teams are testament to the development seen by the Arab women's sports, reflected by the presence of a large number of Arab female champions who proved their tenacity and competence in achieving the highest scores and titles."
She underlined the key goal of AWST, saying it is to advance the role of Arab women's sports clubs in discovering talented athletes and encouraging them to join national women's teams and participate in AWST, which acts as a springboard for them into regional and international tournaments.
Shaikha Hayat called on Arab sports clubs and sports associations to organise annual local women's sports tournaments in their respective countries involving all age groups, due to their great benefit for women's sports in general, and eventually for the national teams that will be able to select outstanding players to compete internationally."
http://gulfnews.com/sport/athletics/bahrain-win-arab-women-sports-tournament-title-1.2171973
--------
Gang in Hafizabad extracts bone marrow from girls for sale: police
Feb 12 2018
HAFIZABAD: Police have busted a gang accused of extracting and selling bone marrow from girls and young women in Hafizabad.
According to the father of a 17-year-old victim, the gang members took her bone marrow when they called her for a 'medical check-up', which they said was necessary for them to financially help the family prepare her dowry.
The group had approached the family promising to help them prepare dowry for their daughter, the father said.
He added they willingly agreed, over which the group members asked them to sign a form and get a medical check-up of the girl.
The father said the accused told him they would take a blood sample from his daughter for the medical check-up.
However, he added, when they returned home, his daughter started feeling weak. They then took her to a doctor who told them her bone marrow had been extracted.
Subsequently, the father reported the incident to the police, informing them about the place where his daughter was called for the 'blood test'.
Police took action and raided the place in Muhalla Bahawalpura, arresting the accused man and woman, who are said to be part of a four-member gang.
The arrested persons were taken to an unknown location for interrogation, while an investigation into the case is underway.
Sources claim the accused have admitted to their involvement in selling the extracted marrow to an individual associated with a hospital in the area. However, the police have not confirmed this claim.
Following reports, Punjab Chief Minister Shehbaz Sharif took notice of the incident saying best medical treatment should be provided to the girls whose bone marrow was extracted.
He has also ordered enquiry into the incident, seeking a report from the district police officer of Hafizabad.
Red Market Organ Trade
Besides critical organs such the heart, kidneys, liver stem cells are highly sought after as treatment for otherwise untreatable diseases.
Stem cells acquired from bone marrow, the soft, spongy tissue found inside bones and according to John Hopkins Medicine has been used to treat incurable diseases such as leukemias, lymphomas, aplastic anemia, immune deficiency disorders, and some solid tumour cancers since 1968.
The stem cells are highly valued because of their ability to form any adult cells.
Internationally the sale and purchase of organs is illegal however stem cells acquired by way of a donation is legal in 9 states in the US. This procedure fetches the donor 3,000 dollars.
In the Red Market - a term used for the illegal market of organs and human tissue - the price can fetch as much as 23,000 dollars per gram of bone marrow.
Since the value of human organs and human tissue is the value of life itself; many gangs and criminal elements operating red markets in developing countries attracted by the monetary gains to be had are found to be involved in illegal organ harvesting and trade.
https://www.geo.tv/latest/181510-gang-in-hafizabad-illegally-extract-bone-marrow-from-girls-for-sale-police
--------
Iraq jails Turkish woman, Syrian for life over IS ties
12 February 2018
An Iraqi court on Monday sentenced a Turkish woman and a Syrian man to life in jail over ties to the Islamic State group, a judicial spokesman said.
The woman was accused of "hiding the actions of a terrorist group to which her husband belonged", Supreme Judicial Council spokesman Abdel Sattar Bayraqdar said, referring to IS.
"The court condemned another Syrian terrorist to life in prison for belonging to IS and for taking part in attacks against Iraqi soldiers," he said.
Iraq in December declared victory against IS after a years-long battle to retake large swathes of territory the jihadists had seized in 2014.
Several hundred foreigners, both men and women, are thought to have been detained in the fighting.
An Iraqi court last month condemned to death by hanging a German woman of Moroccan origin after finding her guilty of belonging to the jihadist group.
She is believed to be the first European woman to be sentenced to death in Iraq in relation to IS.
In September last year, Iraq sentenced to death by hanging a Russian man who was captured in second city Mosul and found guilty of fighting for the group.
In December, a Swede of Iraqi origin was among 38 people executed after being convicted of "terrorism".
Three French women awaiting trial in Baghdad could face the death penalty for joining IS, sources with knowledge their cases told AFP last month.
http://www.dailymail.co.uk/wires/afp/article-5380899/Iraq-jails-Turkish-woman-Syrian-life-IS-ties.html
--------
URL: https://www.newageislam.com/islam-women-feminism/saudi-public-prosecution-now-hiring/d/114251
New Age Islam, Islam Online, Islamic Website, African Muslim News, Arab World News, South Asia News, Indian Muslim News, World Muslim News, Women in Islam, Islamic Feminism, Arab Women, Women In Arab, Islamophobia in America, Muslim Women in West, Islam Women and Feminism