New Age Islam News Bureau
18 Apr 2020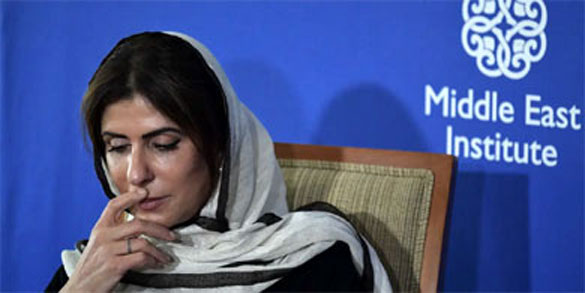 Princess Basmah speaking at the Middle East Institute in Washington, DC, on April 12, 2017. Getty
------
• Saudi Princess, BasmahBint Saud, Pleads For Release From High-Security Prison
• Covid-19 Fight: Federation of Muslim Women Association of UK Donate Food Items to Vulnerable in Kpembe
• Muslim Soldier Claims Command Sergeant Major 'Forced' Her to Remove Hijab
• Women Produce Masks In Syria's Ras Al-Ayn To Aid In Anti-Coronavirus Effort
• Enough with Hate Speech: Indian Gold Medal Wrestler BabitaPhogat Blasted for Anti-Muslim Tweets
• Gujarat: Muslims Perform Hindu Rituals to Help Cremate Bhavnagar Woman
• Women Thieves Gang Busted in Lahore
• They Are the Body Washers, The Women Helping Iran Through Coronavirus
• 107-Year Old Iraq Woman Recovers from Coronavirus: Directorate
Compiled ByNew Age Islam News Bureau
URL; https://www.newageislam.com/islam-women-feminism/saudi-princess-basmahbint-saud-pleads/d/121610
-------
Saudi Princess, BasmahBint Saud, Pleads For Release From High-Security Prison
Apr 18, 2020
A prominent Saudi princess jailed for more than a year without charge has made a rare public appeal to the king and crown prince for her release from a high-security prison, citing "deteriorating" health.
Princess Basmahbint Saud, a 56-year-old businesswoman and outspoken member of the royal family whose father was the kingdom's second ruler, was detained in March last year just before she was due to travel to Switzerland for medical treatment, according to a source close to her family.
The public plea for her release is the latest sign of turmoil in the kingdom's secretive royal family following the detention last month of King Salman's brother and nephew in an apparent attempt to stamp out internal dissent.
"As you may be aware [?] I am currently being arbitrarily held at Al-Ha'ir prison without criminal, or otherwise any charges," the princess wrote in a letter published on her verified Twitter account.
The princess said she was "thrown into prison" after being "abducted without an explanation" along with one of her daughters.
She appealed to her uncle King Salman and her cousin - de facto ruler Crown Prince Mohammed bin Salman - for her release as she had "done no wrong" and added her health status was "very critical".
The princess did not specify her ailment, but her letter comes as the kingdom grapples with the fast-spreading coronavirus pandemic.
The government has imposed a round-the-clock curfew across much of the country to limit the spread of the virus. Saudi Arabia has reported 6,380 infections and 83 deaths from the disease so far.
It was unclear how the princess was able to tweet from inside al-Ha'ir, a high-security prison close to Riyadh known to be used for holding political prisoners.
Her public plea represents an unusually bold move by someone from the kingdom's extensive royal family, comprising thousands of members, who typically refrain from publicly raising internal grievances.
It comes after the detention last month of Prince Ahmed bin Abdulaziz al-Saud, the king's brother, and the monarch's nephew Prince Mohammed bin Nayef who was previously crown prince.
But one source close to the royal court dismissed such concerns and said the detentions were meant to send a stern warning within the royal family not to oppose the crown prince.
Prince Mohammed, heir to the Arab world's most powerful throne, has pursued a broad crackdown on dissent since his rise to the position of crown prince in 2017.
Multiple women's rights activists, Islamic scholars, bloggers and journalists have been jailed in what observers call increasing repression and authoritarianism as he consolidates his grip on power.
https://www.aljazeera.com/news/2020/04/saudi-princess-pleads-release-high-security-prison-200417062926527.html
--------
Covid-19 Fight: Federation Of Muslim Women Association Of UK Donate Food Items To Vulnerable In Kpembe
18.04.2020
As the fight against the deadly Corona Virus heightens in the country, donation of food items and Personal Protective Materials from individuals and organizations in the fight has taken center stage.
One of such organized groups is the United Kingdom branch of the Federation of Muslim Women Association (FOMWA).
The Association has on Friday April 17 donated some food items worth thousands of Ghana Cedis to over 40 vulnerable persons in the East Gonja Municipality of the Savannah region.
Presenting the items to the beneficiaries, the Amira of the UK based Association HajiaHajaraShardo expressed gratitude to members for their support in mobilizing funds to support the gesture.
"The East Gonja Municipality has not recorded any case but it is imperative to support the vulnerable persons in the wake of the pandemic," she said.
A 90-year-old beneficiary from Kpembe, SoaleAdeya was grateful to the UK based group for the gesture.
https://www.modernghana.com/news/996237/covid-19-fight-federation-of-muslim-women-associa.html
--------
Muslim Soldier Claims Command Sergeant Major 'Forced' Her To Remove Hijab
Apr 18, 2020
Sgt. CesiliaValdovinos told Yahoo Lifestyle that her military service became a source of pain after she was granted approval to wear her hijab with her uniform in June 2018.
She said, "I got called a 'terrorist.' I got called 'ISIS.' I hear comments that I'm the reason why 9/11 happened. There's a lot of anger and animosity." Valdovinos, who converted to Islam in 2016, stated that she reached her breaking point when her commanding sergeant allegedly forcibly pulled her out of rank and made her remove her hijab in the presence of her colleagues.
In an email to the Military Religious Freedom Foundation (MRFF), she wrote: "I felt embarrassed and religiously raped in a sense. My religious preference is only to unveil in front of my husband in the comfort of my own home." The MRFF took up her case.
On March 7, she filed an official complaint with the Military Equal Opportunity Office (MEO), but the complaint was later deemed "unsubstantiated."
Speaking to the Army Times, the senior noncommissioned officer claimed that Valdovinos' hairstyle underneath the hijab was out of regulations. However, Valdovinos maintains that she was never asked about her hair, and that it would have been impossible to see the hair underneath the hijab.
Valdovinos' brigade officer, Col. Zinn, said in a statement that the commander's inquiry into her allegations "concluded that the senior non-commissioned officer acted appropriately by enforcing the proper wear of the hijab, in compliance with Army Regulations."
Valdovinos claims that after the decision was made, she was demoted to specialist, reducing her pay by around $1,300 a month. She added that after her story went public, she and her 7-year-old daughter have been endlessly harassed.
She said, "I was getting messages on Facebook from people that I didn't even know, that if they ever see me they would kill me, and threatened me with acid attacks," adding that she has been told to "go back to where she came from," and yet she's from Lodi, California.
The MRFF is planning to file a federal lawsuit against the U.S. Army on Valdovinos' behalf, citing violations to her civil rights in what it considers as "blatant Islamophobic harassment, bigotry and prejudice of the worst type."
The MRFF hopes to gain the help of Congresswoman Ilhan Omar, one of the first Muslim women to ever make it to Congress as an elected member. However, Omar has not yet responded to their requests.
https://www.opposingviews.com/religion/muslim-soldier-claims-command-sergeant-major-forced-her-to-remove-hijab
--------
Women produce masks in Syria's Ras al-Ayn to aid in anti-coronavirus effort
APR 10, 2020
Mask production has been launched in the northeastern Syrian town of Ras al-Ayn under the coordination of southern Turkey's Şanlıurfa governorship, as part of measures to reduce the spread of the coronavirus.
According to a statement from the governorship on Thursday, disinfection efforts and other measures against the spread of the illness continue to be implemented in the area, which was earlier liberated from terrorist groups as part of Turkey's Operation Peace Spring. The work is to continue under the supervision of the Syria Support and Coordination Center (SUDKOM), a statement from the Şanlıurfa governorship added.
As part of these efforts, a workshop has been established in the town, staffed by local women with the support of the town's local assembly. The women have had to pass medical checkups, while the workshop itself has been certified to host the highest hygienic standards.
Ras al-Ayn coordinator and District Gov. ErdinçDolu, who inspected the workplace, stated that they had launched the mask facility in order to also help bring life back to normal in the region as soon as possible.
Stating that there had been no cases yet recorded in the town, Dolu said that measures would still remain at the highest level. According to the district governor, 1,000 masks will be produced by 12 trainee women every day at the workshop.
Access in and out of the town has already been limited, with thermal cameras having been established at its main access points as part of anti-coronavirus measures. While brochures are being provided to the locals with essential information about the outbreak, Peace Spring FM, a radio channel that transmits from Şanlıurfa in Turkish, Kurdish and Arabic, has been raising awareness about the measures that ought to be taken.
On Oct. 9, Turkey launched Operation Peace Spring to eliminate YPG/PKK terrorists from the area east of the Euphrates river in northern Syria to secure Turkey's borders, aid in the safe return of Syrian refugees and ensure Syria's territorial integrity. As part of two separate deals with the United States and Russia, Turkey paused the operation to allow the withdrawal of YPG/PKK terrorists from the planned northern Syria safe zone. Operation Peace Spring put an end to the YPG/PKK's oppression of the residents of the Tal Abyad and Ras al-Ayn regions, thus allowing for the voluntary return of residents who took refuge in Turkey.
Tal Abyad and Ras al-Ayn, together with other liberated areas, have been put back on the road to normalization thanks to reconstruction efforts. Citizens frequently comment that every day is getting better as a result of such works, which have allowed for the restoration of infrastructure, schools and hospitals, while roads and waterworks have also been repaired.
Meanwhile, as northern Syria escalates measures against the coronavirus despite a lack of confirmed cases in the area, Russia's RIA news agency reported Friday that so far the Syrian regime had recorded 19 cases in the rest of the country.
The regime has closed border crossings with Lebanon and Jordan, while Damascus International Airport has been closed to commercial traffic since the arrival of a final flight from Moscow. Regime newspapers have issued their last print editions and will now only be available online.
Despite only a small number of cases declared, it is believed that the virus was likely more widespread than first thought, owing to low testing capacity and lack of transparency.
The Syrian Observatory, a Britain-based war monitor, previously said that doctors had received threats from the regime not to disclose cases. "Doctors have been instructed to refer to cases that are suspected to be corona infections as severe pneumonia," said its director Rami Abdulrahman.
Syria's damaged health infrastructure and massive displacement of citizens as a result of attacks by the Bashar Assad regime and Russia make potential containment measures a nearly impossible task.
The constant onslaught has caused the deterioration of the physical health of civilians across the country, where malnutrition and poverty is now widespread. Refugees are now at further risk due to living in overcrowded camps where conditions are ideal for the spread of the virus. Camps are generally in poor condition with a lack of access to water, hygiene, medical aid and food.
https://www.dailysabah.com/politics/women-produce-masks-in-syrias-ras-al-ayn-to-aid-in-anti-coronavirus-effort/news
--------
Enough With Hate Speech: Indian Gold Medal Wrestler BabitaPhogat Blasted for Anti-Muslim Tweets
17.04.2020
New Delhi (Sputnik): In India, the coronavirus took on communal overtones when a gathering by an Islamic missionary movement Tablighi Jamaat, was reported as the source for almost 30 percent of the total infections in the country. Though the federal government warned that it was no time for "fault-finding", such finger-pointing still persists.
Indian wrestler and Commonwealth medalist BabitaPhogat, who also has a Bollywood biopic to her name, has been slammed on social media for her tweets on Tablighi Jamaat – an Islamic missionary movement.
Phogat, who joined the ruling Bharatiya Janata Party (BJP) last year, stirred controversy with her series of tweets criticising Muslims for spreading coronavirus in India while calling them "illiterate pigs".
The calls for her Twitter account suspension grew louder after the Twitter account of the manager and sister of Bollywood actor KanganaRanaut, Rangoli Chandel was suspended on 16 April over her controversial tweet against the Tablighi Jamaat group.
#SuspendBabitaPhogat is trending on Twitter as users called her "international shame" and striked at her through tweets for creating a divide between two communities.
On 15 April, the wrestler tweeted in Hindi, saying that coronavirus is India's second-biggest problem while "illiterate Jamaatis" are the biggest cause of concern.
In another similar tweet, she said: "It might have spread through bats there, in India illiterate pigs are spreading the virus". She used the hashtag #NizamuddinIdiots, referring to Delhi's Nizamuddin area where the religious gathering was conducted and eventually led to number of COVID-19 cases in country.
However, she has hit back on some media users targeting her through a video message, saying she is the "real" BabitaPhogat and will continue to stand for her country.
"Few days ago I had tweeted something, after that many people started are sending me wrong messages on Facebook messenger, on WhatsApp and Twitter messenger, abusing me. Some people are even threatening via calls," she said in Hindi in the video message.
She even dragged award-winning Kashmiri actress Zaira Wasim into the controversy. The young actress quit showbiz in 2019 to follow Islam and has reportedly received death threats as well as trolls on social media.
"I want to say one thing to those people that keep in your mind that I am no Zaira Wasim who will get afraid by your threats and sit back at home. I am not afraid of your threats.
"I am BabitaPhogat. I will always fight for my country and continue to speak like this. I have not written anything wrong in what I have tweeted. I hold my tweet correct. Because I have only written about those people who have spread coronavirus," she said.
https://sputniknews.com/india/202004171079000330-enough-with-hate-speech-indian-gold-medal-wrestler-babita-phogat-blasted-for-anti-muslim-tweets/
------
Gujarat: Muslims perform Hindu rituals to help cremate Bhavnagar woman
Apr 18, 2020
By: DilipJiruka
AMRELI: Amid stringent lockdown, Gariyadhar, a town in Bhavnagar district famed for small-scale diamond cutting and polishing industry, set a glittering example of communal brotherhood on Friday when Muslims went all out to help in cremation of a 70-year-old Hindu woman.
Ranjan Bhadreshwara, who lived with her two sons Bharat and Rasik in Ghanchiwad area on Palitana Road, died a natural death on Friday morning. As most of their relatives who live in Ahmedabad could not make it for the cremation due to the lockdown, the Muslim neighbours immediately took up the responsibility to help this family do the final rites as per Brahmin rituals.
In fact, the Bhadreshwaras have been the only Hindu family in Ghanchiwad area where there are nearly 50 Muslim households, for the past nearly 25 years.
On hearing about her death, nearly 10 women from the Muslim families first helped in giving her body the ritualistic bath with water and embalming it with ghee. They then decorated her with bangles, sari and the tika to prepare the body for funeral.
Later, 10 Muslim men shouldered the woman's bier up along with her sons and reached the local crematorium after a brief funeral procession. One Muslim man was also seeing carrying the 'doni' (earthen pot filled with water), usually carried by the person leading the funeral.
There were emotional scenes when the men lifted the bier and left the house as all women cried inconsolably having lost their neighbour with whom they had lived in times of sorrow and joy. Home guard jawans present there had to request the women to go inside the house and not gather for a long time.
"I have no regrets at all that my relatives could not be beside us in this hour of grief. These Muslim brothers have been our neighbours for years now. In every religion, it is said that the neighbour is your first kin," RasikBhadreshwara told TOI over phone.
Rafeeq Solanki, a neighbour said, "We have been living as brothers for years now and always considered them as one among us though Bhadreshwaras are the sole Hindu family in our locality. We even got few shops opened to get the necessary material for the funeral and rituals."
https://timesofindia.indiatimes.com/city/rajkot/brotherhood-in-time-of-coronavirusdiamond-town-sets-shining-example/articleshow/75209557.cms
--------
Women Thieves Gang Busted In Lahore
Muhammad Irfan
17th April 2020
LAHORE, (UrduPoint / Pakistan Point News - 17th Apr, 2020 ) :The CIA Sadar division police have busted a women criminal gang involved in a number of burglary incidents, arrested its six members and recovered Rs 20 million in cash and prize bonds from them.
The gang members used to work as domestic help in houses and took away valuables and cash whenever they would get a chance.
During interrogation, the gangsters confessed to many house thefts in various parts of the city. The gang members have been identified as Saba Bibi, the ring leader, Shamim, Tabasam, Fozia, Sonia and Amjad.
https://www.urdupoint.com/en/pakistan/women-thieves-gang-busted-in-lahore-896009.html
--------
They are the body washers, the women helping Iran through coronavirus
By MELISSA ETEHAD
APRIL 17, 20202
The phone rang in the prayer room at the hospital. Another patient had died. A young woman left the room to rush to intensive care. She entered wearing a mask, gloves and scrubs. She was there for a sacred ritual that was centuries old but one that, like so much else around her, had been altered by the coronavirus.
The body lay on a bed on that late March day when TaherehAdibi veered from Muslim custom. She didn't wash the corpse with soap and water. Concerns about the dangers of touching meant she performed a different cleansing act. Placing a small marble slab beneath the deceased woman's hands, she recited a prayer. She anointed the forehead with oil. Minutes passed. And then the body was taken to the morgue.
"It is not possible that a man sees and touches a woman's corpse," Adibi said, "so we do this in order to make sure Islam is observed."
Adibi used to teach French at a cultural and educational institute. But the 33-year-old has become a volunteer body washer at a hospital in the south of Tehran. As the number of patients dying from COVID-19-related complications rises in Iran, one of the worst-hit countries in the world, authorities have called upon people to help uphold the Islamic custom of purifying the dead before burial.
Hers is a solitary ritual, a quiet, fleeting space between this life and the one after. She stands before God, over a person she never knew. But, somehow, she mourns each as if she had known them all her life. It's not easy to bear witness, to do Earth's final toil with gloved hands in a room where many succumb. But the need is great.
The phone in the hospital's prayer room never seems to stop ringing. It's a toll for another mom, sister, aunt or grandmother taken by the virus. Sometimes, when she cleanses the dead, Adibi's mask makes it difficult to breathe; sweat fogs up her glasses, blocking her vision.
It was shortly after the Persian New year when Adibi asked a few friends on WhatsApp if they knew of any groups that were helping wash the bodies of coronavirus patients. A friend gave her a number for a group of 50 volunteers at Firouzgar hospital in the south of Tehran.
Others across Tehran were stepping up to help out in other ways as well, including Maryam Moghadam, a university professor, and her friend Narges, a fashion designer. For the past several weeks, the women have been part of a team of volunteers who dress in gray hazmat suits and spray disinfectant on the streets, subway stops and shelters of Tehran.
Many just want to do something as the country's death toll keeps rising higher. Iran is the epicenter of the coronavirus outbreak in the Middle East. Authorities announced 1,606 new cases Thursday, bringing the nation's total number of infections to 77,995. The deaths have risen to more than 4,860, though some officials believe the actual number may be much higher.
For the last 15 days, volunteers Maryam Moghadam, a university professor, and her friend NargesMohammadi, a fashion designer, have been donning uncomfortable hazmat suits and spraying disinfectant from heavy bags in Tehran. For four hours each day, the two spray sidewalks, bus stations, subway stops, shelters and nursing homes. It's not easy work.
Adibi knew caring for the dead was her chance to help. She understood the risk of catching the virus while working in a hospital filled with COVID-19 patients was high. She also wondered what her friends would think of her. But she felt her concerns were minor when compared to the religious call to duty.
Since the virus arrived in February, Iran's leaders have been blamed for the staggering loss of life as well as for their response, actions that have included stopping an international nonprofit team of doctors from treating coronavirus patients, spreading conspiracy theories that blame the U.S. government for the outbreak, and failing to restrict people's movement and close religious sites.
The country's efforts to fight the outbreak have also been hampered by rising inflation, combined with a shortage of foreign currency and U.S.-imposed sanctions. Meanwhile, Iran's conservative Shiite clerics have been struggling to uphold sacred Islamic rituals while also implementing measures that help curb the spread of the pathogen.
In March, when Adibi started volunteering, clerics had outlawed washing the dead with water, a practice known as Ghosl, for fear of contamination. Small marble slabs were placed on the corpse instead. But when Iran's Supreme Leader Ayatollah Ali Khamenei declared in April that the dead should still be washed with water, Iran's health ministry and its national headquarters for fighting the coronavirus bowed to pressure from hardliners and reversed course despite concerns that it might lead to a second wave of COVID-18 cases.
Others criticized the Islamic Republic's handling of the crisis and viewed the regime's response as yet another example of why it lacks widespread legitimacy.
In a letter written in March to President Hassan Rouhani, Iranian health minister Saeed Namaki protested the administration's decision to start allowing people to resume going to work and said that failure to follow medical experts' advice would "ignite the coronavirus and will damage the country's health system and subsequently the economy."
"The slightest reckless and unprofessional move will result in irreparable damage," Namaki wrote in his letter to Rouhani.
But for the country's pious Muslims, such as Adibi, maintaining Islamic customs is a matter that goes beyond politics and restrictions.
Back in the hospital in late March, Adibi entered the room. Lying on the hospital bed was the corpse of an old woman. Adibi drew the curtains; even in these times the sanctity of the deceased must be preserved. She took a minute to make sure patients in adjoining rooms did not see her. She didn't want to diminish their morale.
A volunteer prepares to enter a mortuary to wash the body of a person who died of coronavirus infection last week in Sari, Iran.(Majid Saeedi / Getty Images)
After, Adibi put camphor oil in a glass of water and rubbed the mixture on the corpse's forehead, palms, knees, foot and fingertips. She prayed out loud.
When Adibi was finished, she covered the body in a linen shroud and wrapped it in plastic. Her work was done. But she wanted to do more.
She remembered the advice she received from a fellow volunteer when she first started: "God has comforted their hearts so that they do not abandon their religious duties."
Volunteers prepare to wash the body of a COVID-19 victim last week in QaemShahr, Iran. According to custom, women who die must be washed only by a woman.(Majid Saeedi / Getty Images)
A few people entered the hospital room. They wrote the woman's name and cause of death on the plastic sheet that covered the body. They whisked the body away to the morgue, where it would await burial.
"The most difficult part," she said, "is to see someone in the ward before they die, only to be summoned to the ICU the next day."
By the end of the week, she had already bonded with COVID-19 patients and medical staff. Some days she brought flowers. Other days, she sat with patients and encouraged them to eat. She didn't mind how doctors and nurses had come to refer to her and the other volunteers as "Azrael helpers," or the helpers of the Angel of Death.
https://www.latimes.com/world-nation/story/2020-04-17/coronavirus-dead-iran-women-body-washers
--------
107-year old Iraq woman recovers from coronavirus: directorate
Apr. 17, 2020
CAIRO – 17 April 2020: A 107-year old coronavirus female patient in Iraq recovered and is in a good health, said the health directorate in DhiQar governorate in southern Iraq, while older people are at a high risk from the novel virus.
It is not the first case in this age to recover from coronavirus. Two women in each of Turkey and Netherlands who were also 107 years old recovered.
Iraq has so far 1,434 coronavirus cases and 80 deaths, according to Worldometers, while 856 people recovered from the disease. Globally, over 2.2 million people were infected and more than 147,000 people died.
Iraq has evacuated hundreds of citizens stranded in other countries including in Egypt. The Iraqi Foreign Ministry on Monday said two exceptional flights took off from the Egyptian capital Cairo to the Iraqi capital Baghdad, evacuating 324 Iraqi nationals over coronavirus.
https://www.egypttoday.com/Article/1/84816/107-year-old-Iraq-woman-recovers-from-coronavirus-directorate
--------
URL: https://www.newageislam.com/islam-women-feminism/saudi-princess-basmahbint-saud-pleads/d/121610
New Age Islam, Islam Online, Islamic Website, African Muslim News, Arab World News, South Asia News, Indian Muslim News, World Muslim News, Women in Islam, Islamic Feminism, Arab Women, Women In Arab, Islamophobia in America, Muslim Women in West, Islam Women and Feminism