13 March 2022
• Saudi Pianist Wants To Inspire Women To Become Musicians
• Saudi Female Baristas Break Taboos And Gain Respect
• Marking International Women's Day Fes Gate Celebrates Moroccan Female Leaders
• Four Afghan Women Win Scholarships To Bangkok University
• San Diego Women Band Together to Help Local Afghan Refugees
• WSF President Wooldridge Lauds Iranian Women
• 'O Allah, PM Modi And CM Yogi Should Not Be Afraid Of Anyone In The Fight For Our Rights,' Muslim Women Pray In Meerut
Compiled by New Age Islam News Bureau
URL: https://www.newageislam.com/islam-women-feminism/saudi-pianist-musicians-baristas/d/126560
--------
Saudi Pianist Wants To Inspire Women To Become Musicians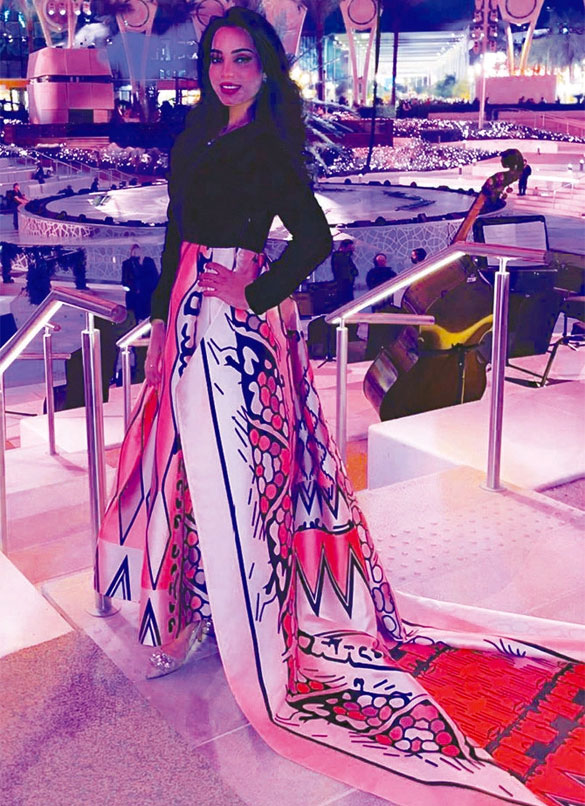 Rowida Raffa was encouraged by her family to pursue her dream of becoming a pianist. (Supplied)
-----
Rahaf Jambi
March 12, 2022
RIYADH: Saudi pianist Rowida Raffa took to the stage last September at Expo 2020 Dubai and amazed everyone with her skills, performing on Saudi National Day and playing different kinds of music. She also had an encouraging message to all female artists who aspired to be in her position one day.
"Different media agencies contacted me to represent the National Day at the expo, and I never imagined one day that I would be here representing my own country abroad. And, as a Saudi woman, I am very happy that the Kingdom is setting new regulations for practicing musicians," Raffa told Arab News.
Raffa said she was prepared when media agencies approached her as she enjoyed playing the piano and had been practicing for 20 years.
"My grandfather was a violinist, and music was always something that connected the family together. My brother is also a violinist, and I chose to be a pianist because I found myself in it."
As well as the expo, Raffa has also performed with the award-winning international composer William Ross, whose work has graced feature films, the recording industry, and TV. His projects include "Harry Potter and the Chamber of Secrets" and "Star Wars: The Force Awakens."
"In 2018, I was invited to work with William Ross when the foundation stone for Qiddiya, (an entertainment megaproject to be built in Riyadh), was laid," she said. "We did the opening song together and he is such a nice man. I'm glad my first participation in a national project was this significant.
"I played the opening of Alicia Keys' concert in AlUla. The experience was amazing and working with international artists is a dream."
She always played the piano for the passion and love she had for the instrument, and she strived to practice so that she could play more difficult music.
Raffa praised the Kingdom's attention to music and for establishing a specialist commission, saying opportunities were available and that young talent should take advantage of these from a young age.
She believed that music was a universal language and a strong form of communication that enriched people's lives, unified nations, and created cultural bridges.
"The Saudi people maybe led to a worldwide level by the Music Commission and other organizations and schools that teach you the essentials," Raffa added.
Source: Arab News
https://www.arabnews.com/node/2041291/saudi-arabia
-----
Saudi Female Baristas Break Taboos And Gain Respect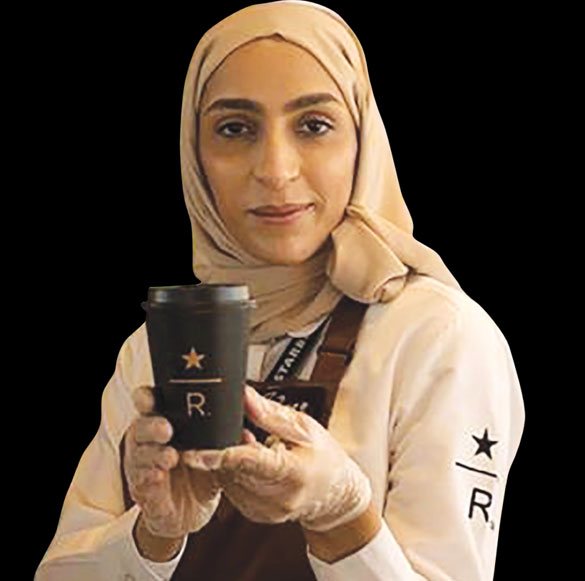 Saudi female baristas in cafés in most larger cities in the Kingdom (Supplied)
----
Mohammed Al-Kinani
March 12, 2022
JEDDAH: Saudi female baristas in cafés in most larger cities in the Kingdom say they have enjoyed widespread support from the people they come into contact with at work.
Taibah Ibrahim Al-Ruhaili, a barista in her early twenties, joined Joffrey's café in Jeddah 15 months ago after applying for barista jobs in many coffee shops.
The biggest challenge she faced was work pressure and customer connection. However, she said she managed to overcome all the obstacles.
Remembering her first day, Al-Ruhaili said: "The team members who were working with me were very cooperative and I quickly learned the skills baristas need in their work. This made me come every day with more eagerness and readiness to learn something new," she added.
Al-Ruhaili said that she learned how to both satisfy her customers with cups of coffee that hit the spot and shoulder responsibilities and bear work pressure.
"I learned self-discipline and commitment. I also learned how important work achievements are. In fact, I have learned many things that I was not aware of before."
This was not accepted in the past, but with time people have become more civilized, and it has become normal to see women working everywhere. Some of my male customers proudly introduce their families to me. These families are now my frequent customers.
Entasar Hubail, a barista from the Eastern Province, joined Starbucks in 2019 and has since been promoted from barista to shift supervisor and now to assistant store manager.
Hubail said she loves coffee and had volunteered in coffee exhibitions and even bought a coffee machine for her brother, although she is the one who ended up using it.
"I still remember when I bought my first coffee bean bag from Starbucks and made coffee from it. I enrolled in coffee roasting courses and learned new techniques," she said.
She is also a chocolatier and is into pastry-making. The time came when she had to decide whether to pursue cooking or join a coffee company. She chose the latter and ended up in Starbucks.
Speaking about what attracted her to this job, she said that when she applied, she was surprised to have been accepted for the job, which she thought showed the company's focus on promoting gender diversity and attracting local talent.
When she started, Hubail had mixed feelings of surprise, happiness and fear. "I was afraid because I was a very shy person and suddenly I was going to have colleagues and customers to deal with. I, in fact, wanted to take this job opportunity to overcome my inhibitions and focus on understanding more about the coffee industry and building a future at this big company.
Like Al-Ruhaili, Hubail's biggest challenge was dealing with customers; it was her first time communicating with strangers. She said that with time and practice she was able to overcome her fears.
"The first day I went to work was a truly frightening experience. It was something like my first day at school. I even wanted my mom and sister to go to work with me. Thankfully, I was able to get over my fears by pushing myself more and more," she said.
Faten Bahussein, a university graduate of Islamic studies, is also a coffee aficionado whose mornings begin with a cup at home before she goes to Chocochino café, where she works.
"I had an old coffee-making machine, and I practiced making coffee during the curfew period. This has helped me to become good at it, and that reflected positively on my current career," Bahussein said.
After nearly four years working as a barista, Bahussein said that she has noticed how people look much happier when they see a Saudi girl working in a restaurant.
"This was not accepted in the past, but with time people have become more civilized, and it has become normal to see women working everywhere. Some of my male customers proudly introduce their families to me. These families are now my frequent customers," she said.
Source: Arab News
https://www.arabnews.com/node/2041311/saudi-arabia
-----
Marking International Women's Day Fes Gate Celebrates Moroccan Female Leaders
Elmahdi Echabouch
Mar. 12, 2022
Marking International Women's Day, the Bouabate Fes Association celebrated on March 11 Moroccan female leaders in recognition of their far-reaching role in driving in the North African country's vital sectors.
Named the Fes Gate Trophy, the 12th annual ceremony of the Association of Bouabate Fes sought to pay tribute to all the Moroccan women whose inspirational leadership and exemplary devotion to social advancement has made a significant difference in many sectors.
During the opening ceremony, the President of the Association Leila Bennis said that the event aimed to celebrate all the women who have excelled in their respective fields, standing shoulder to shoulder with their male counterparts.
Source: Morocco World News
https://www.moroccoworldnews.com/2022/03/347624/womens-day-fes-gate-celebrates-moroccan-female-leaders
-----
Four Afghan women win scholarships to Bangkok university
By Tara Abhasakun
March 12, 2022
Despite living under the Taliban's grip, four Afghan women have won scholarships to study at Asian Institute of Technology in Bangkok. The women were chosen based on their academic records, and determination to promote women's participation in Afghan society. The executive director of the Thai Pipe Industry told the Bangkok Post the women will be role models and mentors to women in their fields in Afghanistan, and around the world. The executive director said the scholarships will change lives.
Source: The Thaiger.
https://thethaiger.com/news/bangkok/four-afghan-women-win-scholarships-to-bangkok-university
-----
San Diego Women Band Together to Help Local Afghan Refugees
by Mimi Pollack
13-03-2022
The influx of refugees from Afghanistan has prompted different groups of San Diego women to band together to help the men, women and children fleeing the Taliban begin a new life in America.
Those helping include both individuals like Mary Danaher of Coronado and organizations like Welcome Home and Helping El Cajon Refugees.
Source: Times Of Sandiego
https://timesofsandiego.com/life/2022/03/12/san-diego-women-band-together-to-help-local-afghan-refugees/
-----
WSF President Wooldridge Lauds Iranian Women
March, 13, 2022
TEHRAN (Tasnim) – Zena Wooldridge, the president of the World Squash Federation (WSF), lauded the Iranian sportswomen.
"The world is changing and there's a lot we can do to influence that; and there are nations who are driving change in and through squash where we may not have expected," Wooldridge said.
Source: Tasnim News
https://www.tasnimnews.com/en/news/2022/03/13/2681156/wsf-president-wooldridge-lauds-iranian-women
-----
'O Allah, PM Modi and CM Yogi should not be afraid of anyone in the fight for our rights,' Muslim women pray in Meerut
OpIndia Staff
12 March, 2022
Muslim women in Meerut have prayed for Prime Minister Narendra Modi and Chief Minister Yogi Adityanath's long lives. Women have prayed for the Prime Minister, Chief Minister Yogi Adityanath, and their local MLA Dr. Somendra Tomar to have long lives and to be free of fear.
A video has come up in which it can be seen that these Muslim Women from Meerut while performing Namaz were praying for the wellness of their local MLA and Yogi Adityanath. This comes after Bharatiya Janata Party MLA Somendra Tomar won the election from the Meerut South seat for the second time in a row.
Source: Opindia
https://www.opindia.com/2022/03/muslim-women-in-meerut-pray-for-pm-modi-and-cm-yogi-adityanath/
-----
URL: https://www.newageislam.com/islam-women-feminism/saudi-pianist-musicians-baristas/d/126560
New Age Islam, Islam Online, Islamic Website, African Muslim News, Arab World News, South Asia News, Indian Muslim News, World Muslim News, Women in Islam, Islamic Feminism, Arab Women, Women In Arab, Islamophobia in America, Muslim Women in West, Islam Women and Feminism