New Age Islam News Bureau
27 Dec 2016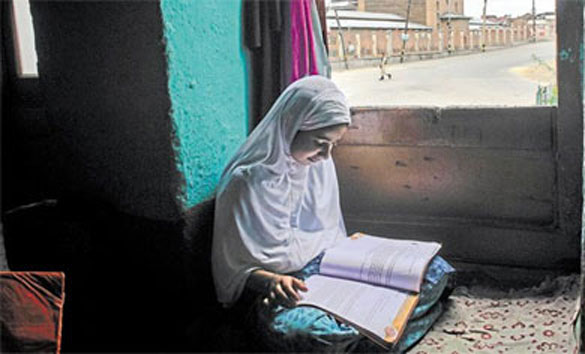 Despite a passionate espousal of the interests of Muslim women, neither the government nor its ideological allies have taken any steps towards more obvious ways of their empowerment such as education. (HT PHOTO)
--------
• A Study in Education: How India's Muslim Women are getting Into the Classroom
• "Keep Your Woman like a Good Muslim": An Indian Cricketer Is Being Trolled over His Wife's Dress
• Jewish, Muslim Women in Austin Join on Christmas Day for Charity, Friendship
• Female Bomber Attacks Market in Nigeria
• Bangladesh: 'Mother and Child May Have Been Slated For Suicide Attack'
• Hipsters in Hijabs: Inside the Multibillion-Dollar World of Muslim Fashion
• Saudi Women Show Love for Army Through Food Delivery
Compiled by New Age Islam News Bureau
URL: https://www.newageislam.com/islam,-women-and-feminism/new-age-islam-news-bureau/saudi--morality-police--arrest-women--filmed-drinking,-dancing-and-mixing-with-men--in-video-that-shocked-muslim-state/d/109510
--------
Saudi 'morality police' arrest women 'filmed drinking, dancing and mixing with men' in video that shocked Muslim state
December 27, 2016
Saudi 'morality police' have arrested several women alleged to be among those filmed drinking, dancing and 'mixing' with men in a video that has shocked the conservative Muslim state.
The revellers were held over a 'mixed' party in Jeddah, according to local media.
A clip from the party - which was posted on YouTube - shows a group of young men and women enjoying themselves on the terrace of a building, with music playing in the background.
The footage shows women dressed in Western-style clothes - with bottles and drinks seen nearby on a table which are alleged to be alcohol.
Saudi Arabia has strict rules governing the mixed socialization of unrelated men and women - as well as a total ban on the use and sale of alcohol.
Jeddah Police rallied a special task force to investigate the video after it went viral - led by Major-General Saeed Al-Qarni and supervised by Jeddah police chief Brigadier-General Abdulwahab Al-Asiri, according to local media.
The team are reported to have used imaging analysis to locate the address of the apparent get-together, which they identified using the Jeddah Flagpole seen in the background.
The Jeddah Flagpole is the highest flagpole in the world since its inauguration in 2014, rising 170 meters from the ground.
The chief suspect, a Jordanian, was arrested while allegedly trying to flee the country.
After being questioned by the police, he eventually admitted to organising the party, authorities say.
Afterwards, three female guests, a Lebanese woman and her friends, were questioned and admitted to being at the party, reported Almasar Online.
The case has been referred to the Bureau of Investigation and Prosecution, which may proceed to press charges, and work has begun to identify any other guests.
The accused potentially face a particularly harsh punishment.
Unlike some other Islamic countries, the rules apply equally to Muslims and non-believers.
In November 2015, a 74-year-old British grandfather, Karl Andree, was freed after spending a year in prison and being threatened with over 350 lashes after being caught with a homemade brew.
http://www.mirror.co.uk/news/world-news/saudi-morality-police-arrest-women-9519274
--------
A Study in Education: How India's Muslim Women are getting Into the Classroom *
Snigdha Poonam
Dec 16, 2016: Nine-year-old Rizwana Begum was at a 'cabinet meeting' on the morning of December 6. Last year, the fourth-standard student of Khatbinshai School in Cuttack was appointed 'welfare minister' of the student cabinet. She's been a vocal advocate of her fellow students' rights since.
Like most students at the government-run primary school, Rizwana comes from a low-income colony with a large population of Muslims. Forty-two of the school's 50 students are Muslims. Twelve of them are girls.
"It's a better ratio than the one we used to see six or seven years ago," says Rajashree Mahapatra, the principal, as she goes over the NOTEBOOK of Nazia Sanam, a first-standard student who looks anxious about the performance at the math assignment.
Read | Big data to cameras: How technology is empowering Muslim women
Mahapatra attributes this upswing in the number of Muslim girls to the execution of the Right to Education. She equally credits the dedicated efforts of local NGOs such as the Bharatiya Muslim Mahila Andolan (BMMA) in enabling the community to claim their rights under the act. The other reason some of the government schools have a larger proportion of Muslims and Dalits, according to Mahapatra and others, is that most children from poor caste Hindu families go to Saraswati Shishu Mandirs, a CHAIN of schools run by the RSS across the country.
Among other things, the BMMA works towards understanding and ameliorating the marginalization of Muslim community and Muslim women.
The Centre has been testing the waters to abolish triple talaq and establish a uniform civil code. While the BMMA backs a ban on triple talaq, the Muslim Personal Law Board is equally opposed to the government's moves. But despite a passionate espousal of the interests of Muslim women, neither the government nor its ideological allies have taken any steps towards more obvious ways of their empowerment such as education. The politics though, hasn't held back Muslims women from classrooms.
"The government is still holding on to the survey of Sachar Committee that came out with the data that 66.6% of Muslim women can read and write. They didn't ask the women what they can read and what they can write. If they had, most women would have said they can read the Quran and they can write some Urdu. The problem is that documents detailing their state entitlement happen to be in English or vernacular languages. So most Muslim women are left in the lurch," said Farhat Amin, the Orissa coordinator for the BMMA.
One of the principal ways in which the organization gets more Muslim girls in classrooms is by getting parents involved with the affairs at the schools. "Earlier," Amin said, "the schools used to be unwilling to elect Muslim and Dalit parents as members of the school monitoring committees by citing excuses, saying these people will not be able to speak at meetings, file applications. But they have been proven wrong."
Jugna Begum of Diwan Bazaar, another Muslim-majority locality in Cuttack, has been a member of a local school monitoring committee since 2007. She has also been an RTE activist for two years now. When the homemaker first decided to become involved with school enrolments, hers was the rare family in the area to send their daughter to high school.
"Currently most of their daughters are in high school or college. When I go home to home to persuade the parents to let their daughters continue studies, I tell them, 'the world is changing, you have to change with it," she said, pointing at a row of houses outside her WINDOW.
Her daughter, Sapna Begum, is now training to become a teacher. The 18-year-old's most prized possession is a computer her father, a butcher, gave her as a present on her last birthday. It's placed under a pink cover on a TABLE in a room she shares with her two siblings. "There is nothing I liked more than to study. I feel I am the luckiest girl in the world to be allowed that freedom."
In another house in Diwan Bazaar, Noorjahan Bibi, another RTE justice worker, tells me about the changes she's achieved as an education activist. "I have got schools to give kids better food as midday meal, arrange for carpets in the classrooms, fix the LIGHTS." The one she's proudest of is having pushed 12 children in her colony to go to school.
"If a man is educated, his family will be financially secure. If a woman is educated, she will make sure GENERATIONS of women who follow her in the family will also be educated," says 26-year-old Raheema AV, one of the eight young Muslim women selected by Delhi-based Zakat foundation for a fully-funded training for the civil services examination. Launched in 2007, the fellowship programme is meant to confront the glaring lack of Muslims in positions of state authority.
"There are 1100 seats in UPSC, so going by their numbers at least 170 Muslims should make it every year, but only 34 do on an average. No more than six are women," said Syed Zafar Mahmood, the foundation's president. Ten Muslim women have made it to the civil service over the eight years of the programme. It's been three months since Raheema travelled from Mallapuram in Tamil Nadu to Delhi with her husband. "I have already changed so much—my viewpoints, my personality, the way I look at the world."
Two things drove 24-year-old Fathima Nadackal from coastal Kerala to take the qualifying test for the fellowship. "Growing up, I saw every girl in the community get married the moment she was out of high school. I wanted to break the pattern by any means. I also wanted at least one girl in my town to say that she wanted to follow my path." Nadackal has seen to both already.
In 2014, Sana Akhtar from Baghpat in Uttar Pradesh was one of the two Zakat foundation fellows to make it to the civil service. I asked Akhtar, currently an IAS officer in West Bengal, what she considers her biggest achievement. "The idea is that anyone can do it. It's our own insecurity that holds us back."
hindustantimes.com/india-news/a-study-in-education-how-muslim-women-are-getting-into-the-classroom/story
--------
"Keep your woman like a good Muslim": An Indian cricketer is being trolled over his wife's dress
December 26, 2016
An Indian cricketer has been attacked on social media for not "keeping" his wife adequately dressed.
On Dec. 23, fast bowler Mohammed Shami posted a picture on Facebook of himself with his wife Hasin Jahan. The couple is formally-dressed in the photograph, with Jahan wearing a maroon gown. Over the last two days, the post has received some rather vile comments from fanatics who believe Shami is breaking the Islamic code of conduct by "allowing" his wife to wear a sleeveless outfit.
Some Facebook users questioned if Shami has forgotten how "wives should be kept." Some others told him to keep his wife under a veil.
Shami, who hails from Uttar Pradesh, is among India's leading fast bowlers. He has been away from international cricket in 2016 due to an injury. Jahan is a former model who gave up her career after marrying the cricketer in 2014.
This is not the first time an Indian Muslim sports star has been targeted by fanatics. In 2005, tennis player Sania Mirza received a fatwa from a Muslim cleric for playing in a dress that did not cover her from head to toe.
After the Facebook attack, Shami received support from several journalists and cricketers.
The fast bowler, however, appears to be unperturbed by the noise. On Dec. 25, he tweeted some more images of his family.
And today (Dec. 26) morning, Shami got back at the trolls saying he knows what he needs to do with his family and others must mind their own business.
http://qz.com/872330/keep-your-woman-like-a-good-muslim-an-indian-cricketer-mohammed-shami-is-being-trolled-over-his-wifes-dress/
--------
Jewish, Muslim Women in Austin Join on Christmas Day for Charity, Friendship
December 26, 2016
AUSTIN, Texas -- Jewish and Muslim women in Austin united on Christmas around charity work.
Austin's Chapter of the Sisterhood of Salaam Shalom gathered on the Christian holiday to put together hygiene kits for refugee women.
Organizers say charity is central to both Islam and Judaism and Christmas seemed like a good day to come together and do some good for the world.
"The opportunity for us to come together is more than just about charity, it's also an opportunity for us to connect together as sisters, as families, as communities," said Yasmin, one of the organizers.
The kits will be given to Circle of Health International, an Austin non-profit organization that will deliver them directly to refugee women in crisis zones across the world.
http://www.twcnews.com/tx/austin/news/2016/12/26/jewish--muslim-women-join-on-christmas-day-for-charity--friendship.html
--------
Female bomber attacks market in Nigeria
December 27, 2016
MAIDUGURI, Nigeria : A suicide bomber attacked a cattle market on Monday in Maiduguri in northeastern Nigeria, the city worst hit in the seven-year insurgency waged by militant group Boko Haram.
The police said the female bomber, who struck the Kasuwan Shanu market in the central district of Kasuwa, was the only person killed in the blast at about 08:40 a.m. (0740 GMT).
In a statement, police said a second woman who had a bomb was "lynched by an irate mob in the vicinity". Security forces later detonated her device.
Nobody has claimed responsibility for the attack but it bears the hallmarks of Boko Haram and comes days after President Muhammadu Buhari said the militant group's key camp in its last remaining enclave had fallen.
Buhari said the fall of the camp in the group's Sambisa forest base after an offensive by Nigeria's army in the former colonial game reserve marked the "final crushing of Boko Haram".
Despite having been pushed back to the forest by the army in recent months, the group still stages bombings in the northeast and in neighbouring Niger and Cameroon. A suspected Boko Haram suicide bomber killed two people in Cameroon on Sunday.
The militant group has killed 15,000 people and displaced more than two million during a seven-year insurgency to create an Islamic state governed by a harsh interpretation of sharia law in the northeast of Africa's most populous nation.
http://nation.com.pk/international/27-Dec-2016/female-bomber-attacks-market-in-nigeria
--------
Bangladesh: 'Mother and Child May Have Been Slated For Suicide Attack'
Kamrul HasanMahadi Al Hasnat Arifur Rahman Rabbi
December 26, 2016
The group was planning to carry out large-scale suicide attacks in the near future
Police claimed that New JMB leader Musa and his accomplices were planning to carry out large-scale terrorist attack, possibly during the upcoming holidays when the city is going to see huge gatherings.
"We are suspecting that the militants had a plan to use Shakira – who killed herself in a suicide blast on Saturday during the Ashkona raid – for suicide attack at any gathering at anywhere," said police's Counter Terrorism and Transnational Crime Unit chief Monirul Islam after visiting the spot yesterday evening.
In reply to a question, he said: "After analysing our previous intelligence report and observing the activities of the militants at Ashkona den, we are suspecting that the group was planning to carry out large-scale suicide attacks in the near future."
Terming the surrender of militants in Ashkona a "major success", he said: "The documents we seized from Ashkona den indicate that the militants used the house as their office."
The CTTC chief said they had disposed 19 bombs at the den till yesterday; two on Saturday evening which remained unexploded in the suicide vest, and 17 yesterday. Among the 17 bombs 10 were found attached to two suicide vests lying on the floor. Seven grenades found in the den had also been defused.
Police also recovered three pistols with two magazines. Among them one was recovered from the militants who surrendered and the other two were recovered from the den.
Of the two 9mm pistols, one was found at the hand of Tanvir Qadri's son, said the CTTC Chief.
Monirul said they had found burnt money, a laptop and mobile phones from the flat. According to the captured militants, the amount was worth Tk12 lakh. "We are trying to find the source of the money."
Monir said the militants killed in the drive were – Shakira, 25, and Tanvir Qadri's son Ador.
"Ador's body has been taken to DMCH morgue for autopsy from the den."
The injured girl who is undergoing treatment in DMCH was daughter of one Iqbal, who died from cancer, and militant Shakira. After her husband's death, Shakira married Sumon who led her into militancy, he added.
He also said Musa was supposed to marry Maj (rtd) Murad's wife Jebunnahar. Besides, Shakira was supposed marry another militant as his current husband Sumon was missing for one and a half month.
From school teacher to top tier New JMB leader
Mainul Islam alias Musa who had rented the Ashkona flat under the name Imtiaz Ahmed was a school teacher.
"After busting the den, we learnt that Musa was planning to carry out a large-scale attack, and had stored a haul of ammunitions and explosives," said Monirul.
"Musa, an ex-student of Dhaka College, joined the old JMB in Rajshahi, and later joined New JMB before the Holy Artisan attack."
Asked about his position in the group and involvement in the Holey attack, he said he became one of the top leaders after the death of Tamim Chowdhury and Maj Murad.
A CTTC official seeking anonymity said unlike others, Musa took a very short time to reach the top tier. While a school teacher at an Uttara school, Musa met Maj Murad through Tanvir Qadri, and engaged in the outfit's activities within the shortest time.
"Musa was involved in the planning phase of Gulshan attack."
Monirul said they had little information about Musa earlier, but after arresting three female militants from Azimpur they became well-informed about him.
The Qadri family and Musa family often visited Jahid's home in Uttara, he said, adding that they started searching for Musa after receiving information from the Azimpur arrestees.
The CTTC Chief said after the Azimpur raid they had learnt that Ador went for so-called Hizrat with Musa.
https://www.dhakatribune.com/bangladesh/crime/2016/12/26/mother-child-may-slated-suicide-attack/
--------
Hipsters In Hijabs: Inside The Multibillion-Dollar World Of Muslim Fashion
December 27, 2016
The Qur'an, Islam's most holy text, advises women to "dress modestly and draw their veils over their bodies". Combining these religiously inspired guidelines with fashion-forward creativity, designers from Southeast Asia, particularly Indonesia and Malaysia, are beginning to make their mark on the fast-growing global market for Islamic fashion.
One of the most successful is Jakartan designer Anniesa Hasibuan, who made history during September's New York Fashion Week (NYFW), one of the most important fixtures in the fashion calendar, when she became the first Indonesian to show at one of the event's official venues.
Equally groundbreaking was the Islamic thread running through her collection, providing another first in the history of NYFW: all outfits in the collection were paired with a hijab.
Hasibuan's D'Jakarta collection was reportedly inspired by her love for the diverse vibrancy of her home city. Featuring modest, yet intricately designed, gowns and tunics, the showcase earned the designer a rapturous standing ovation. Notable fashion publications including Elle and Teen Vogue heaped praise on the designer in the aftermath.
Globally, the already significant demand for Islamic clothing is rising. According to Thomson Reuters' State of the Global Islamic Economy Report 2015-2016, revenues generated by purchases of modest clothing by Muslim women in 2015 were estimated at $44 billion. The same report predicts that by 2021, overall Muslim spending on clothing will reach $368 billion. As the report states: "The clothing may be modest; its success is anything but."
Beyond the critical acclaim and international catwalks, some Southeast Asian designers have achieved commercial success by tapping into this demand – in particular by meeting the needs of local markets.
Hanni Haerani, head of public relations at Indonesia's Islamic Fashion Institute, said that the Muslim-majority nation of more than 250 million people was particularly ripe for Islamic attire. "In comparison with other Asian countries, Indonesia has a huge market for Muslim fashion," she said.
Indonesian consumers spent approximately $13.3 billion on modest clothing in 2015, with data from the ministry of industry showing that about 80% of the clothing produced in the country was sold domestically. Consequently, Indonesia is a small player when it comes to global Islamic fashion, exporting $4.57 billion worth of the products in 2015. However, it is expected that overall exports for 2016 will increase, and the government – perhaps ambitiously – wants to turn the country into a global Islamic fashion hub by 2020.
Indonesia's closest regional competitor is, naturally, Southeast Asia's other Muslim-majority nation: Malaysia. Nurul Zulkifli, co-founder of Malaysian fashion house Mimpikita and self-described "style icon", said stylish Islamic fashion was on the rise in her country. "There has been great success for brands catering to modest wear," she said.
One of the best examples of Malaysian success is Naelofar Hijab, a family-owned powerhouse of Islamic fashion that produces headscarves in varying colours, styles and materials. Last year, the company reported record revenue of $11.8m, which accounted for domestic and foreign sales in major foreign markets such as Singapore, Brunei, the UK and the US.
Religious conservatism has been in ascendance in Southeast Asia's Islamic countries for decades, contributing to a warmer embrace of modest attire. Kate McGregor, a historian and Indonesia specialist at the University of Melbourne, is among the scholars to note a "rise of many conservative versions of Islam" in Indonesia. Nurul added that in Malaysia "people tend to wear clothes that are more covered up, more modest [than in the past]. They are more aware."
Alia Khan, chairman of the Dubai-based Islamic Fashion and Design Council, which aims to promote the modest fashion industry, concurred that religion plays an important role in the industry. She said there were a number of differences between consumers of Muslim fashion and consumers of mainstream fashion.
"They [Muslim fashion consumers] made their choice first and foremost for their creator. That is their entire reason for being the way they are. There are lots of extra factors that go into dressing up for us that don't affect the mainstream fashion consumer. Having said that, they do love to look beautiful, elegant, hip, cool, whatever," she said.
However, she argued that demand for Islamic fashion "is not a new thing", attributing increased spending instead to the proliferation of online shopping and social media.
"Nowadays, it is not unheard of for someone to create a nice ensemble or a clever, hip look that still stays compliant with their Islamic parameters. They'll take a selfie and post it and then let the admirers and appreciators come forth and hit the 'like' button. They will talk about it and give you shout outs. They will get excited and before you know it, your brand will be going viral," she said. "Awareness [of Islamic fashion] has become more profound and increased over time because of social media; people are seeing an opportunity and you now have more businesses catering to this thing. Spending is increasing, but that is because our options are increasing."
Nadya Karina, Istafiana Candarini and Afina Candarini, the Indonesian founders of Kami Idea, a successful brand also tapping into overseas markets in Malaysia, Singapore and Brunei, attributed the increased spending to the internet – specifically, the online presence of 'hijabista' culture. 'Hijabista' is of course a portmanteau of 'hijab' and 'fashionista', and is a term often used to describe trendy millennials striving for style within the parameters of Islam.
"In Indonesia, there was a group of hijabi that launched their [online] community in 2010, that included bloggers, fashionistas, socialites, designers and other young, influential hijabis," wrote the Kami Idea founders in a joint email. "Whatever they did or wore became an inspiration for other hijabi. Of course the trend spread really fast because of the internet."
A model treads the catwalk in a Kami Idea design
High fashion: a model treads the catwalk in a Kami Idea design
According to the aforementioned Global Islamic Economy Report, millennials in Indonesia have the most online engagement with modest fashion in the world, followed by Malaysia. To reach this conclusion, the report tracked worldwide Facebook interactions during a three-week period from 27 July to 17 August 2016. Islamic fashion brands are aware of this enormous online presence and, as such, make extensive use of social media marketing. Prolific designers can amass huge fan bases. Noor Neelofa Mohd Noor, the face of Naelofar Hijab, has 3.8 million Instagram followers and a further 1.69 million on Twitter. The founders of Kami Idea stressed that online marketing is central to their sales strategy. "What we love about marketing through social media is that we can engage directly with our customers," they wrote.
Offline marketing remains critical, however, and large shows such as Asia Islamic Fashion Week, Jakarta Fashion Week and Indonesia Muslim Fashion Week contribute to the Southeast Asian sector's continuing success. "In the fashion events here, there has been great focus on brands that cater to modest wear," Nurul said. As well as raising the public profile of Islamic fashion, Khan said that such events provide "creative inspiration" to designers, encouraging them to innovate further.
Unsurprisingly, the growth of the global Islamic fashion industry has caught the attention of mainstream fashion brands, with high-fashion labels such as Dolce and Gabbana, Prada and Tommy Hilfiger, as well as high-street apparel makers Zara and Uniqlo, among those proactively chasing a share of the market.
The effect of this on Southeast Asia's producers is unclear. Khan argued that much media coverage of the Islamic fashion industry has failed to paint "the complete picture" by presenting these typically non-modest brands as a menace to the industry. "We have deep regard and respect for them. They are not necessarily competition but someone to learn from and take example from," she said. "So far, the competition isn't quite there. It is still a nascent industry in that sense. It is still in the very humble stage of development. There is a lot of innocence and humility."
However, some Southeast Asian brands are concerned about the potential for giants of the mainstream fashion industry to drive down prices in what Nurul described as a price war. "One of the biggest challenges here is keeping up with the pace of other brands. They produce mostly for the masses and are very fast at producing their fashion. They are offering very low prices," she said, with particular reference to Uniqlo.
For the foreseeable future, it appears that Zara and its ilk will continue to tap into the modest fashion market in Southeast Asia and elsewhere. Khan expects to see Islamic brands undergo a "natural process of growth" that includes increased brand recognition. "Within Islamic fashion, we will see our own Armani, Dior, Chanel, but for now we don't know who those names are going to be," she said.
http://sea-globe.com/islamic-fashion/
--------
Saudi women show love for army through food delivery
27 December 2016
Women in Saudi Arabia prepared lunch and gave away gifts to Saudi soldiers in order to raise their morale and to express gratitude for fighting at the borders.
These individual initiatives have come in for praise on social media with photos showing a female school principal and teachers in Najran serving lunch, comprising traditional Saudi dishes, and serving them to soldiers deployed on the southern front.
Also read: How Saudi forces thwart Houthi infiltrators
This was their way of thanking them for the sacrifice these soldiers make for the sake of country's security. Female teachers at an elementary school in Turaif also provided meals to soldiers as a gesture of gratitude for helping the country remain secure.
In similar initiatives, female students at the First Baish High School in Jazan also gave away gifts to soldiers stationed on the borders.
https://english.alarabiya.net/en/variety/2016/12/27/Saudi-women-show-love-for-army-through-food-delivery.html
--------
URL: https://www.newageislam.com/islam,-women-and-feminism/new-age-islam-news-bureau/saudi--morality-police--arrest-women--filmed-drinking,-dancing-and-mixing-with-men--in-video-that-shocked-muslim-state/d/109510
New Age Islam, Islam Online, Islamic Website, African Muslim News, Arab World News, South Asia News, Indian Muslim News, World Muslim News, Womens in Islam, Islamic Feminism, Arab Women, Womens In Arab, Islamphobia in America, Muslim Women in West, Islam Women and Feminism, Moderate Islam, Moderate Muslims, Progressive Islam, Progressive Muslims, Liberal Islam