New Age Islam News Bureau
22 Dec 2017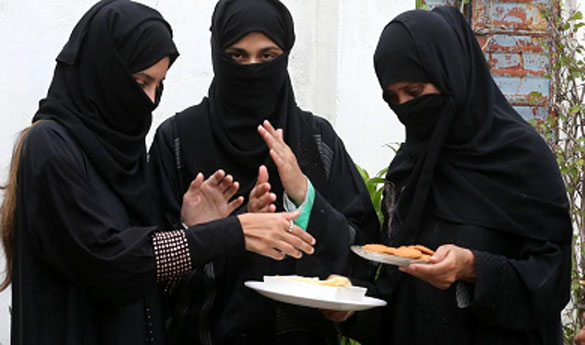 • Saudi Beauty Queen Is Forced To Drop Out Of Miss Arab World Pageant after Intense Online Backlash from People in the Ultra-Conservative Kingdom
• Arab MK Backs Arab Women Filmed Kicking IDF Soldiers
• Saudi Women to Work in Mining Industry
• Farida Jalal's Short Film Which Expose Gender Bias in Islam Is Going Place
• Indonesia Losing Only Female Top Justice Amid Gender Rights Worries
Compiled by New Age Islam News Bureau
URL: https://www.newageislam.com/islam-women-feminism/saudi-judge-kicks-female-lawyer/d/113662
-------------
Saudi Judge Kicks Female Lawyer Out Because Her Face Wasn't Covered
Fatimah Mazhar
A judge was reportedly angered by the fact that the lawyer was working without the "niqab" - a traditional face veil for Muslim women. He called security on her.
For at least one judge in Saudi Arabia, a woman's qualifications were not enough for her to work as a lawyer at a public court house.
A female lawyer in Riyadh was reportedly kicked out of a courthouse after one of her superiors was angered by the fact that she was not wearing the "niqab" - a tradition face veil for Muslim women.
The case went viral after it was highlighted on Saudi channel MBC's show Ma'ali Al Mowaten.
Abdul Rahman Al Lahem, a lawyer who hired the Saudi woman as an intern at his firm, revealed the details of the incident.
"During a session at Riyadh's public court house, we were all sitting in an office, working on filing routine reports, when a judge walked in and saw us. Angered by the fact that my colleague wasn't wearing a face veil, something he believes is haram (unacceptable) in Islam, he called security and police authorities on her. They then arrived and forcefully removed her from the building," Al Lahem said, according to StepFeed media website.
Al Lahem also remarked the judge simply booted the female intern, not because he disapproved of her work, but because of his personal beliefs.
The MBC episode quickly drew the attention of authorities. Sheikh Abdul Rahman Al Qassem, assistant deputy minister of Saudi Arabia's authority for Judicial Affairs, said in a statement the case wasn't as simple as Al Lahem portrayed it.
Al Qassem said the "young lawyer didn't have the correct ID documents to enter the building she was in. This, along with a few other things, led security officers to escort her out of the building."
Meanwhile, the woman, in question, has reportedly filed a lawsuit and her case is further being investigated.
Saudi Arabia, an ultraconservative Islamic country, has a notoriously clear set of rules regarding the type of clothes that should be worn for all genders. Men must wear full-length pants and shirts. Men are not allowed to don "unislamic hairstyles" such as mohawks, and mustn't sport any kind of jewelry except for a ring and wrist watch. Women are required to wear headscarves and loose fitting black gowns and the face veil is not mandatory.
carbonated.tv/news/saudi-court-kicks-female-lawyer-face-veil-niqab
-------
Saudi beauty queen is forced to drop out of Miss Arab World pageant after intense online backlash from people in the ultra-conservative kingdom
22 December 2017
A beauty queen from Saudi Arabia has been forced to pull out of the Miss Arab World contest after a barrage of online abuse from her own countrymen.
Miss Saudi Arabia MalakYoussef, announced she was dropping out hours before the crowning ceremony after an online backlash accusing her of misrepresenting her conservative Muslim country by taking part.
The 24-year-old has since hit back at internet trolls who wrecked her chances of the title, in a video viewed more than 250,00 times.
Miss Youssef said: 'If the Saudi people knew me better then they wouldn't have insulted me the way they did.'
'I was very happy for the Saudi people, I was saying how the Saudi people will all support me and say that I am the nation's daughter. However, you mistreated me in a way that I swear to God does not please God nor anyone!'
Some Saudi social media users heaped scorn on Youssef for going against the country's tradition and religious values.
'We are ready to stand by your side but not when you are bringing shame to us and to the women of Saudi Arabia with your indecencies and your choice of entering a stupid competition like this one. God forgive my parents and yours,' said one.
Pushed out: Miss Youssef announced she was dropping out of the Miss Arab World beauty pageant hours before the crowning ceremony
Another stormed: 'She should be held accountable over this, along with the organization who gave her this title. How can they crown a beauty queen to represent the kingdom when no one in the country even knows anything about it?'
She was also targeted for vile personal abuse for taking part. 'Every low life now represents us,' said one on Twitter.
Youssef would have been only the second Saudi woman to participate in the Miss Arab World pageant, held in Morocco last weekend.
The last Saudi contestant won the title in 2009. Despite claims by Saudi Arabia's crown prince that he wants to modernise and return to 'moderate Islam', women in the ultra-conservative country are expected to wear an abaya, a robe that covers their body, in public, and will only be allowed to drive next June.
Beauty pageants are almost unheard of in Saudi Arabia. In 2014, the female organisers of a four-day pageant in Mecca were investigated by the Commission for the Prevention of Vice and Promotion of Virtue in Saudi Arabia, which banned the contest.
Youssef was nominated a by Saudi civil society organisation to participate in the pageant.
However, some commentators defended her decision to try for the crown. One said: 'Beauty pageant aren't only about physical appearance. There are other things jury members often take into consideration, like intellect and personality.
'She was nominated because she deserves it; to bully her and make fund of how she looks is simply unacceptable.'
The beauty competition saw candidates from Algeria, Bahrain, the United Arab Emirates, Morocco and Sudan.
dailymail.co.uk/news/article-5202439/Saudi-beauty-queen-forced-drop-Miss-Arab-World.html#ixzz51zHzkaRd
-------
Arab MK backs Arab women filmed kicking IDF soldiers
Contact Editor Tzvi Lev, 21/12/17 20:48
Ayman Odeh shows up to military court to support Arab women filmed kicking soldiers. 'Struggle won't end until occupation ends.'
NarimanTamimi, 43, and NourNajiTamimi, 21 appeared in an Israeli military court Thursday after a viral video showed them and their sister Ahed kicking and slapping soldiers in Judea and Samaria.
Showing up to greet them was MK Ayman Odeh, who heads the predominantly Arab Joint List party.
Odeh said that he had attended the Tamimis arraignment at the IDF's Ofer Prison to support the women, whom he described as 'freedom fighters'. Odeh was greeted warmly by the girls' family and posed for selfies with admirers.
"I'm with the Tamimi's from Nabi Saleh. I was told that 'the struggle is a way of life, for our children and for the older ones among us, who will not stop until the end of the occupation" tweeted Odeh.
Odeh has a history of controversial actions. In October Odeh spoke with Hamas leader Ismail Haniyeh and congratulated him on the efforts to reach a reconciliation agreement between the PA and Hamas, which led MK Oren Hazan (Likud) to call him a "terrorist in a suit".
The Tamimi's were detained in a case that has set Israeli and Arab social media alight.
The video filmed in the village of Nabi Saleh shows Nour and her cousin AhedTamimi, 17, approaching two Israeli soldiers, before shoving, kicking and slapping them while filming on mobile phones.
The soldiers did not respond in the face of what appears to be an attempt to provoke rather than seriously harm them. The Tamimi family has been known to harass soldiers in a similar fashion in the past, but no action has been taken to arrest any of them until now.
israelnationalnews.com/News/News.aspx/239649
-------
Saudi women to work in mining industry
NADA HAMEED | Published — Friday 22 December 2017
Madinah Gov. Prince Faisal bin Salman, left, is being briefed about the center by Yahya Al-Shangiti, vice president of the gold sector at Saudi Arabian Mining Co., right, in Madinah on Tuesday.
Saudi women shine at Arab Women of the Year awards in London
JEDDAH: The Maaden Mining Co. on Tuesday announced a partnership agreement with Al-Faisaliya Women's Welfare Society to establish a new women's training program to develop the mining skills of Saudi women.
The program was one of Maaden's social initiatives, which cost SR20 million ($5.33 million).
Al-Faisaliya Women's Welfare Society contributes to the development of the local community by providing social, health, cultural and educational services.
Maaden, in cooperation with the Saudi government through the Ministry of Energy, Industry and Mineral Resources, is seeking to achieve its vision of leading the mineral industry to become the third pillar of industry after oil and petrochemicals in the Kingdom.
Maaden's partners are SABIC, Alcoa, the Mosaic Co., Barrick Gold Corp. and Sahara Petrochemicals Co.
Maaden established a cultural center launched by Madinah Gov. Prince Faisal bin Salman on Dec. 19 at Mahd Ad-Dhahab, which is the leading gold mining area in the Arabian Peninsula. It is located in Al-Madinah province, in the Hejazi region of Saudi Arabia.
The vice president of the gold sector at the Saudi Arabian Mining Co., Yahya Al-Shangiti, said that the company fosters other initiatives for people of the province in many other sectors.
Al-Shangiti told Arab News about establishing and marketing the emerging projects for women in the mining sector.
"Maaden's role was mainly in building and equipping the cultural center in addition to funding part of the women's training program," he said. "An agreement was signed with Namaa Al-Munawwarah Charity for the operations. They are now working on a women's jewelry training program to train them in goldsmith skills in Madinah."
Namaa Al-Munawwarah was established as a non-profit organization to provide support to small and medium enterprises.
The mining industry is known to be male dominated, but there is a chance to give Saudi women qualifications to work in the field.
Al-Shangiti said: "The work in the mines is very hard. Where we work underground is 400 meters deep, and globally the number of women in this field is limited."
He added: "It is possible for women to occupy administrative positions in mining rather than working as a miner in the future."
arabnews.com/node/1212766/saudi-arabia
-------
Farida Jalal's Short film which expose gender bias in Islam is going place
Friday, 22 December 2017
Veteran actress Farida Jalal's short film Mehram will be screened in the US and Egypt. It will be screened at CAM International Film Festival, Egypt, on December 26 and at the DFW south Asian Film Festival, Dallas, in February 2018.
Under Saudi Arabian laws, women without a 'Mehram' (a male blood relative) are forbidden to perform the Hajj, the annual pilgrimage to Mecca.
Mehram is the story of Aamna (played by Farida), who decides to stand up to the patriarchal system to claim her right to perform the Hajj.
Written and directed by Zain Anwar, the short film is co-produced by Vishakha Singh and Gaurav Bharadwaj.</p>
Bhardwaj said in a statement: "It feels great when your ideas turn into reality and even better when it gets appreciated. After discussing its script with Zain, we instantaneously decided to begin our journey.
Mehram is an effort to start discussions around the discriminating laws of Hajj against women while also pointing at various religions and cultures where gender inequality is accepted as a tradition.
Though we were mentally prepared to face both appreciation and criticism, we have only got appreciation and acclaim so far and after winning two awards (in Indian festivals) Mehram is now ready to be screened in Egypt, US and many other countries," he added.
The short film, which features RajitKapur and Sushma Seth, won the Best Film Award at Delhi International Film Festival and the Best Music Award at Mumbai Shorts International Film Festival.
english.manoramaonline.com/women/empowerment/2017/12/21/farida-jalal-gender-bias-haj-islam.html
-------
Indonesia losing only female top justice amid gender rights worries
By PMC Editor - December 22, 2017 030
Constitutional judge Maria Farida Indrati returning to academic life ... "women don't like to be seen as argumentative or to debate." Image: Dimas Ardian/Jakarta Post
Indonesia is set to lose its first and only female constitutional justice, whose term is up next year, potentially dealing a blow to women's rights in a country where they're being challenged in the face of growing religious conservatism.
Maria Farida Indrati will end her second and final term in about eight months, leaving the nine-member board of justices entirely male on one of the two highest courts in the country — where cases on discrimination, domestic violence, early-age marriage and female political participation continually arise.
The constitutional court differs from the supreme court, where the top judges are all male and which determines final appeal in legal matters not deemed to be constitutional.
"The point of view I bring to the table is different from what my male colleagues present," the 68-year-old judge said in an interview.
It's not a certainty that Indrati's replacement, who likely will be chosen by President Joko Widodo from a list of three candidates picked by a committee, will be male.
While her successor won't be known for several months or even until after her departure, Indrati said there are several qualified women to consider. She herself was chosen by former President SusiloBambangYudhoyono in 2008 after decades of lecturing in law at the University of Indonesia and assisting lawmakers in drafting legislation.
In Indonesia, female law students prefer a career outside the courtroom rather than in it because "women don't like to be seen as argumentative or to debate," said Indrati, who plans to return to teaching full time when her term finishes. Quotas aren't the solution to increasing women's participation in public life, including on the bench, she said.
'Be unafraid'
"It is important that women take this role and be unafraid to take this role," said the judge, who suffered from polio as a child and walks with a limp.
Although when she was young she aspired to be a piano teacher, Indrati listened to the advice of her father, a journalist and former teacher who had wanted to complete his unfinished law degree.
He encouraged his daughter to study to become a law professor instead, according to her official biography.
When the constitutional court in 2015 declined a judicial review to raise the decades-old minimum legal marital age for women from currently 16 years old to 18, Indrati was the only justice with a dissenting opinion.
Raising the marriage age to 18 would allow girls more of a chance to secure their futures, Indrati said. The challenge was brought by a group promoting women's health. Activists are again appealing, seeking to have the case heard again.
Last week, Indrati cast a decisive vote in the court's decision rejecting by 5-4 a petition by conservative academics seeking to deem extramarital and gay sex as crimes punishable by prison terms.
She has also ruled in favour of other gender and minority-related cases such as pornography and blasphemy.
More difficulties
"It's not always the case where the existence of a female justice means the law will take the side of women," said Indri Suparno, a commissioner at the National Commission on Violence Against Women. "But the absence will give more difficulties to women to become more progressive."
Southeast Asia's biggest economy is considered a model of moderate Islam.
The president, known as Jokowi, has put more women into senior roles compared with other Muslim-majority countries — a record nine of 34 cabinet ministers, the most among the world's most populous countries.
High profile officials include Finance Minister Sri MulyaniIndrawati, Foreign Minister RetnoMarsudi — a first in the country's history — and Maritime and Fisheries Minister Susi Pudjiastuti. RosmayaHadi became Bank Indonesia's only female deputy governor this year.
The country also imposes gender quotas for political party candidates put forward for public office.
In 2016, Jokowi launched the first nationwide survey on violence against women and children. However, he's been silent on calls from human rights groups to end virginity tests for women applying to the military and the police.
Polygamy app
Worries over women's rights have increased as attempts to hamper equality have been made more openly. A Tinder-like app, AyoPoligami, or Let's Do Polygamy, and a seminar called "The Quickest Way of Getting Four Wives" have sparked controversy.
Indonesia allows Muslim men to take up to four wives if granted by a court and approved by the first wife.
Some 26 out of 153 countries have women as chief justices, or 17 percent, according to a World Bank report in 2016 called "Women, Business and The Law."
Outside court
It's possible that the challenge to the law legalising the age of marriage at 16 may be heard again while Indrati is still on the bench.
Campaigners for women's rights say that women who marry young will miss out on what's being called a demographic bonus by 2030 — when the numbers of working-age people are greater than the numbers of elderly — by not being able to further their educations and embark on careers.
The government wants to improve its professional workforce, but allowing women to marry at 16 means they likely will have to stay home and raise families instead of being able to participate, said ZumrotinSusilo, chairwoman of the Women's Health Foundation, who was involved in the first appeal of the marriage law.
A Central Statistics Agency census in 2010 found 6.7 million out of 78 million women age 15 to 64 hold a bachelor's degree, or 8.5 percent. About 500,000 women have postgraduate degrees.
"Women have to fight for the presence of female justices and build strong communications and perspective at the constitutional court," said Suparno of the women commission.
asiapacificreport.nz/2017/12/22/indonesia-losing-only-female-top-justice-amid-gender-rights-worries/
URL: https://www.newageislam.com/islam-women-feminism/saudi-judge-kicks-female-lawyer/d/113662