New Age Islam News Bureau
3 March 2013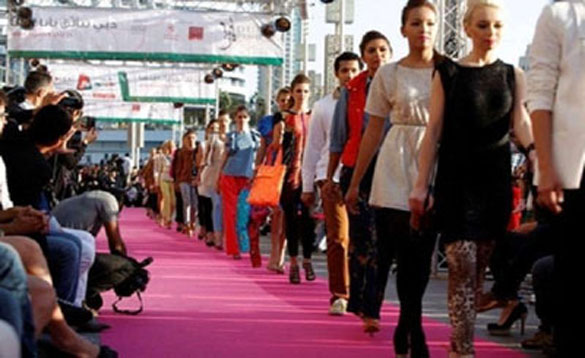 • Teens Taken Back To School in Dubai, Being Offered Modelling Courses
• Indian Women Use Smart Phones To 'Pin the Creeps'
• Violating Women's Dignity Is Not New: Study By King Saud University Professor
• Saudi Female Divers Fear No Challenges
• Modern Women 'Piling On The Pounds Due To Lack Of Household Chores': Study
• Afghan Graffiti Artist Makes Her Mark In India
• In Afghanistan Women Fleeing Violence Face Jail Terms
• Saudi CPC Holding Encourages the Hiring Of Female Students
• Iran Reportedly Has "The Highest Rate of Nose Surgery in the World"
• Eastern Province Of Saudi Kingdom Has Highest Number of Breast Cancer Cases
• Counterfeit Cosmetics Causing Skin Cancer among Women: Saudi Dermatologists
• Women leaders to gather in Dubai for Global Conference
• Iran Women Volleyball Team Takes 8 Upward Steps In FIVB Ranking
Compiled by New Age Islam News Bureau
Photo: Teens Taken Back To School in Dubai, Being Offered Modelling Courses
URL: https://newageislam.com/islam-women-feminism/saudi-grand-mufti-luring-women/d/10623
----------------
Saudi Grand Mufti: Luring Women To Incite Resistance Is Unlawful
March 03, 2013
JEDDAH — Sheikh Abdul Aziz Al-Alsheikh, the Kingdom's Grand Mufti, called on Muslims within their societies to protect the trust and stand shoulder to shoulder as a united entity against outside influences.
In a sermon at Imam Turki Bin Abdullah Mosque in Riyadh, the Grand Mufti said, "We must learn lessons from those around us. We should be a Muslim society. Luring women and the feeble minded to incite resistance against the lawful authority is wrong and violates the Shariah and the principles of faith."
He added, "The nation of Islam is a trust on all. It should be protected. We should not provide cover-up to criminals and close our eyes to evildoers. We should be a strong barrier against anyone who wants to disturb our security. We are all responsible for that."
The mufti stressed that blowing up oneself in "acts of martyrdom," blasts, crimes and taking people's lives is doing evil on the earth. "These people have blown themselves up. They have committed suicide after they were enticed and brainwashed. A person who blows himself up and kills others has committed a crime and it is a great evil that is not justified."
He said the Holy Qur'an and the Prophet's teachings call upon Muslims not to take their own lives.
He added that killing oneself in this way is a crime, which was not known to people before. These new methods have come from the enemies of Islam, as it is they who manufacture the explosives. In some places, thousands of human beings are being killed. "This is a crime that we cannot accept. It is a serious crime and an evil. There is nothing good in these blasts. They are an evil crime. We cannot approve them," he said.
Asked about the Arab Spring revolutions, the Grand Mufti said, "This is not a spring, but a suffering, ordeal and incitement. Honor was violated, bloodshed was carried out and properties destroyed. Till now they are suffering. They escaped from injustice and fell into what is worse. There is no good in resistance to lawful authority; countries are destroyed, the nation is displaced and people fall into a terrifying ordeal," he concluded.
http://www.saudigazette.com.sa/index.cfm?method=home.regcon&contentid=20130303155213
-------------
Teens Taken Back To School in Dubai, Being Offered Modelling Courses
02 March 2013
Teenagers in the UAE are being taken back to school and taught some table manners. Now being offered up are modeling courses at the Dubai-based agency Bareface, reported a local newspaper.
"Body odor and bad breath are no-nos that can lose you jobs, "Alessandra Cardoso, a teacher at Bareface, told The National.
"I make a point of telling my students that having excellent personal hygiene, being waxed and smelling great are vital in this business. I educate them about nutrition, too, as I can't have models who are starving. There must be life in their eyes," she added.
Brazilian-born Cardoso, who modeled for 12 years, told the newspaper students learn all what they need to know how to become "professional" models.
"Teenagers can often feel inadequate and there are plenty of misconceptions out there," she says.
"Yes, it's true that some agencies prefer really skinny models because the camera can add pounds - but many European agencies are now enforcing minimum percentage of body fat. I teach students that 'plus-size' and 'petite markets' are also big business - so it's not all about size zero."
As a trainer, Cardoso puts a lot effort into getting her students to overcome what she described as "harmful" stereotypes about modeling in media.
The newly launched classes have targeted male students too.
"The training was really great and I now know how to groom myself and pose correctly," Vimal Vijayan, a 27-year-old Indian entrepreneur living in Dubai told the newspaper.
Bareface is considered to be the largest and most respected model and talent agency in the Middle East. The agency manages regional and international models, talent, and entertainment across fashion, advertising, events, film and TV. A twelve-week modeling course at the academy costs 5,000 AED ($1,361).
http://english.alarabiya.net/articles/2013/03/02/269242.html
-------------
Indian Women Use Smart Phones To 'Pin the Creeps'
3 March 2013
With virtual bodyguards, panic buttons and maps to pinpoint harassment black spots, women in urban India are using their smart phones for protection after a notorious gang-rape in New Delhi.
Interest in safety apps and websites has surged since the fatal December attack, in which a 23-year-old student was set upon by a drunken gang on her way home from a cinema in the Indian capital.
After outrage and protests erupted, four businesswomen set up Safecity.in, a website for victims of harassment to channel their anger.
The site encourages them to "Pin the Creeps" by reporting incidents of harassment and abuse — ranging from catcalling to rape — which are added to an online map and sent to those requesting alerts.
Mumbai-based Elsa D'Silva, a founder of the site, said social media had allowed women to speak out and warn others of dangerous areas, even if they are reluctant to give their name or make a complaint to the police.
"Now you feel more empowered to do something about it, even if it's just sharing your experience," said D'Silva. "We're not going to keep quiet anymore."
The website has linked up with new mobile app SafeTrac, developed by tech firm KritiLabs and downloadable for free, which has an SOS button to alert emergency contacts and lets relatives or friends track the user's journey.
It joins a host of similar apps designed to reassure women, especially those working late and travelling alone — that is, if they can afford mobile Internet access.
The first such Indian app was FightBack, launched by non-profit trust Whypoll a year before the Delhi attack, since when it has gone free of charge and seen a flurry of downloads.
Whypoll founder Hindol Sengupta said they were now working on a "next generation" app that will include guidance for reporting abuse.
"Women often don't know their legal rights when they go to the police station and they can be further violated there," he said.
"The kind of people who have reached out to us for information has astounded me."
Such developments are being encouraged. India's IT trade body NASSCOM has opened a contest to find the best app for women's safety. Separately, free app Stipator (Latin for "bodyguard") won an award for social innovation last month from NASSCOM.
A government commission, set up to prevent sex crimes after the Delhi attack, recommended the development of mobile phone apps for sending distress signals to the police.
Even in Mumbai, considered one of India's safest cities, police launched their own ICE (In Case of Emergency) app in January and say they have seen thousands of downloads, although its practicality has been criticised.
A piece in the DNA newspaper pointed out that many women in India cannot afford a basic mobile phone, let alone the Android device required.
"Also, when in distress, how often do we get time to take the phone out of our bag, unlock it and open an application to let people know we are in trouble?" it asked.
Technology clearly has its limits: it cannot fulfil the need for decent law enforcement, or change attitudes towards women.
And while the Indian smartphone market is rising rapidly — expected to soon become the world's third largest — it still accounts for a fraction of about 700 million active mobile subscriptions in the country.
Most safety apps require GPS capabilities that standard mobile phones do not have, although some developers offer emergency texting services.
The creators of Stipator, Ratnesh Desai and three fellow Microsoft employees in Hyderabad city, are also working on a "lipstick-sized" safety device for women without phones.
Techies and activists hope that if their tools catch on, they might one day act as a deterrent to abuse.
"If word gets out there are such apps, people wanting to molest someone will have to be more careful," said Desai.
http://www.khaleejtimes.com/kt-article-display-
----------------
Violating Women's Dignity Is Not New: Study By King Saud University Professor
March 02, 2013
According to a research study conducted by Latifa Al-Abdullatif, assistant professor of sociology at King Saud University in Riyadh, half of Saudi women on social security and a third of female university students were subjected to physical abuse by their husbands at least once.
Husbands accounted for the largest group of instigators of domestic abuse, followed by fathers and brothers.
The study said the beating was usually carried out by hand, sticks, igals (black headband worn by Arab men) or sharp objects.
Long before reading about these facts in the study, I have come to learn about a number of women who were beaten day and night by their husbands in an apparent show of masculinity. The husbands were determined to express their manhood on the bodies of these weak women.
I also knew a husband who totally rejected the intervention of a certain government department between him and his wife, who arrived at the hospital with a broken leg and a face full of bruises.
The courts in our country are very slow when it comes to the consideration of cases of domestic violence. The study said more than 48 percent of the abused women wait in vain for the courts to consider their cases.
Many men will show sarcasm and reject anyone who tries to speak about women's rights. They consider those who advocate women's rights either to be liberals, secularists or at best maniacs.
It is not in our culture that the use of mind should precede the use of bare hands or sticks in settling differences within the family. When he was only six he was told that he was a man and should act like one. When he is 12 years old, he will already be boasting of his manhood. He will be married before he reaches full maturity.
When this man is 20 years old, he will raise up his igal or a stick to beat his wife. Nobody will blame him for this shameful act. After all, he is a man and free to do what he wants to do with poor and weak women in his care who cannot fight back.
http://www.saudigazette.com.sa/index.cfm?method=home.regcon&contentid=20130302155083
-------------
Saudi female divers fear no challenges
March 02, 2013
JEDDAH — Diving in the Kingdom has largely been a male dominated hobby and rarely have we heard about female divers who are interested in exploring the depth of the sea. Over the past few years, however, more and more women in Jeddah are taking diving courses so they can enjoy the experience of discovering pristine waters of the Red Sea.
Amal Balsoroor is one of these adventurous women. A certified diver trainer, Balsoroor said anyone who wants to try the hobby should anticipate two things — divers will enjoy exploring the sea and at the same time face several risks.
Full report at:
http://www.saudigazette.com.sa/index.cfm?method=home.regcon&contentid=20130302155075
-------------
Modern Women 'Piling On The Pounds Due To Lack Of Household Chores': Study
3 March 2013
ISLAMABAD: A new study has claimed that the lack of household work for modern women might be contributing to obesity.
According to researchers, since the 1960s, more women have taken desk jobs and cut back on physical activity, such as household chores.
"In 1965, the average women spent nearly 26 hours per week on chores like cooking, cleaning and doing the dishes. Women today allot about half that time for chores," the study revealed.
"What we were trying to find is what has changed in our environment that has led to obesity," study leader Edward Archer, a researcher at the University of South Carolina, told the New York Daily News.
Full report at:
http://www.dailytimes.com.pk/default.asp?page=2013\03\03\story_3-3-2013_pg11_7
-------------
Afghan graffiti artist makes her mark in India
3 March 2013
A budding young Afghan graffiti artist has found refuge in the western Indian city of Mumbai after she received threats from the Taliban for drawings she did in her home town of Kandahar. The BBC Hindi's Zubair Ahmed reports.
Malina Suliman's "crime" was to paint the walls of Kandahar with the graffiti of a skeleton wearing a burka and the depiction of an ordinary Afghan entangled between an American tie knotted to a turban worn by the Taliban.
Full report at:
http://www.bbc.co.uk/news/world-asia-india-21571149
-------------
In Afghanistan women fleeing violence face jail terms
By Ken Hanly
Mar 2, 2013
Kabul - Even though the Taliban government in Afghanistan fell more than ten years ago, the justice system is still discriminatory in its treatment of women as is the legal system.
Al Jazeera reporter, Jennifer Glasse reports from Herat at a women's jail. Many Afghan women are in jail for fleeing domestic abuse or violence. Even rape victims are jailed for what are called "moral crimes" as the appended video shows, Afghanistan is unique even among those countries which base their judicial system on Sharia law in that Afghanistan is the only jurisdiction which claims there is a crime of fleeing. Heather Barr, Afghan Researcher, at Human Rights Watch said: "Afghanistan is the only Islamic government in the world that specifically criminalised running away." There is no mention of the offense in Afghan law. The problem of running away could be solved if Afghanistan had more women's shelters and other programs.
Full report at:
http://www.digitaljournal.com/article/344667#ixzz2MTV6ENol
-------------
Saudi CPC Holding encourages the hiring of female students
02 March 2013
Saudi Construction Products Holding Company (CPC) restated Saturday its support for the employment of Saudi women in its companies during a university career day in Jeddah.
The event at Effat University under the motto "Employability: Your Ticket to a Better Future" was held under the patronage of Princess Loulwah Alfaisal, vice chair of the board of trustees and general supervisor of Effat University, reported the Saudi Gazette.
Full report at:
http://english.alarabiya.net/articles/2013/03/02/269259.html
-------------
Iran Reportedly Has "The Highest Rate of Nose Surgery in the World"
The new Pinocchio: Iran leads in nose jobs
03 March 2013
You wouldn't believe Iran is the leader in nose jobs if you'd been to Beirut, Lebanon a couple of times, where women there are known for their plastic surgeries. But, despite Iran's conservativeness, the people's obsession with physical beauty seems to be very evident, as Iran reportedly has "the highest rate of nose surgery in the world," reported The Guardian.
Young Iranians mostly target undergo cosmetic surgeries for makeovers that would make them look like Hollywood stars, reported the British daily.
Full report at:
http://english.alarabiya.net/articles/2013/03/03/269263.html
-------------
Eastern Province Of Saudi Kingdom Has Highest Number of Breast Cancer Cases
3 March 2013
One out of every eight women in the Eastern Province has breast cancer, said Omar Bayamin, medical technical director at Prince Saud bin Jalawi Hospital in Ahsa. "Over the past four years, we received a total of 6,000 breast cancer cases," he said.
In the Kingdom the rate is one in 12 women. "This puts the Eastern Province as the highest ranking region in breast cancer cases," said Bayamin, adding that the country's rates are less than the global rates. On the other hand, the cases here are usually discovered at an advanced stage of the disease, due to the lack of awareness among Saudi women about the importance of an early detection, he said.
Full report at:
http://www.arabnews.com/saudi-arabia/ep-has-highest-number-breast-cancer-cases
-------------
Counterfeit Cosmetics Causing Skin Cancer Among Women: Saudi Dermatologists
3 March 2013
Dermatologists have issued a strong warning to women using counterfeit cosmetics and make-up preparations sold in two-riyal stores to stop or face disfigurement and possibly cancer.
According to one cosmetics specialist, many studies conducted on counterfeit makeup products proved conclusively that they contain carcinogens that can cause severe skin rashes, allergic reactions, sinusitis and even skin cancer.
Full report at:
http://www.arabnews.com/saudi-arabia/counterfeit-cosmetics-causing-skin-cancer-among-women
-------------
Women leaders to gather in Dubai for Global Conference
3 March 2013
UN Resident Representatives, Women Ministers, Diplomats C-Level Executives, Regional and Global High Ranking Delegates, Women Leaders Businesswomen, Women Professionals,
Women Entrepreneurs Women Academics, and Successful Women Entrepreneurs will gather in Dubai next Wednesday for the 16th Global Women Leaders Conference (Woibex).
Full report at:
http://www.khaleejtimes.com/kt-article-display-
----------------
Iran Women Volleyball Team Takes 8 Upward Steps In FIVB Ranking
3 March 2013
The Islamic Republic of Iran has moved one step up in the International Volleyball Federation (FIVB) junior and youth world rankings for women, standing at the 38th place in the world.
According to the latest FIVB rankings for the beginning of 2013, Iran received 8 points, and landed on the 38th overall along with Hong Kong and Slovenia.
Full report at:
http://www.presstv.ir/detail/2013/03/01/291458/iran-moves-8-steps-up-in-fivb-ranking/#sthash.FfVZD1YE.dpuf
-------------
URL: https://newageislam.com/islam-women-feminism/saudi-grand-mufti-luring-women/d/10623