New Age Islam News Bureau
12 May 2017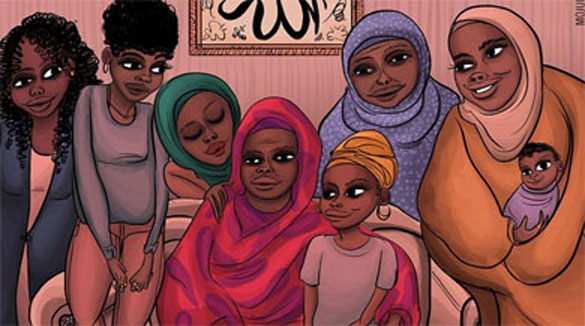 Forward Together is creating beautiful and heart-touching e-cards celebrating immigrants, Muslim mothers, motherhood of all forms and types.(Source: Forward Together/Facebook)
----
• Burqa-Clad Mother and Daughter Charged With Terrorist Plot Asked To Lift Veils in London Court
• These Mother's Day Cards Are Celebrating Immigrant, Muslim Mothers Because 'Mamahood Is Not One Size Fits All'
• Carbon Dating Confirms 'Penang Woman' Is 5,710 Years Old
• When Will PM Pay Attention To Muslim Women In Assam?
• Banning Triple Talaq Will 'Not Benefit' Muslim Women: Umari
Compiled by New Age Islam News Bureau
URL: https://www.newageislam.com/islam-women-feminism/saudi-girl-student-drives-bus/d/111124
--------
Saudi girl student drives bus after driver faints
Web Report/Riyadh
May 11, 2017
She and her friends were on their way back home after classes
A girl in Saudi Arabia recently helped save the life of a bus driver by driving the bus herself and averted an accident.
The driver had fainted on the wheel while driving the vehicle, according to a report in Anha online newspaper. Ashwaq Al Shamri acted bravely and drove the bus carefully and took the driver to the nearby hospital. She and her friends were on their way back home after classes in the private bus that was hired to transport them.
The Al Ghazzalah branch of Hail University on Tuesday honoured the girl students who saved the life of the driver.
"The university is keen in providing intensive training to students in carrying out emergency services and first aid. The girl students won accolades from the entire university staff and students as well as the community members," she added.
The girls said that they had simply fulfilled their humanitarian duty. The driver managed to stop the bus before fainting. The girls gave him first aid and then took him to the hospital, the newspaper reported quoting the girls.
http://www.khaleejtimes.com/region/saudi-arabia/saudi-girl-student-drives-bus-after-driver-faints
--------
Burqa-Clad Mother and Daughter Charged With Terrorist Plot Asked To Lift Veils In London Court
11 May, 2017
Three women appeared before Westminster Magistrates' Court in central London on Thursday, charged in connection to what is thought to be the first all-female terrorist plot in Britain.
Mother Mina Dich, 43, her daughter Rizlaine Boular, 21, and a friend, Khawla Barghouthi, 20, are suspected to have planned a knife attack in the area of Westminster, the center of the British capital.
The suspects entered the courtroom flanked by three policewomen and three suited officials. Dich and her daughter appeared before the court dressed in Burqas, but were later asked by Chief Magistrate Emma Arbuthnot to lift their veils so they could be identified.
The women were arrested on April 27 after armed police swooped on Barghouthi's home in Harlesden Road in northwest London. Boular was shot during the raid and was formally arrested after being discharged from St Mary's Hospital in Paddington three days later. Her mother was arrested in Kent on the same day.
All stand accused of conspiring to murder "a person or persons unknown" between April 11 and 28.
"The defendants are all charged with conspiracy to murder," Arbuthnot said.
"On the face of it there was a plan to attack one or more members of the public in the Westminster area and weapons had been purchased."
Boular is herself charged with engaging in conduct in preparation for terrorist acts during the April dates, while her mother and Barghouthi are charged with intending to assist her.
Arbuthnot later confirmed the matter would be forwarded to the Old Bailey and that the next hearing would take place next week on May 19. They will remain in custody.
https://www.rt.com/uk/388014-Burqa-mother-daughter-terror/
--------
These Mother's Day cards are celebrating immigrant, Muslim mothers because 'mamahood is not one size fits all'
May 11, 2017
This year, Mother's Day is being celebrated in many countries on May 14. While a lot of us are busy planning to surprise our moms, cook for her or take her out to a movie or a spa day, Forward Together, an NGO based out of California, is celebrating the day in a unique way. Each year, the organisation builds a unique theme to celebrate 'Mamas Day'. This year, they are creating beautiful and heart-touching e-cards celebrating immigrants, Muslim mothers, motherhood of all forms and types.
The sixth edition of 'Mamas Day', like the others, originate from their Strong Families Network and is focusing on ensuring that families across the world have access to their rights and important basic resources that would help them survive. Their aim is to venerate the love of our mothers who represent and describe our families in the best of ways.
ALSO READ | Last-minute Mother's Day gift ideas that are doable and thoughtful
Check out some of the e-cards here.
Of their many cards, the ones featured on their Facebook page will not fail to move you. While one of the cards show a little boy lying comforted and safe next to his mother's warmth, another shows a happy family — with a father, a mother holding their child and playing with a butterfly.
Another beautiful card shows a mother, lovingly running her hand through her son's curls, holding him close to her bosom, with the words "I am because we are" written on the top of it.
A rather important aspect of 'Mamas cards' is that the illustrations feature mothers of all colour, race and ethnicity.
This projection is in harmony with their ideology that 'mamahood is not one size fits all.' While on one hand, the social ostracisation that immigrants and Muslim community members are subjected continues to rise, with even the US President's efforts to convert an impending ban on immigrants into a law, this initiative comes as a whiff of fresh hope.
http://indianexpress.com/article/trending/trending-globally/these-mothers-day-cards-are-celebrating-immigrant-muslim-mothers-because-mamahood-is-not-one-size-fits-all-4651072/
--------
Carbon dating confirms 'Penang Woman' is 5,710 years old
BY OPALYN MOK
May 12, 2017
GEORGE TOWN, May 12 — The human skeleton excavated at Guar Kepah in the north of Seberang Perai and dubbed "Penang Woman" is 5,710 years old based on radiocarbon dating, local archaeologist Professor Datuk Mokhtar Saidin said.
The Universiti Sains Malaysia Centre for Global Archaeological Research (CGAR) director said they received the results from Florida, the US last week.
"The radiocarbon dating confirmed the skeleton is about 5,710 years plus or minus 30 years Before Present, BP," he told Malay Mail Online in an interview yesterday.
BP is a time scale in years used mainly in geology and other scientific disciplines to specify when events occurred in the past.
Mokhtar said they still need to conduct more testing on the skeleton to confirm more details, including its gender, though initial observations indicate it is a woman's.
Conserving the skeleton
The skeleton, which was found on April 17 at the Guar Kepah Archaeological Gallery site in Seberang Perai near Penaga and Kepala Batas, has been taken to CGAR to preserve it.
"After removing it from the ground, together with the soil, we have to first concentrate on conserving it so that it doesn't disintegrate," Mokhtar said.
Conserving and letting the skeleton acclimatise to its new surroundings and temperature is a tedious task.
"I must brush it every morning, carefully clean it and slowly let it get used to the new temperature," he related.
He said the skeleton must be fully preserved so that it can last for future generations to see it in the planned Guar Kepah Archaeological Gallery.
Once the skeleton has stabilised and acclimatised to the new temperatures and level of humidity, more testing will be done.
"We will be doing more analysis on the skeleton to get the DNA profile, to confirm the gender, the age and the cause of death," he said.
Samples of the skeleton will be sent to a geo-genetic laboratory in Denmark for DNA testing.
"This will take about six months before we get results of the DNA testing," he said.
The scientific analysis of the skeleton's gender, age and cause of death will take between three to six months to complete.
"We have collaborations with laboratories all over the world so we will be sending samples to these laboratories for these analyses," he said.
The skeleton was found at about 70cm under the land surface due to digging works by a backhoe for the construction of the Guar Kepah Archaeological Gallery.
The construction works have been suspended to allow Mokhtar and his team to continue excavation works on the site.
The skeleton is the first and only remaining Neolithic skeleton found in a shell midden in Malaysia.
A total of 41 skeletons from three shell middens labelled A, B and C in Guar Kepah were excavated by British archaeologists between 1851 and 1934 and those skeletons are now in the National Natuurhistorisch Museum in Leiden, the Netherlands.
Shell middens refer to mounds of kitchen debris consisting mostly of shells and other food remnants. It is indicative of ancient human settlement and were sometimes used as burial sites.
The Penang Woman was discovered almost fully intact though her legs were partially destroyed by the backhoe's digging works. She was found in shell midden C.
Her arms were folded and she was surrounded by pottery, stone tools and several different types of shells.
Mokhtar had said the number of pottery and variety of shells around her was indicative of her somewhat important position in the society then.
"At that time, they were already able to make pottery, plates and bowls, using temperatures of 600 degrees [Celsius] and we can see evidence of this in the pottery shards we found surrounding the skeleton," he said.
Since it was the Neolithic period, when people were mostly hunter-gatherers, and iron was not discovered yet, stone tools were the main implements used to kill animals and cut meat.
There were considered valuable items at that time so to bury it a deceased showed the important status of the deceased, he explained.
Guar Kepah excavation site
Mokhtar's team is still excavating the Guar Kepah site and have made more discoveries.
"In the latest discovery, we found the base of the shell midden, it was really surprising, we thought all was gone already," he said.
The original shell midden was a mound of about 17 metre high but all of it was removed by the British archaeologists so Mokhtar did not expect to make this discovery.
"The 17 metre shell midden was gone so when we open up this part, we found the base of about one metre, there were so many different types of shells and pottery inside," he said.
"These are beautiful pottery, just imagine the technology of that period, even without any other equipment except for stone tools, no formal education or training, yet they can make these," he added.
His team was excavating a spot very near the Penang Woman's spot when they found the shell midden base.
"I think it will take us another three weeks to finish excavation works on this site," he said.
Mokhtar had previously expressed hope of finding another skeleton at the spot and his team are carefully sifting through the site to ensure nothing was missed.
The Guar Kepah Archaeological Gallery
The USM archaeology team had proposed the setting up of a gallery back in 2010 to preserve the pre-historic findings at the site.
The state government allocated RM800,000 to build the gallery but now, with the discovery of the skeleton, costs would have climbed to about RM3 million to build an air-conditioned gallery.
"Previously, it was an open-air gallery but now, we have the only Neolithic skeleton in Malaysia, this is an important discovery not only in Malaysia but in the world, so the gallery has to be of world-class standard," Mokhtar said.
The design of the gallery has to be changed to be covered and air-conditioned to preserve the skeleton as it needed to be kept in a constant and cool temperature.
Visitors will be able to see a replica of what the Penang Woman would have looked like when she was alive.
"With technology and software, we will be able to reconstruct what she looked like and create a replica of her exact likeness and size to stand right at the entrance of the gallery to greet visitors," he said.
Construction works on the gallery will not start until excavation works complete.
http://www.themalaymailonline.com/malaysia/article/carbon-dating-confirms-penang-woman-is-5710-years-old
--------
When will PM pay attention to Muslim women in Assam?
Abid Shah
May 11th 2017
Muslim women who came to villages in Assam years ago after their marriages are being branded as "foreigners", being taken into custody without an inquiry and then detained, forcing them to leave their husbands and children to an uncertain fate.
This draconian practice acquired legitimacy after the Gauhati High Court recently ruled that the domicile certificate given by the elected headman of the Panchayat or village Pradhan cannot be taken as conclusive proof of citizenship in case of married Muslim women.
This order has left more than 4.8 million married women belonging to the minority community vulnerable. As many as 58,000 such women have already been dragged out of their homes and detained in either jails or detention camps meant for foreigners.
These claims were made by the president of Jamiat Ulma-i-Hind (JUH), Maulana Syed Arshad Madani, at New Delhi on May 10, adding that the High Court order has been challenged by the Assam unit of JUH in the Supreme Court.
"We have also petitioned the Supreme Court seeking a stay on the High Court order. Additionally, an order has been issued to the state coordinator for National Register of Citizens by a bench constituting of Justice Ranjan Gogoi and Justice Navin Sinha asking for the official's appearance before the division bench of the top court to show cause why injunction should not be granted," remarked Madani.
The move to dub Muslims as foreigners in utter disregard to the Assam Accord reached by the India in 1985 with the All Assam Students Union amidst the feverish pitch attained by the movement against illegal migrants had put March 25, 1971, as the cutoff date for the citizenship rights to the settlers.
The accord meant that citizenship would be accorded to those who could offer proof of living in the state on or before March 24, 1971, pointed out Madani. He alleged that the provision in the Assam Accord is being changed through a series of petitions at the Supreme Court by "a host of sectarian, communal and racist organisations with the plea to change the cutoff date and follow the voters list prepared in 1951 for first polls that were to be held after Independence as the basis to determine citizenship rights. The sole motive behind this is to rob Muslims of their hearth and home."
Muslim women are extremely vulnerable to these changes because most of them do not have birth certificates or school-leaving certificates due to traditionally low levels of literacy among them. Many of them have never been to school and thus the need for birth certificate was seldom felt. In such situations, the village Pradhan's testimony has, often, been the main proof offered. And this was even more so after marriages that involved change of residence.
From 1978 to 1985, Muslims in Assam were victims of targeted violence and this came to an end only after the Assam Accord, which was followed up by passing an amendment to the law of citizenship by Parliament with support of the BJP and Left parties.
The work on this front has been progressing and when nearly 90% of the registration has been completed without detecting many Bangladeshi settlers, the officials have asked these married women to prove their birth and antecedents in an effort to break families despite this move having the potential to vitiate peace in the state, argues Madani.
Madani recalled that such vitriol had led to the Nellie massacre of 1983 in Assam leading to the death of about 3,000 Muslims, many among them women and children, who had been living in the state from the beginning of the Twentieth Century.
https://www.nationalheraldindia.com/news/2017/05/11/when-will-the-pm-pay-attention-to-muslim-women-in-assam-jamiat-ulma-i-hind-maulana-syed-arshad-madani
--------
Banning triple talaq will 'not benefit' Muslim women: Umari
May 11, 2017
Banning triple talaq will "not benefit" Muslim women, vice-president of All India Muslim Personal Law Board Maulana Syed Jalaluddin Umari today claimed, amid a raging debate on the issue.
"Even if tripe talaq is outlawed, those who want to trouble their wives will still continue to do so and stop giving conjugal rights to their wives. This will lead to many complications and jeopardise the woman's stature and dignity," he said.
Incidentally, the Supreme Court today said it would examine whether the practice of triple talaq among Muslims is fundamental to their religion, but it may not deliberate upon the issue of polygamy as it began hearing petitions challenging the practice.
Umari, also president of Islamic forum Jamaat-e-Islami Hind (JIH) reiterated that the problem of divorced Muslim women has been "blown out of proportion and statistics don't support the claim of this problem being endemic within the Muslim community".
National Convener of 'Muslim Personal Law Awareness Campaign' Muhammad Jafar also briefed about the campaign during the press conference.
The pan-India campaign ran from April 23 to May 7.
"The objective of the campaign was to create awareness within the Muslim community regarding their personal laws as well as to remove the misconceptions and misgivings among fellow countrymen regarding the family laws in Islam that are related to the way Muslims marry, divorce and inherit," he said.
http://www.business-standard.com/article/pti-stories/banning-triple-talaq-will-not-benefit-muslim-women-umari-117051101490_1.html
--------
URL: https://www.newageislam.com/islam-women-feminism/saudi-girl-student-drives-bus/d/111124
New Age Islam, Islam Online, Islamic Website, African Muslim News, Arab World News, South Asia News, Indian Muslim News, World Muslim News, Women in Islam, Islamic Feminism, Arab Women, Women In Arab, Islamophobia in America, Muslim Women in West, Islam Women and Feminism