New Age Islam News Bureau
19 Apr 2013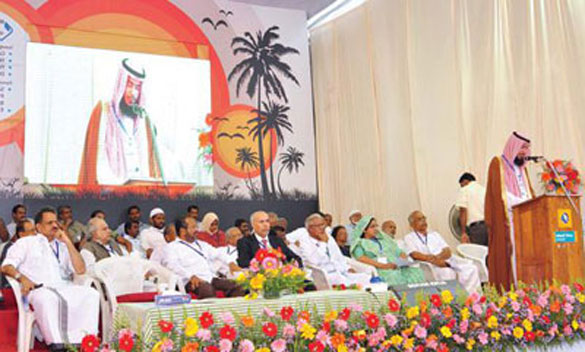 Photo: Saudi-Funded Nursing College Opens In Kerala (AN photo)
----------
• Afghan Women Escape Marriage through Suicide
• 80% of Large Jails Have Women Staff in Saudi Kingdom
• Malala Yousufzai among Time's Most Influential List
• Two Expats Jailed For Forcing Widow into Prostitution
• Man Assaults Muslim Woman Following Reports of 'Dark-Skinned' Boston Bombing Suspect
• Cherie Blair Lauds Nigerian First Lady's Diplomacy in Aiding Women
• Malala to Make UN Speech in July
• At Tenafly Church, Interfaith Panel Discuss Women's Role in Religion
• Transgender Sanam Determined To Give Rivals a Tough Time in Pak Elections
• Pakistan's Medical Schools: Where the Women Rule
• Woman Complains To Mecca NSHR against 'Pervert' Husband
• Iran Police Dress Suspect in Women's Clothing, Parade Him in Public
Compiled by New Age Islam News Bureau
URL: https://newageislam.com/islam,-women-and-feminism/new-age-islam-news-bureau/saudi-funded-nursing-college-opens-in-kerala/d/11209
-------------
Saudi-Funded Nursing College Opens In Kerala
P.K. ABDUL GHAFOUR
19 April 2013
The Santhi Nursing College in Omassery, near Calicut, India, which was financed by Prince Sultan Charitable Foundation, Islamic Development Bank Group, and Sheikh Yousuf Abdul Latif Jameel, was opened recently in a ceremony attended by Ahmed Roomi, special envoy of the Saudi Ambassador Saud Al-Sati, and other dignitaries.
Addressing the attendees, Roomi commended the Islamic Welfare Trust (IWT) in Omassery for its charitable and humanitarian activities.
Aside from the nursing college, the IWT runs a number of philanthropic institutions including a 350-bed Santhi Hospital.
"I am extremely delighted to attend this function," said Roomi while explaining the importance Islam conferred upon charitable activities. He also called upon all communities and organizations to cooperate with IWT in its endeavours for the welfare of society.
Meanwhile, Ahmed Mohamad Ali, president of IDB, congratulated the IWT for its achievements in completing social projects for the local community, in a private message sent to OP Abdussalam, chairman of the trust.
The Santhi Institute of Medical Science and Research Centre was inaugurated by T. Arif Ali, president of Jamaat-e-Islami in Kerala, who emphasized the role of NGOs in providing health care and education to the public at affordable rates.
The Jamaat chief applauded the trust members and their supporters, while urging nursing college students to take care of their patients efficiently and sincerely upholding moral and humanitarian values.
Abdul Rahman Tharuvay, the driving force behind IWT, thanked IDB, Prince Sultan Foundation and Sheikh Yousuf Jameel for their support. "We would like to expand our humanitarian services with the support of philanthropists. There are currently 15 dialysis units at Santhi Hospital offering services to 125 kidney patients," he said.
Zafar Javeed, convener of IDB's central panel in Hyderabad, wished every success to IWT's future projects, which include a medical college, an eye specialty hospital and an institute of alternate medicine and rehabilitation.
Sheikh Muhammad Jassem Kalban, chairman of Kalban Group in the UAE, opened the nursing college hostel while Omar Master and PTA Raheem, members of the legislative assembly in Kerala, launched the Peace Valley Auditorium and Digital Library.
http://www.arabnews.com/news/448673
-------------
Afghan Women Escape Marriage through Suicide
18.04.2013
Author Waslat Hasrat-Nazimi / act
As many as 80 percent of marriages in Afghanistan take place without the consent of the bride, who is often a child. Many of them see killing themselves as the only way out.
Weddings are one of the few occasions in Afghanistan when families and friends can forget their sorrows and the ongoing violence in their country and have some fun. It is traditional to dance into the early morning hours after a feast. It is also traditional for the bride to put on a sad face because she is leaving her family; she is not allowed to smile.
However, for many brides this is not an act. They really are unhappy at their weddings and not because they are leaving their families but because they are being forced into a marriage against their will.
Shafiqa has a friend who is in one such unhappy marriage. "She is called Nadia. Her family forced her to get married but she didn't want to marry the man chosen for her. She tried to kill herself but her family stopped her in time, preventing her from committing suicide."
According to the Afghanistan Independent Human Rights Commission, between 60 and 80 percent of all marriages in Afghanistan are forced. Moreover, in almost 50 percent of cases women are married before the age of 18; in 15 percent they are not even 16.
A final resort
Many girls and young women see suicide as their only escape. "It's a final resort and the last attempt at resistance, to not accept the situation women are being pushed into," said Monika Hauser. The gynaecologist founded the German women's rights organization medica mondiale 20 years ago and set up medica Afghanistan nine years ago.
"The suicide rate is rising particularly in towns because women are fighting against forced marriages there." Women in cities tend to be more educated and have easier access to the media that show there are other ways of living, she explained.
In Herat, on the border with Iran, the Institute for War and Peace Reporting said the number of self-immolations among young women had risen by 50 percent in 2009.
"Refugees from Iran experience relative freedom and are then confronted with repressive family structures," she added.
A more recent study released by a former Afghan health minister found that five in 100,000 Afghan women commit suicide.
Massive psychological pressure
According to recent studies, some 1.8 million Afghan women have been diagnosed with depression. Dr. Mohammad Ashraf Rawan, who offers psychiatric support in the northern province of Balkh says violence against women and restrictive conditions are potentially fatal.
"A forced marriage often leads to problems or divorce," he adds. "Girls who are married against their will and on whom there is great pressure tend to get depressed or have psychological problems and that sometimes leads to suicide."
Tradition takes priority
According to Islamic law, a man and woman should agree on a marriage for it to be valid. However, tradition tends to take priority in Afghanistan. Parents often decide upon their daughters' future without asking them for an opinion. Men, on the other hand, are generally able to reject their family's choice of bride and can even choose their own bride sometimes.
Last year, Fauzia Nawabi from the Afghanistan Independent Human Rights Commission conducted interviews with women who had tried to commit suicide one or more times. "The real reason for their attempts was forced marriage almost every time."
Fauzia Nawabi is responsible for four Northern provinces. In 2012, 36 suicide attempts were registered there and 10 women survived. Nawabi says the real figure is much higher as most suicides simply are not registered because they are kept secret by the families.
That's why it's so important to be there for girls and women says Monika Hauser. Afghanistan not only offers psychological support but also legal advice in centres that have become famous by word-of-mouth across the country. "They can speak freely in a protected environment. It is important that they realize they are not alone and this is a societal problem."
Although the Afghan constitution says men and women are equal before the law, this is often only true on paper, she says. A decree to end violence against women was signed by Afghan President Hamid Karzai three years ago but it has yet to be adopted in parliament. It would raise the legal minimum age of marriage to 16.
http://www.dw.de/afghan-women-escape-marriage-through-suicide/a-16750044
-------------
80% of Large Jails Have Women Staff in Saudi Kingdom
19 April 2013
A spokesman at the Directorate General of Prisons says 80 percent of the large prison facilities in the Kingdom have employed women staff members.
Ayoub bin Nehait said women can rise to the position of deputy sergeant. "That is the highest position that a woman can attain in this security institution," Nehait was quoted as saying in a local newspaper.
"Saudi women have proved their competence on the job and have attained new ranks at the directorate," he said.
http://www.arabnews.com/news/448677
-------------
Malala Yousufzai among Time's most influential list
Reuters / 19 April 2013
Pakistan teenager Malala Yousufzai, Rapper Jay-Z, Oscar-winning actress Jennifer Lawrence and Bollywood actor and political activist Aamir Kahn were on Thursday named among Time magazine's most influential people in the world.
U.S. President Barack Obama got his eighth entry on the annual list of the 100 top global titans, leaders, artists, pioneers and icons, along with his wife Michelle, newly installed Pope Francis, British royal Kate Middleton, Beyonce, Justin Bieber's manager Scooter Braun and basketball player LeBron James.
Former PayPal entrepreneur Musk was named to the list as his SpaceX devlops space transport with an ultimate goal of enabling people to live on other planets.
In the international field, North Korean leader Kim Jong-un, Philippines President Noynoy Aquino, European Central Bank President Mario Draghi and China's glamorous new first lady Peng Liyuan were among those making the list.
Time said that for the first time it is issuing seven separate covers for its 100 Most Influential People edition, which is published in the United States on Friday.
Chinese tennis player Li Na, 31, the first Asian woman to win a Grand Slam title, and Bollywood actor and political activist Aamir Kahn, will be featured on the front of international editions, while Jay-Z, Lawrence, Musk, Yousufzai and U.S. Republican Senator Rand Paul will be featured on five different U.S. covers.
The list is not ranked, but Time managing editor Rick Stengel said the seven cover portraits "reflect the breadth and depth of the list."
Jay-Z, 43, a recording artist and entrepreneur with interests in sport and fashion, was described by New York City Mayor Michael Bloomberg as embodying the American Dream.
"In nearly everything he's tried, he's found success. (He even put a ring on Beyonce.) And in doing so, he's proved that the American Dream is alive and well," Bloomberg wrote of the "Empire State of Mind" singer.
Yousufzai, 15 has become an international symbol of resistance to the Taliban's efforts to deny women rights after she was shot in head in Pakistan in October 2012 for speaking out on the importance of education for girls.
Chelsea Clinton, daughter of former U.S. President Bill Clinton, said the Taliban "almost made Malala a martyr; they succeeded in making her a symbol."
Lawrence, 22, won an Oscar in February for her role as an outspoken young widow in movie "Silver Linings Playbook" and is the star of young adult movie franchise "The Hunger Games."
The complete list can be seen at http://time100.time.com/
http://www.khaleejtimes.com/kt-article-display-1.asp?xfile=/data/newsmakers/2013/April/newsmakers_April24.xml&section=newsmakers
-------------
Two Expats Jailed For Forcing Widow into Prostitution
Marie Nammour / 18 April 2013
A male domestic worker has been sentenced to five years in prison on charges of human trafficking, illegal confinement and running a brothel.
His accomplice, still at large, has been sentenced in absentia to three years in prison for the same.
According to prosecution records, the defendant, a 21-year-old Indian, along with other runaway suspects, brought an Indian woman from her home country after luring her with a job to work as a maid. However, they forced her into prostitution under threat, intimidation and confinement.
They allegedly denied the woman of her freedom after confining her in an apartment in Naif area, the same apartment they are believed to have been running as a brothel.
The Court of First Instance ordered that both be deported after serving their prison sentences.
The alleged victim, 31, told the prosecutor that she was a widow with two children and was looking for a job as maid to support them. She was contacted by a man back home who offered her a job as a maid for a family here in Dubai.
Full report at:
http://www.khaleejtimes.com/nation/inside.asp?xfile=/data/courtroundup/2013/April/courtroundup_April45.xml&section=courtroundup
-------------
Man assaults Muslim woman following reports of 'dark-skinned' Boston bombing suspect
By David Edwards
April 18, 2013
A Muslim woman in Boston says that she was attacked by a white man on Wednesday morning because he was apparently enraged by the Boston Marathon bombings and convinced, despite a lack of evidence, that the perpetrators were Muslim.
Heba Abolaban told Malden Patch that she and her friend, who were both wearing Hijabs, were walking on Commercial Street with their children when a white male in his thirties punched her in her left shoulder.
"He was screaming 'Fuck you Muslims! You are terrorists! I hate you! You are involved in the Boston explosions! Fuck you!'" she recalled. "Oh my lord, I was extremely shocked."
"I did not say anything to him," she added. "Not even that we aren't terrorists… he was so aggressive."
After about two minutes of confrontation, the man left and Abolaban called her husband and police.
Full report at:
http://www.rawstory.com/rs/2013/04/18/man-assaults-muslim-woman-following-reports-of-dark-skinned-boston-bombing-suspect/
-------------
Cherie Blair Lauds Nigerian First Lady's Diplomacy in Aiding Women
16 APRIL 2013
Cherie Blair, the wife of a former British Prime Minister, Tony Blair, on Tuesday lauded Nigerian First Lady, Patience Jonathan's diplomatic approach and advocacy on enhancing women's status in the country.
Mrs. Blair said this during a lunch held in her honour on the sidelines of her visit to Nigeria to attend a seminar concerned with equity and capital ventures in Abuja.
She said: "I have seen your leadership style and I commend you for the successes you have achieved in advocating a better life for women. Your dedication and determination have helped women in Nigeria and Africa.
Full report at:
http://allafrica.com/stories/201304170290.html
-------------
Malala to make UN speech in July
19 April 2013
LONDON: Malala Yousafzai, the teenage girl shot by the Taliban for promoting girls' education, will make her first public speech on her 16th birthday in New York, the office of Britain's former prime minister Gordon Brown announced on Friday.
She will speak at the United Nations on July 12, said Brown, speaking in his capacity as the UN Special Envoy for Global Education.
Malala was shot at point-blank range by a Taliban gunman as her school bus travelled through Swat Valley on October 9 last year,
Full report at:
http://dawn.com/2013/04/19/malala-to-make-un-speech-in-july/
-------------
At Tenafly Church, Interfaith Panel Discuss Women's Role in Religion
APRIL 18, 2013
BY PAIGE LESKIN
TENAFLY — Religious leaders and community members attended an interfaith forum on Sunday to discuss women's role in religion.
The program at the Church of Atonement in Tenafly was the first such event the Interfaith Women's Initiative has organized in Bergen County. The New York-based group plans to hold similar events in the future.
The goal for the meeting was to bring people of Abrahamic faiths together to learn about each other, interfaith member Shakeen Ahmed said.
"We are here to address women's issues, to see how our faiths have different limitations and how much they're willing to compromise," Ahmed said.
Full report at:
http://www.northjersey.com/news/203531041_At_Tenafly_church__interfaith_panel_discuss_women_s_role_in_religion.html?c=y&page=2
-------------
Transgender Sanam Determined To Give Rivals a Tough Time in Pak Elections
April 19, 2013
SUKKUR: The seven transgender candidates contesting the elections out of 23,000 candidates have little chance of getting elected, but they have livened up an otherwise lacklustre campaign.
"People don't believe we can be corrupt because we don't have children and families," says independent candidate Sanam Faqeer in Sukkur. "We don't need to collect wealth and build villas for our next generations by stealing people's money as other politicians do."
When the Supreme Court in 2009 recognised them as a 'third gender', ordering they be issued separate identity cards, it was hailed as a landmark decision. Now Faqeer has given up dancing to focus on campaigning for the May 11 polls, saying that the world of politics is more serious.
Full report at:
http://tribune.com.pk/story/537486/sukkurs-sanam-faqeer-determined-to-give-rivals-a-tough-time/
-------------
Pakistan's medical schools: where the women rule
19 April 2013
KARACHI: In a lecture hall of one of Pakistan's most prestigious medical schools, a handful of male students sits in the far top corner, clearly outnumbered by the rows and rows of female students listening intently to the doctor lecturing about insulin.
In a country better known for honor killings of women and low literacy rates for girls, Pakistan's medical schools are a reflection of how women's roles are evolving. Women now make up the vast majority of students studying medicine, a gradual change that has come about after a quota favoring male admittance into medical school was lifted in 1991.
The trend is a step forward for women in Pakistan, a largely conservative Muslim country. But there remain obstacles. Many women graduates don't go on to work as doctors, largely because of pressure from family and society to get married and stop working — so much so that there are now concerns over the impact on the country's health care system.
At Dow Medical College in the southern port city of Karachi, the female students said they are adamant they will work.
Full report at:
http://dawn.com/2013/04/19/pakistans-medical-schools-where-the-women-rule/
-------------
Woman Complains To Mecca NSHR against 'Pervert' Husband
Badea Abu Al-Naja
19 April 2013
MAKKAH — The Makkah office of the National Society for Human Rights (NSHR) is looking into a complaint filed by a Saudi woman against her husband accusing him of several charges, including forging her power of attorney and running businesses without her knowledge.
Speaking to Saudi Gazette, the woman alleged that her husband was a pervert who tried to present her to his friend. "I don't know what made my husband, who was a peace-loving man, to become barbaric and inhuman. I saw in him a totally different man after his release from jail."
Full report at:
http://www.saudigazette.com.sa/index.cfm?method=home.regcon&contentid=20130419161982
-------------
Iran Police Dress Suspect in Women's Clothing, Parade Him in Public
April 18, 2013
Arash Karami
A group of parliament members have signed a letter of protest after police officials had reportedly forced a suspect to wear women's clothing in public. According to Digarban, this event took place on April 13. According to Nasim online, which originally reported the story, the event took place in the city of Marivan, in Iran's Kurdish region near the Iran-Iraq border.
The parliament members had "sought to notify the interior and justice ministers" of the event. Security officers had reportedly forced a "famous street thug" to wear women's clothing and then paraded him in public. The parliament members who signed the letter, including the representative from Marivan, wrote that "this action is against Islamic values and it degrades the clothing and character of Muslim women."
Full report at:
http://iranpulse.al-monitor.com/index.php/2013/04/1793/iran-police-dress-suspect-in-womens-clothing-parade-him-in-public/
-------------
URL: https://newageislam.com/islam,-women-and-feminism/new-age-islam-news-bureau/saudi-funded-nursing-college-opens-in-kerala/d/11209