New Age Islam News Bureau
13 Jan 2018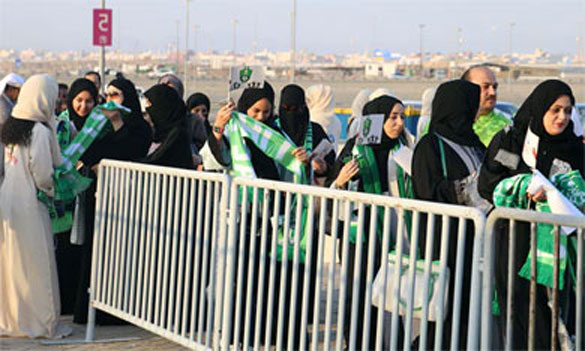 Saudi women queue to get inside the King Abdullah Sports City stadium in Jeddah on Friday. Photograph: AFP/Getty Images
-----
• Toronto: 11-Year-Old Muslim Girl 'Terrified' After Man Cuts Her Hijab
• How a Poor Bangladeshi Woman Became a Community Role Model
• Saudi Arabia stadiums welcome female football fans for first time
• 4 Young Women Sweep UAE Student Awards
• 'Iranian Women Are Yet To Discover Their Self-Worth'
Compiled by New Age Islam News Bureau
URL: https://www.newageislam.com/islam-women-feminism/saudi-football-stadium-welcomes-women/d/113924
-------
Saudi football stadium welcomes women for first time
12 Jan 2018
Kareem Shaheen
Saudi women have attended a football match in Saudi Arabia for the first time, as part of reforms spearheaded by the kingdom's crown prince.
Female football fans wearing scarves and waving flags took their seats at the King Abdullah Sports City stadium in Jeddah for Al-Ahli's match against Al-Batin in the Saudi Pro League. However, the women had to enter through designated turnstiles for women and families.
Lamya Khaled Nasser, a 32-year-old from Jeddah, told Agence France-Press she was proud and looking forward to the match. "This event proves that we are heading for a prosperous future. I am very proud to be a witness of this massive change," she said.
Ruwayda Ali Qassem, another Jeddah resident, said Friday was a "historic day in the kingdom which culminates [in] ongoing fundamental changes".
"I am proud and extremely happy for this development and for the kingdom's moves to catch up with civilised measures adopted by many countries," she said.
The Saudi government said last week that women would be allowed to attend a second match on Saturday and a third next Thursday. The rest of the country's football grounds will be ready for female fans by the beginning of the next season, including separate cafes and prayer rooms.
Al-Ittihad, one of the country's top football clubs, is scheduled to play in a derby game in front of mixed spectators on Saturday. It prepared for the historic match by tweeting an image featuring a woman's face painted in gold, the club's colour.
"Ittihad fans, male and female, are the support of this club, and success is not complete without them coming together to serve this historic entity," the club tweeted. "With you, the scene is complete."
The move to open up stadiums to women for the first time was announced last October.
"The general sports authority has provided everything that would create an attractive sports environment for families and provide everything needed to ensure their privacy," the country's sports governing body said.
On Thursday, women flocked to Le Mall in Jeddah to view the kingdom's first car exhibition aimed at them, a few months after King Salman issued a decree granting them the right to drive from June 2018 – a move opposed by hardline clerics.
The exhibition, focusing on fuel-efficient cars, featured a team of saleswomen to help their new customer base. The showroom carried signs emblazoned with the slogan "Drive and Shop", a play on words in Arabic, using the female form of the verbs.
The driving and football developments are the latest in a series of social reforms ordered by the crown prince, Mohammed bin Salman, who wields extraordinary power. Last year, he pledged to modernise the kingdom and to scale back the power of its ultraconservative clerics, returning Saudi Arabia to what he described as "moderate Islam".
Saudi women still require a legal guardian for many matters, while years of oppression and appeasement of the top clerics have widened the gender gap and held women back from participating in the workforce and public life.
https://www.theguardian.com/world/2018/jan/12/saudi-football-stadiums-prepare-welcome-women-first-time
-------
Toronto: 11-year-old Muslim girl 'terrified' after man cuts her hijab
12 Jan 2018
Toronto police are investigating an attack on an 11-year-old girl whose hijab was repeatedly cut on her way to school, heightening pressure on Canadian governments to take further action against attacks on Muslims.
An assailant, in two attempts within 10 minutes, cut the girl's hijab using scissors while she was walking to school with her brother on Friday, a Toronto police spokeswoman said.
"I felt confused, scared, terrified," Khawlah Noman, who is in Grade 6, told reporters at her school on Friday.
"I screamed. The man just ran away. We followed this crowd of people to be safe. He came again. He continued cutting my hijab again."
The Toronto district school board said it was "shocked" to hear about the assault which Ontario Premier Kathleen Wynne called a "cowardly act of hatred" that did not represent the province. Police did not have anyone in custody.
The attack comes as Canada approaches the first anniversary of a deadly shooting in a Quebec City mosque that killed six people at prayer. A French-Canadian university student has been charged as the sole suspect.
Last month, a Quebec judge suspended a law banning people from wearing niqabs and other face coverings while giving or receiving public services.
Researchers have documented an increase in far-right extremist activity in Canada, much of it targeting Muslims.
A survey conducted last year by Ontario's Human Rights Commission found that more people reported harbouring "very negative" feelings about Muslims than about any other group.
The National Council of Canadian Muslims has called on the federal government to declare 29 January, the day of the mosque shooting, a day of remembrance and action on Islamophobia. The government has not said whether it will do so.
https://www.theguardian.com/world/2018/jan/12/toronto-muslim-girl-hijab-man-tries-cut-islamophobia
-------
How a poor Bangladeshi woman became a community role model
13 January 2018
BANGLADESH: In the highly conservative, poor district of Kurigram in northern Bangladesh, Swapna Rani, 32, has risen from poverty by becoming an auto-rickshaw driver.
"There was a time when I couldn't even provide two meals a day for my children. For years, there were no new clothes for us. But now things have changed. Now I don't need to fight poverty like that," she told Arab News.
A mother of two, she got married at a very early age. Her husband Ratan Chandra Barman disappeared soon after the birth of their second child.
She now raises her 13-year-old daughter Radha Rani and 11-year-old son Hridoy Chandra Barman as a single parent.
"Although it was very tough, I was still optimistic that someday I'd come out of poverty," Swapna said.
"I got the chance two years back when our local Union Parishad Chairman Aminul Huq offered the village women the opportunity to become auto-rickshaw drivers in the locality. I instantly took the offer, and now my monthly income is around 40,000 taka ($500)," she added.
"Initially, people were reluctant to sit in my three-wheeler since I'm a female driver. They feared an accident, thinking I might not be able to drive the rickshaw properly," she said.
"I'd assure them that they'd experience a safe and comfortable ride with me. After a few days the locals felt confident, and now the commuters enjoy my driving."
Swapna's income covers her children's education, which costs around 3,000 taka per month. Her daughter feels proud that her mother is a role model in the community.
"My mother initiated something extraordinary that other women couldn't think of before her," Radha said.
"Now she can provide us with proper food, education, clothes and medicines. This was unthinkable two years ago."
Swapna's mother Sabitri Rani, 70, said her daughter "has become an example in our society. Her unconventional efforts have given us a different identity and a very good source of income."
When asked about future aspirations, Swapna replied: "My next plan is to buy a pick-up van since there are so many auto-rickshaws on the street nowadays."
She added: "A pick-up van will increase my income, and I've decided to have a female helper from the community as my assistant."
Huq said: "Swapna became an icon for our locality, inspiring others with her success. Now many women are planning to come out of their homes and take up this kind of income-generating activity."
He added: "At the beginning, we marked Swapna's auto-rickshaw as only for women passengers. That's why society leaders didn't react negatively. Later they got used to seeing a female driver, and now everyone is riding with her."
Dr. ASM Amanullah, professor of sociology at Dhaka University, said: "It's an example that if mainstream society helps, women in developing countries can elevate their position in their communities both financially and socially.
He added: "Women in rural areas of Bangladesh are more progressive than their counterparts in urban areas. We should ensure equal opportunities and extend our support, mostly financial, so they can initiate their own ventures."
Amanullah said: "Swapna's success shows that we can empower our 80 million womenfolk if we extend a little support to them."
http://www.arabnews.com/node/1224491/world
-------
Saudi Arabia stadiums welcome female football fans for first time
12 January 2018
RIYADH: Female fans were allowed to attend football matches for the first time in Saudi Arabia on Friday.
The first match that women attended was the Al-Ahli versus Al-Batin on Friday Jan. 12.
The Saudi Arabian government announced the lifting of the ban late last year and as a result, women now be able to enjoyed Saudi Professional League matches. The government directive said women would also be able to attend a second match on the following day (Jan. 13) and a third one on January 18.
Women from across the vast Gulf kingdom may be able to take advantage of this new freedom as the first match will be held in the capital Riyadh, the second in Jeddah on the Red Sea and the third in the eastern city of Dammam.
The move is Saudi Arabia's first social reform planned for this year granting women greater rights.
To prepare for the change, the kingdom has designated "family sections" in the stands for women, separated by barriers from the male-only crowd. The stadiums have also been fitted with female prayer areas, restrooms and smoking areas, as well as separate entrances and parking lots for female spectators.
The General Sports Authority is preparing the surrounding squares in the King Abdullah Sports City (Al-Jawhara) with food trucks and a number of sporting and social events to create a distinctive social environment before the matches.
A host of events taking place whilst families enter the King Abdullah Sports City stadium.
The game was scheduled to kick off at 8:00pm, but enthusiasm for the historic encounter began well before the kick-off.
Lamya Khaled Nasser, a 32-year-old football fan from Jeddah, said she was proud and looking forward to the match.
"This event proves that we are heading for a prosperous future. I am very proud to be a witness of this massive change," she told AFP.
Ruwayda Ali Qassem, another Jeddah resident, called Friday a "historic day in the kingdom which culminates (in) ongoing fundamental changes."
I am proud and extremely happy for this development," she said.
Noura Bakharji, another Jeddah resident, said she always felt bitter when her brothers came back from stadiums to tell her about the excitement of watching football matches in person.
"I always watched games on TV while my brothers went to the stadiums... I asked myself repeatedly 'Why I can't go?'" she told AFP. "Today, things have changed. It's a day of happiness and joy."
Hours before the game, Saudi clubs were encouraging women to attend through tweets on social media.
Some clubs are offering special abayas — traditional head-to-toe robes for Saudi women — in team colours.
State-owned Saudi Airlines announced prizes of free tickets for five families who want to travel between cities to watch games.
Arab News spoke to local Al-Ahli supporter Rayan, who said: "Our whole family supports Al-Ittihad except me and my sister — we support Al-Ahli. We always try to watch the games together. I always feel bad leaving to watch some games in the stadium knowing that she can't experience this special atmosphere. I always said 'one day' and now this is that day. It makes me so happy and proud that she can finally experience the excitement and drama of watching these games firsthand."
Sara, a recent Saudi graduate from Northeastern University, stated the event was one of the first signs of increased female participation in sporting events and activities. "This is wonderful for us (Saudi) women, and I am sure there is more to come. A diverse and inclusive society will only serve as the base to positive progression for Vision 2030."
Another Saudi woman that attended the game lent her voice. Lana, a fitness instructor based in Jeddah, said: "This was my first football match that I've ever attended, and It has been such a fun experience. I'll always remember tonight. I salute our government for granting us these rights, and I can't wait to attend again next week."
http://www.arabnews.com/node/1224436/saudi-arabia
-------
4 young women sweep UAE Student Awards
13 January 2018
FOUR Women swept to victory in the inaugural UAE Student Awards for the Advancement of Post Graduate Education 2018, which were launched Thursday at NYU Abu Dhabi by the Minister of Energy & Industry Suhail Al-Mazrouei to celebrate young pioneers in the "Year of Zayed" who are building the country's capacity to realize the vision of a knowledge economy.
The two Student Award winners of the 2018 PhD category were both from the Masdar Institute of Science and Technology — Aaesha Alnuaimi, PhD in Microsystem Engineering, and Yusra Abdulrahman, PhD in Interdisciplinary Engineering. While the two winners in the Masters category, included Hiba Najini, Masters in Mechanical Engineering, Heriot Watt University; and Manar Almazrouei, Masters in Mechanical Engineering, Khalifa University of Science and Technology.
Al Mazrouei was joined at the awards presentation ceremony, which was hosted during the annual Gulf Intelligence UAE Energy Forum, by Professor Sehamuddin Galadari, senior vice provost of research outreach & managing director of the research institute at New York University Abu Dhabi. The awards are aligned with the National Innovation Strategy, which aims to make the UAE one of the most innovative nations in the world. The strategy seeks to create innovation champions in individuals, companies, institutions and government.
"It is a great sense of achievement for the UAE that these young women have scored the highest marks amongst all nominees to be recognized in this special commemorative year that marks 100 years since the birth of the country's Founding Father, with 2018 declared the Year of Zayed," said Sean Evers, managing partner, Gulf Intelligence, which created the awards in partnership with NYU Abu Dhabi.
"The award winners and their fellow nominees are the UAE energy industry's future inventors and scientists who will underpin the growth of the country's innovative ecosystem," he said.
The International Selection Committee convened to review and grade all the nominees for the UAE Student Awards for the Advancement of Post Graduate Education 2018 included Dr. Mohammed Daqaq, associate professor of Mechanical Engineering, NYU Abu Dhabi; Dr. Steven Griffiths, interim executive vice president for research, Khalifa University of Science and Technology; Dr. Abdulrahman Alraeesi, director, Emirates Center for Energy and Environmental Research, UAE University; and Professor Martin Blunt, chair of Petroleum Engineering, Imperial College London.
In 2015 the UAE President Sheikh Khalifa Bin Zayed Al Nahyan, announced the adoption of the Emirates Science, Technology and Innovation Higher Policy, which included 100 national initiatives in the educational sector, health, energy, transportation, space and water.
The plan projected a possible investment of over Dh300 billion, and included new national policies in legislation, investment, technology, education and finance to build a vibrant knowledge economy in the UAE. — SG
Aaesha Alnuaimi
Dr. Aaesha Alnuaimi received her M.Sc and Ph.D in Microsystem Engineering from Masdar Institute of Science and Technology in 2013 and 2017. During her studies, she worked as research and teaching assistant in the electrical engineering department. Dr. Aaesha Alnuaimi was awarded the young Emirati researcher prize in 2013 by the national research foundation in recognition of her research on thin film crystalline silicon photovoltaics solar cells. In addition, she received Sheikh Rashed award for scientific outstanding in 2017 for her PhD work on graphene/silicon Schottky junction solar cells. Her research interests are in the areas of novel nanostructured materials and 2D materials for photovoltaics and optoelectronics devices as well as silicon and thin-film based PV modules. She has co-authored more than 20 conference proceedings and scientific journal papers in ranked journals and international conferences. Currently, Dr. Aaesha Alnuaimi works as a Sr. R&D Technologist at Dubai Electricity and Water Authority (DEWA) R&D center in Muhammad Bin Rashid Solar Park where she is exploring the performance and reliability of silicon and thin film PV module technologies in desert climatic condition.
Yusra Abdulrahman
Yusra Abdulrahman, graduated from the University of Arizona, US, with a bachelor's degree in Engineering Management, and Systems and Industrial minor in May 2014 with honors. Then received her MSc in Engineering and Systems Management from Masdar Institute, where she was exposed to the topic of sustainability and got to know more about it by being engaged in national and international events. Currently she is pursuing her PhD in Interdisciplinary Engineering at Masdar Institute, and working on a collaborative research with Strata Manufacturing on Non-Destructive testing and thermal imaging to improve the testing methods currently used to test airplane parts. Her dream is to become a successful women so that she can set an example to her fellow country women, youth, and others.‫ She said, the UAE and the great leadership has given and provided her with the support she needed, and it is her time now to contribute to society and give back to her country.
Hiba Najini
She is a distinguished graduate from Heriot Watt University for holding a masters degree with distinction under mechanical engineering discipline with focus in energy field and she has a bachelor of engineering degree with first class honors with a focus on electrical and electronic engineering. She is currently developing her skills within UAE's Energy industry by contributing her expertise in ESCO company. Her contributions are consultancy based on energy audits, proposal of energy saving measures, retrotting for lighting, HVAC, water and other building aspects as per ASHRAE level requirements that comply with UAE's standards. Additionally, she is a published author and a researcher for her projects on generation of renewable energy from road traffic and technoeconomic analysis of green building regulations based in UAE. She strongly believes, "A glass is always half full as different perspectives from even a commoner potentially endures ad hoc solutions to top level engineering conumdrums."
Manar Almazrouei
Manar Almazrouei is a 23-year-old master's student in Mechanical Engineering at Khalifa University of Science and Technology with 4/4 GPA. She also studied at Sharjah University where she obtained her bachelor in Renewable and Sustainable Energy Engineering and graduated with honors. She received a scholarship from the Scholarship Office — Ministry of Presidential Affairs for 2012-2016. She trained in the Dubai Electricity and Water Authority (DEWA) in 2014 and in the Department of Electrical Engineering at Masdar Institute in 2015. She graduated from the Young Future Energy leader program in 2015 and Al-Maktoum College Summer School in 2016. In 2017 she attended MIT Summer Visitors Program organized under the MIT-Masdar Institute Cooperative Program at the Massachusetts Institute of Technology (MIT), Presented scientific papers at the 9th International Conference on Applied Energy (ICAE 2017) (Cardiff, UK) and attended the 23rd Conference of the Parties (COP23) as part of the UAE delegation to COP23. She was selected to member in Emirates Youth Council-RAK. She had different scientific papers presented in conferences in Athens, Morocco and UK. She also, submitted her scientific work for different international scientific journals.
http://saudigazette.com.sa/article/526020/BUSINESS/4-young-women-sweep-UAE-Student-Awards
-------
'Iranian women are yet to discover their self-worth'
January 13, 2018
Azam Saeidi has been in practice as an OB-GYN, an obstetrician-gynecologist, for the past 21 years and after three years of doctoring she opened her own office.
The fifty-three-year old doctor sees an average of 200 patients per month. It is thus is safe to say that when it comes to female patients she has pretty much seen it all.
She is not just a great doctor but a consultant for many women who need to discuss their medical or sometimes psychological concerns and worries with her, tell their untold stories, and share secrets and painful tales. Over all, they seek refuge in her.
To that end, you can say she is a psychologist in addition to being a physician, but without the degree in psychology, and just through a lot of experience.
Saeidi can write entire books on women and not just in biology but psychology and her every word can have impact on patients.
I recently sat with her in a grand, modern coffee shop in Tehran, very close to her not very long ago office, over a cup of coffee in the company of her son, Amir Reza.
The well-respected Saeidi worked 16 years in a state-run medical facility, Najmieh, where she was officially hired with full benefits. She held various management positions in the center given her skills. She made many changes in the center, opened a painless labor and delivery ward and brought the place to prosperity.
It was informative to hear what Dr. Saeidi had to say on Iranian women's issue, giving them a list of valuable tips.
1. Saeidi believes that 50 percent of her clients are not physically sick but are in desperate need of consultation.
"After years of experience, I discovered clients referred to me with pelvic pain mostly suffered from psychosomatic disorders."
She believes part of the problem is that when women receive no love and attention at home from husbands, they tend to get some attention back by expressions of pelvic pain, all related to their emotional needs.
2. She believes when a woman is valued in a society, she enjoys higher self-esteem.
"If a woman is respected in her own society, she can make a better family and consequently a society, as it is known the foundation of a society is practically put in the hands of mothers."
3. She believes if a woman is capable of understanding her community and has the smarts to analyze her society, she is put in a higher seat of power, because after all, she can examine ideas which can shape the world she lives in.
4. She believes that Iranian women are yet to discover their own self-worth.
"I can say with conviction that out of every 100 women I meet maybe only five to six believe in themselves."
"If Iranian women believe in their skills, talents, capabilities, wisdom, and the capacity to work out their problems, express their bottled up emotions and feelings and release them properly, our society will certainly show signs of improvement."
5. She believes that a woman who seeks cosmetic surgery like in rhinoplasty or nose jobs, or gets breast augmentation, has forgotten that her true beauty lies inside and she no longer should seek it outside her."
Saeidi brought up her mother as a clear case of a strong woman who was well-aware of her self-value.
"She gave births to nine, 5-kilo babies out whom one died. She never considered any plastic surgery on her body because she was comfortable with herself. She always was very well-respected by my father because she cared for herself."
5. She believes Iranian women are not well acquainted with books and don't read enough.
"Young women in Iran have limited themselves to academic books and more religious types have restricted themselves to religious books and teachings. This is while sociology, psychology and self-help books, as well as novels, are left to collect dust."
She says reading broadens one's perceptions and expands mind. This helps women to think outside the box, while it improves analytical thinking and general knowledge.
6. She believes Iranian women are luxury oriented, and waste money to live in expensive and exclusive styles, expensive clothes and jewelry.
"This type of l lifestyle leads a woman to feel run down, and even worse, that she lives in a rut as if she has been running on a treadmill going nowhere."
7. She also believes women ought to stay active and play a strong role when it comes to social affairs and gatherings. But she admits that social functions are not much encouraged in the country.
"Women themselves are blamed for being ignored as they have taken a passive role in the family and society."
8. She believes Iranian women lack management skills in various aspects of life such as in managing time, finances and even love relationships.
"Some women even asked me to speak to their husbands and ask them to be attentive and kind to them. That obviously shows they have not mastered communication skills with their hubby."
9. She says Iranian women don't pay enough attention to their personal hygiene. She believes that is partly due to the separation of less costly state-run health care centers versus more expensive private medical hubs.
"Economic distress has pushed less fortunate women to seek medical treatment in less expensive but more crowded health care centers where they may not receive enough training for self-care."
Saeidi's comments didn't end there. She had a few words with her own colleagues in the medical profession.
She strongly believes satisfaction in the field of medicine in Iran ends with MONEY.
She says some physicians seek fame, some seek wealth, while some are after both, but among Iranian doctors there are those who love their job for just the sake of tending patients.
"The trend has had Iranians lose faith and trust in doctors, and not to seek medical care until it might be too late to help a sick woman."
http://www.tehrantimes.com/news/420258/Iranian-women-are-yet-to-discover-their-self-worth
-------
URL: https://www.newageislam.com/islam-women-feminism/saudi-football-stadium-welcomes-women/d/113924
New Age Islam, Islam Online, Islamic Website, African Muslim News, Arab World News, South Asia News, Indian Muslim News, World Muslim News, Women in Islam, Islamic Feminism, Arab Women, Women In Arab, Islamophobia in America, Muslim Women in West, Islam Women and Feminism