New Age Islam News Bureau
4 Apr 2020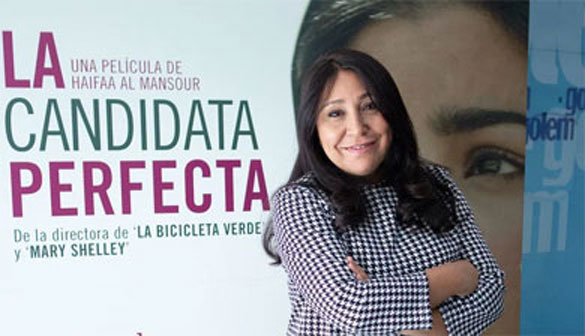 Haifaa Al-Mansour's movie launched in the UK late last month. (Getty)
-----
• Saudi Filmmaker Haifaa Al-Mansour's 'The Perfect Candidate' Wows UK Critics
• How Israel's First Hijab-Wearing MK Plans to Fight for Arab Women
• Saudis Star in Women-Powered Rap Video for Benefit Cosmetics Middle East
• Saudi Female Artists Debut in Pakistan Exhibition
• Egyptian Artist Amina Salem Celebrates 'Powerful, Confident Women' In Latest Exhibition
• Japan Supporting Women and Girls in Iraq
• Malaysia Government Tells Women Not To Nag Husbands Amid Coronvirus Lockdown
• British Muslim Nurse Dies After Contracting Coronavirus
Compiled By New Age Islam News Bureau
URL: https://www.newageislam.com/islam-women-feminism/saudi-filmmaker-haifaa-al-mansours/d/121486
-------
Saudi filmmaker Haifaa Al-Mansour's 'The Perfect Candidate' wows UK critics
April 03, 2020
LONDON: 'The Perfect Candidate' — Saudi Arabian filmmaker Haifaa Al-Mansour's latest movie — launched in the UK late last month (on streaming services, since cinemas are currently closed) and has garnered hugely positive reviews for its "subtle power" (Backseat Mafia).
"The Perfect Candidate" tells the story of Maryam, a doctor who — outraged by the state of the road leading to her clinic, which sometimes prevents patients from reaching her — decides to run for a position in the local municipality. It's a decision that shocks not just politicians and the media (a presenter on the local news assumes she must be campaigning on 'female-focused' issues "like gardens, for instance"), but her family and friends too.
In The Sunday Times, Kevin Maher described "The Perfect Candidate" as "an inspirational tale." He hailed Mila Al-Zahrani's performance in the lead role as "furiously good" and said the film was "the perfect streamer," praising Al-Mansour for the ease with which she "blends arthouse and mainstream conventions."
Al-Mansour's comedy drama premiered at the Venice Film Festival in August 2019. At the time, the filmmaker told Arab News, "It's feminist. It's about empowering women and it gives them a chance to believe in themselves and think that they could run for office and get involved in politics in Saudi Arabia."
The Guardian's Peter Bradshaw said the movie gives the audience "a fine lesson in some key ingredients of political life … nepotism, cynicism, sexism and chaos," finding the themes so universal that it is, "the sort of film I can imagine getting a remake in contemporary America or Britain, with not as many changes as we might assume."
In Little White Lies, Ella Kemp described the film as "a fiery message playfully wrapped in irony" that "attains a greater level of sensitivity beyond just delivering yet another cry for vague female empowerment."
As she did with her pioneering debut film — 2012's "Wadjda" — it seems Al-Mansour is once again proving that there is an appetite for stories from Saudi Arabia and the wider Arab world in international markets; a fact that should help convince others to see the creative arts as a viable career option — something Al-Mansour was keen to see happen when she spoke to Arab News last year.
"Art will become something people can actually work on and live off in Saudi Arabia, which was not the case before," she said. " Art was not respected. People didn't have that kind of appreciation for it. But I think it's different now."
https://www.arabnews.com/node/1652371/lifestyle
--------
How Israel's First Hijab-Wearing MK Plans To Fight For Arab Women
April 04, 2020
Securing an interview with newly elected Iman Khatib-Yasin was a near impossible feat for The Times of Israel's Hebrew sister site, Zman Yisrael. The whirlwind of publicity, after a lifetime of near anonymity, has consumed the first hijab-wearing Muslim MK in Israel's history.
"It hasn't sunk in yet. I'm running around giving interviews, answering calls, in talks, in meetings. I haven't had a moment to myself, alone, to fully process what has happened," Khatib-Yasin told Zman Yisrael over the phone soon after the March 2 elections.
Self-described feminist Khatib-Yasin earned her place on the Joint List — a bloc of four primarily Arab parties that ran together on one ticket — as a member of the Ra'am party, and in doing so became the first woman from the Southern Islamic Movement to be elected to the Knesset.
She won the fourth spot on Ra'am's list this past summer after soundly defeating the seven men who ran alongside her in the party's primary. With both male and female support at the polls, and without the common practice of a designated slot for a woman representative, Khatib-Yasin won by several dozen percentage points.
In line with her colleagues in Ra'am, Khatib-Yasin has previously voiced her objection to the definition of Israel as a Jewish state and champions the awarding of full civil and democratic rights for her people.
Khatib-Yasin "thanked" Prime Minister Benjamin Netanyahu for what she labeled as incitement against Arab society when he urged Jews to come out to the polls to outweigh the Arab voters. She claimed it only contributed to the electoral strength of the Joint List by galvanizing so many in her sector to vote. "Incitement is unacceptable; we want to live in peace and dignity in our country," she added.
At 56 years old, the married mother of four with master's degrees in social work and gender studies arrives at the Knesset with over 25 years of field experience and a successful career as a community center director.
Khatib-Yasin was born into a family of farmers in the Beit Netofa Valley. Currently, she lives in Kfar Yafia, an Arab village in the Galilee, where she established and ran, for 14 years, the area's first-ever community center.
In advance of the March 2 elections, Khatib-Yasin was tasked with getting out the vote among the Bedouin women of the Negev. As part of that effort, she held conferences and living room chats, coordinating an entire campaign to inspire Bedouin women to go out and take part in the democratic process.
And in fact, it appears the Joint List's campaigning efforts in the south bore fruit: In the span of six months, from September 2019 to March 2020, the official vote tally in the Bedouin communities of the Negev increased from 57,000 to 68,000.
Voter turnout in two of the biggest Bedouin settlements in the Negev, Rahat and Arara, increased by seven percent (from 59% to 66% in Rahat and from 52% to 59% in Arara) indicating, despite the fact that the data not differentiate between gender, that the voter turnout campaign, at minimum, was a success.
"I'm going to address violence in Arab society and violence against women specifically," Khatib-Yasin said when asked about the first issue she'd like to tackle while serving in Knesset.
"I'm going to create employment opportunities for Arab women, suited to their abilities and their environment. On the education front, I want to further advance the rights of our children to an empowering education, one which will nurture mature and opinionated personalities."
The following interview has been translated and adapted from the original on Zman Yisrael, The Times of Israel's Hebrew sister site.
On the topic of violence against women as well as other topics, do you have a sense of shared destiny with Jewish women? Would you collaborate with Jewish Zionist women MKs to advance legislation on this issue?
During the week of the elections a woman was murdered in Taibe, an infant was murdered in Hod Hasharon and her mother was severely injured. We are all women who believe in our right to a life of dignity, and something even more basic than that — a right to life, period. We need to join hands in this effort and present the establishment with cogent plans that have clear goals and a vision.
The onus is on the establishment — on the offices of the social services, which are collapsing under the pressure, and the police, which sends victims of domestic abuse back into the home. We have to unite, with men as well, to demand the necessary resources from the relevant government offices.
How much of your gender-related agenda is going to come across in your parliamentary work as opposed to your national agenda?
The two are inseparable because our exclusion is deeply rooted in our national identity. Arab women suffer double and quadruple discrimination. It is not just being a part of the female sex but being a part of the female sex while belonging to a marginalized minority.
We do not share an even playing field with Jewish women. As an Arab woman, I have to put in a lot more work to get to pretty much anywhere, whether it is an academic or professional setting.
And among Arab women, those who wear a hijab are the most excluded. The way we look puts us at the fore of racist treatment. I'll give you an example from personal experience. When I arrive at a shopping center in a mixed or Jewish city, 10 Jewish women could walk in before me without getting stopped by security, but I will get stopped, checked, and likely humiliated by security. This is why I'm talking about social justice and self-actualization for women, I'm going to take action to remove obstacles for Arab women.
Awareness of the issue and the desire to enact change within the legislature. It's about creating affirmative action for Arab women, both in writing and in deed.
Yes. But not because I am obligated by my religion to do so. I've chosen to watch out for myself, in order to honorably represent the Islamic Movement. Work requires me to spend long hours outside of the home and often until late at night. I want to feel comfortable and have the peace of mind that there is someone helping me with that, someone I can trust.
If you say it like that, it means you don't know Islam, which is a religion that respects women. I was born into a family that championed equality and social justice, and I've maintained those values. When I first started establishing the community center in Kfar Yafia 20 years ago, while my children were still little, I didn't give up or stay home. I integrated work with family. I have a partner who is my partner in life and my partner in [our life's] journey.
When I look at my mother, a woman who was born at a different time but was always a strong woman who raised an exemplary family, I know she could have been a prime minister.
Are the obstacles facing Arab women today coming solely from the discriminatory practices of Israeli society, or are there still cultural obstacles? Are husbands and fathers in Arab society supportive of women working and studying?
Of course, we are way past that point. Today the percentage of female Arab students in academia is higher than that of male Arab students.
Being a public figure, getting caught in the proverbial eye of the storm and possibly having insults hurled at you — don't you find these propositions daunting?
It was not an easy decision, and it was one I made together with my children and my partner. We discussed all aspects of this move and also addressed their concerns. But they supported me. And as much as I want to safeguard my privacy, I have no problem with people knowing who I am, because I'm proud of who I am. I am confident in my values and I've taken a vow to not allow myself to be tarred.
https://www.timesofisrael.com/how-israels-first-hijab-wearing-mk-plans-to-fight-for-arab-women/
--------
Saudis star in women-powered rap video for Benefit Cosmetics Middle East
March 28, 2020
DUBAI: Saudi Arabia's Amy Roko is the star of Benefit Cosmetics Middle East's first ever music video. Entitled "GirlGang!" the hip hop clip also features Saudi R&B singer Roya, Jeddah-based TikToker Shahad and a 17-year-old Emirati make-up artist who goes by the name Sara.
Written, produced and directed by Dubai-based producer and filmmaker Angy Jamma, and shot entirely within the Gulf, the music video draws inspiration from traditional Saudi homes and is set against an all pink Al-Balad-inspired backdrop replete with traditional houses, a pink logaimat kiosk and a traditional café.
"Thanks @benefitmiddleeast, working with you guys was a pleasure! You guys did an amazing job. I can't believe I looked this good omg," wrote the Saudi rapper on Instagram alongside a snippet of the pink-infused video.
"Saudi Arabia is one of the biggest markets for rap music in the Arab world, but rap still remains a male dominated musical genre. This project is about giving the mic to women, and it was important for us to work exclusively with young talents from this region to convey our message, using their voice."
https://www.arabnews.com/node/1648826/lifestyle
--------
Saudi female artists debut in Pakistan exhibition
March 13, 2020
ISLAMABAD: The National Art Gallery in Islamabad presented works by Saudi textile artists on Tuesday, at an exhibition held in commemoration of International Women's Day.
The exhibition, "Weaving Threads," features Nouf Beydoun, Raeda Ashour, Nojoud Al-Sudairi and Nora Al-Issa, whose works are being showcased for the first time in Pakistan.
The exhibition was inaugurated by Saudi Ambassador to Pakistan Nawaf bin Said Al-Malki and Dr. Fouzia Saeed, director general of the Pakistan National Council of the Arts (PNCA).
Organized by the PNCA and the Saudi Culture Ministry, the exhibition represents emerging freedoms for Saudi women, and aims to help women develop new links with the global art world.
Al-Malki and Saeed highlighted the importance and historical strength of Saudi-Pakistani cultural relations, and the role of artists in building the social fabric of societies and bridging cultures.
Bilateral cultural exchanges have been sought lately by both countries. During a visit to Saudi Arabia in March 2019, Pakistan's then-Information Minister Fawad Hussain Chaudhry highlighted the importance of strengthening cultural ties between the two countries.
In September 2018, Saudi Arabia's then-Information Minister Dr. Awwad bin Saleh Al-Awwad visited Pakistan to discuss cooperation in the fields of media and culture.
https://www.arabnews.com/node/1640776/saudi-arabia
--------
Egyptian artist Amina Salem celebrates 'powerful, confident women' in latest exhibition
April 03, 2020
CAIRO: A range of exquisite oil-painted sculptures of the female torso greeted me when I set foot in Cairo's Picasso art gallery to visit Egyptian artist Amina Salem's solo exhibition "Il Torso" in early March.
Two years in the making, "Il Torso" comprised 48 artworks ranging from oil-painted polyester sculptures to paintings on canvas, linen, and other fabric, all with distinct pop-art feel and themed around different manifestations of womanhood.
Some of the torsos on display sported Salem's reinterpretations of artworks by the likes of Amedeo Clemente Modigliani, Leonardo da Vinci and René Magritte. Others exhibited portraits of icons of music and cinema, including Umm Kulthum, Audrey Hepburn, Marilyn Monroe and Madonna.
"With this exhibition, I was trying to explore the history (of art) and womanhood, while also bringing in elements of my own personality," Salem told Arab News.
Salem knew she wanted to experiment with torso sculptures, and started off by sketching the body of Venus, "the Roman goddess of love and beauty — herself the subject of many stories in Greek mythology."
She shared that sketch with her friend, fellow artist and sculptor Ahmed Magdy, who transformed it into plain white 3D polyester torsos with black granite platforms.
"Polyester is break-resistant and not as expensive as bronze, for example," Salem said, adding that she chose the torso "not only for its aesthetic value, but also because it embodies history and mythology." But painting on an uneven surface was challenging in a variety of ways. "Very different from working with canvas," Salem said.
Her idea was to use the torsos to experiment with multiple themes. One being the reinterpretation of a range of famous paintings by artists "who were very much preoccupied with the theme of women in their works. But I also allowed myself to experiment with these paintings; my depiction of the Mona Lisa, for example, was made with a hint of pop-art."
While the torso sculptures were undoubtedly the highlight of Salem's exhibition, the paintings on display were no less impressive in terms of technique. Here again, the artist's appetite for experimentation saw no limits, manifest in her use of upholstery fabric, including Egyptian linen, as her canvas.
The paintings ranged from vibrant portraits of regular women and sketches depicting female celebrities "with a hint of funky" to a collection of works exploring the relationship between women and animals.
"I love for the women I paint to look their absolute best," said Salem. "I enjoy painting powerful and confident women. Normally, I like to give my female subjects sharp features but some of my paintings exhibit softer, more romantic undertones."
The sense of female empowerment that emanates from Salem's paintings is in many instances accentuated with calligraphed quotes which "influence how you interpret the painting," she says. For example, one painting in "Il Torso" included a calligraphed Arabic line that translates as, "I am mine before I am ever anyone else's."
"My paintings are contemporary and a bit funky, especially this year's artworks, but incorporating calligraphy gives my work an Arabic twist," Salem explained. "And sometimes employing calligraphy emphasizes this contradiction between both moods."
While the artworks displayed in "Il Torso" spanned different themes and forms, they all celebrated women's unequivocal strength as much as they honored their femininity. It was a natural progression of Salem's earlier exhibitions, which also focused on the theme of womanhood and delved deep into the perpetual tension between women's strength and fragility.
"'Il Torso' is my own contribution to the women-themed art that has flourished throughout history," Salem said. "And it is proof that there can never be limits to painting the female subject."
https://www.arabnews.com/node/1652366/lifestyle
--------
Japan Supporting Women and Girls in Iraq
4/2/2020
(MENAFN - Iraq Business News) The Government of Japan has contributed US$ 1.3 million towards UNFPA interventions for integrated lifesaving reproductive health and gender-based violence services to vulnerable women and girls in five governorates across Iraq.
UNFPA has been adopting an integrated approach to enable women and girls to receive a comprehensive package of services, continuum of care, as well as timely referrals.
The Japanese contribution will ensure that 40,000 women and girls, out of whom 25,000 are pregnant women, from the IDP, returnee, and refugees in the humanitarian settings in Anbar, Diyala, Kirkuk, Ninewa and Salah Al-Din governorates, have access to prevention and response to reproductive health and gender-based violence services which include awareness-raising sessions and case management, as well as consultations and treatment.
In addition, the new commitment will enable UNFPA to improve the capacity of national service providers, especially female caregivers, to deliver high-quality assistance, including psychosocial and referral services in the targeted five governorates.
"We are thankful for Japan's trust in UNFPA programme in Iraq ... Women and girls continue to suffer from the impact of the humanitarian crisis.
"Japan has recently decided to provide a new assistance package for Iraq amounting to USD 41 million including this project as assistance for women and girls.
"With this package, the total amount of Japan's assistance to the people affected by the crisis reaches US$ 540 million since 2014. I hope that the assistance from the Government and people of Japan will help ensure protection of women and girls among IDP, returnee and refugees."
Japan has been a UNFPA long-standing partner with contributions amounting to a total of US$ 11,852,085 over the last five years ensuring women and girls across Iraq have access to health and protection services.
UNFPA, the United Nations Population Fund, delivers a world where every pregnancy is wanted, every childbirth is safe and every young person's potential is fulfilled
https://menafn.com/1099955355/Japan-Supporting-Women-and-Girls-in-Iraq
--------
Malaysia government tells women not to nag husbands amid coronvirus lockdown
April 2, 2020
Malaysia's government has sparked outrage by telling women to avoid nagging their hubbies during the coronavirus lockdown.
A series of online posters with the hashtag #WomenPreventCOVID19 told residents how to behave while stuck at home — urging women to dress up nicely and wear makeup.
Wives were also told to avoid nagging their husbands — and to instead lighten the mood by mimicking the high-pitched voice of Doraemon, a blue anime robot cat popular across Asia.
Another poster depicts a man sitting on a sofa, telling women to refrain from being "sarcastic" if they need help with household chores.
The poster — uploaded on Facebook and Instagram — sparked outrage among women's rights groups already alarmed at a domestic violence problem in the country.
"These posters promote the concept of gender inequality and perpetuate the concept of patriarchy," said Nisha Sabanayagam, a manager at All Women's Action Society, calling them "extremely condescending."
"We apologize if some of the tips we shared were inappropriate and touched on the sensitivities of some parties," the ministry's women's development department said in a statement.
Women's groups have warned that lockdowns could see a rise in domestic violence, with women trapped with their abusers. Some governments have stepped up response, including in France, which offers hotel rooms to victims.
Malaysia is ranked 104th out of 153 countries in the latest World Economic Forum's Global Gender Gap index, after scoring poorly on political empowerment and economic participation.
https://nypost.com/2020/04/02/malaysia-tells-women-not-to-nag-men-during-coronavirus-lockdown/
--------
British Muslim nurse dies after contracting coronavirus
Karim El-Bar
03.04.2020
Areema Nasreen, a 36-year-old British Muslim nurse, died on Friday after falling ill from coronavirus.
She is the latest in a string of deaths in Britain's National Health Service (NHS) from the virus. Six out of the eight casualties in the NHS so far are Muslims with backgrounds in Asia, Africa, and the Middle East.
The mother of three had no underlying health conditions, and died in Walsall Manor hospital, central-west England, where she had worked for 16 years.
The other British Muslims who have died from coronavirus at the front lines of the NHS fight against the outbreak are: Mohamed Sami Shusha, 79, a consultant histopathologist; Alfa Saadu, 68, a geriatric medicine specialist; Amged el-Hawrani, 55, an ear, nose, and throat consultant; Habib Zeidi, 76, a general practitioner, and Adil el-Tayar, 64, a surgeon.
The figures showed that, overall, 79.2% of those whose ethnicities were known were white, and 20.7% were from other ethnic backgrounds, including Asian, Black, Chinese, mixed, and other backgrounds.
However, when looking at the figures for just medical, rather than also including non-medical roles, the number of white staff drops to 55.6% and the number of ethnic minority staff rises to 44.4%.
Data compiled by U.S.-based Johns Hopkins University shows worldwide infections surging past 1 million, with over 58,000 deaths. More than 225,000 people have recovered.
https://www.aa.com.tr/en/europe/british-muslim-nurse-dies-after-contracting-coronavirus/1791772
-----
URL: https://www.newageislam.com/islam-women-feminism/saudi-filmmaker-haifaa-al-mansours/d/121486
New Age Islam, Islam Online, Islamic Website, African Muslim News, Arab World News, South Asia News, Indian Muslim News, World Muslim News, Women in Islam, Islamic Feminism, Arab Women, Women In Arab, Islamophobia in America, Muslim Women in West, Islam Women and Feminism