New Age Islam News Bureau
20 Sept 2014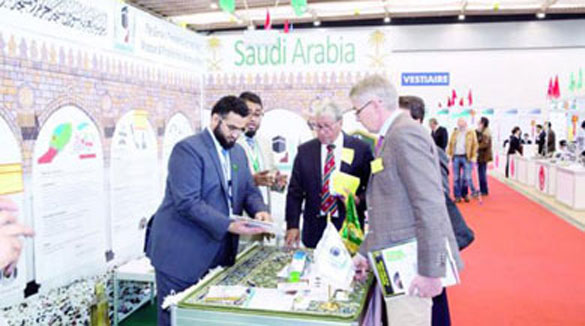 Saudi women have been proving that they have the skills to handle any position
------
• France's Femina Literary Prize Boycotts Hotel over Brunei Sharia Law
• Saudi Women Forge Ahead In Workplace
• Profile of a Saudi Woman Sentenced To Die
• Suicide, Not Maternal Mortality, Now Leading Killer of Adolescent Girls
• Combating Tanzania's High Child Marriage Rates
• Meet Majida, Jordan's Veiled Feminist Heroine
• "Women Are Sisters, Women Are Mothers and Women Are Wives, Let's Respect Them"
• South Africa: Stark Differences in Cancer Screening for Young, Old Women
Compiled by New Age Islam News Bureau
URL: https://newageislam.com/islam-women-feminism/saudi-female-tv-anchors-refuse/d/99179
------------
Saudi Female TV Anchors Refuse To Take Heavy Makeup Criticism Lightly
20 September 2014
Several Saudi female TV anchors have reacted angrily to a recent statement by a Shoura Council member in which she criticized the anchors as being too "extravagant and wearing too much makeup."
They said Nora Al-Adwan's criticism is unacceptable and degrades the work these women are doing for their country. "Those who criticize Saudi media only want to put down the accomplishments of Saudi women and destroy the image of our country," said presenter Afaf Al-Mohsin in response to the remarks.
"Saudi women are not the only ones who are done up on television; presentation is important in this line of work," she added.
She said female Saudi presenters are well spoken, presentable and respectful and should not only be judged by their appearance.
She added that the colourful, yet modest, Jilbab and Abayas worn by them are no different from others as long as they both cover the body and are conservative.
Afrah Jaafar, also a presenter, agreed, arguing that "all the clothing choices made by female Saudi presenters are very modest, since Saudi television represents the country as an Islamic state and so they are keen not to cross any red lines."
Presenter Arafat Al-Majid said she is in favour of setting uniform standards, such as the abaya, for Saudi presenters, because varied outfits may create jealousy and problems between presenters.
"I agree that some presenters go overboard with the makeup, but there are many others who do not," she said. "Makeup is required for the camera and lighting."
She added: "I am not in favour of generalizing, as the Shoura Council member did. This simply not true and exaggeration is unacceptable."
http://www.arabnews.com/featured/news/632381
------------
France's Femina literary prize boycotts hotel over Brunei sharia law
20 September 2014
The all-woman jury of France's prestigious Prix Femina has decided to not to stage its awards ceremony at a luxury hotel owned by the Sultan of Brunei because he is introducing sharia law in his tiny country.
The Prix Femina, which was founded in 1904, has a jury exclusively composed of women but awards its prize regardless of the author's gender.
The ceremony takes place on the first Wednesday of November every year.
With its usual venue, the swish Hôtel Crillon on Paris's Place de la Concorde, closed for refurbishing, this year's ceremony was due to take place at the equally fancy Hôtel Meurice, part of Dorchester Collection of hotels owned be the Sultan Hassanal Bolkiah of Brunei.
But in April the sultan announced a phased introduction of Islamic sharia law in Brunei.
That sparked an international boycott campaign, which has attracted support from celebrities and businesses opposed to such measures as flogging for women who have undergone an abortion and for the drinking alcohol, amputation for theft and stoning for other offences, including adultery and homosexuality.
In a statement Thursday the Prix Femina announced it was scrapping its booking at the Meurice in protest at the sharia decision.
http://www.english.rfi.fr/asia-pacific/20140918-france-s-femina-literary-prize-boycotts-hotel-over-brunei-sharia-law
------------
Saudi women forge ahead in workplace
20 September 2014
Many Saudi women have started to forge successful careers in the workplace, including in roles previously dominated by men, Arab News has found.
It is now commonplace to see women in banks, hospitals, schools, hotels, private sector companies and increasingly, working for various government agencies.
Recently the Ministry of Interior and Passport Department hired women for various posts, although it is quite clear that they still need more training to improve their communication skills.
Despite these problems, women have been proving that they have the skills to handle any position, including dealing professionally with customers.
Haifa Al-Marshad, a senior marketing executive at a hotel in Riyadh, said that she has faced many challenges since deciding to work in the male-dominated marketing profession. However, she has navigated various hurdles with effective planning and by remaining open-minded in her interaction with different people.
Mona Al-Hajji, a senior Saudization supervisor at a large hotel, said that she has been able to understand and empathize successfully with employees. She believes that she has become an effective leader and been able to work under pressure. However, it has been a challenge dealing with those in her community who have a different view about women interacting with men in the workplace.
Arab News has found that women are now becoming more confident and assertive in the workplace. In addition, problems around skills development and barriers stemming from cultural practices can be overcome with time and support from government and the community. This would inevitably create opportunities for many more women to enter the workplace.
http://www.arabnews.com/saudi-arabia/news/632791
------------
Profile of a Saudi Woman Sentenced To Die
20 September 2014
A murder that shocked Makkan society recently involved a Saudi woman who set her abusive husband on fire. Sentenced to death, the woman, known as N.S., is currently awaiting execution for killing her husband. Interviewed by Makkah daily, which withheld her name to protect her identity, the woman lays threadbare her motives behind the murder.
"For years, I suffered in silence in my home in Makkah. Whenever my husband would come home, he would physically assault and humiliate me. I tried divorcing him so I could escape from the cycle of violence I was subjected to but nothing seemed to work. In the end, I decided to set myself and my husband on fire," she said, choking back tears.
The fire killed her husband and although she was badly burned, N.S. survived. She spends most of her days thinking about her children and supplicating to Allah for a pardon.
Born in Makkah into a middle-class family, her dream was to continue her education and become a nurse so she could help patients recover. Instead, however, she got married to a man she initially thought was a God-fearing and good-hearted man.
"What encouraged me to marry him was the way his neighbours and friends praised his character. They stressed that he was an Islamic teacher and was of sound moral character. I thought he would be a good husband and that I and my children would have his support as long as he was alive," she said.
Two years into the marriage, her husband's attitude began to change for the worse. When he would stay out of the house until the early hours of the morning, his wife would ask where he was. His response would be to beat and humiliate her in front of their children.
"He would be out of the house for 6 to 10 hours. During vacations, he would be away from the home for several days without even bothering to ask how we were. He never left us any money so we could buy groceries, but always managed to wear the best Thobes and colognes. Sometimes, he would take thousands of riyals with him but would return empty handed," she said.
N.S. said she got the idea to set her husband on fire from an Arab neighbour who rented an apartment on the floor above hers. Although she used this defence in court, her neighbour was found to have no involvement in the crime.
"When my neighbour moved in, she tried to talk to me on several occasions. She knocked on my door several times but I was a prisoner in my home and was forbidden from having guests. But one day my husband forgot to lock the door, so I let her in and began to narrate the details of my life and my problems with my husband. One day, she suggested that I set him on fire by pouring kerosene on him. She even helped me by purchasing the kerosene," N.S. said.
"I had intended to die with him. I poured the kerosene and set him on fire and immediately, but I could not go through with the act of burning myself too. I entered the bathroom due to fear of burning myself. Before that I put my children to bed and closed the door so that they would not be harmed," she added.
During investigations, her neighbour was found to have no involvement in the crime. N.S. said she later learned that her husband did not die from burns but because of smoke inhalation. Investigators also told her that her husband had married two other women in a temporary and controversial type of marriage known as Misyar. Regardless of the suffering she endured, her fate was sealed and a judge found her guilty of murder and sentenced her to death. So far, all attempts to seek a pardon have failed.
http://www.saudigazette.com.sa/index.cfm?method=home.regcon&contentid=20140920218718
------------
Suicide, not maternal mortality, now leading killer of adolescent girls
20 September 2014
As an advocate working in a research institute, I rely on evidence to understand and underscore the importance of issues. Over the years, when arguing for expanded sexual and reproductive health information and services for youth worldwide, I've often cited the fact that maternal mortality was the leading cause of death for adolescent girls aged 15-19.
It was a compelling case: Girls who become pregnant young are at higher risk of dying in pregnancy and childbirth than those whose bodies are more mature. For far too long, poor or nonexistent access to sexuality education and youth-friendly health services, as well as the perpetuation of harmful societal expectations and gender norms that compelled girls to marry and give birth young, led to high numbers of maternal deaths.
Recently, I learned that the evidence has changed. Largely as a result of improvements in maternal health worldwide, maternal mortality – while still a leading cause of death – is no longer the number one killer of adolescent girls. That's the good news.
The bad news? Suicide now tops the list.
Suicide kills more girls between the ages of 15 and 19 than any other cause -- more than pregnancy, HIV/AIDS, road injury and diarrhoeal diseases. In every part of the world but Africa, suicide is among the top three killers of girls in this age group. The suicide rate in South and East Asia is particularly shocking; in this region, it is five times higher than in Europe or the Americas.
The World Health Organization (WHO) released a landmark report this month called Preventing Suicide: A Global Imperative. The report offers insights into global rates and causes of suicide, stressing the need to make suicide prevention a higher priority on the global health agenda. It sheds light on some of the key risk factors for suicide, including, among others, discrimination, trauma, abuse, relationship conflict, social isolation and barriers to accessing health care. The evidence also suggests that adolescents who are socially and economically marginalized have the highest risks for suicide. While WHO's report does not focus on how suicide affects adolescent girls specifically, we know that these particular risk factors are all part and parcel of the daily lived experiences of marginalized girls around the world.
The limited evidence we have about married adolescent girls, for example, suggests that they are more likely to experience intimate partner violence than their peers who marry later, and that they often face feelings of hopelessness, helplessness and depression. A study conducted by ICRW in India, for example, found that girls who married before 18 were twice as likely to report being beaten, slapped or threatened by their husbands than girls who married later. Child brides face social isolation, are subject to early and unwanted sex, and typically don't have the skills or agency needed to succeed in a relationship.
The evidence also demonstrates links between unwanted pregnancy and suicide. Particularly in contexts where girls have little or no access to sexuality education, contraception or safe abortion, and where they are expected to abstain from sexual activity before marriage, some pregnant girls may feel that suicide is their only option.
As educational attainment improves and mass communication expands across the globe, adolescent girls are given ever greater glimpses of the world in which they could live. They may dream of becoming pilots, teachers, doctors and politicians, but if societal norms and economic realities force them to become only submissive wives and fecund mothers, what happens to their mental health?
If a girl does have the opportunity to study or to work outside the home, but faces the daily threat of being attacked by acid or bullets, how can she possibly retain her mental health?
It's important to note that harmful gender norms also contribute to suicide among boys. In 2012, as many boys as girls in this age group died as a result of self-harm. As ICRW's research about masculinity in the Balkans, as well as fantastic work from organizations like Instituto Promundo and the MenEngage Alliance have shown, strict interpretations of what "makes a man" can also lead to self-harm by boys and young men.
WHO's recent report provides a good perspective on the significance of suicide as a global health issue, as well as some recommendations for preventive action. Understanding the drivers of self-harm is critical in determining how best to act. In particular, we need far more evidence about the harms that "traditional" gender norms pose to the mental health of both adolescent girls and boys. Moving forward, the global health and development communities must continue to prioritize sexual and reproductive health, but must also increasingly address the drivers of suicide in order to make significant improvements in adolescent health and mortality.
--Dr. Suzanne Petroni is Senior Director for Gender, Population and Development at the International Center for Research on Women in Washington, DC.
http://www.trust.org/item/20140919194152-9z4fc/
------------
Combating Tanzania's High Child Marriage Rates
20 September 2014
Dar es Salaam, Tanzania — Happiness Rhobi, in the Mara Region of Tanzania, was 12 years old when her parents decided she was old enough to be married. They pulled her from school, planned to have her undergo female genital mutilation (FGM) and prepared to marry her off to a man of their choosing. But Happiness took a stand.
She fled her parents' home and took refuge at the UNFPA-supported Masanga Centre. For eight months, caretakers at the centre worked to convince her parents to allow her to return to school. They finally relented, and Happiness resumed her education. But she continues to live in the Masanga Centre, and wants other girls in her situation to have the same kind of support.
A new initiative aims to protect girls like Happiness from the pressure to marry while still children. On 25 August, UNFPA, together with partners including the Graça Machel Trust (GMT), the Children's Dignity Forum, and the Tanzania Media Women's Association, helped launch the Government's 'Child Marriage-Free Zone', a national campaign to end child marriage.
Graça Machel embraces a girl from the Masanga Centre during the launch of the national campaign. Behind her are former Tanzanian President Benjamin Mkapa (second from right) and former Tanzanian Prime Minister Joseph Warioba (far right). Photo credit RCO/Selemani Kitenge
The campaign, which started in the Mara Region, reaches out to communities about the rights of girls and the responsibility of all people to uphold them. It is part of a larger African Union (AU) initiative to end child marriage across the continent.
"I am so happy that this campaign is launched today," Happiness told UNFPA. "I believe it will help give voice to the voiceless girls of Mara Region and Tanzania as a whole."
"Members of my clan wanted to marry me off"
Her story was echoed by that of 13-year-old Pili Mhere, also from the Mara Region.
"Members of my clan wanted me to undergo female genital mutilation and [then] marry me off," said Pili. "My mother took me to Masanga Centre for safety."
Happiness and Pili are among a small number of girls in the region who managed to escape child marriage, as well as the FGM that often precedes it.
Tanzania has one of the highest child marriage prevalence rates in the world. On average, almost two out of five girls will be married before their 18th birthdays, according to the country's 2010 demographic and health survey.
Tanzania still uses the Law of Marriage Act, from 1971, which allows girls to be married at age 15, with parental approval, or even at age 14 if courts approve the request.
"Child marriage poses a great challenge to our country," said Sophia Simba, the Minister for Community Development, Gender and Children, at the campaign's launch event in Dar es Salaam. "It contributes greatly to school drop-outs, maternal mortality and poverty due to the young mothers not being able to take care of themselves and their children."
Child marriage often goes hand-in-hand with FGM, a rite of passage signifying a girl has reached womanhood. And girls who are considered old enough to marry are frequently pulled from school, since it is expected they will assume the domestic responsibilities of their husband's home. All of these practices violate girls' rights.
And girls who know their rights - like Happiness and Pili - are better equipped defend them.
"Ending child marriage is possible within one generation," said Graça Machel, the chairperson of GMT and former first lady of both Mozambique and South Africa. But, she added, "change will not happen from adults only. It has to come from young generation too - it has to be instilled in their mind."
Taking action
To ensure this campaign is effective, UNFPA and partners are calling for increased investments in institutions that protect girls and women, as well as increased investment in their sexual and reproductive health and rights. They are also advocating for an increase in the minimum marriage age to 18 and for making secondary education compulsory for all.
"It is vital to invest in girls," said Natalia Kanem, UNFPA's Representative in Tanzania, at the event. "Longer schooling and later marriage make for a healthier and wealthier family. A girl who marries later is also more empowered to choose when she wants to have children and how many children she wants to have."
The campaign will soon be rolled out in other regions where child marriage is prevalent.
"I believe what we are doing today will light a fire to other corners of our country, and we won't stop until we have declared Tanzania a 'Child Marriage-Free Zone,'" said Benjamin Mkapa, the former president of Tanzania.
UNFPA is also supporting the establishment of 'gender and children's desks' at police stations, where specially trained personnel handle women's and girls' protection issues. The desks are being created around the country, with a priority on regions with high levels of FGM and child marriage.
And the momentum is likely to grow as more girls' rights are realized and when they, like Pili, are allowed to fulfil their potential.
"I am happy that I can still go to school and I will not undergo FGM," she told UNFPA, "and neither will I get married young."
http://allafrica.com/stories/201409171806.html?viewall=1
------------
Meet Majida, Jordan's Veiled Feminist Heroine
20 September 2014
Majida, a fictional comic heroine, has become Jordan's latest figure to challenge the country's male-dominated society.
The comic strip of Yawmiyat Majida (Majida's Diaries) is increasingly becoming a strong voice representing the everyday struggles of strong, independent Jordanian women, in a witty and humorous way.
Majida, the main antagonist of the comic, wears a headscarf, but it does not hinder her portrayal as a strong young woman who uses a lot of humorous Jordanian slang when commentating on daily struggles of the Jordanian woman, Your Middle East reported this week.
Created by graphic designer Ahmad Qatato, Majida's Diaries depicts the life of a strong, ambitious and independent Arab woman living in a society infested with double standards, which contradicts her.
For Instance, Majida's mother encourages her to excel in her university education, and supports her, but also complains about Majdia's stubbornness.
Majida's Diaries tackles several social topics in the Jordanian society, mainly touching upon controversial feminist issues.
This is one of the first female comic characters to surface or become relatively popular in Jordan, as most comics, including a very popular male character –Abu Mahjoob – represent the average Jordanian man, in a male-dominating society where women play a more irrational, emotional and mainly secondary roles.
http://english.alarabiya.net/en/life-style/art-and-culture/2014/09/20/Jordan-s-feminist-caricature-transforms-society.html
------------
"Women Are Sisters, Women Are Mothers and Women Are Wives, Let's Respect Them"
Girl power: Meet the Spice Girls of Ethiopia
20 September 2014
Women's rights activists Yegna have established themselves as the Spice Girls of the Horn of Africa
"Women are sisters, women are mothers, and women are wives. Let's respect them. Tell that guy to respect girls and we will respect him."
So go the lyrics of the song This House, sung by Yegna (pronounced Yen-ya, meaning "ours" in Amharic), an all-girl Ethiopian acting and pop group created in April 2013 by the internationally funded nongovernmental organisation Girl Hub.
The organisation's country director for Ethiopia, Jillian Popkins, says that "52% of women aged 18 to 49 in the Amhara region are married by the age of 15. Once they marry it's quite likely they will never have contact with their peer group or their family."
The five-member band follows a tradition of media as a way for development across the continent. Their aim is to reach out to empower the young women of Ethiopia in ways that are accessible and relevant.
Each member of the group has a different stage persona and nickname. Melat (Teref Kassahun), the "city-girl princess", dreams of becoming a singer, but her wealthy family has no time for her ambitions. Mimi (Lemlem Haile Michael) is the "tough, swaggering streetwise girl" who left the husband she was forced to marry at 13. "Steady maternal" Lemlem (Rahel Getu) is the only girl in her family, who takes care of her ill mother. Emuye (Zebiba Girma) is the "vivacious music-lover" whose father is a physically abusive alcoholic. Sara (Eyerusalem Kelemework), the "quiet, studious one", comes from a well-educated family.
Yegna performs a biweekly radio drama and talk show broadcasting on Sheger FM in Addis Ababa, with a reach of 20-million listeners.
More than 500 girls were brought in as Yegna ambassadors with a mandate to organise listening parties, at which young people come together to listen to the drama and talk about what they've heard.
Their music is an upbeat mix of traditional Ethiopian music with pop and rock music references that appeal to Ethiopia's youth.
Their first video, Abet, featuring Haile Roots, has been viewed more than 600?000 times online, making it one of the top 10 most viewed Ethiopian videos of all time. It also won the best single award at Leza Radio's Listeners' Choice Awards last year.
The second video, Taitu, in collaboration with legendary singer Aster Aweke, was directed by Darren Grant, who has worked with the likes of Destiny's Child and India Arie. The title is culturally significant, as Taitu is the name of a revered 20th-century Ethiopian queen.
The initiative's big price tag has drawn criticism. The United Kingdom's department for international development provided £3.8-million, and a further £800?000 was donated by the Nike Foundation. Locally, critics of the project say the money is being wasted because the show reaches only a quarter of the country's 80-million strong population.
The UK's Independent Commission for Aid Impact warned of deficiencies in governance and a deficiency in child protection policies. British conservatives have also spoken out against the project, saying the aid money could have been better used.
Responding to this criticism, band member Lemlem Haile Michael told the UK's Mail Online: "It is definitely worth the cost – it is an amazing issue. It means a lot to Ethiopia and we are using the money effectively. It is a big change. We are like the Spice Girls except our music is not just for entertaining – it is educational."
The tagline "Ethiopian Spice Girls" has certainly been an effective marketing gimmick to create visibility for the project, whose stated intention belies the analogy. In an Africa Report interview, Eyerusalem Kelemework said: "I've performed before, and what makes Yegna different is that I have seen girls who have similar lives to our characters, and so the issues are in my heart – they are our issues and Yegna means 'ours'. It's more than a job for me. Understanding their lives and feeling what they are feeling is the most important thing."
Now entering the third series of radio drama and talk, it remains to be seen whether this social pop project can effect material change for young girls and women in Ethiopia.
http://mg.co.za/article/2014-09-19-girl-power-meet-the-spice-girls-of-ethopia
------------
South Africa: Stark Differences in Cancer Screening for Young, Old Women
20 September 2014
While the Department of Health gears up for the next phase of its vaccine campaign to prevent cervical cancer in young girls, older South African women are left with an ineffective screening programme to prevent the killer cancer.
In October grade 4 girls will line up for their second vaccination against the Human Papillomavirus (HPV) that will protect them from developing cervical cancer later in life.
About 350 000 grade 4 girls 9 years and older received the first injection of this two-dose vaccine in March and April this year.
"We have enough units [of the vaccine] available and are confident that this second round of vaccinations will roll out as planned," says Joe Maila, spokesperson for the national Department of Health.
According to Maila, girls that were excluded from the first vaccination due to age or grade will be included in this round.
September marks Cervical Cancer Awareness Month. Current statistics show that cervical cancer kills more South African women than any other type of cancer, and one in every 30 women in the country will develop the disease in her lifetime.
Many women entitled to just three screenings in a lifetime
"Many women with abnormal Pap smears either don't get their results or don't go for treatment"
South Africa has been praised for being the first African country to roll out the HPV vaccine without international aid. Although this ambitious undertaking will drastically reduce South Africa's rate of cervical cancer in the future, tens of thousands of women will still die from the disease before the effects of the vaccine start to show.
But the HPV vaccine campaign will never reach about 21 million South African women who are either too old to receive the vaccine or have already left school. Many of these women will also not be able to access the R1500 vaccine via the private sector, which only recommends the dual-dose vaccine for women 26 years old and younger.
Unvaccinated women will have to rely on regular cervical screening, or Pap smears, to detect HPV infection or other abnormalities.
Ideally women should be screened every 3 to 5 years, says Lynette Denny, professor of Obstetrics and Gynaecology at the University of Cape Town. In the public health sector, HIV negative women only get three free Pap smears starting at the age of 30, while HIV positive women are allowed more screenings because they are at higher risk.
Theoretically this policy would lead to about a two-third reduction in cervical cancer, if 100 percent of women were screened and all irregularities successfully treated.
"But just screening all South African women once would be an achievement," Denny tells Health-e News. "The current coverage of HIV negative women is very low, and many women with abnormal Pap smears either don't get their results, or don't go for treatment."
Although the Department of Health is relooking its cervical cancer prevention policy, Maila says their focus is currently on the roll out of the vaccine for girls.
http://allafrica.com/stories/201409161391.html
------------
URL: https://newageislam.com/islam-women-feminism/saudi-female-tv-anchors-refuse/d/99179