New Age Islam News Bureau
09 December 2020
• Falconry Expert Becomes First Woman to Showcase Skills In Saudi Arabia Festival
• 54 Million Women and Youth Face Staggering Humanitarian Challenges
• Pakistan Reaffirms Pledge at UN to End Violence against Women
• Two Women Use Toy Gun to Rob Tinder Date in Dubai
• Suhaila Siddiq, Afghanistan's First Female General, Is Dead
Compiled by New Age Islam News Bureau
URL: https://www.newageislam.com/islam-women-feminism/saudi-female-students-promote-arabic/d/123709
--------
Saudi Female Students Promote Arabic and Islamic Content for Online Encyclopaedia
Deema Al-Khudair
December 09, 2020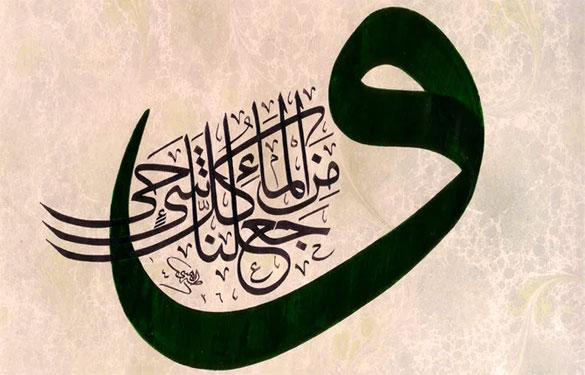 Saudi female students promote Arabic
----
JEDDAH: Hundreds of female students from a Saudi university have been using their language skills to promote Arab and Islamic content in a global online encyclopaedia.
Almost 400 articles have been translated from English into Arabic by 365 students from King Khalid University's department of languages and translation for use on the Wikipedia platform.
The initiative has formed part
of the Wiki Dawwin project adopted by the King Abdul Aziz Foundation for Research and Archives' (Darah) publishing house, represented by its center for digital content.
The work was supervised by faculty members via remote courses offered by the center to female students and translated articles were published after being edited and approved for Wikipedia use.
Dr. Zuhair Al-Shehri, dean of the college of social sciences at Imam Muhammad bin Saud Islamic University and adviser and director of the Wiki Dawwin project, told Arab News that one of the main aims of the program was to enrich the Arabic content on Wikipedia.
He said this had been done by creating articles and developing and translating them to highlight the history and civilizations of the Kingdom, and the Arab and Islamic worlds.
"The project goals are to work to bridge the gap between Saudi users of the internet and the percentage of digital content, publishing digital materials on the history of the Kingdom and rooting published materials to support Arabic content in various fields, especially educational and cultural areas," he added.
To help achieve project targets, partnerships have been established with universities and cultural and tourism bodies, and a number of digital enrichment training programs have also been launched.
Al-Shehri said there was a lack of diverse and reliable Arabic content in many areas, especially those related to historical and civilizational subject matter.
"For example, we find that in every province of Saudi Arabia an enormous balance and richness of the cultural heritage of antiquities, landmarks, experiences, and various development in all fields that need to be edited and enriched in this encyclopedia.
"Saudi Arabia's history needs qualitative and reliable articles, along with our Arab and Islamic history. It's an urgent need for original works in order to bridge the gap and confront trends with significant goals, and the general voluntary enrichment encouragement and motivation for all people," he added.
He noted that the university students had come up with their own ideas and taken responsibility for creating reliable content.
"Translation raises the level of linguistic abilities, builds bridges of cultural knowledge, and enriches interaction between Arabs and others who speak English, which is the leading global language.
"Undoubtedly, the implementation of qualitative, reliable, and voluntary initiatives such as the Wiki Dawwin project, launched by educational and cultural institutions such as universities, contributes to achieving this reliability."
Al-Shehri pointed out that although Wikipedia was free to use and had continuous interaction from participants, qualitative editing ensured the accumulation and building of clients and
active beneficiaries who encouraged and interacted with the historical truth.
"There are opportunities in this encyclopedia for historical enrichment based on sources such as documents, photos, references, etc., all of which support reliable historical enrichment," he added.
https://www.arabnews.com/node/1774531/saudi-arabia
--------
Falconry Expert Becomes First Woman To Showcase Skills In Saudi Arabia Festival
08 December 2020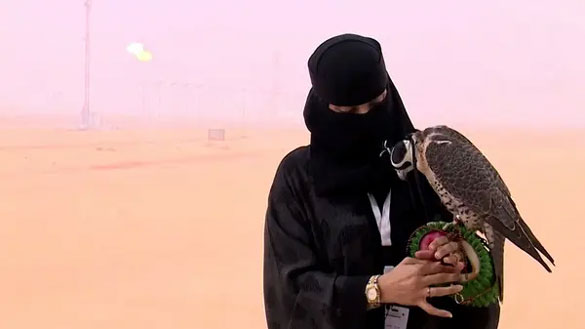 Falconry expert
-----
Saudi falconer Athari Alkhaldi skilfully showcased her bird of prey expertise during Saudi Arabia's annual falconry festival; the first time a woman has participated in the male-dominated sport in the Kingdom.
The third edition of the King Abdulaziz Falconry Festival, which is being held in the capital of Riyadh, was Alkhaldi's second attempt at qualifying, after failing in 2019 when her bird refused to take flight.
For all the latest headlines follow our Google News channel online or via the app.
"Dealing with falcons is not easy. It was difficult... thank God, I managed to handle the falcon and enter the competition," she said.
Falconry, or the tradition of raising, training and using falcons for hunting, is a practice Arab nomads once used to survive in the desert.
Organized by the Saudi Falcon Club, the festival saw teams participating from the UAE, Kuwait, Bahrain, with more than 4,000 falcons.
Athari said her passion for falcons first emerged 10 years ago and she has been developing her skills ever since.
"Falconry is a well-known legacy since the old times, and we take pride in it... I proved that women can join this field, it's not only restricted to men," she added.
King Adulaziz Falconry Festival honored Athari for her participation in the contest, as a "continuation of the Kingdom's efforts to empower the women in all the areas".
For two weeks, falconers and enthusiasts gathered to revive the deep-rooted heritage, and compete in the 'Al Mallouah' - waving to a falcon by an artificial bird tied with a rope, and 'Mazayin' - Falcons beauty contest.
The festival continues until December 12.
https://english.alarabiya.net/en/News/gulf/2020/12/08/Falconry-expert-becomes-first-woman-to-showcase-skills-in-Saudi-Arabia-festival-
--------
Pakistan reaffirms pledge at UN to end violence against women
December 8, 2020
Pakistan's UN Ambassador Munir Akram made the pledge.
Pakistan has joined a key group launched at the United Nations to coordinate actions aimed at the elimination of violence against women and girls that has intensified since the outbreak of coronavirus pandemic.
Seventy-seven UN Member States and observers have already joined what is called the "Group of Friends", which will meet on quarterly basis, according to the organisers. Some international and regional organisations as well as civil society groups have also expressed their interest to partake in this initiative.
Pakistan PM Imran Khan unfollows everyone on Twitter
Addressing the group on Monday, Pakistan's UN Ambassador Munir Akram said that Islamabad fully supports Secretary-General Antonio Guterres's call to end violence against women during Covid-19.
"We continue to support all efforts that aim to end violence against women," he said.
Noting that Covid-19 has had a disproportionate impact on the most vulnerable, the Pakistani envoy said it was evident from the sharp spike in domestic violence and abuse against women and girls during lockdowns.
Pakistan is following a whole of government approach to ensure that women and girls have necessary protections available to them against violence, harassment and abuse, he said, adding its recovery response remains focused on the well-being and protection of women.
"Our Minister for Human Rights, Dr Shireen Mazari, has led the way to protect the rights of women and also promote their well-being, especially during the current pandemic," Ambassador Akram added.
"We are progressively strengthening pro-women legislation," he said. "Our Parliament has recently passed bills to counter rape and honour killings, prevent early and forced marriages, and expanded workplace protections for working women.
"Under the leadership of the Special Assistant to the Prime Minister on Poverty Alleviation and Social Development, Dr. Sania Nishtar, we are taking concrete measures to uplift women from the shackles of poverty," the Pakistani envoy added.
Through the flagship Ehsaas Programme, he said, the government is reaching out to millions of underprivileged women and providing them cash assistance and social protection within their homes. More than 7 million women have received assistance through this programme in which the government has so far rolled out Rs.144 billion.
"We will continue to work passionately at home and abroad to strengthen all efforts aimed at elimination of violence against women and girls," Ambassador Akram told the group.
Opening the meeting, the Head of the European Union Delegation to the UN, Ambassador Olof Skoog, said that the "Group of Friends" will make efforts to turn commitments to protect women into action.
Noting the ongoing initiatives at national and international levels, he said the Group will serve as a platform to highlight good practices, identify shortcomings and mobilise further efforts.
Ambassador Skoog also thanked UN Deputy Secretary-General Amina Mohammed for her presence and for being a key supporter and driving force of this initiative.
https://www.khaleejtimes.com/world/rest-of-asia/pakistan-reaffirms-pledge-at-un-to-end-violence-against-women
--------
Two women use toy gun to rob Tinder date in Dubai
Marie Nammour
December 8, 2020
Complainant robbed of a necklace, cash and credit cards
Two female expats teamed up with unidentified individuals to rob a man of cash and valuables by brandishing a toy gun, the Dubai Court of First Instance has heard. One of the two defendants had lured the complainant to a date via Tinder.
The court heard how the two women, both Nigerians on visit visas, robbed the complainant of a necklace, $500 and 2,000 Rons (Romanian currency).
The incident allegedly took place on September 5 when the complainant was lured to go to the women's flat. There, he was threatened by men with the toy gun. A 29-year-old male accomplice, also Nigerian, was charged in the case for possessing a part of the stolen money ($200 and 280 Rons).
A case was registered at Jebel Ali police station.
The two women have been placed in detention. The public prosecution sought the maximum penalty for them as per the law.
A police lieutenant said they went to the crime scene in response to a call by a Romanian man. "The complainant said that he had met a woman on Tinder. He went to the flat at around 7.30pm and, there, a man grabbed him by the neck and another threatened him with a gun.
"They robbed him of cash and credit cards and he was made to reveal the pin numbers under threats."
Later, the accused deleted the conversations they had with the complainant.
The police launched a probe after. "We learned from the security guard that the 21-year-old accused had rented the flat for two days. The surveillance cameras were not working at the time," the police officer told the investigator.
The police tracked the suspects down to Ajman and arrested them.
The female defendants told the police that they could not withdraw any cash from the credit cards as the complainant had given them the wrong pin numbers.
The fake gun was found in their flat and seized.
The lieutenant added that the complainant looked very agitated when he reported the incident.
The male accomplice told the police that one of the women had given him the cash to transfer to their home country.
The trial has been adjourned to January 5.
https://www.khaleejtimes.com/news/crime-and-courts/two-women-use-toy-gun-to-rob-tinder-date-in-dubai
--------
Suhaila Siddiq, Afghanistan's First Female General, Is Dead
By Fatima Faizi and Thomas Gibbons-Neff
Dec. 5, 2020
KABUL, Afghanistan — Suhaila Siddiq, Afghanistan's first female lieutenant general, who was also a renowned surgeon and unknowingly became a feminist role model in a largely patriarchal society, died here on Friday, at the same hospital where she had treated the wounded and weary of her country's unending war for decades. She was thought to be 81 or 82, though her exact birth date is unknown.
General Siddiq, who had Alzheimer's disease for several years, died from complications of the coronavirus at the Sardar Mohammad Daud Khan military hospital in Kabul, one of her doctors, Amanullah Aman, said. It was her second battle with the virus; she had contracted it earlier this year.
General Siddiq rose through the ranks of the Afghan Army during the Cold War and went on to run the Daud Khan hospital through the Soviet invasion of Afghanistan, the Afghan civil war and the Taliban's rule. She was also one of Afghanistan's few female ministers, overseeing the public health ministry until 2004 under the transitional government led by Hamid Karzai, following the U.S. invasion. In that role, she helped implement polio vaccinations across the country after the disease had become endemic following years of instability and violence. She went back to her job as a surgeon after she left her government position.
General Siddiq "dedicated herself to serving her country," Mr. Karzai said Friday on Twitter. President Ashraf Ghani of Afghanistan paid his respects during a memorial ceremony at the hospital on Saturday.
As a surgeon, General Siddiq was known for her deft hand, and despite her unassuming stature she was described by those who knew her as self-possessed and unintimidated by people around her, especially men.
In the mid-1980s, at the height of the Soviet-Afghan war, the Communist-backed government in Kabul promoted her to surgeon general of the Afghan Army after she had distinguished herself by tirelessly saving the lives of the hundreds of wounded soldiers and civilians who poured in through the doors of the 400-bed Daud Khan hospital. She was known as "General Suhaila."
"She was much better than any men I've ever worked with," said Atiqullah Amarkhel, a retired Afghan general, who had been promoted to his position within months of General Siddiq. "She wouldn't go home for days."
General Siddiq was born in Kabul, probably in 1938. She attended high school and then Kabul University as her country was quietly changing under the weight of the Cold War. She studied in Moscow for several years on scholarship and then returned to Afghanistan with her doctorate. In the years before the Soviet invasion in 1979, when she was a lieutenant colonel, she worked as a surgeon at the Daud Khan hospital.
One of six sisters, General Siddiq was the daughter of a man who was once the governor of Kandahar, and who was supportive of her education. She traced her ancestry to the Barakzai dynasty, which ruled Afghanistan for more than 100 years during the 19th and 20th centuries.
General Siddiq never married. Information about survivors was not immediately available.
After the collapse of the Communist government in 1992, General Siddiq retained her position in the hospital under the interim government established at the outset of the Afghan civil war.
Kabul was soon split as competing factions vied for control. Ahmad Shah Massoud, then the defense minister, personally asked General Siddiq to run the hospital, as civilian casualties mounted in the capital following incessant rocket attacks by Gulbuddin Hekmatyar, the appointed prime minister, against his adversaries, said Sher Ahmad, a close family friend. The city was ultimately torn apart by attacks from all sides, including by Mr. Massoud.
"She believed in her job, not in any regime," Mr. Ahmad said.
But in 1996 the Taliban took Kabul, and they quickly enforced draconian rule under a harsh interpretation of Islamic law. Women were not allowed to hold most jobs and were required to cover their faces in public.
Kathy Gannon, a reporter for The Associated Press, was in Kabul as the city fell and the new Taliban government began to send women home from their jobs, including General Siddiq, prompting Ms. Gannon to write an article about her.
General Siddiq and her sister Shafiqa, a professor at Kabul Polytechnic University, "were smart and funny and they weren't going to be intimidated," Ms. Gannon said. "But also, the Taliban learned quickly that they needed her."
Within months, the Taliban, already trying to retain people with sought-after technical abilities and higher education, asked General Siddiq to return to her job at the hospital, where she tended to many of the regime's wounded fighters. She performed many operations under the flickering light of a lantern, Mr. Ahmad recalled.
"They needed me and they asked me to come back," General Siddiq said in a 2002 interview with the British newspaper The Guardian. "It is a matter of pride for me. I stayed in my country, and I served my people. I never fled abroad."
General Siddiq and her sister were among the few women who walked around Kabul without face coverings or a burqa — a bold statement against the Taliban, who left her unscathed because of her position at the hospital.
At the same time, General Siddiq taught medicine to female university students whose academic careers had swiftly ended under Taliban rule. On at least one occasion, the government tried to crack down on her teaching, but General Siddiq pushed back, said Makai Siawash, a close friend who lived with General Siddiq for a brief time.
"She was ready to get whipped by them, but she didn't let the Taliban fighters in," Ms. Siawash said.
One of her students was Sayeda Amarkhel, the daughter of retired General Amarkhel, who studied under General Siddiq at the hospital after her time at university was cut short under the Taliban.
"She fought the Taliban for us," Dr. Amarkhel said. "Today I am a gynecologist, and I owe it to her."
https://www.nytimes.com/2020/12/05/world/asia/suhaila-siddiq-dead.html
--------
URL: https://www.newageislam.com/islam-women-feminism/saudi-female-students-promote-arabic/d/123709
New Age Islam, Islam Online, Islamic Website, African Muslim News, Arab World News, South Asia News, Indian Muslim News, World Muslim News, Women in Islam, Islamic Feminism, Arab Women, Women In Arab, Islamophobia in America, Muslim Women in West, Islam Women and Feminism