New Age Islam News Bureau
5 March 2014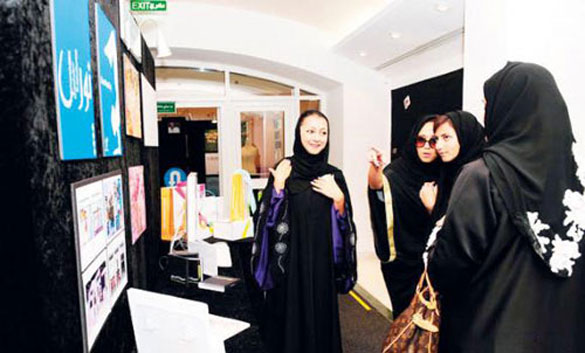 Among the many applications Saudi female students are addicted to are YouTube, Facebook and Twitter.
---------------
• Malala Nominated For Nobel Peace Prize
• Major Report Reveals 'Extensive' Abuse Of Women in EU
• Islamist Group Slams False Apostasy Claim, Says Slur on Malay Women
• Saudis Demand Laws to Protect Girls from Domestic Violence
• Iranian Women Push To Tighten Gender Gap
• Female Shariah Grads Willing To Work as BIP Investigators
• Most Anglos, Allophones Say Secular 'Values' Charter Targets Muslim Women
• First Woman to Head Egypt Party Worried Over Military
• Somaliland: The Extreme Form of FGM Is Back
• Tina Fey and the Taliban to Share the Big Screen
Compiled by New Age Islam News Bureau
URL: https://www.newageislam.com/islam,-women-and-feminism/new-age-islam-news-bureau/saudi-female-students-are-frequent-users-of-social-media/d/55996
----------
Saudi Female Students Are Frequent Users of Social Media
5 March 2014
Social media platforms are a major craze with female students at the King Saud University (KSU) with about 95 percent of them admitting they were habitual users of YouTube, while Twitter and Facebook found favor with 88 percent and 46 percent of the girls respectively.
Local media reported that a study conducted by researcher Asma bint Saad on 483 random respondents, all undergraduates at the KSU, found 44.9 percent of the students spending 1-3 hours on social media and 45 percent preferring to use smart phones to access such media.
The favorite media for students are YouTube, Twitter, Google, e-forums, Facebook, blogs, LinkedIn, and MySpace, the study revealed.
Spending leisure time topped the list of students' motivation and concern as they seek social media, followed by looking for information on current developments and, thirdly, entertainment and recreational purposes, the researcher told the daily. The students knew more about topics that surface on social media and they shared them with family members and relatives, the researcher said.
Moreover, the students have expressed belief that social media had become a necessity and inevitable that helped them select topics of their interest. The social media has been instrumental to help change patterns toward different issues, she said.
Based on viewpoints of the students, the positive aspects of social media lie in openness, spread of knowledge, expertise in the Arab World and boosting national and Islamic values. The negative aspects centered on the spread of western culture among Muslim communities and spending less time with family members, the researcher pointed out.
http://www.arabnews.com/news/535071
------------
Malala Nominated For Nobel Peace Prize
March 5, 2014
OSLO: Malala Yousafzai, along with US whistleblower Edward Snowden and Russian President Vladimir Putin, is among the nominees for this year's Nobel Peace Prize, as the Nobel Institute announced Tuesday a record 278 candidates.
"The number of nominations increases almost every year, which shows a growing interest in the prize," the head of the institute, Geir Lundestad, told AFP.
The Nobel committee convened Tuesday for the first time this year to examine the candidate list and will announce the laureate in Oslo on October 10.
As usual, the committee refused to reveal the identity of any of the nominees, but Lundestad said that 47 of the 278 candidates were organisations.
Even though the list is kept secret for at least 50 years, the sponsors can choose to reveal the name of their nominee.
Putin is thought to be on the list, since Russian figures proposed his name in October, citing his role in the Syrian crisis.
The former KGB agent is credited with averting a US attack against Syria by suggesting putting Bashar al-Assad's regime's chemical weapons arsenal under international control.
Being nominated for the Nobel Peace Prize is relatively easy, since thousands of people can suggest candidates: lawmakers and ministers, university professors and former laureates.
At their first meeting, the five committee members themselves can add more names to the list.
The committee insists that being nominated does not imply an endorsement on its part.
Putin's chances of winning the prize appear limited given the ongoing crisis in Ukraine.
Another name likely to be on the list is Edward Snowden, former US security contractor for the National Security Agency, who has been provided asylum in Russia and is accused in his country of disclosing a large number of classified documents regarding a US global surveillance programme.
Other figures with a similar profile, such as Julian Assange – founder of WikiLeaks – and Chelsea Manning are also known to be on the list.
Malala Yousafzai, who was seriously wounded when she was shot in the head by a Taliban gunman at point blank range for promoting girls' education in the Swat area of Pakistan, is again known to be nominated, after being considered one of the favourites last year.
However, the prize went to the Organisation for the Prohibition of Chemical Weapons (OPCW), involved to this day in the dismantling of the Syrian chemical weapons arsenal.
Other names known to be on the list include jailed Belarussian rights activist Ales Belyatski and Denis Mukwege, a pioneering doctor who founded a clinic for rape victims in the Democratic Republic of Congo, both nominated in the past.
Kristian Berg Harpviken, director of the Peace Research Institute Oslo (PRIO) and one of the few experts to speculate openly on the winner, said his favourite for this year was Pope Francis for his efforts to redistribute wealth in the world.
Asked about the situation in Ukraine, Berg Harpviken said it was difficult to point out an individual or an organisation that could play a major role in the region in the months to come.
"The dramatic situation in which Ukraine finds itself could influence the Nobel committee's thoughts, but at this stage I don't see any clear candidates standing out," he said.
Other leads point at the peace processes in Burma and Colombia, which could deserve a Nobel prize if there were a major breakthrough in the next months.
http://tribune.com.pk/story/679222/malala-nominated-for-nobel-peace-prize/
----------
Major report reveals 'extensive' abuse of women in EU
Mar 5, 2014
VIENNA: A third of women in Europe have suffered a physical or sexual assault and five per cent have been raped, a major new study revealed Wednesday, uncovering "extensive human rights abuse" throughout the European Union.
In addition, just over one in 10 women indicated that they experienced some form of sexual violence by an adult before they were 15 years old, according to the large-scale survey by the EU Agency for Fundamental Rights (FRA).
The damning report "shows that physical, sexual and psychological violence against women is an extensive human rights abuse in all EU Member States," the group's director Morten Kjaerum said.
One in 10 women has experienced some form of sexual violence since the age of 15, one in 20 has been raped, and just over one in five has experienced physical and/or sexual violence from either a current or previous partner, the report by the Vienna-based FRA said.
Kjaerum called for measures tackling violence against women "to be taken to a new level now".
The FRA, which interviewed 42,000 women aged 18-74 across the 28-nation bloc for the report, said it was the most comprehensive of its kind to date both in the EU and worldwide.
"What emerges is a picture of extensive abuse that affects many women's lives, but is systematically under-reported to the authorities," Kjaerum said.
The FRA probed women's experiences of physical, sexual and psychological violence including domestic abuse, as well as stalking, sexual harassment, childhood experiences and the role played by new technologies.
"Yet, as an illustration, only 14 per cent of women reported their most serious incident of intimate partner violence to the police, and 13 per cent reported their most serious incident of non-partner violence to the police," Kjaerum said.
He said that "violence against women, and specifically gender-based violence that disproportionately affects women, is an extensive human rights abuse that the EU cannot afford to overlook".
The emotional and psychological consequences of physical and sexual violence "can be long-lasting and deep-seated," the survey said.
Over a fifth of the victims of sexual violence suffered from panic attacks, over a third became depressed and 43 per cent spoke of difficulty in subsequent relationships as a result.
There were sizeable differences when the survey's findings are broken up by country.
At the top end, 52 per cent of women in Denmark were said to have suffered physical and/or sexual abuse, while the rate was 47 per cent in Finland and 46 per cent in Sweden.
At the other end of the scale, the report found that 19 per cent of women in Poland had suffered in the same way, 20 per cent in Austria and 21 per cent in Croatia.
The report said higher levels of gender equality could lead to more disclosure of violence in some countries.
The report also cited a World Health Organisation finding of "a relationship between perpetrators' drinking habits and women's experiences of domestic violence", noting that differing drinking patterns among countries could help explain certain aspects of such abuse.
https://www.dawn.com/news/1091170/major-report-reveals-extensive-abuse-of-women-in-eu/print
----------
Islamist Group Slams False Apostasy Claim, Says Slur on Malay Women
Mar 5, 2014
KUALA LUMPUR — A blog post that falsely described Muslim women photographed attending a government agency event as apostates has defamed them, an Islamist group said today when demanding an open apology from the blogger.
Condemning the fabricated contents posted by a blogger in Kedah, the women members of Islamist non-profit Ikram drew parallels between those falsely accused in the blog and an incident involving the wife of Prophet Muhammad.
"The slander has clearly demeaned the women in photographs. Islamic history clearly condemns such baseless allegations against women, just as it does the slanderous events that befell Aishah, the wife of Prophet Muhammad (PBUH)," Prof Madya Dr Roohaida Othman, the head of Ikram's women's wing, said in a statement today.
The Quran contains a tale in which Aishah is accused of adultery after she left her caravan in search of a missing necklace and was later discovered by a soldier. The Prophet subsequently proclaimed a revelation that declared her innocent and her accusers were given 80 lashes of the whip as punishment.
Roohaida said that besides the shame, the blog post has also caused distress and hardship to the women that it falsely accused of apostasy.
She reminded the blogger that so sinful was slander in the eyes of Allah that it is considered worse than the killing of innocents.
"Whatever the original intentions of the blog, the consequence of the rumour being spread has led to harm towards those slandered," she added.
The group demanded the blogger apologise to the women involved and for him to repent from the "despicable act."
On Saturday, women's rights activist Yu Ren Chung complained that the Kedah blog had spread false news of apostasy based on a two-year-old photograph featuring him and several Muslim women sitting on wooden benches that appeared to resemble church pews.
On his website, he claimed the picture was originally taken on February 29, 2012 at an event to discuss the National Family Policy organised by government agency National Population and Family Development Board (LPPKN).
The advocacy officer with the Women's Aid Organisation (WAO) stressed that the venue was not in a church but at the International Institute of Islamic Thought and Civilization (Istac) here.
http://www.themalaymailonline.com/malaysia/article/islamist-group-slams-false-apostasy-claim-says-slur-on-women#sthash.kc7OF5MJ.dpuf
----------
Saudis demand laws to protect girls from domestic violence
5 March 2014
Saudis have launched an online campaign demanding laws against abuse in the wake of the death of a 13-year-old girl who died after being chained to a door by her father.
"It is horrifying that we do not have laws protecting us against domestic violence," said Amnah Jameel, a mother. "Some women are harmed day in and day out and no one even has a clue. This young girl was abused at the hands of her own father, her legal male guardian who is entrusted with protecting her, not torturing her."
She said: "Women are routinely referred to as 'queens' by men in our society. Is this how queens should be treated? Focus should be shifted from trivial issues, such as women driving to the fact that women don't even have basic rights."
Reem, 13, died in Asir after choking on a heavy chain used by her father to tie her up to a door. Investigations confirmed that the girls were tortured.
"This is not for the first time such a horrific story has surfaced. Remember the sheikh who killed his daughter and who was released two months later on grounds that he is mentally ill?" said Mohammed Sadeg, businessman. "It is all the more horrifying that both the school and social services knew about this abuse and never spoke out or did anything to help get the man arrested. While Reem's father is responsible for her death, the school and the center for social protection were accomplices through their silence." Saudis are discussing the issue of domestic abuse under an Arabic hashtag on Twitter called Reem the Victim. "We have laws to protect eggs coming from houbara bustard and not a single law to protect children from abuse," commented Hamad Abdullah, a Twitter subscriber.
"Before this was Hanan Al-Shehri, Lama Al-Ghamdi and now Reem. The list goes on," said Naif Althunayan, another Twitter subscriber.
"An anti-abuse agreement signed between the Ministry of Social Affairs and the Ministry of Education was published in the print media. It seems like this agreement bears no importance at all," said Mansour Yahya, another Twitter user.
http://www.arabnews.com/news/535086
------------
Iranian Women Push To Tighten Gender Gap
Mar 5, 2014
Iran is starting to see a re-launch of activist groups following the election last year of President Hassan Rouhani. Social movements were scarce after the government crushed public protests known as the Green Movement following the 2009 elections. After the decisive vote for Rouhani, a surge of hope in Iran has attracted activists back to the political arena. Iranian women, in particular, are seizing the opportunity.
On a recent afternoon in north Tehran two professional women huddle with an adviser to the Ministry of Mines and Trade. They are building a strategy for promoting jobs for women in government and the private sector.
This would have been impossible under the previous president, Mahmoud Ahmadinejad, explains Sohaila Jelodorzadeh, a former member of parliament, now a professor of textile engineering. "We were ignored," she says, adding, "No, it was more than ignored. We faced social and political problems."
Now, she is politically active again, working with Soraya Maknoon, a former university chancellor, to champion women's employment. Women make up more than 60 percent of the college population in Iran but are less than 20 percent of the working population.
"We want to make better use of their knowledge. This is important, not just to have degrees," says Maknoon.
It is just one example of a trend in Iran, says Kevan Harris, an Iran specialist from Princeton University. "Urban issues, pollution issues, environmental issues, women's issues," Iranians are forming groups to tackle the major problems facing the country, he says. "The universities now are back, full of student politics, so we are going through a wave of mobilization from below in Iran."
The gender gap in employment may be one of the toughest challenges despite a huge social shift on college campuses. After the 1979 revolution, Iran's Islamic government convinced even the most traditional families that it was safe to send their daughters away to college.
Reversing Trends
The shift is obvious on the campus of Tehran University, where women outnumber men in the campus courtyard and in the classrooms.
"I study sociology. I would like to study in the major of law to find a good job," says Farzoneh Natalie, a 24-year-old graduate student. But when I ask about her prospects for a job in a law office after graduation, she shakes her head no.
Not in Iran, she says. She says she's thinking about going abroad for a job.
It's the choice for many university students. Every year about 150,000 highly talented Iranian emigrate in what the International Monetary Fund calls the highest brain drain in the world.
Rouhani is trying to reverse the trend and lure them back as he rebuilds an economy in critical condition after two years of devastating international sanctions and eight years of economic mismanagement under the former president.
Rouhani will be judged on Iran's economic revival, says Saeed Laylez, a political analyst and reformist, and he needs more women in the workplace.
"He has no other choice," Laylez says. "Women have better education than the men."
Laylez and many civil activists object to a new population plan moving through parliament that will limit opportunities for women in education and employment. The plan has the backing of the Supreme Leader Ayatollah Ali Khamenei.
Iran's health ministry has already started to reverse the country's successful birth control program with funds devoted instead to encouraging bigger families. Billboards around Tehran promote the message that bigger families are happier families.
Laylez agrees with the assessment of Iran's demographics. The population is aging, and with an average of two children per family, in a few decades, the old with outnumber the young, resembling the demographics of Italy and Germany.
But a government-promoted baby boom won't solve the problem, Laylez says.
"The main policy should not be, in my opinion, to make more babies," he says. "It should be to make more wealth. The people of Iran are at the best age for creating wealth."
Rouhani has talked about creating more opportunities for the young, to reverse the flagging economy blighted by high unemployment, inflation and sanctions aimed at halting Iran's nuclear program. But women don't yet see change, says Harris.
"The problem is that the backlash is not only coming from guys with turbans,' Harris says, referring to hardline clerics. Iran is a male-dominated society, he explains. "A lot of men don't want women in the workplace, especially when they think it's costing male jobs."
Iranian women have worked hard to overtake men in education, but in this conservative society, it's a long road to match that success at the workplace.
http://www.npr.org/2014/03/05/285785498/iranian-women-push-to-tighten-gender-gap
----------
Female Shariah Grads Willing To Work as BIP Investigators
Mar 5, 2014
JEDDAH/MADINAH — Female lawyers and specialists in law and Shariah said they supported the suggestion of the National Society for Human Rights (NSHR) to appoint them as investigators in the Bureau of Investigation and Public Prosecution (BIP).
They told Okaz/Saudi Gazette that some of them graduated from university with excellent grades.
Some of them obtained master's degrees in religious call (dawa) and Shariah.
They said they would like to work in the BIP and apply what they studied practically.
Bayan Zahran said the absence of women from the judicial arena was illogical.
She said: "Their presence is necessary and inevitable due to their participation in life, work, investment and commerce.
"This trend of employing women to work for investigation authorities will solve certain problems during the investigation process, especially as women often feel embarrassed being questioned by a male investigator."
Meanwhile, Zahra Mahzari, who holds a master's degree in Dawa from Taibah University with excellent grades and first class honors, said she was surprised that there were no jobs for her and her classmates.
She said: "We had no other choice but to register with the Hafez unemployment program.
"Whenever I submitted an application for a job and showed my degrees and grades, I was faced with mockery.
"They told me to go and work in the university as a lecturer. "As a female graduate I would welcome working as an investigator in the BIP."
Hala Saud, another graduate, said: "I graduated in law but did not find a job or a place where I could get training.
"We hope the Human Rights Commission will be just to us so that we get a chance like other young women to serve our nation through work in the BIP, as it is a suitable place to work. "I wouldn't mind working as a female investigator."
http://www.saudigazette.com.sa/index.cfm?method=home.regcon&contentid=20140305197621
----------
Most Anglos, Allophones Say Secular 'Values' Charter Targets Muslim Women
Mar 5, 2014
Most non-francophone agree that Quebec's secular charter singles out Muslim women and infringes on religious rights, a CBC-Ekos poll suggests.
The Parti Québécois government's proposed charter would ban public sector employees from wearing overt religious symbols, such as the Hijab.
Lawyer Shahad Salman, who works at the McGill Centre of Genomics and Policy, says she feels personally targeted by the charter, which is also known as Bill 60.
A CBC-commissioned Ekos poll suggests the majority of Quebec Anglophones and allophones agree with Salman.
Seventy-eight per cent of Anglophones and 70 per cent of allophones surveyed agreed the proposed legislation targets Muslim women.
"When there is a proposal that hinders your fundamental rights, of course it targets me as a woman who actively wants to participate as a public servant," Salman said.
Salman says she sees herself as a Quebecer, and no charter of values will affect how she sees herself, or where she decides to live.
The vast majority of non-francophone surveyed agreed the charter is an infringement of fundamental and religious rights — 84 per cent of Anglophones and 74 per cent of allophones. Only 36 per cent of francophone respondents agreed.
Tahira Abbas, 28, has a bachelor's degree in political science and a master's in international relations.
Abbas is currently a stay-at-home mother, but plans to return to work in the university environment.
She says she's concerned that if Bill 60 passes, she would be forced to choose between her hijab and her career.
"It's … unthinkable to me."
"The charter is trying to tell me that even if you speak French very well, [if] you are very competent, [if] you desire to contribute to the academic life, you will be stopped because of your veil."
Abbas says she loves Montreal, calling it one of the "happiest cities" in the world. She says she doesn't want to leave.
"I hope my little girl will grow up in a society like I did, that teaches that diversity is a source of richness and not a handicap for society."
About the survey
A total of 2,020 Quebec residents were interviewed by phone between Feb. 10 and 18, 2014, as part of this CBC-commissioned Ekos study. The margin of error for a sample of 2,020 is plus or minus 2.2 percentage points, 19 times out of 20.
Those surveyed included 782 Anglophones (with a margin of error of plus or minus 3.5 percentage points 95 per cent of the time), 1,009 francophone (with a margin of error of plus or minus 3.1 percentage points 95 per cent of the time) and 223 allophones (with a margin of error of plus or minus 6.5 percentage points 95 per cent of the time).
Anglophones are respondents who identified their mother tongue as English; francophones are people who identified their mother tongue as French; and allophones identified their mother tongue as "other."
Percentages for total respondents have been weighted to reflect linguistic population make-up of Quebec.
http://www.cbc.ca/news/canada/montreal/most-anglos-allophones-say-secular-values-charter-targets-muslim-women-1.2558409
----------
First woman to head Egypt party worried over military
Mar 5, 2014
The first woman to head an Egyptian political party has expressed concern that a return to military rule could threaten democracy in a country roiled by three years of turbulence.
Hala Shukrallah, a Copt who now leads the liberal Al-Dostour Party, told AFP the failure of democratic groups to throw up a civilian leadership was benefitting the military, and could also help the outlawed Muslim Brotherhood make a comeback.
"We are asking questions regarding the entrance of the military in a democratic election," said Shukrallah, 59, when questioned about the possible election of army chief Field Marshal Abdel Fattah al-Sisi as Egypt's next president.
"We have the very specific opinion that there is a danger, that this might infringe on the democratic process," she said in an interview at her party headquarters in central Cairo.
Sisi, the most popular political figure in Egypt after he ousted Mohamed Morsi, the country's first freely elected and civilian head of state, said Tuesday he "cannot turn his back" on demands that he run for president.
He has yet to formally announce his candidacy, but his supporters say he is certain to win the vote.
Shukrallah, who was educated in Britain, was elected in February to head Al-Dostour, which was formed in 2012 by former vice president and opposition leader Mohamed ElBaradei.
Nobel peace laureate ElBaradei quit the military-installed government in August after security forces violently dispersed two sit-ins of Morsi's supporters in Cairo that killed hundreds.
Shukrallah, a sociologist who was arrested several times in the 1970s and 1980s for her fiery student activism, has helped founding civil society groups fighting for women's rights.
Her election has been hailed as a positive "change" in Egypt, where Copts -- the largest Christian community in the Middle East -- and women in general have traditionally faced discrimination.
"Women have been very much in the forefront of (the) revolution and I think that has been clear not only to the people who were part of the revolution... but it has been very clear to the rest of society," she said, suggesting her election reflected the "shifts" in the society.
'Brotherhood return possible'
Shukrallah said Egypt was still far from achieving any democratic principles.
After three years of tumult, "we are still wondering where is social justice, we are still speaking about what is happening to democratic freedoms and human rights," said Shukrallah.
"So I think we are facing a challenge. This is a tug-of-war and there are very deep interests rooted within society that are fighting back and that want to maintain the old regime."
On Saturday, Egypt unveiled a new cabinet led by Ibrahim Mahlab, a former member of the National Democratic Party, the ruling party of Mubarak who was ousted in 2011.
The previous government quit amid increasing unpopularity over its failure to tackle a floundering economy.
Shukrallah expressed concern over the widening government crackdown on dissent by jailing non-Islamist activists, including those who led the anti-Mubarak revolt.
"There should not be some kind of sweeping method in order to stop all kind of protest," she told AFP.
"If this is the goal, then there is something deeply wrong with how this transitional period is being led."
A government crackdown targeting supporters of Morsi and his Muslim Brotherhood meanwhile has killed more than 1,400 people since the ouster.
Shukrallah dismissed reconciliation with the Brotherhood, accusing it of being undemocratic.
But "if the democratic camp does not strengthen itself, it is very possible that at some point in the future we can again see...the Muslim Brotherhood come back to the political scene... which is a problem," she said.
If the democratic camp was "strong... we would not have had the need for someone to fill the gap and that being the army".
http://www.timesofoman.com/News/Article-30709.aspx
---------------
Somaliland: the extreme form of FGM is back
AFP
Mar 5, 2014
The ritual is supposed to keep girls "pure". But Somaliland, independent self-proclaimed Somali region, the population begins to gently refuse the extreme form of female genital mutilation, increasingly aware of the health risks.
In this region in the extreme north-west Somalia, most women over 25 have suffered in their childhood FGM, which involves excision and infibulation: the clitoris, but the labia minora, followed by a section in the flesh of the vulva before the labia are sewn their turn.
It leaves only a small opening to allow girls to urinate and later, their rules flow.
The operation is usually carried out using a razor when the child is between five and eleven years without any anti-pain it is administered. Girls are sewn until marriage. Their vagina is then opened either during intercourse – painful for both partners – or using scissors.
"I cut girls for 15 years My grandmother and my mother had taught me to do and it was a source of income for me -., But I stopped there four years," says Amran Mahmood, a resident of Hargeisa, Somaliland's capital, aged forty years.
"I decided to stop because of the problems," she said. His worst memory: when a girl had started to bleed and she was powerless to stop the bleeding. It does not say what became of the child.
Practice FGM previously brought not only social prestige, but also a good salary. Make a girl takes thirty minutes, and reports between 30 and 50 dollars, a considerable sum in Somaliland.
Amran Mahmood said he performed this operation on his own daughter. But she swears that her granddaughters will not go there.
Because after attending awareness training given by the NGO Tostan, supported by the Fund of the UN Children's Fund (UNICEF), Amran Mahmood became a fervent activist anti-infibulation.
Somaliland in general, the medical consequences of this operation – kidney infections, urinary tract, pain, bleeding, complications during childbirth – begin to discredit the practice.
This is certainly the case in Hargeisa, where adolescents are now experiencing at least over the most extreme mutilation. Their mothers, aware of the pain involved in these operations, defended the change.
"Things change. Now there are men who are willing to marry girls who have not been cut," said Mohamed Said Mohamed, head of a suburb of Hargeisa. "I am completely against cut (girls). Our religion does not tolerate."
- What Islamic interpretation? -
In the local primary school, the girls are sitting on one side of the class, dressed in long beige and black hijabs covered skirts. The boys are on the other side, dressed in beige trousers and white shirts.
"People are starting to see how the extreme form (mutilation) is dangerous," says Sagal Abdulrahman, a 14 year old girl.
"The first type (mutilation) involves stitches, it is painful type because in many cases, women have trouble giving birth. And (…) when they have their rules, it is also painful, "added her friend Asma Ibrahim Jibril. "The second type is not as painful."
"I am very happy because my parents chose the least severe form, and it suits me perfectly," says the girl. "I will not go through painful things later."
But for Charity Koronya, employee of UNICEF, all forms of mutilation are banned.
"In my opinion, the total abandonment is key because even though it's a small cut, it is still a violation," she said. Itself comes from a Kenyan tribe who practice circumcision, but she escaped it: his father used to travel, was opposed.
In Somaliland, the question of whether Islam requires FGM or not is at the heart of the debate.
"Completely stop female genital mutilation will not work in our country," said Abu Hureyra, a religious leader. "But we are in favor of stopping the extreme form."
"There are doctors who say that cutting is good for women's health," insists Mohamed Jama, an official at the Ministry of Religious Affairs of Somaliland.
"If you cut a woman kill you," replies yet a young chef Rahman Yusuf.
Other Islamic leaders do not seem to know what to think. They say they have consulted experts of Islam in Saudi Arabia, Qatar, and have received conflicting answers.
Koronya for Charity, the mere fact that the practice is now discussed in public, however, is already a huge progress.
"At first it was difficult to discuss FGM in public," she said. "Today, religious leaders, women leaders talk about and even talk about the link between sex and mutilation.
http://somalilandpress.com/somaliland-the-extreme-form-of-fgm-is-back-48625
----------
Tina Fey and the Taliban to share the big screen
5 March 2014
American funny woman Tina Fey is set to star in and produce an adaptation of "The Taliban Shuffle," a lighthearted memoir by international journalist Kim Baker, The Huffington Post reported.
While Afghanistan and Pakistan are not typically light subjects, Barker framed time in the region in a manner New York Times called "hilarious and harrowing and witty and illuminating all at the same time."
Barker was a reporter at ProPublica and the South Asia bureau chief for The Chicago Tribune from 2004 to 2009. Her 2011 book, "The Taliban Shuffle," referred to her time spent straddled between the two war-torn countries.
While the book discuss the harrowing details of living in the region and major events such as the assassination of Prime Minister Benazir Bhutto and the 2005 Afghanistan parliamentary elections, it is also filled with absurd anecdotes about competing with her reporter boyfriend for stories and being romantically pursued by the former prime minister of Pakistan.
The same New York times laudatory review of Barker also portrayed the journalist as "a sort of Tina Fey character," foreshadowing the Emmy Winner's part in the movie version of the memoir.
Fey is a multi-award winning actress, comedian, writer and producer most known for her work in the NBC sketch comedy series Saturday Night Life and acclaimed TV series 30 rock and such films as Mean Girls.
The Emmy winner optioned the book for her production company, Little Stranger, recruiting Lorne Michaels to produce and "30 Rock" show runner Robert Carlock to pen the script. No other news about casting or release date has been announced.
Fey will next be seen in "Muppets Most Wanted."
http://english.alarabiya.net/en/life-style/entertainment/2014/03/04/Tina-Fey-and-the-Taliban-to-share-the-big-screen.html
------------
URL: https://www.newageislam.com/islam,-women-and-feminism/new-age-islam-news-bureau/saudi-female-students-are-frequent-users-of-social-media/d/55996