Age Islam News Bureau
26 Nov 2012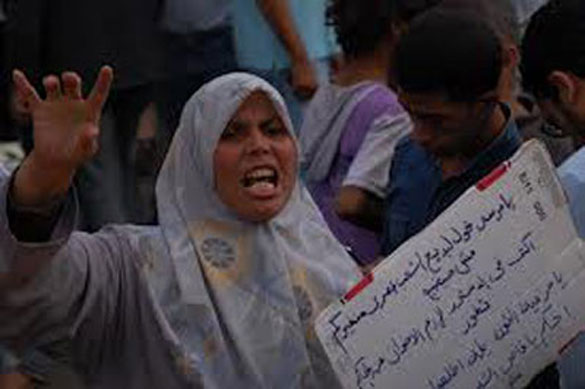 • Malaysia Women Praise Parliament for Sexist Remarks Ban
• As Protests Continue In Egypt, Worries Over Sexual Violence
• Emirati Girl's Torture: Emirati Defendant Jumps over Dock to Attack Witness
• Malala ranks 6th on Foreign Policy's Top 100 Global Thinkers list
• Burundi Breaks New Ground on Maternal Health with Emergency Care
• Cell phones Reshape Prostitution in India, and Complicate Efforts to Prevent AIDS
• Philippines Leads Pack in Promoting Female Academics
• 'Inquiry into Savita Halappanavar's death to be finished by Christmas'
• Afghani Woman Delivers Baby at Jeddah Airport
• As Women's Rights Go, So Goes the Arab Spring
• Leadership University Rises for Asian Women
• Rwandan Women Urged to Explore Regional Business Opportunities
Compiled by New Age Islam News Bureau
Photo: As Protests Continue In Egypt, Worries Over Sexual Violence
URL: https://www.newageislam.com/islam,-women-and-feminism/new-age-islam-news-bureau/saudi-female-nurses-are-breaking-societal-barriers/d/9438
------------
Saudi female nurses are breaking societal barriers
Saad Al Dosari
26 November 2012
Nursing is one of the most honorable jobs a person may decide to pursue, and the Saudi girl who decides to be a nurse is brave, no doubt about it. Not only does she choose to embark on a tough scientific journey, she is willingly accepting the challenges of breaking through many barriers in a male dominated society.
There are few jobs similar to nursing in which technicality and soft heartedness intersect. Nurses are known to have this distinct passion to help heal the sick, after all, there is a reason they are called the angels of mercy. It is their calling to look after us in our weakest moments, and our duty to protect them against mistreatment and ignorance, and to provide them with a safe, professional, hassle-free environment.
Before talking about these problems, let us go through some nursing history in Saudi Arabia.
The first known Saudi female nurse, according to many resources, was Lutfiyyah Al Khateeb, who received her diploma in 1941 from Cairo, Egypt. I cannot imagine the kind of difficulties she had to endure back then.
What is impressive is that she was not only a pioneer, but also expended a lot of effort lobbying for the establishment of nursing schools for girls, back in the late 50's.
Her efforts paid off and two nursing training programs were established in Jeddah and Riyadh in 1961; note that the first nursing training programs ever established in Saudi Arabia was in Riyadh in 1958, and it was only open for males. I believe Saudi female nurses should be grateful for this Al Khateeb's efforts in making it possible for them to pursue a career in nursing.
Now back to reality, although we have come a long way since the sixties and there are many governmental and private nursing schools, working conditions are still difficult. Most of these difficulties are not related to the nursing job itself, but mostly revolve around the society's perception of nursing.
First and foremost, there is the problem of trust.
Saudi female nurses are less trusted in comparison to their Asian counterparts. On one hand, this problem could be traced to the society's distrust of the level of nursing education in the country, which leads most of Saudis to question the competency of Saudi nurses. On the other hand, there is distrust in the Saudi females' ability to meet the challenges of such a demanding career.
You could be hearing something like "Saudi females belong at home, to raise babies and look after their husbands," or something like "Saudi girls are spoiled, what business do they have in becoming nurses!"
The other problem that nurses are facing is the problem of harassment, verbal or physical. This problem is not exclusive to nursing in Saudi Arabia; it is a wide-spread phenomenon that many associate with the nature of the job itself. A major part of a nurse's job is communication. They are expected to deal with all types of patients, doctors and visitors, while maintaining a social and approachable personality.
They are required to smile and to be talkative most of the time, at least to radiate assurance in their surroundings. The problem is when these friendly and polite gestures are misinterpreted as signs of flirtation or, worse, as signs of being 'easy.' This problem intensifies in Saudi Arabia because of the nature of our society itself.
For instance, strict gender segregation in many ultra conservative parts of the country makes interaction with a female who is not family, let's admit it, both scary and fascinating to many Saudis. In such an environment, misunderstandings are inevitable.
So what are the solutions? To put it succinctly: Strict rules and regulations. It is not only about having anti harassment policies in place, but by seriously enforcing them. These rules should protect a nurse from her employer, patients as well as visitors, and to provide her with a safe environment, open for development.
Then comes the point of strengthening the level of nursing education. All technically based education is falling way behind in Saudi Arabia — nursing is one of parts of it. People need to know more about the job itself, its ethics, and its importance in our lives.
s.aldosari@yahoo.com
http://www.arabnews.com/saudi-female-nurses-are-breaking-societal-barriers
------------
Malaysia women praise Parliament for sexist remarks ban
Alisha Hassan | 26 November 2012
KUALA LUMPUR: Malaysian women praised Parliament's push to oust sexist language from debates in the country. Women say it is the right move to help end years of gender-biased remarks that assist in pushing sexual violence against women in the Southeast Asian country.
According to officials, Parliament has accepted a proposal to bar lawmakers from making sexist remarks during debates.
The original Standing Order 36 (4) had read: "It shall be out of order for Members of the House to use offensive language."
If approved, the new amendment to Standing Order 36 (4) will include the phrase "or make a sexist remark."
The proposal to modify Parliament's rules of debate was approved by the House's Standing Orders Committee.
And women are throwing their support behind the move.
"We are hopeful that this will be the beginning of a new era in Malaysian politics, where sexism will not be tolerated. This is a great day for Malaysia and women," Mohina Yussif, a women's rights activist, told Bikyamasr.com on Monday.
MPs have often engaged in lively debates in Parliament, with a recent controversial example being Barisan Nasional (BN) MP Mokhtar Radin's remarks in 2007.
During a heated exchange in the Dewan Rakyat with opposition MPs over a leaky roof in Parliament House, Bung Mokhtar (picture) had said: "Where is the leak? The Batu Gajah MP also leaks every month."
Batu Gajah MP Fong Po Kuan and other women MPs were outraged by his comments and he was eventually forced to apologize.
With reports of rising sexual violence in the country, women in Malaysia believe that by ending sexist remarks in government, it will begin to create a society that "respects women, our bodies and our future to be safe in our own country."
http://www.bikyamasr.com/81567/malaysia-women-praise-parliament-for-sexist-remarks-ban/
------------
As protests continue in Egypt, worries over sexual violence
Joseph Mayton | 25 November 2012
Protester chanting against President Mohamed Morsi in Tahrir square. Sign reads "Hey Morsi, Tell Mohamed Bade'a, Egypt will not be lost without you."
CAIRO: It is almost a given now at large demonstrations in and around Tahrir Square: sexual violence will happen. On Friday, as tens of thousands converged on the main Egyptian square in Cairo, more and more reports of sexual assaults against women once again came to fruition.
One incident that sparked a fervor of worries occurred near the Pizza Hut on Mohamed Mahmoud Street, with dozens of men allegedly brutally assaulting a woman on the street. According to a doctor, the woman was the victim of "mass rape."
While the incident was reported on Twitter, a group of male protesters reportedly intervened and were able to remove the woman from the assault. Those who first revealed the incident refused to speak to the media, including Bikyamasr.com on the incident, but it again highlighted the fear women have of taking to Tahrir during mass protests.
Other women on the micro-blogging site and on Facebook reported being groped and harassed while they were in Tahrir, including a number of female journalists.
As crowds continue to maintain positions in Tahrir in opposition to President Mohamed Morsi's decrees that put him above the rule of law, women's safety is again a growing concern.
Unfortunately, this is a never-ending problem facing Egyptian women when large demonstrations are called for in central Cairo.
In June, an anti-sexual harassment demonstration organized by over 20 Egyptian women's groups in protest against the recent escalation of assaults in Cairo's Tahrir Square was attacked about an hour and half after it began by unknown troublemakers.
The participants reported being attacked by a mob of "thugs" who attempted to throw rocks and glass at them, but the clash was over quickly as volunteers securing the protest intervened to stop it.
This was not the first time a women's rights march was attacked in Tahrir Square.
Last March, and on International Women's Day, a march of tens of women was attacked by a cynical mob of men who did not like women protesting for more rights.
Several female protesters were injured and one woman had to have 8 stitches in her head. Almost all of them were groped and sexually assaulted in the attack.
A 2008 study by the Egyptian Center for Women's Rights (ECWR) found that well over two-thirds of Egyptian women are sexually harassed daily in the country.
The participants held signs that read "It is my right to protest safely," "Groping your sister is shameful for the square" and "Be a man and protect her instead of harassing her."
"We are fed up," protester Mai Abdel Hafez, 24, told Bikyamasr.com.
"We came to deliver a message that it is our right to protest and we will not avoid the square in fear of harassment," she said right before the attack took place.
With Sunday marking the International Day for the Elimination of Violence Against Women, and clashes ongoing in downtown Cairo, women face an uphill battle for their rights and safety.
http://www.bikyamasr.com/81504/as-protests-continue-in-egypt-worries-over-sexual-violence/
------------
Emirati Girl's Torture: Emirati Defendant Jumps over Dock to Attack Witness
By Bassam Za'za',
November 25, 2012
Incensed by claim that he confined daughters in washroom to sleep with his mistress
Dubai: A dramatic scene unfolded in courtroom on Sunday when the father of Wudeema, an eight-year-old girl who was tortured to death, got irritated by a Dubai Police officer's testimony and jumped over the dock, wanting to attack the witness before a two-men security team in the room restrained him.
The 29-year-old Emirati father, Hamad S., grumbled and jumped over the dock wanting to attack the lieutenant when he was testifying before the Dubai Court of First Instance.
"Allah is sufficient for me against you!" shouted Hamad when he jumped over in his prison dress, wanting to assault the lieutenant.
Policeman Saleh Ali was quicker than Hamad and restrained him immediately. Hamad continued trying to make his way towards the lieutenant who stood between two lawyers in front of the judges' bench.
Other policemen present in courtroom seven immobilised the Emirati who is standing trial along with his 27-year-old Emirati girlfriend [who claims to be his wife], Al Onoud A. for illegally confining his two daughters in a flat, torturing Wudeema to death and injuring seven-year-old Meera. Meera sustained 10 per cent permanent disability.
"Put him back inside," presiding judge Maher Salama Al Mahdi told the policemen who restrained Hamad and later took him to the detention centre.
Capital punishment
"I did it. I did everything. I am responsible for all what happened. I want you to give me a capital punishment… [she cursed and used foul language against the lieutenant]," Al Onoud was heard shouting from inside courtroom seven.
What triggered the dramatic scene was the lieutenant's response to the court's question. "Why did the suspects lock up the victims inside the washroom?" Presiding Judge Al Mahdi asked the lieutenant.
"The father [Hamad] locked them up in the washroom so he could sleep with his mistress," replied the witness. This irked the defendant.
During Sunday's trial, the court heard two prosecution witnesses. Presiding judge Al Mahdi adjourned the case to December 12 to hear more prosecution witnesses.
Towards the beginning of Sunday's hearing, Hamad told the court as he walked in: "I told you sir that I don't want the press to be present in the courtroom. Otherwise, I won't stay here." However, the bench of judges disregarded his request.
In a previous hearing, a policeman testified: "The girl and her younger sister were left unfed in the flat. On the night the girl died, she vomited a lot because she ate her own faeces. She and her sister used to eat leftover food and sometimes their own faeces."
Prosecutors are seeking capital punishment for the defendants.
http://gulfnews.com/news/gulf/uae/crime/trial-over-emirati-girl-s-torture-defendant-jumps-over-dock-to-attack-witness-1.1109762
------------
Malala ranks 6th on Foreign Policy's Top 100 Global Thinkers list
November 26, 2012
'For standing up to the Taliban, and everything they represent' made Malala Yousufzai, the 15-year-old child activist hailing from Swat valley, shine on the number 6 spot of the Top 100 Global Thinkers list.
The list was released by Foreign Policy (FP) magazine on Monday, November 26, 2012. This year, FP honoured people who spoke for freedom of speech, for making themselves heard.
Malala was among four Pakistanis who made it to the list this year.
Full report at:
http://tribune.com.pk/story/471063/malala-ranks-6th-on-foreign-policys-top-100-global-thinkers-list/
------------
Burundi breaks new ground on maternal health with emergency care
Clar Ni Chonghaile in Bujumbura, Burundi
26 November 2012
Radios, local doctors and techniques to help underweight newborns are saving the lives of women and children in Burundi
The youngest of Chantalle Bukuru's six children does not have a name yet, but the 17-day-old girl certainly has attitude as her fists swat the air, her eyes wide and alert. Bukuru, 27, gave birth by caesarean section in the CMCK clinic in Bujumbura, the steamy, hill-ringed, bicycle-filled capital of Burundi, in eastern Africa.
Full report at:
http://www.guardian.co.uk/global-development/2012/nov/26/burundi-maternal-health-emergency
------------
Cell phones Reshape Prostitution in India, and Complicate Efforts to Prevent AIDS
By GARDINER HARRIS
2012/11/25
MUMBAI, India — Millions once bought sex in the narrow alleys of Kamathipura, a vast red-light district here. But prostitutes with inexpensive mobile phones are luring customers elsewhere, and that is endangering the astonishing progress India has made against AIDS.
Indeed, the recent closings of hundreds of ancient brothels, while something of an economic victory for prostitutes may one day cost them, and many others, their lives.
"The place where sex happens turns out to be an important H.I.V. prevention point," said Saggurti Niranjan, program associate of the Population Council. "And when we don't know where that is, we can't help stop the transmission."
Full report at:
http://www.nytimes.com/2012/11/25/world/asia/indian-prostitutes-new-autonomy-imperils-aids-fight.html?ref=asia&gwh=4A20A1CFCDB186C71AF7C5D4DD3E38E6
------------
Philippines Leads Pack in Promoting Female Academics
By LIZ GOOCH
2012/11/26
KUALA LUMPUR — When Emerlinda Roman finished her term last year as president of the University of the Philippines, she had no shortage of female company occupying the top offices at other universities.
Of more than 2,100 higher education institutions in the Philippines, 39 percent, or 850 institutions, were led by women in 2011, she said, citing figures from the Commission on Higher Education.
Full report at:
http://www.nytimes.com/2012/11/26/world/asia/philippines-leads-pack-in-promoting-female-academics.html?ref=asia
------------
'Inquiry into Savita Halappanavar's death to be finished by Christmas'
Nov 25 2012
London : The probe into Savita Halappanavar's death will be completed before Christmas, Ireland's Health Minister has said, even as her distraught husband was considering lodging a complaint with the Ombudsman to assert ownership of his wife's medical notes.
"I've made it very clear this investigation must be completed as expeditiously as possible and I now understand that will happen before Christmas and I may have an interim report in a matter of weeks," James Reilly, the Health Minister, was quoted by the Irish Times as saying.
"I equally understand now that the Health Information and Quality Authority (HIQA) have become involved and they will do that as expeditiously as possible but until I get the report I can't say what the next step is. The report will certainly inform our next actions," he added.
Full report at:
http://www.indianexpress.com/news/inquiry-into-savita-halappanavars-death-to-be-finished-by-christmas/1036172/
------------
Afghani Woman Delivers Baby at Jeddah Airport
By Habib Toumi
November 26, 2012
Manama: An Afghani woman gave birth to a baby boy at King Abdul Aziz Al Saud airport in the Red Sea resort of Jeddah. She delivered the baby as she was getting ready to fly home.
"The woman was leaving for Kabul through the Pilgrims' City when she went into labour and delivered the baby," Abdul Hameed Abu Al Ari, the airport manager, said.
The airport services responded to the situation and assisted the mother before she was transferred to a maternity hospital in Jeddah to monitor the case, Saudi Arabic news site Sabq reported on Monday.
Full report at:
http://gulfnews.com/news/gulf/saudi-arabia/woman-delivers-baby-at-jeddah-airport-1.1110092
------------
As women's rights go, so goes the Arab Spring
Nov. 26, 2012
By Charity Wallace
'The Taliban's recent shooting of a 15-year-old Pakistani girl for speaking out in favor of women's education is a stark reminder of the global plight of women. As the Arab Spring progresses, strong constitutional commitments to democracy and human rights are essential.
Recent political developments in Egypt could hinder these efforts. Since the fall of the Mubarak regime, Egypt has worked to create a new government, including new foundational documents. As the cultural heart of the Arab world and the largest Arab Muslim nation, this constitutional process could have profound regional impacts.
Full report at:
http://www.palmbeachpost.com/news/news/opinion/commentary-as-womens-rights-go-so-goes-the-arab-sp/nTDfJ/
------------
Leadership University Rises for Asian Women
By KELLY WETHERILLE
2012/11/26
When the Asian University for Women in Bangladesh opened in 2008, it set in motion the idea that the region would benefit from a high-profile university dedicated to young women.
Now, veterans of the A.U.W. have altered the concept to lay the foundations for another Asian women's university that, by conservative estimates, is expected to open in Malaysia in 2015.
The concept of an Asian Women's Leadership University, a private non-profit institution, was conceived in 2010 by Barbara Hou, who had previously served as legal council and director of admissions at A.U.W. in Bangladesh.
Full report at:
http://www.nytimes.com/2012/11/26/world/asia/leadership-university-rises-for-asian-women.html?ref=world&_r=0
------------
Rwandan Women Urged to Explore Regional Business Opportunities
BY STELLA ASHIIMWE
25 NOVEMBER 2012
Rwandan women have been challenged to engage in cross border trade to benefit from East African integration.
Speaking during a one day workshop for government officials on gender dimensions of cross border trade, East African sub regional support Initiative for the Advancement of Women (EASSI) project officer, Nivatiti Nandujja , called on governments to put in place policies that help women to engage in trade across borders.
Full report at:
http://allafrica.com/stories/201211260023.html
------------
URL: https://www.newageislam.com/islam,-women-and-feminism/new-age-islam-news-bureau/saudi-female-nurses-are-breaking-societal-barriers/d/9438