New Age Islam News Bureau
10 Feb 2020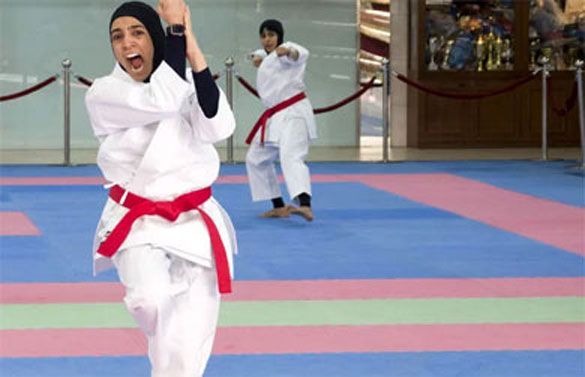 The first appearance of a female Saudi karate team in the fifth Arab Women Sports Tournament, which kicked off on Feb. 2 in Sharjah, in the UAE, will be broadcast on TV. (AN Photo/Huda Bashatah)
-----
• Tourist in Maldives Gets Arrested For Wearing Bikini
• Princess Lamia named UN-Habitat Arab World's Goodwill Ambassador
• Saudi Team of Volunteer Doctors save Mauritanian Girl With Heart Surgery
• Woman Infected With Coronavirus Cured: UAE
• Female Syrian Doctor in Oscar-Nominated Film Hopes To Inspire Women
• 15-Year-Old Saudi Female Pianist Reflects On Her Musical Journey
• Don't Let the Child Abusers Get Away Turkish Women Tell Erdogan
• Saudi Arabia on a Fast Track to Gender Equality, Study Suggests
• Yogi's Mantri Shocks Again! 'Muslim Women Wear Burqa Because They Are Surpanakha's Descendants'
• Hindu Minor Girl Who Was Forcefully Converted Renounces Islam; Pakistani Mullahs Demand Death Penalty
• Afghan Women's Views on Violent Extremism and Aspirations to a Peacemaking Role
• Can Turkey Curb Violence against Women And Put More Women To Work?
Compiled By New Age Islam News Bureau
URL: https://www.newageislam.com/islam-women-feminism/saudi-female-karate-players-break/d/121026
--------
Saudi Female Karate Players Break New Barriers in UAE Competition
February 09, 2020
JEDDAH: The martial art skills of Saudi women are soon to be on public display. The first appearance of a female Saudi karate team in the fifth Arab Women Sports Tournament, which kicked off on Feb. 2 in Sharjah, in the UAE, will be broadcast on TV.
Four female karate players are representing the Jeddah-based Asia Martial Art Defense Club, with another team from Riyadh also taking part.
"We started our preparations for the tournament nearly two months ago. We have made everything available for the players who will take part in all fighting types," said Asia Martial Art Defense Club administrator, Ala Al-Sharif, who added that the Saudi Karate Federation has been very helpful.
Saudi karateka Nada Al-Mashat, who works as a psychologist at King Fahd General Hospital, said that her family pushed her to learn karate.
"The wise leadership has made a healthy sports environment available for us and that is the biggest support we have had. The Saudi Karate Federation has also supported our local players of both genders," she said.
Al-Mashat said the choosing of Prince Sultan bin Salman for a space mission has inspired her and made her sure there is nothing impossible for the Saudi people.
"The prince's space experience has filled (me) with ambition and determination to do something for my country. I felt like I could make all my dreams come true. I chose karate to take the name of my country to the international level," Al-Mashat added.
She pointed out that despite her parents' support, some members of her society did not like to see a female practicing the sport.
"I expected that some people would dislike my decision. That was normal because they had not enough understanding about the importance of sports for women. Karate teaches high values such as self-control, integrity, persistence and respect," she added.
Al-Mashat said her interest in the Japanese culture has pushed her to learn the Japanese language.
"I was deeply taken by the meaning of the word 'karate', which means 'the empty hand.' I realized that I would depend on my inner power, not on weapons. The meaning gave me the impression that I would be a weapon and a human at the same time," she said.
This thought she had when she was young determined her academic development.
"My Master's thesis was about the influence of martial arts on children with attention deficit hyperactivity disorder. The outcome of the study encouraged me to spread the culture of martial art sports," she said.
Meanwhile, Sara Hussein Mukhtar, assistant professor at King Abdul Aziz University, said that she started some 14 years ago with a style of karate developed from various martial arts, known as Shotokan. She practiced the sport until she left for Australia, where she started doing the full contact style of Kyokushin, a style of stand-up fighting.
"I got my second black belt and returned to Saudi Arabia, where I started training my own daughter," she said.
Mukhtar said that the first obstacle she faced was finding a suitable training place for women in Jeddah.
"Another difficulty was trying to convince people that karate, or martial arts in general, does not work against women. It actually helps women to defend themselves, to get self-confidence, self-empowerment and it has so many advantages for women without hurting any of their body systems."
She said that karate has given her confidence, strength and the feeling of being responsible for spreading the knowledge of Kyokushin karate and this type of sports in Saudi Arabia, where it is not common.
"However, I do not teach karate to women and kids primarily so that they can defend themselves when bullied or attacked. I would first like them to realize that karate is good for their own health. From my specialty, it might help them cope with their own diseases or pathologies as long as they are training in the correct traditional way and under supervision," Mukhtar said.
In preparation for the tournament, Mukhtar said, they had been training for three to four hours every day.
"We are hopeful that we can achieve something for our country. I have participated in a number of competitions, but this is going to be my first time with a team, and it is really a pleasure. I hope I can do well and make everyone happy," said Mukhtar, the bronze medal winner at the 10th Arab Kyokushin Karate championship that was held in Tunisia.
The Egyptian coach of the Saudi team, Khaled Anani, said that there is no difference between male and female fighters in regard to training.
"Despite their physiology variations, both male and female athletes are the same since they all are humans. They have the same qualities to go for strong encounters. The Almighty has created man to struggle for life. God has said in the Qur'an: 'We have certainly created man in the best of stature.' God meant man not as in males, but as in humans – males and females," said Anani, who is also a won third place in the Karate World Championship 2013.
Anani added that the only dissimilarity is in the size of the muscle mass.
Another member of the Saudi team participating in the tournament is the head nurse at the King Faisal Specialist Hospital and Research Center, Zainab Al-Ansari.
Her Jordanian husband, Wasim Mazen, is supporting her to make her dreams come true. Mazen was Saudi Arabia's karate champion from 2002 to 2007.
Al-Ansari said that her father encouraged her to do karate. She started learning the tough sport when she was a child.
"After I left high school, I stopped practicing karate. I focused on my studies and work until I got married to a karate champion who encouraged me to get back to karate," Al-Ansari said.
She added that she faced some difficulties, but she managed to overcome them.
"The most difficult times we went through were when we had no clubs for females where we could train. This is now changing, and with time everything is hoped to go better and better," She said.
Al-Ansari urged women in her society to go for a self-defense sport; as it would make them understand themselves much more when they play karate.
"No matter whether these females are students or employees, I highly recommend that they learn a self-defense sport like karate," she said.
She added that karate for women does not mean full freedom the way some people may think.
"Freedom is in the mind. Karate can help them become open-minded. Also, practicing karate is a responsibility, in that its players will become more accountable. This is what karate actually gave me, I feel I am now much more conscious in making decisions and reacting wisely and positively to things around me," she said.
For his part, Mazen commented that for Saudi women their time had finally come; many of them have started to take advantage of the opportunities provided for them.
"These women can now represent their country in regional and global championships and get the necessary experience they need. They have made qualitative leaps in their performance and they can easily compete in different championships as long as they are keen to learn, improve and invest in themselves," Mazen said.
He said that their main goal in this competition is to expose the players to the atmosphere of a tournament and to give them the chance to learn from other players who have a wide Olympic experience.
"It is the first time our female players have taken part in such tournaments, and thus our objective is that our players get back to their country with as much knowledge and experience as they can," he said.
https://www.arabnews.com/node/1625366/sport
--------
Tourist in Maldives Gets Arrested For Wearing Bikini
Feb 9, 2020
In a shocking incident, a woman was arrested in Maldives for wearing a bikini. A video that has gone viral on social media, a woman wearing a bikini can be seen speaking in a British accent. The video clip is doing rounds on the internet after the tourist was detained by the Maldivian police on a beach on the island of Maafushi in Kaafu Atoll.
The woman can be seen shouting at the police that "You are sexually assaulting me". In the same clip the police could be seen struggling hard to handcuff the woman while another man tries to cover her up with a towel. The woman can be seen taking away from the beach region.
After the footage floored on the internet, a number of people have come out on social media and criticised the incident. Some people are supporting the woman and saying that she is being 'harassed by the public' and 'manhandled' by police officers in Maldives.
#MvCrisis 🇲🇻
@MvCrisis
Maafushi rashu therey bikini laigen tourist eh hingan massakai kurumun fuluhunaai rayyithun naseyhai dhee ekan nuhuhtumun baaruge beynun koh hayyaru kohfi.
Ithuru mauloomaath: https://t.me/MvCrisis/24893
Embedded video
146
7:11 PM - Feb 6, 2020
Twitter Ads info and privacy
338 people are talking about this
According to the local media, the woman was arrested on Friday evening at around 5 PM. Officers said that the woman was under the influence of alcohol.
In a statement tweeted by Maldives Police Service commissioner, Mohamed Hameed, he said: "Incident in Maafushi in which our officers restrained a female tourist seems to be badly handled. I apologise to the tourist & the public for this. The challenge I have taken up is to professionalise the police service & we are working on that. This matter is being investigated."
Maafushi is a prominent luxury tourist destination and is quite famous among beach lovers from across the globe. However, wearing bikinis is 'strictly prohibited' in local islands along with in the capital city of Malé. One can wear a bikini only on private islands or local resorts.
▪️Adam▪️
@Adamiington
A video which shows a women tourist in bikini 👙 man handled by male @policemv officers in #Maafushi Island of @visitmaldives goes viral. Though resort islands permit bikinis on beaches - it is just in the non-resort islands that impositions are placed.
Embedded video
1
2:04 AM - Feb 7, 2020
Twitter Ads info and privacy
See ▪️Adam▪️'s other Tweets
The UK government too has advised tourists travelling Maldives to remain 'sensitive to local dress standards when visiting non-resort islands'.
Apparently, Maldives is an Islamic country with some strict rules and violations of local laws may lead to a prison sentence. In fact, one can not even practice any religion other than Islam as it is prhibited. Those visiting the country are advised to respect local traditions, customs, laws and religions and make sure that their actions don't offend locals.
When it comes to dress, the country and the people are super sensitive. Nudism and topless sunbathing is not allowed anywhere, including on private island resorts.
https://timesofindia.indiatimes.com/travel/destinations/tourist-in-maldives-gets-arrested-for-wearing-bikini/as74048322.cms
--------
Princess Lamia named UN-Habitat Arab World's Goodwill Ambassador
February 9, 2020
ABU DHABI — Princess Lamia Bint Majed Al-Saud, secretary general of Alwaleed Philanthropies, has been appointed as the first ever Regional Goodwill Ambassador for Arab World by the United Nations Human Settlements Program (UN-Habitat) during a press conference at the tenth session of the World Urban Forum.
UN-Habitat works in over 90 countries, supporting people in cities and human settlements for a better urban future.
Highly regarded for her humanitarian work and philanthropic efforts to advance sustainable and inclusive development for the most vulnerable, Princess Lamia as regional goodwill ambassador for Arab states will advocate for sustainable urbanization, helping UN-Habitat to address urban challenges in Arab states and advance sustainable urbanization as a driver of development and peace.
In her role as secretary general at Alwaleed Philanthropies, Princess Lamia leads an all-female team that is combating inequalities and providing opportunities for those in need in the Middle East and around the world. In addition to investing in programs and initiatives that build cross-cultural understanding, develop communities, empower women and young people and assist those affected by disasters, Alwaleed Philanthropies has established partnerships with global organizations in humanitarian issues, healthcare, development and civil society.
Commenting on the award, Princess Lamia said: "I am extremely humbled to be appointed as the first ever Regional Goodwill Ambassador for the Arab world on behalf of UN-Habitat. I very much hope that this appointment serves as inspiration for young people across the Arab region that there is no limitation on their aspirations."
"My appointment comes as we celebrate 40 years of Alwaleed Philanthropies. If there is one thing that we have learnt from these four decades of experience, it is that every person has an important role to play when facing the world's most pressing challenges. Overcoming a problem or transforming someone's life can often be achieved by thinking differently and developing the simplest of solutions. It only takes one person to make a difference and as a goodwill ambassador I hope to inspire people across the Arab World to think about the role that they can play in helping to address the impact of rapid urbanization across our cities, communities and climate."
In 2018, Princess Lamia was awarded the "Woman Leader in Community Development Excellence Award" which was given by the Middle East Excellence Awards Institute honoring women leaders and executives in Dubai, UAE. In March 2018, Princess Lamia was honored with the Baden Powell Fellowship pin by the World Scout Foundation in recognition of AP's contributions to the WSF's support of youth around the world. The Princess was also appointed as the first Saudi to join the UN Women as a "Global Champion" for gender data equality.
In 2019, UNICEF appointed Princess Lamia as the first Middle Eastern and non-government leader to join the "Generation Unlimited Champion Committee" to provide successful futures for 1.8 billion young people across the world.
http://saudigazette.com.sa/article/588583/SAUDI-ARABIA/Princess-Lamia-named-UN-HabitatArab-Worlds-Goodwill-Ambassador
--------
Saudi Team of Volunteer Doctors save Mauritanian Girl With Heart Surgery
9 February 2020
A team of medical volunteers performed life-saving cardiac surgery on a young Mauritanian girl, after her mother traveled long distances to try and save her daughter's life, according to the King Salman Humanitarian Aid and Relief Centre (KSrelief).
The team of doctors, who are part of KSrelief's Volunteer Medical Campaign for Open-heart Surgeries and Catheterizations in Mauritania, operated on the girl after her mother was told that the surgery could not be done in the country.
"I thank God, and then I thank King Salman that my daughter was treated," the mother said.
The girl and her mother had traveled for hours to Mauritania's capital city Nouakchott to meet with doctors from KSrelief, who agreed to operate.
"I heard about the Saudi mission, and I was waiting for it for three months. I did not leave Nouakchott [to go back to my home village] while I was waiting for the mission," the girl's mother said.
KSrelief signed agreements with the Muslim World League organization in 2019 to send volunteer medical teams to conduct open-heart surgeries, catheterizations, and thyroid cancer surgeries in Mauritania, Niger and Morocco.
https://english.alarabiya.net/en/News/gulf/2020/02/09/Saudi-team-of-volunteer-doctors-save-Mauritanian-girl-with-heart-surgery-.html
--------
Woman Infected With Coronavirus Cured: UAE
9 February 2020
A 73-year-old woman who contracted the deadly coronavirus has been cured, the UAE announced on Sunday, making her the first person in the country to beat the virus.
Liu Yujia, a Chinese citizen, received treatment in one of the country's hospitals, state news agency WAM reported.
The Chinese Consul General in Dubai Li Xuhang visited Yujia at the hospital after she was cured, and praised the UAE for its efficient preventative healthcare system.
Two new cases of the lethal virus were detected in the country on Saturday, the UAE's health ministry said on Twitter, bringing the total number of people diagnosed, before Yujia was cured, to seven.
Since the country reported an outbreak of the disease, the UAE has been taking preventative measures to stop the spread of coronavirus, including screening passengers who arrive on flights from China and canceling all flights to Chinese cities.
"The results of the 2019-nCoV detection test conducted on the patient turned out negative of the new coronavirus. She is now in a good health and fully recovered," said Ministry of Health and Prevention's Assistant Under-Secretary for Health Centres and Clinics, Dr. Hussein Al Rand.
"This case of the Chinese lady increases hope that other discovered cases in the UAE can also be fully recovered," he added.
More than 800 people have died as a result of coronavirus, and more than 3,000 others have been infected.
In its daily update, Hubei's health commission also confirmed another 2,147 new cases in the central province, where the outbreak also known as corona emerged in December.
https://english.alarabiya.net/en/News/gulf/2020/02/09/Woman-infected-with-coronavirus-cured-UAE-.html
--------
Female Syrian Doctor in Oscar-Nominated Film Hopes To Inspire Women
8 February 2020
A female Syrian doctor who ran an underground hospital in a besieged rebel stronghold says she hopes an Oscar-nominated documentary showing her work will encourage other women and girls to demand equal treatment with men.
Amani Ballour, 32, is seen facing bombardments and shortages of food and medicine while also challenging sexist attitudes in "The Cave", which is shortlisted for best documentary feature at this year's Academy Awards.
"I hope it will inspire women to change their situation," Ballour told the Thomson Reuters Foundation by phone ahead of the awards ceremony on Sunday.
"Young girls need to ... hear about their rights to know they can do everything they want," she added.
Ballour grew up in eastern Ghouta, just outside Damascus. She originally hoped to become an engineer, but was overruled by her family, who said it was an unsuitable career for a women but agreed that she could become a doctor.
Having completed her general medical studies, she abandoned her training in pediatrics to treat the injured in previously rebel-held eastern Ghouta during a five-year siege.
As medical facilities faced constant bombardments by the Syrian regime and Russian airpower, doctors were forced to move underground for safety and created the subterranean hospital known as The Cave, where Ballour worked from 2013.
The pediatrics specialist was just 29 when colleagues elected her to run the hospital and had to contend with widespread sexism as well as danger and shortages of essential supplies.
The film shows one man telling her a man would do a better job, and women belong at home with their families.
"Of course that makes me angry," said Ballour of those who questioned whether she was up to the job. "I wanted to prove that women can do more."
Inspiration
The film's director Feras Fayyad said he was inspired by seeing how Ballour and her fellow female medics fought to reclaim their rights in the hospital.
Ballour agreed to work with him on the condition that filming never compromised care for patients.
"Our main goal from this film was to tell the truth because we thought at the time that no one will survive," she said.
But she had no idea that she was to be the main subject of the film and was initially upset that it did not focus more on the suffering of the children she treated.
"I asked him where are my children; the children who lost their legs, who lost their hands?" she said, adding that Fayyad convinced her much of the footage was too traumatic and that her story helped to show the wider struggles of Syrian people.
While the film does not shy from the terrors of the constant attacks and the injured, it shows how Ballour used her role to try to help other women.
"I tried to encourage the women, to tell the young girls that you can be important," she said.
"When I was a young girl no one told me I could be a doctor or an important thing ... all the people around me said you will get married and have children," she added.
Ballour finally had to flee to Turkey in 2018 when the Syrian regime regained control of the region and the hospital was shut down.
From there, she campaigns on women's rights and is working to raise funds for the Al Amal fund created in her honor, which will support female leaders in war zones and offer education for young women from Syria and other conflicts.
Whether or not the film takes the Oscar, her experience shows that attitudes can be changed, with some of the men who criticized her later acknowledging she had done a good job.
"Why can't a woman decide for herself and do what she wants to do?" she says in the film.
"Let them say what they want, but I want to change this image," she adds.
https://english.alarabiya.net/en/features/2020/02/08/Female-Syrian-doctor-in-Oscar-nominated-film-hopes-to-inspire-women.html
--------
15-Year-Old Saudi Female Pianist Reflects On Her Musical Journey
February 09, 2020
RIYADH: Coming from a musical family, young Saudi pianist Daleen Khalid wanted to be part of the artistic talents that her household is full of.
The 15-year-old's father is an artist who plays several instruments, such as the oud, violin and keyboard.
"I grew up listening to music in different ways. Recently I found myself on the piano playing classical music and I decided to teach myself since that moment," she said.
The self-taught pianist started playing just 11 months ago.
Apart from playing music, Daleen is also interested in public speaking, giving presentations, swimming, cycling and drawing.
"I'm an active person and I always like to experience new things in life," she said.
Khalid's family, especially her parents, was supportive of her musical dream and helped her pursue it.
She said that there is no period of time that a person has to spend to become a professional pianist. "Anyone can be a professional depending on their skills and expertise."
The young talent, who says she is "still in the learning journey," aspires to become a professional pianist in the future.
Her goal from playing the piano is to get her message out to the community. "Classical music can still be played and enjoyed by young generations as well."
Public speaking helped Khalid to be more confident and comfortable to perform in front of an audience, especially in some of Riyadh Season's zones. "Of course I get nervous sometimes."
Daleen started playing in public before the Riyadh Season. She first started going to cafes and restaurants that have a piano open to the public.
She said that Riyadh Season opened a great window of opportunities for her to grow as a pianist.
"Nabd Al-Riyadh was my first zone to perform and then I moved to different zones," she said.
Khalid was overwhelmed by the positive reactions to her performance in the season. "They were very supportive. Every single time I play the piano, people seem to be enjoying my performance and the music I pick."
She finds it difficult to choose her favorite pianist. "I could never say who my favorite pianist is, it's too hard to choose because every single pianist has their own way to express their emotions and feelings," she said.
She told Arab News that she would like to be part of all future Saudi seasons, and that she is open to any opportunities.
https://www.arabnews.com/node/1625311/saudi-arabia
--------
Don't Let the Child Abusers Get Away Turkish Women Tell Erdogan
February 9th, 2020
Women's rights activists in Turkey said they are concerned that an amnesty planned by the government could result in impunity for child abusers.
"This bill will not become law and it must not become law," said Selin Nakipoglu, a lawyer and activist.
The draft proposal is part of a wide-ranging amnesty plan that could free tens of thousands of prisoners by reducing mandatory prison times for a range of crimes and widening the use of alternative criminal justice methods such as house arrest and probation.
The amnesty has been postponed several times and Turkish Justice Minister Abdulhamit Gul said the final version of the bill would become clear only after consultations between political parties in parliament. Women's rights activists said they expect the package to be tabled in parliament this month. There is no official timetable by the government.
Convicted sex offenders, drug dealers and members or organised crime gangs, as well as people sentenced under Turkey's controversial anti-terror laws, would be excluded from the amnesty, the government said. However, a planned exception for certain sexual offences would amount to an "amnesty for rapists," Hulya Gulbahar, a women's rights activist said by telephone.
The proposal says a sexual offender could be released from prison if the age difference between him and the victim is less than 15 years, if there is no criminal complaint and if the offender and the victim are married. Turkey's governing Justice and Development Party (AKP), which has roots in political Islam, withdrew a similar bill in 2016 because of protests. A group of 197 women's rights organisations called on the government to cancel the new draft as well.
The AKP said the bill could protect thousands of families in socially conservative sectors of society from harm.
Many conservative families marry off their daughters before they reach the legal age of 18 in religious ceremonies called "imam weddings" but thousands of husbands end up in prison when underage wives are registered in hospitals when they give birth, triggering criminal charges by prosecutors. Reports said 4,000 families could be affected. The law would be a one-off amnesty so sexual intercourse following an "imam wedding" would count as a crime after a yet to be determined cut-off date.
Women's rights groups rejected the government's argument that an exception from prosecution in such cases is beneficial for young mothers because many are left penniless when their husbands are in prison. Activists said the bill would legalise child abuse if it became law.
Murat Emir, an opposition lawmaker in Ankara, said last year that teenage pregnancies in Turkey were much more widespread than thought. Citing figures from Turkey's statistics office, he said 84,500 girls under 18 had given birth since 2014. He said in parts of eastern and south-eastern Turkey, among the poorest and most conservative regions of the country, girls as young as 11 years were married off.
Gulbahar said the draft proposal was not an isolated initiative but an element of a broader effort by the AKP to implement ultra-conservative social policies.
"This amnesty project is part of the same policies that also include child marriage and an advice to couples to have many children," she said.
Nakipoglu agreed. "This policy means underpinning the system of male dominance with religious rules and taking a stance against gender equality," she said by telephone.
Turkish President Recep Tayyip Erdogan regularly calls on Turkish families to have at least three children to save the country from going the same way as aging Western societies. In a recent speech, he complained that the average age of people getting married in Turkey is rising and that many Turks never get married at all. Official figures indicated that the median age in Turkey had risen from 28 years in 2007 to more than 32 years in 2019.
Nakipoglu said her sources told her that the amnesty draft had been tabled after pressure by Islamic groups close to the AKP.
Two years ago, Turkey's state directorate for religious affairs, which oversees the practice of Islam in the country and administers its more than 80,000 mosques, caused an uproar with a statement on its website saying that Islam allowed 9-year-old girls to be married. The post was taken down after protests and the directorate published a sermon condemning child marriages.
Women rights groups said they are determined to fight the new proposal.
"It will not be easy to stop it," Gulbahar said. The AKP and its right-wing partner, the Nationalist Movement Party, a driving force behind the amnesty package, have a comfortable majority of seats in parliament.
Repeated delays in getting the package to parliament could be a sign that the government side is not convinced that society would accept the amnesty proposals, however.
Gulbahar pointed to a recent stir caused by a religiously conservative professor at Istanbul's Yildiz University, Bedri Gencer. In a tweet, Gencer argued that a massive earthquake in eastern Turkey that killed 41 people in December was caused by Turkey's decision to ban underage marriages even though the unions were allowed by God. Following protests against the statement, Yildiz University distanced itself from Gencer, saying the tweet had been "unacceptable."
https://www.albawaba.com/editors-choice/dont-let-child-abusers-get-away-turkish-women-tell-erdogan-1337911
--------
Saudi Arabia on a Fast Track to Gender Equality, Study Suggests
February 09, 2020
DUBAI: Rapid reform in Saudi Arabia is opening the door for female "role models and leaders of the future" — and the Kingdom's women are seizing the opportunity, according to major employers.
Saudi women are bringing "passion, energy and enthusiasm" to the workplace in greater numbers than ever, Danielle Atkins, chief marketing and communications officer at Diriyah Gate Development Authority (DGDA) in Riyadh, told Arab News.
Atkins said that she has seen a sharp rise in the number of women working in the Kingdom.
"I look for passion, an entrepreneurial spirit and commitment — and all of this I see from the Saudi women in my team," she said.
"This is an incredible time for Saudi women."
Atkins' comments follow a World Bank report that highlighted Saudi Arabia's rapid progress towards gender quality since 2017 by ranking it the top reformer and the top improver among 190 countries.
The bank's "Women, Business and the Law" (WBL) 2020 report gave the Kingdom an overall score of 70.6 out of 100 — a 38.8 jump since its last ranking — placing it first among GCC countries and second in the Arab world.
WBL measures gender inequality in the law, identifies barriers to women's economic participation and encourages reform of discriminatory laws.
The report highlights improvements in Saudi Arabia's score in six of the eight indicators, notably in women's mobility, following the removal of restrictions on obtaining a passport and traveling abroad.
Besides mobility (100), the most improvements were recorded in the workplace (100), marriage (60), parenthood (40), entrepreneurship (100) and pension (100).
New legal amendments also equalized women's right to choose where to live and to leave the marital home, the report says.
Atkins told Arab News that the "remarkable change" in opportunities for women can be attributed to the implementation of Crown Prince Mohammed bin Salman's blueprint for transformation — the Saudi 2030 Vision
"Today, women are being appointed to senior governmental roles and are leading in fields such as science and medicine, which were traditionally male oriented," she said.
"They will become role models for the future."
With regard to the workplace, Saudi Arabia has enacted legislation and criminal penalties for sexual harassment and prohibited gender discrimination.
In the area of marriage, the Kingdom has begun allowing women to be head of the household and removed the legal obligation to obey their husbands. With regards to parenthood, Saudi Arabia, along with the UAE, prohibited the dismissal of pregnant workers.
"One of the goals of Vision 2030 is to increase the proportion of women in employment from the current level of 22 percent to 30 percent," Atkins said.
"The DGDA team is comprised of 83 percent Saudis, of which 34 percent are women. The marketing team has an even higher percentage with 57 percent of women.
"My first three new hires are all Saudi women, and my impression as someone who is new to the Kingdom is that this change is being led by the government and individual CEOs. It would be great to see this cascade into all industries within Saudi Arabia," she said.
In a boost for entrepreneurship, the Kingdom has made access to credit easier for women by prohibiting gender-based discrimination in financial services, a legal provision that has been proven to increase women's access to finance and is still not in place in 115 economies.
In the pension section, the Kingdom equalized the age (60) at which men and women can retire with full pension benefits. It also mandated a retirement age of 60 for both women and men.
One of the most encouraging aspects of the changes underway in the Kingdom is the trend for women to study what have traditionally been regarded as exclusively male domains: Science, technology, engineering and mathematics, the so-called STEM disciplines. For instance, of the 5,200 who graduated from the Princess Nourah Bint Abdulrahman University (PNU) in Riyadh last year, 1,400 came from STEM faculties.
"I predict a huge contribution from women in that sector in the near future," Einas Al-Eisa, rector of the PNU, told Arab News at the recent annual meeting of the World Economic Forum in Davos, Switzerland.
"One good story that comes from Saudi Arabia is the increased number of women engaging in the technology sectors, for example, versus the drop we see worldwide. Elsewhere women are moving away from these fields, whereas in the Kingdom, the number is going up constantly."
Cyril Widdershoven, director of VEROCY, a Dutch consultancy advising on investments, energy and infrastructure in the region, said improvements in the position of women in Saudi Arabia are visible in offices, workplaces and on the streets.
"The role of women in the Saudi economy is clear. It is an available workforce that should be accessed," he said.
"At the same time, diversity in the workforce is increasing overall productivity, profitability and sustainability.
"What needs to be done is to educate and strategize sectors for women."
According to the World Bank report, economies in the Middle East and North Africa and sub-Saharan Africa make up nine of the top 10 reforming economies.
Some of the Kingdom's groundbreaking reforms include criminalizing sexual harassment in public and private sector employment in 2018, as well as allowing women greater economic opportunity last year.
Legal amendments now protect women from discrimination in employment, including job advertisements and hiring, and prohibit employers from dismissing a woman during her pregnancy and maternity leave.
"These reforms build on other historic changes in Saudi Arabia, which in 2015 for the first time allowed women to vote and run as candidates in municipal elections and, in 2017, gave women the right to drive," the report said. "The reforms are spurred by an understanding that women play an important role in moving Saudi Arabia closer to its Vision 2030.
"This ambitious plan to modernize the Saudi Arabian economy by diversifying it beyond oil and gas, promoting private sector growth, and supporting entrepreneurship also includes the goal of increasing women's labor force participation."
The report mentioned remaining legal constraints on women's participation in the economy, which, if addressed, could increase their economic contribution.
As for what young Saudi women will do after graduation, the Vision 2030 strategy envisages a big increase in the female workforce, rising to as much as 30 percent over the next decade.
Recent statistics show that the Kingdom is well on the way to reaching that target, with 23.5 percent of the private sector workforce being female.
"Just as it should be everywhere else in the world, it is the competency of the graduates that dictates where they go," Al-Eisa said.
For Saudi Arabia to diversify and advance, Widdershoven said, the Kingdom's women need to be financially independent, but also able to fill in gaps in the workforce.
"From health care to finance, energy, agriculture and industry, the strength of these mainly young women is remarkable," he said.
https://www.arabnews.com/node/1625046/saudi-arabia
--------
Yogi's Mantri Shocks Again! 'Muslim Women Wear Burqa Because They Are Surpanakha's Descendants'
Feb 10, 2020
Agra: In yet another shocker, Uttar Pradesh minister Raghuraj Singh on Sunday said that Muslim women wear a burqa because they are descendants of Surpanakha, the sister of Ravana, the mythical multi-headed demon king.
Calling for a ban on the burqa in India, the minister of state in the Labour Ministry further alleged that the face veil is used as a tool to conceal the identity of terrorists. He further mentioned that even Sri Lanka had banned burqa after a series of bomb blasts shook the island nation on Easter Sunday last year, leaving many dead and wounding scores of people.
"The system of burqa has come from Arab. They hide their face because Lord Lakshman had cut off their ears and nose. They wear burqas because they are the descendants of the demon. Only the descendants of demons can wear a burqa. No ordinary person can wear a burqa. I would also appeal to the country's government to ban burqas because terrorists enter our country, wearing burqas. So, my fellow citizens, we have to unite because it is necessary to eliminate these goons."
This is not the first time that Raghuraj Singh has come up with a bizarre and controversial statement.
On January 13, a report had claimed that Singh had vowed to 'bury those people alive' who would raise slogans against Prime Minster Narendra Modi and Uttar Pradesh Chief Minister Yogi Adityanath.
While addressing a pro-Citizenship (Amendment) Act rally in Aligarh, Singh had threatened: "If you raise slogans against Prime Minister Narendra Modi or Chief Minister Yogi Adityanath, I will bury you alive."
He had also hit out at India's first Prime Minister Jawaharlal Nehru. "What was Nehru's caste? He did not have a 'khaandan'," he had alleged.
The Uttar Pradesh cabinet minister had on January 30 said that "anti-nationals" will be given "kutte ki maut" (die like a dog). While talking to his supporters in Aligarh, Singh had even said that if they wish, they can change the Aligarh Muslim University's name to 'Hindustan University'.
"Whosoever is indulged in anti-national activities will be given kutte ki maut (die like a dog). The police have been instructed to kill such persons immediately in the encounter," he had said.
"I want to say it to the 'Mullah's' of Aligarh Muslim University that whenever we want we will change its name to Hindustan University," he added.
https://www.timesnownews.com/india/article/yogi-adityanaths-mantri-shocks-again-muslim-women-wear-burqa-because-they-are-surpanakha-s-descendants-video/551476
--------
Hindu Minor Girl Who Was Forcefully Converted Renounces Islam; Pakistani Mullahs Demand Death Penalty
Feb 09, 2020
Islamabad: Radical Islamists and clerics in Pakistan are up in arms against Hindu girl Mehak Kumari for retracting her previous statement in the court where she said that she had accepted Islam of her own free will.
The girl now says that she was forced to accept Islam causing a widespread furore among the Islamic fanatics who now are demanding death penalty for the minor girl for insulting Islam.
Mehak Kumari had earlier admitted to willfully marrying Ali Raza and denied any external pressure behind her conversion to Islam.
Her subsequent kidnapping and forced conversion invited widespread protests and condemnation by the minority Hindu community in Pakistan which said that a nexus between government officials and Islamic clerics was acting behind forced conversions which were happening all over the country.
After the girl renounced Islam, rabid Islamists in Pakistan are demanding death penalty to the minor accusing her of insulting Islam. They have rejected the probe and proceedings of Sessions Court and have already moved to the high court threatening to go to the Shariat Court if the girl is not brought to justice in a manner they want.
Talking to the media, one of the clerics said that as the girl has renounced Islam they will be acting as the Sharia law in the future.
We have made an appeal in the high court and will be receiving an order tomorrow. If required, we will go to the Supreme Court and the Shariat Court, he added.
Meanwhile, the court which is yet to announce the verdict has sent Mehak Kumari to a local Dar-ul-Aman in Larkana district of Sindh for eleven days.
The counsel who is representing the parents of the minor girl, who are also the complainants in the case, told the media that the court wanted to have a thorough investigation into the case and didn't want to rush the judgment under any pressure.
The court has not announced any verdict and we have been given a time frame of eleven days, said the counsel adding that the next hearing is on February 18.
While the cases of forceful conversions have always existed in Pakistan, a significant spike has been registered lately. The fundamentalists who hold great sway in the country have been pushing for such practices and have been encouraging youth into doing so.
While Prime Minister Imran Khan regularly preaches India about the condition of Muslims and Kashmiris, minorities in his own country systematically face persecution. Though Pakistan was never heaven for the minorities, however, ever since Imran Khan's PTI came to power, oppression and attack on Hindus has been on the rise.
https://www.timesnownews.com/international/article/hindu-minor-girl-who-was-forcefully-converted-renounces-islam-pakistani-mullahs-demand-death-penalty/551192
--------
Afghan Women's Views on Violent Extremism and Aspirations to a Peacemaking Role
Feb 10, 2020
Haseeb Humayoon and Mustafa Basij-Rasikh
Recent efforts at settling the decades-long conflict in Afghanistan have featured an increasingly vibrant and visible display of women's activism. Even with the support of the government and its international partners, Afghan women still face tremendous challenges to realizing their aspirations for a role in peacemaking. Based on extensive interviews throughout Afghanistan, this report attempts to better understand the changing public role of Afghan women today and their contributions to peacebuilding and ending violence.
Summary
Participation in violence and, conversely, efforts at peacebuilding in Afghanistan remain dominated by men. Understanding the role of Afghan women in violent extremism and peacemaking today requires reckoning with the polarization between the increasing number of liberal initiatives and the long-standing conservativism in Afghan society, which has traditionally restricted women's activities to the domestic sphere.
Between these two poles, however, lies a more nuanced, and growing, space where women actively contribute to Afghan society beyond the immediate confines of the home or small community. To better understand the changing roles of Afghan women today and their contributions to peacebuilding or violent extremism, interviews were conducted with 350 respondents (more than 90 percent women), comprising a mix of urban and rural residents in seven provinces. Respondents were queried about activism in their communities, in particular in relation to peacemaking and countering violent extremism; their understanding of and involvement in extremism or violent extremism; their most frequent means of accessing information; and awareness of and participation in organized groups active in their areas.
The study found that what constitutes "extremism" varied by province, most likely tied to the security and political situation of the area and the profile of the respondents. In Kandahar, for example, several respondents linked extremism to violence and even terror. However, all respondents referred to limited acceptance of women's roles in the public sphere—some citing traditional cultural barriers, others family restrictions—as the primary obstacle to greater activism of women in pursuit of peacemaking. The need for solidarity among women, especially in relation to advocacy for rights and roles, was mentioned as important for women's empowerment in all provinces.
Noting that Afghan women who are not publicly active often have limited access to information sources beyond their family and immediate circle, the report's recommendations focus on improving access to information, including through online and offline access to women's groups concerned with peacebuilding; depolarizing the information flow; and increasing exposure to women leaders.
About the Report
This report, the result of a study commissioned by USIP's Asia Center, examines the nature and extent of women's involvement in violent extremism and peacemaking in contemporary Afghanistan. In-depth interviews were conducted with 350 respondents in seven provinces from June to October 2018. Researchers and analysts at QARA Group Afghanistan undertook the research design, fieldwork, and data analysis under the direction of the authors.
https://smallwarsjournal.com/jrnl/art/afghan-womens-views-violent-extremism-and-aspirations-peacemaking-role
--------
Can Turkey Curb Violence against Women And Put More Women To Work?
David Lepeska
Jan 12 2020
The Turkish state has belatedly begun to address the shocking level of violence against women, which led to more than 470 women killed in 2019, and woefully low women's labour-force participation, yet analysts question whether authorities can overcome a deeply patriarchal culture and the Islamist tendencies of the ruling party.
The number of women in Turkey who have been the victim of violence has surged by 50 percent, from 145,000 in 2015 to nearly 220,000 in 2018, according to Interior Ministry data given to main opposition parliamentarian Ömer Fethi Gürer.
On the first day of the year, Turkey announced a slate of new measures to curb violence against women: security personnel will receive sensitivity training, special anti-women violence units will be created within the police and gendarmerie, special courts and local commissions will be created to enforce Turkey's 2012 women's protection law, and men convicted of violent crimes will be under constant surveillance via electronic tags.
Elmira Bayrasli, co-founder of Foreign Policy Interrupted, an advocacy outfit for women in the media, and a lecturer at Bard College and the City University of New York, argued that these measures did not address the core issues; of Turkish women long being forced into traditional roles and the government failing to enforce relevant laws.
"That the government is taking this seriously is positive," Bayrasli told Ahval in a podcast. "But the reality is the persistence of violence against women in Turkey has been a direct result of the lax enforcement of laws against these men that perpetrate the violence against women."
A report released last August by the women's committee of Turkey's Human Rights Association echoed this view. "One of the reasons why such a large number of women fall victim to violence is the reluctance and even prevention of relevant institutions to implement current laws," said the report.
In 2011, Turkey became the first signatory to the Istanbul Convention, which aims to combat violence against women. The next year it introduced a strong law to combat domestic violence. But this legislation has largely gone unenforced, in part because Turkish Islamists see the Istanbul Convention and 2012 law as threatening the family.
Bayrasli acknowledged that the ruling Justice and Development Party (AKP) tended to push women to take on the traditional role of mother and loving wife. President Recep Tayyip Erdoğan has been criticised by feminists and progressives for encouraging women to have three children and do their national duty, but she said that was not all he had done.
"He has also protected women and their supposed right to choose whether they want to wear a headscarf and advocated for them to take a more active role, whether it's in government or civil society," said Bayrasli.
Still, conservative laws and legal loopholes have left many women exposed. A 2016 draft law, for instance, sought to grant amnesty to rapists who marry their victims, even if they were minors.
The government has repeatedly vowed to crack down on domestic violence, yet regularly acts to curb the voice of women, such as breaking up demonstrations last month and arresting protesters for singing a Turkish version of the Chilean protest song, "A rapist in your path". Fidan Ataselim, general secretary of the women's rights platform We Will Stop Femicides, was among those detained, and told Ahval in a podcast that women in Turkey trusted her organisation more than the police and the justice system.
To bring more violent crimes to light, the Interior Ministry has encouraged state governors to work with local leaders, teachers and religious figures to detect incidents of violence against women, even when they are not reported. Bayrasli thinks this approach underscores how women in Turkey are seen as incapable and in need of defending and protecting.
"Having an educator or the local imam monitor the situation rather than having the woman lodge the complaint is again putting the woman in this frame that she is not capable of going out there and making a complaint herself," she said.
On the second day of 2020, Turkey announced plans to boost women's participation in the labour force, which at 32 percent is just over half the Organisation for Economic Co-operation and Development (OECD) average of 60 percent. The new measures include flexible working hours, longer leave, remote working options, and expanded day care, as well as entrepreneurship training for women.
Bayrasli welcomed any move that encouraged women to pursue careers, but said the measures failed to address the misogynistic culture in the private sector. The government had considered the issue too narrowly, she said.
"What is an optimal working environment that will include everyone and make people feel they can reach their potential regardless of who they are?" wondered Bayrasli.
Turkey is far from alone in this. Bayrasli said she had met many working women who had returned to Turkey from the West, due to more favourable working conditions, particularly costs. She pointed to Sweden, which regularly ranks at the top in terms of gender equality but has very few women executives and far fewer women entrepreneurs than Turkey, and to Silicon Valley, where she said a male-dominated tech industry had created a toxic environment that alienates women.
"We like to wag our finger and point to Turkey, saying, 'Look at how terrible things are'," she said, acknowledging Turkey's shortcomings. "However, I think it is very important to look at case studies like Sweden or Silicon Valley, where the situation for women isn't any better."
There have been some positive signs in the Turkish workplace. Last month, Kayserispor elected Berna Gözbaşı the first chairwoman of a football club in Turkey's top division. A Turkish parliamentary sub-committee is looking for ways to guide more young women into careers in science, technology and engineering, and Turkey's first all-women's university will soon open in Hatay province, in the south.
In regards to stronger law enforcement, women's groups hailed a Turkish court's decision last month to sentence the lead defendant to life in prison, and an additional 12 years and six months, for the rape and murder of 23-year-old student Şule Çet, which had initially been ruled a suicide. And this week a court in Hatay sentenced a man to 13 years and six months for an acid attack on a 19-year-old woman, in which she lost an eye.
To Bayrasli, these are baby steps. There will be no major shift within Turkey, she believes, until there is broader acknowledgement of the marginalisation of women all over the world.
"We can't make this about how a culture is treating its people. We have to make this about how are we treating women across the board and how can we make women more productive, more integrated members of society," she said. "That is not something we can shame and blame Turkish culture for."
https://ahvalnews.com/turkey-women/can-turkey-curb-violence-against-women-and-put-more-women-work
--------
URL: https://www.newageislam.com/islam-women-feminism/saudi-female-karate-players-break/d/121026
New Age Islam, Islam Online, Islamic Website, African Muslim News, Arab World News, South Asia News, Indian Muslim News, World Muslim News, Women in Islam, Islamic Feminism, Arab Women, Women In Arab, Islamophobia in America, Muslim Women in West, Islam Women and Feminism