New Age Islam News Bureau
3 May 2020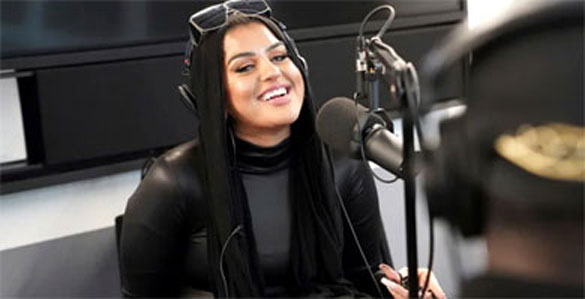 Amani Al-Khatahtbeh records a podcast pilot at Spotify's headquarters in New York, December 19, 2019. Credit, Emily Leshner, AP
-----
• Saudi Female Employees Resume Work in Malls Amid Strict Health Precautionary Measures
• Women Leaders Condemn Threat Against Congressional Candidate, Amani Al-Khatahtbeh
• How Saudi Women's Organizations Have Risen to The Coronavirus Challenge
• Israel's First Hijab Wearing MK: 'I Want My Daughter to Have No Barriers to Success'
• Women Make Up the Majority of Primary School Teachers In Indonesia But Only A Third of School Heads
• Pregnant Woman Dies of Hunger InPakistan Amid Coronavirus Crisis
• Domestic Violence in Iran Less Than That in Other Countries: VP
Compiled ByNew Age Islam News Bureau
URL; https://www.newageislam.com/islam-women-feminism/saudi-female-employees-resume-work/d/121742
-------
Saudi female employees resume work in malls amid strict health precautionary measures
May 2, 2020
By Randah A-Harthi
RIYADH — Saudi female employees have resumed work since Wednesday in the malls in all regions of the Kingdom. Shoppers, including citizens and expatriates, have begun flocking to the malls to purchase their needs, amid high standard measures set up by owners of these malls to protect shoppers' health.
SPA met several of these female Saudi employees, who have resumed work in the malls, in line with the royal order to ease curfew measures during the period Ramadan 6–20, 1441H.
They unanimously expressed their thanks to the Custodian of the Two Holy Mosques King Salman and Crown Prince Muhammad Bin Salman for all the financial support the state has provided the private sector to mitigate the impacts of the precautionary measures to stem the spread of the new coronavirus (COVID-19).
Young woman Alyaa Al-Khath'ami, who works in a shop selling international brands of ladies' wear, said she joined work in the store recently. She expressed happiness working with her Saudi sisters in the store.
At the same time, Al-Khath'ami contributes to serving the shoppers. She stressed that this job is an important source of income for her and her family.
The income will help her live a happy life. She added that it is also an opportunity to gain experience from her job, which will inevitably help her in future, according to her.
Meanwhile, Noorah Abdullah, manager of one of the shops, said: "In the process of selling goods during the period allowed by the state, we are keen to ensure compliance with the highest safety standards in the store.
"We always alert the shoppers to take the necessary precautionary measures for the sake of public safety of the shoppers in the malls and markets. I'm very happy to resume work with my female colleagues. We are all enthusiastic to work hard to meet the shoppers' needs during the period allowed for shopping."
Young Saudi Al-Hanouf said that she is working as an assistant sales manager in one of the branches. She said that she has four years experience in international products.
Al-Hanouf added that she has made preparations to exert her utmost efforts to meet the local market demand during the specified period Ramadan 6–20.
She stressed that they are following up on how the precautionary measures are being carried out, including testing and checking up female employees and shoppers to ensure public safety.
Saudi women have set an good example for work in the private sector, specifically in malls, which for them is a new experience, if we take into consideration the past few years when women started joining the marketing field in shops, whether as female investors or salespersons.
Within a short time, women have been able to show creativity in their work and have proved themselves. Women have been accepted by a wide segment of shoppers, whether citizens or expatriates.
The number of female Saudi employees in the government sector and various private sector companies, establishments and malls during Q4 2019 has reached 1,115,414.
These formed 26 percent of the total manpower in the Kingdom — both males and females — according to the labor market bulletin for Q4 2019, issued by the General Authority for Statistics (GASTAT).
As to the private sector, the percentage of women in the labor market has risen from 23 to 25 percent by the end of Q3 2019, amid the endeavor to empower women in the labor market.
Meanwhile, women's contribution to the economy has increased from 17 to 23.2 percent by the end of Q3 2019, according to the statistics of the Ministry of Human Resources and Social Development.
https://saudigazette.com.sa/article/592610/SAUDI-ARABIA/Saudi-female-employees-resume-work-in-malls-amid-strict-health-precautionary-measures
--------
Women Leaders Condemn Threat Against Congressional Candidate, Amani Al-Khatahtbeh
April 30, 2020
Dozens of women activists, leaders and lawmakers have joined a petition denouncing a death threat against congressional candidate Amani Al-Khatahtbeh, the first Muslim woman to run for federal office from New Jersey.
The 27-year-old is the founder of MuslimGirl.com, an online magazine with a global audience. After hosting a virtual town hall on Instagram, she said someone called her phone, and using racial slurs against Muslims, threatened to kill her and her family.
"It's unnerving for anybody to hear somebody threaten their family, let alone have their actual personal information and detail how they would go about doing that," Al-Khatahtbeh told The Associated Press via video conference.
"But for me, the most important thing was to not confirm any of the information that they had, not try to encourage them, that you know, that I was even scared by them, because in the face of hate like that, a lot of times, if you get scared, it's like they win."
Al-Khatahtbeh published a recording of the April 21 death threat on her Twitter account on Wednesday. An open letter condemning the threat was signed by many supporters, including Black Lives Matter co-founder Alicia Garza, U.S. Rep. Rashida Tlaib and fellow Democrat Rep. Ilhan Omar.
Al-Khatahtbeh is "running to be a public servant for the benefit of all Americans. Yet, because she is a Muslim woman, she is faced with Islamophobic and racist vitriol that threatens her life and the lives of those she loves," the letter said.
The New Jersey chapter of the Council on American-Islamic Relations said it had asked the FBI to investigate. The incident also was reported to the police, Al-Khatahtbeh said. The New Brunswick police department could not be reached for comment.
In the aftermath of 9-11, Al-Khatahtbeh was bullied. People threw eggs at her home and slashed her mother's tires. Her family faced such a backlash that her father temporarily relocated them to Jordan.
When she returned to New Jersey, she started a blog at the age of 17 with help from friends at her local mosque. It eventually turned into her popular site, which covers everything from how it feels to be the only woman in a hijab at a kickboxing class, to beauty tips and stories of teenagers fighting Islamophobia.
In recent years, Forbes magazine chose her for its "30 Under 30" list of top achievers, and she was asked by Michelle Obama to speak at the United State of Women Summit.
She launched her fully digital campaign in the middle of the coronavirus pandemic; her opponent in the July 7 Democratic primary is long-time incumbent Rep. Frank Pallone.
https://www.greenwichtime.com/news/article/Women-leaders-condemn-threat-against-15237166.php
--------
How Saudi women's organizations have risen to the coronavirus challenge
May 02, 2020'
DUBAI: They were told to stay at home and begin remote learning like everyone else. But they had no laptops. How could they participate in their school's online classes without computers?
This is the kind of dilemma underprivileged families in south Jeddah are facing as Saudi Arabia is compelled to enforce lockdowns on public life to stop the spread of the deadly coronavirus.
The situation is going to be even more challenging with the start of Ramadan, when Muslims are obligated to fast from dawn to sunset.'
But help is at hand. Saudi women's empowerment organizations, both long-time established and recently formed, have risen to the challenge with public-spirited initiatives.
"The families in south Jeddah were the first to be under the 24-hour lockdown in Saudi Arabia because they live closely to each other in a high-risk area," said Dania Al-Maeena, CEO of Aloula, a Saudi non-profit organization.
"We collaborated with a volunteer group called Khadoum that provides distance learning. Hundreds of individuals across Saudi Arabia supported the campaign, and over 15 companies donated laptops, food and games for the children."
The pain of the COVID-19 pandemic is rippling through almost every segment of society, causing social and economic turbulence in addition to exacting a heavy human toll.
While the virus punishes all, regardless of status, wealth, race and creed, it is almost programmed to hit the weakest and the poorest most.
As in other parts of the world, the pandemic has forced Gulf Cooperation Council member states to throw all their resources at slowing the spread of the virus and take care of the infected.
Before the coronavirus storm hit, these governments were seeking, for a variety of reasons, to boost the share of women in the workforce across both the public and private sectors.
"Women are the caregivers, and so women are bearing the brunt of the adverse effects of the COVID-19 pandemic," said RashaAlturki, CEO of Riyadh-based Alnahda Society for Women, which has provided assistance since 1962 to women who are at risk or belong to socioeconomically disadvantaged households.
"While Saudi Arabia's percentage (of female frontline workers) may be slightly different, we're still the caregivers and we have a large role to play at home, in the workplace and in the medical field."
This year, as part of Saudi Arabia's G20 presidency, Alnahda was entrusted by a royal decree with leading the W20, an official G20 engagement group dedicated to women's issues.
The W20 started its activities under Saudi leadership in January, and has conducted meetings and interventions throughout this year. These events will culminate in the W20 Summit in Riyadh in October, said Alturki.
At the outset of the COVID-19 outbreak in Saudi Arabia, Aloula staged a campaign entitled "AlnassLibaed" ("People Are for Each Other"), said Al-Maeena.
"We placed a new target to help 800 families and 4,000 beneficiaries, providing them with food baskets, including water, dates, canned foods and food donated by restaurants, as well as toys for children," she told Arab News.
Established in 1962 by a group of women to support families in south Jeddah and registered with the Ministry of Labor and Social Development, Aloula's founders have banded together for humanitarian work whenever the need arises. The same kind of intervention is visible during the coronavirus pandemic.
This time, as the Kingdom confronts one of the biggest public-health challenges since its founding, Aloula has managed to help 4,000 people and more than 1,000 families in need.
"Women are by nature caregivers, so this period of upheaval and distress has prompted women in Saudi Arabia to come together more than ever to help those suffering," said HonaydaSerafi, a fashion designer who serves on the board of the Saudi ADHD Society.
She knows the stress being experienced by women all too well, being the owner of an eponymous fashion brand in Lebanon, a country that is facing a trifecta of challenges: A coronavirus outbreak on top of an economic meltdown and political instability since October last year.
Serafi said she is providing meals for 100 families in Lebanon during the coronavirus crisis. "We want to give a sense of hope and positivity during this period to everyone in need," she told Arab News.
The Saudi ADHD Society, chaired by Princess Nouf bint Mohammed bin Abdullah Al-Saud, has tailored its ADHD (attention deficit hyperactivity disorder) programs for online platforms in light of the current situation.
The organization has created a specialized lecture series focused on different ways young men and women with ADHD can deal with the current situation.
"We've provided close to 100 free online counseling sessions," said Serafi, adding that the society has been receiving many calls for help.
Female staff at Alnahda faced a similar situation during the initial weeks of the lockdowns. "Our social workers were getting calls at 11 p.m. and throughout the night," said Alturki.
"Women are struggling with marital and sleep problems, legal and rent problems, loss of income, challenges accessing food and water, and home schooling their children."
Alturki said the socioeconomic impact of the coronavirus crisis cannot be overstated. "Imagine if you had to take care of four children and elderly parents, and also a husband at home who's out of work," she added. "It's a lot of pressure for these women."
Alturki said all three activities in which Alnahda specializes — grassroots assistance, research and fieldwork, and advocacy — are key to understanding how the situation is affecting women.
In addition, the organization has overseen the distribution of more than 600 laptops among children in need, and connected women in need of masks, sanitizers and financial assistance with charities.
"We've sourced and distributed protective baskets among beneficiaries of our programs," said Ebtisam Abdullah Al-Jubair, CEO of FatatAlkhaleej. "We're also transferring SR200 ($53.19) to 173 families as part our orphan-sponsorship program."
With the start of Ramadan — a month of fasting, prayer, reflection and community — non-profit organizations and charities usually ramp up their activities across Saudi Arabia.
This year, the fallout from the coronavirus outbreak has posed an unexpected — and unprecedented — challenge to organizations such as FatatAlkhaleej, Aloula and Alnahda.
But if their track record is any indication, they have proved up to the task, from providing assistance to the elderly and arranging for groceries to be delivered, to lending psychological support.
"While it's hard to stop the spread of coronavirus, it will happen one day," Serafi said. "One thing that will never stop is the art of giving, sharing love and support to those in need."
https://www.arabnews.com/node/1668611/saudi-arabia
--------
Israel's first hijab wearing MK: 'I want my daughter to have no barriers to success'
May 2, 2020
Last month, Israel elected its first hijab-wearing Arab member of the Knesset as part of the Joint List, the climax of a year of political instability which resulted in three elections being carried out.
Having worked in local politics for quite some time as the manager of a community centre, Iman Yassin Khatib has been outspoken on the fight for religious and gender equality within the struggle for Palestinian rights in Israel.
"Personally, women's affairs have always interested me. Even as a social worker, my focus was on women," she says. "Through my work as a community centre director, I would work with groups of female leaders trying to involve them in leadership roles. At one point in time, I thought about becoming a mayor, but we are not there yet as a society."
Khatib earned a bachelor's degree at Haifa University in social work and a master's degree at Tel Aviv University in women's affairs.
In parliament, she hopes to tackle issues ranging from violence in Arab neighbourhoods to poverty and housing – areas in which complaints of discrimination towards Arabs are common.
"These are the issues that are close to my heart and what pushed me in to this field. However, I also think that as a minority in this area, we must address our major and thorny issues, such as discrimination based on race and ethnicity, equality in budgets, land and housing, home demolition, and the Nation-State Law, the day on which it was passed was a sad day for us."
The law, which came into effect in 2018, declares Israel as a Jewish state and demotes Arabic to a secondary status as a national language. It sparked fury among Palestinian Arabs and other minorities who saw it as denying their right to live in the country.
She says the purpose of having Arab members of the Knesset is to try to secure complete and equal citizenship rights for all nationals, but this is something which is still "out of complete reach".
"We know that we do not have great capabilities to confront this, especially as the overwhelming majority of Israeli society at the moment is racist and right-wing, but we cannot abandon these issues as they are the core issues that affect our daily lives."
Islamophobia, that has existed in the country for decades, is just part of the backdrop for the hatred of Arabs in present-day Israel, which also ultimately influences the perception of women wearing hijabs.
Since Prime Minister Benjamin Netanyahu first came to power in 1996 he has denigrated Arab politicians as "supporters of terrorism", using them as a political tool to garner support ahead of every election.
However, the climate of hatred never discouraged Khatib from pursuing her ambitions and making a difference in Israel's political landscape.
Ambitious women in politics are treated differently and can be limited in electoral participation, Khatib notes, but this is more due to strict cultural practices of identity than religion. "There is discrimination from society," the lawmaker explains.
She recalls when she first sought election, people – including women – would try to discourage her from adopting what they considered to be masculine behaviour and roles with remarks such as "politics is no place for women".
"Women will come up to me to say politics is a place that isn't really suitable or clean, and that this power should be only in the hands of men. However, this applies to a small number of people.
Enduring this public scrutiny is nothing new for Khatib, as the first woman from the Southern Islamic Movement to be elected to the Knesset she knew what to expect from the rigors of campaigning.
"It is not immediately or implicitly understood that if a woman in hijab has a master's degree and certifications in management and many other areas, that she is capable and able. So, every time I go somewhere new, there is doubt about my abilities."
She believes her presence in Israel's male-dominated political stage is creating that much-needed space for women. Currently only 25 per cent of lawmakers in Israel are female.
As a 54-year-old mother of four from the Galilee village of Yaffa of Nazareth, she wants change for the next generation. "I want my daughter, and the daughters of others, to be in a safe space. I want the walls to be broken down and the doors to be open to them, and face less challenges, and it is not impossible."
"Although challenges build character, there is potential for other challenges that could be constructive, rather than having hijab or clothing be a hindrance."
Having spent 14 years running her area's first community centre, Khatib has an insight in to what affairs matter most to locals. While Netanyahu and the Ministry of Health focused their attention on Jewish dominated communities, it was pressure from Joint List members that forced the government to take action in other areas.
Earlier this month, unemployment in Israel reached more than a million for the first time, Khatib says Arabs make up a large number of those affected. To support them, she requested that the government provide families with child allowances and temporarily suspend municipality taxes and directly fund families to spend on essentials such as utilities and food.
"I always used to say that if my mother was born in another time, she could have been a prime minister. She is strong, able and reflective."
"Despite the difficult times we experienced, even after my father passed, she continued to convey their message and raise a righteous and educated home. The most important thing they instilled in us is fearlessness, respect for humans, and the love for our land and our commitment to it. For us, our land is vast and wide and can fit everyone and we can never concede."
https://www.middleeastmonitor.com/20200502-israels-first-hijab-wearing-mk-i-want-my-daughter-to-have-no-barriers-to-success/
--------
Women Make Up the Majority of Primary School Teachers In Indonesia But Only A Third of School Heads
May 3, 2020
Senza Arsendy, George Adam Sukoco, and RasitaEkawatiPurba
Women make up the majority of primary school teachers in Indonesia. Out of a total of 1,433,794 primary school teachers, almost 1 million of them are women – a proportion of nearly 70%.
But only a third of primary schools in Indonesia have women as principals. At Islamic schools (madrasah), the number is even lower; less than 20% of principals are women.
These gaps not only indicate gender inequality but also that many schools, in the world's fourth most populous country, are not benefiting from the effective leadership of women principals and the better learning environments they tend to create.
We are part of Innovation for Indonesia's School Children (INOVASI), a partnership program between the governments of Australia and Indonesia that aims to improve students' learning outcomes.
In 2018, INOVASI conducted school surveys in 16 districts and one municipality in West Nusa Tenggara, East Nusa Tenggara, North Kalimantan and East Java. We surveyed 567 teachers and 199 school principals and analysed associations between variables.
Among other findings, the survey found that, on average, female teachers perform better in the classroom, and schools with women principals tend to have better school management and a more supportive learning environment.
We found women teachers were typically more appreciative of their students' work and more proactive in using learning tools (e.g. flashcards, big book, and cubes). A related study revealed that, compared to their male colleagues, female teachers spent more time actually teaching their students.
For example, we observed that female principals tend to allocate more funding for teacher development, student learning activities, and library management. On the other hand, male principals allocate more to teachers' salaries, multimedia tools and other operational expenses.
This may explain our other finding that more teachers were satisfied with the leadership performance at schools with female principals (84%) than at those with male principals (74%).
The academic literature suggests women tend to use more effective instructional leadership practices, which can have a positive effect on student learning outcomes.
Female educators are generally more effective in defining the school mission, organising the instructional program and establishing supportive relationships with staff and students. Female principals are also more likely to adopt a democratic, participatory and task-focused leadership style.
Another study finds that gender is linked with the principals' source of authority. Female principals are likely to rely on their instructional knowledge and experience, while male principals are more likely to trust their own decision-making ability and use their hierarchical authority.
We found significant gaps between the numbers of men and women principals in both regular primary schools and madrasah. At regular primary schools, only 30% of the principals were women; at madrasah, the number falls to only about 13%.
Despite their high performance, female teachers tend to be promoted to the position of school principal later in their careers. When promoted, female educators also have higher education levels and more teaching experience than their male counterparts. This supports findings that suggest women have to work harder for promotion.
A study in 2006 found that in several developing countries, including Turkey, China and some predominantly Muslim countries, latent discrimination against women resulted in women opting out of professional advancement.
These societies perceived leadership positions as "belonging" to men and discouraged women from attempting to achieve such positions.
In Indonesia, history shapes gender roles. In the New Order period, gender relations and roles were strongly controlled by the state, defining women as mothers and wives and confining them within the domestic sphere.
This politics of gender resulted in discriminatory social constructions of gender roles. When women participated in development, it was merely to help the men, and when women worked it was not considered "real work".
Another aspect to the issue of female educators is that school principals have a heavy workload and this creates further challenges, particularly for married women.
One woman principal we interviewed said she spends long hours on supervision and administrative work. This work also requires her to be mobile and prepared to visit remote areas – a requirement generally considered more suitably fulfilled by men. Principals also need to be prepared to be posted anywhere.
These challenges make it likely that women, especially married women, will find it difficult to pursue leadership positions in the education sector.
Women tend to face conflicting demands from their professional roles and their family responsibilities. It's a common experience everywhere but particularly in developing countries.
While available literature on gender disparities in leadership in the education sector in Indonesia is still limited, we can take some steps to improve the situation.
In the short term, we can begin by tackling women's practical gender needs and gradually build the foundation for more progressive efforts to eliminate inequities.
An example of this is to provide specific leadership training to empower women teachers. Women might face more challenges to pursue their career such as having to overcome internalised patriarchy that stops them from pursuing leadership positions. They also may need to navigate domestic responsibilities and leadership demands.
Current leadership training in education is largely gender-neutral and does not address these woman-specific needs. Leadership training may need to cover more women-only sessions that include topics like mentoring, rebalancing domestic roles and developing leadership qualities.
Current leadership training for principals can also be adjusted to incorporate gender-related topics and encourage all participants, both men and women, to learn from positive examples of female principals.
In the long run, a better understanding of how gender differences shape school performance will be valuable input for the government, particularly in filling school leadership positions.
While affirmative action may be required as part of the intermediate solution, the ultimate aim is to ensure leadership roles are filled based on candidates' qualities and competence.
Senza Arsendy, Researcher, Inovasiuntuk Anak Sekolah Indonesia (INOVASI); George Adam Sukoco, Research Officer, Inovasiuntuk Anak Sekolah Indonesia (INOVASI), and RasitaEkawatiPurba, Monitoring, Evaluation, Research and Learning Manager (MERL Manager), Inovasiuntuk Anak Sekolah Indonesia (INOVASI)
https://www.thejakartapost.com/academia/2020/05/03/indonesian-female-school-heads-why-so-few-and-why-we-need-more.html
--------
Pregnant woman dies of hunger in Pakistan amid coronavirus crisis
April 20, 2020'
Local residents raised money through donations for the burial of his wife.
A pregnant woman has died in Pakistani's Sindh provide due to starvation amid the lockdown imposed in the country to prevent the spread of the novel coronavirus (Covid-19), reports said.
A report in 'Express News' mentioned the woman died in the town of Jhudo in Mirpur Khas district in Sindh province. Allabakhsh, the woman's husband said he was left with no work owing to the lockdown due to which he was facing problems in managing food for his family that also included six children.
Allahbakhsh said he did not even had the money to bury his wife. The local residents eventually raised money through donations for the burial of his wife.
The incident has raised questions on the claims of Pakistan's Imran Khan-led government, as well as the government of Sindh province of extending all-possible assistance to the poor people during the lockdown.
Also, there was a growing anger among the workers in Pakistan as they have not yet been paid for the work they did before the lockdown was imposed.
https://www.khaleejtimes.com/coronavirus-pandemic/pakistan-pregnant-woman-dies-of-hunger-amid-coronavirus-crisis
--------
Domestic Violence in Iran Less Than That in Other Countries: VP
May 2, 2020
A senior Iranian official says the extent of domestic violence against women in Iran is less severe than that of other countries.
Vice President for Women and Family Affairs Masoumeh Embtekar has, in an interview with Khabar Online, weighed in on how serious domestic violence against women in the country is amid the coronavirus outbreak and ensuing restrictions which have forced many to stay at home. Highlights of the interview follow.
Ms. Ebtekar, there was much word about a rise in domestic violence after the coronavirus outbreak, violence against women and children. In your opinion, what measures should be adopted to reduce or control that violence during this period?
The first point which I think is very important is that we do have domestic and family violence in Iran; but figures and indices show that our situation is not very bad comparted to global statistics; our situation is even better that the global average in terms of the prevalence of domestic violence. Of course, to what extent domestic violence is reported is another issue which needs to be discussed.
The second point is that the Social Emergency Organization and the Center for Intervention in Families' Social Crises was establish have been established nationwide over the past twenty years, which was a good development. At the moment, all towns with a population of over 50,000 have a centre for social emergency and intervention in crises. There is also a phone line through which people can receive counselling.
Since the beginning of the tenure of the 12th administration, we have backed the policy of supporting social emergency adopted by the Office of Vice President for Women [and Family Affairs] because it has worked well and has been an effective method of intervention in family problems. So, we took into consideration the issue of domestic violence as well as ways of interfering in it.
We conducted surveys and received reports whereby we found out that the public had not been informed well enough about the social emergency services. So, we tried to introduce these cerntres to people better.
After the coronavirus outbreak, we received reports from other countries suggesting a percentage of people were suffering from such problems and violence, which, of course, is natural. The reason is that people have restrictions and can't leave home, so they spend a lot of time together. Moreover, economic pressure may have increased on families. In addition, the COVID-19 pandemic triggered a lot of mental pressure, especially in the first two or three weeks. Meanwhile, some individuals lost their jobs, especially those who were bread-winners, which contributed to domestic violence.
Ms. Ebtekar, did you adopt any measure to prepare reports on the extent to which domestic violence against women had risen after the coronavirus outbreak?
In addition to the reports coming in from abroad, we received some reports from inside the country as well about this issue. Under those circumstances, our only concern was to take care of families more.
So, we held some meetings to discuss the issue, and finally we had a meeting with the Rehabilitation Organization and the Social Emergency Centre, which was very promising. Finally, it was decided to send text messages to people to introduce social emergency services in a bid to further strengthen the foundation of family and consolidate relations among family members. Fortunately, people saw that SMS, and it seems the move was welcome.
These text messages have three uses. Firs, if somebody is subject to harm, be it a child, an elderly or a spouse, they can get help through this. Second, a person may know of a domestic violence case; for instance, he or she may know that somebody in the neighbourhood is subjected to unusual harm, and that this is repeated over and over again. He or she can report the case. The third point is this: a person who violates people's human, individual and religious rights and who shows violence and, for example, harasses a child or spouse, when that person sees that everybody is receiving the text message so easily and that they can seek help through it so easily, and that police may go to that person's home accordingly, that person will rethink his actions. This deterrent aspect is very important to us.
You said that domestic violence in our country is less than the global average. Do you think that's the case after the coronavirus outbreak, too? I mean do you believe there has been no rise and figures are the same as before?
At the moment, we do not have precise statistics to which we can scientifically refer and about which we can speak with certainty. However, it is important to us that the need has been felt to take care of this, and that measure shave been adopted to inform the public.
Will just one phone number suffice to report cases of domestic violence? As you know, social emergency agents have no right to enter houses.
They can immediately get warrants to get into homes. What they do is to verify reports to see what problem the person has. First, they try to solve the problem with counselling and giving guidance. Then, if they realize that the case is an emergency one and somebody's life may be at risk or the condition may be such that it is not tolerable for the person, then they act accordingly such as calling in the prosecutor or police or talking to the person who has been harmed.
A bill has been proposed on supporting children and the youth. The bill mentions the issue of social emergency. It even refers to national labour division to counter violence against children, a large number of whom are girls. We asked Parliament to give priority to this issue.
Finally, inside families, we need a series of skills and some information to maintain respect for, and the rights of family members to strengthen human and emotional relations, so that family members of different age groups and generations can live together in peace and harmony.
https://ifpnews.com/domestic-violence-in-iran-less-than-that-in-other-countries-vp
--------
URL: https://www.newageislam.com/islam-women-feminism/saudi-female-employees-resume-work/d/121742
New Age Islam, Islam Online, Islamic Website, African Muslim News, Arab World News, South Asia News, Indian Muslim News, World Muslim News, Women in Islam, Islamic Feminism, Arab Women, Women In Arab, Islamophobia in America, Muslim Women in West, Islam Women and Feminism