New Age Islam News Bureau
23 Nov 2019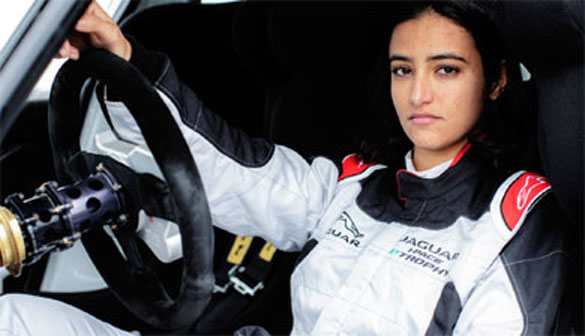 Reema Juffali made history on Friday by becoming the first Saudi Arabian female racer to drive competitively in the Kingdom. (Screenshot/ABB Formula E)
------
• Saudi Driver Reema Juffali Makes History as First Woman To Compete In Saudi Arabia
• Islamists Are Waging an Online War On Feminism
• Outrage in Pakistan After Feminism Panel Includes No Women
• Muslim Woman Confronts Man 'Shouting Anti-Semitic Abuse At Family' On London Tube
Compiled By New Age Islam News Bureau
URL: https://www.newageislam.com/islam-women-feminism/saudi-driver-reema-juffali-makes/d/120346
-----
Saudi Driver Reema Juffali Makes History As First Woman To Compete In Saudi Arabia
22 November 2019
RIYADH: Reema Juffali made history on Friday by becoming the first Saudi Arabian female racer to drive competitively in the Kingdom.
As the VIP driver in the Jaguar I-PACE e-TROPHY, Reema took to the track at the Diriyah Circuit in the first round of the championship.
She completed her fastest lap of the track created in the heart of the UNESCO World Heritage site in 1 min 39 seconds, a little over 5 seconds behind the pole position driver.
She went into the official championship race at the back of the grid, but that took nothing away from the moment for the young driver from Jeddah.
"Many (people) are surprised by all the changes happening in Saudi.
"Seeing me in a car, racing, for a lot of people it's a surprise, but I am happy to surprise people," she said.
Prince Abdulaziz bin Turki Al-Faisal, Chairman of Saudi Arabia's General Sports Authority, touted it as a "watershed" moment for the Kingdom.
"Reema will have thousands cheering her on, as a professional racing driver," the prince said.
Juffali, who made one of her first appearances in competitive racing at the F4 British Championship at Brands Hatch in April, has only about a year of professional racing experience under her belt.
But she has had a passion for fast cars since her teenage years and grew up watching Formula One.
Ahead of the race she said: "I am very excited, I never thought this day would come, or at least I didn't know when and it came a lot sooner than expected. I'm a year into racing and here I am now about to race at home which is an incredible feeling."
The Jaguar I-PACE eTROPHY series is the official support race the SAUDIA Diriyah E-Prix the opening double header for the ABB FIA Formula E Championship.
https://www.arabnews.com/node/1587976/sport
------
Islamists Are Waging An Online War On Feminism
By Charlotte Littlewood & Gemma La Guardia
22 NOV 2019
The internet is a place to bring people together, and also to drive a wedge between them. The global feminist movement is no exception to this. In the wake of the murder of the Palestinian makeup artist, Israa Ghareeb, by her family in September 2019, women mobilised online, sparking protests across the West Bank, Haifa, Lebanon and Berlin.
But just as feminists come together online so do their opponents. From Twitter to mainstream media, Islamist affiliates and allies of groups such as Hizb ut-Tahrir are relentlessly trying to silence and isolate women who speak out.
In Palestine, where Hizb ut-Tahrir was founded, women report violent threats, abuse, and allegations of being part of a Western conspiracy. Linda Jarayseh, outreach manager for the Mehwar Centre in Bethlehem, a safe house for women and children fleeing domestic violence, is one of many examples. She has been a vociferous opponent of forced and early marriage in Palestine. In regards to this, a member of the prescribed global Islamist organisation Hizb ut-Tahrir claimed:
"Linda has an EU agenda which is clear through her teachings that women should not marry before 18. This is not what we believe. She is part of a Western conspiracy to impose evil Western ideals on our community."
The opposition faced by female activists in the Middle East is similar to the experiences of female Muslim activists in the UK. Islamists consistently aim to discredit and isolate activists by using conspiracy theories and attacks on the person's "Muslimness".
One of the most high-profile cases were the allegations against Nobel Prize laureate, Malala Yousafzai, which claimed she was a CIA agent. Female Muslim activists in the west are accused of having foresaken their Muslim roots and traditions, becoming the lap dogs of Western governments.
The opposition to female Muslim activism is most effective when it weaponises the grievances of many Muslims towards the West. Islamists excel in stoking Muslim resentment towards US, UK and to a lesser extent, French incursions in the Middle East and Asia.
They also play on the anxiety felt within Muslim communities in western countries whose members are trying to balance cultural heritage and western values.
A focus group of female Palestinian women's rights activists in Hebron analysed the abuse faced by the UK activist Mina Topia. On a BBC panel in 2014, Topia said that she didn't advocate an Islamic caliphate, but would prefer a secular democracy in which people were not discriminated over gender, sexuality, religion or ethnicity. In response, Dilly Hussain, deputy editor of the Islamist news website 5Pillars wrote: "You fat cow, that's reinterpreting orthodox Islam for right-wing neocons, now grab a bottle of wine and do one."
In comparing the abuse faced by female activists, the group found coordination between the Islamist opponents of Muslim feminists — not surprising when you see how closely the opposition are linked. 5Pillars, for example, openly supports Hizb ut-Tahrir, which has issued death threats against female activists in Palestine.
One article on 5Pillars states: "It is not Hizb ut-Tahrir that spreads terror and hate, causing fear and division; rather it is the government policy of muscular liberalism, those in the media who spread it, and ultimately the failure of secularism itself."
Labelling an activist "secularist" has become another way to discredit the work of progressive Muslims. Tehmina Kazi, a human rights activist and an advocate for secular Muslims, has said that her secularist ideals are being turned against her: "Being secularist is not at odds with the Islamic faith, yet again and again it is used as a brand against activists to isolate them from the Islamist 'clique.'"
In discussing Hizb ut-Tahrir's authority over the community in Hebron, the Palestinian female focus group said that most Palestinians find them silly and ignore them. They were shocked to hear that Islamist ideologies in the UK are listened to and that people like Hussain appear on national TV as spokespersons for the Muslim community. They were also surprised to learn that politicians, including Jeremy Corbyn, appear at, or even organise events with them. One member of the group remarked: "We struggle with this old illiberal thinking here, especially in Hebron, but how and why would it exist in the UK? It's very hard to believe and is so shocking."
It is not too difficult to understand: the post-colonial guilt felt on the British left has led many to support those who claim to be the "authentic" minority voice. This often means that progressive Muslims, who subscribe to democratic and leftist ideals of emancipation and social justice, are pushed out in favour of more conservative Muslim voices.
Activists must be careful to identify the methods and the people who oppose them. Islamists use conspiratorial thinking, abusive language, threats and isolating tactics to discredit and intimidate progressive Muslim women. We in the West must be careful not to align ourselves with ultra-conservative voices that seek to undermine progressive women. Those who do are part of the problem.
https://www.thearticle.com/islamists-are-waging-an-online-war-on-feminism
------
Outrage in Pakistan after feminism panel includes no women
22 November 2019
By Riaz Sohail
The Arts Council of Pakistan has been forced to backtrack after it emerged that a discussion on feminism it is hosting was to have an all-male panel.
An outcry on social media resulted in two women guests being added, and Friday's event in Karachi was renamed.
The original title, Feminism: The Other Perspective, drew derision and has now been recast as Understanding Feminism.
Organisers say male decision-makers were to share views on feminism, but many critics questioned the very idea.
In overwhelmingly patriarchal Pakistan, having an all-male panel discuss feminism didn't seem the obvious way to tackle gender inequality.
The only woman included in the original line-up was discussion host Uzma al-Karim, whose name was put at the bottom of the promotional literature.
After sustained criticism on social media, two women speakers were added to the panel - feminist Mehtab Akbar Rashdi and journalist Quatrina Hosain - and Uzma al-Karim's name was made more prominent in the amended literature.
But that didn't persuade everyone.
Many criticised the men who'd agreed to take part, accusing them of using feminism to further their own interests.
The writer of this article and others acknowledged there was no reason why men shouldn't give their views on feminism - it just seemed wrong to invite a panel that included no women at all.
The 'womanspreading' placard that caused fury in Pakistan
The threats and abuse outspoken Pakistani women receive
Wife 'had head shaved for refusing to dance'
The Pakistani women shamed for their lifestyle
One woman, Erum Haider, tweeted: "The men I know who are feminists would be embarrassed to be on this panel."
Discussion host Uzma al-Karim told BBC Urdu: "Our purpose was to get men having decision-making powers in major media houses and those with a following to talk about their understanding of feminism.
"We wanted to register their perception because they were in a position to influence public opinion. And that's why we called it 'the other perspective'."
One of the men taking part in the discussion, human rights activist Jibran Nasir, said he'd found the original title misleading.
"I was informed the panel is about men talking to other men about rethinking masculinity and why as men we need feminism. It wasn't to explain feminism or talk about women issues as men," he tweeted.
There was also humour. Comedian Shahzad Ghias Shaikh weighed in, inviting people to "join him in teaching the world about women's lives".
Jibran Nasir declined to comment when asked by the BBC whether he was told clearly what was to be debated, and whether he had been told by the Arts Council there were to be no women on the panel.
"It's not such a big issue," he said. "People had raised some objections, following which the management made some changes, and I'm only a guest at the event."
Nida Kirmani, professor of social sciences at Lahore University of Management Sciences, says the issue of men debating feminism is justified - but the Arts Council failed to clarify the concept and that's why there was such a big reaction on social media.
"I think this reaction was also caused by the fact that we are getting sick of seeing male panellists endlessly debating frivolous issues on electronic media," she said.
"Rarely do we see a woman protagonist, and this seems normal to most people."
https://www.bbc.co.uk/news/world-asia-50506965
------
Muslim Woman Confronts Man 'Shouting Anti-Semitic Abuse At Family' On London Tube
Jimmy Nsubuga
22 November 2019
A Muslim woman leapt to the defence of a Jewish father and his son who were allegedly being racially abused by a man on the London Tube.
A video showed the woman confronting the angry commuter on a Northern Line train at around noon on Friday.
He had blamed Jews for enslaving blacks and said they were responsible for the terror attacks in New York on September 11, 2001, according to a passenger who filmed the incident.
The Muslim woman could be heard telling the man "come on there are children here" after interrupting him while he was reading an offensive Bible passage.
During this time the father remained calm and kept talking to his son to distract him.
The woman continued to plead with the man to stop talking to the family before he turned his sights on her and told her "do you care about your people? You shouldn't be wearing trousers then."
Witness Chris Atkins, 43, from north London, filmed the incident and then uploaded the video to Twitter.
The documentary filmmaker said the Muslim woman was brave and added as soon as he stopped recording he switched seats with the boy to protect him from the man.
Mr Atkins told Yahoo.co.uk: "The father was very cool and dealt with it very well, but his poor children were clearly upset.
"The rant went on for about ten minutes until the family got off. Several people challenged the man who was shouting, who threatened violence against them.
"He was basically blaming the Jews for enslaving his black ancestors and was telling the children that they would grow up to be slaves.
"He also blamed the Jews for 9/11."
Mr Atkins added the "abuser" got off at Waterloo, shouting that King James was in fact black.
The British Transport Police (BTP) confirmed they were investigating the incident after being contacted by Mr Atkins.
A BTP spokesperson said: "We are aware of a video circulating on Twitter which shows passengers being harassed and being targeted with anti-Semitic abuse on a Northern Line train.
"Enquiries are being made in relation to this footage.
Anyone who witnessed what happened, or who has any information, is asked to contact BTP by sending a text to 61016 or by calling 0800 40 50 40 quoting reference 357 of 22/11.
https://uk.news.yahoo.com/muslim-woman-anti-semitic-jewish-abuse-on-tube-174318471.html?
------
URL: https://www.newageislam.com/islam-women-feminism/saudi-driver-reema-juffali-makes/d/120346
New Age Islam, Islam Online, Islamic Website, African Muslim News, Arab World News, South Asia News, Indian Muslim News, World Muslim News, Women in Islam, Islamic Feminism, Arab Women, Women In Arab, Islamophobia in America, Muslim Women in West, Islam Women and Feminism