New Age Islam News Bureau
28 Feb 2013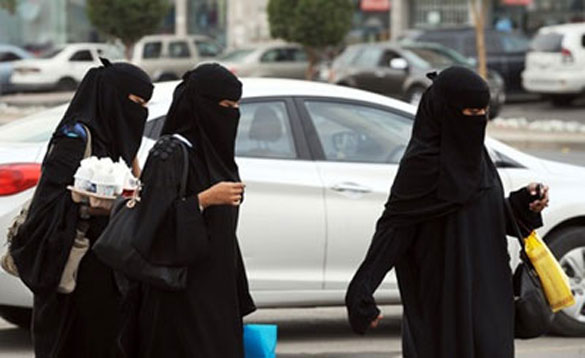 • 'Breathable' Nail Polish a Hit with Muslim Women
• In Pakistan Three Women Raped and Killed To 'Cure' Aids
• Toddlers in Iran Taught Chastity, Hijab Lessons
• Libya's Women Activists Outraged by Supreme Court Ruling on Wives
• Indonesian Mother Kills Son over Small Genitalia: Police
• 18 Lingerie Shops in Saudi Arabia Closed For Failure to Employ Women
• Saudi women given unprecedented permit to attend book fairs - with men
• Pak-American Cabbie 'Kidnaps' Daughter, Forced Her to Marry
• Woman Allowed to Live with Husband, Beaten as She Leaves Court
• Mutilated Afghan Girl's Face Reconstructed
• Swiss Woman Held in Yemen Freed
• Mothers, Children Flee Myanmar on Desperate Voyage
Compiled by New Age Islam News Bureau
Photo: Saudi women are not allowed to travel outside the kingdom without a male guardian
URL: https://www.newageislam.com/islam,-women-and-feminism/new-age-islam-news-bureau/saudi-cleric's-fatwa---women-don't-need-to-veil,-can-travel-alone/d/10588
---------------
Saudi Cleric's Fatwa: Women Don't Need to Veil, Can Travel Alone
27 February 2013
An influential Saudi cleric has issued a religious edict, commonly known as Fatwa, allowing women to travel without a male guardian, uncover their faces and eat alongside men.
In statements posted on Twitter, Sheikh Ahmed Bin Qassim al-Ghamdi, the former head of Mecca's Promotion of Virtue and Prevention of Vice committee, said: "It is permissible for people to look at what is not forbidden in women like their faces and their arms."
In other statements, the cleric said women can travel without a male guardian provided that there is safety.
Al-Ghamdi backed his statements with references to sayings by prominent Muslim scholars in history.
Recent reports suggested that women in Saudi Arabia were being monitored by an electronic system that tracks their cross-border movements.
One report, published by Al Arabiya on Nov. 22, 2012, said male guardians began receiving text messages on their phones informing them when women under their custody leave the country, even if they are travelling together.
*'Where's my wife?' Electronic SMS tracker notifies Saudi husbands
Manal al-Sherif, who became the symbol of a campaign launched in 2011 urging Saudi women to defy a driving ban, began spreading the information on Twitter, after she was alerted by a couple.
The husband, who was travelling with his wife, received a text message from the immigration authorities informing him that his wife had left the international airport in Riyadh.
"The authorities are using technology to monitor women," said columnist Badriya al-Bishr, who criticized the "state of slavery under which women is held" in the ultra-conservative kingdom.
Women are not allowed to leave the kingdom without permission from their male guardian, who must give his consent by signing what is known as the "yellow sheet" at the airport or border.
Al-Ghamdi is known for his liberal statements supporting women's rights in the conservative kingdom. Previously, he issued a Fatwa saying that the mixing of the sexes is "permissible in Islam and is a natural part of life," adding he did not understand why there was so much outrage when the co-ed university, King Abdullah University of Science and Technology (KAUST), was opened.
*Islam allows mixing of the sexes: Saudi scholar
"Those who oppose mixing of the sexes are contradicting themselves as they most likely mix with the opposite sex on a daily basis, such as having female servants," Sheikh al-Ghamdi, said.
http://english.alarabiya.net/articles/2013/02/27/268730.html
---------------
'Breathable' nail polish a hit with Muslim women
Feb 28, 2013
PRZEMYSL (POLAND): For Zaida Saleh, like for many observant Muslim women, manicures have long posed a religious problem.
With prayers five times a day, and a pre-prayer ritual that requires washing the hands and arms, traditional fingernail polish has been mostly off limits because it prevents water from making contact with the nails.
A new "breathable'' nail polish by a Polish company, Inglot, is changing that.
The company and some Muslims say the polish is the first of its kind because it lets air and moisture pass through to the nail. A craze has built up around it with Muslim women in recent months after an Islamic scholar in the United States tested its permeability and published an article saying that, in his view, it complies with Muslim law.
"It's huge,'' said Saleh, 35, who hadn't polished her nails in many years but immediately bought the product in five colours, including a bright pink, a burgundy and a mauve. "I am excited. I feel more feminine — and I just love it.''
Though the Quran does not specifically address the issue of nail polish, some Islamic scholars have said that water must touch the nail's surface for the washing ritual to be done correctly.
Some Muslim women might put nail polish on after finishing the last prayer of the day and then take it off again before dawn prayers. They can also wear it during their periods, when they are excused from the prayers, but some find it embarrassing to do so.
"It was a big headache for me to put it on only for five days, so I didn't wear it for a long time,'' said Saleh, who was born in Sri Lanka but now lives in Anaheim, California, where she is a teacher of preschool and kindergarten children.
http://timesofindia.indiatimes.com/home/science/Breathable-nail-polish-a-hit-with-Muslim-women/articleshow/18721811.cms
---------------
In Pakistan Three Women Raped and Killed To 'Cure' Aids
February 28, 2013
ISLAMABAD: At least three women were raped and killed because the perpetrator thought it was a cure for his ailment.
A couple accused of raping and killing an 11-year-old girl in Bhara Kahu confessed to their crime in front of the media on Wednesday at the office of the city superintendent of police.
Inspector General of the Islamabad police Bani Amin Khan revealed that during interrogation, Qamar* claimed to have AIDS and was abducting and raping women and young girls with the help of his accomplice Maha* to cure his ailment.
There is no cure for HIV/AIDS, however, illiteracy and dependence on untrained medical practitioners has led to the perpetuation of the 'virgin cure' myth and its pursuit in many parts of the world, especially sub-Saharan Africa.
Apart from confessing to the recent rape and murder of 9-year-old Sehr*, the duo also confessed to the unsolved murder of 22-year old Samia* — the daughter of a police officer — in Bhara Kahu last November.
Earlier, IGP Islamabad Bani Amin Khan said Qamar, a resident of Lala Musa, had confessed to the rape and murder of a girl in Lala Musa as well. He said Qamar would prepare an intoxicating mixture which he gave to his victims to subdue them.
Giving details of the investigation, the IGP said that Maha was arrested after a case was registered against her at the Bhara Kahu Police Station. However, she was able to get a bail-before-arrest order from a court.
Khan said the burnt body of Sehr was recovered from a dry nullah in Sector 1-9/1 on February 16, and she was identified using DNA samples.
A case was then registered by the Industrial Area police against unknown persons.
In an investigation, City SP Muhammad Ilyas was tasked with analysing the suspects' phone records, while "Secretariat DSP Liaqat Hayat Niazi and Bhàra Kahu SHO Mehboob Ahmed were directed to collect information from I-9 and Bhara Kahu, interview the neighbours and interrogate the accused," he said.
Khan said that 45 people including 20 from the furniture market in Sector I-9 were also interviewed. He said 107 persons including 67 residents of Citizen Margalla Valley in Bhara Kahu were also interviewed, medical stores, clinics and hospitals near Naiabadi and Simly Dam Road were checked.
He said 17 relatives of the victim were also interviewed and a team was sent to Murree — the victim's hometown — to check for any background conflicts or issues.
Maha* was in contact with Qamar — who works as a human resources manager at a steel mill in Islamabad — through a "secret phone" hidden at her house, which Amin said the police investigation team located.
The IGP said Qamar was living in Sector 1-9/1 and came to Maha's house on Feb 13. When he tried to rape Sehr, she started shouting. "He then gave her the concoction to knock her out," he said.
According to the city's top cop, Qamar then wrapped the child in a bedsheet and a plastic bag and took her back to Sector 1-9/1, where he raped and killed her.
http://tribune.com.pk/story/513598/virgin-cure-three-women-killed-to-cure-aids/
---------------
Toddlers in Iran Taught Chastity, Hijab Lessons
27 February 2013
Islamic dress and notions of chastity will be taught to toddlers in Iran, as part of a move by the country to instil Islamic teachings into the younger generation, a report on Wednesday revealed.
The governor of Tehran, Morteza Tamadon, has recently stressed the importance of "popularizing" chastity and Hijab among Iranians, advising that kindergarteners be taught, "Before reaching those in higher education," the Guardian reported.
"We cannot expect to see Hijab and chastity exist in society without proper cultural work," he said. "Our goal in the social transformation plan devised by the government is institutionalizing chastity and Hijab as a natural [demand] in society," he said.
Islamist rulers in Iran have recently ordered stricter enforcement measures from the Iranian Moral Police and the Revolutionary Guards.
Recently, Iranian police have bolstered the enforcement of modesty laws. Women wearing mandatory headscarves improperly or in "vulgar" dress are usually warned before being fined or detained in police stations.
As for a program targeting toddlers, the welfare office of the Iranian city of Qom is reportedly "training 400 experts on Hijab and chastity who will be sent to kindergartens across the city," according to the Guardian.
The report added that 1,530 kindergartens under the jurisdiction of a north-eastern province have already held "chastity and hijab exhibitions" in recent months.
"Research has found that indirect methods have more effect on kids," welfare officer Tahereh Bakhtiyari said in comments to the newspaper. "Using art expression is one of these methods."
A rose by any other name…
During the spring and summer months, Iran's morality police scour the country's streets in search for inappropriately dressed women.
In July 2012, a new initiative was set out to praise women who had been dressing modestly in the high temperature months. In a northern Iranian province, "modesty squads," gave out rose to women they deemed to be conservatively dressed.
According to Iranian police Chief Ismael Ahmadi Moqadam last June, Iran now wants to intensify its struggle against women who it believes dress in an un-Islamic way.
But some critics had branded the rose "gifts" to modestly dressed women as patronizing.
"Just who is the Iranian government to intervene and distinguish between 'good and bad' women?" Alireza Nourizadeh, the director of the Center for Arab & Iranian Studies in London, told Al Arabiya English.
According to Nourizadeh, the rose-giving was perhaps an attempt by the government to change tact over how to advise women to dress modestly.
"Some of the moderately dressed women would complain that the regime would harshly tell ladies on the street what to wear. They said that Islam-related advice should be said in a calmer, advisory way, and so now they are doing this."
"But this method shows no respect for women. It shows that women are a tool," Nourizadeh said, adding that this was another way women in Iran are being judged.
http://english.alarabiya.net/articles/2013/02/27/268645.html
---------------
Libya's Women Activists Outraged by Supreme Court Ruling on Wives
Jamie Dettmer
February 27, 2013
TRIPOLI — Libya's Supreme Court has overturned a marriage law requiring a husband to secure the approval of his first wife before taking a second. This ruling on multiple wives has horrified liberals, who fear the clock is being turned back on advances won during the revolution on women's issues and the small gains already made under former leader Moammar Qadhafi.
Earlier this month, the court quashed the Gadhafi-era Marriage Act (Law 10) requiring men to secure the consent of a first wife before taking a second.
Full report at:
http://www.voanews.com/content/libyas-women-activists-outraged-by-court-ruling-on-multimple-wives/1611645.html
---------------
Indonesian Mother Kills Son over Small Genitalia: Police
February 28, 2013
JAKARTA: An Indonesian woman drowned her nine-year-old son in the bath, claiming she was worried that his "small genitals" would affect his prospects for the future, a police spokesman said Thursday.
The 38-year-old woman from the capital Jakarta told police her son had had small genitalia prior to being circumcised, but that it appeared to shrink further after the operation, police spokesman Rikwanto, who goes by one name, told AFP.
Full report at:
http://tribune.com.pk/story/513785/indonesian-mother-kills-son-over-small-genitalia-police/
---------------
18 Lingerie Shops in Saudi Arabia Closed For Failure to Employ Women
28 February 2013
The Labour Ministry in coordination with the Ministry of Municipal and Rural Affairs this week closed 18 lingerie shops in shopping centres east of Riyadh after they failed to employ Saudi women.
"We'll close down all shops that sell lingerie and women's accessories if they do not fulfil Saudisation conditions," the ministry said. "We have taken this measure to show that we are serious about it," it added.
Full report at:
http://www.arabnews.com/saudi-arabia/18-lingerie-shops-closed-failure-employ-women
---------------
Saudi women given unprecedented permit to attend book fairs - with men
Women in the Kingdom, as well as men will be permitted to attend next week's Riyadh book fair, says the head of Saudi Arabia's religious police
28 Feb 2013
Sheikh Abdel Latif Al-Sheikh, head of Saudi Arabia's Committee for the Promotion of Virtue and the Prevention of Vice (PVPV), announced that both men and women will be allowed to attend next week's book fair in the capital Riyadh, Saudi Okaz newspaper reported Thursday.
Al-Sheikh also said that the PVPV, known as Haia, the Gulf kingdom's religious police, will not confiscate any books on display at the fair.
Full report at:
http://english.ahram.org.eg/NewsContent/2/8/65786/World/Region/Saudi-women-given-unprecedented-permit-to-attend-b.aspx
-----------
Pak-American Cabbie 'Kidnaps' Daughter, Forced Her to Marry
February 28, 2013
NEW YORK - A Pakistani-American taxi driver is accused of kidnapping his 22-yr-old daughter, holding her against her will for 3 years in Pakistan, and forcing her to marry a Pakistani, according to media reports. Then, when a sympathetic cousin helped her flee back to New York, Mohammad Ajmal Choudhry, the irate father, vowed to kill the relative and other kin if his daughter did not return to Pakistan, law-enforcement sources were cited as saying. But Amina Ajmal refused her father's demand - and Monday, someone made good on her father's threat to do harm, the reports said.
http://www.nation.com.pk/pakistan-news-newspaper-daily-english-online/international/28-Feb-2013/pak-american-cabbie-kidnaps-daughter
---------------
Woman Allowed to Live with Husband, Beaten as She Leaves Court
Woman in Pakistan Beaten As She Leaves Court
February 28, 2013
LAHORE: A woman and her spouse were beaten by her family at the premises of the Lahore High Court on Wednesday.
Shireen Shamim's parents started beating her as she left the court. Other relatives soon joined in as her husband tried to rescue her. Finally, security personnel intervened and rescued the two. Afterwards, the police drove them out of the court. Gujrat resident Imran Akram had filed a habeas corpus petition stating that he had married Shireen Shamim and that she wanted to live with him but her parents and relatives were illegally detaining her. He added that they two were not allowed to meet. He prayed the court to recover his wife and hand her over to him. The court had deputed a bailiff who produced Shamim in court. Justice Yawar Ali asked the woman where she wanted to live. She said she wanted to live with her husband. The judge allowed her to leave with her husband.
http://tribune.com.pk/story/513521/woman-beaten-as-she-leaves-court/
---------------
Mutilated Afghan girl's face reconstructed
Feb 28, 2013
NEW YORK: Three years after she became an emblem of the brutality of the Taliban, a young Afghan woman, who had her nose and ears sliced off as punishment for running away from her abusive husband, has unveiled her reconstructed face to the world. Aisha Mohammadzai emerged as an emblem of the horrors of the Taliban when her mutilated face appeared on the cover of Time magazine in August 2010.
Full report at:
http://timesofindia.indiatimes.com/world/south-asia/Mutilated-Afghan-girls-face-reconstructed/articleshow/18721794.cms
---------------
Swiss woman held in Yemen freed
February 28, 2013
DOHA: A Swiss woman held hostage in Yemen for nearly a year has been freed and has arrived in Qatar, the Swiss government and the official QNA news agency said on Thursday.
The hostage, who was "abducted last year in Yemen, arrived overnight at Doha airport after having been freed thanks to mediation by Qatar," said the agency, without elaborating.
Gunmen abducted the woman on March 14, 2012 from her home in Hodeida, western Yemen, where she had been working there as a language teacher.
Full report at:
http://www.dailystar.com.lb/News/Middle-East/2013/Feb-28/208227-swiss-woman-held-in-yemen-freed.ashx#ixzz2MBYxGu8V
---------------
Mothers, Children Flee Myanmar on Desperate Voyage
Daniel Rook | February 26, 2013
Khao Lak, Thailand. Homeless, hungry and nine months pregnant, Nuru boarded a rickety boat filled with Rohingya asylum seekers fleeing a wave of deadly sectarian violence in western Myanmar.
Six days later she gave birth at sea, far from any hospitals or doctors.
Since Buddhist-Muslim tensions exploded last June in Myanmar's Rakhine State, thousands of Rohingya asylum seekers — including a growing number of women and children — have joined an exodus from the former junta-ruled country.
Full report at:
http://www.thejakartaglobe.com/seasia/mothers-children-flee-myanmar-on-desperate-voyage/574000
---------------
URL: https://www.newageislam.com/islam,-women-and-feminism/new-age-islam-news-bureau/saudi-cleric's-fatwa---women-don't-need-to-veil,-can-travel-alone/d/10588